Archive for the 'bank' tag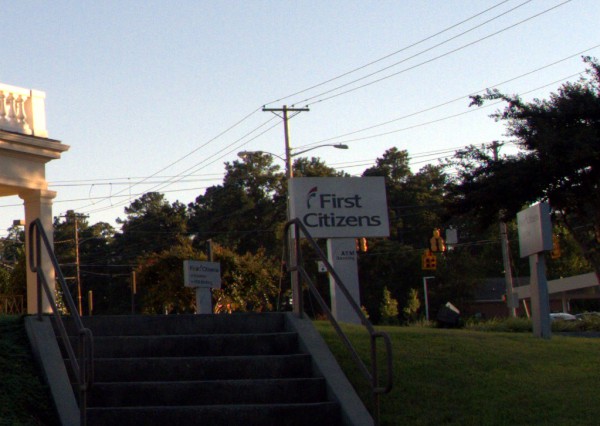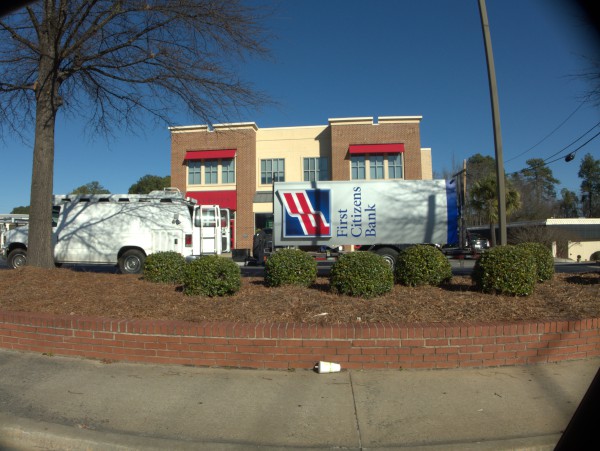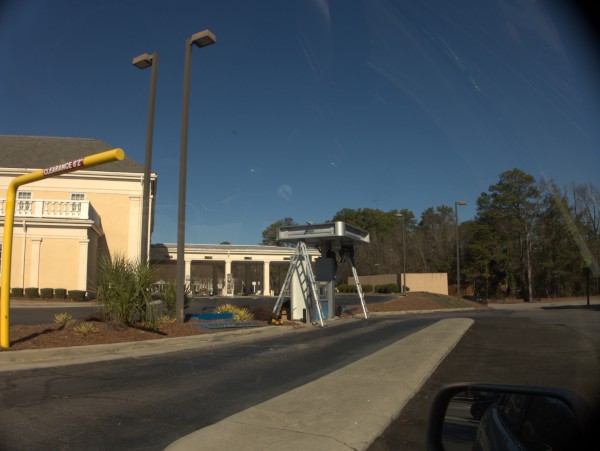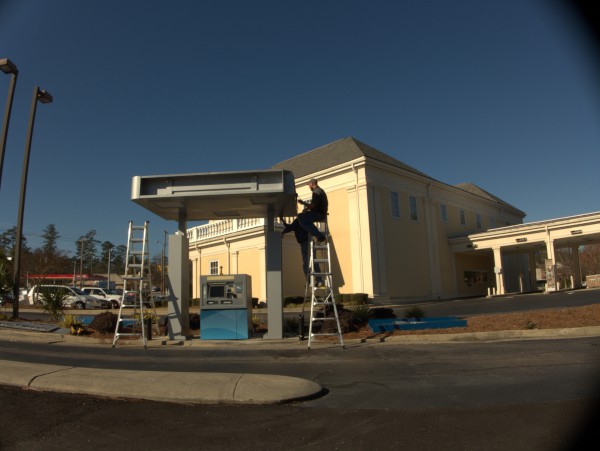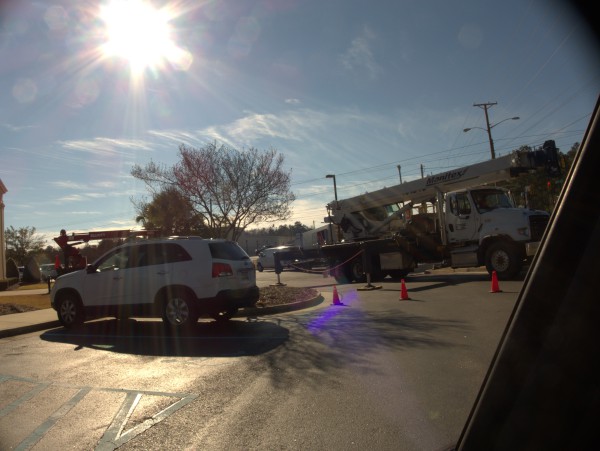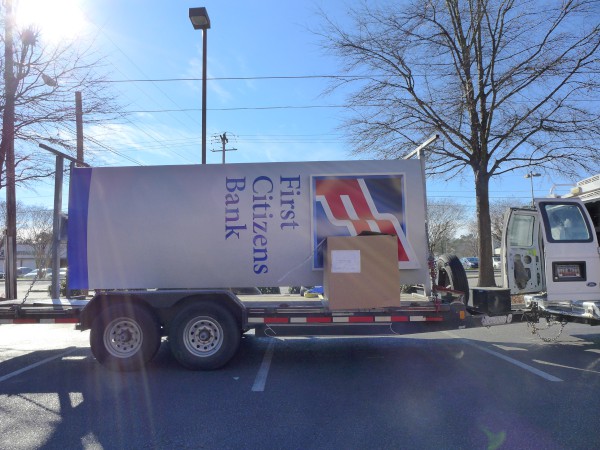 You will have noticed the upgrades to the various First Citizens branches around town. In this case I actually think I like the new branding better than the old, which is definitely not always a given.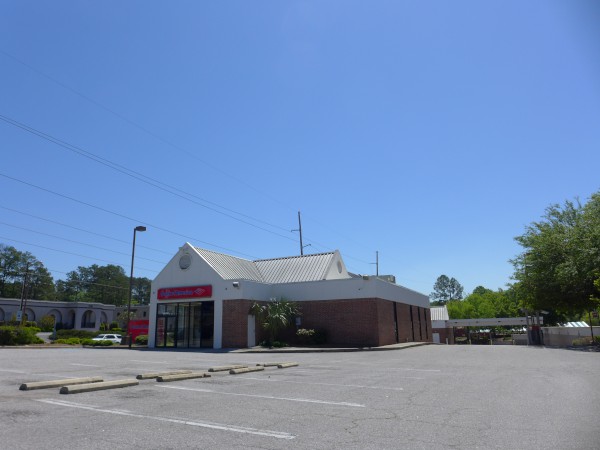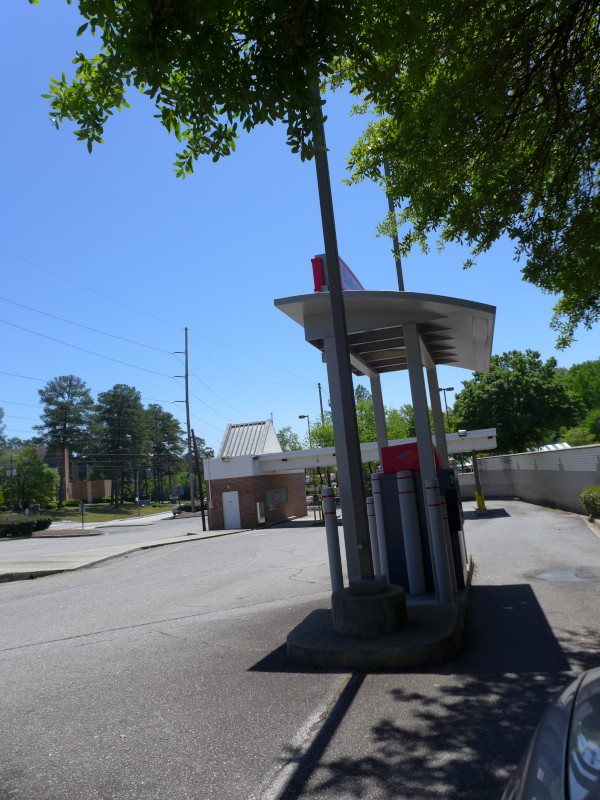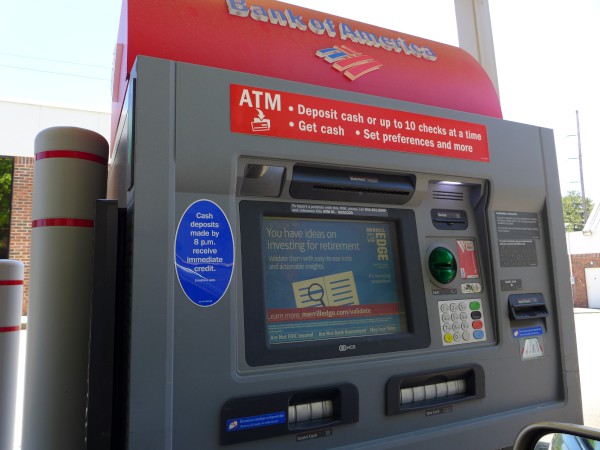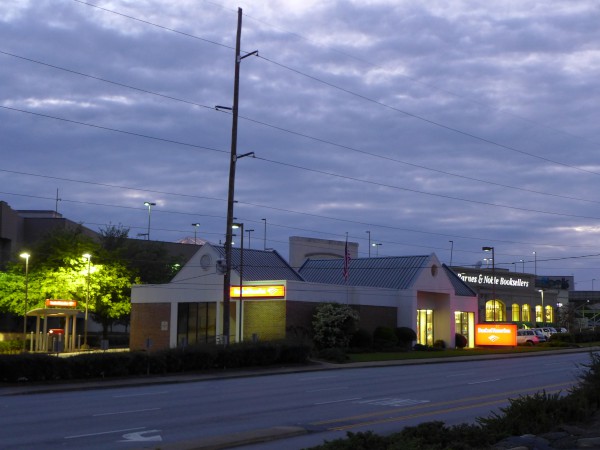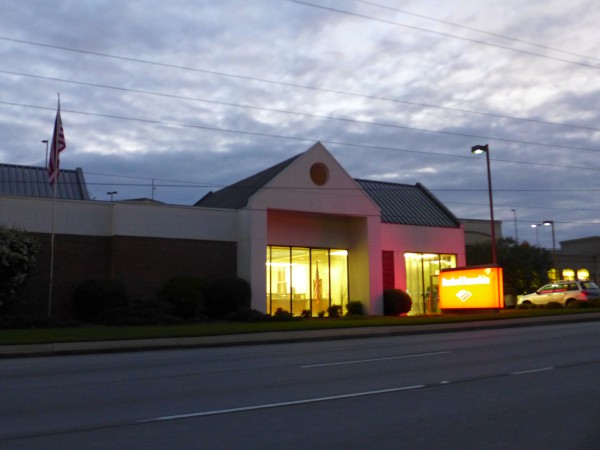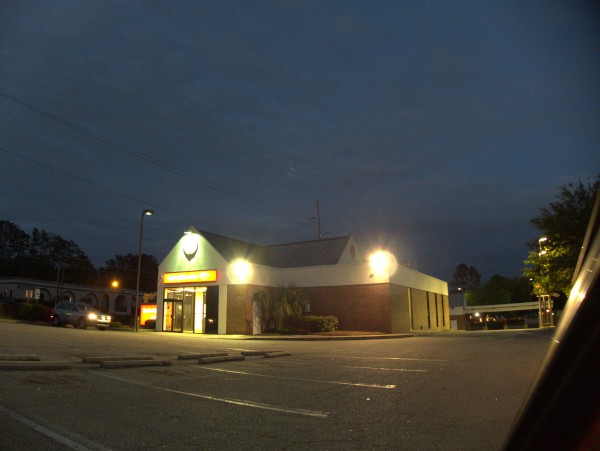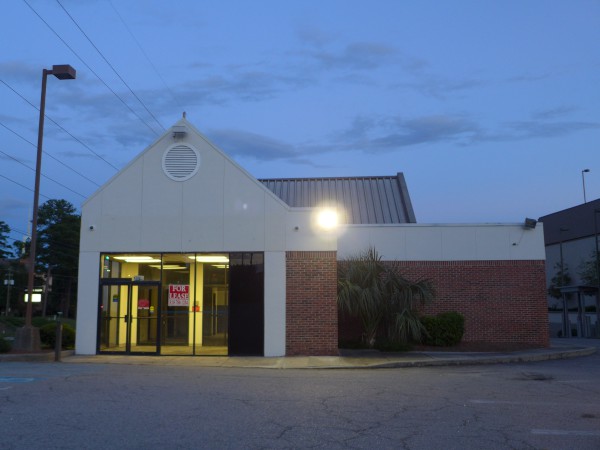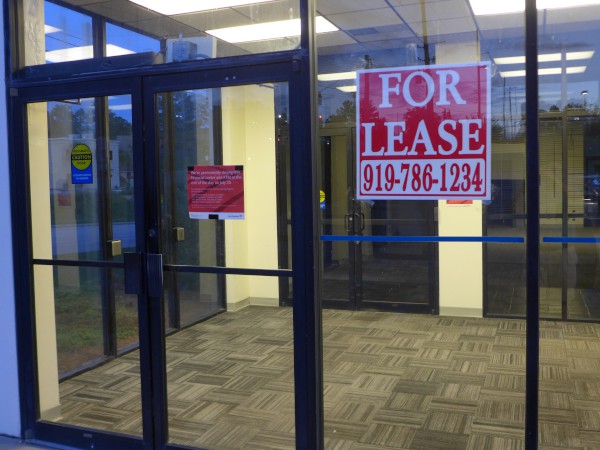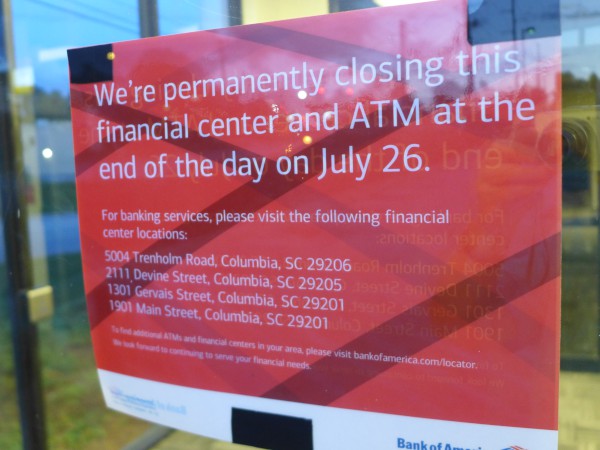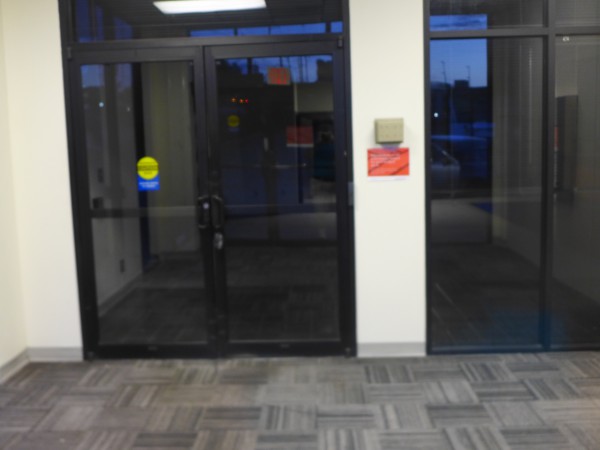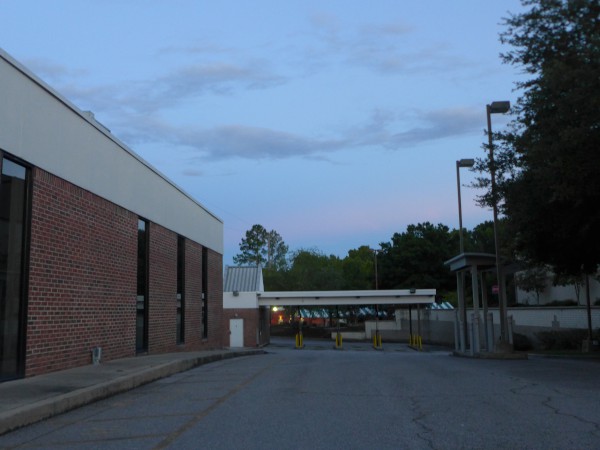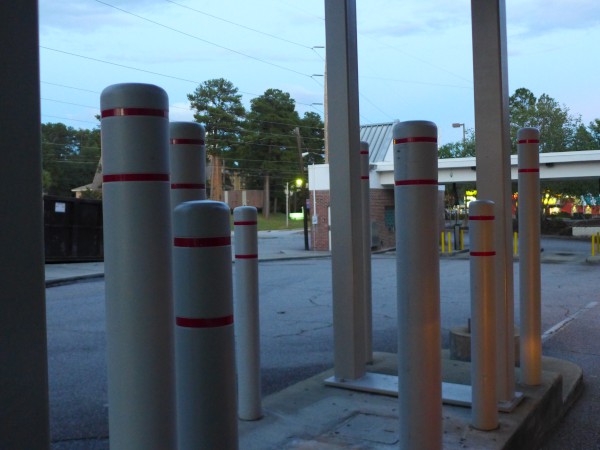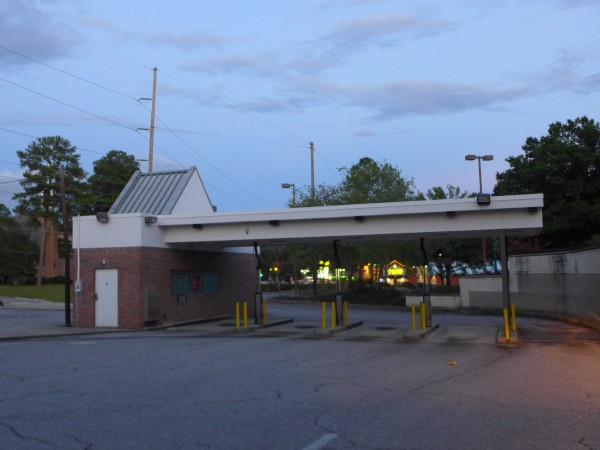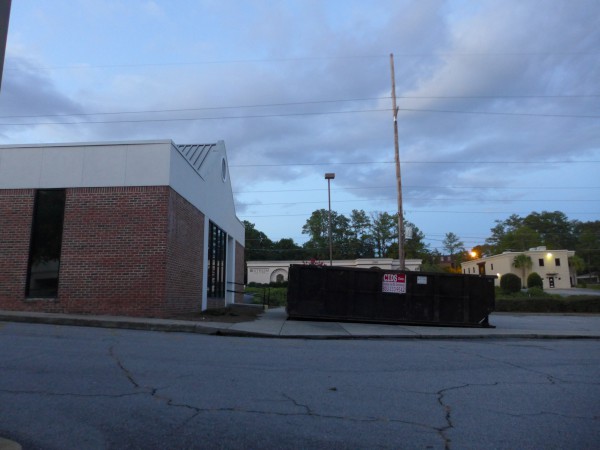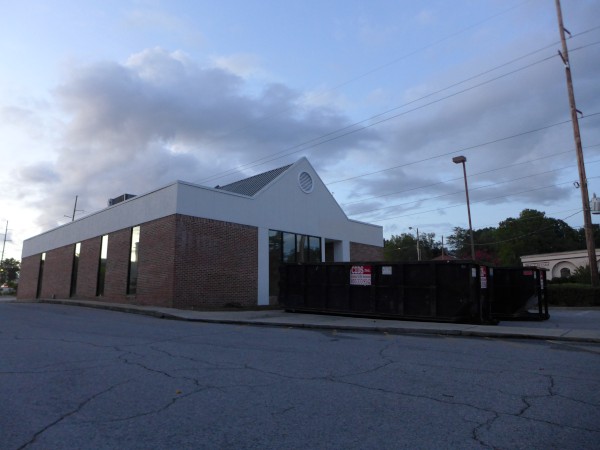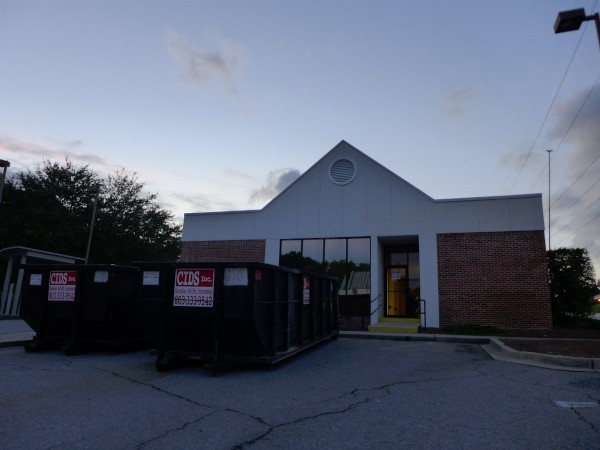 Well, after mailing out the flyers in May, the Richland Mall Bank Of America is finally closed. As you'll recall, they closed the drive-through in March 2015 at which point the writing was probably on the wall.
I don't know why, but I had it in my mind that the ATM would remain, though in the event that turns out not to be the case. At any rate, I believe that Trenholm Plaza is now the only Forest Acres BOA location.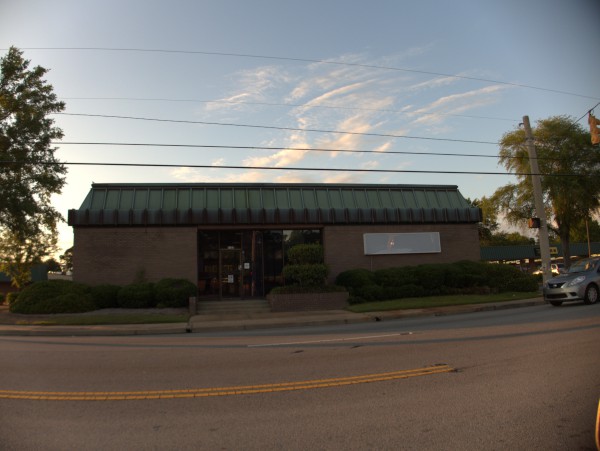 This branch of South Carolina Community Bank was in front of Piggly Wiggly in Edens Plaza on Beltline.
At one time there was also another Columbia branch on Sumter Street, but at this point it looks like the bank is down to one location, in Sumter (the town, not the street).
UPDATE 10 June 2016 -- Not sure where I got my (incorrect) location info, but commenter Andrew has confirmed the one branch is on Sumter Street. Probably the link I was looking at was confusing the town and street. Also, here's a bit more from The Post & Courier on the bank's troubles. And finally, commenter Tom says this building was an NBSC before SCCB.
UPDATE 16 July 2016 -- I went around back of the building, and they must still own it because the ATM is still active: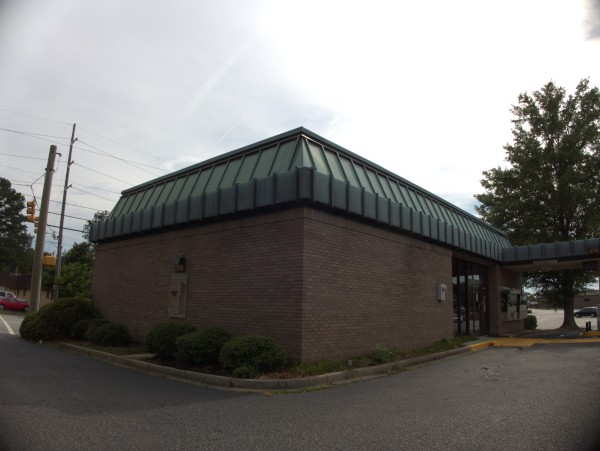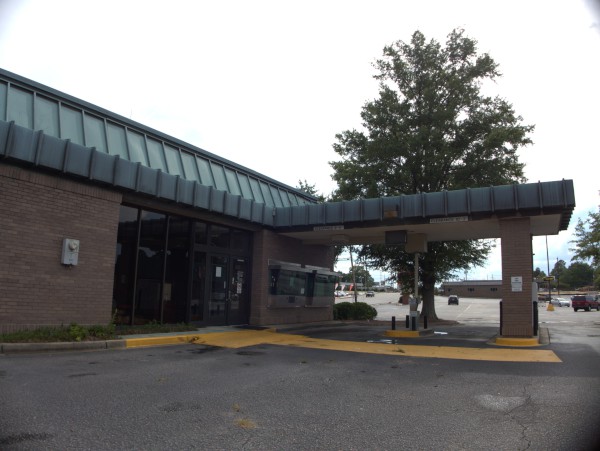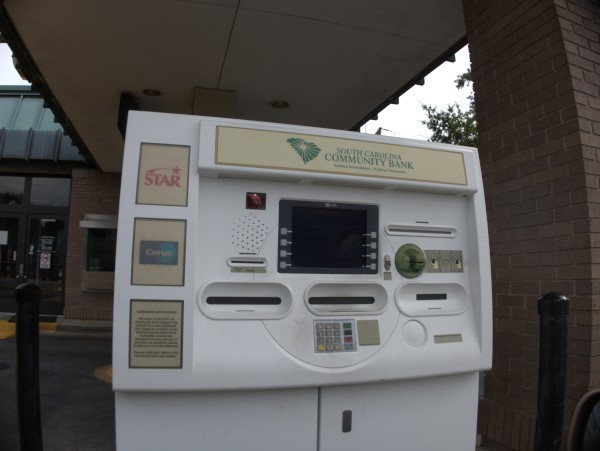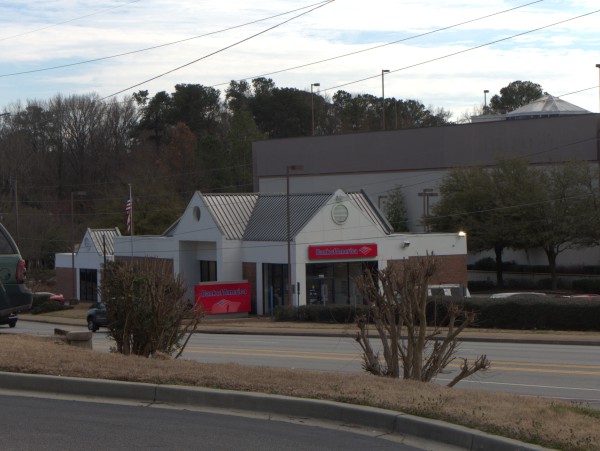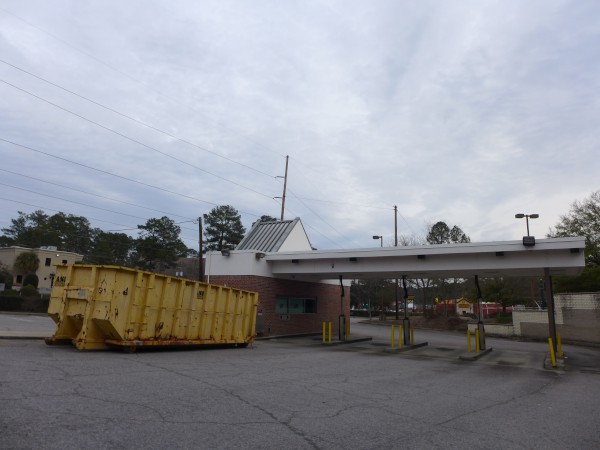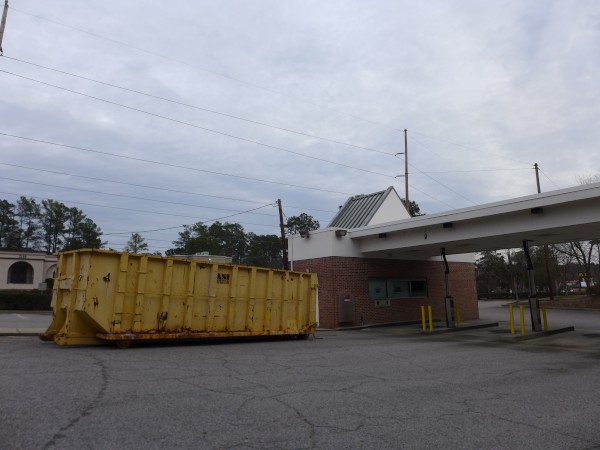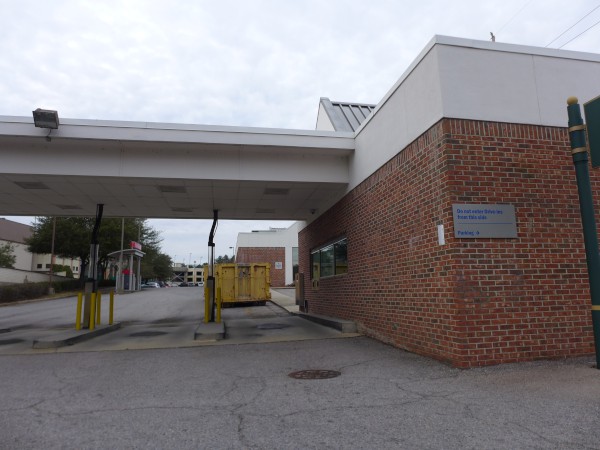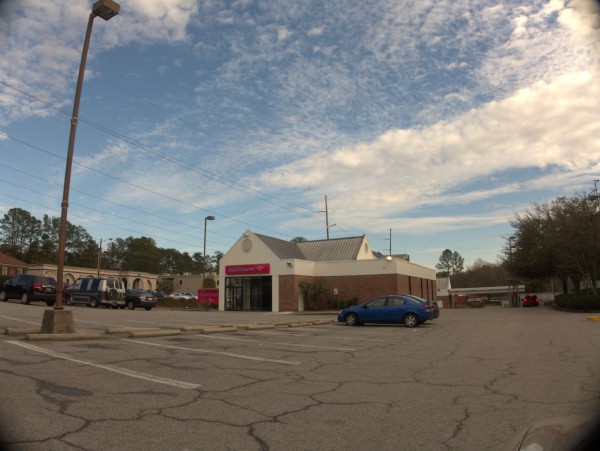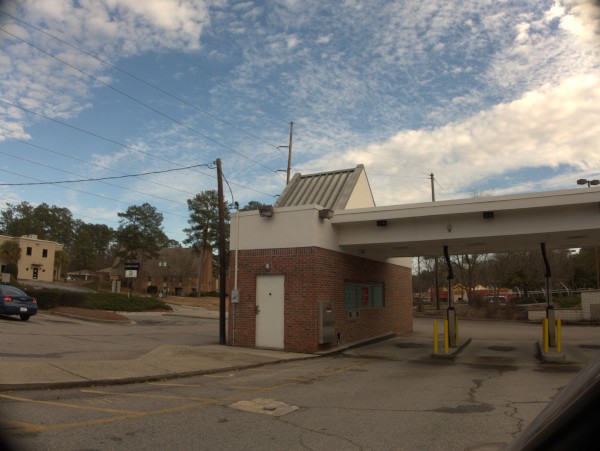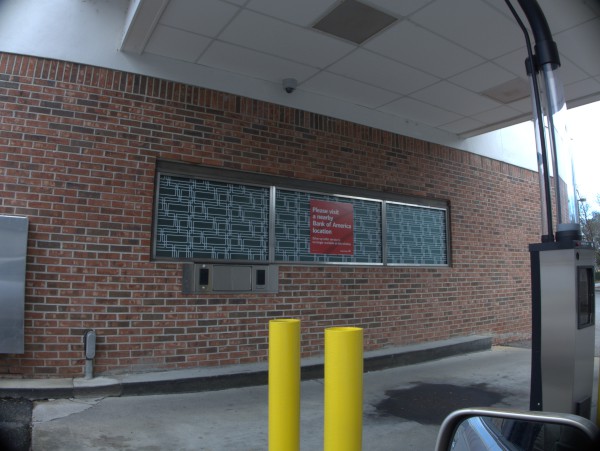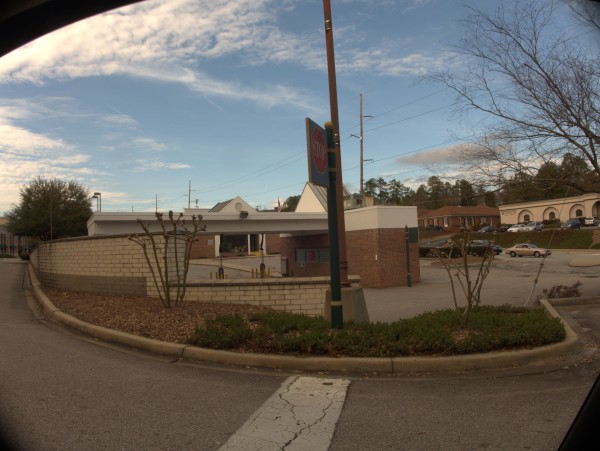 I noticed the other week something going on at the Richland Mall Bank Of America, with a dumpster pulled up to the drive-through. This week it is apparent that the drive-through has been closed. I guess it was a bit awkward having an unconnected outbuilding for the tellers, and perhaps even a security issue. At any rate, I believe the Trenholm Plaza branch is now the next closest drive-through.
Posted at 12:58 am in Uncategorized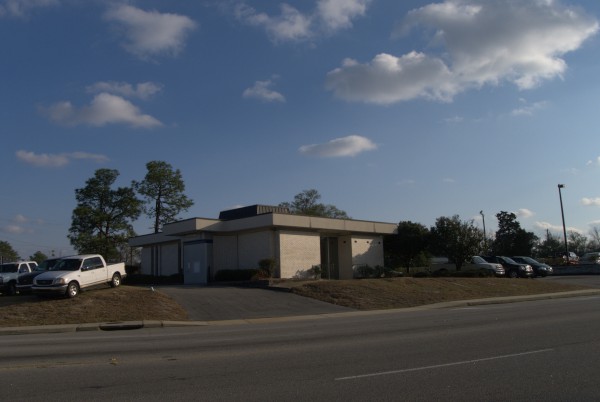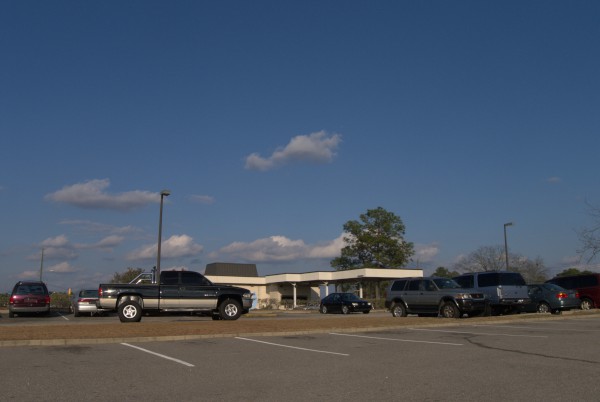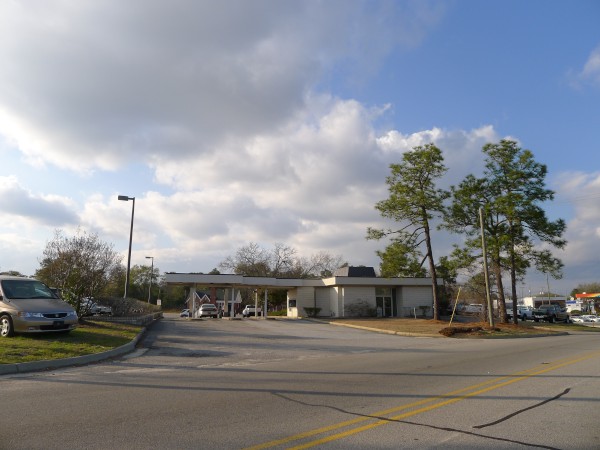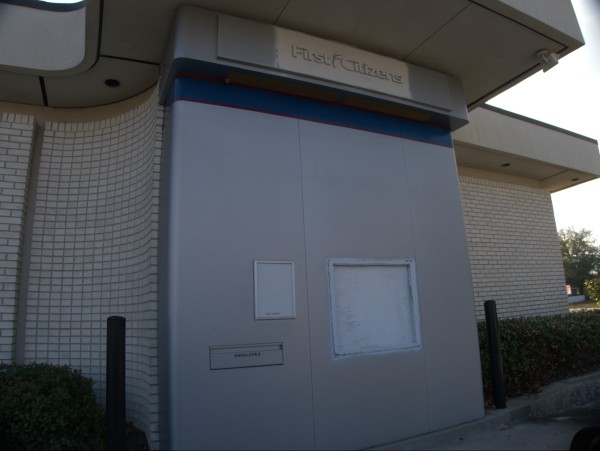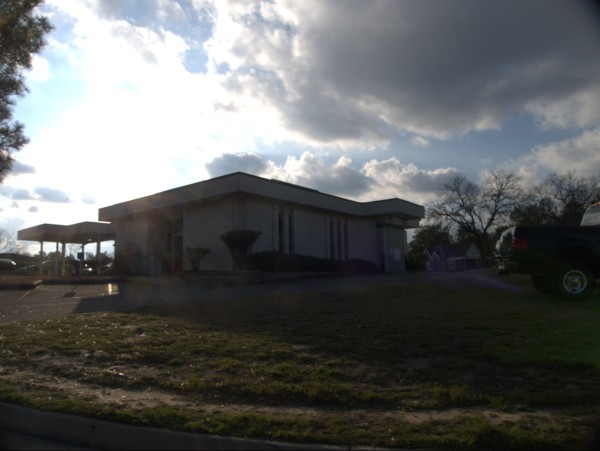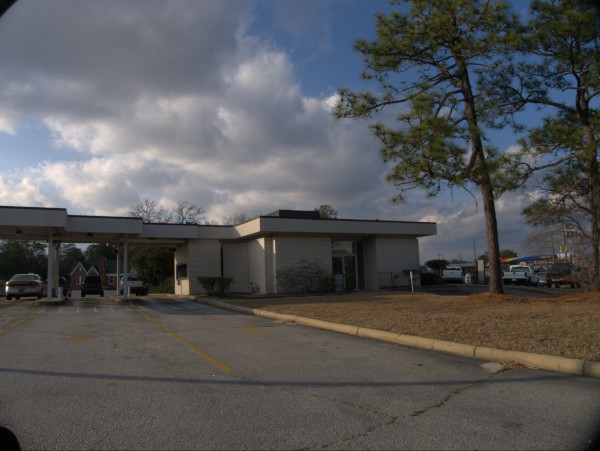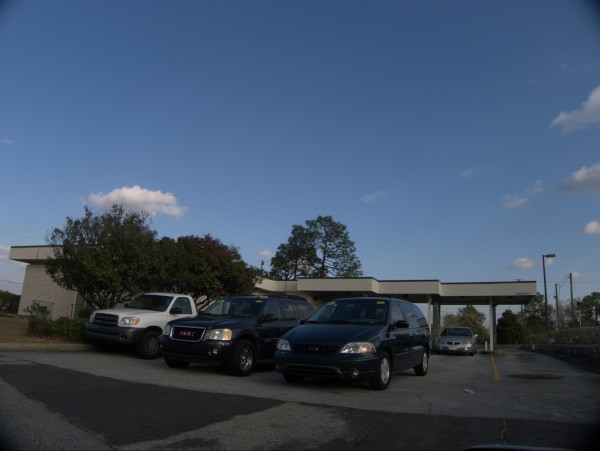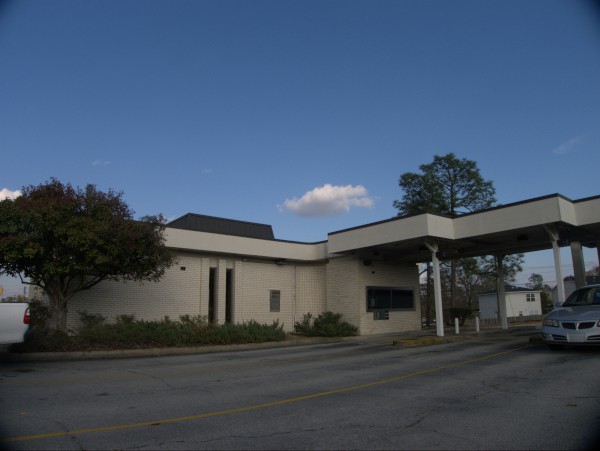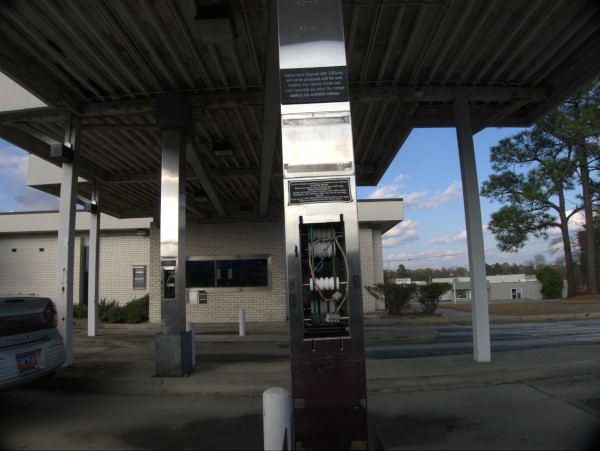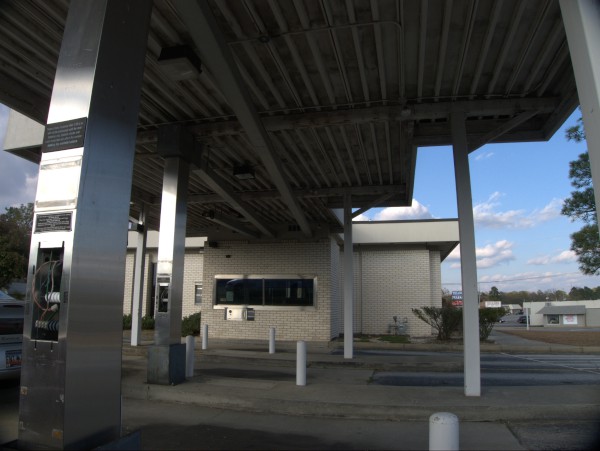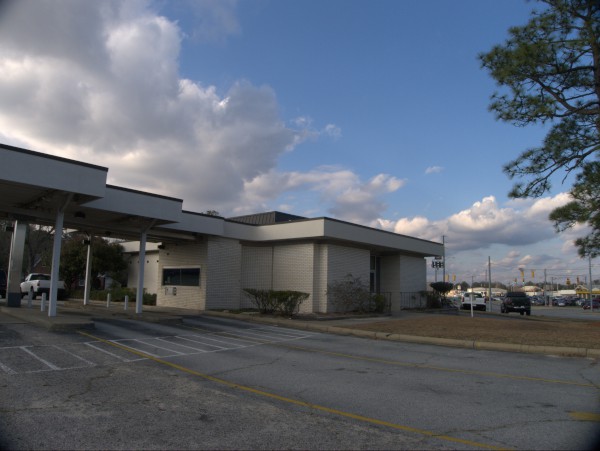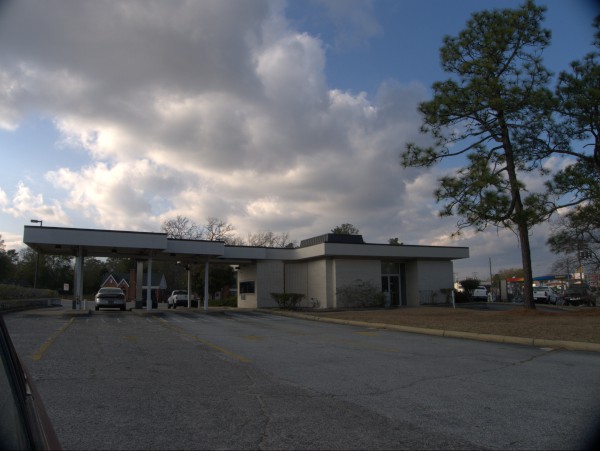 My first thought at seeing this former First Citizens branch at the corner of the Charleston Highway and Platt Springs Road was that there must be some sort of sporting event in the area as the lot was packed full of cars taking advantage of the Sunday bank closure to park there.
A closer inspection revealed the actual facts, which are that the bank is gone, and the lot is being used as an impromptu (I could see no business sign at least..) used car lot. I've heard the old GM described as a bank that sold some cars, perhaps the concept is spreading...
Posted at 12:13 am in Uncategorized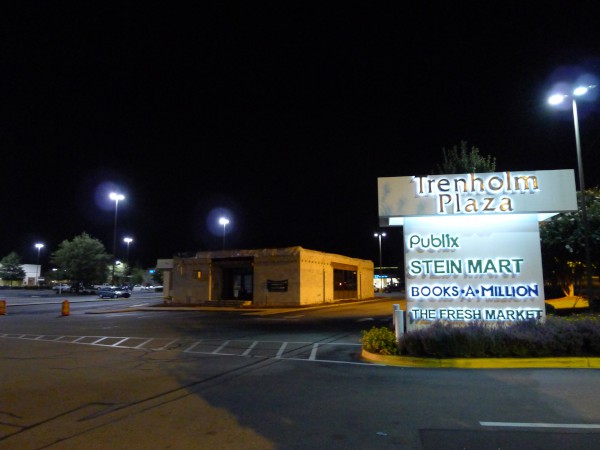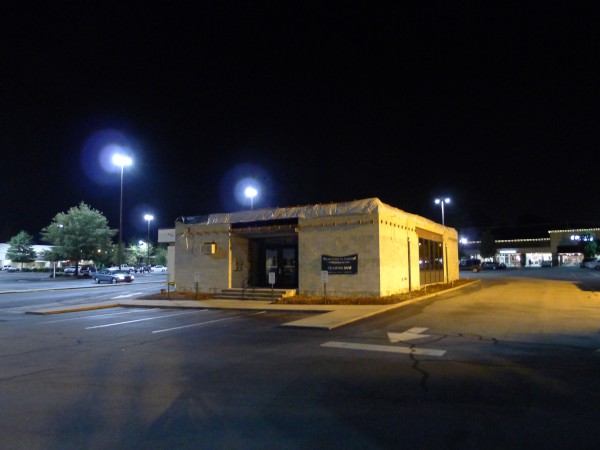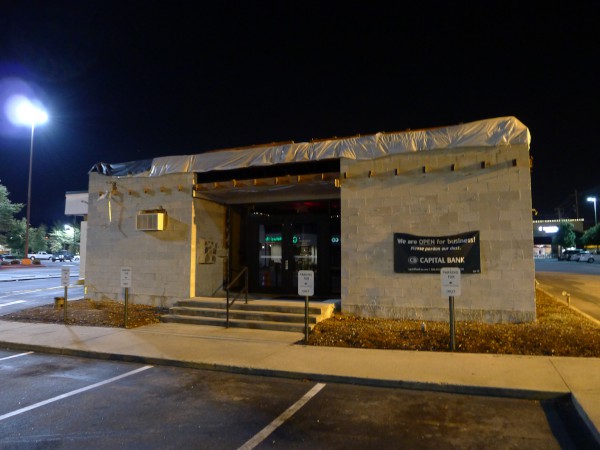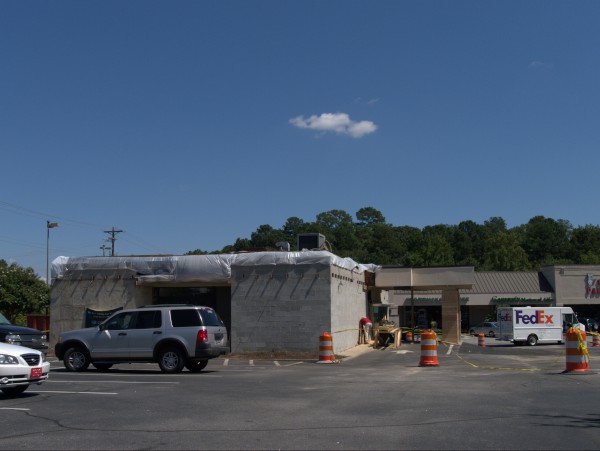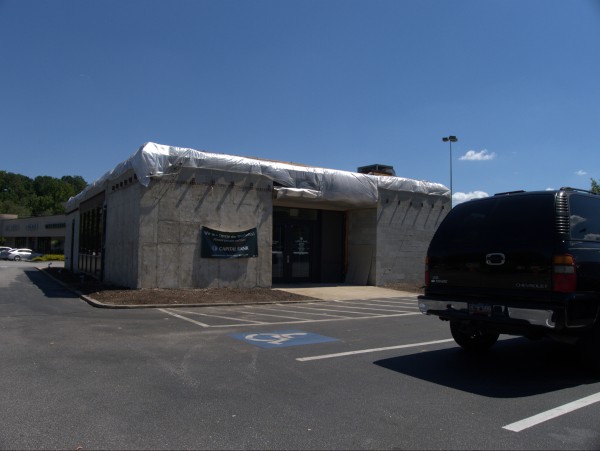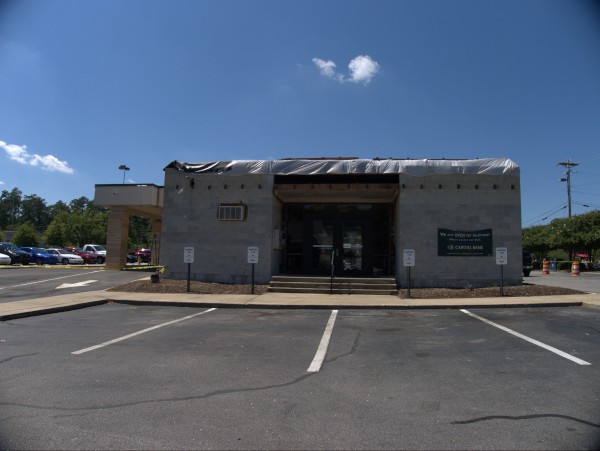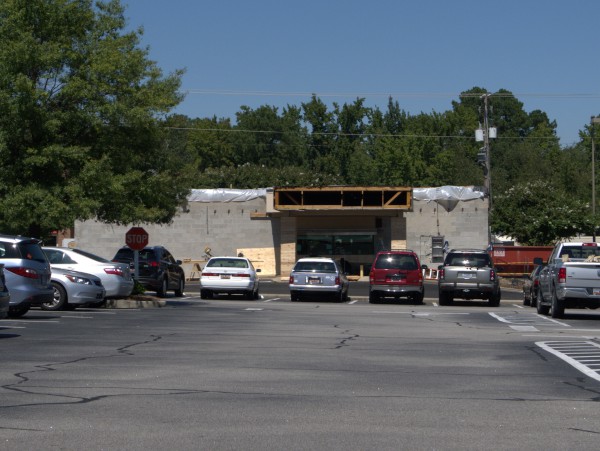 I noticed while at Starbucks the other night that the one of Trenholm Plaza's three banks, Capital Bank, while remainging open, is doing major remodeling.
I believe that Capital Bank is a fairly new name for this building, which has been a number of different banks over the years.
Posted at 11:23 pm in Uncategorized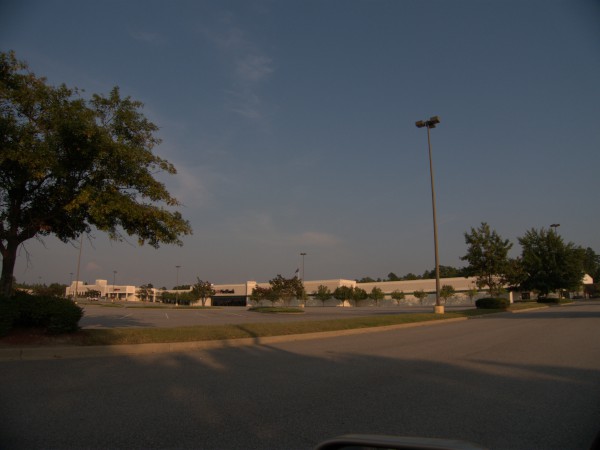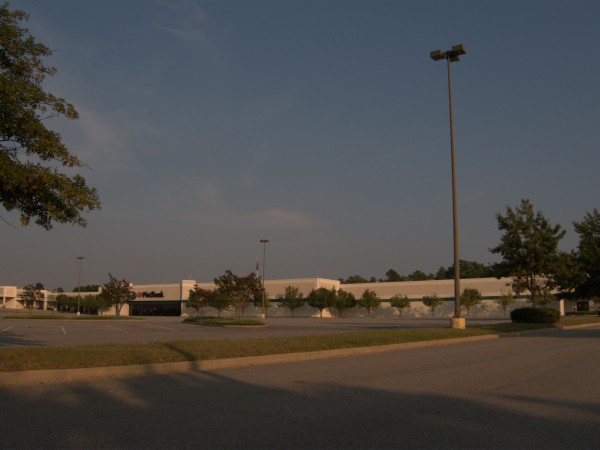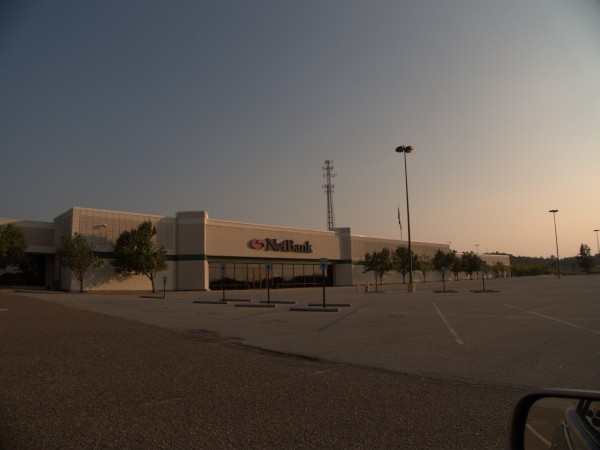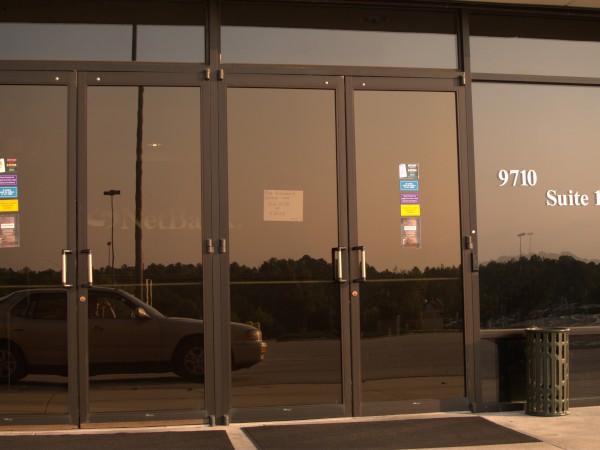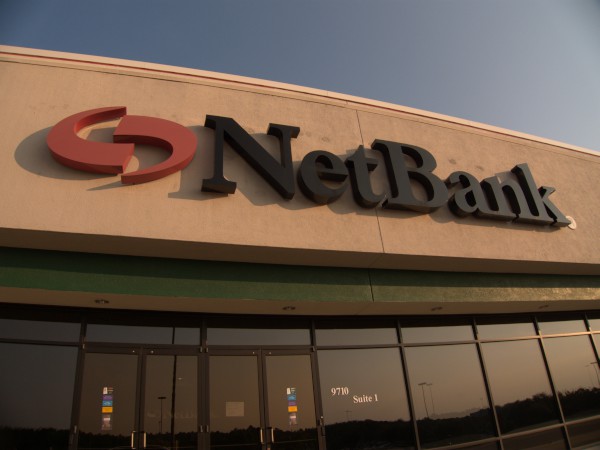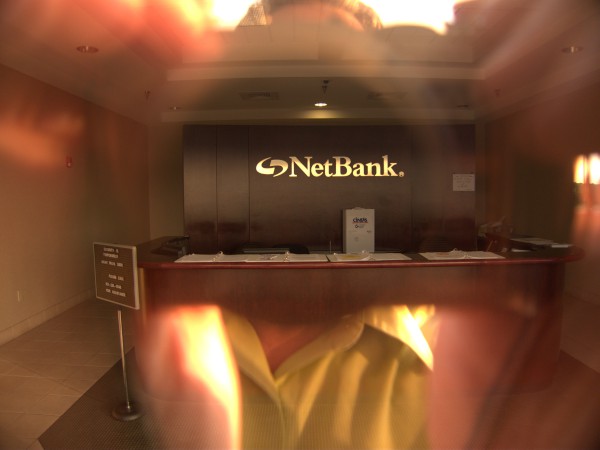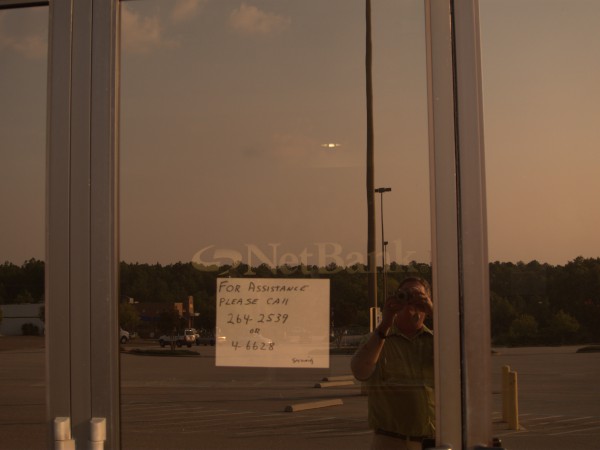 I have done a couple of other posts on this mostly dead strip mall on Two Notch at Polo called Park Centre. In particular, here is Piggly Wiggly / Harris Teeter (and Bruno's), and here is Pic 'N Pay.
Neither of those was the strip's main tenant however. That was initially Walmart and then after that, NetBank.
Of course everyone is familiar with Walmart and their gradual move to bigger "Supercenter" locations. That, I believe is what happened to this location: It was replaced by the Supercenter at 10060 Two Notch Road.
I was not as familiar with NetBank which moved in after Walmart moved, probably in the late 1990s or early 2000s.
To summarize the NetBank Wikipedia page, NetBank was an Atlanta/Alpharetta based operation which started as Atlanta Internet Bank and Net.B@nk before settling on the NetBank name. It was a very early venture into Internet banking and mainly made its money from mortgages.
It did quite well for a while, but eventually overextended itself and got into trouble as its core mortgage business started to fail (though this was a little before the main 2008 mortgage crisis). After flailing for a while, it decided to sell itself off to another bank, but found it didn't even have enough to bring to the table to pull that off and ended up being taken over by the Office of Thrift Supervision on 27 September 2007, becoming the biggest thrift failure since the S&L crisis of the 80s.
This site was a big enough part of its assets that it was mentioned in the Bloomberg article on its failure as part of the asset base to be sold off. After the takeover, the FDIC insured accounts were acquired by ING Direct.
According to commenter Soxinsc, Blue Cross/Blue Shield leased the NetBank space for a while, and there does still seem to be some sort of front desk with signs of use in there though I find it odd that the NetBank logo was never taken down if someone else did have the building..
Posted at 6:41 pm in Uncategorized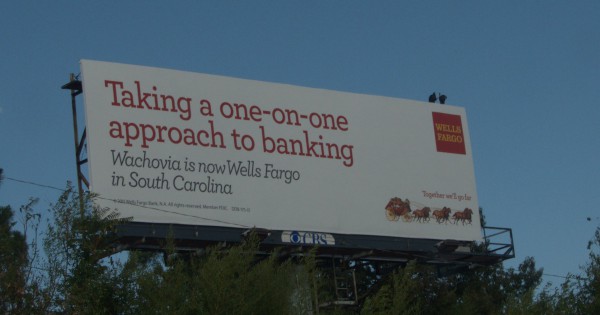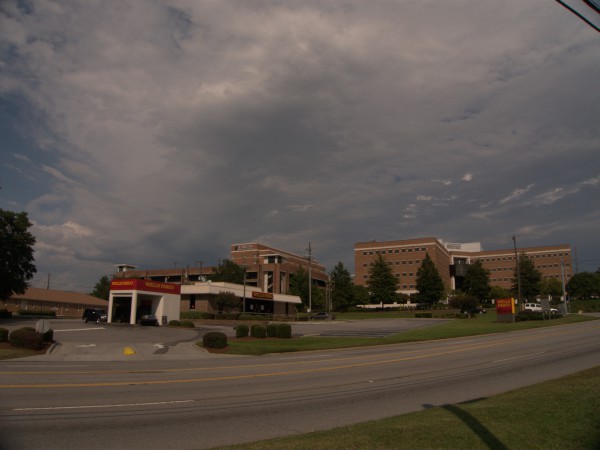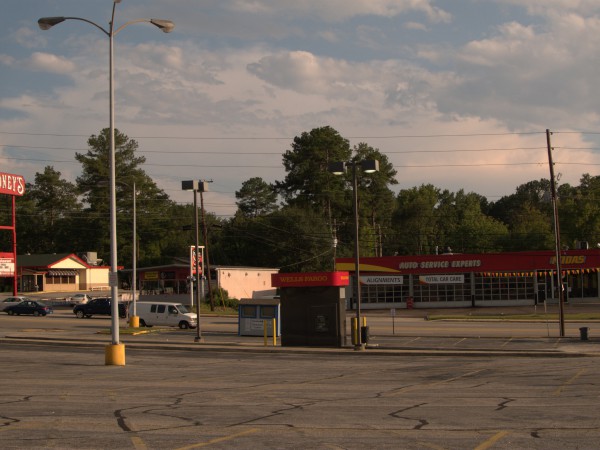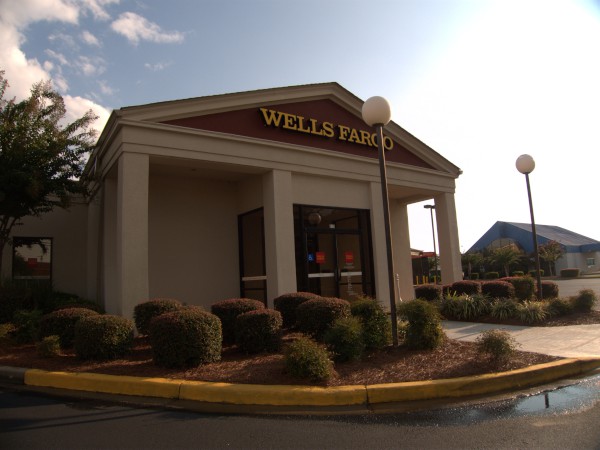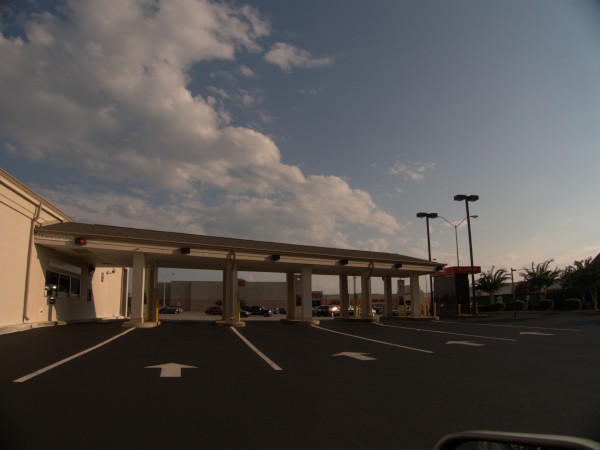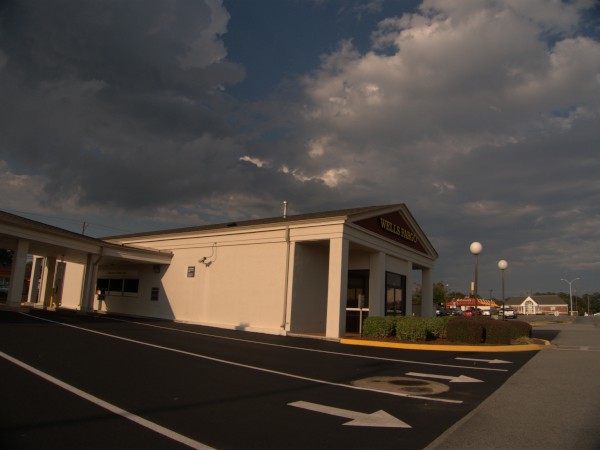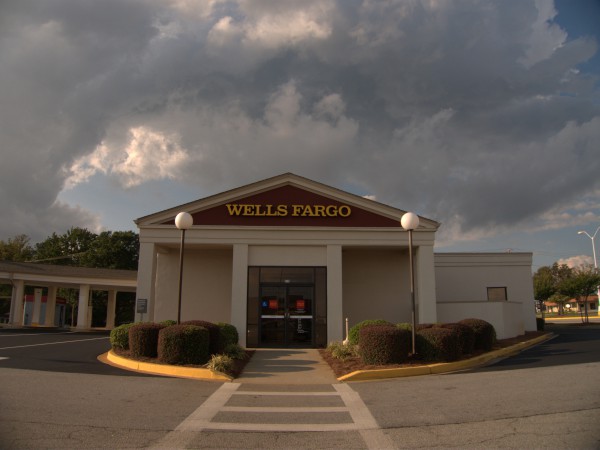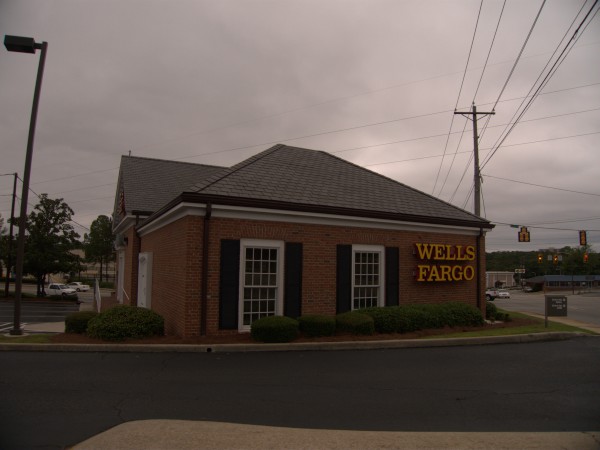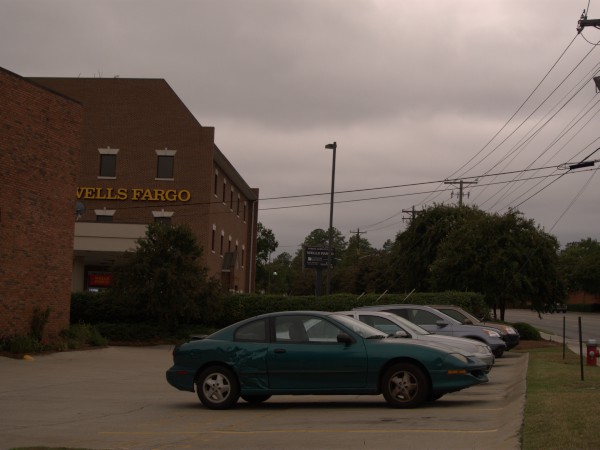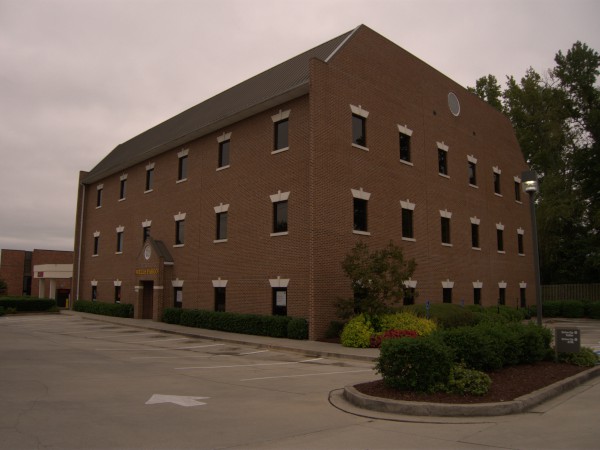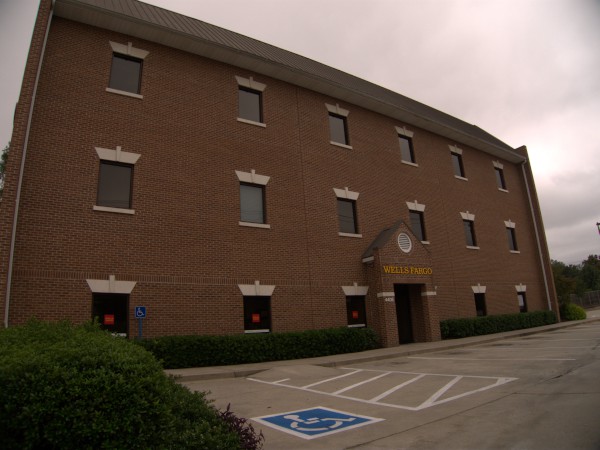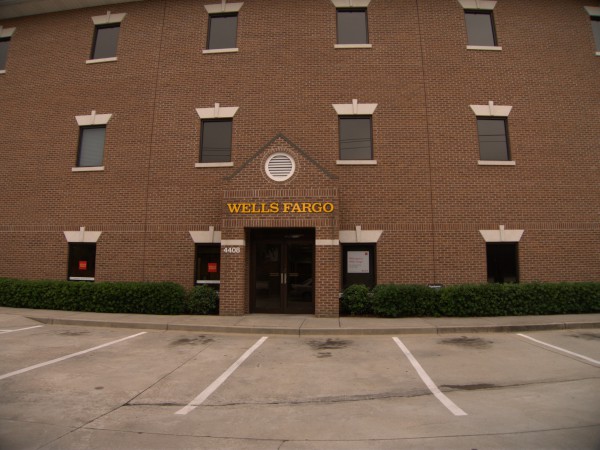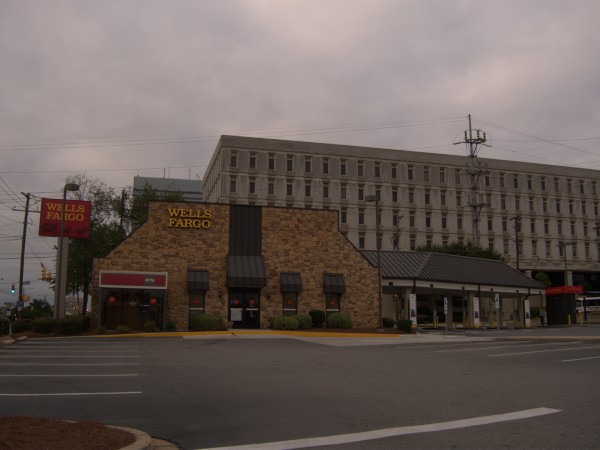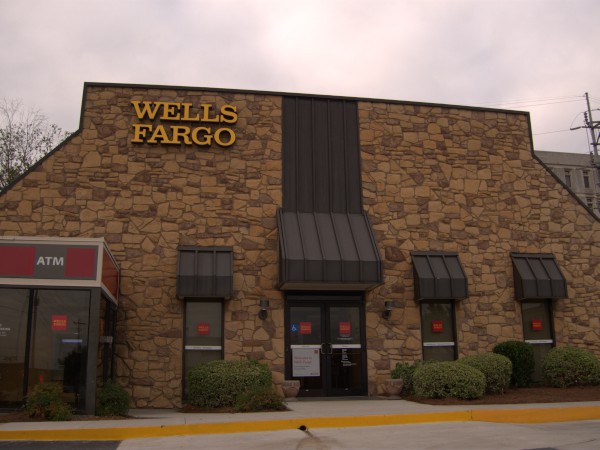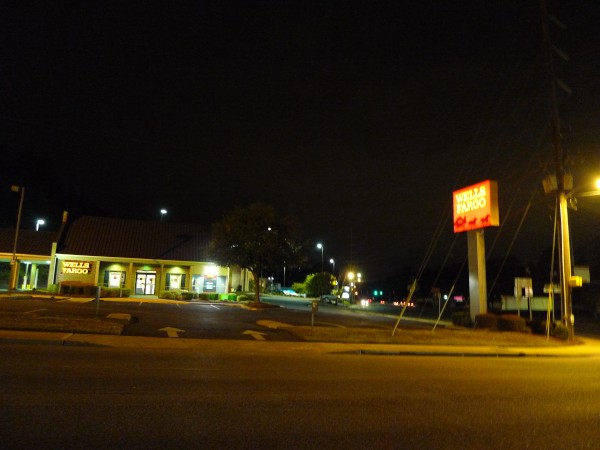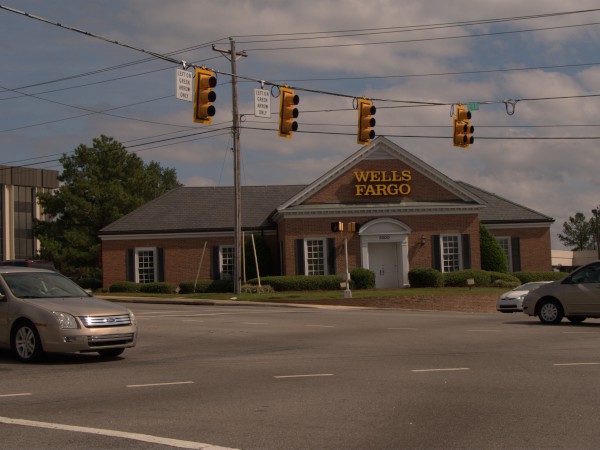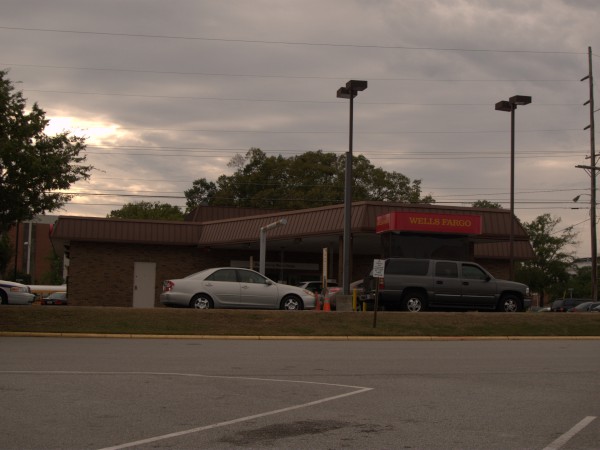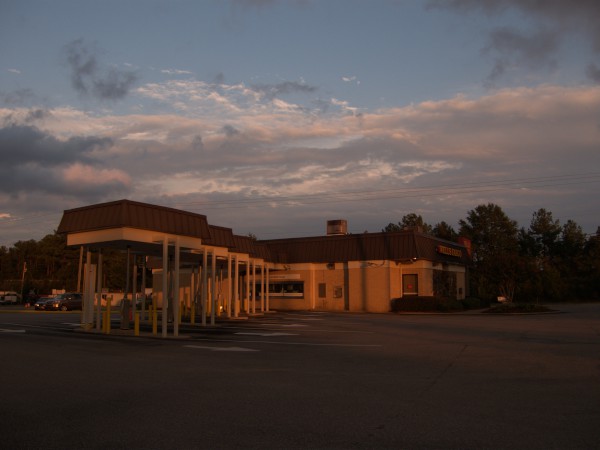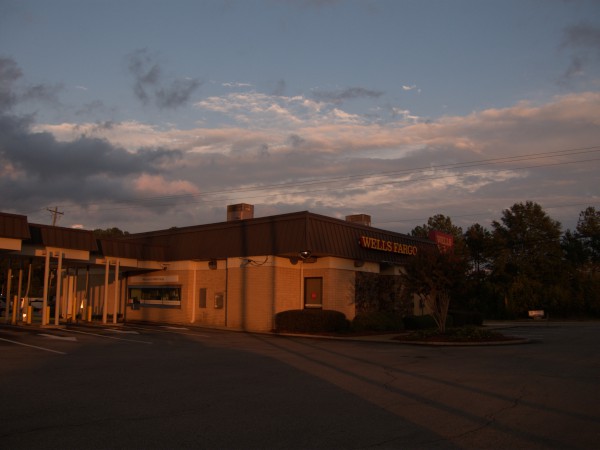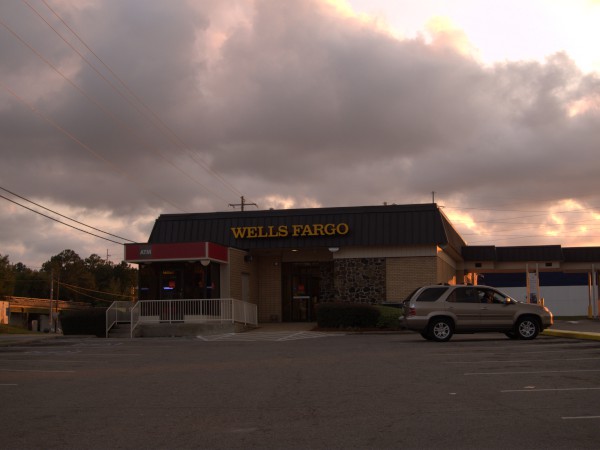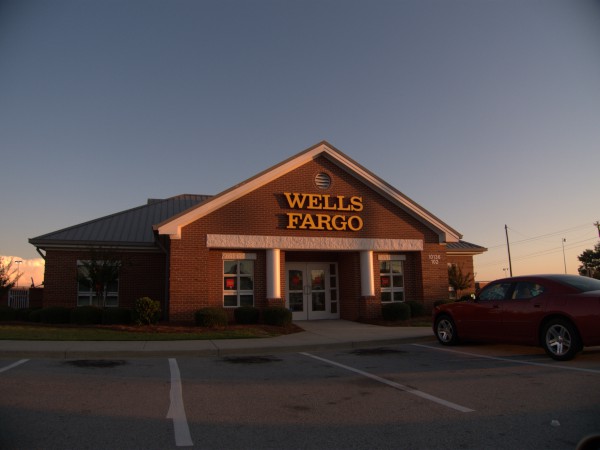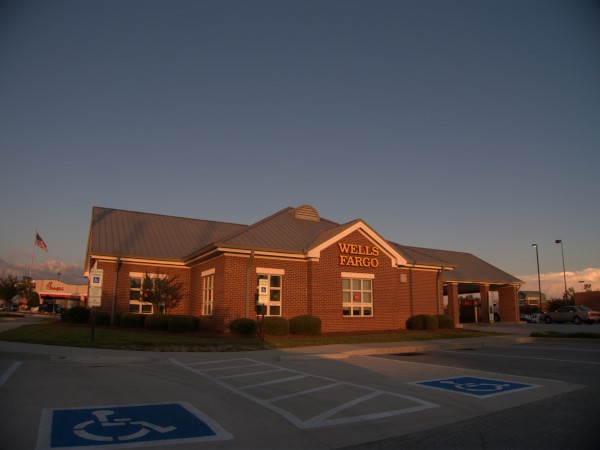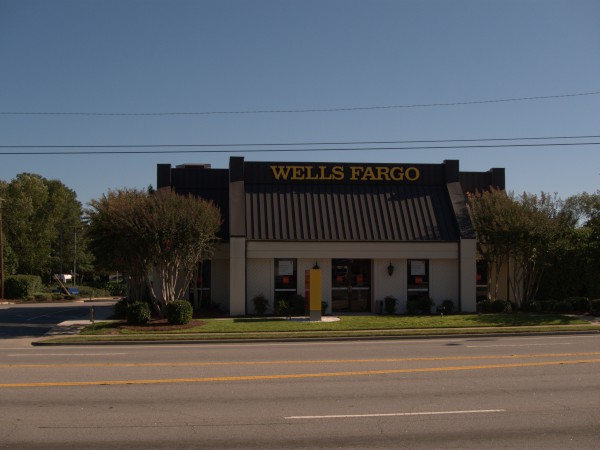 The weekend of September 17 2011, all of Columbia's Wachovia locations unveiled their new Wells Fargo signs and the transition which had been forgone since the 2008 merger/rescue was complete.
In reading the Wikipedia entry for Wachovia, I learned a number of things including the fact that "Wachovia" is an old German/Moravian term for the area of North Carolina including Winston-Salem and that Wachovia, like many banks, has a complicated history.
The short version is that the entity that became known as Wachovia started in the Winston-Salem area, eventually bought First Atlanta and became a regional power with headquaters in both Atlanta and Winston-Salem.
In 2001 Wachovia merged with First Union, a bank with its own complicated history. Although technically First Union was the entity which survived, the new company took the Wachovia name and went on an acquisitions spree.
One of these acquisitions was the mortgage firm Golden West which proved to be a poison pill, cratering within Wachovia as the housing bubble burst. This put Wachovia in the position of needing more cash just exactly at the time Washington Mutual failed and dried up all investment cash for banks. I'm not entirely sure I understand what happened next, but the government intervened and tied Wachovia up with Citigroup, a pairing that somehow unravelled when Wells Fargo entered the picture and acquired Wachovia instead.
Or in the end, it could simply be that Wachovia had the bad fortune never to be written into a beloved Broadway show...
Posted at 1:40 am in Uncategorized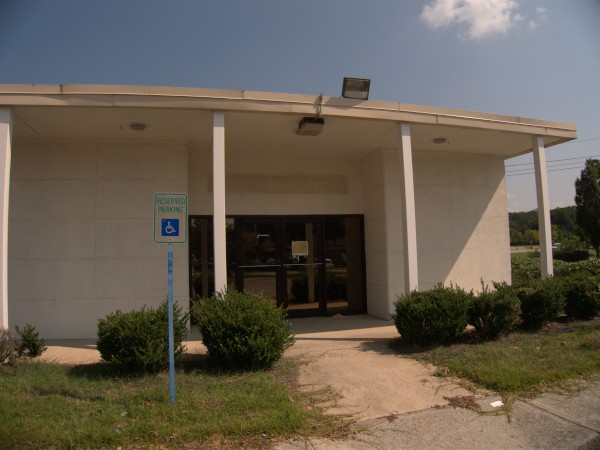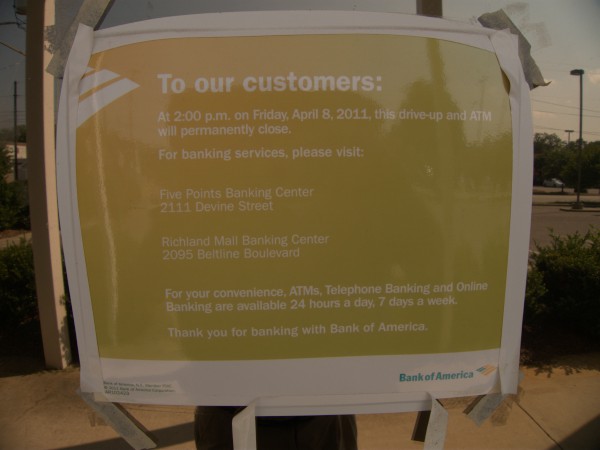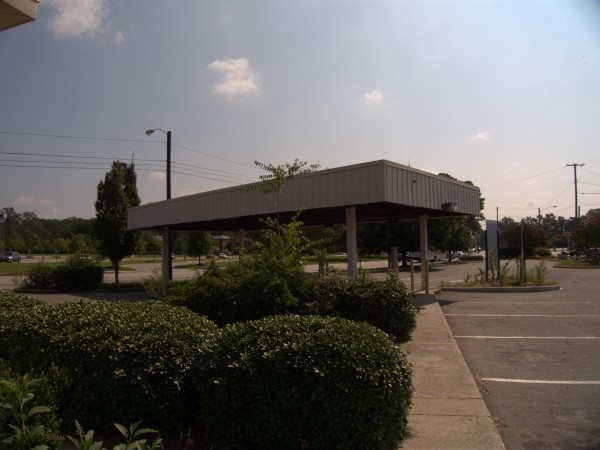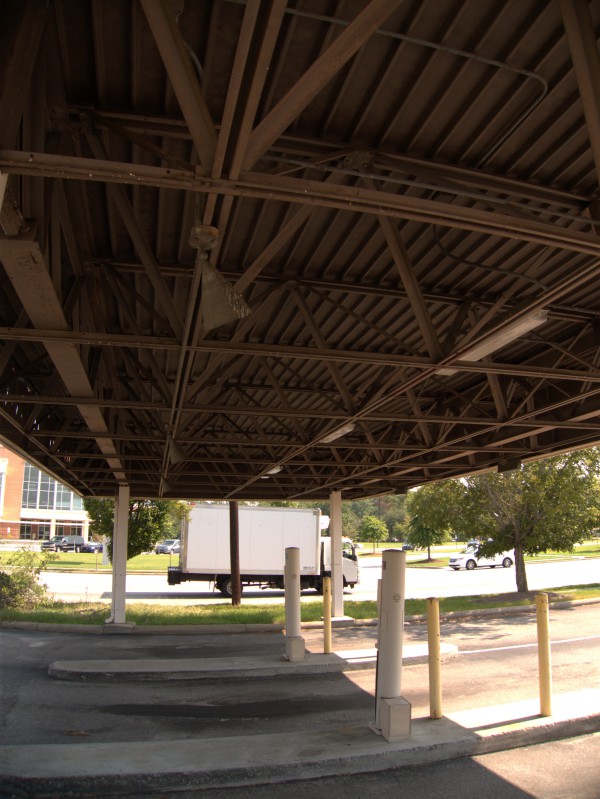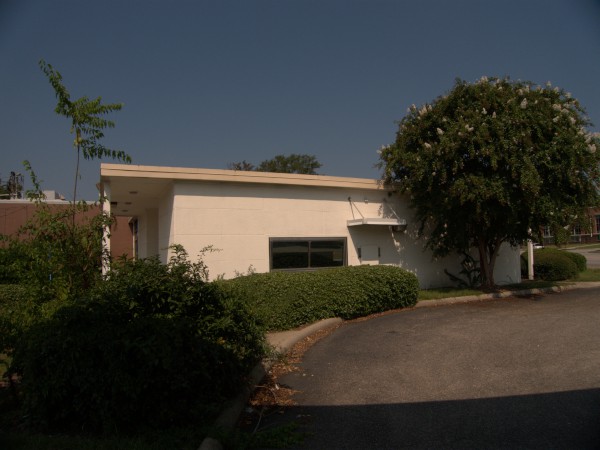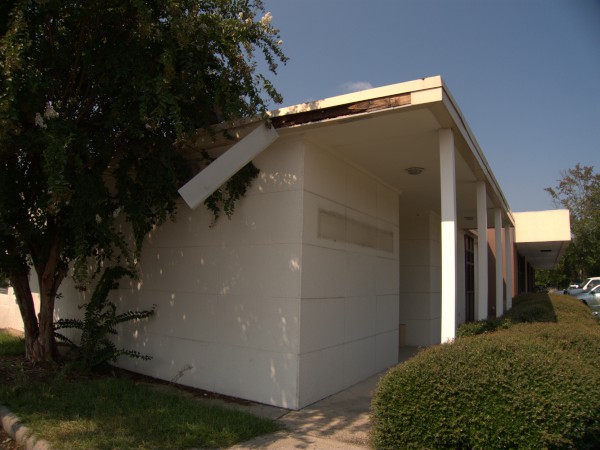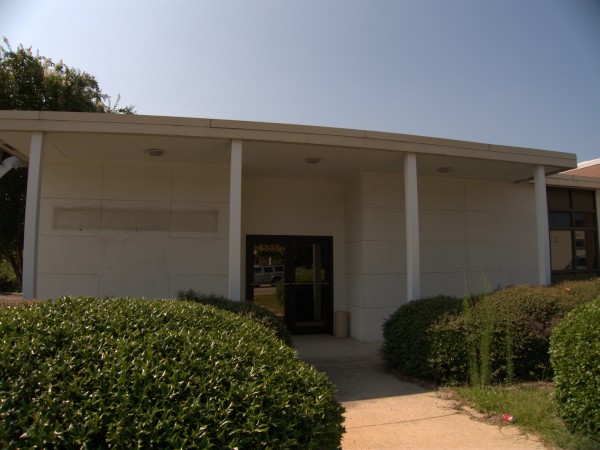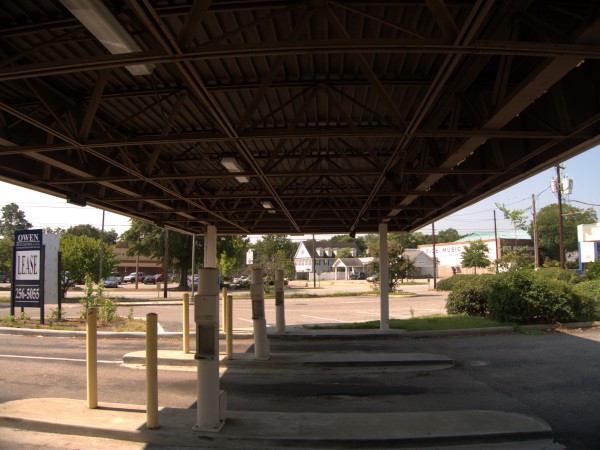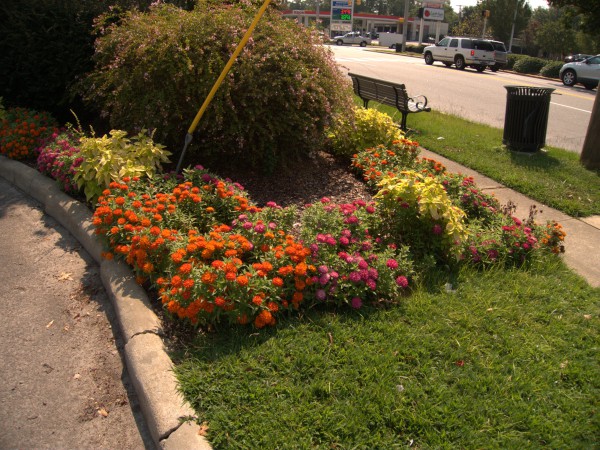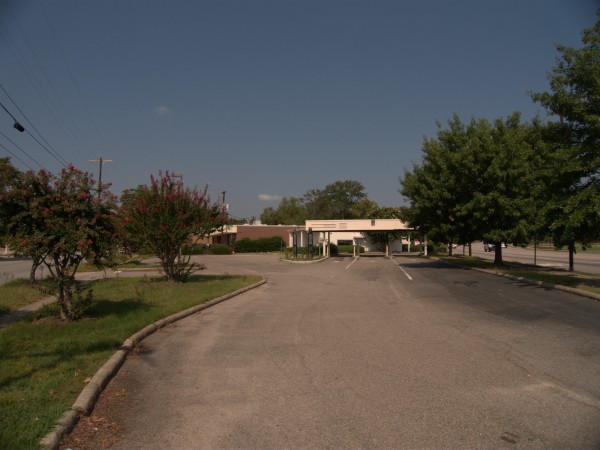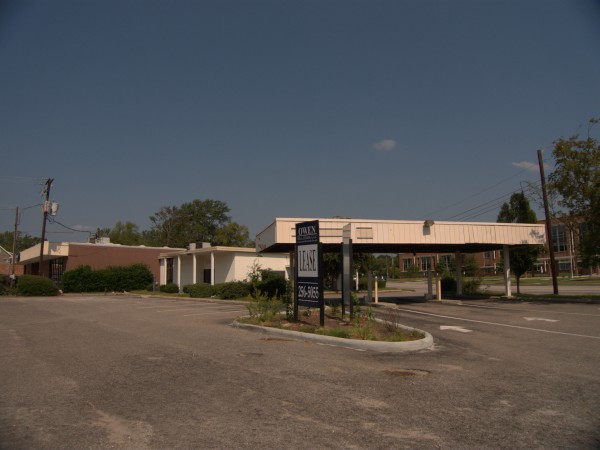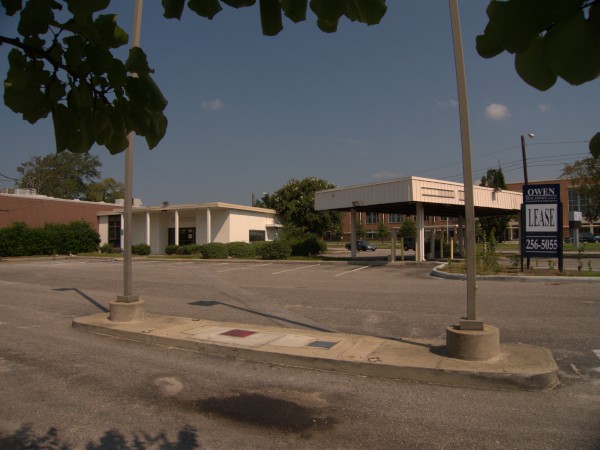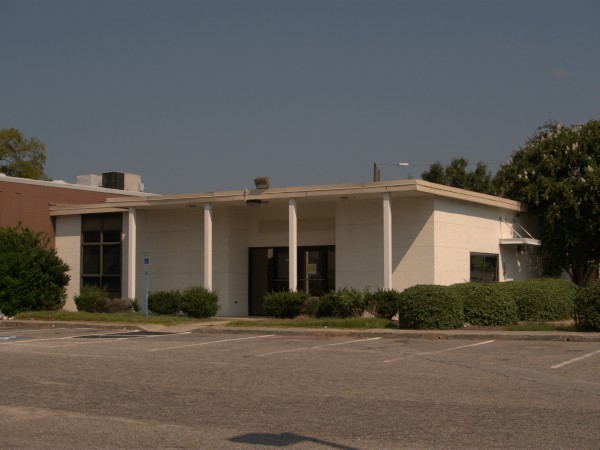 The sign on this former Bank of America branch dates the closing to 8 April 2011, but if I hadn't seen that, I could have almost sworn I used this ATM several months after that. At any rate, I certainly didn't notice that the place was gone until this week. (And it has been gone long enough that the grass is unkempt, and the building starting to deteriorate [though someone is still tending the flowers in the sidewalk patch]). The building is on an odd triangular shaped lot at the sharply angled corner where Millwood Avenue hits Devine Street, and as I recall, it could be a chore to get in and out of, depending on where you were coming from and trying to get to.
I'm not sure why the branch was closed, but from what I can tell of the news, Bank of America in general continues to be in a pickle due both to bad luck and bad practices during the run-up and aftermath of the housing boom. Anyway, it will be interesting to see what goes in here. It might be a nice place for a restaurant as this stretch of Devine doesn't really have any.
UPDATE 13 March 2014 -- It's to be a Dunkin' Donuts, the sign was going up today: