Archive for the 'amusement park' tag
Posted at 3:51 pm in Uncategorized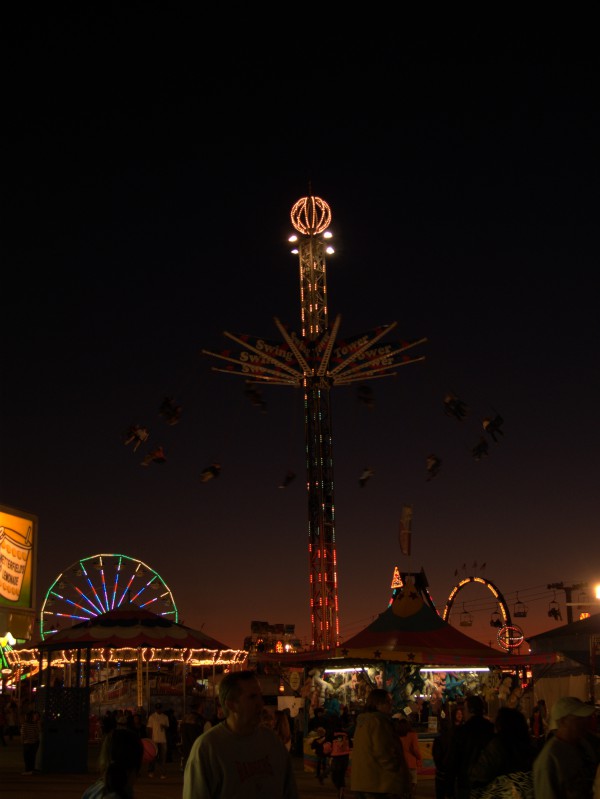 OK, you know the drill by now if you've followed my State Fair posts from previous years: I like what I like, and I like to take pictures of it, so there's nothing new or astounding here, just old friends like the Buxom Beer Girl, The Cotton Candy Stands and the ducklings, but I enjoyed being out and about amongst the neon and greasy delights as usual. I took the tripod, but really couldn't get into setting it up to try for HDRs this year, so I just got one, which is not as good as those from last year (2010). I did take a few videos this year, in particular the one above (which has some issues with light spikes, but is quite watchable) and one below the jump.
Meet your party at the (Time Warner) rocket!
Posted at 2:21 am in Uncategorized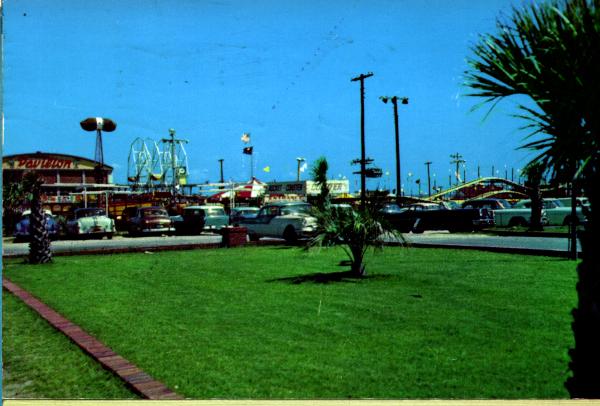 PAVILION AND MIDWAY.
MYRTLE BEACH, SOUTH CAROLINA
"AMERICA'S FINEST STRAND"
670 Miles South of New York
735 Miles North of Miami
Home of Miss Universe Pageant of South Carolina

OK, today is an anniversary of sorts. Three years ago today was the final day of operation for the Myrtle Beach Pavilion. As it happens, I was there, and made a video essay to share with friends and family. The fact of doing that, and not really having any good forum for something like that was one of the things that started percolating around in my brain and eventually led to establishing Columbia Closings.
Below is the essay pretty much unchanged from how I wrote it then, followed by a lot of still pictures (too many, I'm sure) that I took on that day and earlier in the year:
Last Ride at the Myrtle Beach Pavilion, 30 September 2006
We didn't actually go to the Pavilion that often as kids, so the closing
shouldn't be that big a deal, but we always knew that there was the
possibility that we might go, and that possibility loomed large in our minds.
In the end, Burroughs & Chapin is a business, and they made a business decision to shut the Pavilion down. That said, they actually did it in a classy way. For the Last Ride celebration on Saturday September 30 2006, they presold tickets, each of which came with park access from 3PM to 8PM, free parking, and unlimited free pizza, burgers, corndogs, funnel cake and ice cream.

As I happened to be at the beach at the time, I reserved a ticket and took a CVS disposable video camera (as well as my regular film camera, and a disposable film camera) to record some last memories.
This page is devoted to the short videos I shot that day. I have converted the DVD which CVS gives you into an AVI file for each scene. While these files are not huge (except for the all-in-one file), you may not be able to stream them unless you have a fast connection. If clicking your left button on a picture does not start your movie player, or if the clip plays jerkily, I recommend clicking your right button over each picture and selecting "save target as" or the equivalent to download the clips. They should be playable with Windows Media Player on Windows, or "mplayer" on Linux.
We start off on the roof of the Pavilion parking garage, looking out at the roller coaster and other rides:
Moving to the South side of the garage roof, we look down at the lines forming to get into the Pavilion:
Coming off the roof, I took a brief shot of foot traffic on Ocean Blvd, noting the fact that the Pavilion Arcade is already closed:
Collecting my ticket and stepping inside the park, we see some kiddie rides:
More kiddie rides:
The very first thing I ever remember from the Pavilion is this 1905 German Band organ. The second thing I remember is the blow dryer in the restroom. I had never seen such a thing! I only remember Daddy being there on that trip, probably because he would have been the one taking me to the bathroom (which is alongside the organ), but doubtless Momma & Sus were around.
I was disappointed that Sugarbug could not see the organ on her trip to the park, but it was closed for repair at the time. When you consider that it is 102 years old, I suppose that's not surprising. I'm not sure it comes across in these videos, but the organ is loud!
The placards describing the organ claim some of the original cardboard punched music sheets are still used. Somehow I doubt that "Ob La Di Ob La Da" was that popular in 1905!
The only actual ride I remember from that (presumed) first trip to the Pavilion is this boat ride, which I thought was possibly the neatest thing in the world:
No trip to any amusement park would be complete without the Bumper Cars:
My attempt to film while driving a Bumper Car ended quickly when the
attendant stopped the ride. I thought I had broken a rule, but he was
after a kid who was old enough to ride, but not drive:
The swings is a nice ride because it goes around, but not enough to make middle aged stomachs queasy:
I hopped aboard a wooden pig for a ride on the carrousel. While not as old as the band organ, it is pretty old. I noticed that the carrousel music was coming from a sound system and not the antique music box. Perhaps they didn't feel it was worth repairing for the time left. I have no idea what will happen to the carrousel or band organ. It would be a shame if they were left to rot:
The Log Flume is the park's intermediate water ride. More wet than the
"boats", less soaking than the "river ride":
There was a pretty good beach band playing at the amphitheatre. The name escapes me, but they had just finished a very good version of "Carolina Girls" when I started filming. This song was well done, but not one I would call a classic:
I wrestled with whether to ride the big coaster or not. On the one hand, I was coming down with a cold and had something of a headache, on the other hand, I'd never have the chance again. Riding the intermediate coaster "The Mad mouse" decided me I wasn't ready for the big one, but here are some people who were:
Here's another shot of the Carrousel, which was strikingly pretty with
the setting sun glinting off the mirror panels. I like this one a lot; there's so much going on in this shot and some appropriately elegiac music for the last sunset on the working park:
Finally, we finish with the band organ again to take us out:
This is the whole video in one 306 megabyte, 20 minute lump: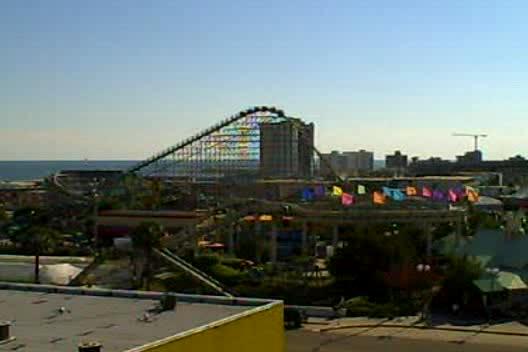 After running out of video, I stayed until the end of the day, and rode
the final run of the Bumper Cars. It was somewhat of a melancholy experience, but I'm glad I did it.
Ted, 3 October, 2006
Still pix after the jump..
Posted at 1:17 am in Uncategorized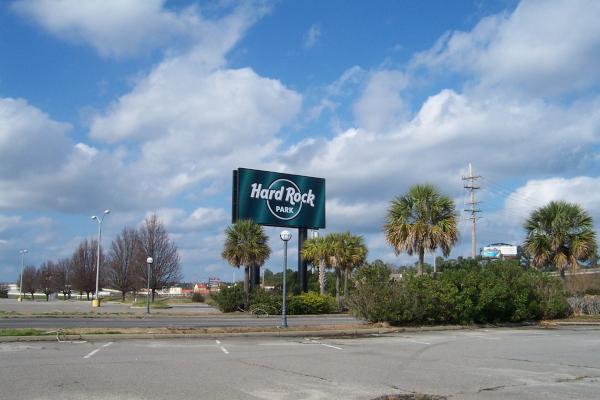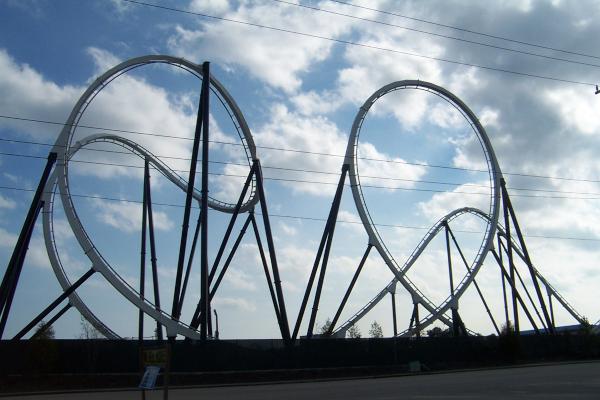 Well, given the events of last Friday, I suppose it's time to do a closing on South Carolina's biggest white elephant. That's the date that Hard Rock Park "chose" to move from Chapter 11 reorganization to Chapter 7 liquidation. Why?
The park, which said it was worth $400 million when it opened in April, was unable to attract any bidders willing to pay at least $35 million for the park at a Dec. 15 auction, according to court documents.
I find that amazing, even with all the other financial beef-wittery that has come to light lately. The Sun News's stories on the park are filled with comments from the locals to the effect that they could have told the owners what was going to happen, although it also appears that many people did tell them. One of the articles (which I don't have a link to right now) detailed the park's origins: Apparently the pitchmen were thrown for a loop when they were told that the Hard Rock empire was approachable for branding the rock-and-roll park they were pitching. The problem was that they weren't pitching a rock-and-roll park, but a "standard" amusement park, and weren't planning to pitch to Hard Rock, but they brainstormed some rock-related ride names on a lunch napkin and sold the concept. That's the kind of story that becomes a legend if a venture succeeds, and a cautionary tale if it doesn't...
In the event it seemed that the owners were better at promoting to corporations than to tourists, and aside from the unforseeable blunder of trying to launch a venture in the annus horribilis of 2008, they priced tickets too high ($50 + $10 parking), didn't advertise, and didn't promote with local hotels.
I had two chances to visit the park. The first was on the Fourth of July 2008, when I was taking pictures of Waccamaw Pottery. As I was standing in the parking lot, I could see the Led Zeppelin roller-coaster running in the distance, but it was about lunch time, and after that, I ended of taking a helicopter ride over the beach instead. I also had a week to myself at the beach in August, and thought about taking in the park then, but it was hot, I didn't feel like getting on 501 in tourist season, and I figured it would be better in October, but that was not to be as the doors closed in September.
Oh well, it's only rock and roll!
UPDATE: Here's a link from commenter "Beach Guy" that has the origin details I mentioned.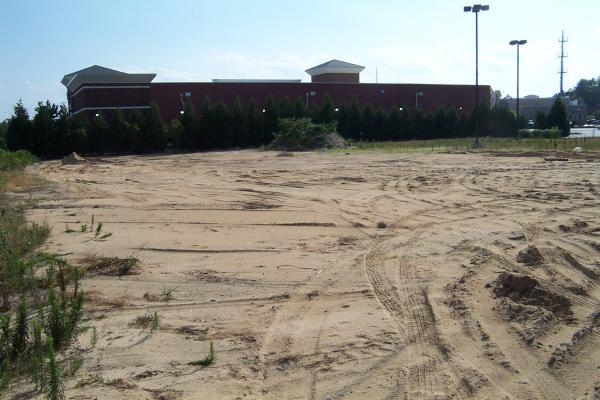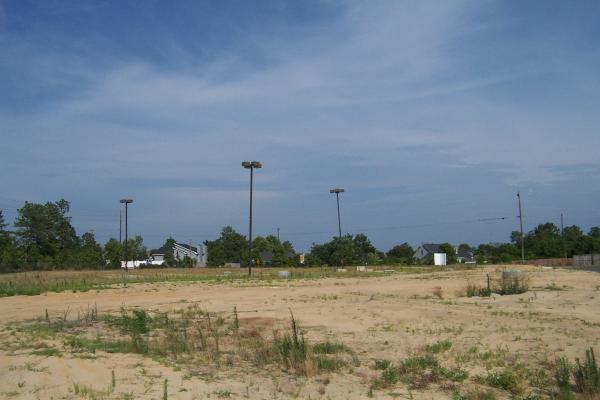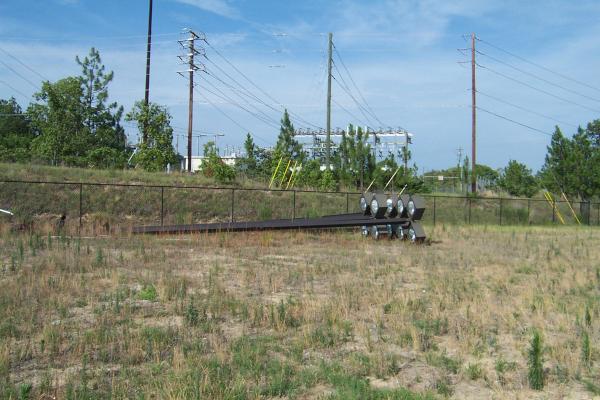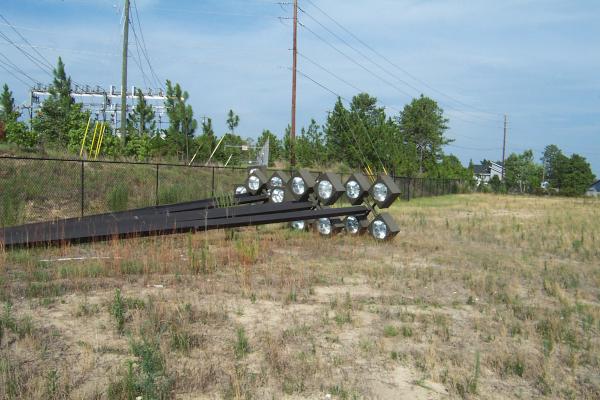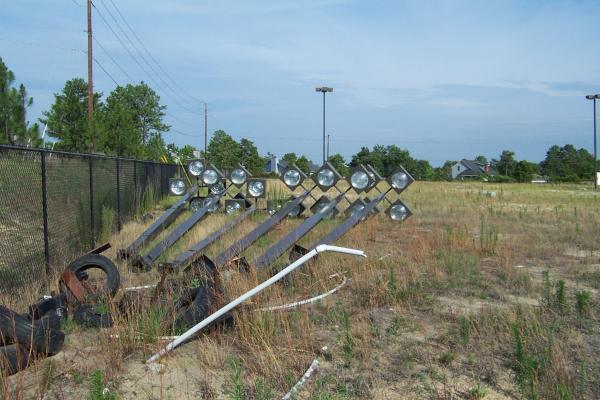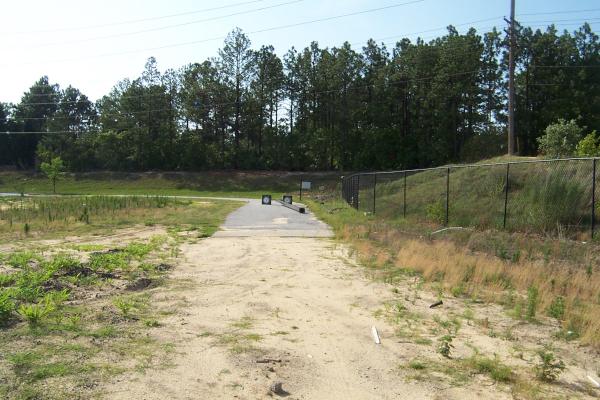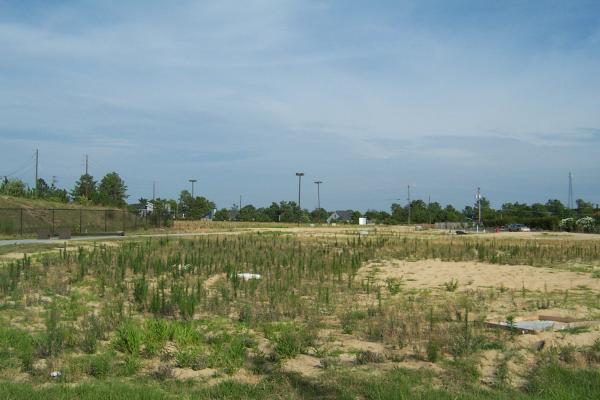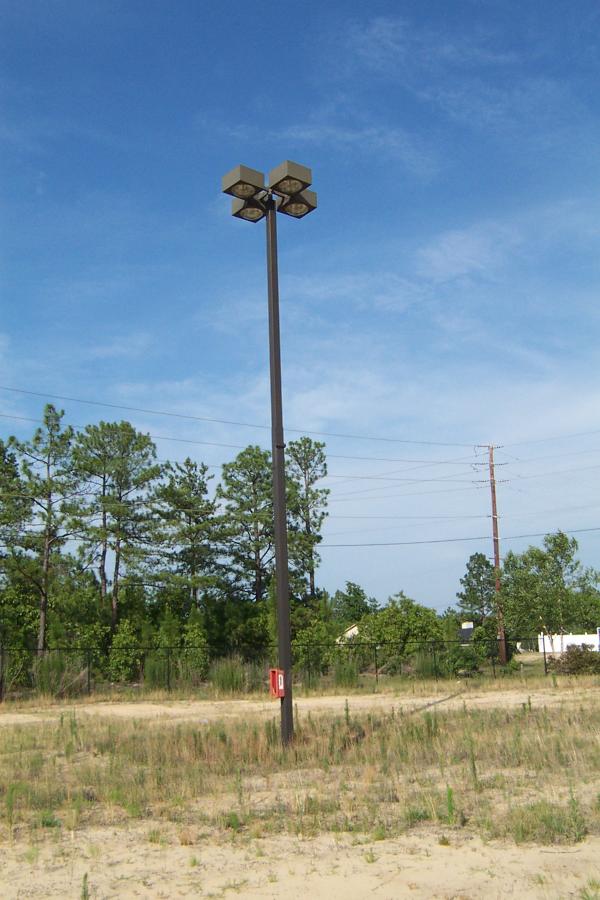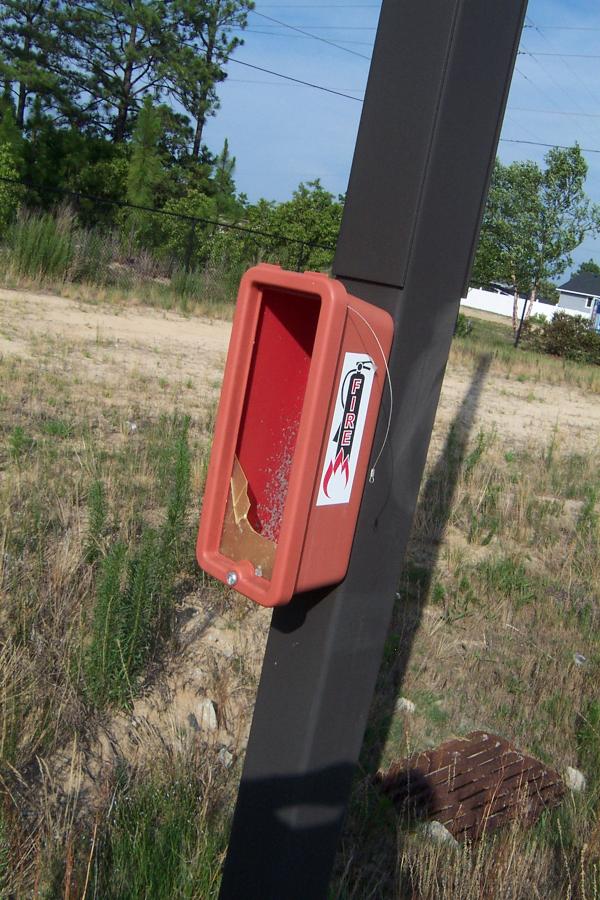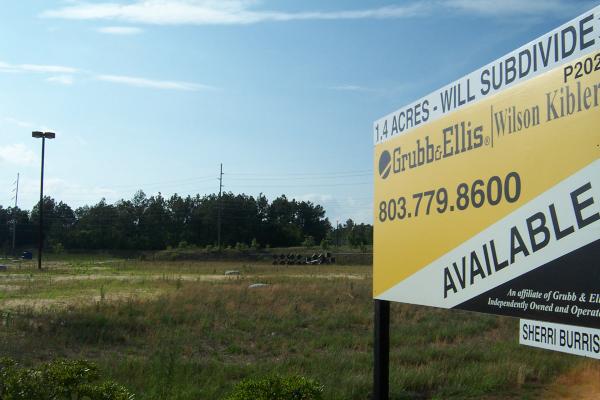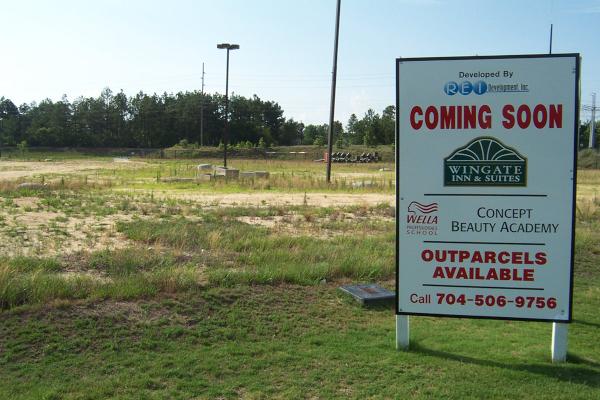 Well it seems I always get around to taking pictures of Putt-Putt locations too late. This location on Clemson Road only lasted a few years, and was completely torn up before I got around to going out there.
If I recall correctly, they had a go-kart track which was out in the area with the fire-extinguishers on the light poles. I'm not entirely sure, but I believe the actual "building" part of the "fun center" might still be standing. There is a building in the back of the area which now seems to be a welding school, but the shape of the back of it makes me think it might have been designed for a lot of in-and-out traffic to the golf course and race track.
It looks like we are to get another Interstate hotel here, which is kind of a shame, as Columbia has lots of hotels, but at this point, no minature golf courses. Or am I wrong about that? Come to think about it, the only actual working "Putt Putt" brand course I can think of is this one at the base of Atlantic Avenue in Fernandina Beach: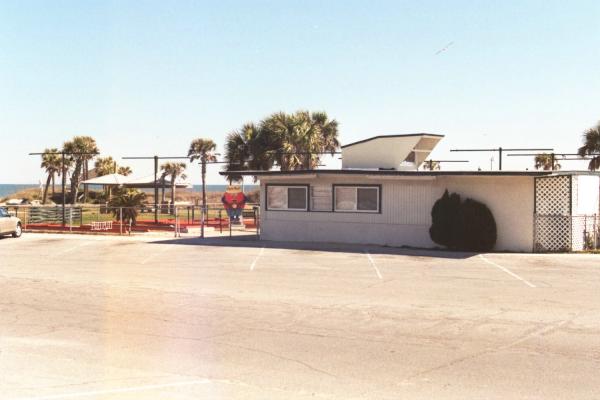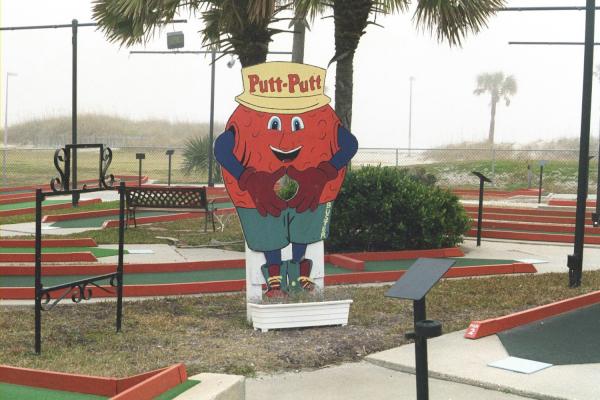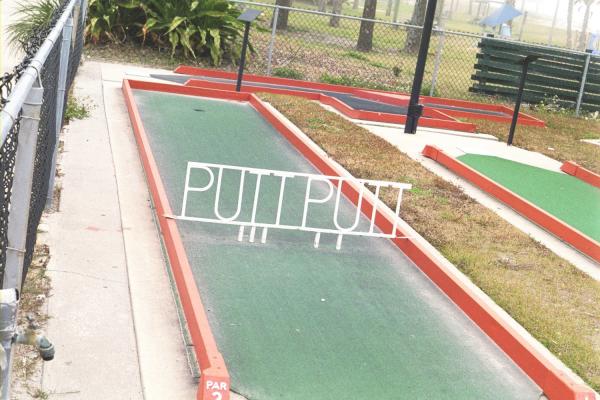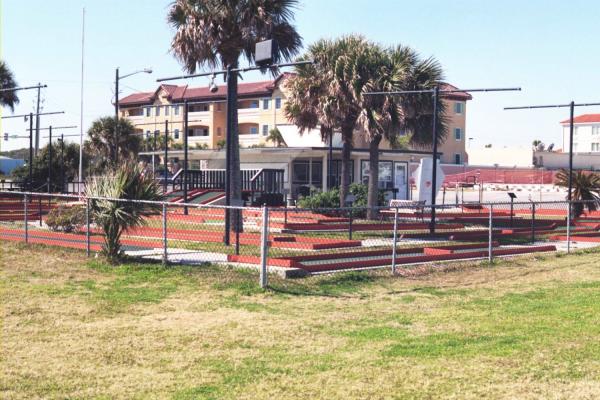 UPDATE 25 June 2010: Added full street address to post title. The place was actualy officially on Sparkleberry Lane, not Clemson Road as I had thought.
UPDATE 19 March 2013: Well, for whatever reason, the Wingate Inn never happened, and now, 5 years later, the parcel is still for sale: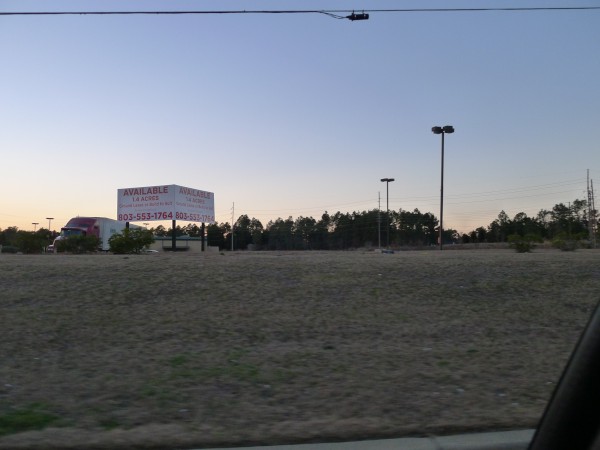 UPDATE 9 August 2017 -- It looks like this parcel has finally, for real this time, been sold to be the new home for nearby Frank's Carwash: