Posted at 1:04 am in Uncategorized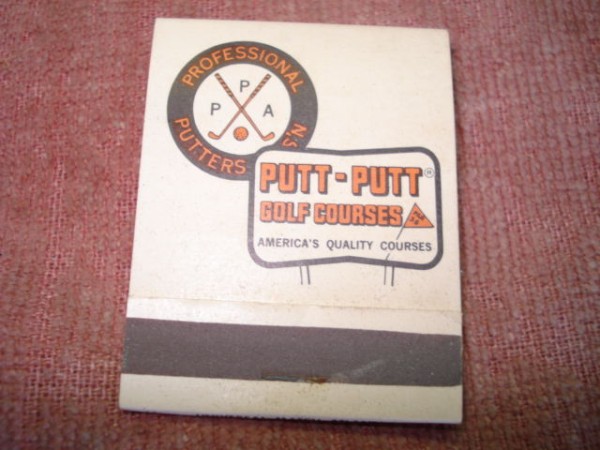 I'm afraid I went to take this set of pictures about 15 years too late. I think if I had taken them in 1993, you would be able to look at them and say "yep, I can see that was a Putt-Putt course". It not having occurred to me to do that then, you're just going to have to take my word for it now.
In the 1970s, the corner of Percival Road & Forest Drive was, if not a thriving retail hub, at least a viable one. The lot had a strip mall of sorts with a number of businesses. I think the largest was some sort of mini-grocery which was a size up from the 7-11 model, but not quite big enough to be the "country store" type. There was also a barber shop (which survived the longest, I believe). I'm not sure if the Carraige House strip-club had started then, or if that building (now Liquids) was some other retail.
Across the parking lot from the grocery, a few feet further down Percival, was the Putt-Putt course. "Minature golf" is the generic name for the sport while "Putt-Putt" is a specific brand. At the time, it was a fairly famous name (always struggling to make sure it wasn't used generically like Xerox and Kleenex) and its orange bordered courses tried to put some seriousness into the sport. Putt-Putt branded courses tended to eschew most of the whimsy of minature golf. They concentrated on making holes tricky through banks, caroms, dips, plateaus and hills rather than shooting through windmills or around dinosaurs. In retrospect, that may have been a mistake. I think people like whimsy on a minature golf course, and since it costs nothing to come up with your own ideas for holes, it's unclear what benefit paying Putt-Putt for a franchise gets you and in recent years, Putt-Putt has seemed to struggle, with parks closing on Clemson Road and in Augusta.
I don't recall that this particular course was ever really popular, but it was close enough that I could ride my bike there, which I remember doing the only time I ever played the course. It was, I believe the longest bike ride I ever took in Columbia (not that it was far in absolute terms, but my parents were very against our riding on main streets, and this was the first time they had let me cross Trenholm). At any rate, I rode up with a school friend, and we played a few rounds, and I think had a coke at the store. No big story there, I'm afraid. This would have been around 1974, and the course folded a few years after that. At first, they left the greens pretty much alone, but at some point they came in and ripped up all the carpet and frames, just leaving the concrete beds. I'm not sure why, unless they thought the lot would be easier to sell that way. If so, it was unsuccessful. The strip mall was torn down several years after Putt Putt closed, and I'm sure the owners thought that with the Interstate coming through, they could get a good price for the lot, but nothing seems to have happened so far.
I think they would get more interest if it had had dinosaurs and windmills.
Here's standing in the mall parking lot looking over at the Putt-Putt parking lot: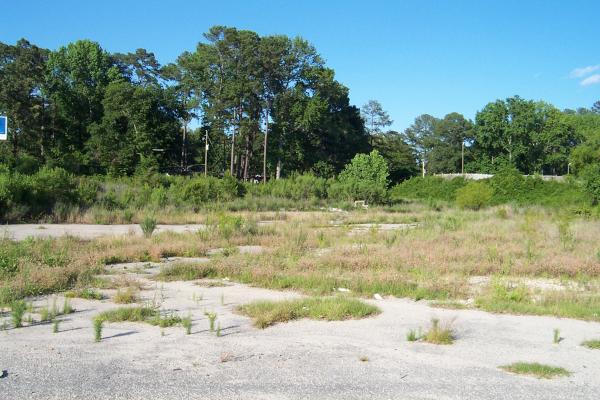 Here's standing in the Putt-Putt parking lot looking at the back of Liquids (towards Forest Drive):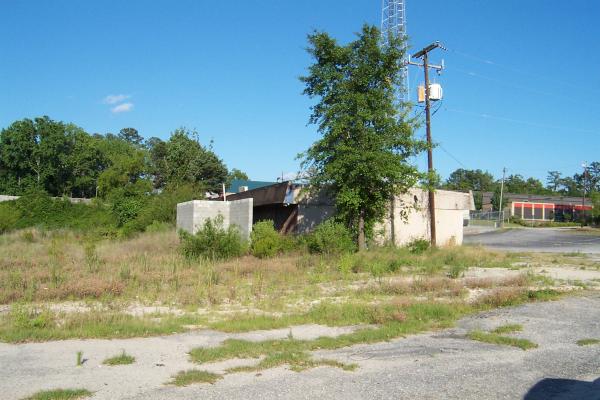 Looking from the Putt-Putt parking lot towards the old "greens":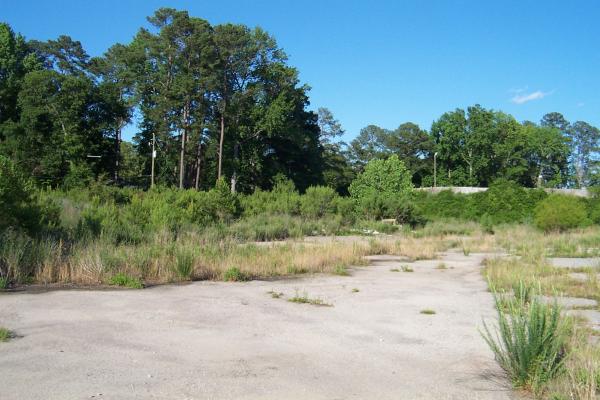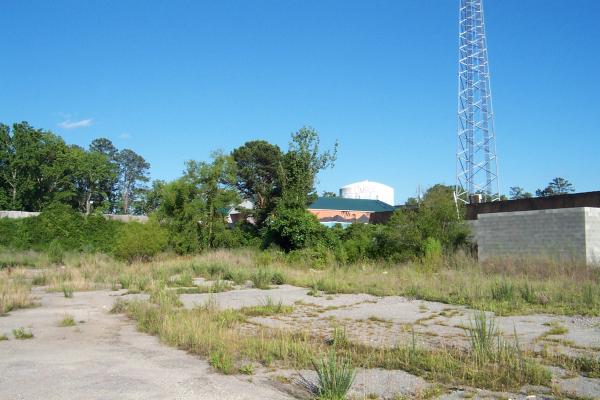 Standing on one of the old greens (concrete base):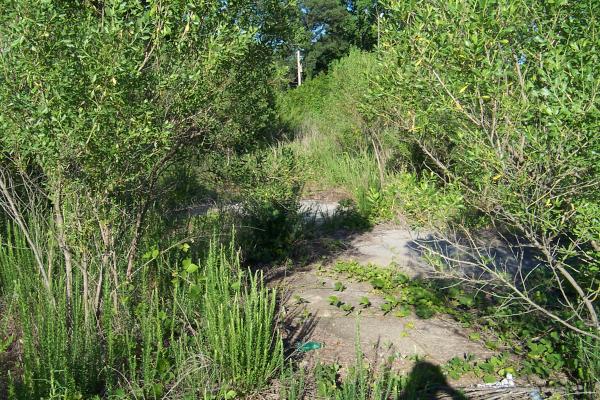 Another old green: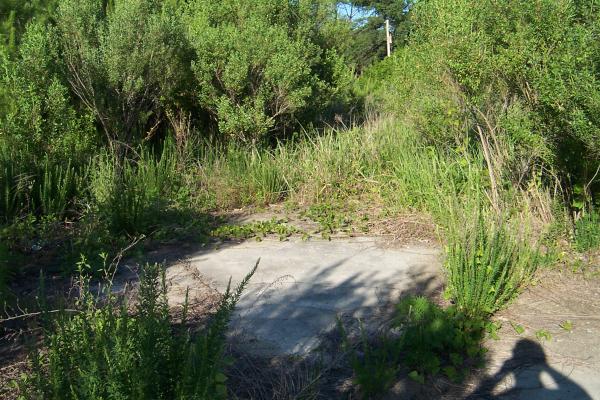 Standing on an old green, looking at what appears to be a wild pyracantha: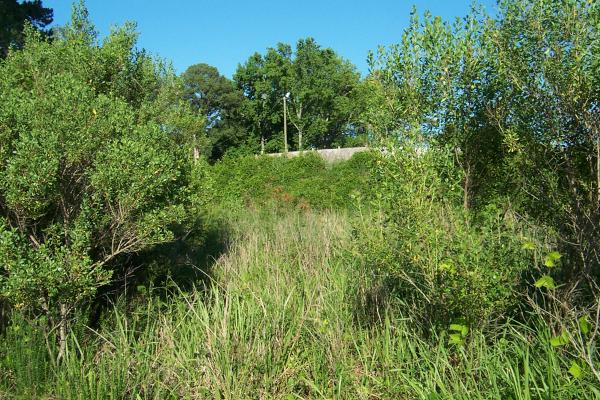 Standing on a green looking towards Percival Road: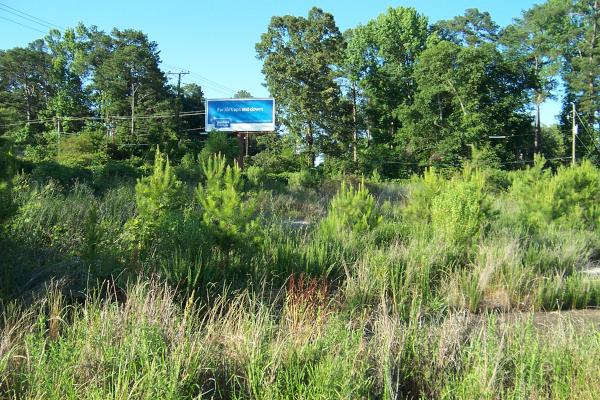 Standing on the shoulder of Percival Road, looking back into the course: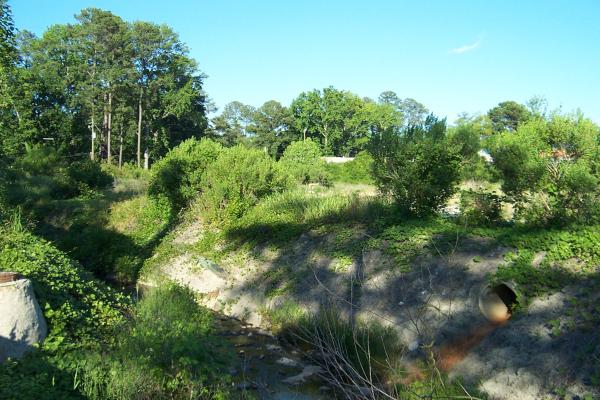 Looking down into the course from just past Liquids: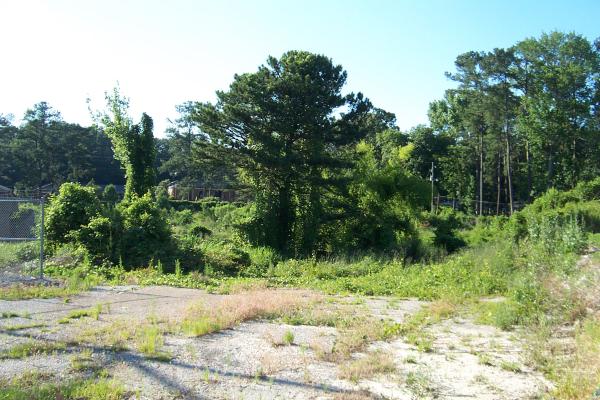 UPDATE 15 Aug 2009: Added scans of Putt Putt matchbook provided by commenter Melanie.
14 Responses to 'Putt Putt Minature Golf, Percival Road at Forest Drive: 1970s'
Subscribe to comments with RSS or TrackBack to 'Putt Putt Minature Golf, Percival Road at Forest Drive: 1970s'.
Leave a Reply