Archive for the 'Dentsville' tag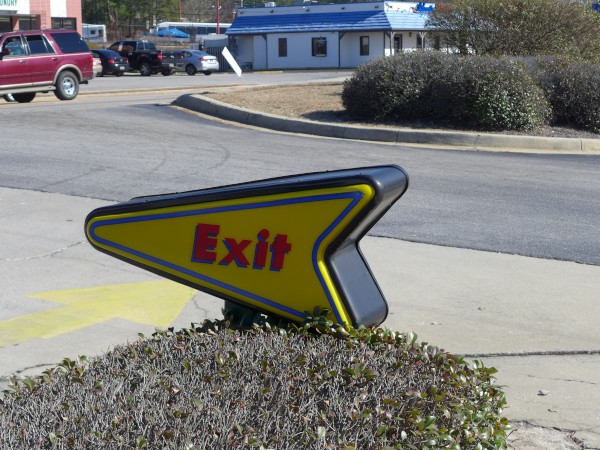 Well, I find this closing a bit surprising, especially given that a lot of Richland County offices will be going into Decker Mall just across the street.
For some reason I've always associated Sonic with small towns and bygone days, probably since the first one I was aware of was in Hartsville sometime back in the 1970s, but nowdays they seem to be a chain on the move with national television campaigns (rather silly ones, I must say) and expansion into head-to-head competition with McDonalds and the rest of the "sit down" fast food chains. I don't think I've had the burgers, but I stop for a milkshake once or twice a year, and they're pretty good.
The closing signs here are a bit disingenuous, as in fact the Forest Drive location: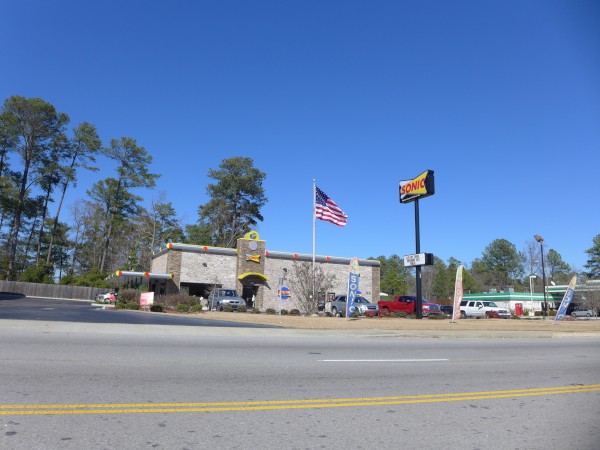 has been open for over a year in the old Hardee's location.
(Hat tip to my sister)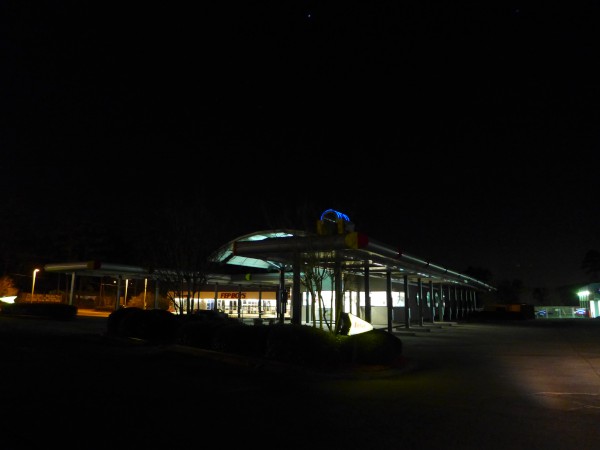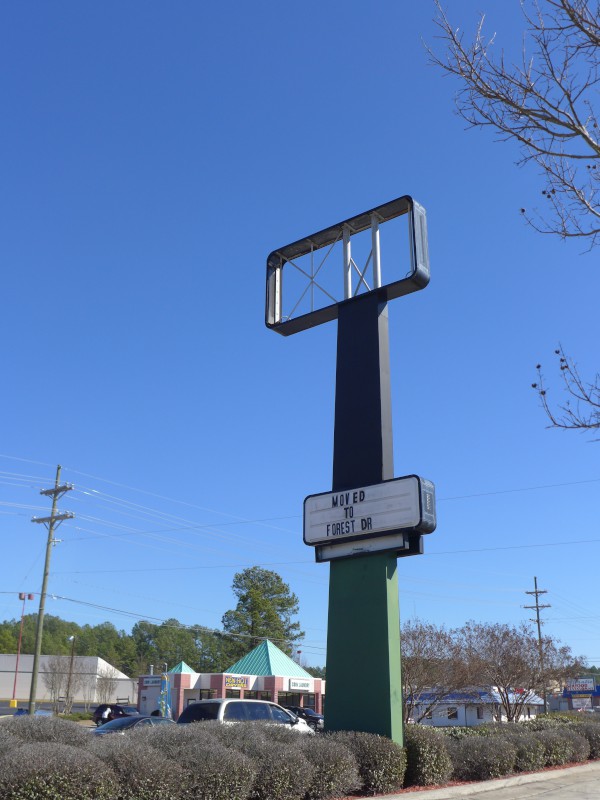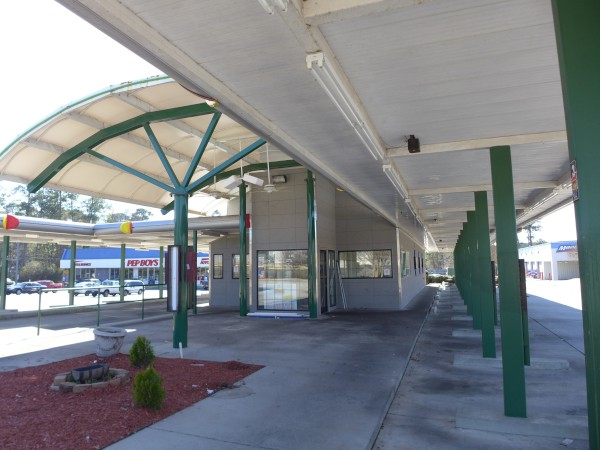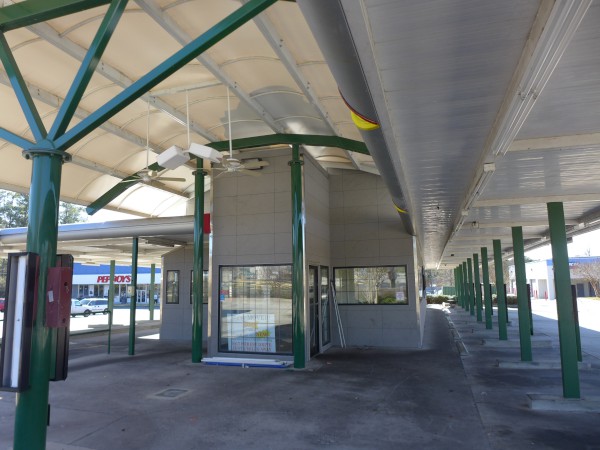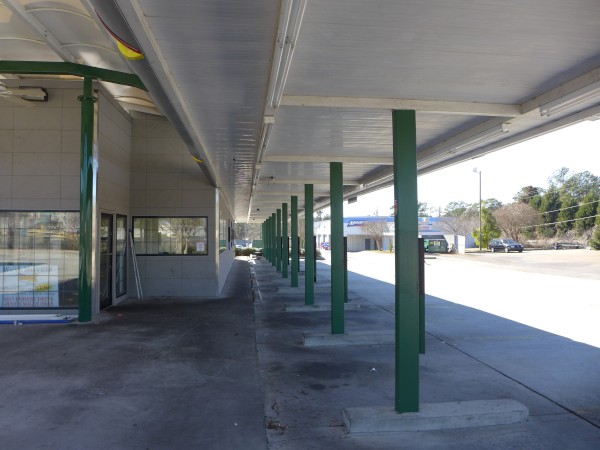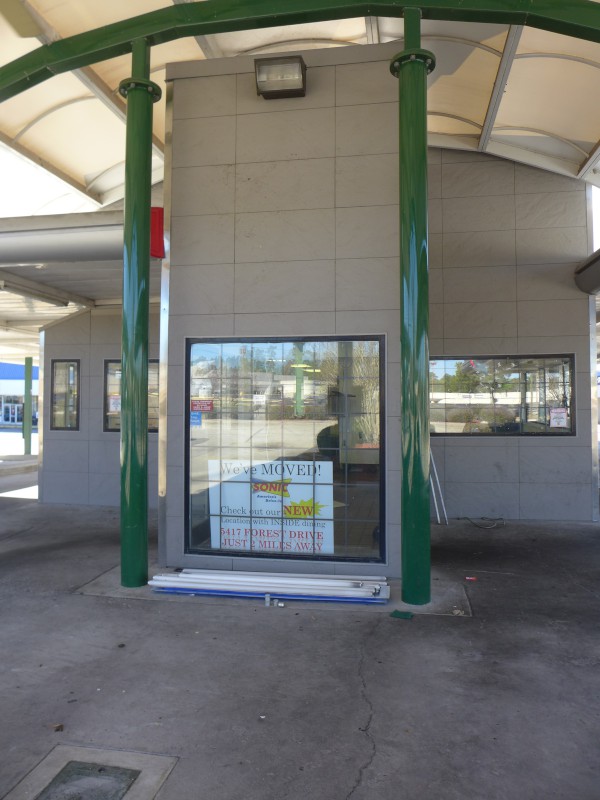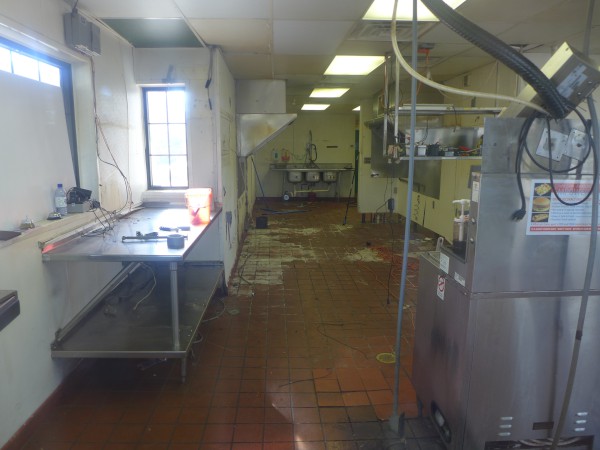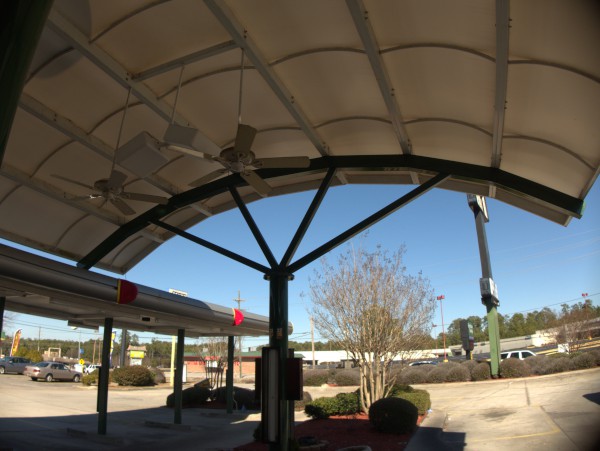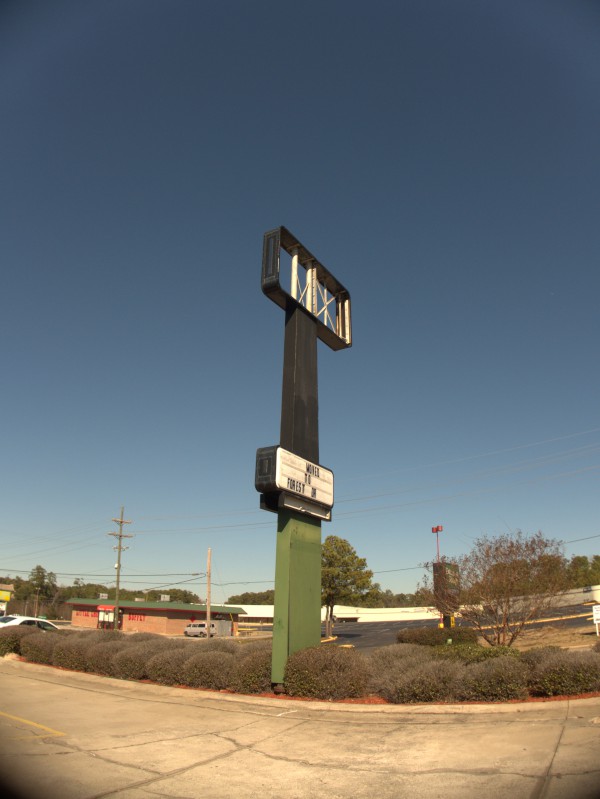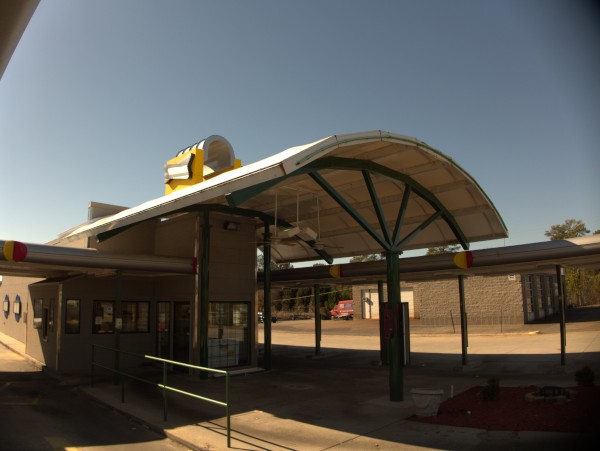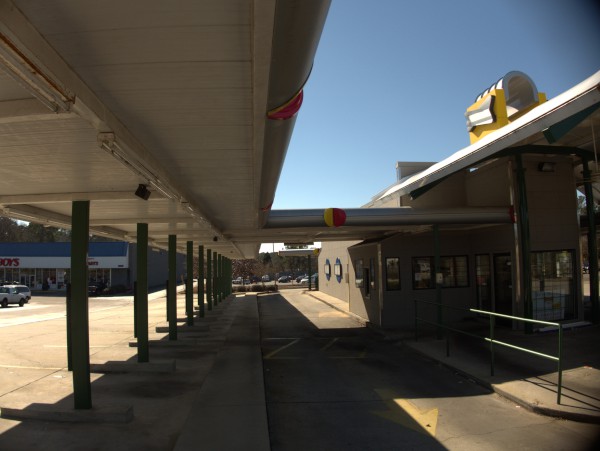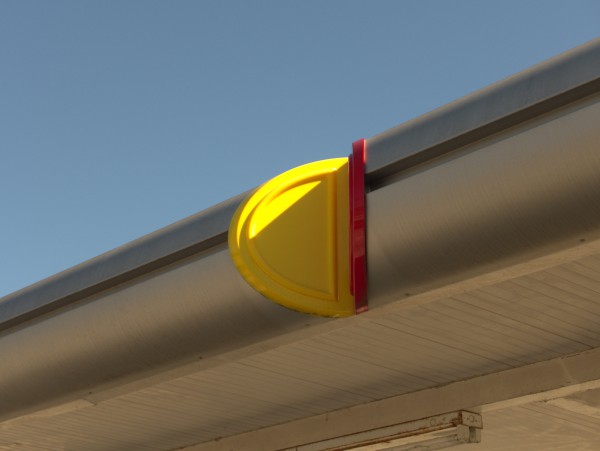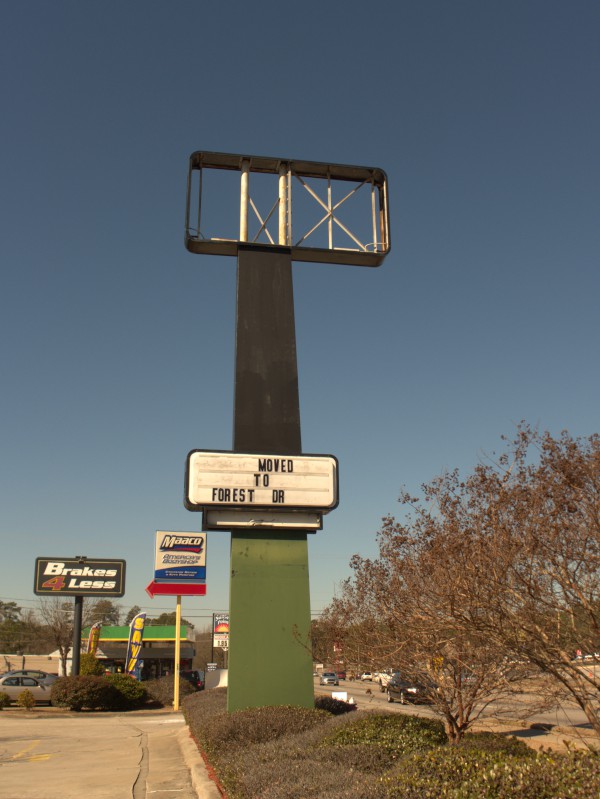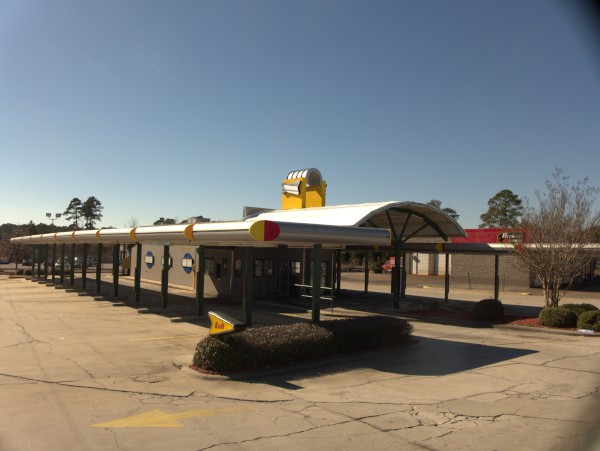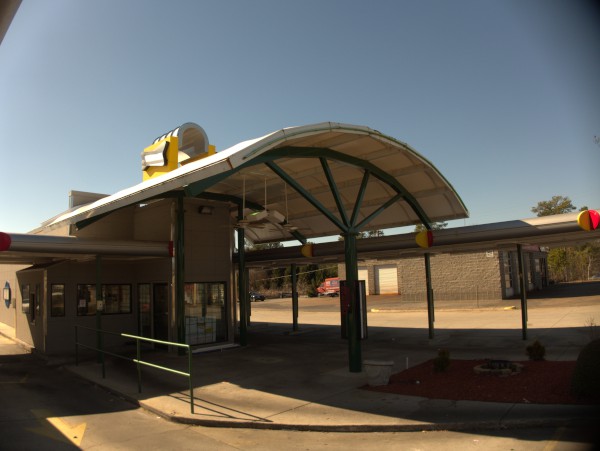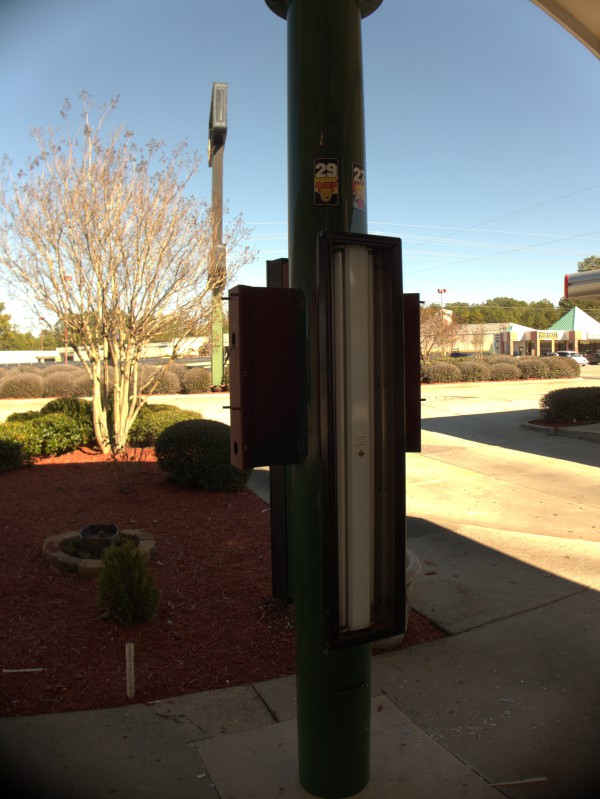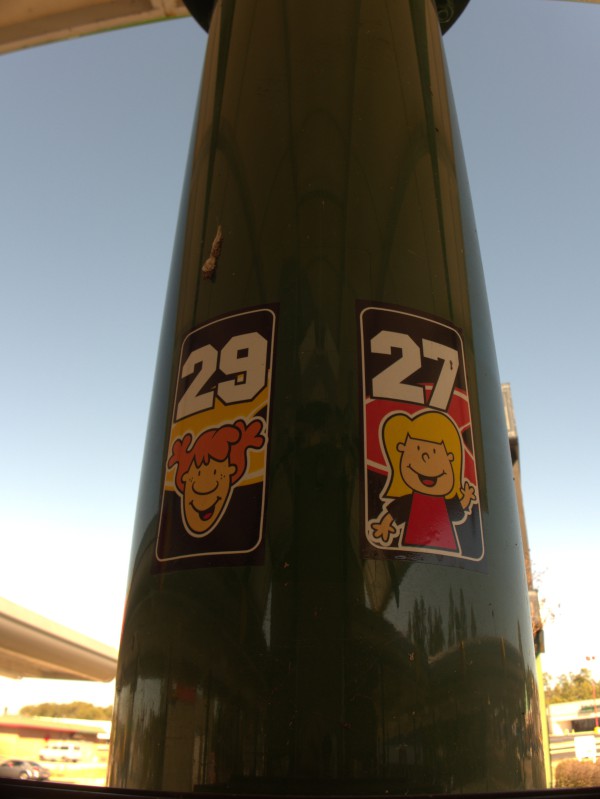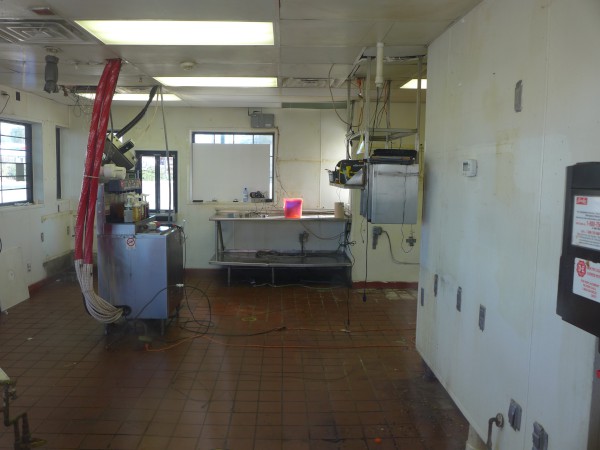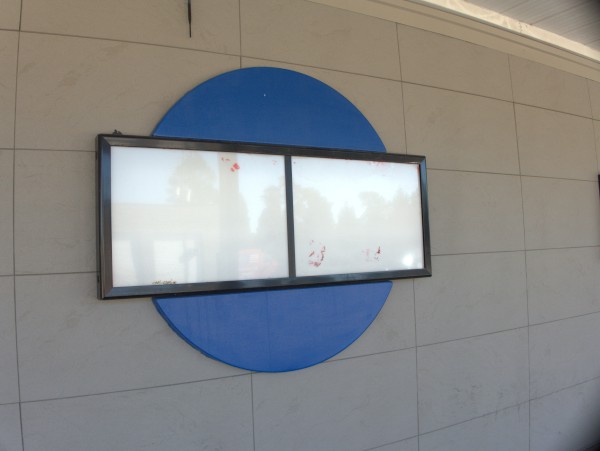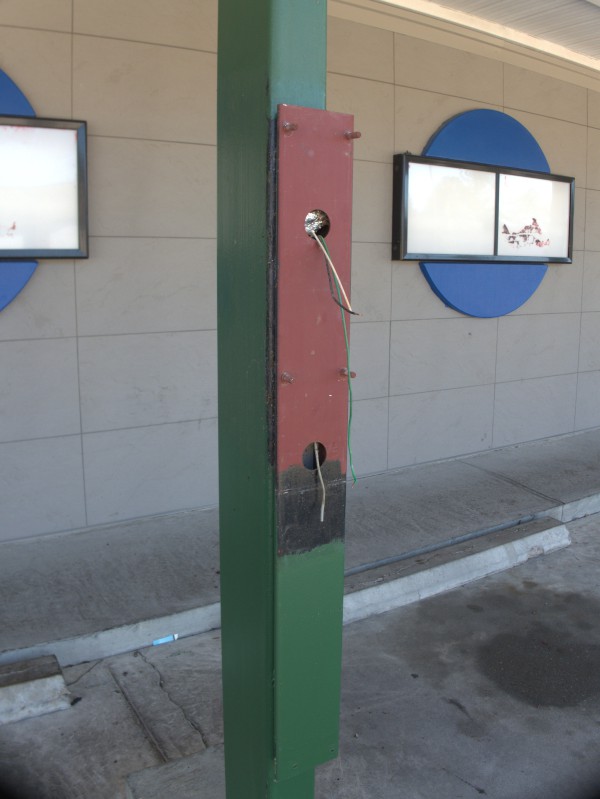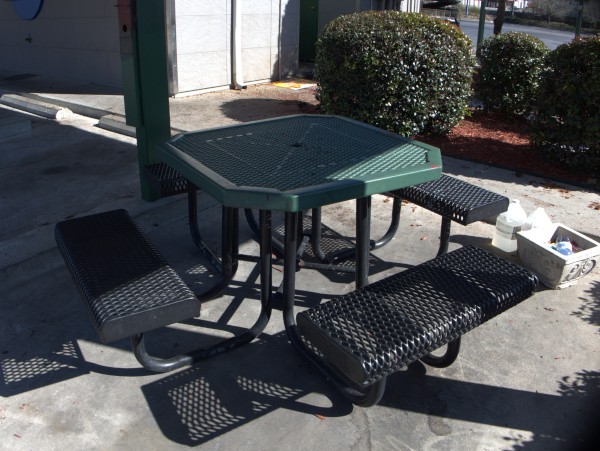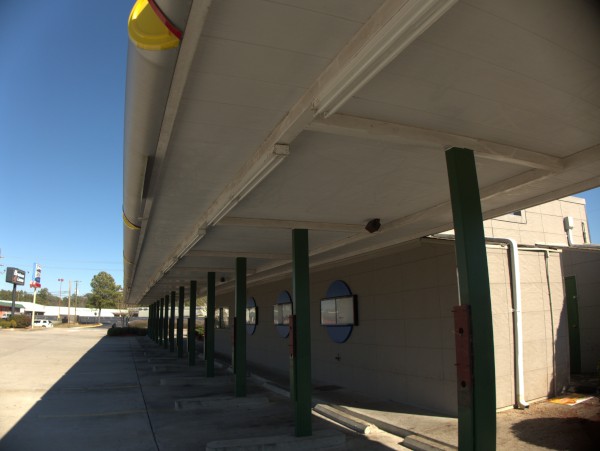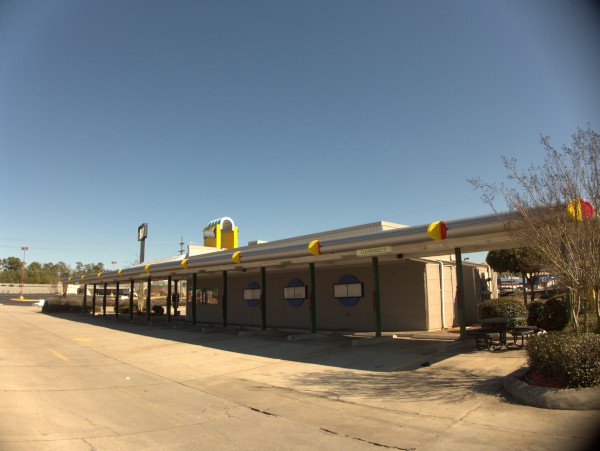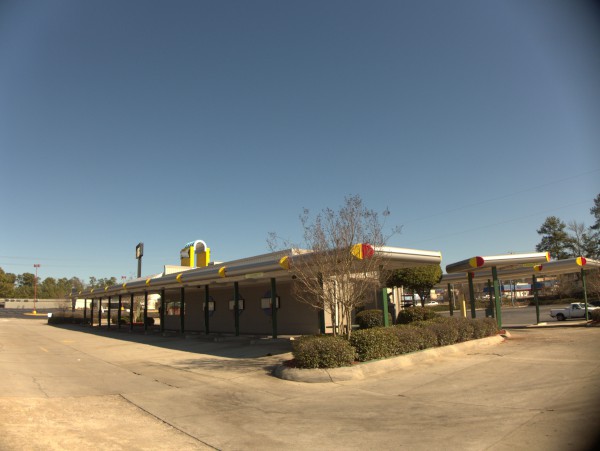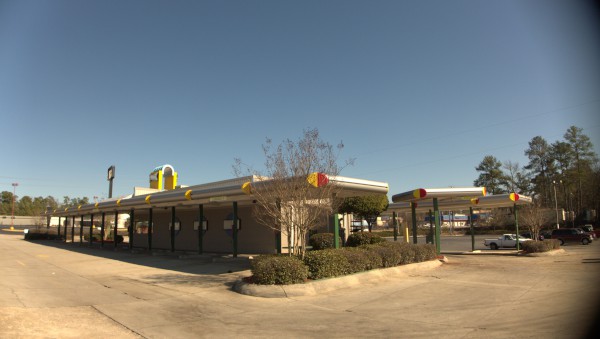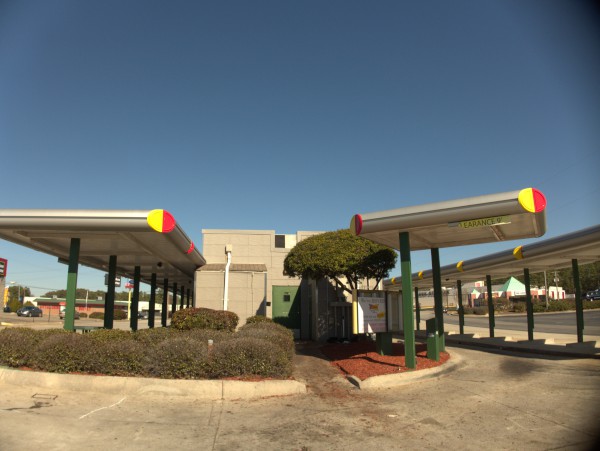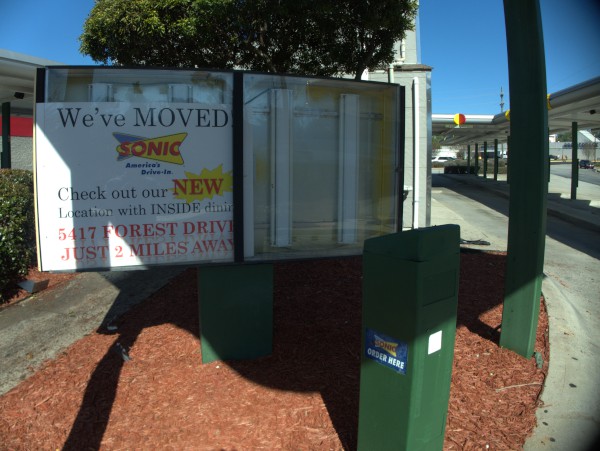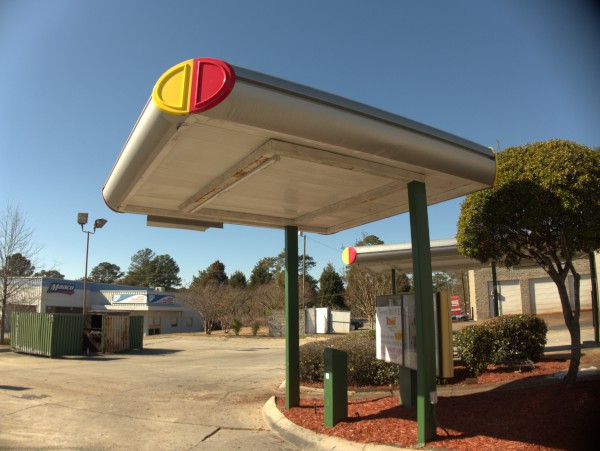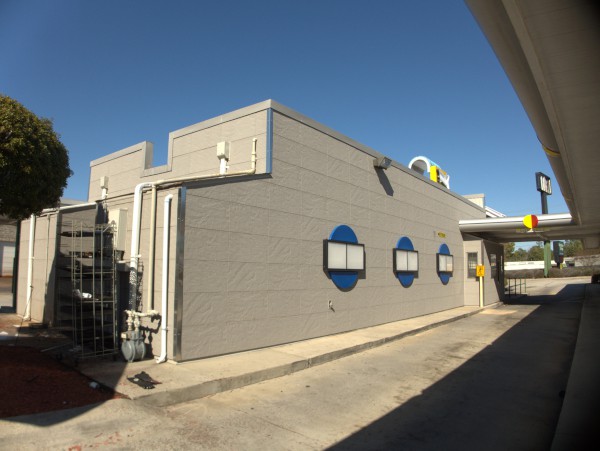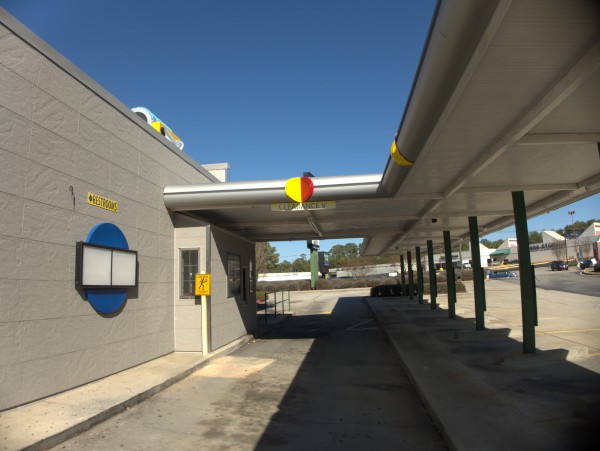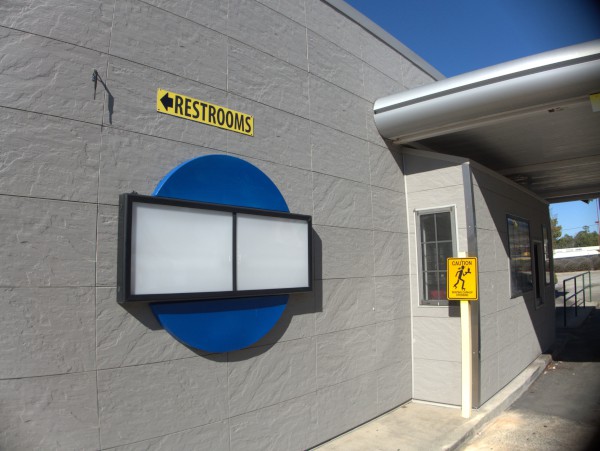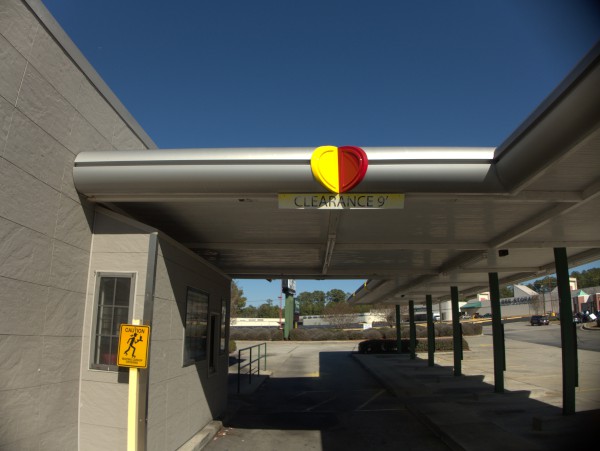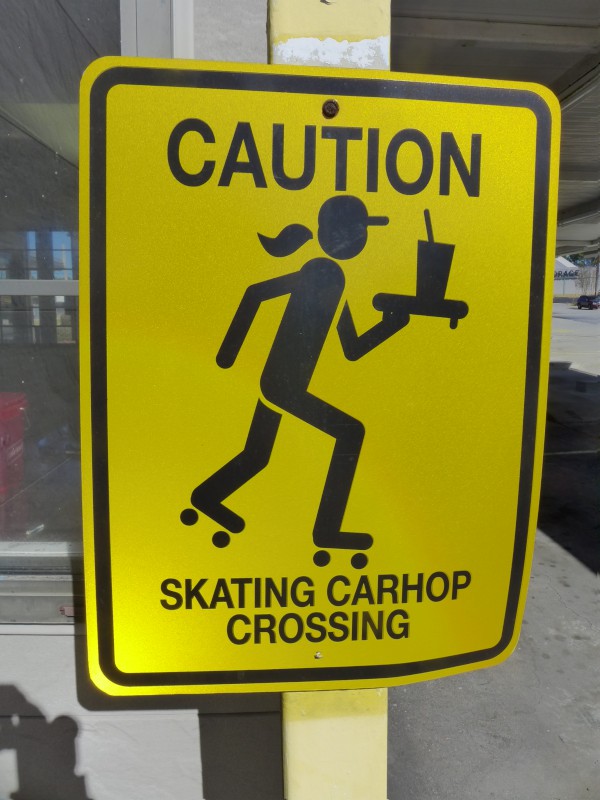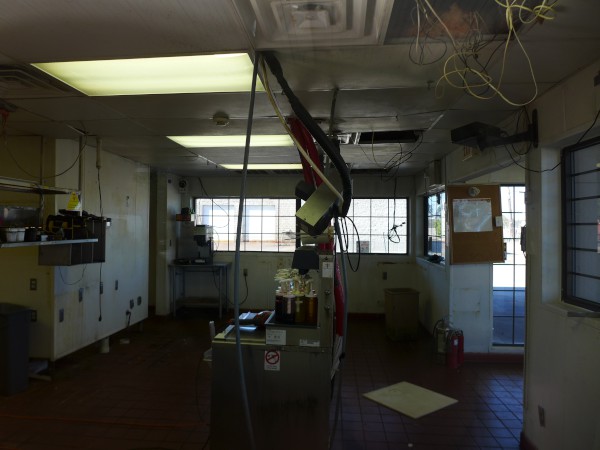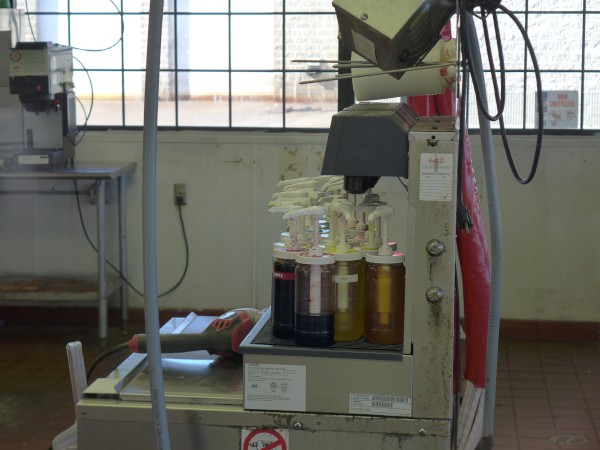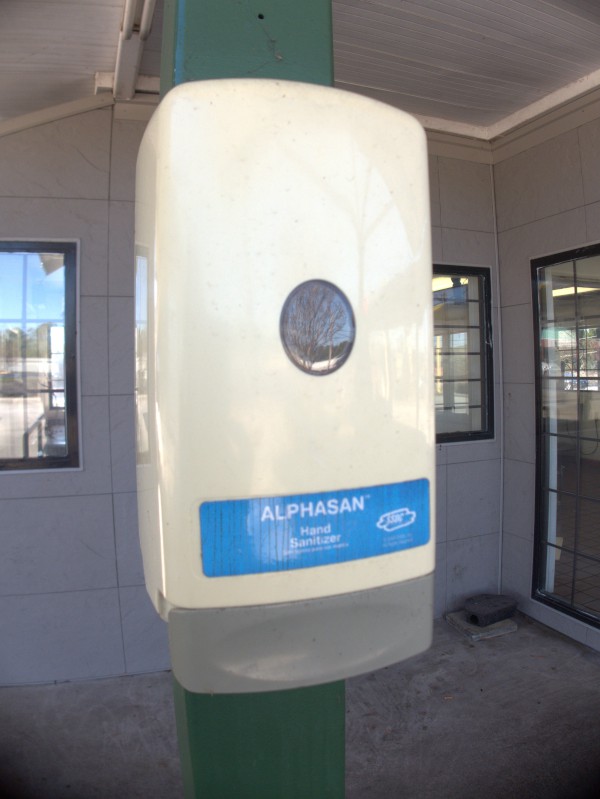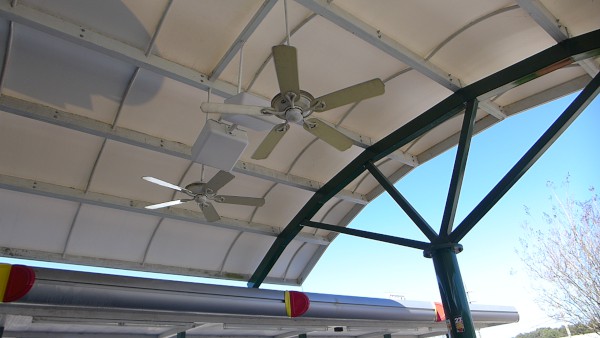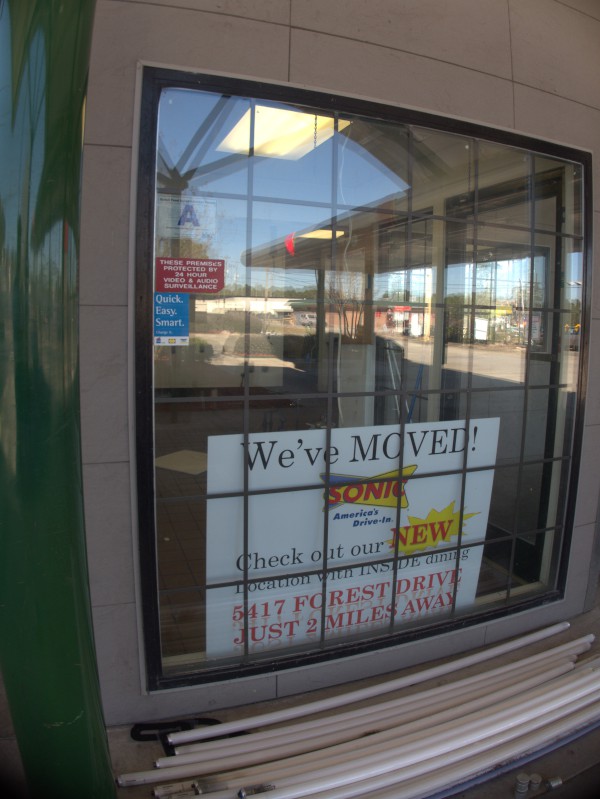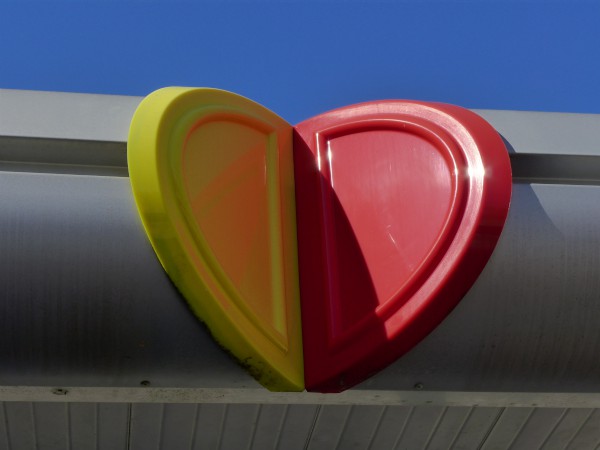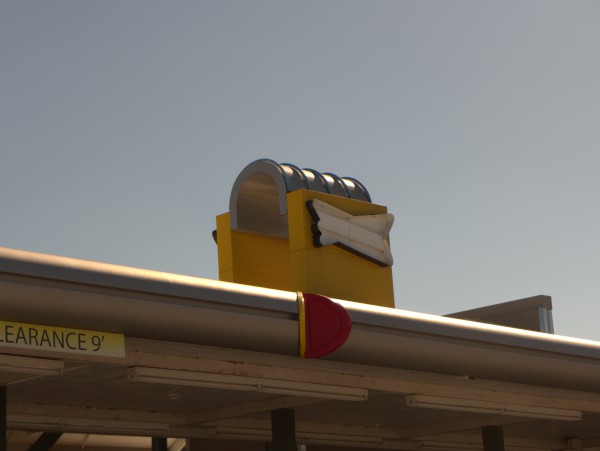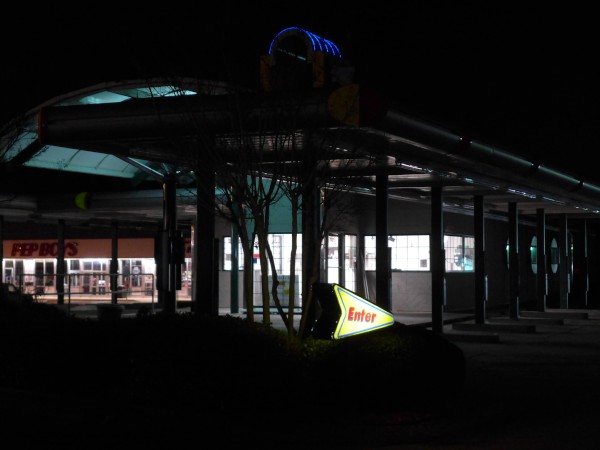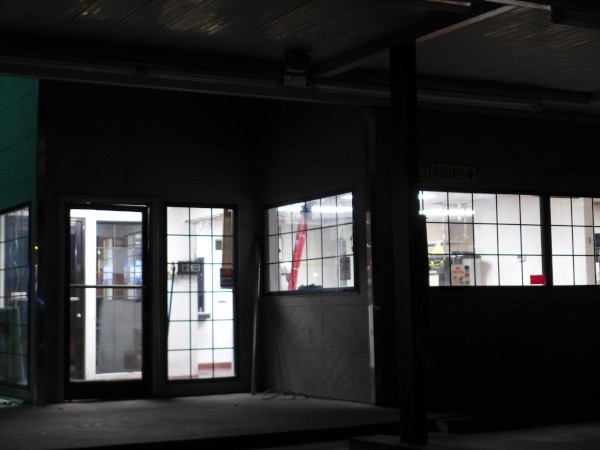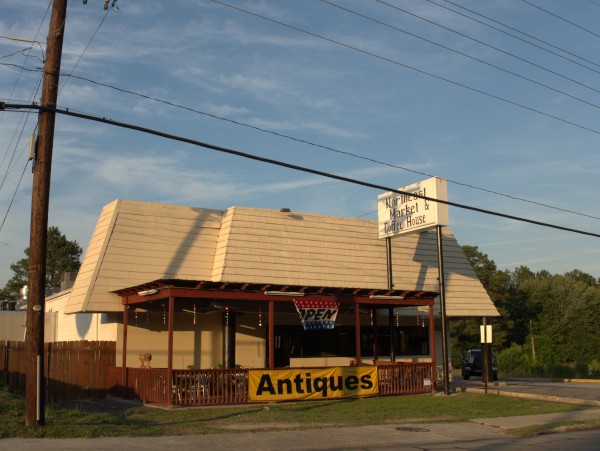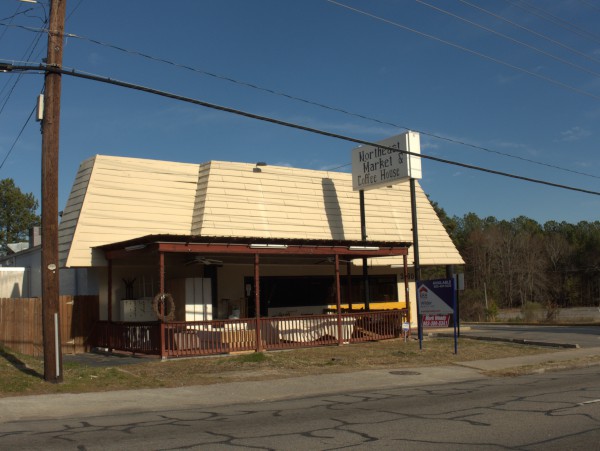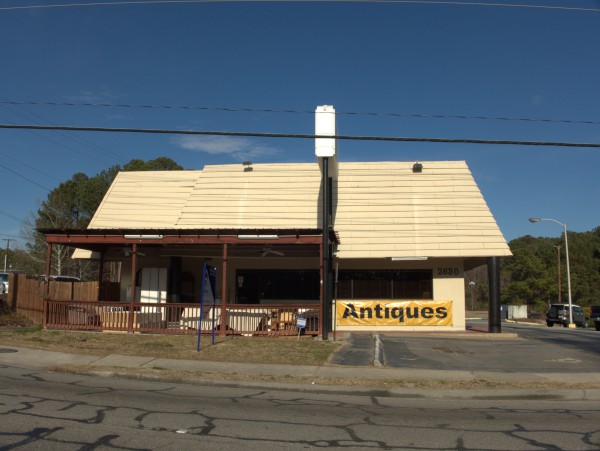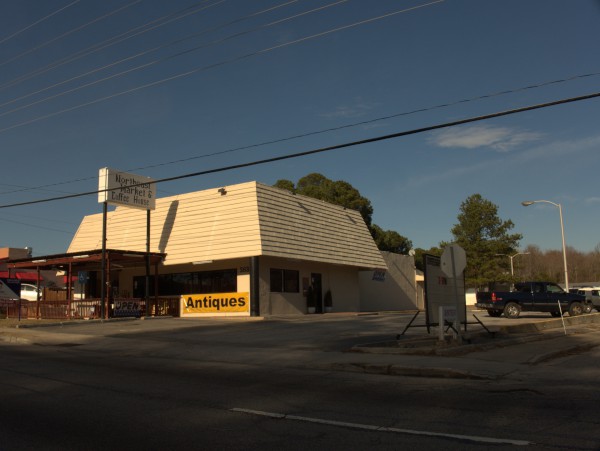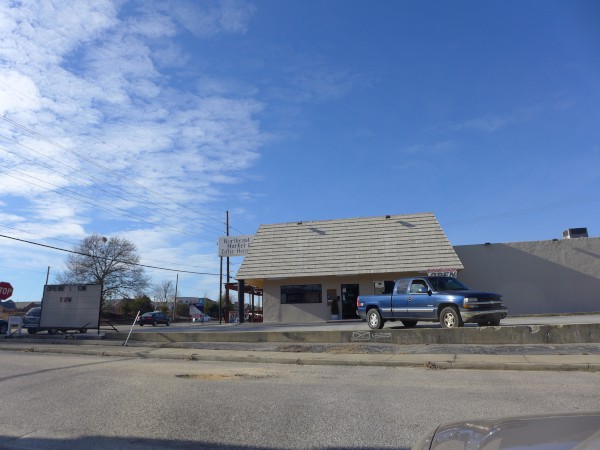 What can I say?
The curse of 2630 Decker Boulevard continues.
UPDATE 4 December 2015> -- Now open as Bosheen Mediterranean Cuisine: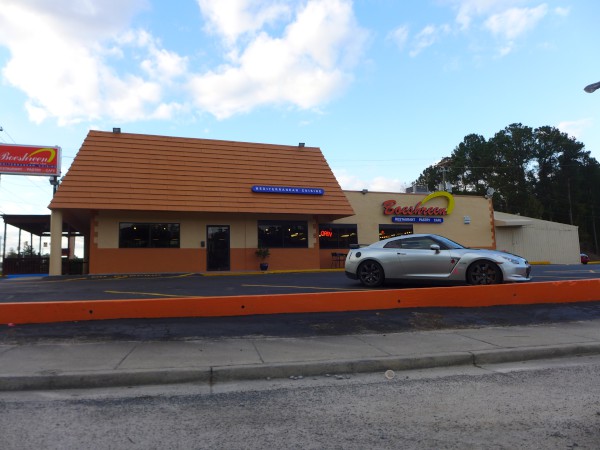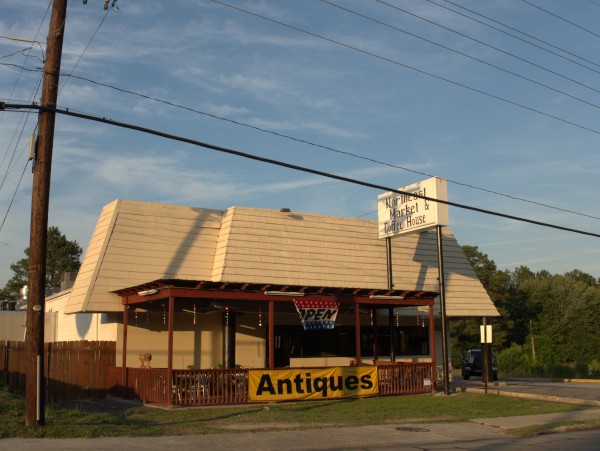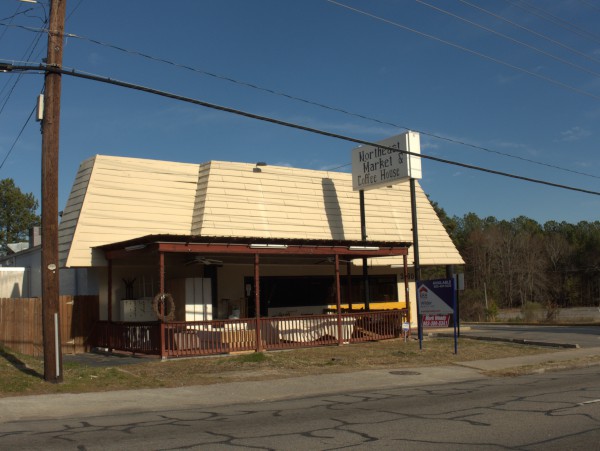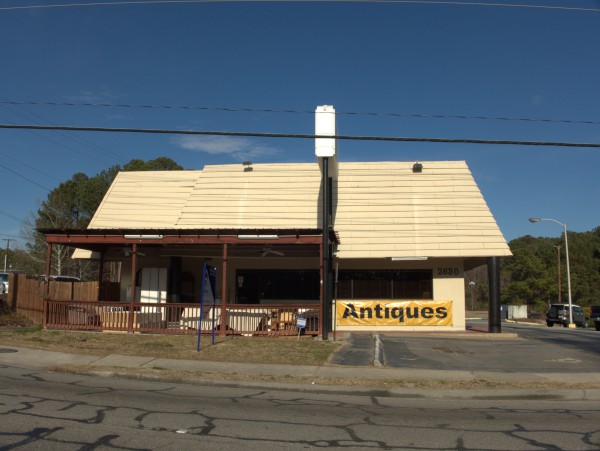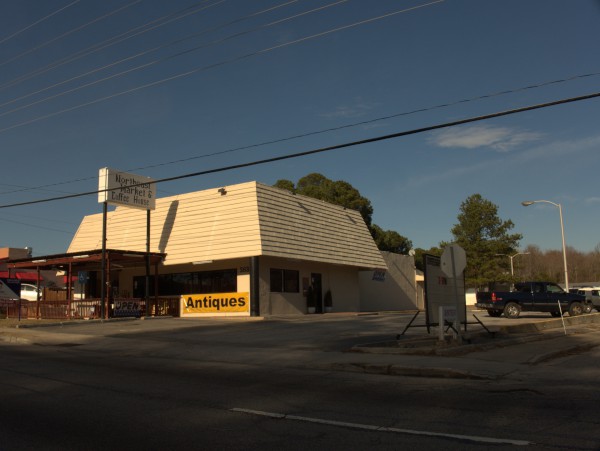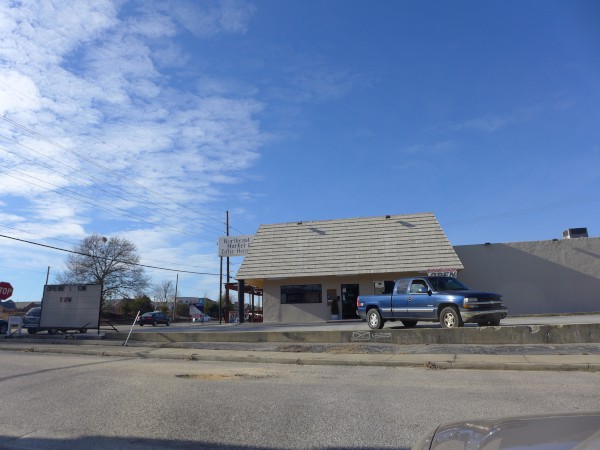 What can I say?
The curse of 2630 Decker Boulevard continues.
UPDATE 18 August 2015 -- But hope continues to win against experience. This place is to now become Bosheen Mediterrean Cusine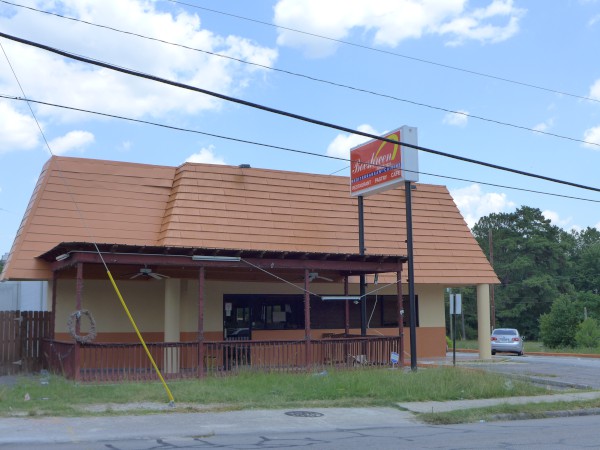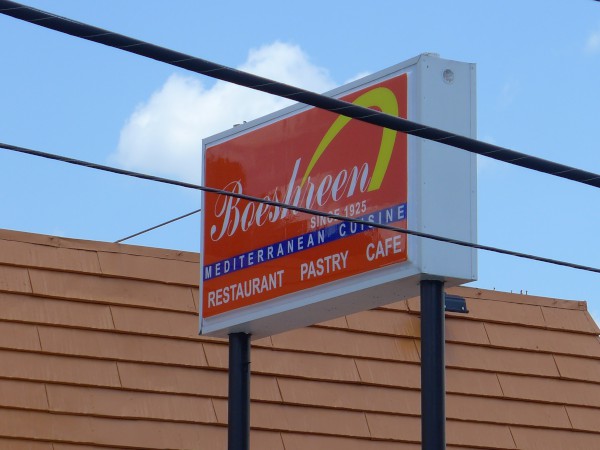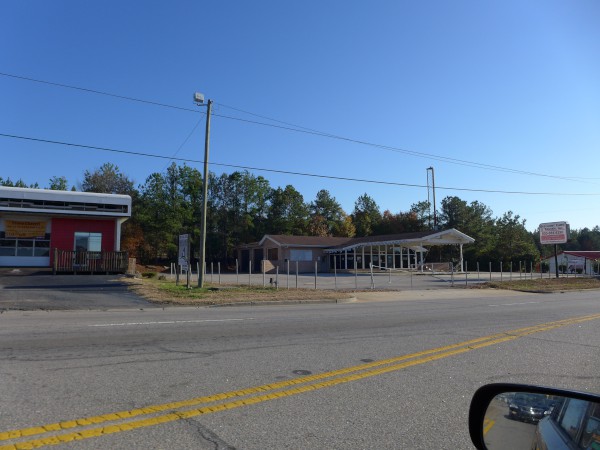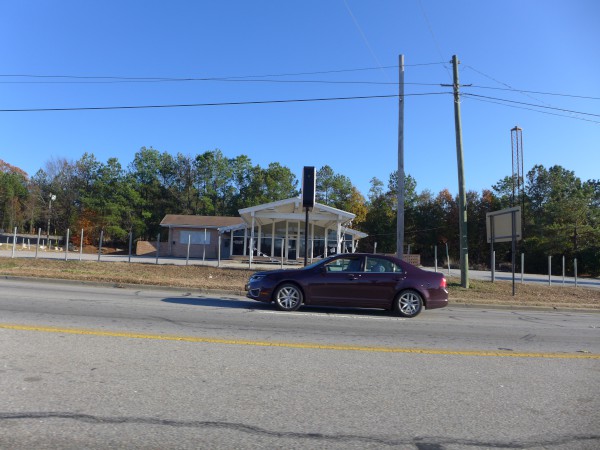 Discount Cars & Trucks was the follow-on operation to Go Used Tires in this old Esso building in Dentsville.
I have to say I can't actually recall seeing any cars or trucks there, though I know there must have been some.
Posted at 1:32 am in Uncategorized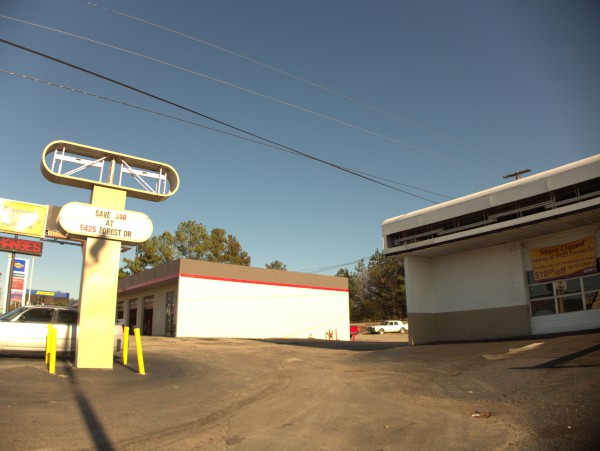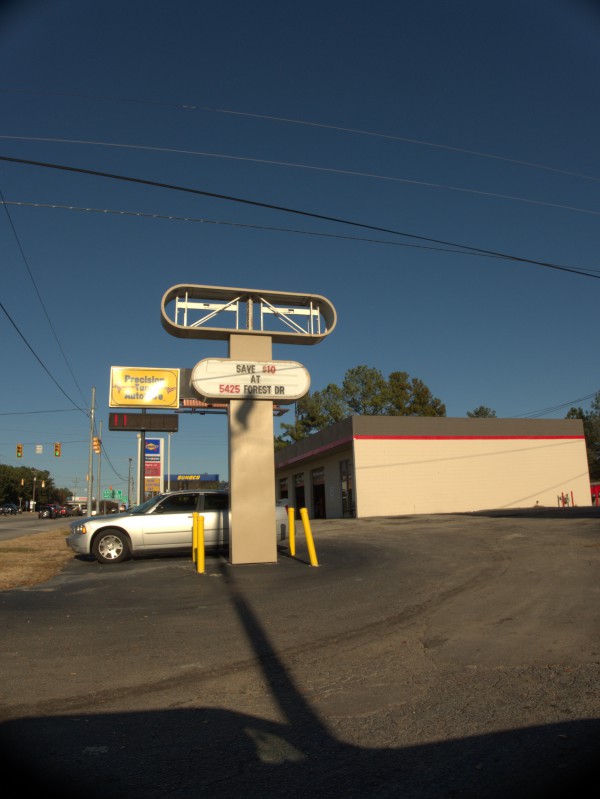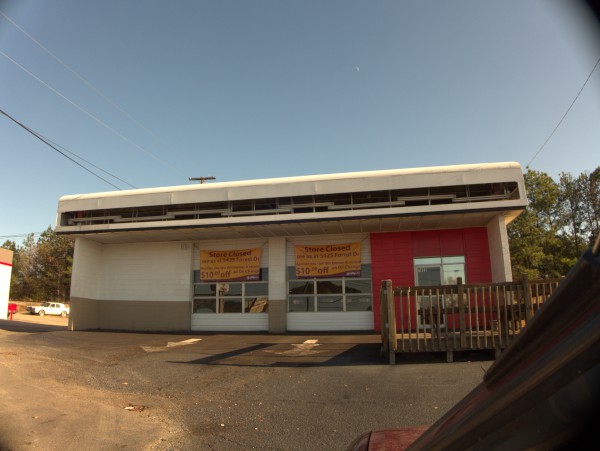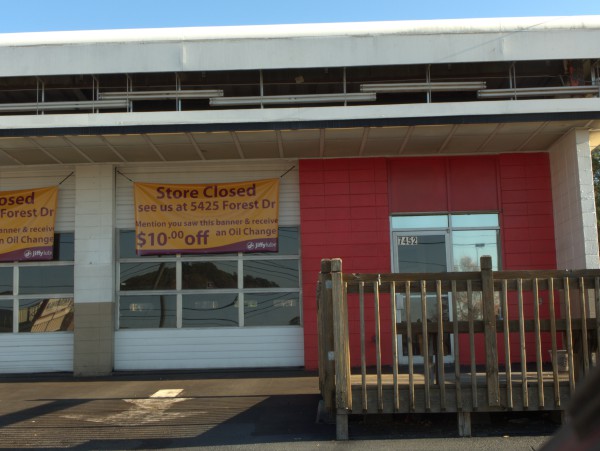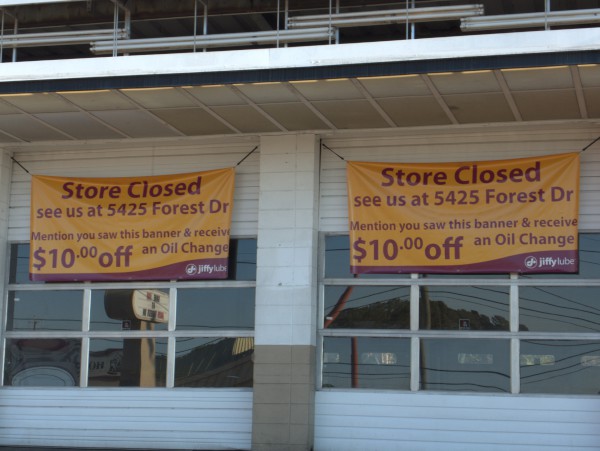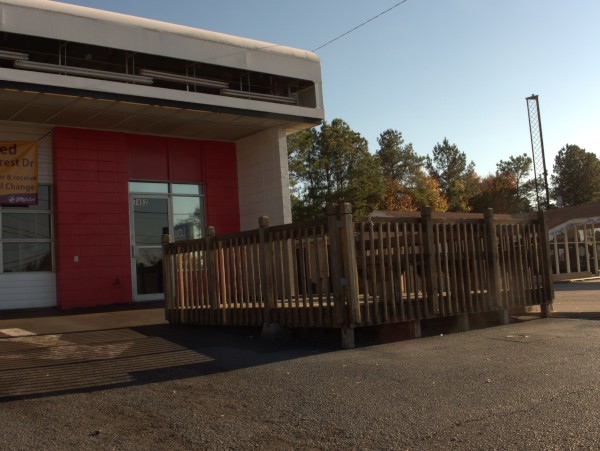 Well, you've seen the signs, now you can get $10.00 off.
I went to this Jiffylube near the I-20 interchange on Two Notch several times. While sitting in the heat and watching traffic up and down Two Notch is no garden vista, the deck was nice as it got you out of the waiting room and away from the TV.
The siting of this store was interesting as it was directly next to a Precision Tune, just as the Knox Abbott location is almost directly across the street from one.
Posted at 2:25 am in Uncategorized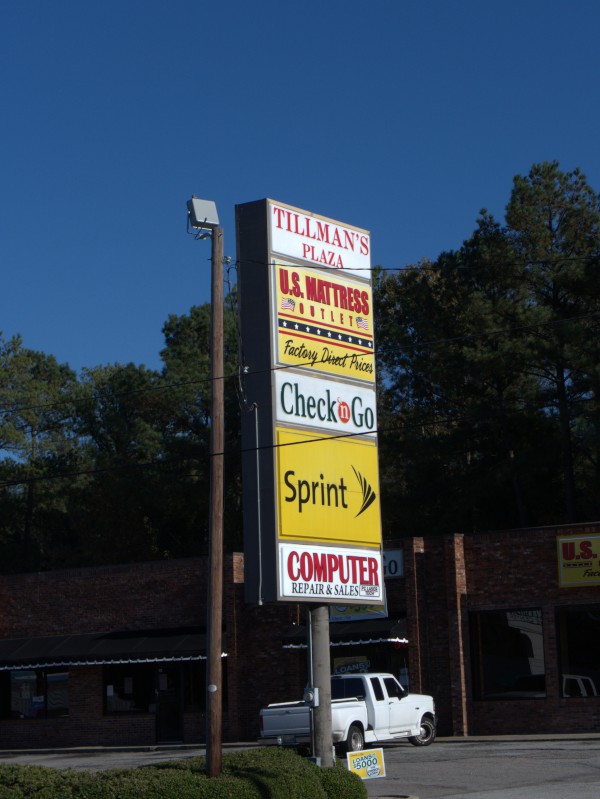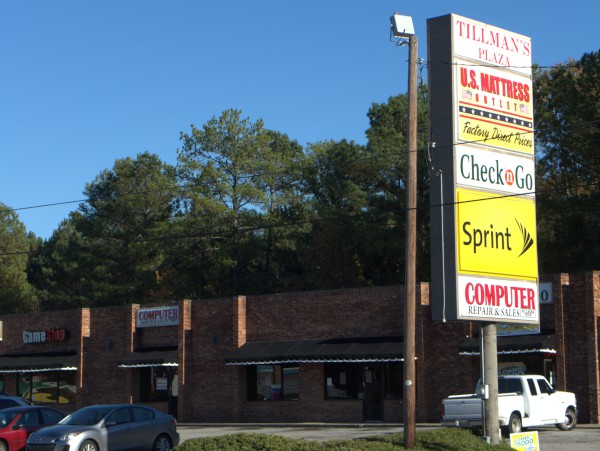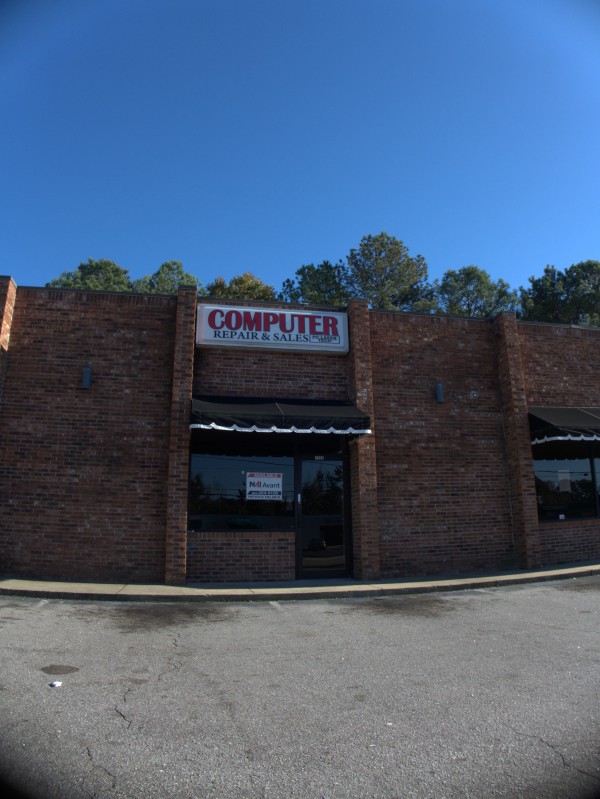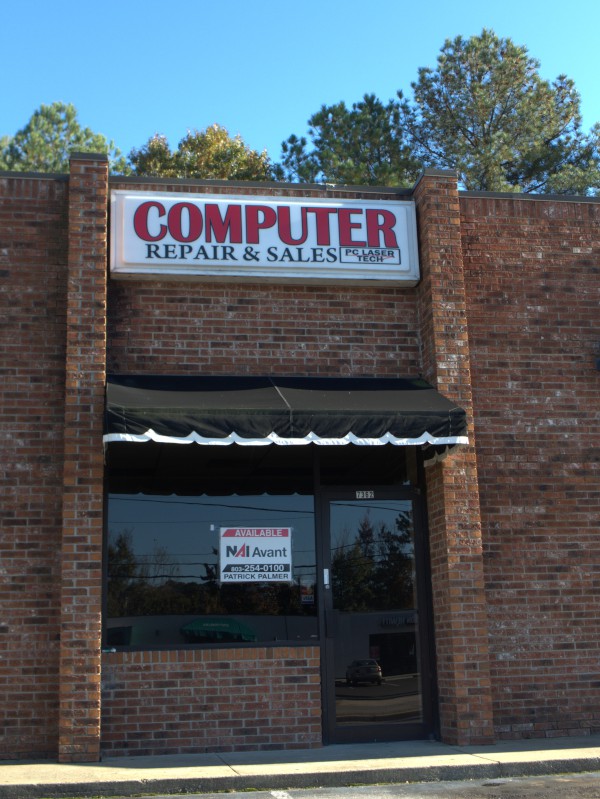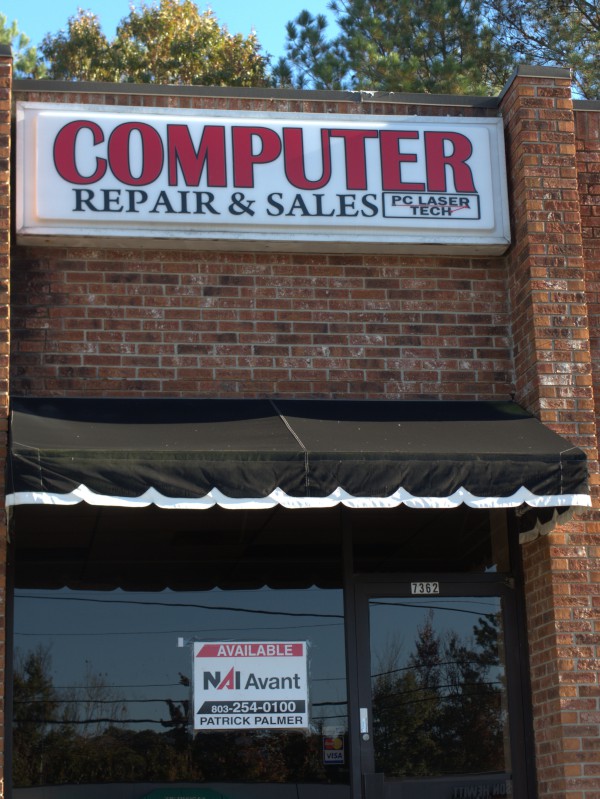 Here's another vacant storefront in Tillman's Plaza on Two Notch. I happened to glace across the street as I was at Kinko's, printing some documents and noticed it was gone.
Posted at 1:03 am in Uncategorized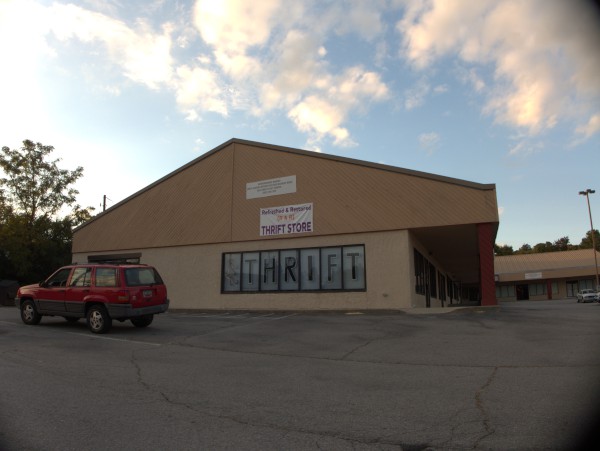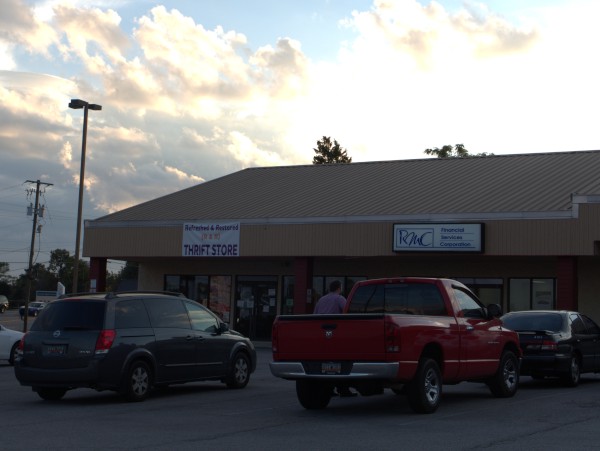 I noticed on my latest trip to Very's that the hydroponic gardening store in the same Two Notch plaza, All Good Hydroponics was gone and a thrift store was in its spot. The phonebook suggests that this happened sometime last year as they don't list in the 2014 edition.
For me, the term hydroponics has always reeked of science fiction as it was a common element in many books about life on space ships and space stations. Usually it was described as a thankless task that got assigned to hapless crew memebers as KP was assigned in books about army life. Visually, I would always think about those trays the Robinsons would grow food in on Lost In Space during those long planet-bound blocks of episodes where the budget didn't allow any actual spaceflight effects...
Posted at 12:50 am in Uncategorized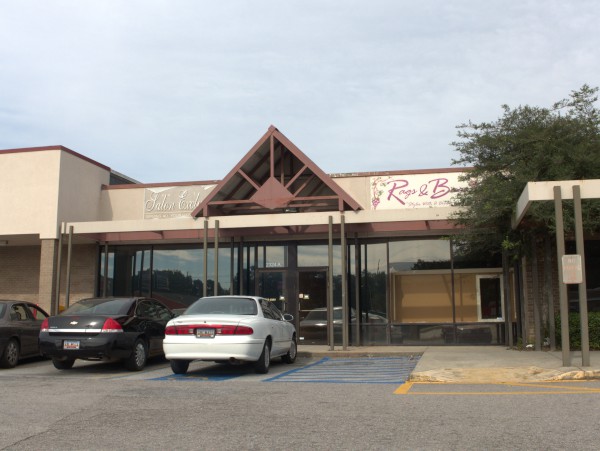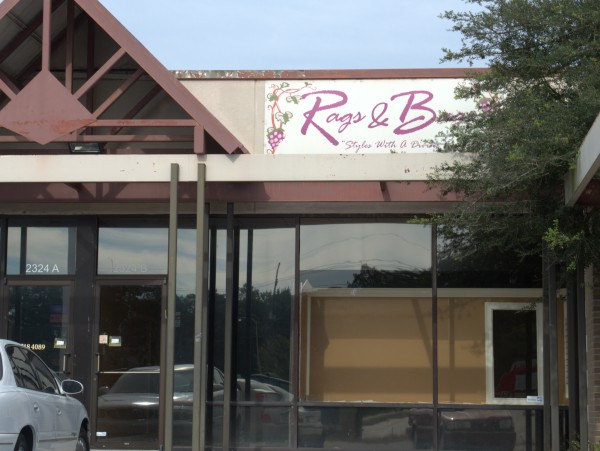 The web site is still up, but it appears that fashion botique Rags & Bags With Style in the Food Lion / Rite Aid plaza on Decker is now gone.
I like the "look" of this plaza, which has a bit of a retro feel, probably because it actually is retro.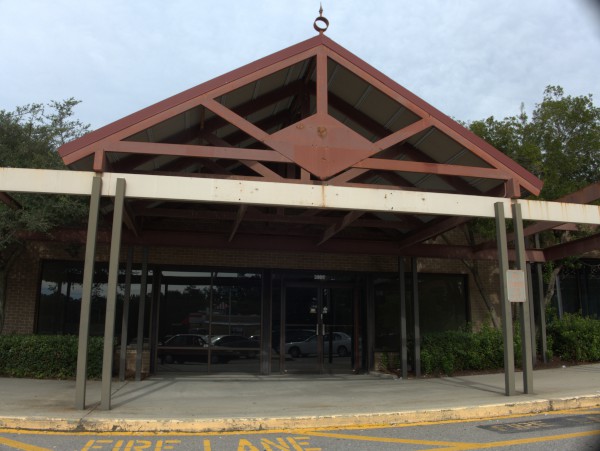 Posted at 11:03 pm in Uncategorized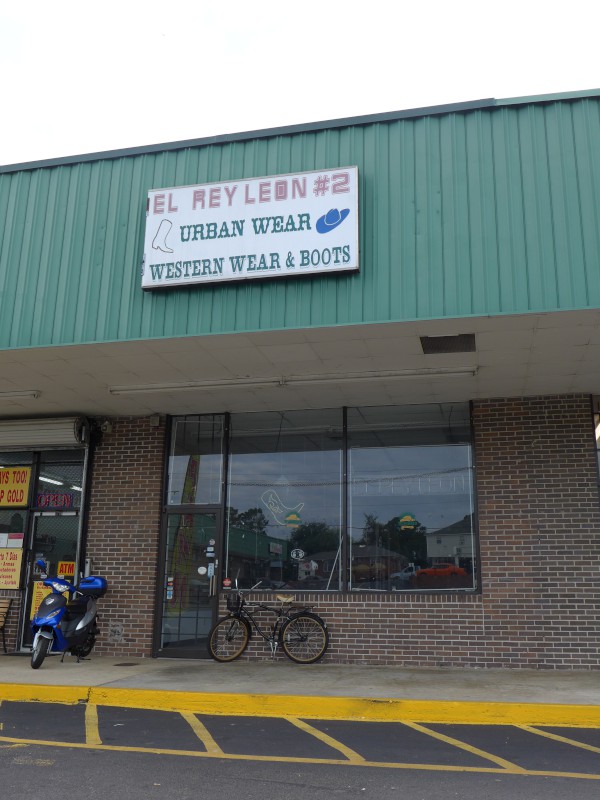 Well, learn something new every day. Googling this western and urban wear outlet on Decker yields the information that El Rey Leon, means The Lion King, something that make total sense once you stop to look at it closely.
Of course that just raises the further question as to how that phrase is supposed to suggest western wear, and the secondary question as to whether I should alphabetize this one under El or Rey. (Hmm, I see the phonebook uses 'El', so that's good enough for me..).
Posted at 11:01 pm in Uncategorized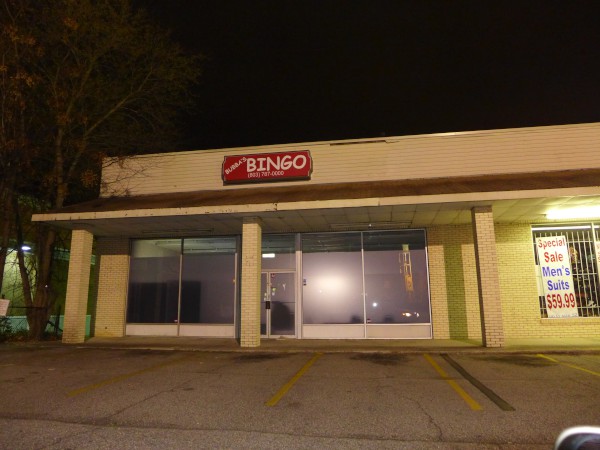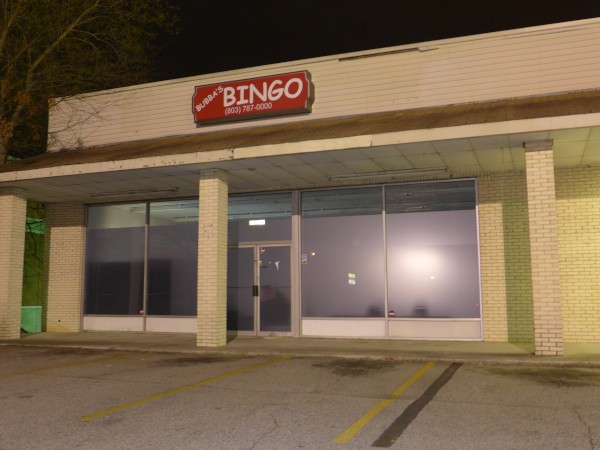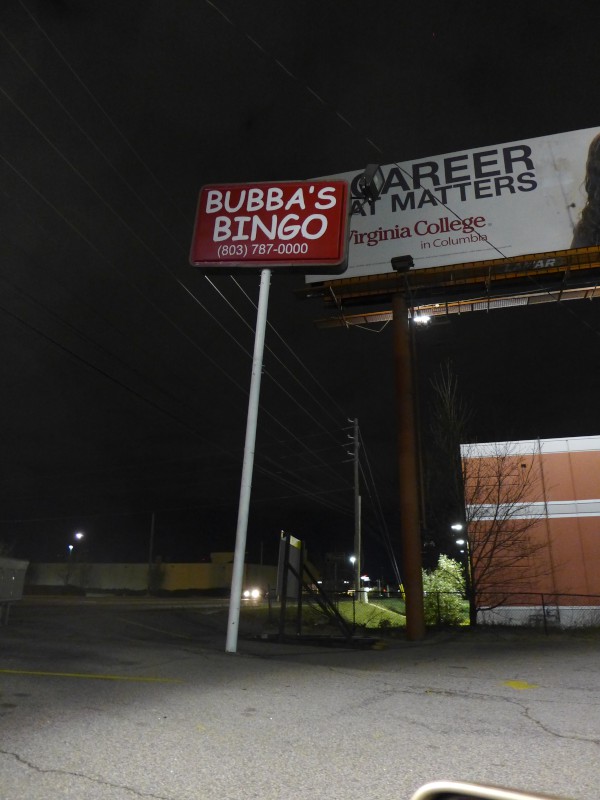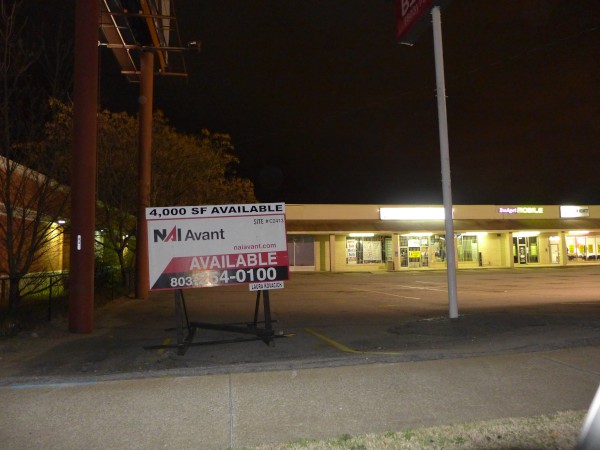 O-23..
This former bingo hall is in the strip on Two notch which backs up againgst the original Best Buy and has stoplight access at the Columbia Mall perimeter road. Interestingly, Best Buy itself has no access to this stoplight. It always surprised me a little that they didn't negotiate some sort of cut through for that..
Apparently Bingo is, or at least was, pretty popular in Dentsville, as this place is only a few blocks from this former parlor on O'Neil Court.
Note the phone number -- It's not PENNsylvania Sixty-Five Oh Oh Oh, but it's close.