Posted at 12:13 am in Uncategorized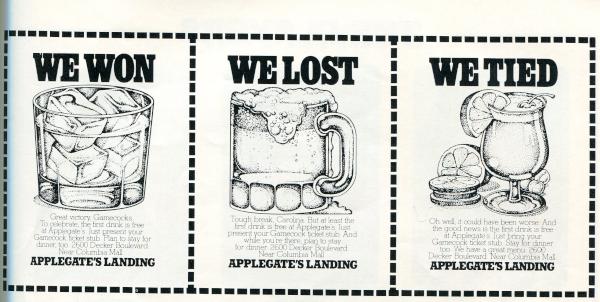 Applegate's Landing was on Decker Blvd somewhat behind Zorba's and the current Chik-Fil-A location. At least that's the way I remember it, though it's hard to visualize it there looking at the land today. Applegate's Landing was a sort of semi-upscale casual restaurant, on the order of Bennigans, though I don't believe it was part of a chain. I think it opened sometime in the 70s while I was in high school, at least the only two times I went there, it was with high school friends (though the second visit was some time was after our graduation).
As I recall, their main claim to fame, at least the one which made it into most of their advertising was that their salad bar was set up in the bed of a Ford Model-A pick-up truck. I'm pretty sure it really was an authentic Model-A, though it was mostly gutted. As well as the standard steaks, burgers and pasta dishes, they also had pan pizza, which they would bring to your table still in the pan. I liked my first visit well enough, but the prices were a bit high for me at the time (considering that I had no job..), and I didn't bother to go back until several years later. I had myself all set for the pan-pizza that second time only to find that they had revamped the menu and dropped that item. After that, it was again some years before I suggested the place to a group only to be informed that it had gone under. I'm not sure if this was for Applegate's specific reasons, or if it was the harbinger of the decline of the Decker corridor. At any rate, the building sat there for several years with no longer any clear way to get to it and was finally torn down. I don't know what happened to the Model-A..
UPDATE: I originally had the name of this restaurant wrong as "Appleby's Landing". I have corrected it to "Applegate's Landing" based on the comments. Thanks!
UPDATE 14 Feb 09: Commenter Midnight Rambler sent in a scan of an old Applegate's coupon, and I have posted it above.
UPDATE 12 April 2010: Added full street address to post title.
70 Responses to 'Applegate's Landing, 2600 Decker Boulevard: 1980s'
Subscribe to comments with RSS or TrackBack to 'Applegate's Landing, 2600 Decker Boulevard: 1980s'.
Leave a Reply