Archive for the 'video' tag
Posted at 12:57 am in Uncategorized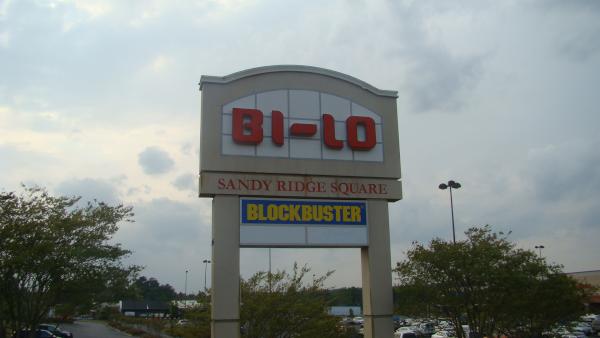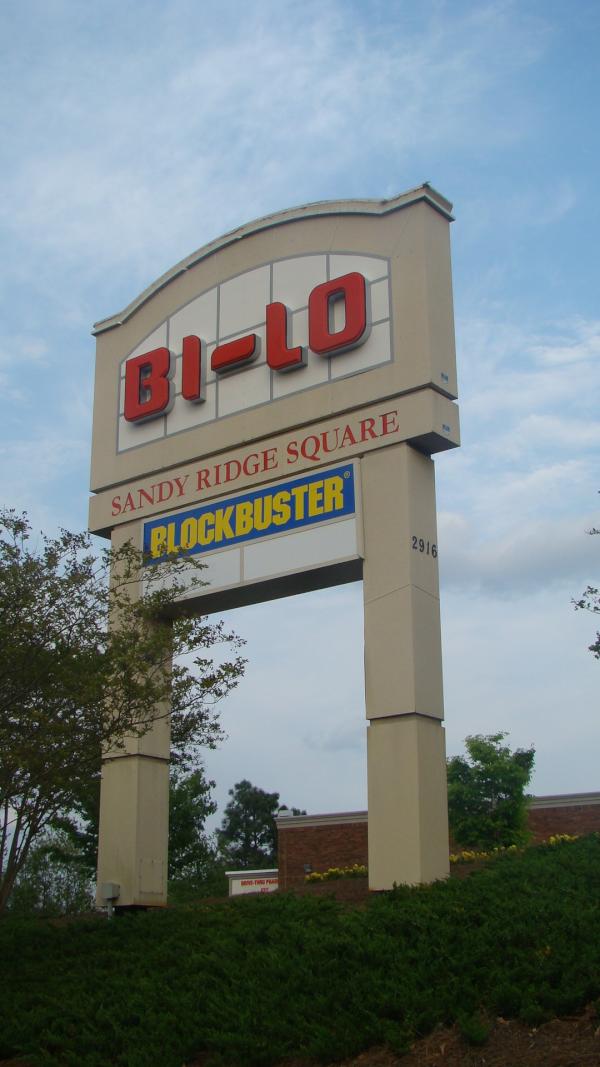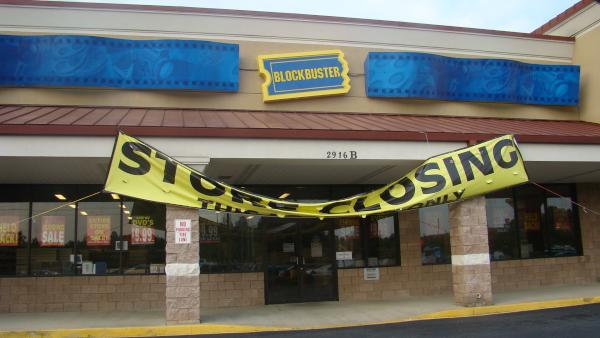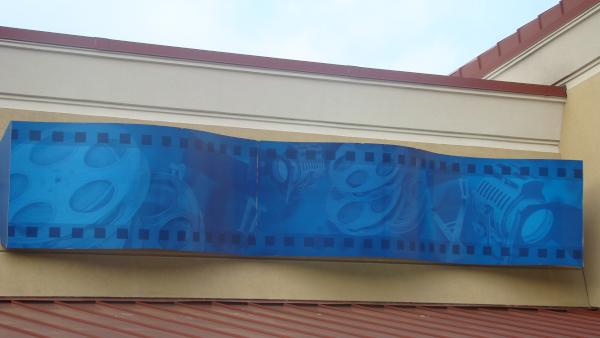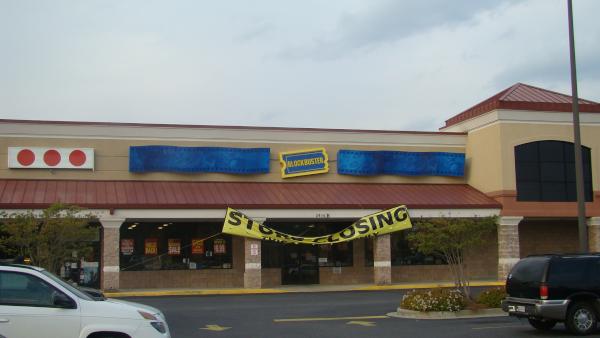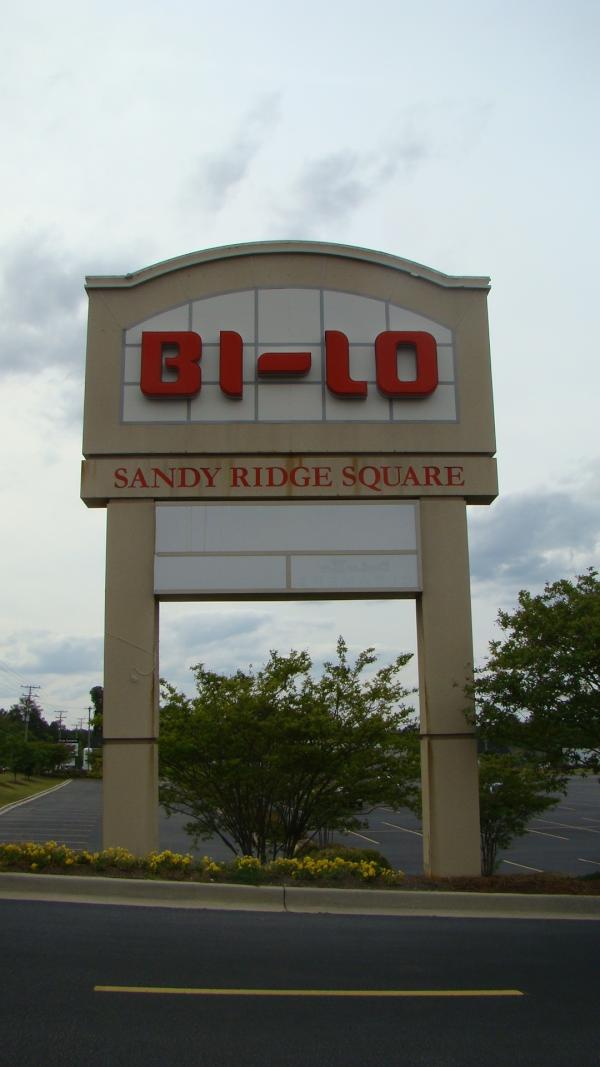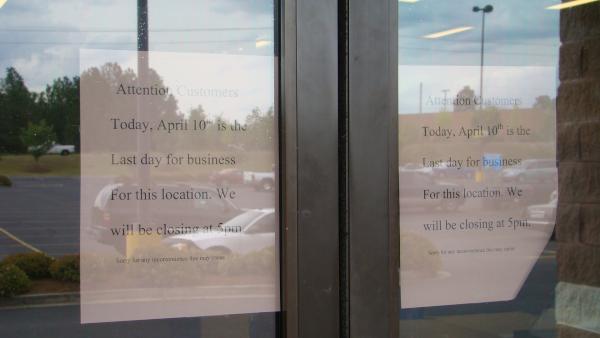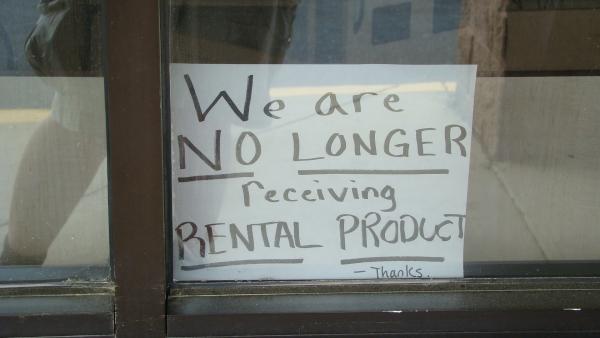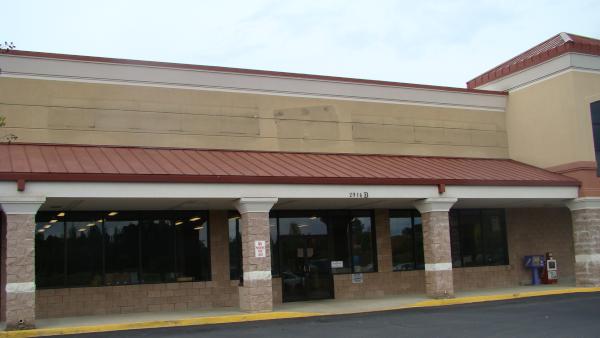 In a companion closing to yesterday's, commenter Andrew sends these before (8 April 2011) and after (15 April 2011) pictures of the Blockbuster on Emanuel Church Road, saying:
This is located in West Columbia at the intersection of Emmanuel Church & Old Barnwell Road. The Street address is 2916B Emmanuel Church Road. It is in a shopping center called Sandy Ridge Square, anchored by Bi-Lo.
Thank you, Andrew. I confess that I had to plug the address into google maps and then zoom out twice before I had any idea of where Emanuel Church Road was.
(Andrew offers a hat tip to commenter Thomas for the heads-up)
Posted at 11:41 pm in Uncategorized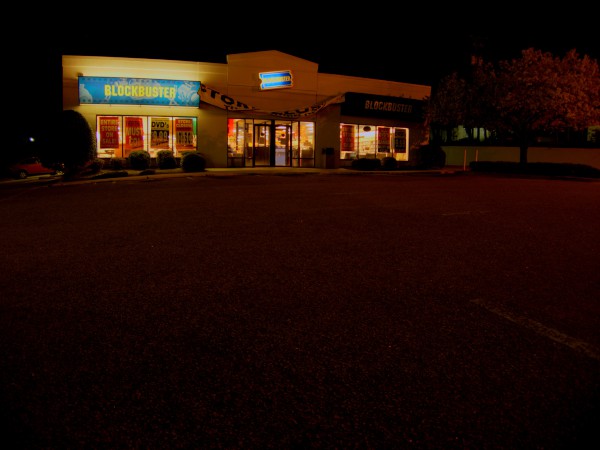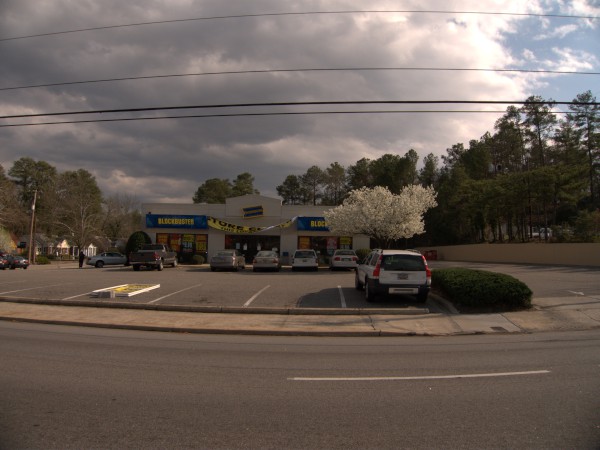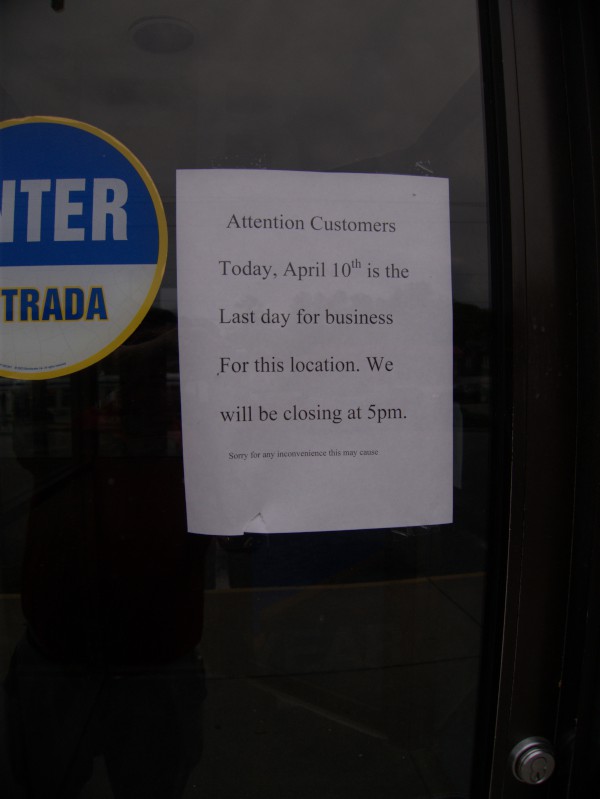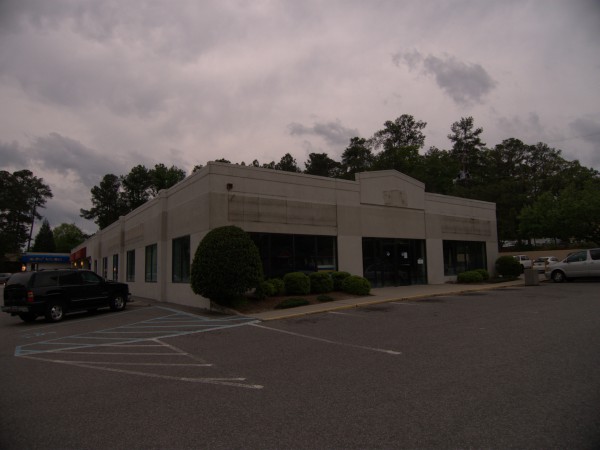 Well, here is yet another Blockbuster Video closing. It's the same old story about competition with Netflix, Redbox and various video-on-demand services, but it seems that there have been some new developments since I last did a Blockbuster closing.
For one thing, according to Wikipedia, the chain went into Chapter 11 bankruptcy in September of 2010. I had heard that, but I had not heard that their plan for coming out of bankruptcy failed. That does surprise me a bit. I figured they would emerge from bankruptcy, and then fail again. The Wikipedia article says that on 1 March 2011, the Justice Department moved to force them into Chapter 7 bankruptcy, ie: liquidation.
Then another unlikely event intervened, and just a few weeks ago, on 28 March 2011, Dish Network bought Blockbuster:
The Denver Post reported that Dish, a Denver-based satellite-TV firm, plans to use the assets to enhance its subscription offerings and start streaming video and shipping DVDs, in order to compete with Netflix. Analysts say such a move would present a number of challenges for Blockbuster, that it would require renewing studio deals, securing streaming rights and building out the needed infrastructure.
(Hat tip to commenter chiefa)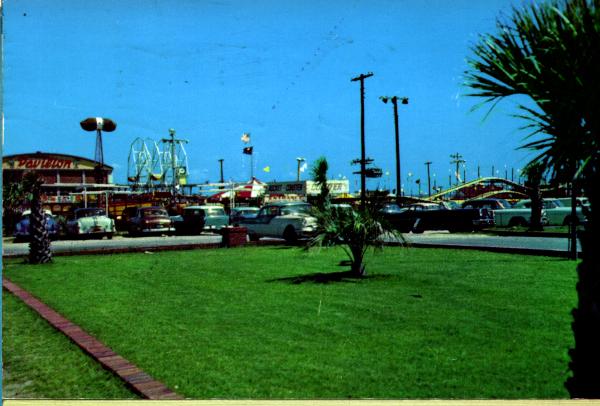 PAVILION AND MIDWAY.
MYRTLE BEACH, SOUTH CAROLINA
"AMERICA'S FINEST STRAND"
670 Miles South of New York
735 Miles North of Miami
Home of Miss Universe Pageant of South Carolina

OK, today is an anniversary of sorts. Three years ago today was the final day of operation for the Myrtle Beach Pavilion. As it happens, I was there, and made a video essay to share with friends and family. The fact of doing that, and not really having any good forum for something like that was one of the things that started percolating around in my brain and eventually led to establishing Columbia Closings.
Below is the essay pretty much unchanged from how I wrote it then, followed by a lot of still pictures (too many, I'm sure) that I took on that day and earlier in the year:
Last Ride at the Myrtle Beach Pavilion, 30 September 2006
We didn't actually go to the Pavilion that often as kids, so the closing
shouldn't be that big a deal, but we always knew that there was the
possibility that we might go, and that possibility loomed large in our minds.
In the end, Burroughs & Chapin is a business, and they made a business decision to shut the Pavilion down. That said, they actually did it in a classy way. For the Last Ride celebration on Saturday September 30 2006, they presold tickets, each of which came with park access from 3PM to 8PM, free parking, and unlimited free pizza, burgers, corndogs, funnel cake and ice cream.

As I happened to be at the beach at the time, I reserved a ticket and took a CVS disposable video camera (as well as my regular film camera, and a disposable film camera) to record some last memories.
This page is devoted to the short videos I shot that day. I have converted the DVD which CVS gives you into an AVI file for each scene. While these files are not huge (except for the all-in-one file), you may not be able to stream them unless you have a fast connection. If clicking your left button on a picture does not start your movie player, or if the clip plays jerkily, I recommend clicking your right button over each picture and selecting "save target as" or the equivalent to download the clips. They should be playable with Windows Media Player on Windows, or "mplayer" on Linux.
We start off on the roof of the Pavilion parking garage, looking out at the roller coaster and other rides:
Moving to the South side of the garage roof, we look down at the lines forming to get into the Pavilion:
Coming off the roof, I took a brief shot of foot traffic on Ocean Blvd, noting the fact that the Pavilion Arcade is already closed:
Collecting my ticket and stepping inside the park, we see some kiddie rides:
More kiddie rides:
The very first thing I ever remember from the Pavilion is this 1905 German Band organ. The second thing I remember is the blow dryer in the restroom. I had never seen such a thing! I only remember Daddy being there on that trip, probably because he would have been the one taking me to the bathroom (which is alongside the organ), but doubtless Momma & Sus were around.
I was disappointed that Sugarbug could not see the organ on her trip to the park, but it was closed for repair at the time. When you consider that it is 102 years old, I suppose that's not surprising. I'm not sure it comes across in these videos, but the organ is loud!
The placards describing the organ claim some of the original cardboard punched music sheets are still used. Somehow I doubt that "Ob La Di Ob La Da" was that popular in 1905!
The only actual ride I remember from that (presumed) first trip to the Pavilion is this boat ride, which I thought was possibly the neatest thing in the world:
No trip to any amusement park would be complete without the Bumper Cars:
My attempt to film while driving a Bumper Car ended quickly when the
attendant stopped the ride. I thought I had broken a rule, but he was
after a kid who was old enough to ride, but not drive:
The swings is a nice ride because it goes around, but not enough to make middle aged stomachs queasy:
I hopped aboard a wooden pig for a ride on the carrousel. While not as old as the band organ, it is pretty old. I noticed that the carrousel music was coming from a sound system and not the antique music box. Perhaps they didn't feel it was worth repairing for the time left. I have no idea what will happen to the carrousel or band organ. It would be a shame if they were left to rot:
The Log Flume is the park's intermediate water ride. More wet than the
"boats", less soaking than the "river ride":
There was a pretty good beach band playing at the amphitheatre. The name escapes me, but they had just finished a very good version of "Carolina Girls" when I started filming. This song was well done, but not one I would call a classic:
I wrestled with whether to ride the big coaster or not. On the one hand, I was coming down with a cold and had something of a headache, on the other hand, I'd never have the chance again. Riding the intermediate coaster "The Mad mouse" decided me I wasn't ready for the big one, but here are some people who were:
Here's another shot of the Carrousel, which was strikingly pretty with
the setting sun glinting off the mirror panels. I like this one a lot; there's so much going on in this shot and some appropriately elegiac music for the last sunset on the working park:
Finally, we finish with the band organ again to take us out:
This is the whole video in one 306 megabyte, 20 minute lump: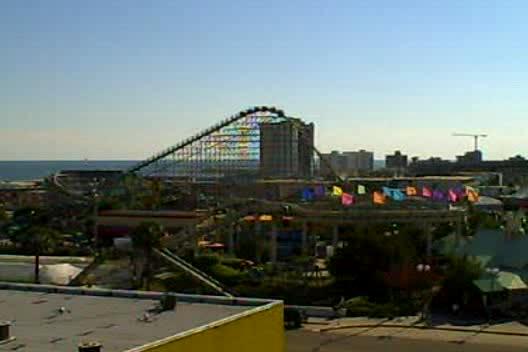 After running out of video, I stayed until the end of the day, and rode
the final run of the Bumper Cars. It was somewhat of a melancholy experience, but I'm glad I did it.
Ted, 3 October, 2006
Still pix after the jump..
Posted at 10:57 pm in Uncategorized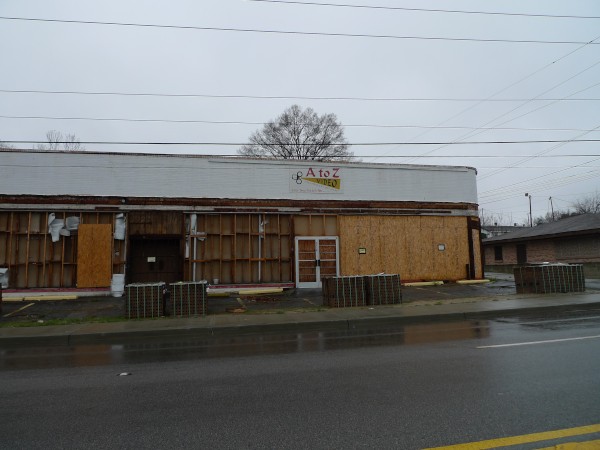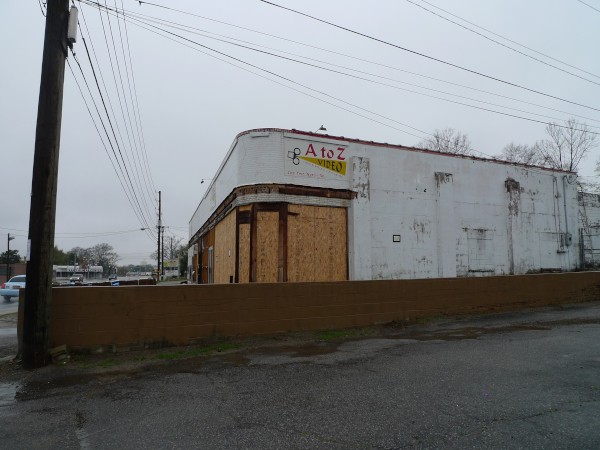 A To Z Video was on Two Notch Road next to Dave's nightclub and almost across the street from the Aaro Rental Center. Although I never went in, I was under the impression at the time that the salient fact in the name was that 'X' was between 'A' & 'Z' -- however, looking at these pictures I notice "videogames" so perhaps I was wrong about that.
At any rate, the place did not last long, and sat empty for quite a while. I figured I ought to go ahead and take these pictures despite it being so drab and rainy as it appears that the building is about to go under construction and I expect to see something new here before too long.
UPDATE 12 September 2011 -- The building has been refurbished somewhat and is now up for lease, though the A To Z signage so far remains: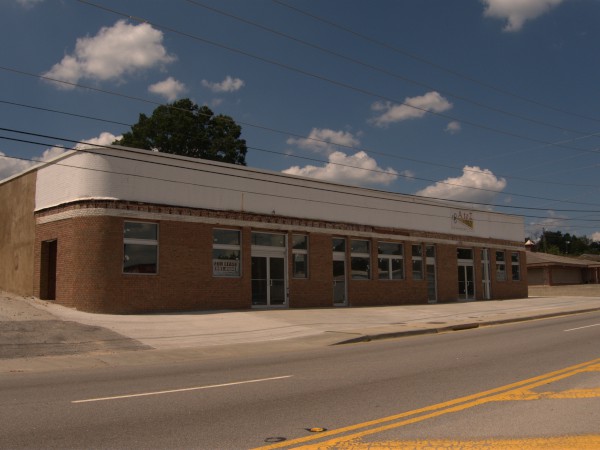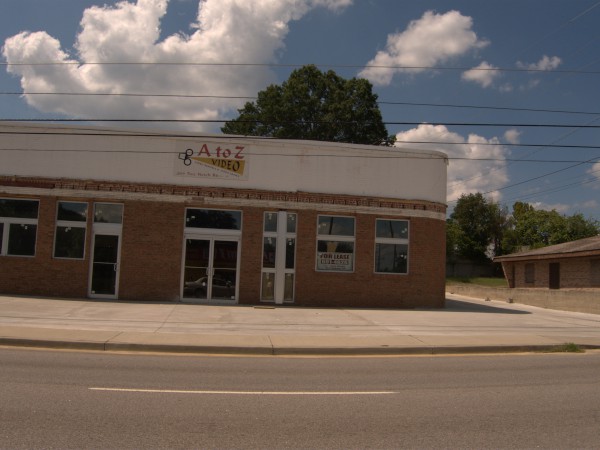 Posted at 4:57 pm in Uncategorized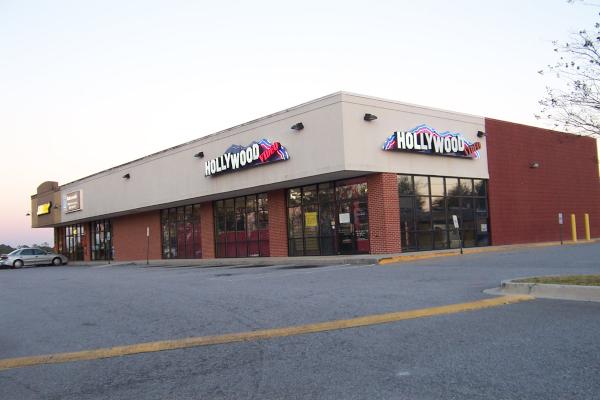 I was just reminded today that the Hollywood Video attached to the Food Lion plaza on Two Notch Road near Dick Dyer Toyota is gone. A quick google reveals that the whole chain is in Chapter 11 Bankruptcy, and is closing "underperforming" stores. It appears that they made a fatal mistake in trying to buy their nearest competitor and become a solid #2 to Blockbuster's #1. I think the handwriting is on the wall for most video rental places. If it's not Netflix, it will be Internet or cable-box downloads (legal or not..)
On the other hand, when Hollywood closes a store, it has a big "to the bare walls" sale, which is a nice touch.
UPDATE 23 October 2009: Added the street address (3810) to the post title
UPDATE 20 December 2011 -- Well, something has finally moved into this space, HomeSmart, which seems to be a household furniture and electronics rental operation: