Archive for February, 2009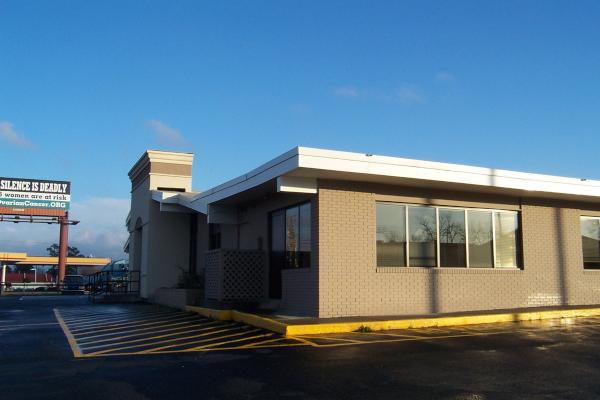 When they initially started out, I liked Ryan's a good bit. When I was living & working in Fayetteville, there were a couple of years where I ate lunch at Ryan's several times a week. I particularly enjoyed the salad bar, which I believe they had dubbed The Mega-Bar because it had peanuts instead of sunflower seeds and wheels of cheddar slices of which went well with the large, hot yeast rolls. About the only drawback was that the lettuce was shredded rather than torn.
After I left Fayetteville, it was a number of years before I ate at a Ryan's again. As it happened, I was in Georgetown one afternoon and stopped in at the US-707 location. I'm afraid I found it much less appealing that I had remembered. I found the chairs clunky and uncomfortable and the salad bar was much diminished, with no cheese, rolls or peanuts. I later talked to a friend of mine who at the time was writing cash-register and point-of-sale software for the restaurant industry, and he said he had heard that the owners of the Ryan's brand were unhappy and felt that a number of their franchises had trashed the brand's reputation. (Their solution was to open a new chain called Fire Mountain to go into areas where the Ryan's name was bad).
Anyway, I don't know exactly what happened to this Ryan's on Saint Andrews. It may have been an exemplary store which simply suffered from the location and the chain's falling fortunes, but whatever reason, the building is now not even a restaurant at all, but has been converted to offices.
Posted at 12:39 am in Uncategorized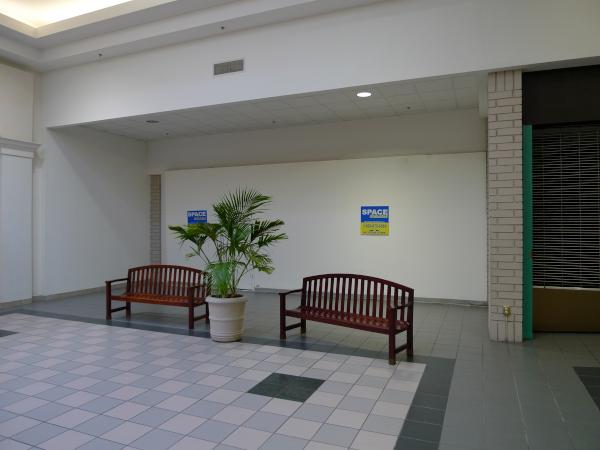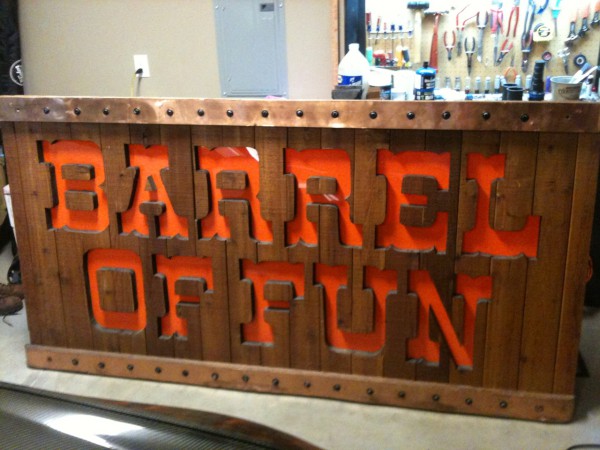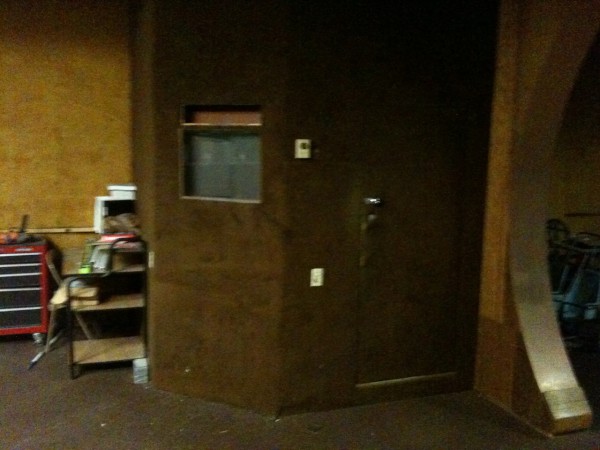 Well, the spot doesn't look like much now, but this Dutch Square storefront just outside of White's was once the home of The Barrel O' Fun video arcade, and was a pretty hoppin' place. The 80s were the heyday of the video arcade, and Barrel had all the standard ones like PacMan, Galaga, Defender, BattleZone, Tempest, Gorf, Space Invaders, Asteroids, Space Invaders, Joust, Missle Command, Dig-Dug, Galaxian and Phoenix. My memory is very hazy, but I think it had some of the less common ones that I really liked such as Qix, StarCastle and Pengo. That last was a very "cute" but nonetheless creative game where you (as a penguin) would kick ice blocks around the screen to crush the killer Sno-Bees. You could also keep them from hatching if you kicked their ice blocks before they emerged. I think probably a lot of guys were embarassed to play it because of the "cute" factor, otherwise it would have been huge.
Of course you could find the games, even the uncommon ones, elsewhere, so what really made Barrel O' Fun distinctive was it's polished wood entranceway. This was done up as a cross-section of a huge wood plank barrel, was very eye-catching and gave the place a bit of class. Even after the arcade closed, you could see the entrance for a number of years, draped with some sort of plastic. I'm not sure when they totally blanked out the storefront as they have now done, but it wasn't too many years ago. I'm not entirely sure when the place closed. The last time I can specifically remember going there was after I walked out of a movie at Dutch Square Theater in 1987 and killed some time there while my sister and her friend finished the show. Dutch Square itself was clearly in decline by then, as were video arcades, so the two factors together probably finished the place, and I don't think anything else has ever gone into that slot.
UPDATE 24 Aug 2010: I have posted two photos from commenter Trey above. One is of the Barrel Of Fun sign in his workshop, and the other, entitled "Inside Coin Booth", seems to be of the old round entrance to the arcade. Also, given this evidence, I have updated the post title from Barrel O' Fun to Barrel Of Fun
Thanks Trey!
Posted at 2:07 am in Uncategorized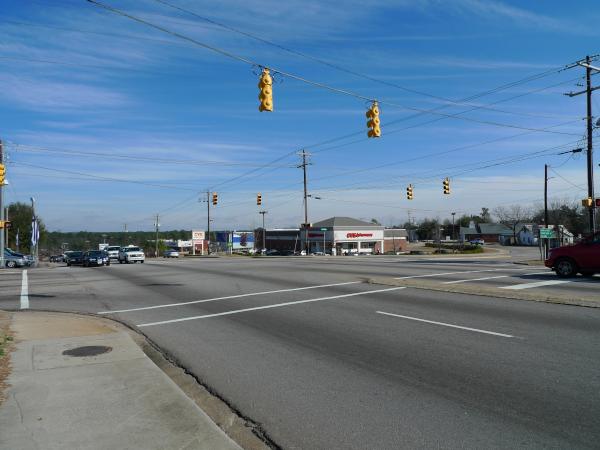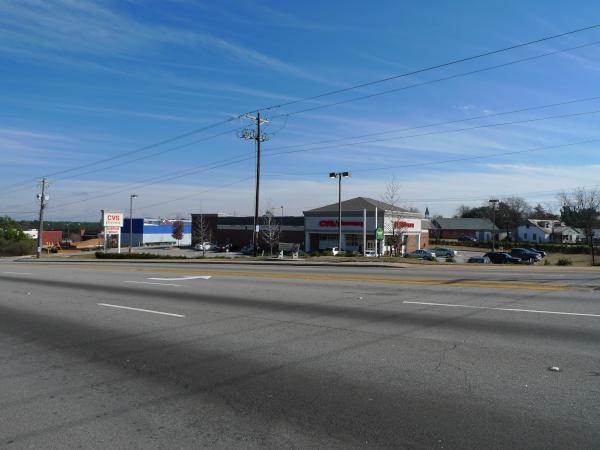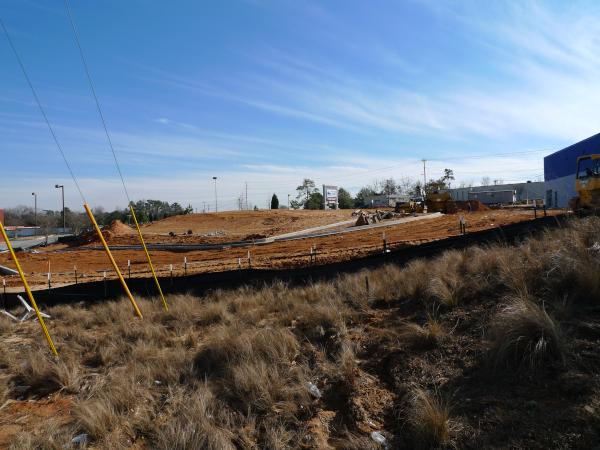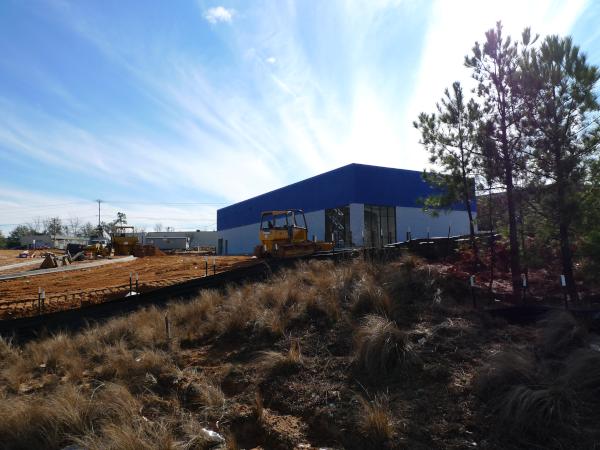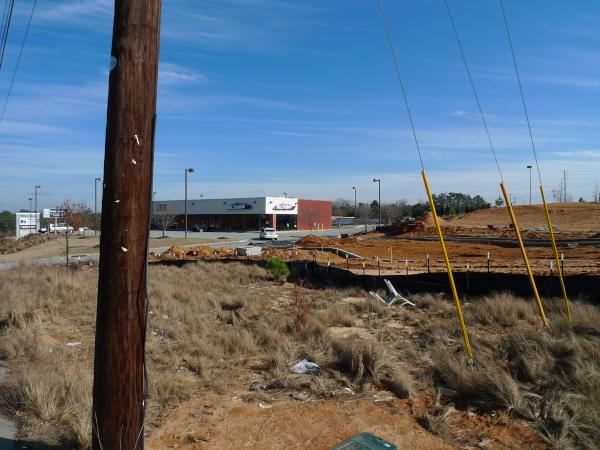 At one time, the area that is now the CVS & Food Lion plaza on Two Notch Road hosted a drive-in theater. I can't remember the name of the place now, but as I recall, the entrance was more or less where the CVS now is with the screen behind that and a tilted a bit leftwards. Growing up, we only saw a movie at a drive-in once (I think it was Cat Ballou somewhere on the Grand Strand), so I never made it to the place while it was in operation. I think a number of area drive-ins went porno in the 70s -- I know the one near Spring Valley did, and the one off of Sunset/River Road did, but I don't think this was one of them (though the nearby Atlantic Twin Theater did).
Anyway, after the drive-in business went under, the lot was used as a flea-market for a number of years, with the speaker poles still strewn amongst the tables -- I did stop by several times while it was in that configuration though I can't remember actually buying anything. I think the lot was vacant for several years after that with the heavy development of the strip mall starting in the 90s (and as you can see still continuing to this day). Personally I'd rather still have a drive-in (and one day I really will make it out to Moneta, this time for sure..)
UPDATE 6 Feb 09: Found out that the place was originaly called the Twilite and later renamed the Starlite, so I've updated the post title. I found that out here, which also has pictures.
UPDATE 19 March 2013: At some point I have to do some research down at the library to definitely untangle the Twilite/Starlite story, but in the meantime, the new Whole Foods has a photo mural of the old Starlite which used to occupy their location on Fort Jackson Boulevard: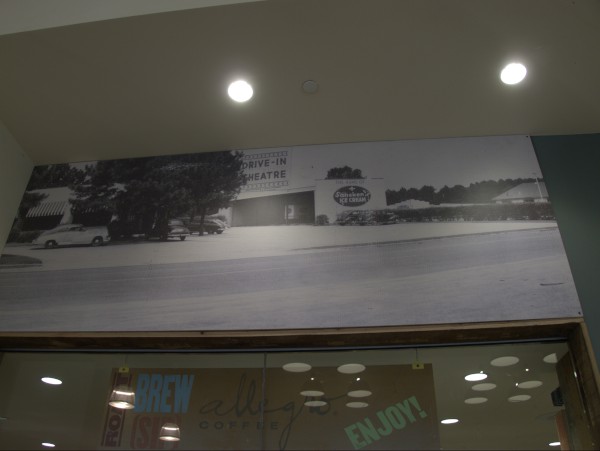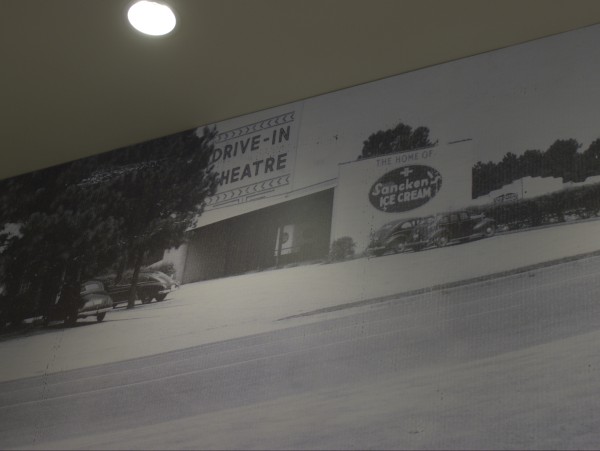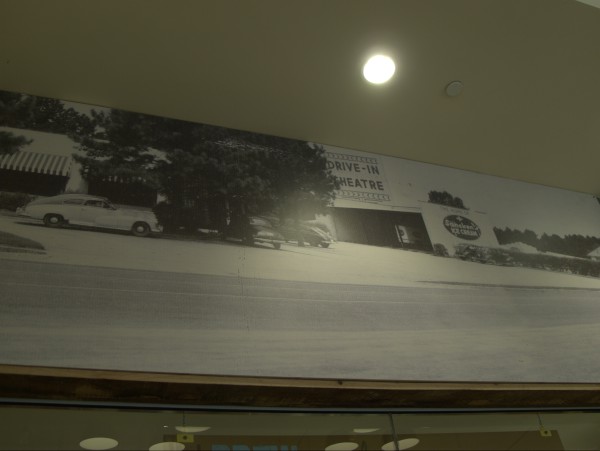 Posted at 1:23 am in Uncategorized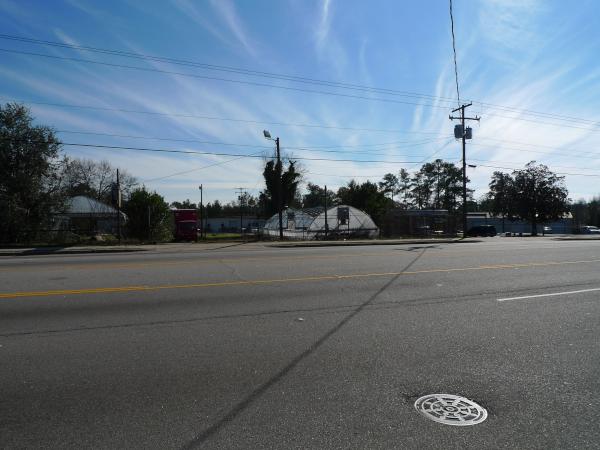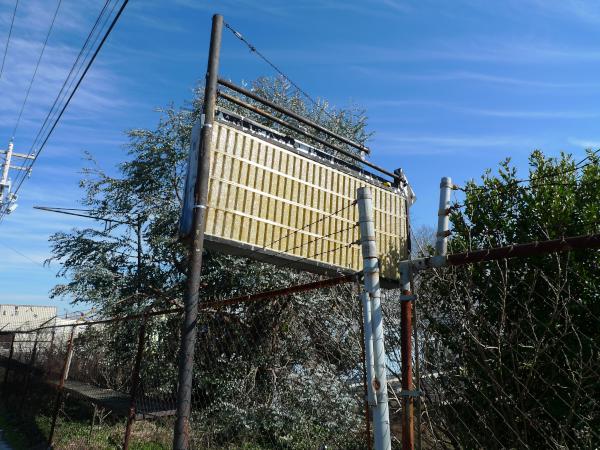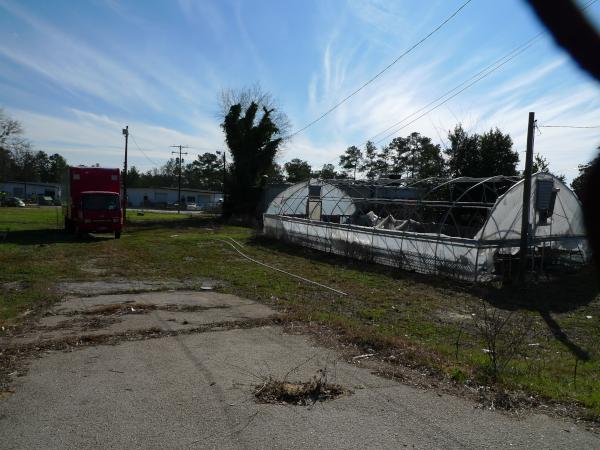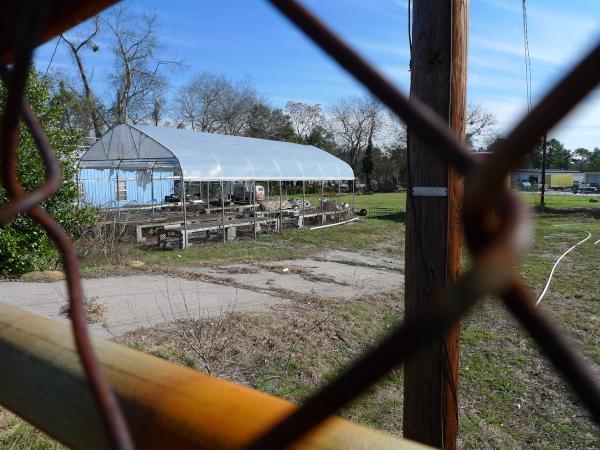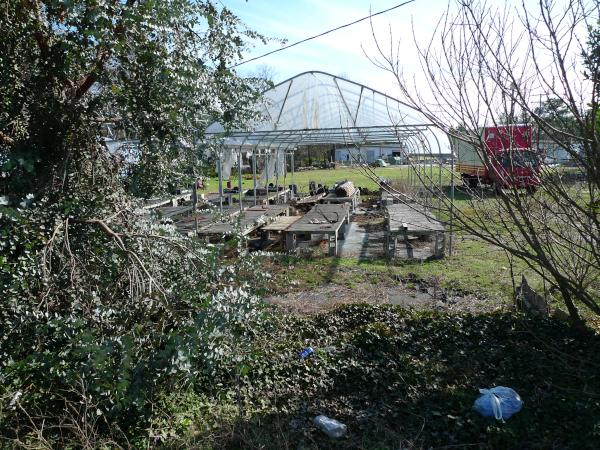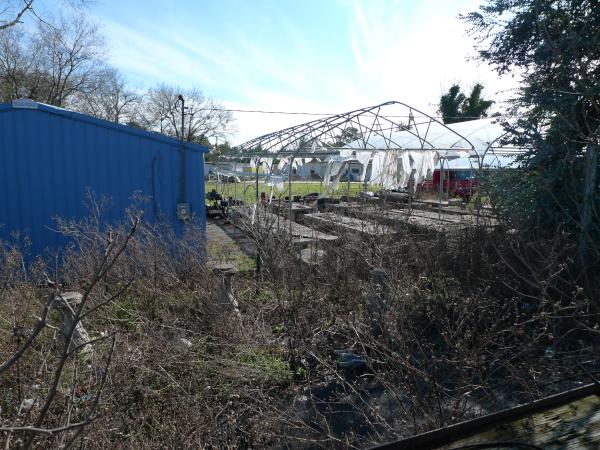 This abandoned plant nursery is on Two Notch Road between the new Food Lion plaza and Dick Dyer Toyota, and almost exactly across the street from The Thoroughbred Motel.
I can only vaguely remember it being in operation. I'm pretty sure my mother took us there a couple of times when we were kids, but I don't really recall anything definite about the layout or what she may have gotten. I think it closed in the 1970s, sometime after the nursery across from Trenholm Plaza.
It's interesting that the site has lain fallow so long. The owners must be paying the taxes -- perhaps they're waiting for development in this section of Two Notch to heat up before selling or building. And in fact, there is activity in the general area. A lot across the street has just been cleared (before I could get a picture of the sign left from an old business I wanted someone to identify..) and there's a new building going up behind the CVS.
UPDATE 6 Feb 09: Commenter Dennis says the place was called "Plants 'N Whatnots", so I have updated the post title to reflect that.
UPDATE 17 Feb 09: Commenter Justin says they were definitely open in the 90s, so I've updated the post title to say "1990s" rather than the original "1970s". It's sad when you can be 20 years off and not realize it..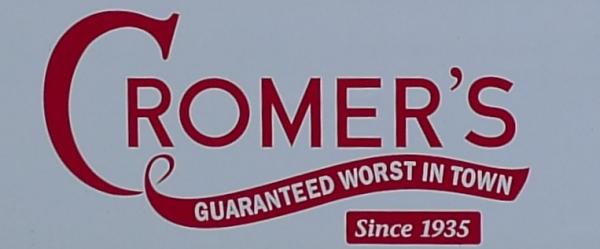 When I was small, Cromer's P-Nuts used to advertise locally a good deal, and their ear catching slogan, Guaranteed Worst In Town! certainly made an impression on me though we never shopped there that much.
The first Cromer's store I was aware of was on Assembly Street at Lady Street, where this building now stands: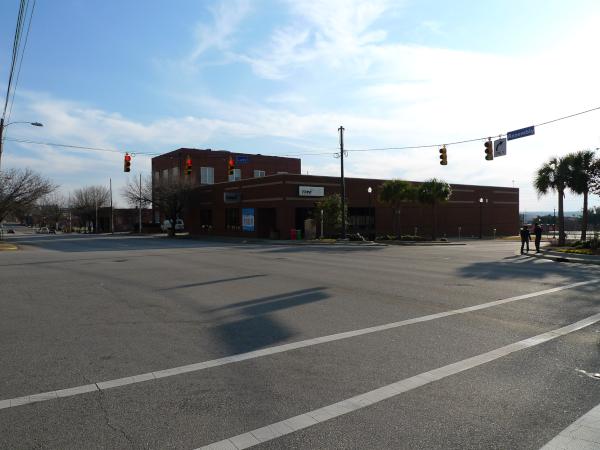 My mother took us there a few times on downtown shopping trips, and I recall being impressed with the wide array of merchandise that included items I never saw anywhere else. A lot of these were carnival type "prizes", and indeed the store seemed much more focused on school fair fare than on peanuts. You could rent sno-cone and cotton-candy machines, cart mounted popcorn poppers and sets of helium cylinders for floating baloons. It was a fantastic assortment of stuff for which I would never have a need but which nonetheless fascinated me.
The Assembly street store was there at least into the late 1970s. I started driving alone in 1977, and I can recall taking a classmate of mine all the way from Polo Road to Cromer's on Assembly so we could buy some sno-cone cups for a science project. As I recall, the idea was to cut the tips off of them at different distances from the tops, giving a selection of different sized holes in the bottoms. We were then going to time how fast it took to drain a full cup in each case and relate that to some formula or other. Honestly, it was mostly an excuse to be away from school on a nice spring day (with permission) as much as anything else. My guess is that would have been 1978. Shortly after that, the downtown store burned down.
The downtown store wasn't the only Cromer's in town however. They also had a store inside of Dutch Square. It's hard to say exactly since the interior of Dutch Square has been remodelled since then, but I think the Cromer's was more or less in the spot now occupied by Trendz.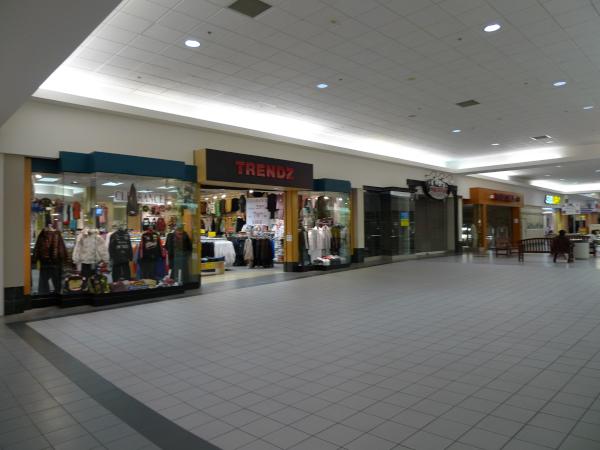 The mall store was smaller than downtown, but it had something downtown didn't have: Monkeys!
That's right, the entire back of the store was a glassed-in monkey-habitat, and there were always several monkeys there swinging around or doing things less salutory. I don't know exactly what the reasoning was -- The store didn't sell monkeys. It was purely a publicity gimmick, and as such I suppose it worked. Certainly it got kids who otherwise had no intention of buying anything into the store, and I would guess that once in, a certain number of them were going to spot something that caught their fancy.
I'm pretty hazy on when the Dutch Square store closed, and whether it was before or after the downtown store burned down, but I'm pretty sure it did not make it into the 80s.
In the same general time frame, Cromer's branched out to the Grand Strand, and opened a large store on US 17 just below Myrtle Beach in the general area of the Air Base (above Kroger and below what is now the Flea Market/Food Lion plaza).
I went in several times, and what I remember most is the "mongoose". It "lived" in a hollow stump-like construction with a trap-door lid over the top, and was fronted by a sign describing the mongoose with an emphasis on its speed and visciousness. The text ended with an invitation to view the magnificent creature by carefully raising the trap-door. By this point, nobody (other than a very small kid) would think there was an actual mongoose in there, but you were curious and you raised the trap. At which point there was some sort of recorded roar, and a spring-loaded beast would jump at you, like one of those snakes in the nut can, but worse. It never failed to get a few people to gasp, and for the rest of the store to wait in anticipation of the next person to fall for it.
I don't think the Myrtle Beach store made it into the 90s, and the place is now some sort of Harley Davidson shop.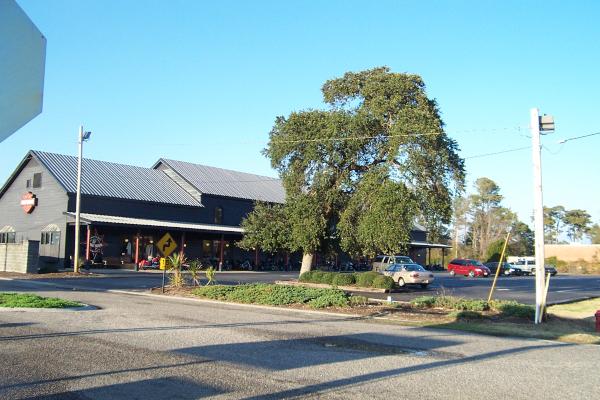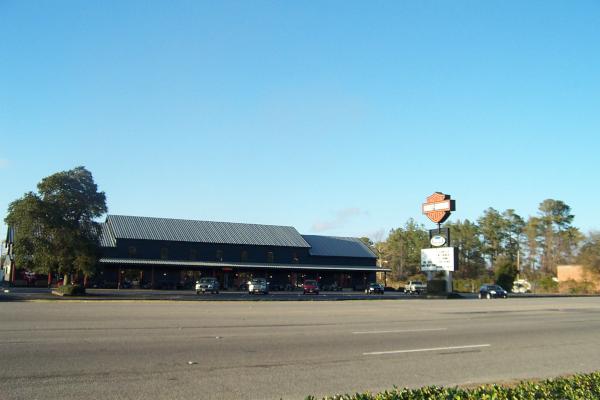 In the meantime, Cromer's in Columbia regrouped, and opened a store on a small side street of Bluff Road near the Farmers' Market. I'm not sure when it opened, but it was there as late as 2005 as I finally needed one of those helium cylinders for baloons. At that point, it seemed to me that, given the non-foot-traffic location, Cromer's was focusing even more on event supplies than before, and that straight retail customers were not the norm.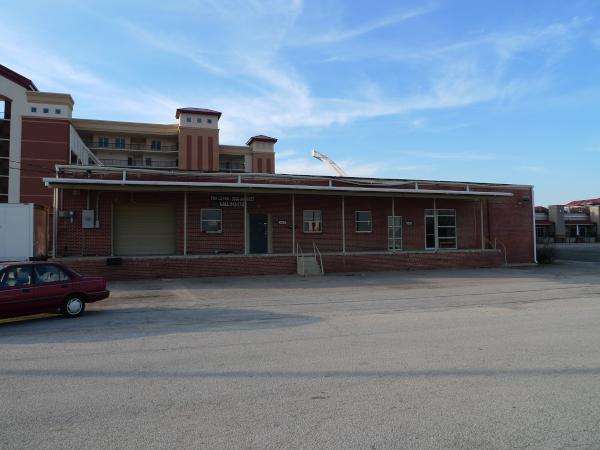 Sometime between 2005 and now, Cromers returned to downtown. I suppose you could debate that, as it's not in the old downtown "shopping district", but I would say 1700 Huger Street (the corner of Huger & Blanding) counts. The new location shares a building with Cogdil Carpets.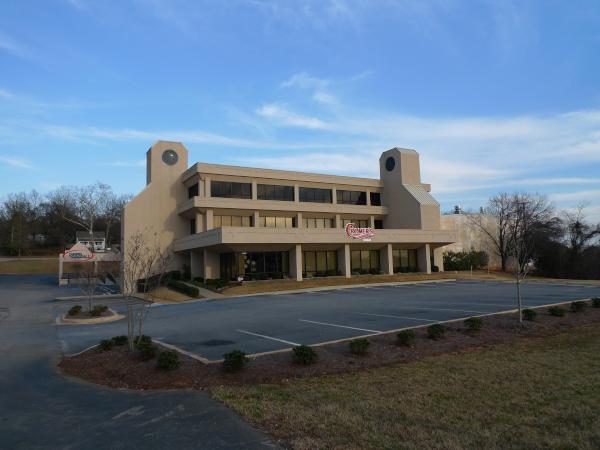 Along with the new building, they now have a web site, but since I've never been in, I can't tell you if they have a monkey or a mongoose.
UPDATE 1 Aug 2009: This link has a picture of the Assembly street store burning down. It was taken by Robert Busbee of the Columbia Firefighters Association. The date given for the fire is 8 December 1993. A number of other historic fires are pictured on the Firefighters website. (Hat tip to commenter Brian).
UPDATE 21 April 2013 -- Commenter Melanie sends in this picture of the Dutch Square location *with monkeys*!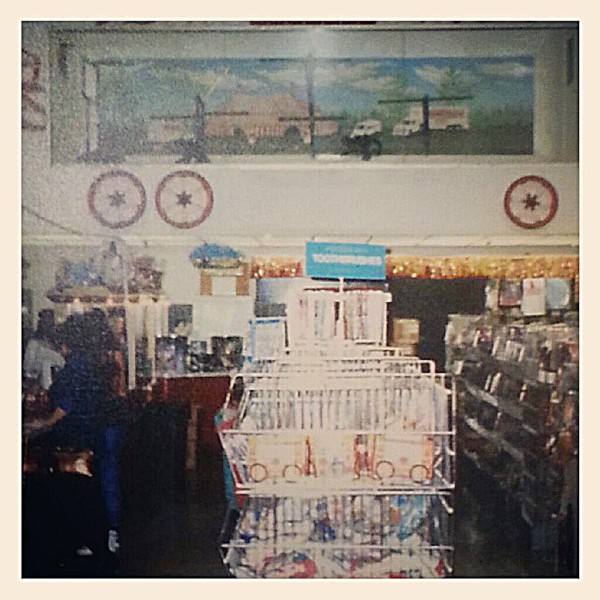 UPDATE 26 March 2018 -- The Huger Street location has now moved to North Main, see here
Posted at 12:51 am in Uncategorized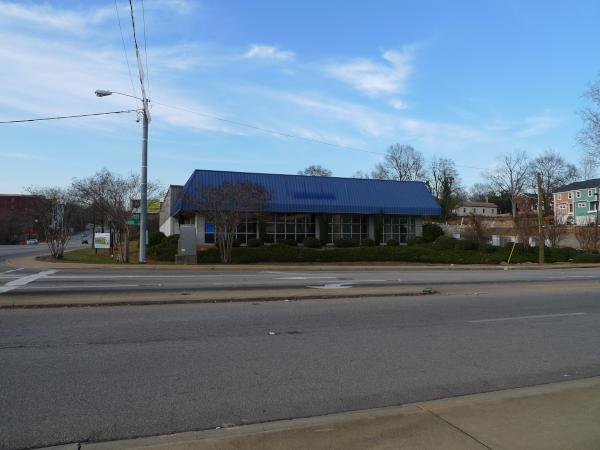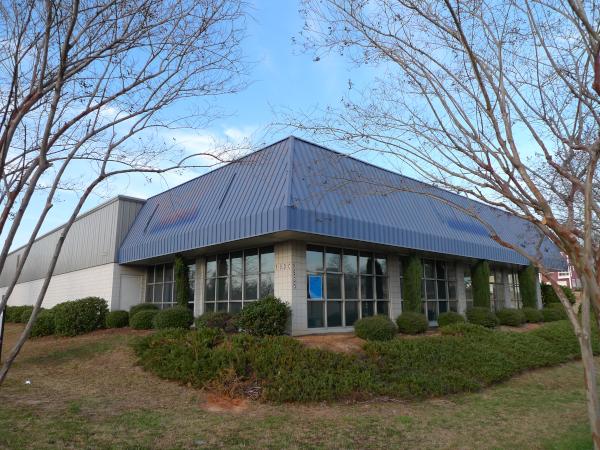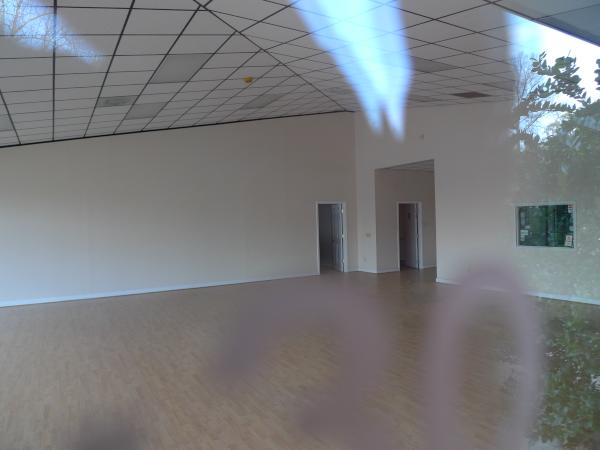 Celebrations Columbia Incorporated was a party supply rental store. I think they did a lot of weddings, at least I recall the one time I stopped in there, there were outdoor wedding, um, trellises. That day I was actually looking for propane space heaters on poles such as you see on restaurant patios when its chilly but they still want to let people sit outside. They turned out not to have any, and I never found occasion to go back. (A place on Two Notch did have the heaters, but they wouldn't deliver, so I ended up hoping for a warm day, which worked out OK).
I noticed in the middle of last year that they were either closing shop, and as of yet nothing else has replaced them in the building.
UPDATE 3 Feb 09: Commenter Steve says they just relocated, not closed. I have adjusted the post title to reflect that.
Posted at 12:32 am in Uncategorized
Please check the closing for Forest Lake TV for an unexpected denoument in the update section.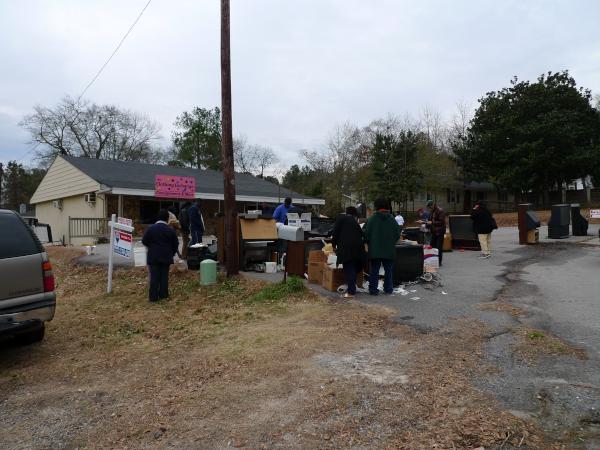 Posted at 11:43 pm in Uncategorized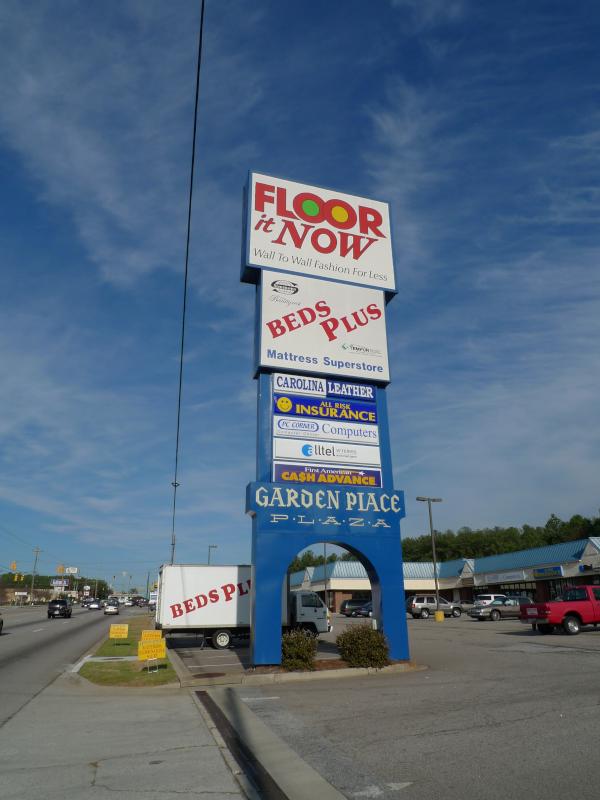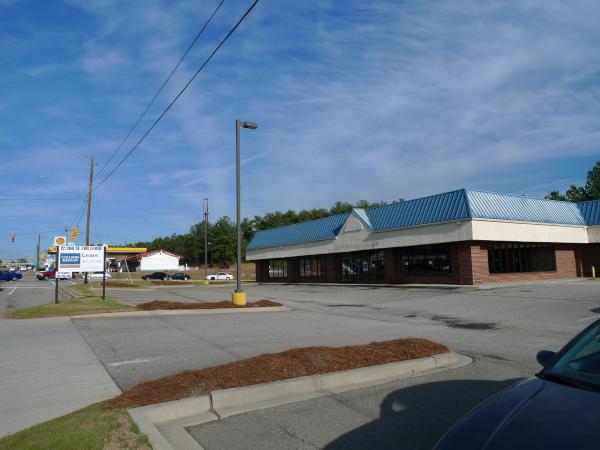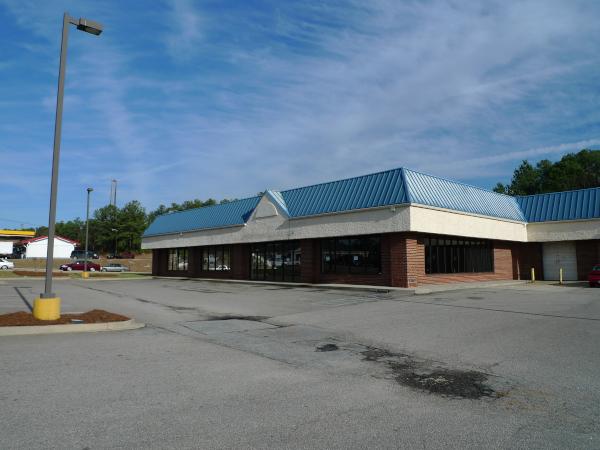 Here's another casualty of the recession, or at least that's my guess. Floor It Now has been, I think in this strip mall at the corner of Two Notch Road and O'Neil Court for at least several years. (It's hard to say for sure since I've never been in the market for flooring).
Unless people are actually falling through it, replacing a floor is pretty much an aesthetic deciscion, and right now, I'll bet that floor with all the scuff marks and old paint splatters doesn't really look that bad.
UPDATE 13 June 2009: It's now a Kim's Enterprises Beauty Supply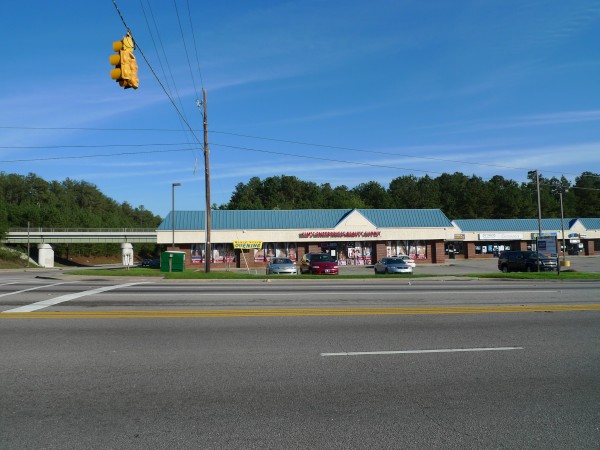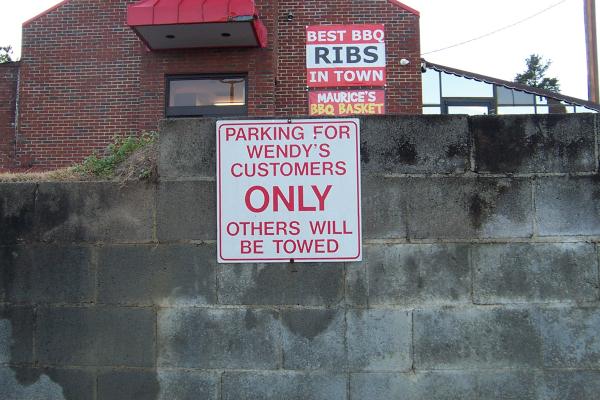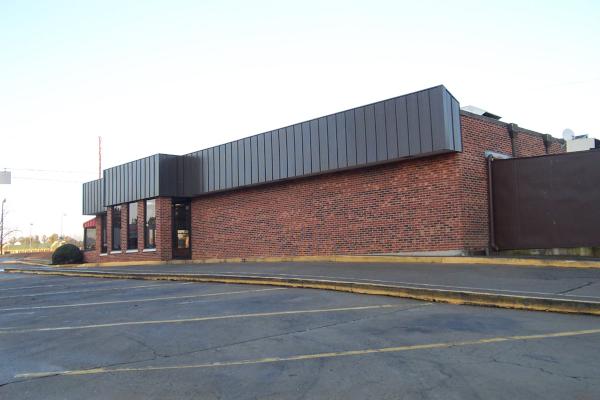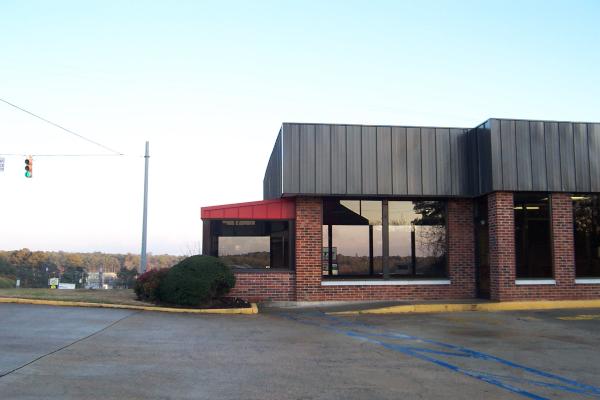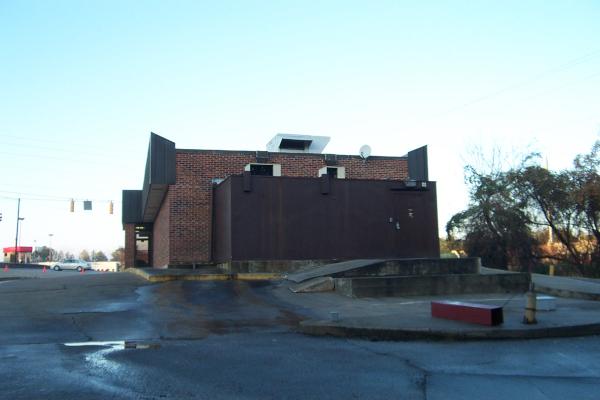 This closing continues a recent series of dead restaurants on Saint Andrews Road. One of the very first closings I did was of the Wendy's on Two Notch in Dentsville. If I recall correctly, I said how much I enjoyed Wendy's when they first came to town, and how they gradually seemed to lose their way as many fast food chains have.
I don't know specifically what happened to this store (being on Saint Andrews can't have helped!), but the last two times I have had occasion to stop at a Wendy's (once in Aiken and once on Forest Drive), the service and food have been very indifferent -- not at all like the can-do! store that could get you a decent burger the way you wanted it almost by the time you finished being rung up. I don't doubt the disasterous ad campaign with the guy wearing the red "Wendy" pigtails helped more than a few of their stores shuffle off this mortal coil as well.
UPDATE 8 September 2017: Added full street address and some tags. Also found this LoopNet listing that says the building is still vacant, but has recently had a plan approved to connect to the traffic light and "would be great for a breakfast restaurant".
UPDATE 13 December 2019 -- Now Ms B's Southern Soul Food: