Archive for January, 2009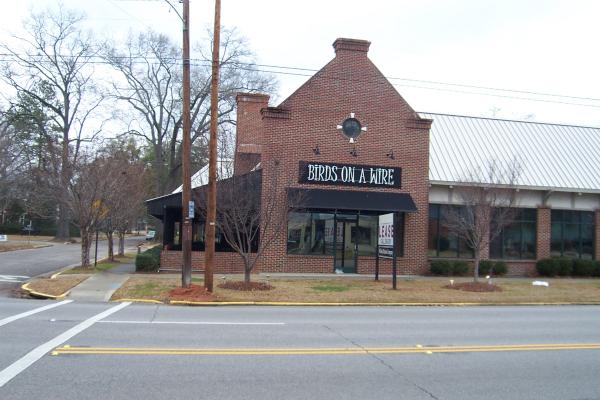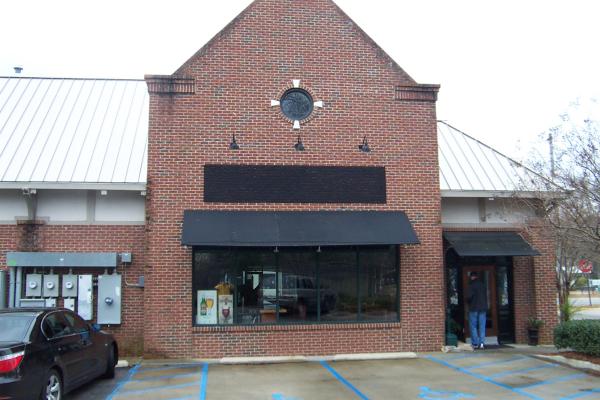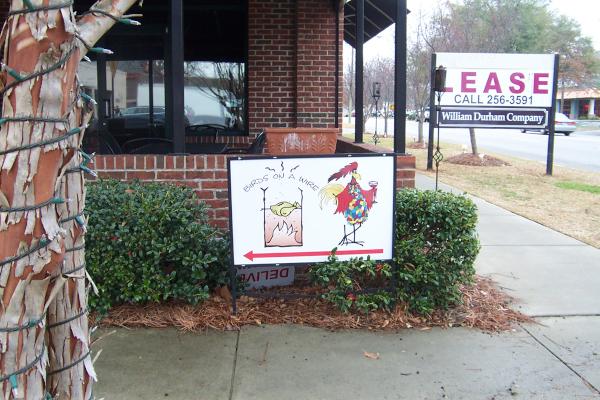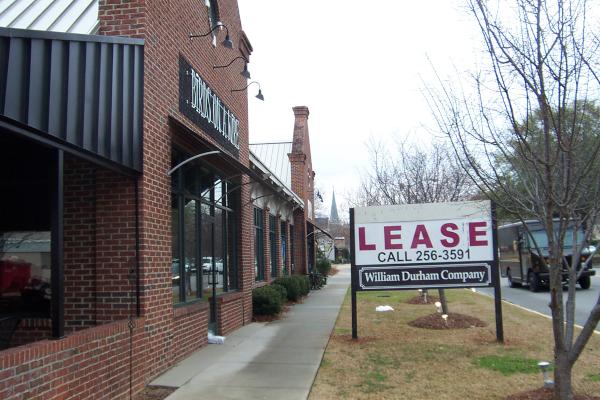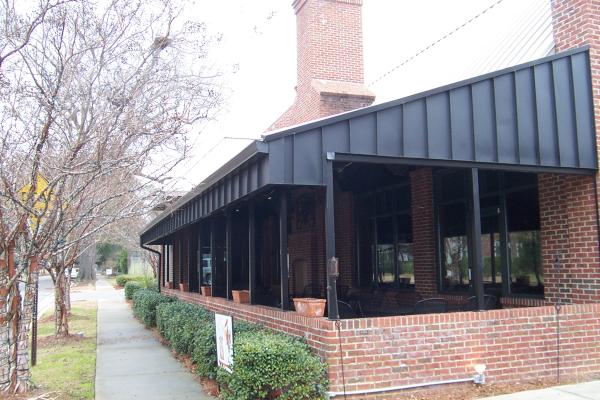 There's been some back-and-forth on Have Your Say as to whether Birds On A Wire on Devine Street is closed. It is.
I didn't get any close shots of the interior since some people were in and out and the guy from the gourmet shop was giving me the evil eye, but all the fixtures are still intact. However, the "for lease" sign pretty well settles it for me. It's kind of funny since I was there just last week looking for the Ben & Jerry's I had been told by my sister and a couple of commenters had simply moved from its original location. Not only didn't I find B&J, I thought to myself that Birds looked pretty quiet for a restaurant that, if it wasn't usually open for lunch, must have a dinner opening coming up shortly..
As for the restaurant itself, I can't say much about it. I believe it started off on Green Street in Five Points, just down from Group Therapy then moved to its current (now former..) location in the late 90s. Since the name involved birds and I don't do birds, I never inquired further into its claim to fame, but by osmosis got the idea it was a rotisserie chicken operation. I guess the wire is now bare.
UPDATE 17 Feb 2010: A new restaurant is now in the Birds On A Wire space, Cantina 76: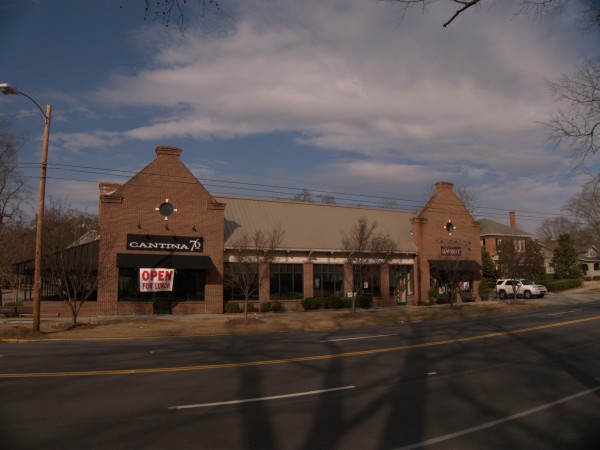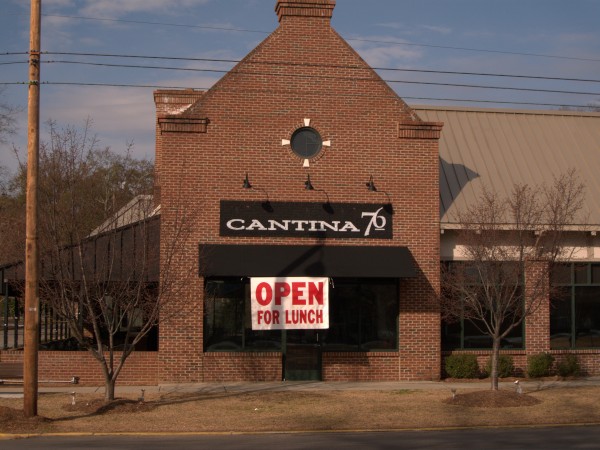 Also I updated the post title to include the full street address.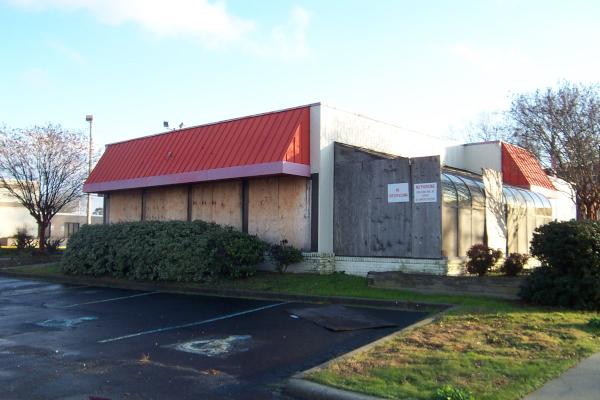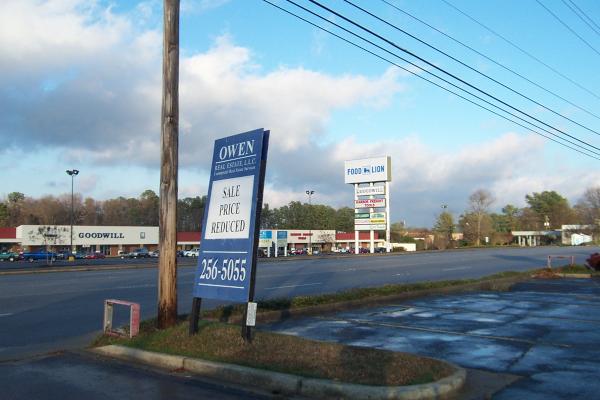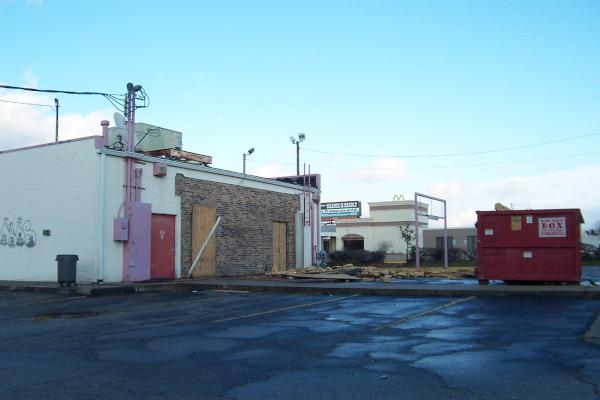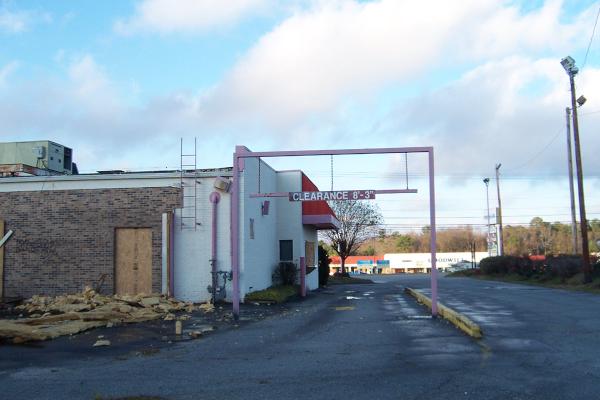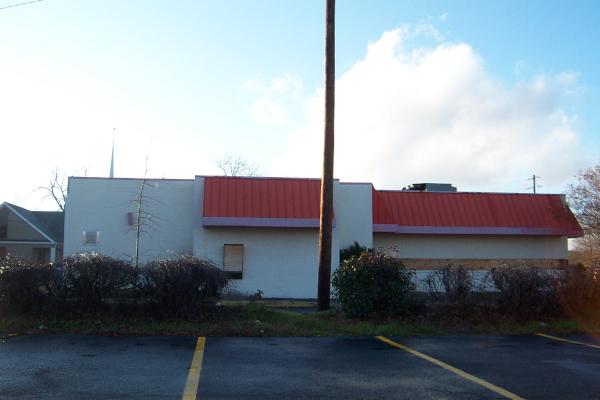 I'm not a big fan of chicken -- in fact, the smell of it puts me off a restaurant. I'm also not a big fan of breakfast. Well, that's not true exactly; it's more that I'm not a big fan of waking up early enough to have time for breakfast. I like bacon, eggs, grits and biscuits as well as anyone. So on those rare occasions when everything comes together and I'm on the move -- Bojangles makes a very good sausage biscuit!
Perhaps not enough other people think so though as this Bojangles location on Saint Andrews Road near the dollar cinemas has been gone for a while now. I'm not sure what the story on the property is. The for-sale (reduced!) sign suggests that it has been unsuccessfully on the market for a while, but I can't figure out why anyone would be doing work on the building in that case as seems to be happening.
UPDATE 7 October 2009: Looks like the building will be The Delhi Palace Indian restaurant. I'm not sure if that means The Delhi Palace will be moving from The Economy Inn on Broad River Road, or if this will be a second location.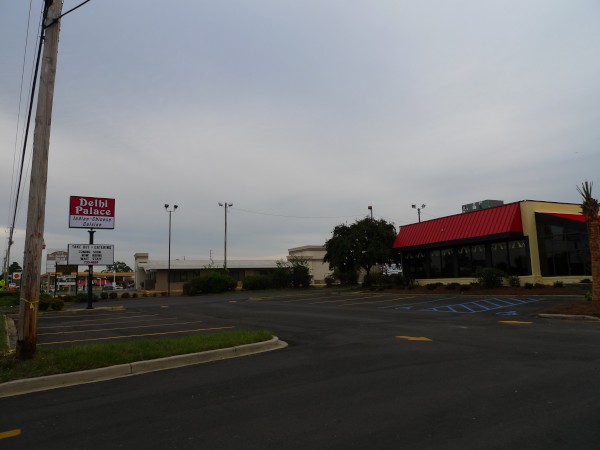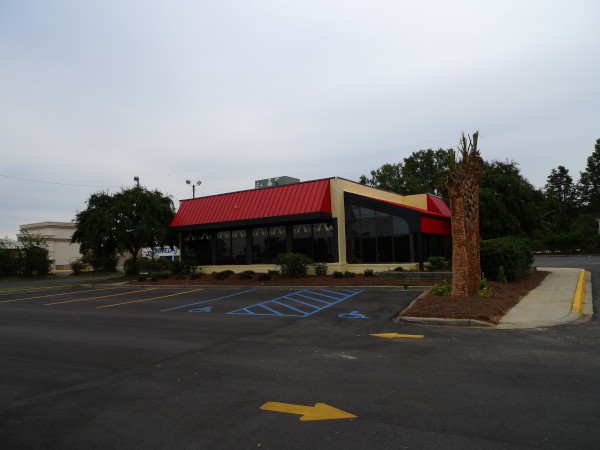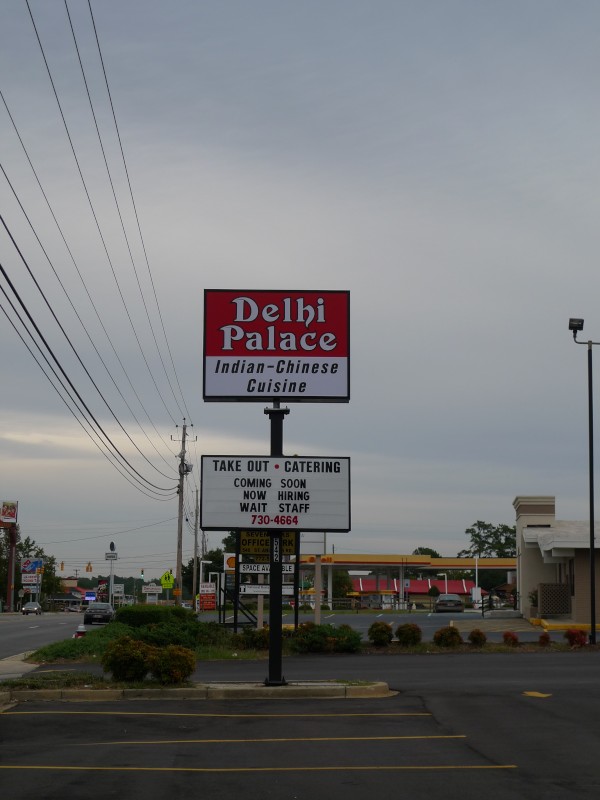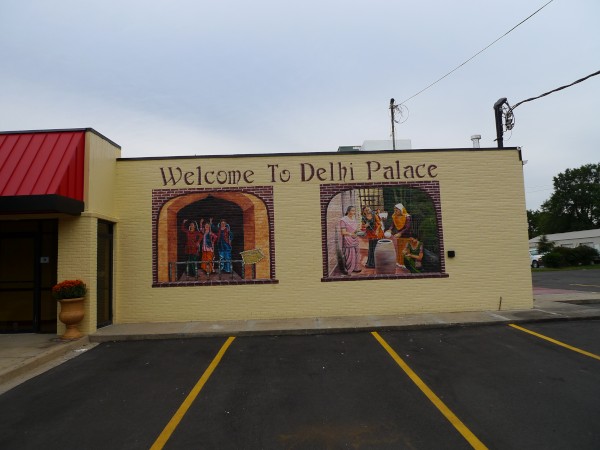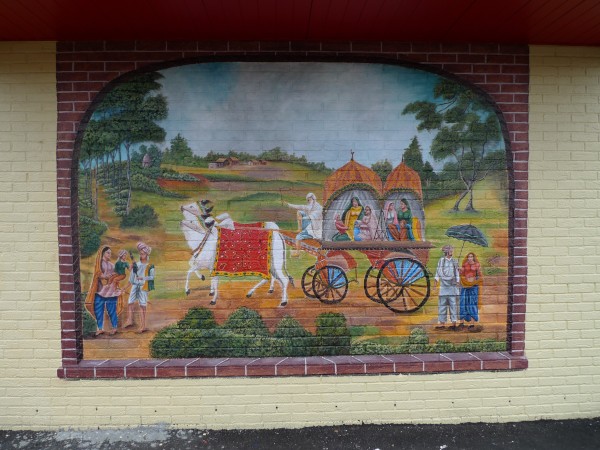 UPDATE 10 November 2009: Add street address to post title.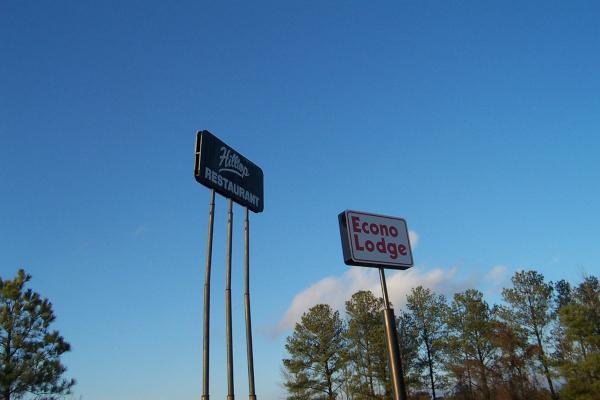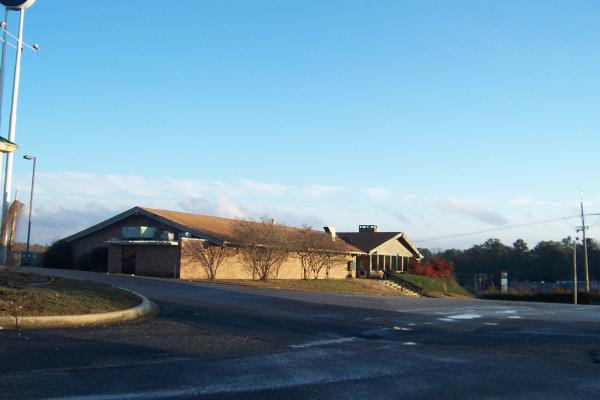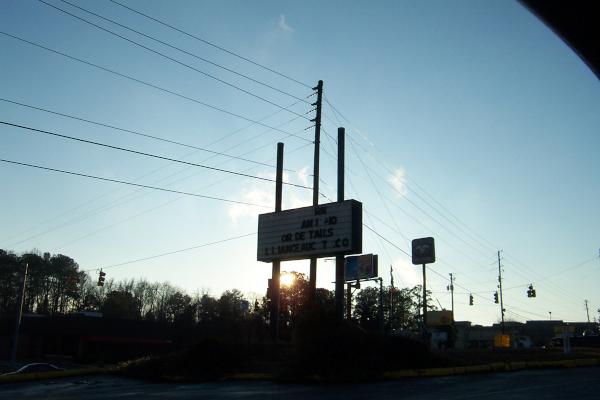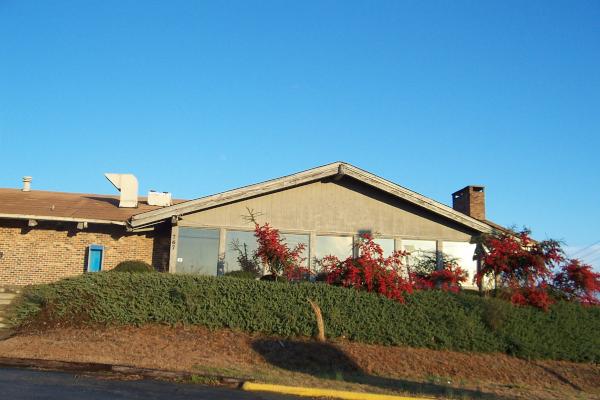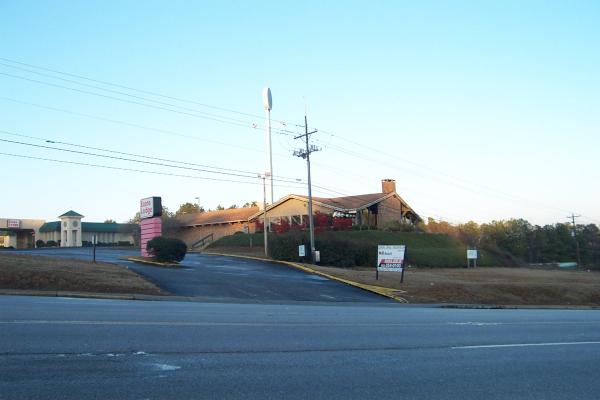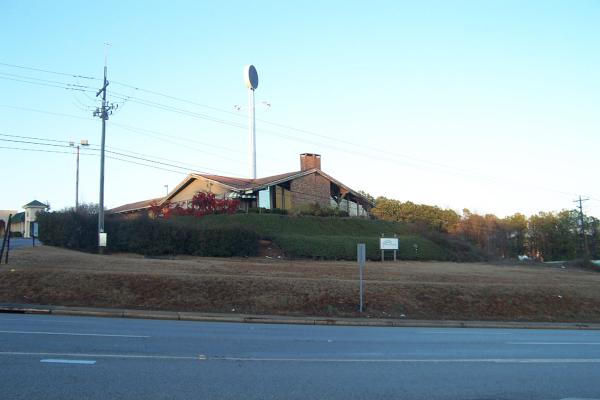 This is yet another of the many restaurants in Columbia that I always intend to go to "someday" but in the event don't make it before they close. The Hilltop Restaurant building has been a landmark for as long as I can remember, though I think it has gone through several different names and incarnations over the years. It seems to me that there was one in particular that used to do a lot of advertising on WIS radio in the late 60s and early 70s, but I can't bring the name to mind right now (and may be mistaken since I had no clear idea of the geography of the Saint Andrews area in those days).
From the way the parking lot and signage is configured, it appears that Hilltop had some association with the adjacent Econo Lodge (which used to be something different also).
UPDATE 10 March 2011: Updated closing date and street address based on commenter Andrew's research.
Thanks to commenter "O'Reilly" who reminded me of Hilltop and pointed out a lot of other restaurants on St. Andrews on which I'll do some future closings.
UPDATE 2 January 2012: As noted in the comments, this place has been torn down: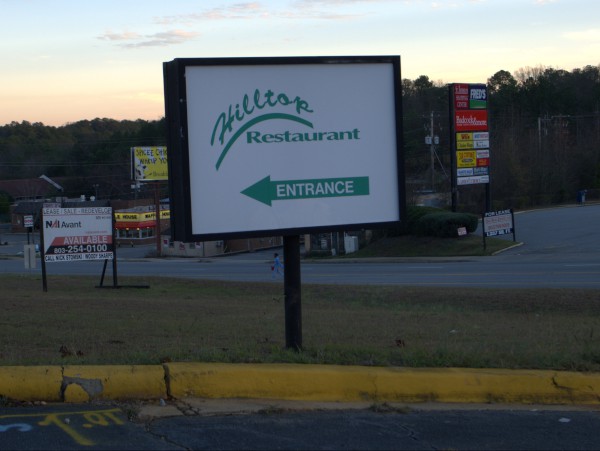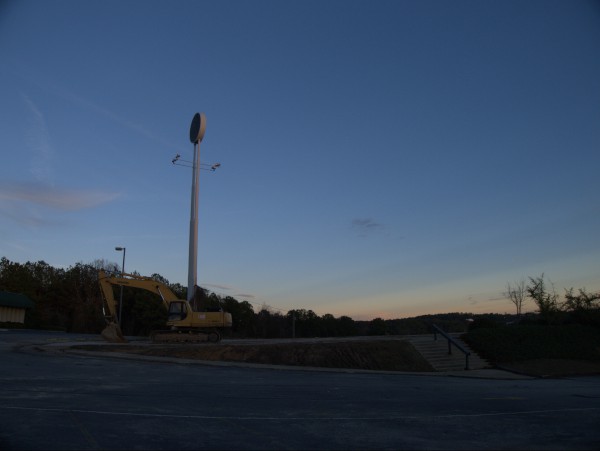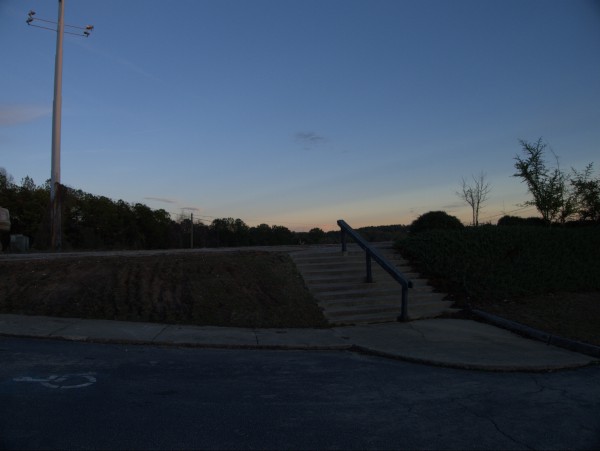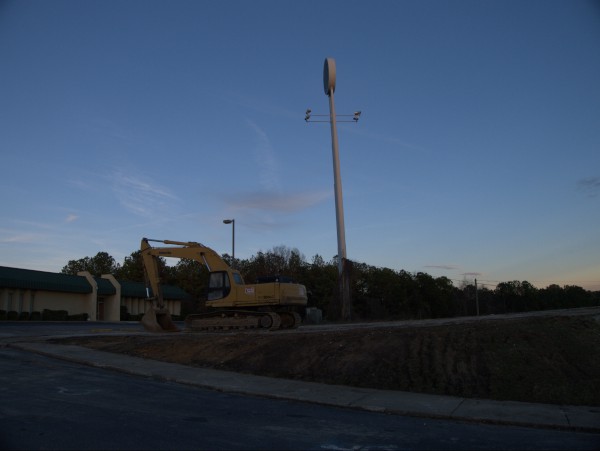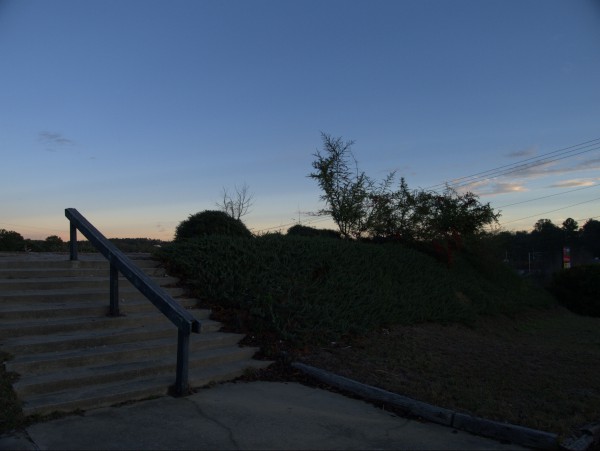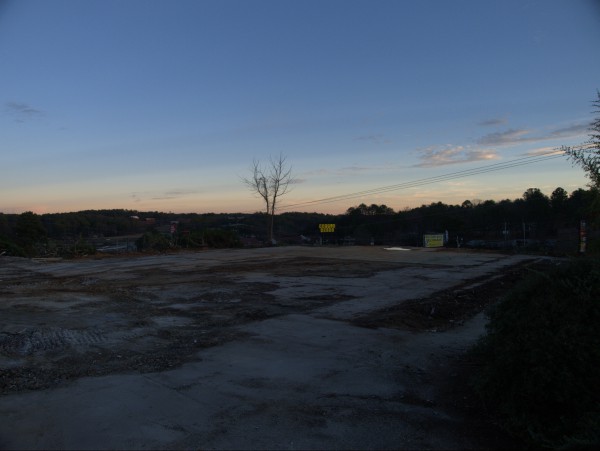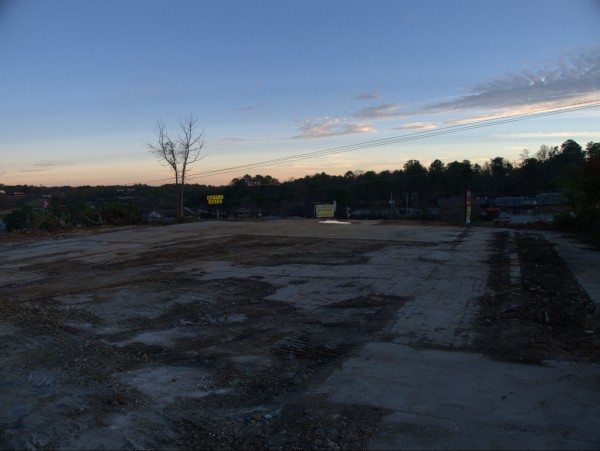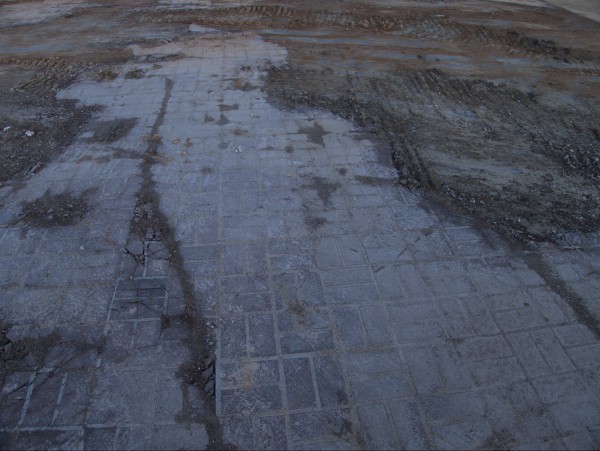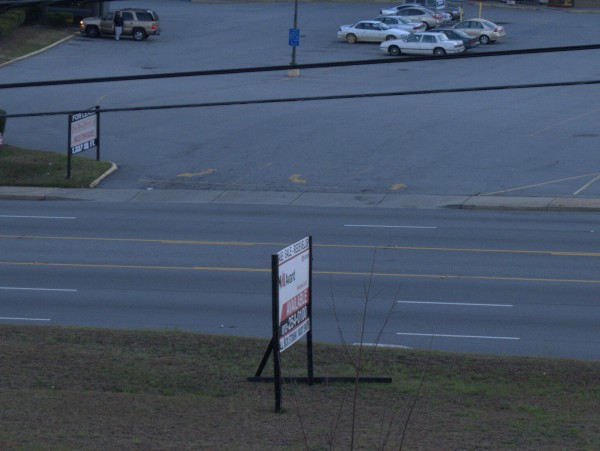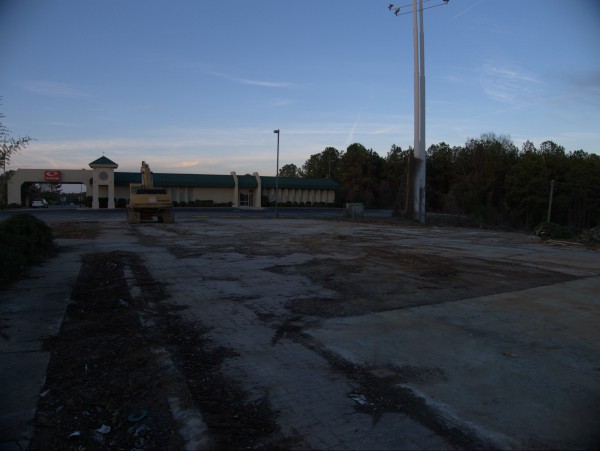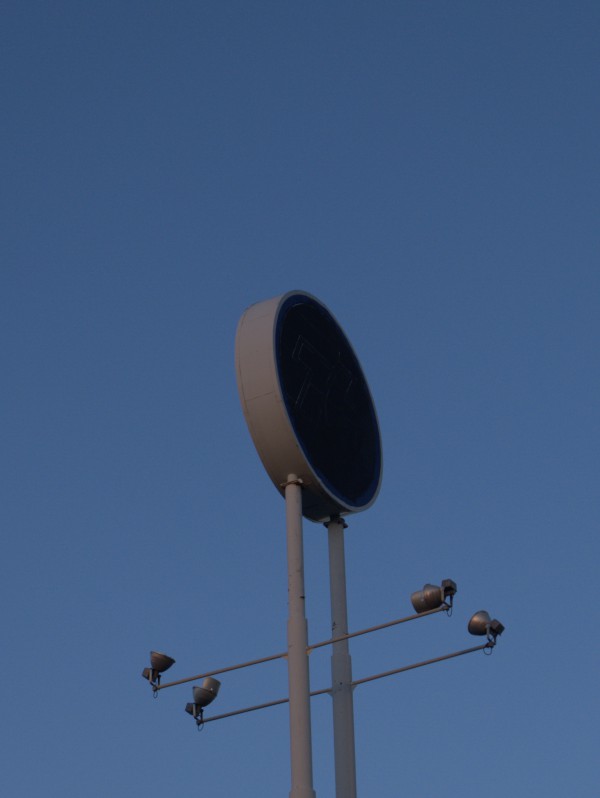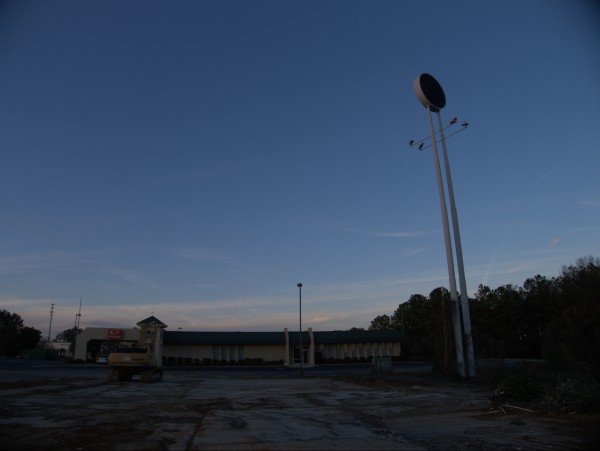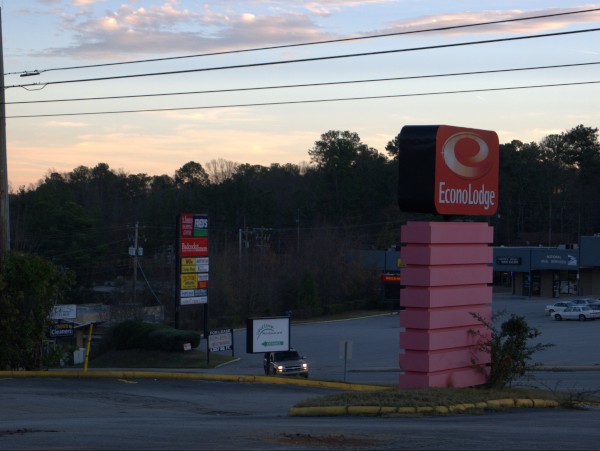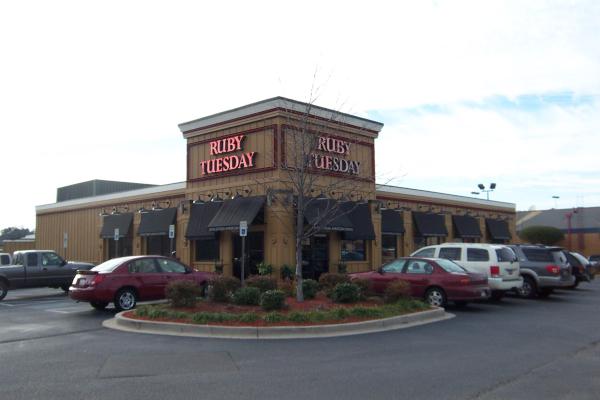 The whole area on Garners Ferry near where this Pizza Hut sat has been reworked so much over the years that it's hard to say exactly where the restaurant actually was, but I think it's not far off the mark to say it was about where Ruby Tuesday now is.
I don't know what the ownership structure of Columbia Pizza Huts in the 70s & 80s was, but as far as I could tell, they were almost all about the same, with no real standouts or bad stores. (I believe PH was in general better back then -- I don't care too much for it today). I say almost because this store was something of an outlier.
I remember that my sister and I stopped there once in the late 70s, and after our pizza came we ate for a few minutes before, independantly, coming to the conclusion that while the crust was fine, the cheese properly melted, and the toppings we had ordered had been duly applied -- there was no sauce anywhere on the pizza. I believe we raised it as an issue to the manager, but decided to take a discount on the check rather than wait for a new pizza to be prepared.
I didn't think much of the incident though obviously it did not move that PH to the top my "where to eat pizza" list. Still about five years later, I found myself in the area when it was time to eat and decided to stop by again. As I'm sure you already suspect, my pie was once again served sauceless. Now, the old saying is
Once is happenstance
Twice is coincidence and
Three times is enemy action.
and I didn't try a third time, so I can't rule out coincidence, but I can't help suspect that there was a management policy to cut costs by shorting the sauce. After all it's the least noticable bit of the pizza, being normally mostly hidden under the cheese anyway.
I can't remember exactly what happened to the place. Either it burned down (I know the one of Forest Drive did, so I may be conflating with that) or was torn down during one of the plaza remodels. At any rate, it was never rebuilt, and I can't say I'm too heartbroken about it.
UPDATE 5 March 2011: Changed the post title to use "Devine Street" rather than "Garners Ferry Road". I thought the name changed at Fort Jackson Boulevard, but actually Devine Street goes all the way to Wildcat Road.
Posted at 3:35 am in Uncategorized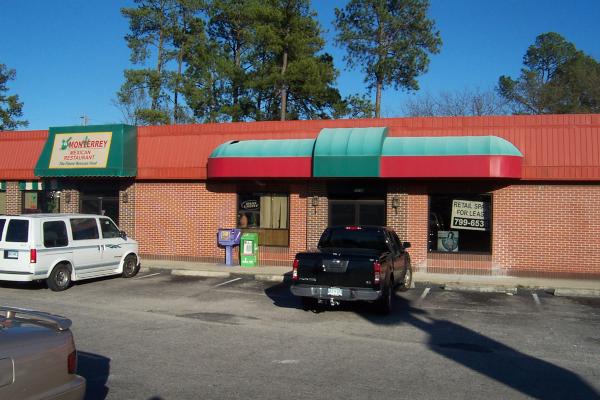 This currently vacant storefront on Parklane in between Sounds Familiar and Monterrey has been a number of things over the years including a military recruitment office, but I recall it most as a comic book store. This would have been at the height of the comics boom of the 1980s where there were actually two comic shops on this side of town: This one and one (whose name I also can't recall) over on Forest Drive near Percival.
Really neither one was my cup of tea. I was pretty much a Silver City regular (when it was in its original location). I thought the one on Forest Drive catered too much to second and third tier publishers (like AC and Pacific), and I thought this one was lacking in selection, and a bit inept.
Comic stores are notorious for being run by fans who have an in-depth knowledge of comics but little retailing sense. I never really talked comics to the staff here, so I don't know if the first part is true, but there were various things that made me think the second part was. The one I remember in particular was that, at a time when comic book shops across the country were getting busted on obscenity charges (due mainly to prosecutors and bluenoses who operated on the theory: Comic boooks are only for kids. Your comic books have nudity, therefore you must be selling comic books with nudity to kids), they had comics with nudity shelved at kid eye-level. When I pointed out that this might not be a great idea, they immediately saw my point, but it was something which had apparently never occured to them..
I'm pretty sure they never had any legal trouble, but like most of the stores in town, they ended up not surviving the comic book bust that followed the black-and-white glut and the variant cover speculation boom.
Posted at 11:45 pm in Uncategorized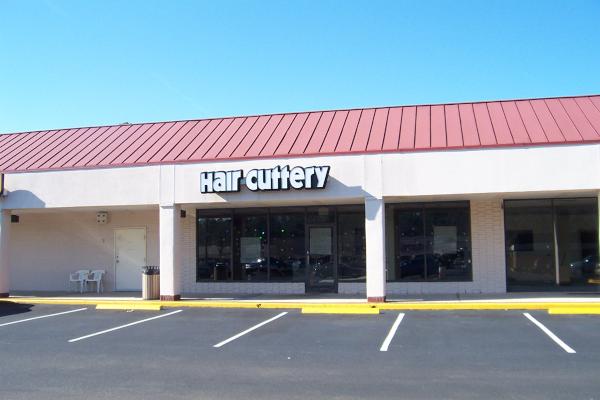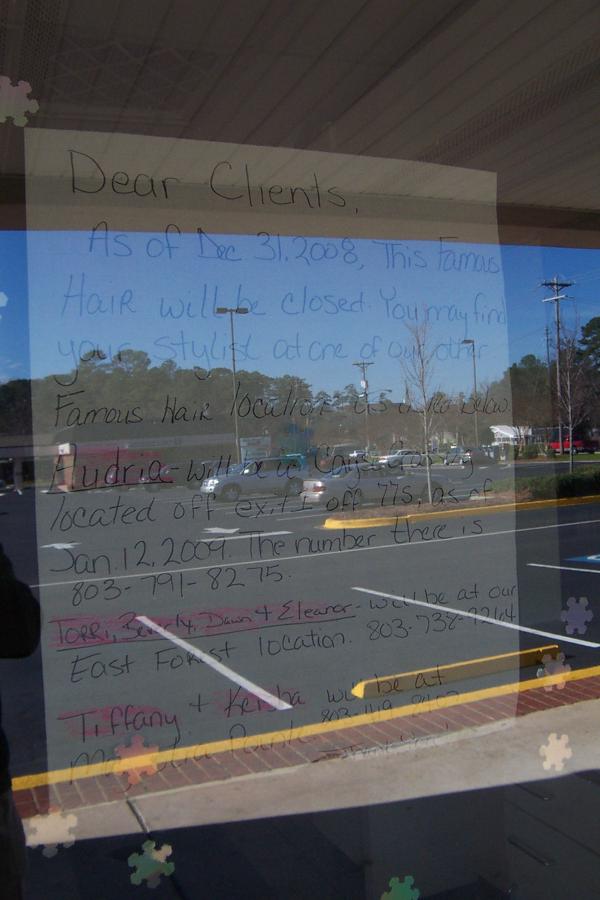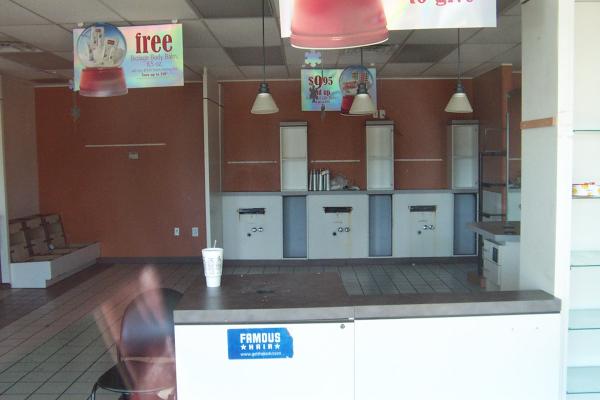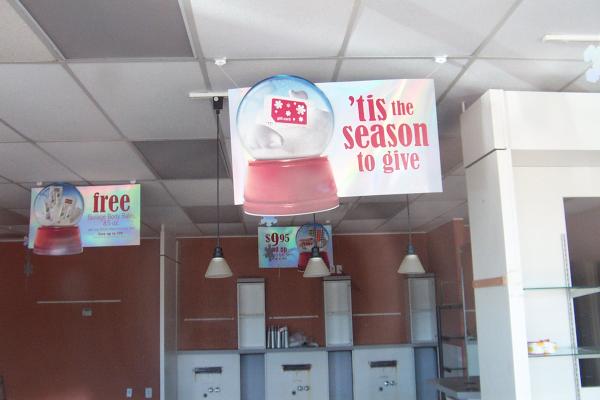 Hair Cuttery is yet another casualty of the ongoing renovations at Trenholm Plaza which will eventually result in the entire wing of the plaza in which it was located being torn down. With its departure there are only two businesses still left there, The UPS Store and Holligan's. I've heard that Hooligan's is moving to the other side of the plaza though perhaps not into the spot they wanted. I'm not sure what is to happen to The UPS Store.
I couldn't get a really good picture of the informational signs at Hair Cuttery due to the morning light, but it appears that if you had a favorite stylist, you can still find her elsewhere in town.
UPDATE 11 Sept 2010 -- It's to be 32 ° a Yogurt Bar (32 Degrees a Yogurt Bar):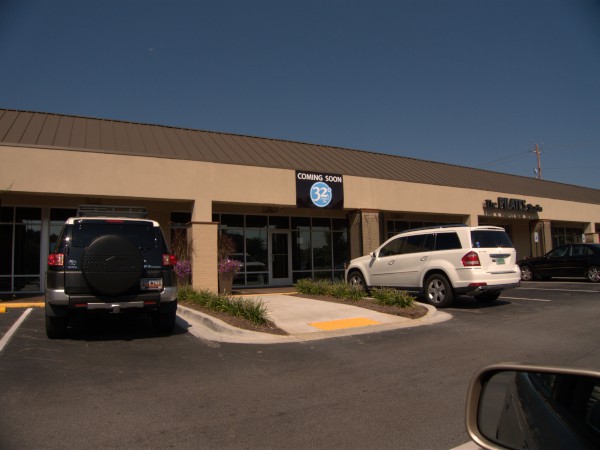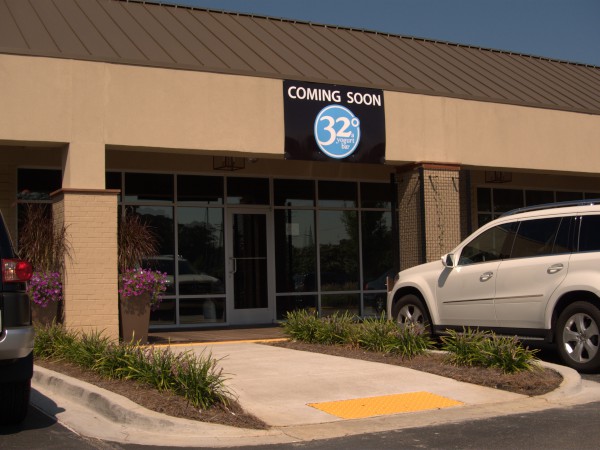 UPDATE 26 Jan 2011 -- 32 ° a Yogurt Bar (32 Degrees a Yogurt Bar) is open: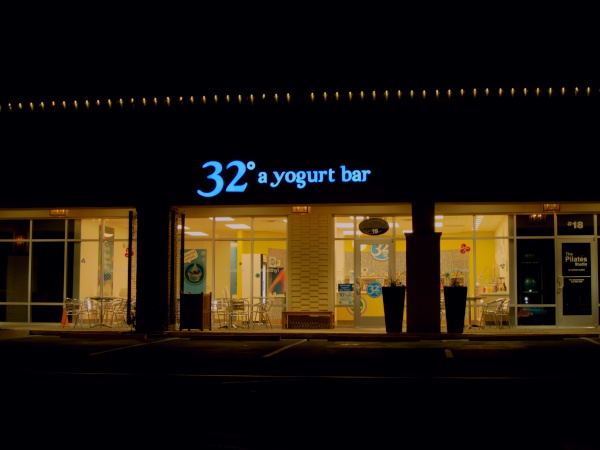 Interesting story here on why frozen yogurt stores are so popular right now.
UPDATE 5 Feb 2011: Replace the picture with one with the sign illuminated.
Posted at 12:47 am in Uncategorized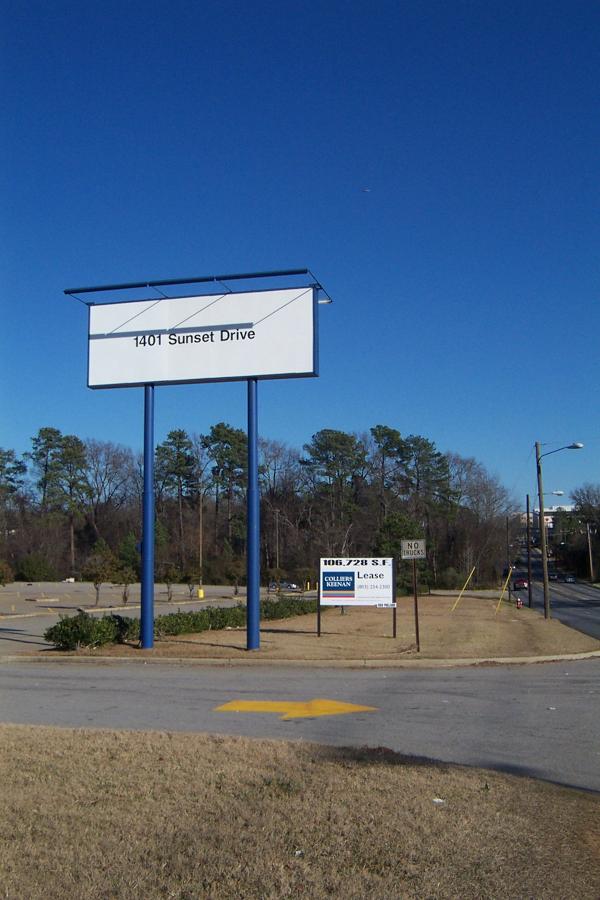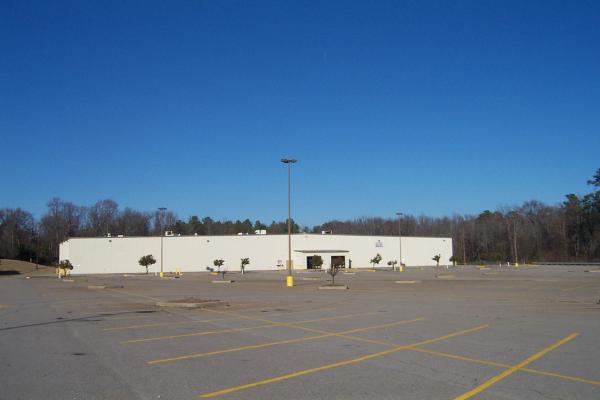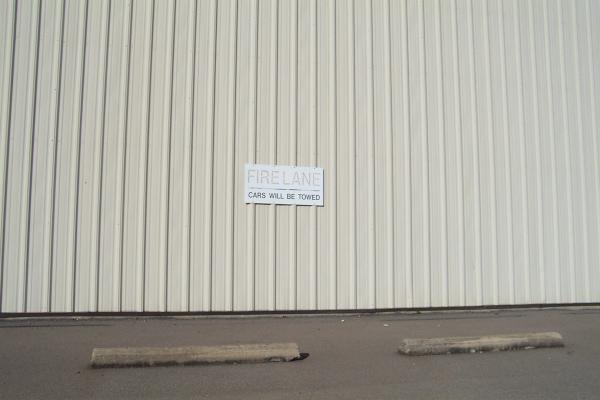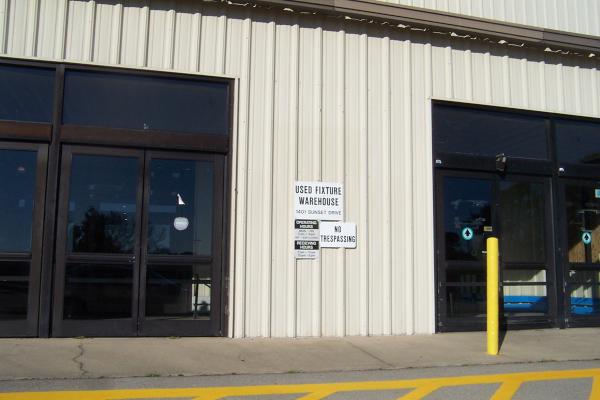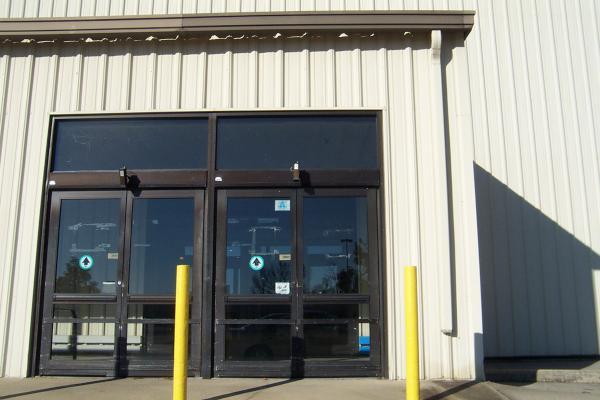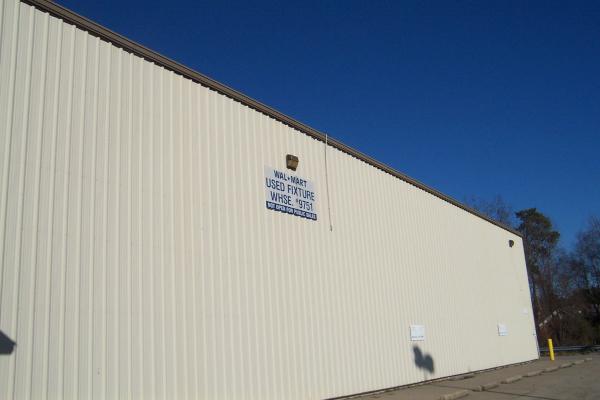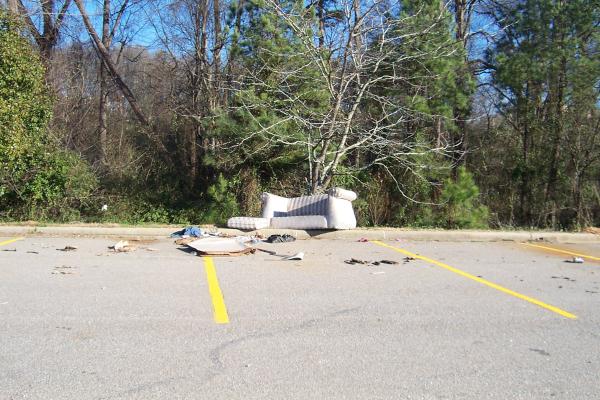 Now I may be misremembering this, but I think that this vacant storefront on Sunset Drive between SC-277 and North Main Street was Wal-Mart's first attempt at a warehouse-store. Wal-Mart was not really on my radar at the time, and the details are very fuzzy in my mind, but I just recall hearing that this store required you to buy a membership and that they had huge lots of everything. Wal-Mart later refined the concept into Sam's Club, but I don't think this building was ever a Sam's Club per se. I'm not sure why though I would speculate that the location is not ideal.
Though they are apparently trying to sell it, Wal-Mart still owns the property. Occasionaly I would see Wal-Mart 18 wheelers idled there, and from the signage, the chain used (or uses) the place to sell used store fixtures. I wonder how recent the DHEC "A" rating on the door is?
UPDATE 15 March 2011: It's clear now that this was, in fact (contrary to my recollection), a Sam's Club, so I have updated the post title. Also there's some discussion of closing dates in the comments. 1998 seems likely to me.
UPDATE 20 January 2012: Finally added Beltline Drive-In to the post title.
Posted at 12:24 am in Uncategorized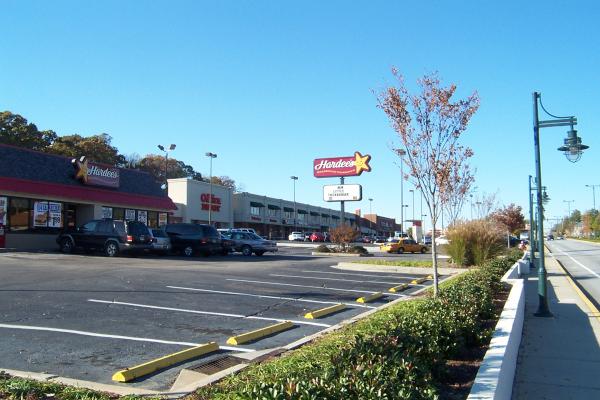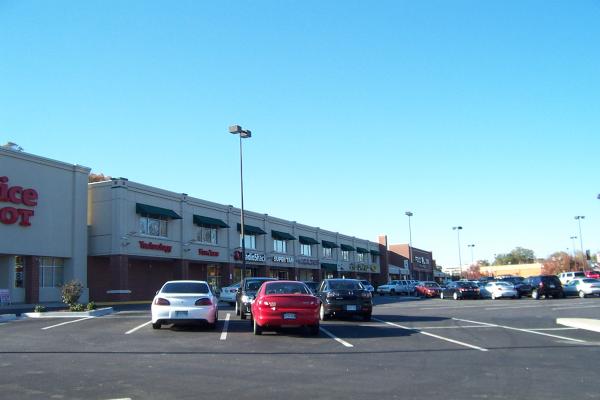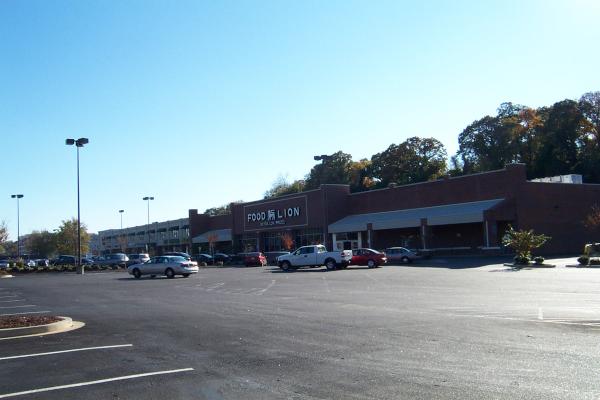 I read somewhere that as World War II drew to a close, businesses took internal bets as whether that meant "back to the Depression" or "victory boom". Montgomery Ward decided on "Depression" and adopted a cautious, defensive strategy. Sears Roebuck bet on "boom" and started a post-war expansion strategy.
I don't know this for a fact, but it seems to me that the old Sears on Harden Street must be a "boom" store. Even though Main Street was still the big shopping destination, Sears bet on suburbia and ample free parking to cater to the fact that every family in their market (the middle class) now had a car.
This store was still going strong when I was a kid, and was huge. I believe that it encompassed the entire strip mall that now stands there (with the possible exception of the Offce Depot). I guess we went there most often shopping for clothes, but since that was an activity that I purely hated, I would always wander off in the hardware and camera sections.
In fact, I got my first camera at that store. I think I still have it in a storage box from two moves ago, though I can't put my hands on it right now. It was an off-brand, cheap one, and I think I actually used my own money to get it. I remember that it used "127" film, and that I had carefully checked (I was obsessive about some things) that it would take slides that could be projected on my aunt & uncle's projector though in the event I never took a single slide on it. Come to that, I don't think I ever took a roll of color film either -- those were different days! I also got my first (well, only, come to that) enlarger there. It was a cheap plastic contraption that had a pretty crummy lens and haphazard focus, but it was a $20 way to make prints bigger than "contact" size (a 127 negative was bigger than a 35mm one but not as big as a 120 one, so contact prints were really too small -- now 616 film made nice contact prints!).
Of course for kids, the biggest thing Sears had going for it was The Wishbook. This was their Christmas toy catalog, which we would be sure to leave lying about the house opened to strategic pages all during the holiday season. The selection and prices were also good for several months into the new year, which led us to possibly the stupidest thing we ever bought.
We had some sort of club, which I believe we called the YPS club (S-P-Y backwards..) dedicated to solving the (nonexistent) mysteries of our neighborhood, and for some reason, even though the club only lasted a few weeks, never had any meetings or even any missions, we decided we must have a typewriter to take the club's (nonexistent) meeting minutes. My parents had a typewriter, but they (wisely) considered it too delicate for our hands so we searched The Wishbook minutely and found a toy typewriter which would actually type for a surprisingly good price.
Our parents looked at the picture and description and tried to talk us out of it and to explain how the machine actually worked, but we were fixated and would have none of it. In the end they threw up their hands in a "ok, but let this be a lesson for you" manner and ordered it. I was so excited when it came in, and we went down to Sears to pick it up. The excitement lasted about half the way home until I got the thing unboxed and figured out how it worked. The "keyboard" which had looked so impressive in the picture (though not to adult eyes) was actually one piece of metal with pictures of seperate keys painted on it. So to "type" you dialed a Dymo-Embosser-type head to the right letter and mashed the "keyboard" which would imprint a capital letter on your paper. I suppose you could get 1-WPM on it if you were good..
Another thing I remember in particular about that store is that they had an automatic foot-sizing machine in the shoe department. No, this was too late for the infamous X-Ray foot sizers, but it was till pretty neat. You took off your shoe, put your foot in a rectangular box, and the walls would close in on it like a James Bond death-trap until they hit your foot on all sides. I used to stick my foot in it even when I had no intention of getting shoes.
Sears missed the first wave of suburban shopping malls in Columbia (ie: Dutch Square), but decided that they were the future and became (and remained) an anchor store in the new "Columbia Mall" being built in Dentsville. When that store was ready to occupy, they closed down the Harden Street location, and for many years that new mall store was the only Sears in town. I think the old store was vacant several years then was redeveloped into the current strip (with several face-lifts and a total rebuild of Food Lion after a fire). I'm not sure if any of the original Sears building is still present -- I rather doubt it.
Sears had a good post-war. Starting more or less at parity with Montgomery Ward, it saw MW out the door as its bets paid off and theirs didn't. By that time however, it was clear that Sears had missed the next bet and had no idea how to cope with Wal-Mart or even Target. It will be interesting to see how they come out of the current recession, or if perhaps the "new" store will have to be redeveloped too.
UPDATE 21 June 2011: Added a picture (at top) of the old Sears building from a vintage Chamber of Commerce promotional book.
Posted at 12:18 am in Uncategorized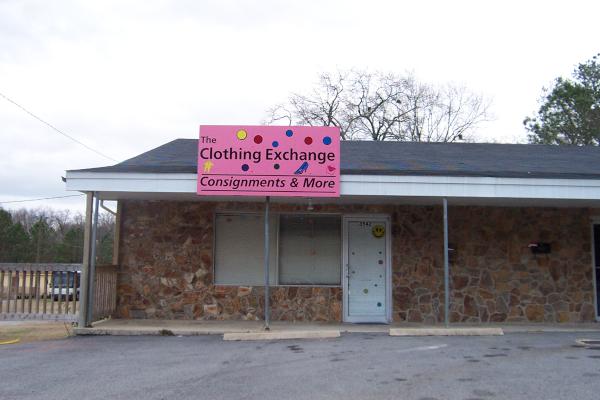 I probably would not have noticed this small consignment shop coming and going except that it is in the same building as the final location of Forest Lake TV about which I had done an earlier post. Driving by from time to time, it seemed to have gone through several phases. In the first phase, it was open during "normal" hours. Then it was open "by appointment" and finally it was difficult to say from the store-front if it were still in business or not. I suppose even now, it could be, but it's been a long time since I saw a car there, so I'll say not.
Posted at 2:30 am in Uncategorized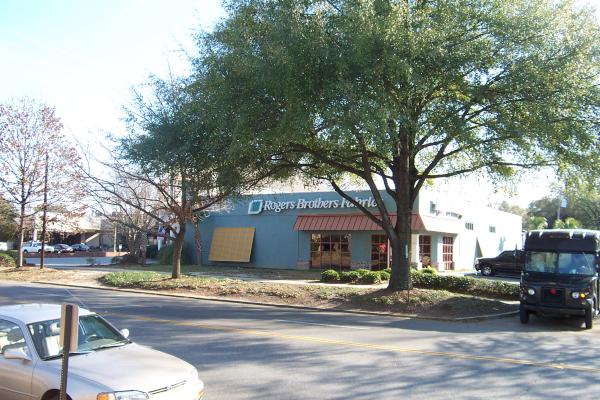 I only went in to Columbia Photo Supply once. I have an old Fujica ST-605 35mm camera that my mother bought me in tenth grade (75 or 76 I think) for photography class. Aside from a built in exposure meter, this is a completely manual SLR and had given me years of good service, and in fact I took a number of the older pictures on this site with it (for instance The Towers).
Unfortunately, the film advance started giving me trouble resulting in double exposures in some cases and missed shots in others when I could not advance and cock the shutter at all. With the closure of Jackson Cameras, I didn't really know of a full service camera store in the old sense (a store that might actually have local people that knew something about fixing cameras), but I decided to try Columbia Photo. I thought it did have a bit of that old Jackson atmosphere, and I enjoyed looking at all the paraphernalia like developer and stop baths that I hadn't come into contact with in years, but in the event it turned out that the camera was too old to get parts for, so I wasn't able to get it fixed.
Not too long after that, the store went out of business, and now Rogers Brothers Fabrics has moved from Trenholm Plaza into the old Columbia Photo building.
And the camera saga had a fairly happy ending. I went on ebay and got an identical ST-605 (which came from Australia with a roll of film showing some kid posing in his karate uniform with his pet rabbit..) which works fine and which I still use when I want to shoot something high-res (though that may change now that I have a new digital "closing cam 2").
UPDATE 27 July 2010: Rogers Brothers at this location has now closed