Posted at 5:30 pm in Uncategorized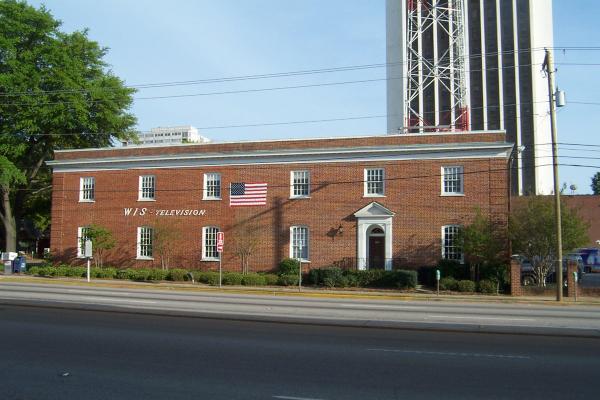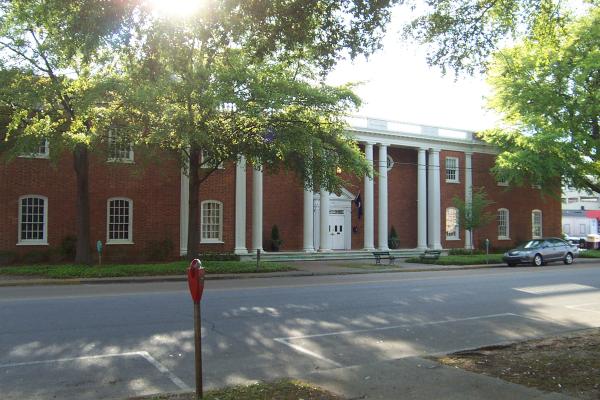 What to say about the original WIS Radio? Well, I think it's hard to describe to a modern audience, but for me growing up, it was a constant and welcome presence in my life.
WIS started broadcasting on 10 July 1930 with call letters that stood for Wonderful Iodine State (to celebrate the natural abundance of the goiter preventing element in South Carolina, a big deal in the days before iodized salt). I'm not absolutely sure if it signed on with its historic frequency, but for all the time I knew it, it was AM 560 (560 kilocycles or as it is now called, 560 kilohertz). Or if you were in your car, once you set the station, it was was just known, as the drivetime show put it, as WIS:Pushbutton One
In those days (from the 30s to the 60s) AM radio was the norm, and FM radio was a bit exotic. Most radios sold were AM only, and AM radio was the medium for all kinds of music from rock & pop all the way to classical and opera. Most importantly, the clock radio sitting on top of our refrigerator was AM only, and too high for a kid to retune easily, and it was set to WIS.
That meant that all through grammar school and into high school, I mostly started my mornings with toast, orange juice, milk & cereal ... and Gene McKay. McKay was the morning host at WIS, and he ran a very low key show with gentle humor and good helpings of music interspersed with the events and news of the day. He had a number of running jokes, with two of the most popular being first the reports of new doings at the worlds most inept college, Crodney Tech, whose teams, under the aegis of head coach Arms Akimbo had apparently never won a game of any sort, and second, anything involving Irmo. McKay apparently was at first just fascinated with the way the word sounded, and used it as a tag for jokes, but later he started making up "history" bits about the doings of the Ancient Irmese and eventually, in a manner on which I'm not entirely clear, ended up either inspiring or founding the annual Irmo Okra Strut, which endures to this day.
The other personality I remember from the classic era (ie: when I was growing up :-) is Bill Benton. Benton had a talk show, perhaps called something as simple as Time to Talk though I'm not sure that's right and conducted many interesting interviews with local personalities and people passing through town on publicity tours. In general though, I heard few of those because I would be in school during the day, and frankly as a kid wasn't that interested in the abstract, though they did catch my ear sometimes when I was home sick. What I did listen specifically for was Ghost Story Thursday. That means exactly what it looks like. It's hard to imagine now, and even at the time it was a bit retro, but every Thursday night, Benton would bring out a book of ghost stories and read out-loud as many as his time slot allowed. That was some scary stuff! Of course, the only one I can actually remember right now was not scary so much as it was funny, though I'm sure Benton was not amused at the time. Whether a crew member was having a bit of fun by setting him up, or if Benton just pulled a likely book from his stash without having time to pre-read, he ended up one night with a book of "modern" ghost stories and started reading something (think Ann RIce or Lauren K. Hamilton) that was heading in a direction he clearly could not allow it to go on the radio. I was old enough then to kind of appreciate what was happening, and after a couple of references to "thighs" and Benton reading slower and slower, trying to edit in real-time, he finally just had to stop, apologize for not being able to finish and move on to something else. (Yes, I know this is similar to a Garrison Keillor bit, but it really happened).
WIS was the station for USC athletics and though I was never really into sports, I can remember many times hearing Bob Fulton ("The Voice of the Gamecocks") calling games on the radio. It was also for many years the local affiliate for the Atlanta Braves, and I was listening one night grilling burgers in the back yard (perhaps the last time I did that, come to think of it) when Hank Aaron broke Babe Ruth's record. WIS was also the dominant radio news station, and had the first, and still perhaps the only, helicopter radio traffic reports. These were given added authority by the fact that instead of them being done by station personnel, through some sort of arrangement with the Highway Patrol, Sgt. Frank Ravetta flew in the traffic chopper and did the reports live himself. In fact WIS was where most people automatically turned for the news up into the late 70s. I remember when I was in high school around 1977 when Columbia had a terrible ice storm which left people without power for days (we were without for two weeks), one of the girls in my carpool commented that she had heard the station save someone's life by talking him out of running a charcoal grill inside.
Not that WIS was all talk, news & sports. Music was a big part of the format, and they tried to walk a narrow line with pretty good success. WIS wasn't a rock station, nor was it country, jazz or classical (though they did have the Metropolitan Opera on Saturdays for many years before it moved to public radio). The format, I think, was not rigidly thought out as today's are, but was designed to appeal to adults, who had been adult when the rock revolution started. That meant that they played a lot of Sinatra, Tony Bennett, Jack Jones and the like. It wasn't oldies, these were artists still releasing new songs -- it was sort of what pop radio might have been had Elvis and The Beatles not come along. Today the closest tag would be "Adult Contemporary", but that doesn't exactly fit. At any rate, because my parents listened to WIS (they weren't against rock the way some people were, they just didn't like it much), I mostly missed the rock era. On the whole, I'm very happy about that. I got to hear and enjoy a lot of music that was foreign to my peers, and still had rock to discover later (for instance, when I finally discovered Van Morrison, there were about 30 Van Morrison albums to listen to!). Gradually this started to change as the years went by. Personally I think "The Carpenters" were the death of the people trying to carry on the Sinatra traditon. "Such nice kids! So melodic!", but if you listened to the guitars on "Superstar", it was rock, and the dam was broken. The last WIS personality I really remember was Mike Collins, and he epitomized the new style, playing standards or non-edgy rock as the mood took him.
In 1977, the classic era ended. FM and stereo were obviously the coming things for music, and personalities Gene McKay, Bill Benton & Dave Wright jumped ship, buying local station WSCQ (FM 100) as an outlet for their efforts. By this time, we had a stereo with FM in the dining room, and I remember tuning in Gene McKay for what I think was his first morning broadcast on WSCQ. He played Abba's "Dancing Queen", and I remember thinking that I had never heard anything as glorious as that coming out in stereo from the two speakers.
After that, WIS moved more in a news direction with less and less music and finally the station was sold around the early 1980s. The new owners tagged it WVOC (Voice of Columbia) and it remains at AM 560 to this day. Somewhat later, the WIS TV organization decided getting out of radio had been a mistake and started a new WIS radio, but it is a new entity with no real ties to the original.
The pictures at the top of this post are of WIS TV on Bull Street. Growing up, the building housed both stations and had signage indicating that. Sometime in the 70s, I think, despite being the elder entity, WIS radio moved out. I visited the radio studio three times that I can recall. Once to pick up some tickets I had won in a contest, once to take Mike Collins a Beach Boys record, and once for the station's 50th anniversary celebration (which featured Snuffy Jenkins & The Hired Hands -- the same band that had played on-air when the station opened in 1930 if I recall correctly). Despite that, I can not today remember exactly where the studio was. I think it was somewhere off of Broad River Road on a flood plain (the station was set on pilings like a beach house), but I can't for the life of me recall just where. I know the location was always given as "1 WIS Lane", but mapquest doesn't know anything about it, so I'm guessing it was renamed after the station was sold.
I wouldn't go back to the way things were -- I like being able to find any song from anyone on itunes and being able to check the news at any time, but just because I wouldn't create WIS today doesn't mean it wasn't great then.
We'll be right back after tonight's top story.
Update 30 May 2008:
Well, thanks to commenter Jonathan, I was able to find the old WIS studio and towers.
I had thought it was somewhere off of Broad River Road, actually it is on (or off of) Garden Valley Lane, which is off of Bush River Road.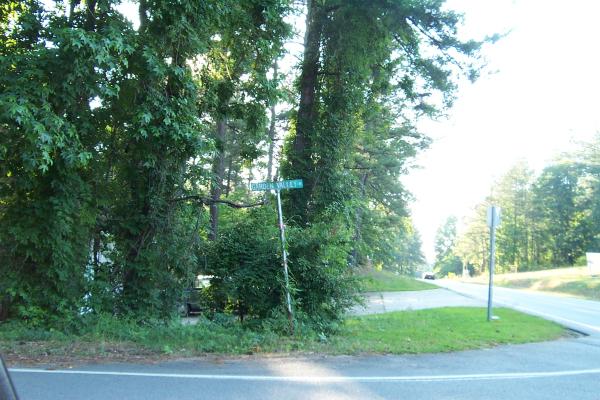 You go down Garden Valley Lane until you hit the Saluda Hydro Project recreation area, a place which seems very nice, and which I had no idea existed. I believe this is the point where WIS Lane used to start, but apparently it is all just Garden Valley Lane now. The studio and towers are about a quarter mile down the road from there on the Saluda River flood-plain.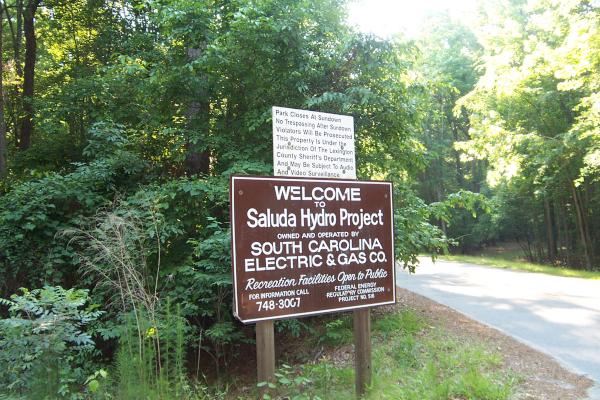 It appears that, as I recalled, everything at the old station is now owned by WVOC. There are three transmitter towers.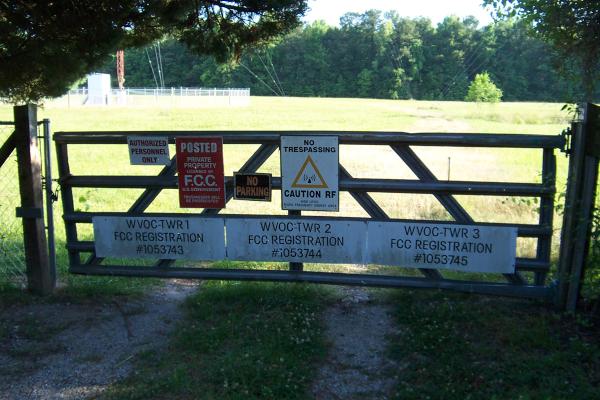 This is one: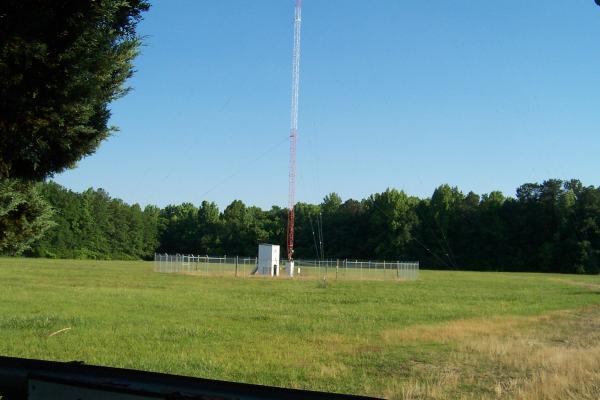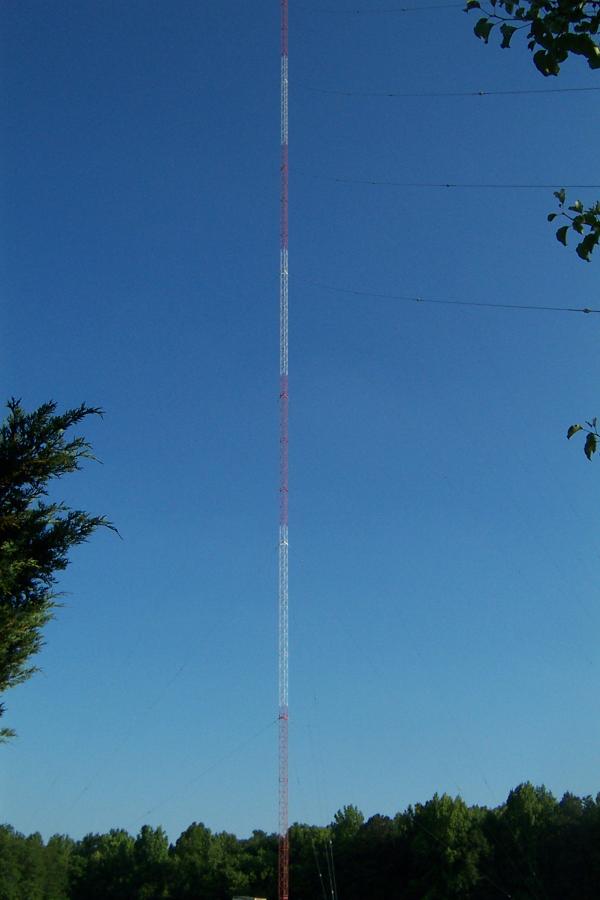 This is another: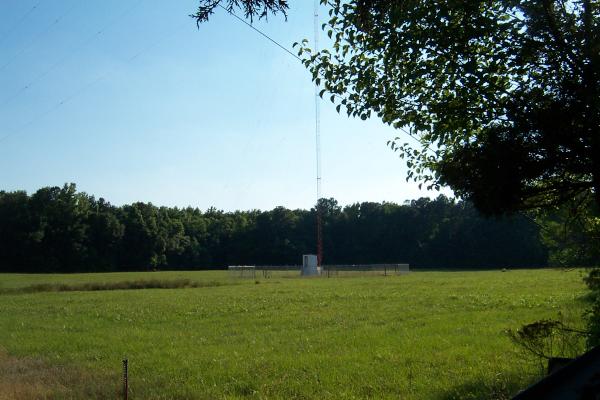 Here is the old studio. It appears that WVOC does not use the building on an ongoing basis (which makes sense as the phonebook lists their studio as being on Greystone Blvd):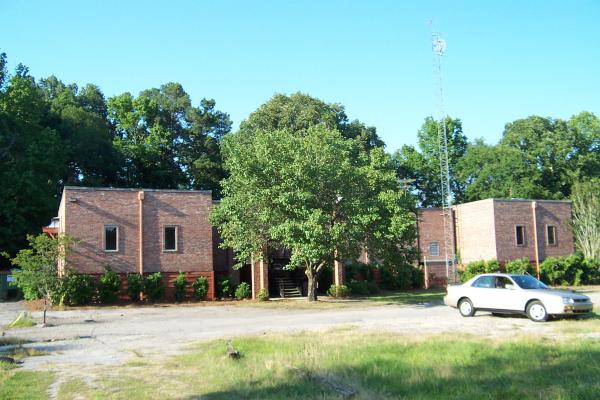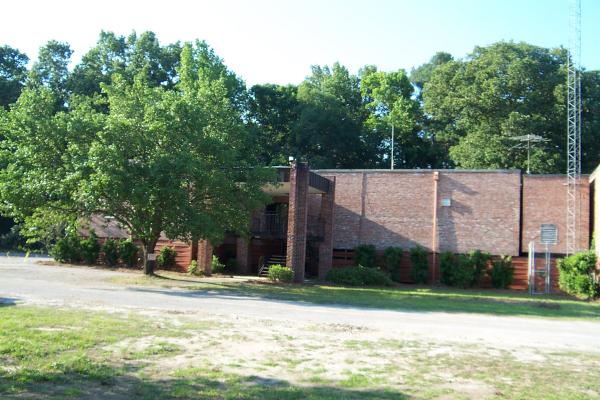 Notice the old broadcast TV antenna. Apparently they never got cable at the studio!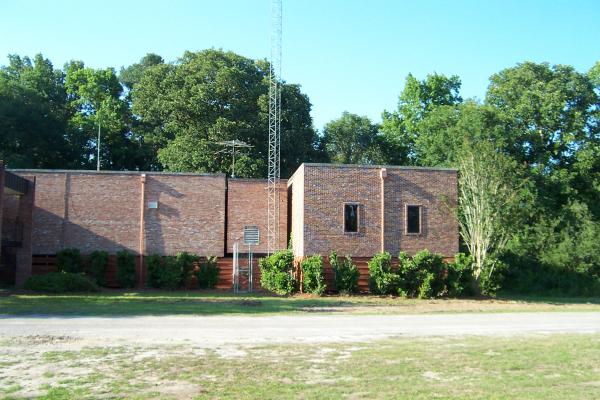 Of course the whole place is posted, so I didn't go up the stairs and take a look inside: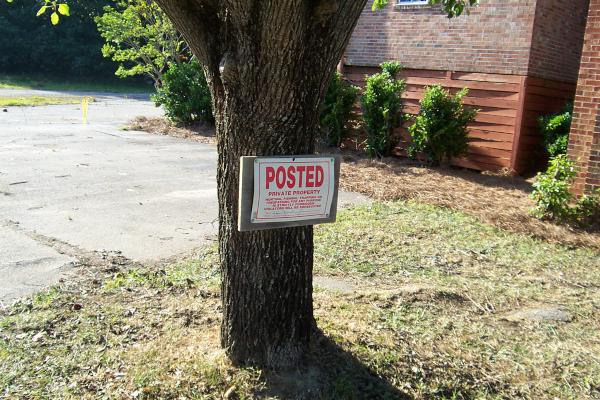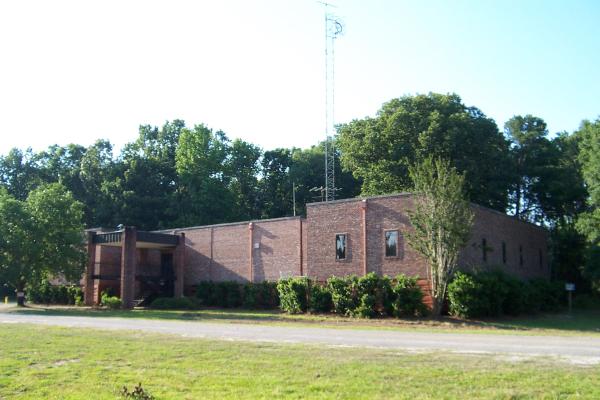 I seem to recall that the last time I was there, the studio did not have the red wood grille work covering the pilings that keep it off the flood-plain: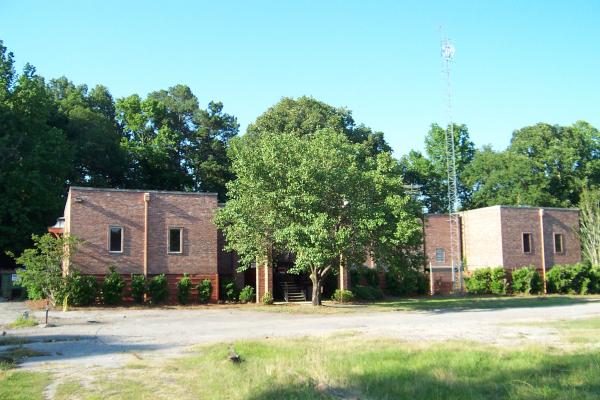 I'm guessing this antenna mast may connect the current Greystone studio back to the towers here, but I have no real idea: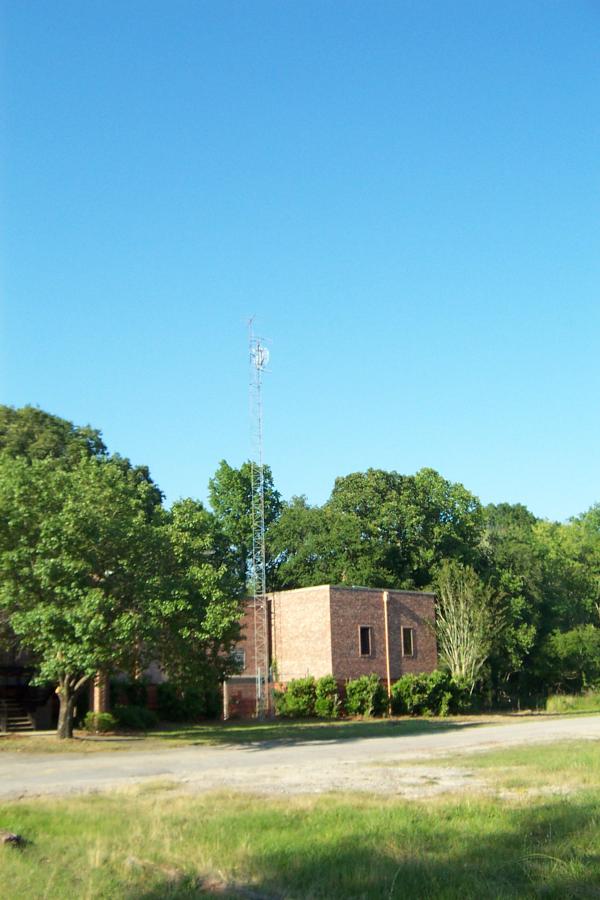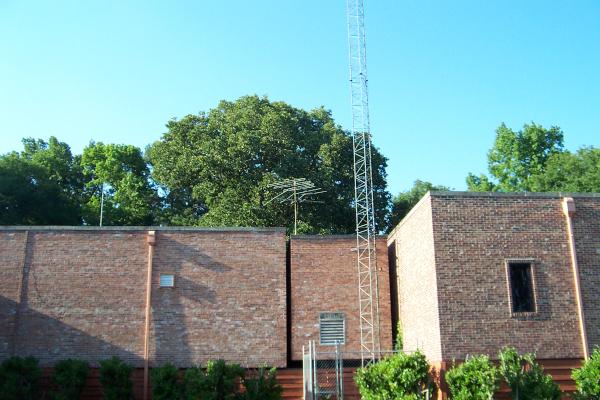 UPDATE 11 October 2009
WIS Time to Talk ad from November 1970 Sandlapper Magazine: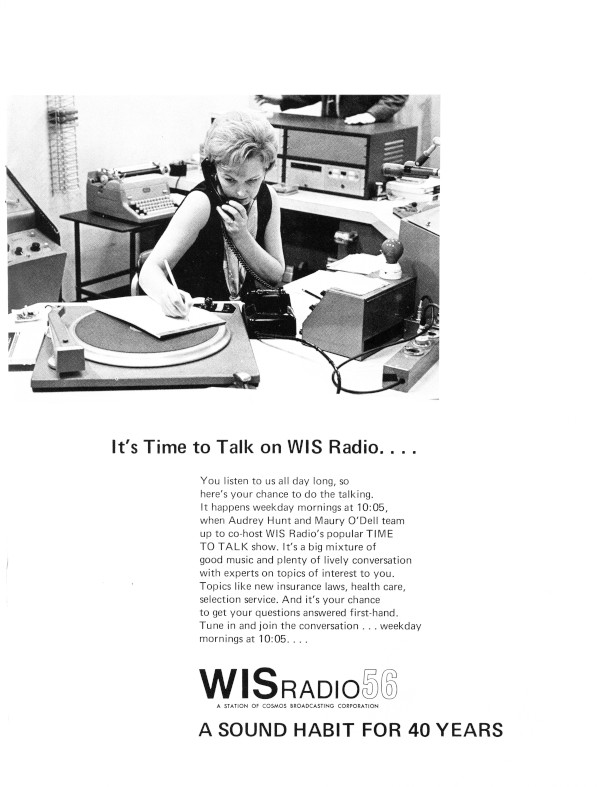 UPDATE 26 October 2009: Ad from Jan 1972 Sandlapper Magazine: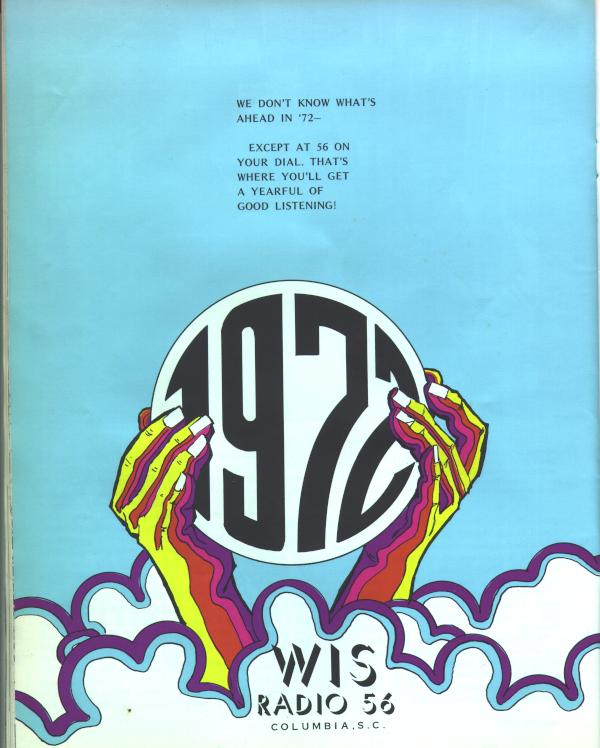 74 Responses to '(The Original) WIS Radio, Bull St & WIS Lane: 1980s'
Subscribe to comments with RSS or TrackBack to '(The Original) WIS Radio, Bull St & WIS Lane: 1980s'.
Leave a Reply