Archive for the 'Blossom Street' tag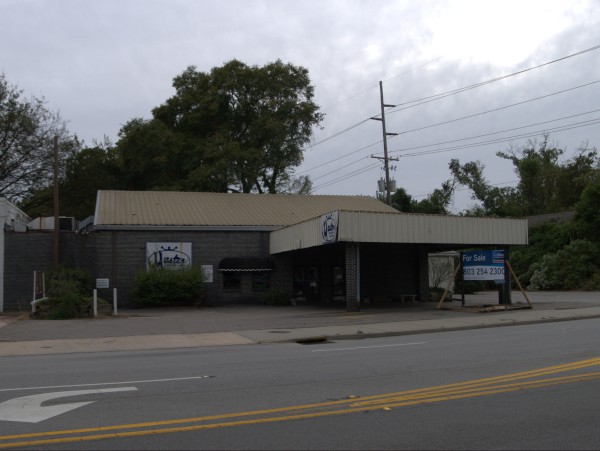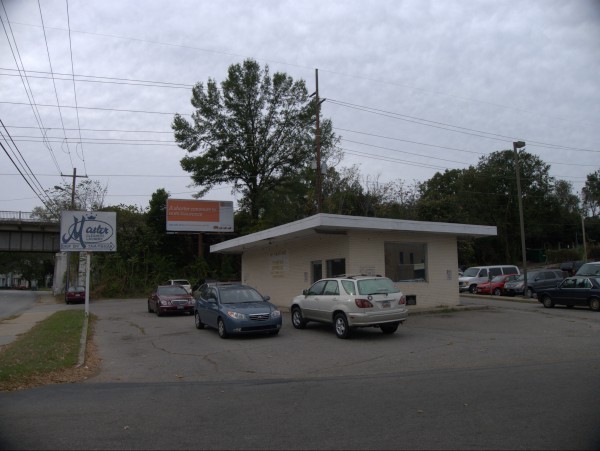 Here is another Master Cleaners location. This one is rather interesting because it comprises two buildings on either side of Blossom Street. The odd location is the drop-off point, and the even location is the actual cleaning, storage and pick-up point. I suppose I have driven past this spot at least once a week for the past decade or so without noticing this!
Currently, it being Five Points, the drop off location has quickly become a de-facto free-parking lot.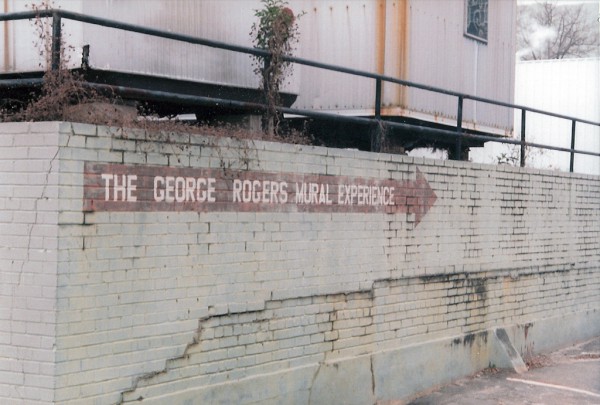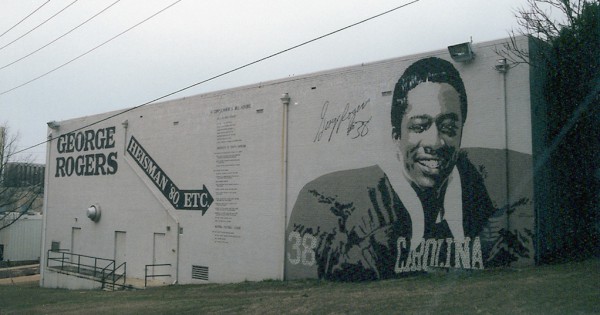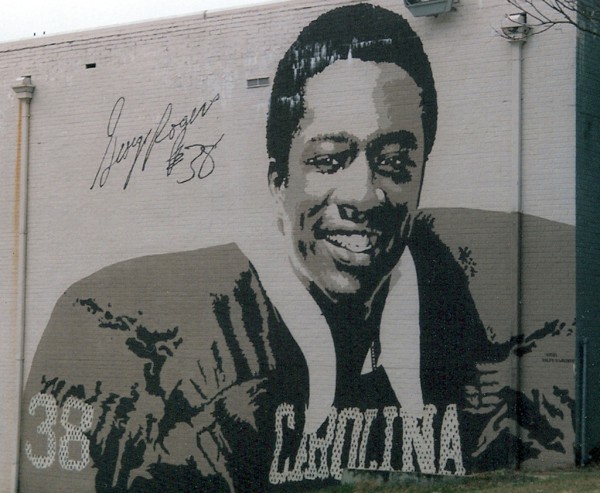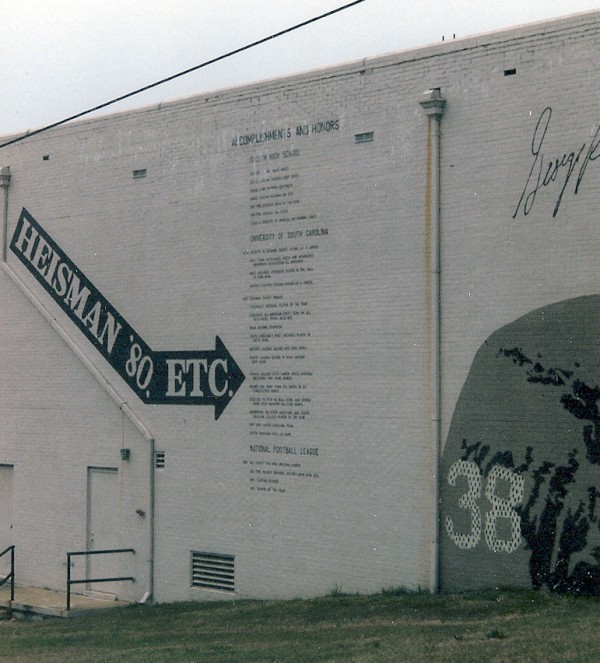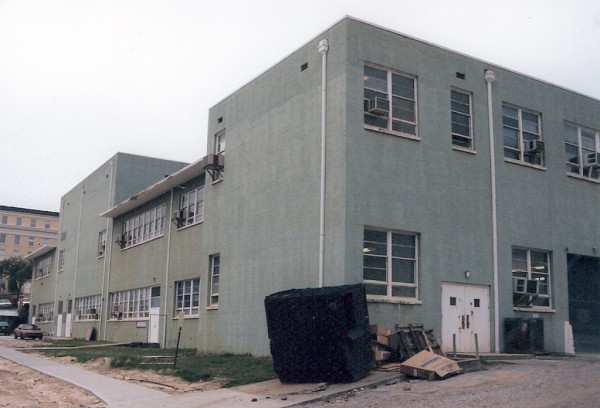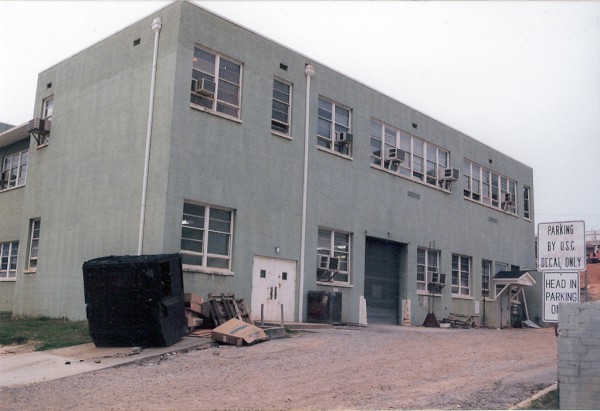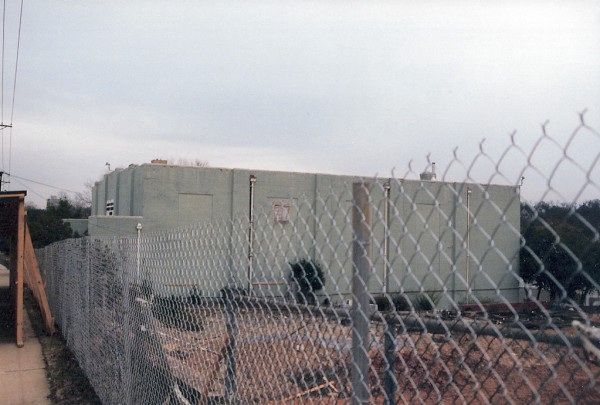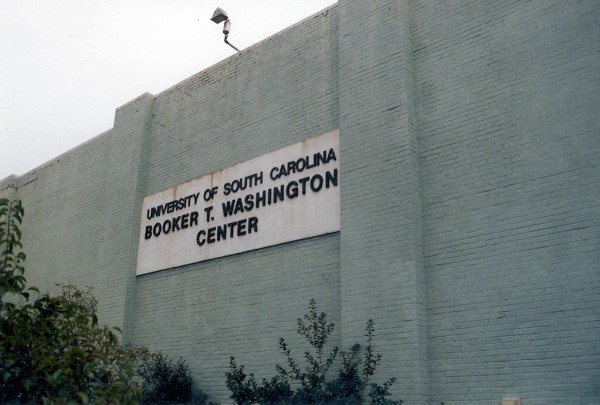 Today's pictures come from commenter Alaska Jill, who says:
Booker T. Washington School/George Rogers Mural: I knew I'd best get
pictures of those while I could, too. These were taken on a chilly
Sunday afternoon in February 1999. The mural of George Rogers was a
Blossom Street landmark and could not be missed.
George Rogers and I were at Carolina together, though to the best of my knowledge, we never crossed paths. What I remember though, is that his winning the Heisman Trophy in 1980 was a big deal. A *really* big deal. Quite possibly a deal that was visible from earth orbit, and influenced local gravitational fields..
It was also somewhat of a surprise. I clearly recall that in the run-up to the award announcement, the Daily Gamecock ran an editorial under the head By George, He hasn't got a chance! enumerating all the reasons why it wasn't going to happen. Not being a sports fan myself, I recall the campus events around John Lennon's death that same year more clearly, but I was certainly aware big events were afoot!
I'm not sure when the murals went up, but they were, as Jill says, landmarks for many years. (The road near the stadium and fairgrounds was renamed for Rogers in the same period). I have the vague memory that the Booker T. Washington building itself was at one time a public high school before the property was taken over by USC. I think both the mural and the building came down while I was living out of town, or at least I have no memory of what happened. Today I can't exactly match where it was on Blossom with what's there now...
George Rogers played pro ball until 1987, and is now retired. Wikipedia doesn't really say anything about him after that. It would not surprise me if he had a car dealership or a real estate business somewhere.
(Thanks to Alaska Jill).
UPDATE 18 July 2018 -- Here are some more pictures from commenter JHT who says
You can see this was taken before he was even drafted into the NFL as it is blank.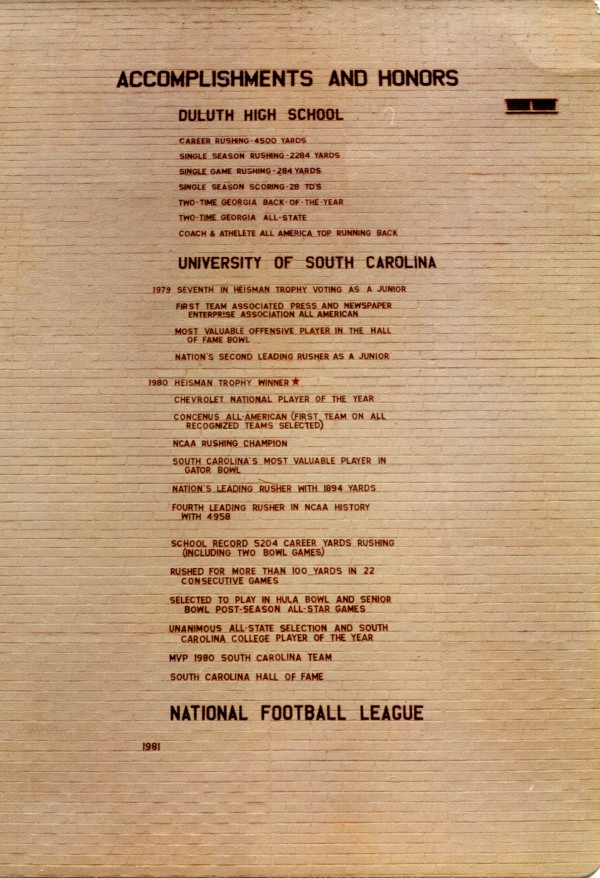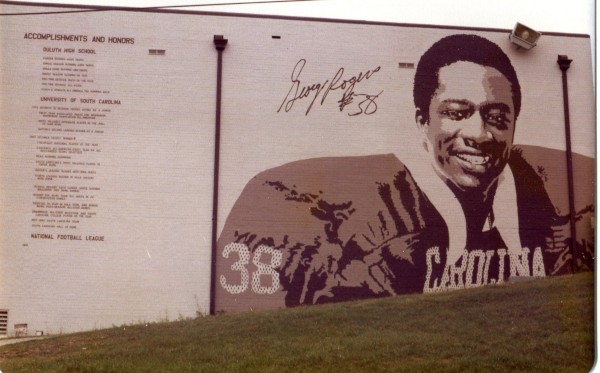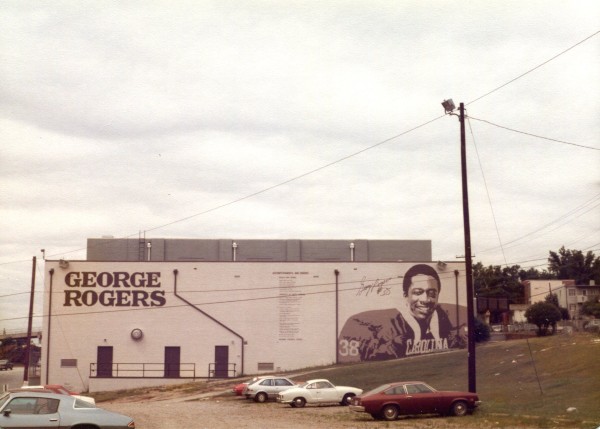 Posted at 11:56 pm in Uncategorized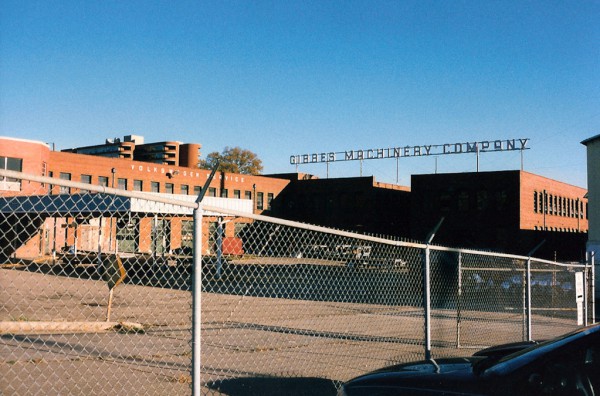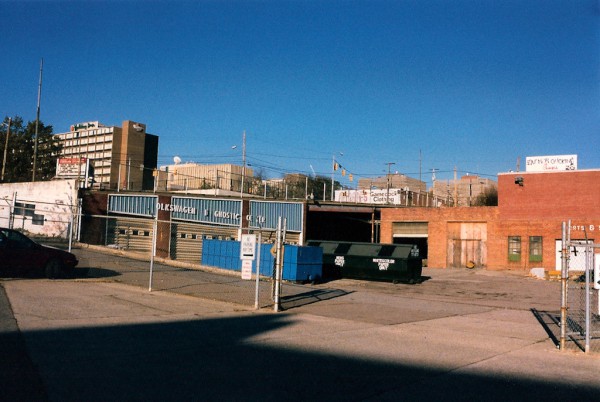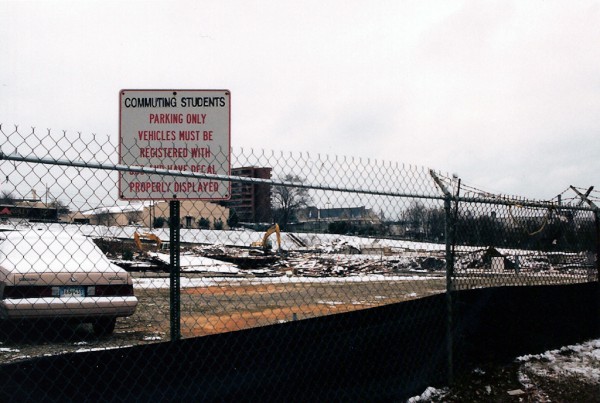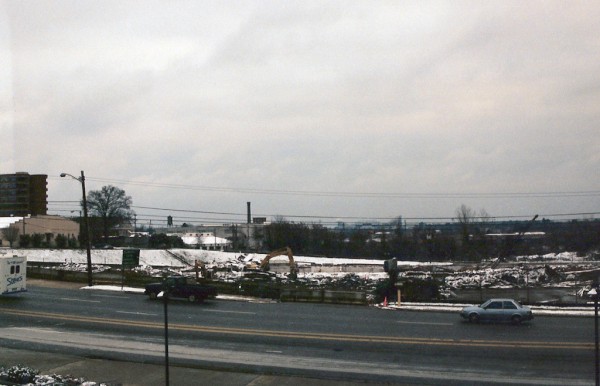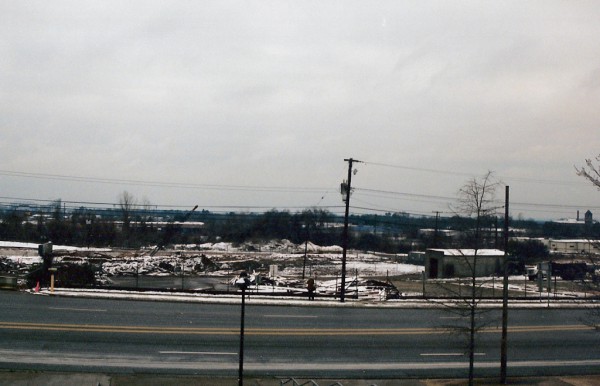 Commenter Alaska Jill sends in these pictures of Gibbes, saying:
Gibbes Machinery: The sunlit pictures were taken, I believe, in 1998. I used to park at the Gibbes lot as a USC student and knew those buildings were probably not going to be around much longer. Demolition started not long after those photos were taken. One morning in early 1999, we had snow in Columbia. I was a graduate assistant at the journalism school at the time, and had brought my camera with me to get some pictures of Columbia in the snow. From the steps of the Coliseum, I caught a couple pictures of the demolition in progress. An additional picture is taken from the former Gibbes lot.
The old Gibbes space is directly across Blossom Street from the Coliseum -- I'll have to consult some old directories to get the actual address. Right now it's the location of USC's new-ish "wellness center", which frankly sounds like a boondoggle with no educational function to me, but back in the day, Gibbes was there as a representative of the old "manufacturing" look of the Vista area. I never had a clear idea of what the machinery side of the business did, but the car lot was the only Volkswagen dealer in the Columbia area.
After USC got this property, the dealership moved to Broad River Road, just west of the river and either went under or sold out to the current tenant, Wray Mazda Volkswagen.
Take a good look at the second picture above. In the background, you can see The Towers and also the mini-mall building (muraled "Gamecock Clothing") which once held Robo's video arcade, Pappy's and a number of other small, student-oriented businesses. It has since been torn down to put in the Adesso condos.
UPDATE 17 December 2011: The building I tag as the "mini-mall" was actually Addams University Bookstore a separate building in the same general area. See the comments.
(Hat tip to Alaska Jill)
Posted at 9:40 pm in Uncategorized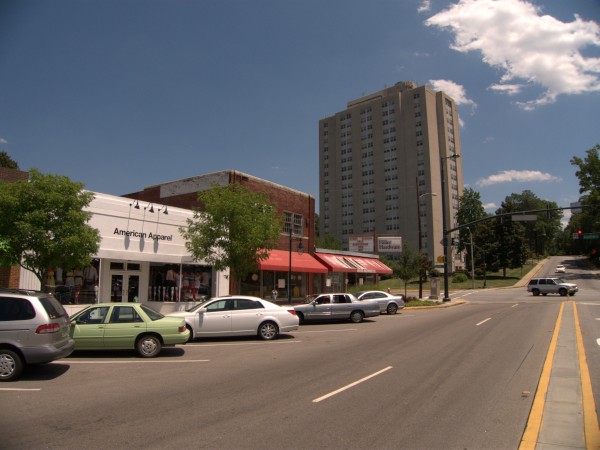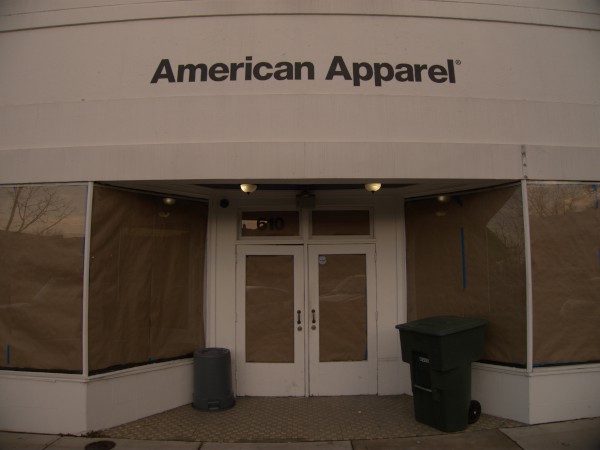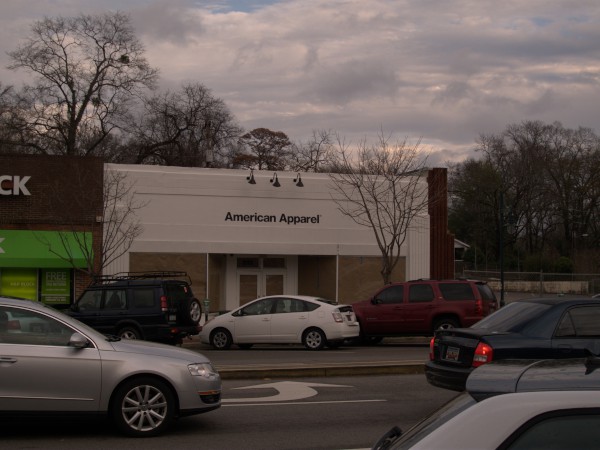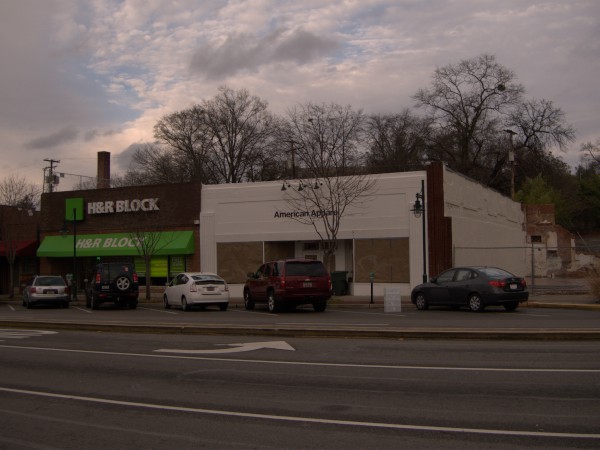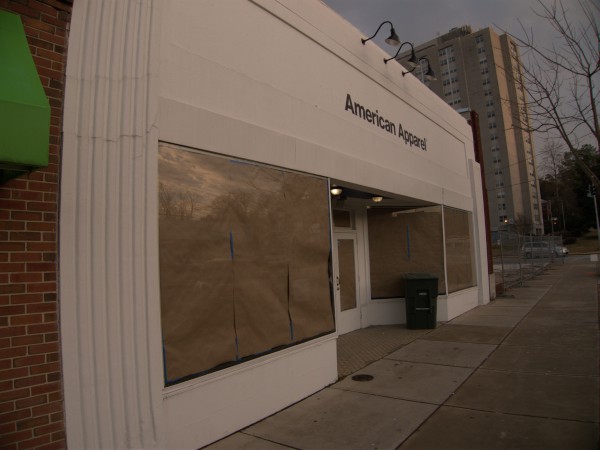 American Apparel was a clothes store on Harden Street, next to the old Hiller Hardware. I gather that it served the young, hip, crowd, which is, um, not me.
In fact, for years, I didn't even know where the store was, just that it had a series of mildly risque ads on the back page of the local alternative weekly, The Free Times. These were constant fodder for the paper's Rant & Rave feature, as here, for instance.
When I went by on Saturday 5 Feb, there was still music playing from the store's door speakers, and two guys hanging around like they were supposed to be loading stuff out of there but couldn't get inside.
Doing a little googling turns of the surprising (to me) fact that American Apparel (AMEX: APP) is the largest clothing manufacturer in the United States.. They also seem to have had a good bit of financial trouble in their retail arm lately, as detailed in this WSJ piece and this "Open Market" piece (which also has an image of an ad they could never have run in Columbia..)
The company's web site goes even farther with ads -- DEFINITELY NSFW!
(Hat tip to commenter Jennifer)
UPDATE 12 September 2011 -- The follow-on operation, Urban Thread & More is open, and apparently has been at least since 16 April 2011: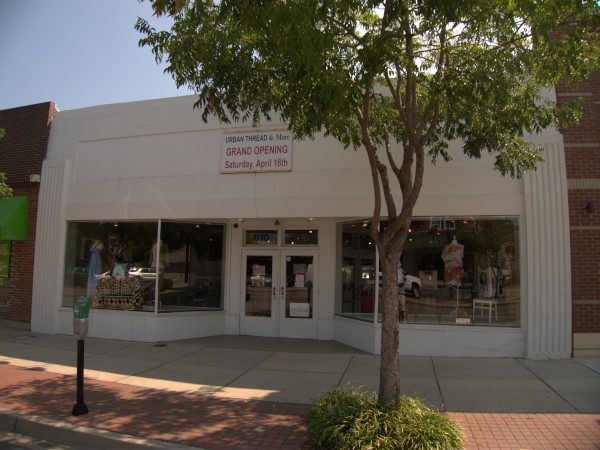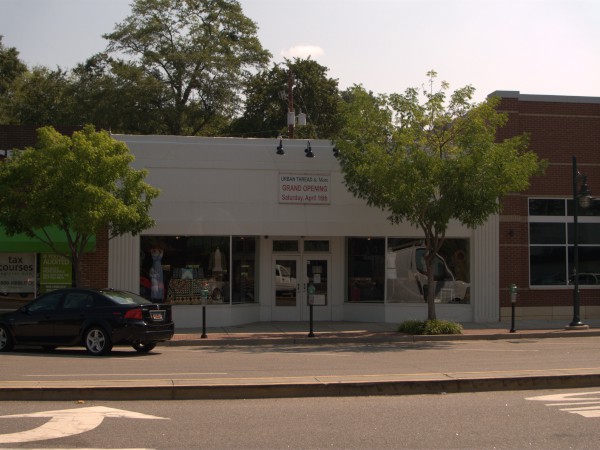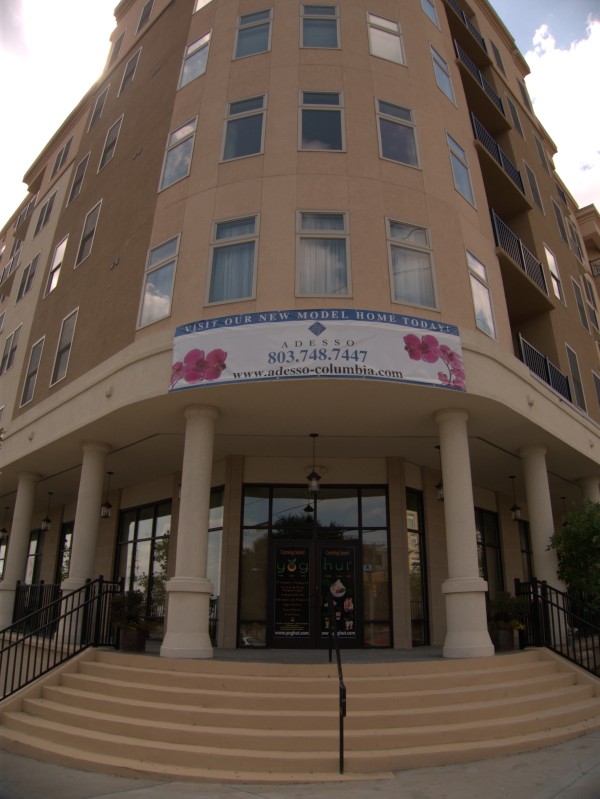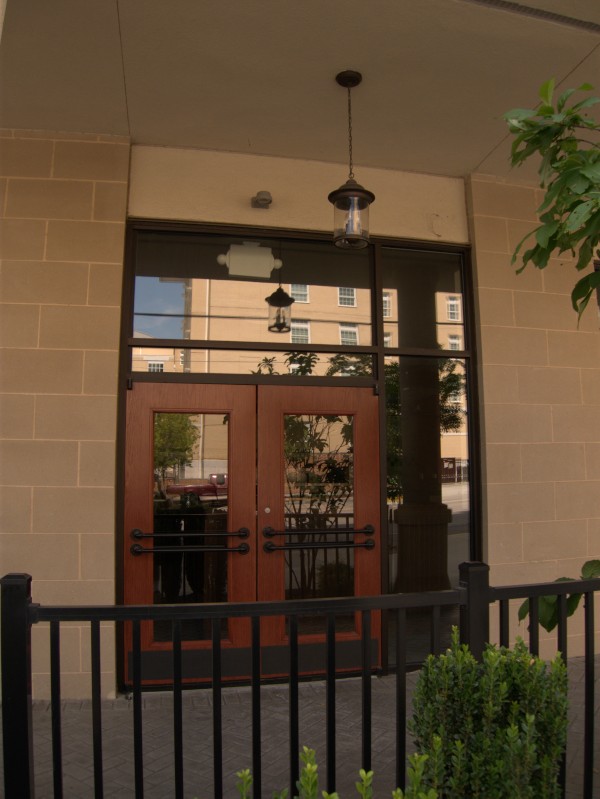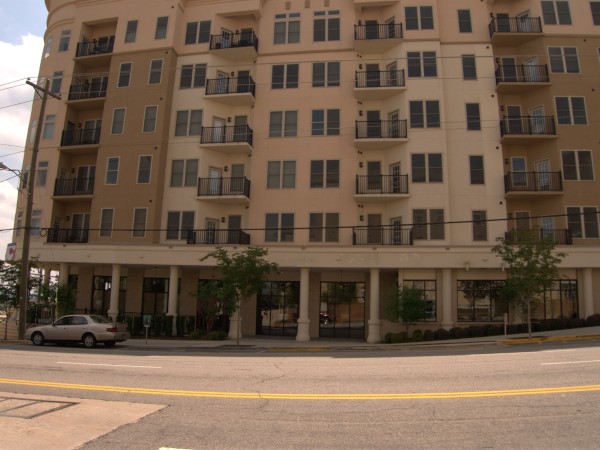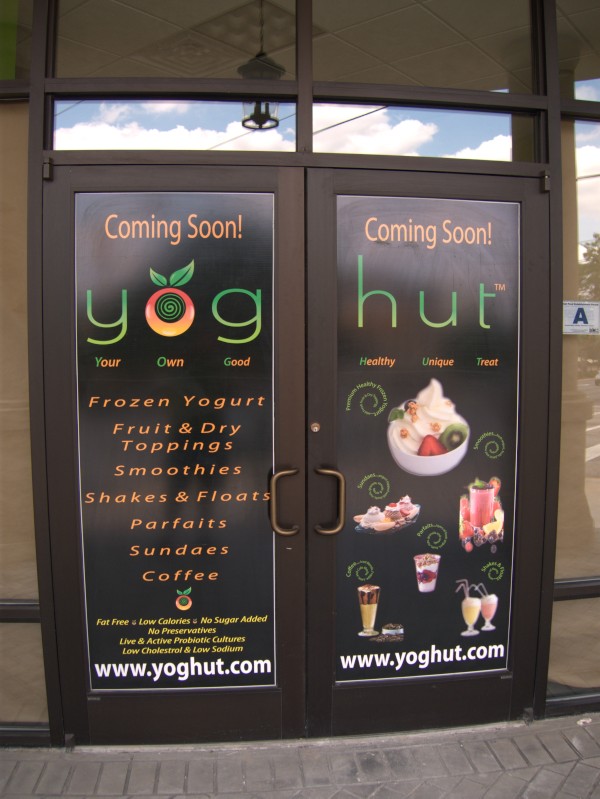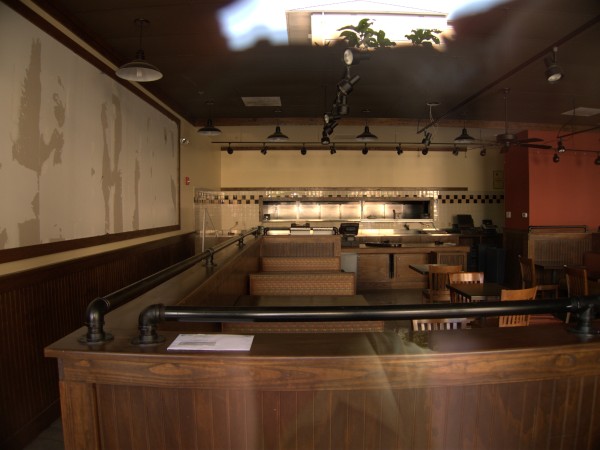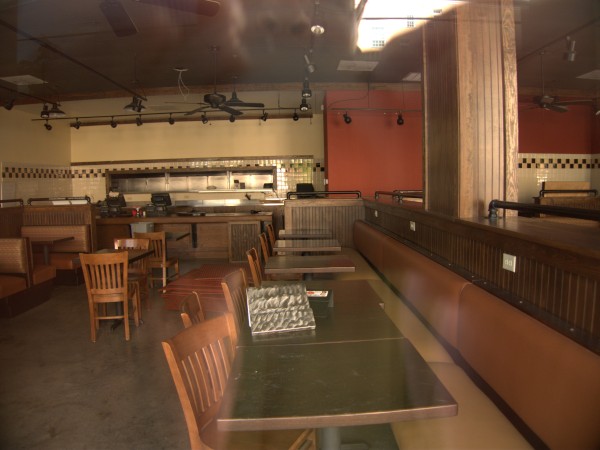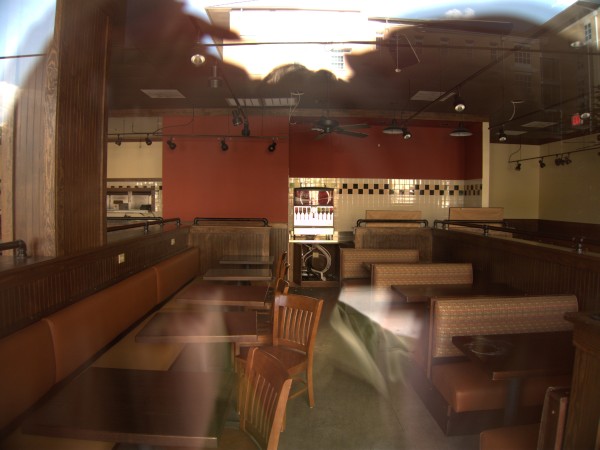 According to this press release Baker Brothers American Deli came to South Carolina on 29 November 2007, with the opening of the Lexington store. That was to be the first of three stores in the Columbia market. I believe this store, beneath the upscale Adesso condos (themselves built on the site of the former mini-mall housing Pappy's and Robo's Video Arcade) was the second Columbia location. A google search suggests the third store was at 1730 Main Street, but I can't bring that one to mind without driving by.
At any rate, according to the franchaise map here all the South Carolina stores are now gone. The map is actually rather interesting in that persuing a Texas, Iowa, Indiana and Kentucky stragegy seems a bit unusual. Things could apparently be going better though, since apart from Texas (which is the home state and has 12 locations) each other state has only one. I never ate at Baker Bros. From the menu and web site, it seems sort of like another McAlister's Deli, a restaurant I never really warmed up to.
As mentioned by commenter Dave, the next business in this slot looks to be a yogurt operation called Yog Hut. My impression based on peering in the corner entrance is that Yog Hut will not be using the full Baker Bros space though.
UPDATE 21 May 2010: Commenter ChiefDanGeorge says the Yog Hut entrance is a different space, so I've added a picture of the Main Street doors. He also suggests that the Yog Hut opening is stalled.
UPDATE 8 July 2010 -- Well if it was stalled, it's unstalled and open now: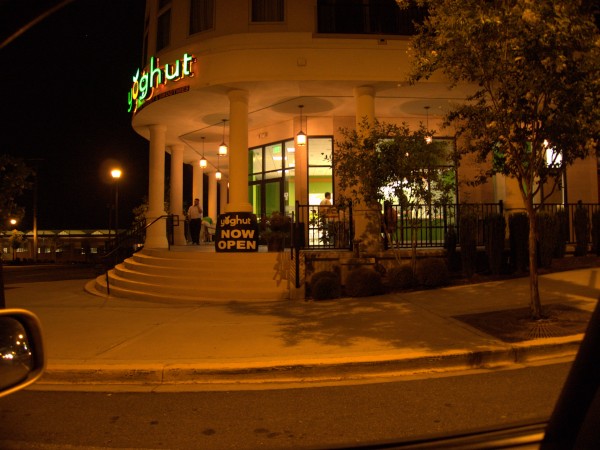 (Hat tip to commenter Mike)
UPDATE 28 June 2019: Add tags, map icon.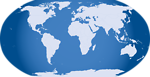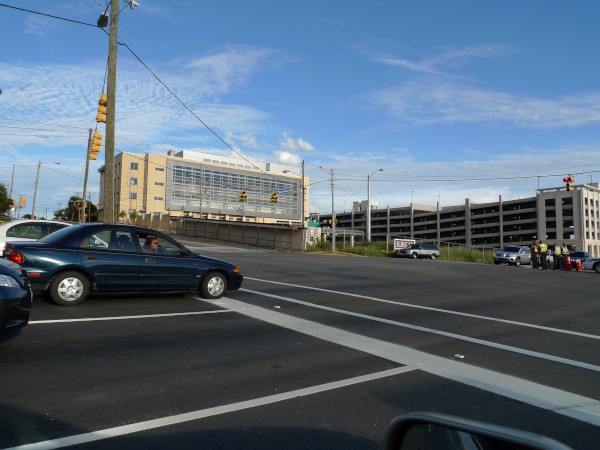 There was nothing particularly noteworthy about the Hardee's which once sat at the corner of Blossom & Assembly Streets, but it's a memory of a somewhat less grandiose scheme of things in that area.
I do remember two things in particular about it:
1) It was the first place I've ever seen ruin a toll-house cookie. I stopped there once feeling a bit snackish and could not finish the thing. It was like they cooked it on the same griddle with the burgers or something. At the time at least, Hardee's could do sweet, something they proved with their cinnamon-raisin biscuit, but not, apparently, after 10:30 am..
2) While the restaurant was on the way down, and maybe after it closed, the side of the parking lot facing Assembly street was filled with used cars for sale.
It's not clear to me what they are building, or going to build, there, but it couldn't have worse cookies...
UPDATE 19 June 2021: Several things. First, this building has long since been razed, and now the property is Innovation Center. Second, I will be adding the correct street address to the post title, third, I will be updating the tags and, finally I will be adding a map icon.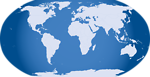 Posted at 11:37 pm in Uncategorized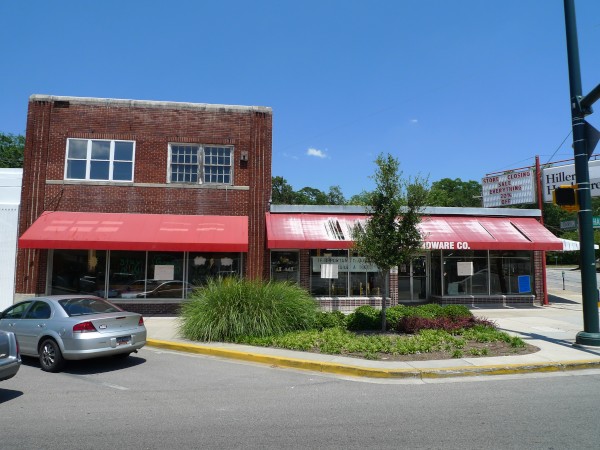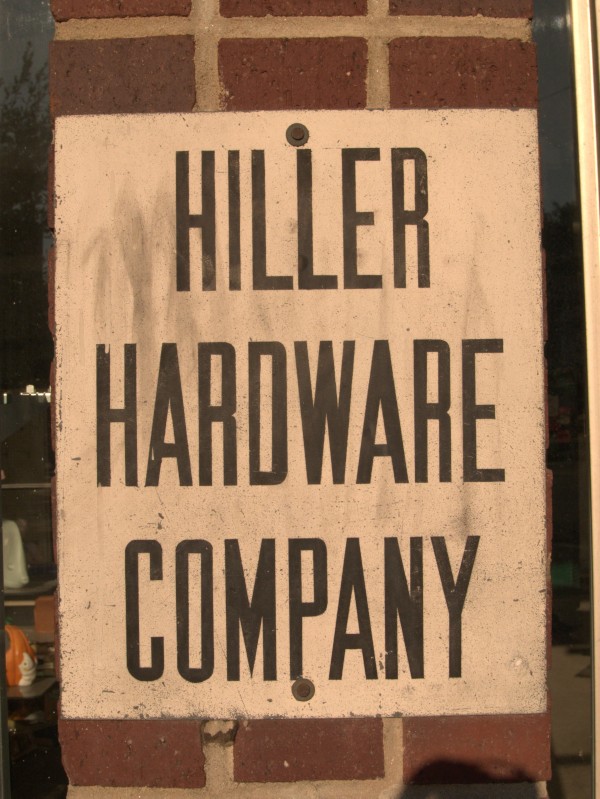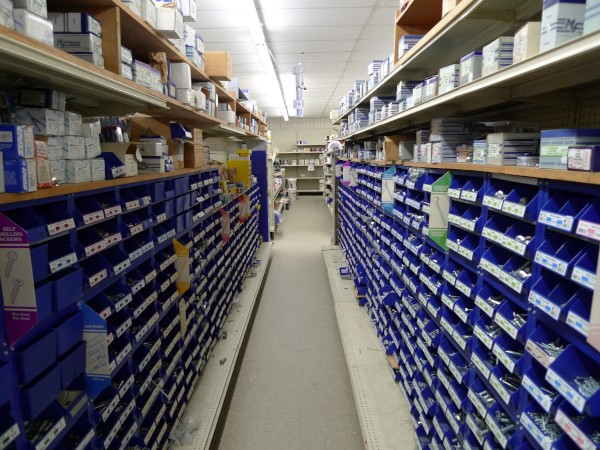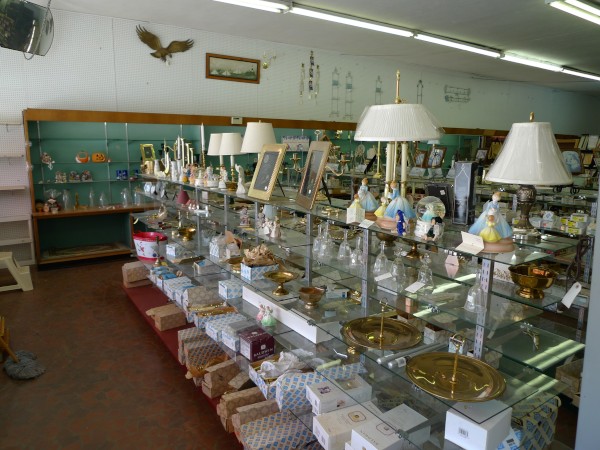 Although there was another, more old-school Hiller Hardware down somewhere in the Vista, this is the one I knew from my childhood as my mother liked to look at the non-hardware, gifty, stuff from time to time when we were in 5 Points. I always thought the place was pretty cool too because of the hardware (not the gifty stuff!) and because, if memory serves me correctly, they often had junior science experiment type kits for sale as well (I suppose that was gifty under some rubric, but it wasn't painted or ceramic..)
Hiller had its own parking lot, as well as metered spaces in front and on the sides, and it was one of the odder lots in town. There was an entrance on Blossom Street by the store back door, and another entrance on Hilton Street which you would not expect at all. The second entrance comes down a rather steep hill and the whole thing is banked like a racetrack. One of my cousin's boyfriends liked to drive up around the bank at an insane speed when the store was closed. It was pretty scary and I was never tempted to do it myself (I did come in from Hilton a number of times myself at a sane speed). It appears that in later years, the Hilton entrance was roped off.
When I heard the store was closing a few months ago, I went by for the first time in years. It hadn't been too picked over at that point, and I got some light bulbs, WD-40 and dust-off spray. The place was still much as I recalled it with the no-nonsense hardware section and the gifty knick-knack sections living together in harmony.
Why did the store close, well, this State story cites the interminable 5 Points street work and big box stores. I'm pretty sure it was the later.
It's an old story in retail. We say we like mom & pop stores, but we shop where there's acres of parking and the stock is both a bit deeper and a few cents cheaper. I'm no different -- as I said above, it had been years since I was in Hiller but I've been to Home Depot or Lowes probably a hundred times in the same period.
It appears to me from the plywood sheeting over some of the front and side windows, that the store was vandalized (or burglarized) at least twice in its final months, and that is a real shame.
The good part of the Hiller closing (again from The State story above) is that the owners own the lot outright, so they will do OK under the new arrangements. In fact, it appears that the incoming bank will only be leasing the property, so they or their heirs will be able to make other deals in the future as well.
Lots of pictures after the jump.