Archive for the 'Parkland Plaza' tag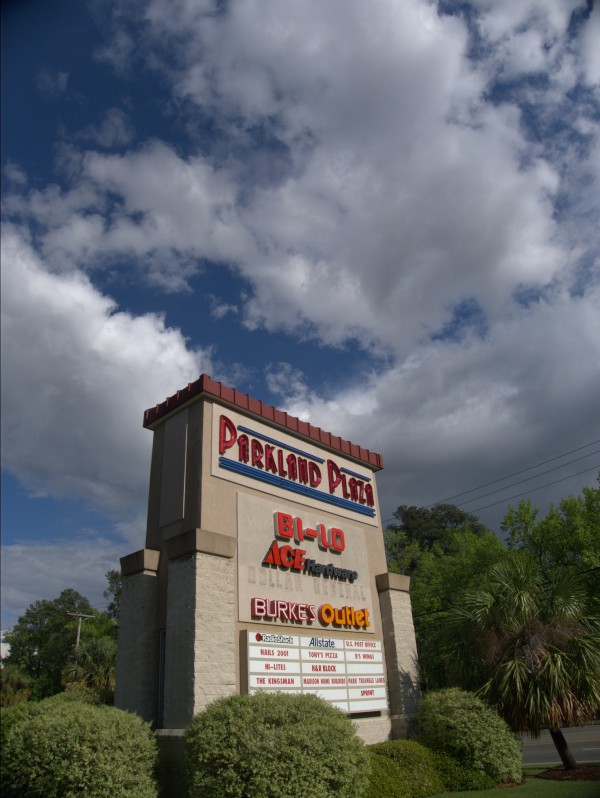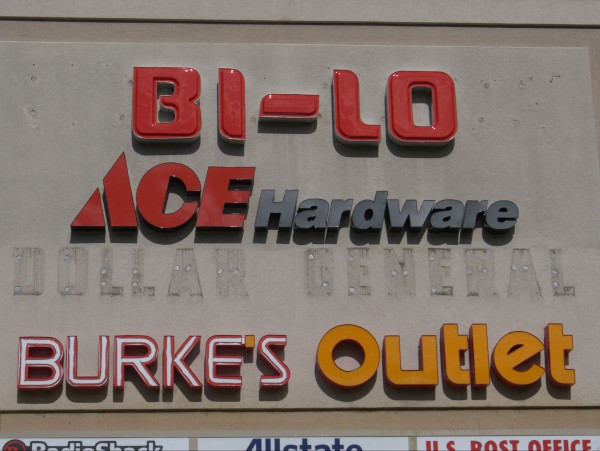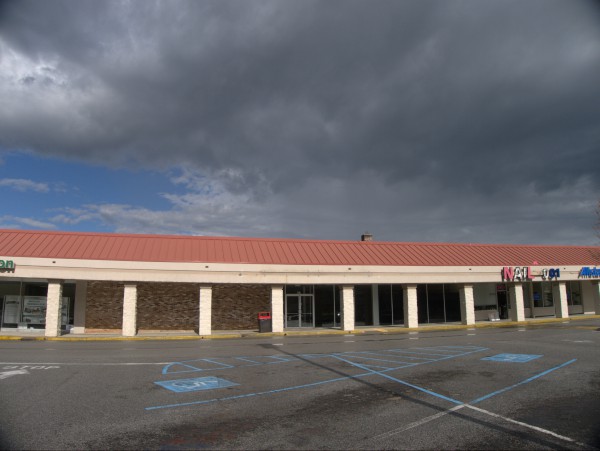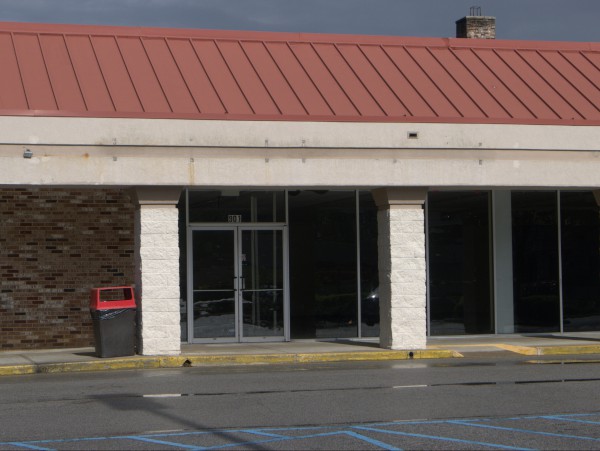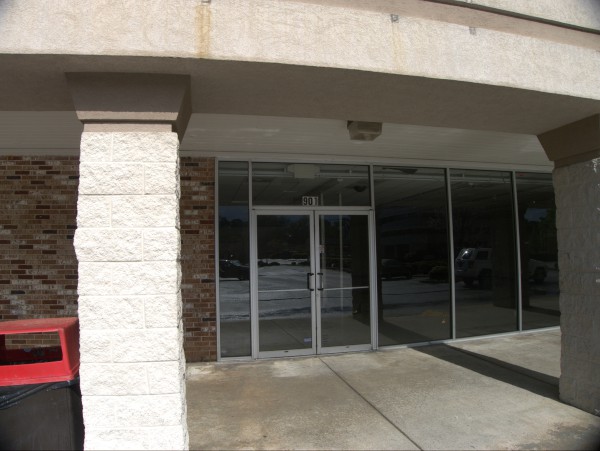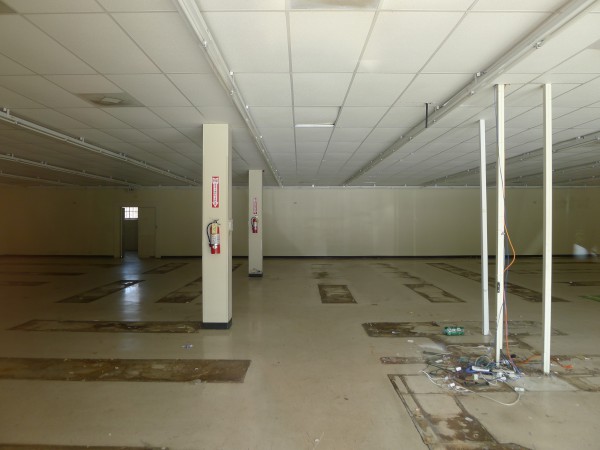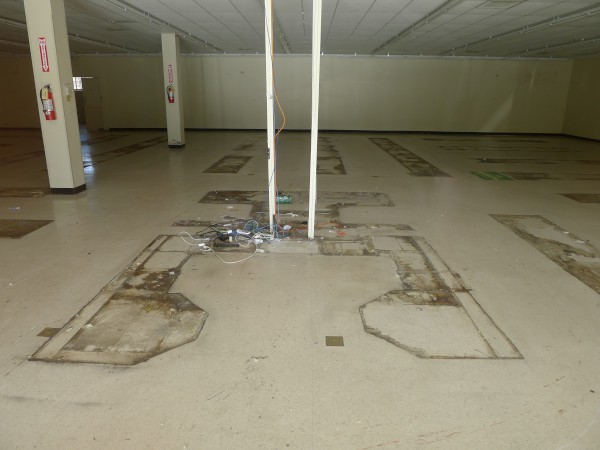 I was very surprised to hear that Dollar General had pulled out of Parkland Plaza. I guess that's because I think of the chain as downscale but savvy: A Dollar General store isn't going to be brim-full of high margin items, but they seem to know their customer base and to be quite competent at what they do.
I do know that in some places (such as Pawleys Island) they have pulled a store out of an underperforming strip mall to re-open it nearby as a standalone building, but I don't think that is the case here -- though certainly factoring together this pullout with the recent Hi-Lites pullout, Parkland Plaza has to be marked as underperforming..
(Hat tip to commenter Andrew)
Posted at 12:04 am in Uncategorized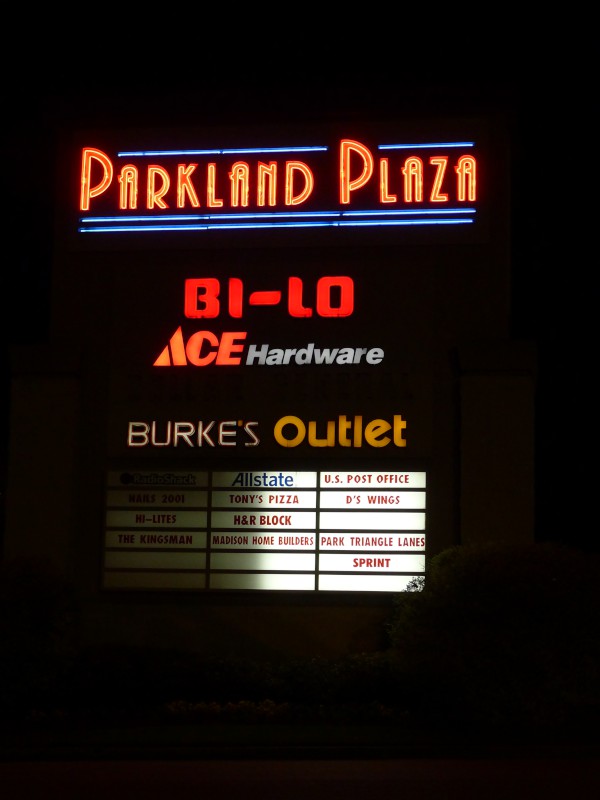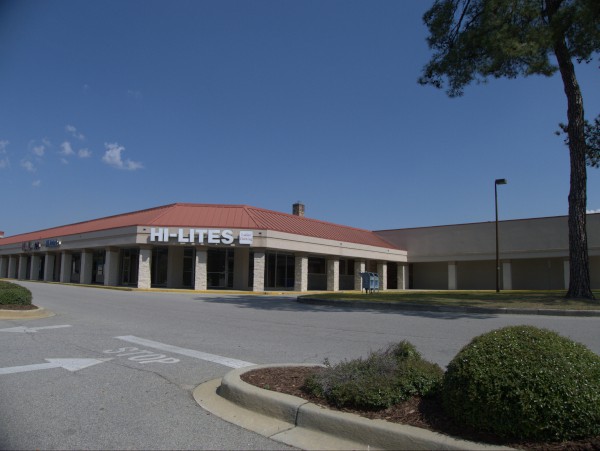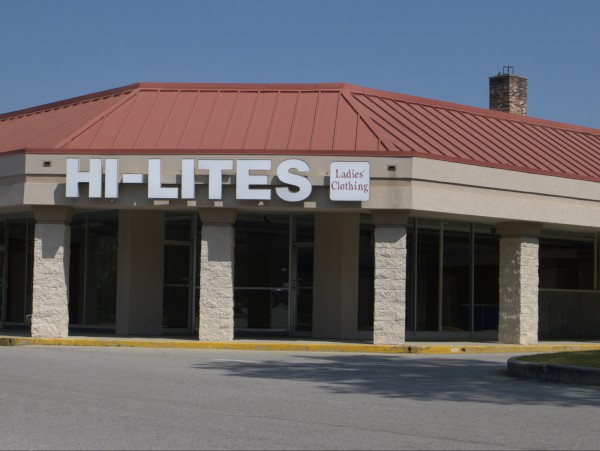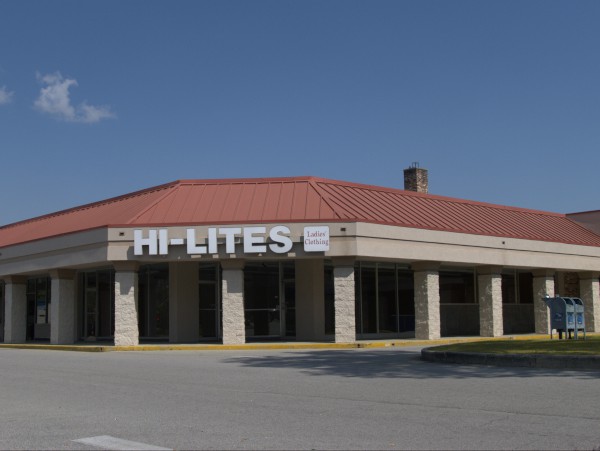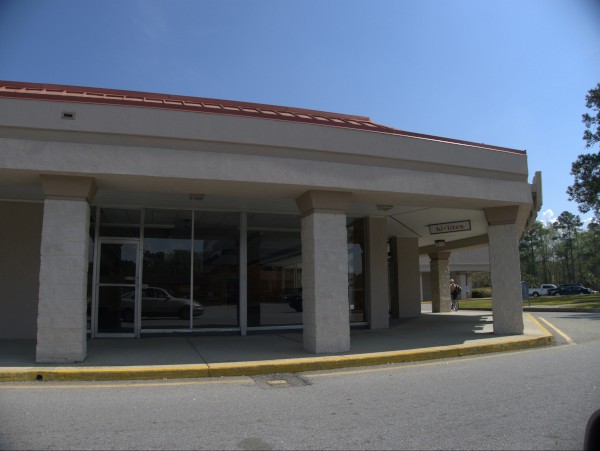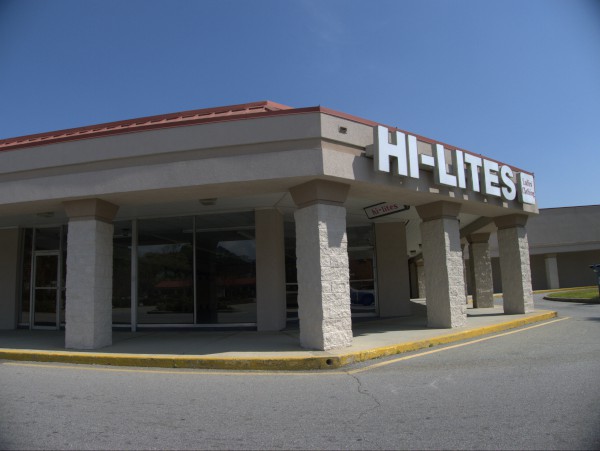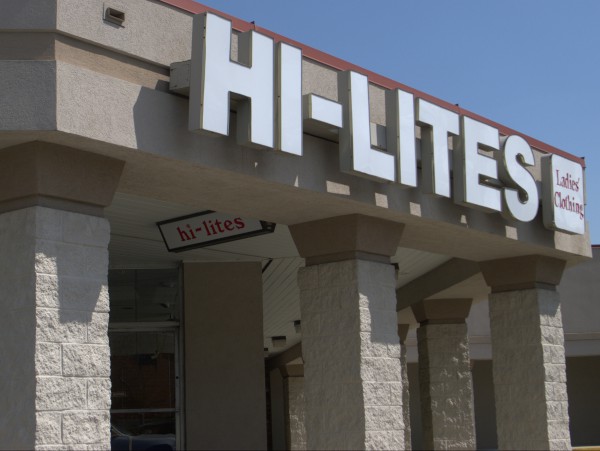 Hi-Lites Ladies'Clothing ("Name Brands At Outlet Prices") seems to mainly follow a small town strategy. Apart from this Cayce store, the chain's locator page lists the other Carolinas' locations as
Albemarle, Atlantic Beach, Clinton (NC), Laurinburg, Lincolnton, Monroe, Mount Olive, Newton, Sanford, Shelby, Whiteville, Bennettsville, Dillon and Lancaster
It's interesting that by putting their "Columbia" store in Cayce, they got a somewhat similar area, but inside a fairly major Metro. Of course, apparently it didn't work out for them.
Parkland Plaza had been on a bit of an upswing lately, with the Ace Hardware re-opening, and the Dollar Discount being replaced, but this closing and that of Dollar General (which I will probably get to soon) along with the continuing vacancy at the old Parkland Pharmacy/CVS site put the place back almost to square one.
(Hat tip to commenter tonkatoy)
UPDATE 4 April 2012 -- I went back when I could stop and got some better pictures: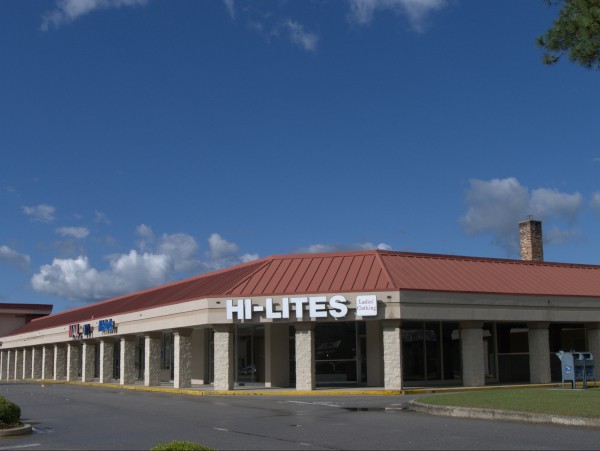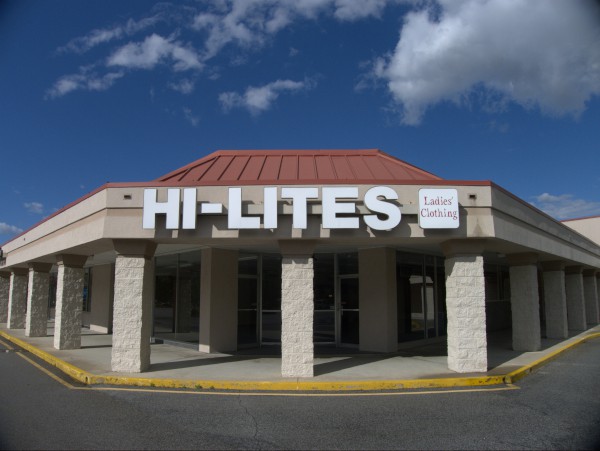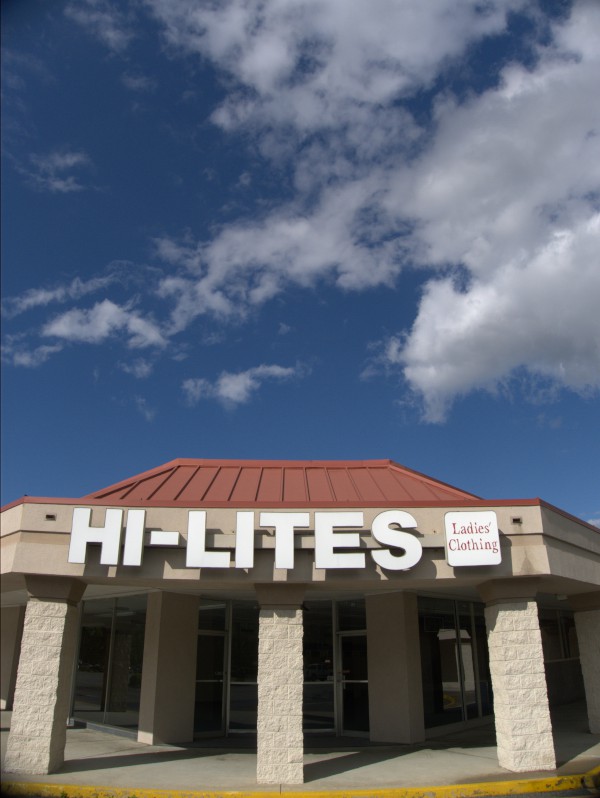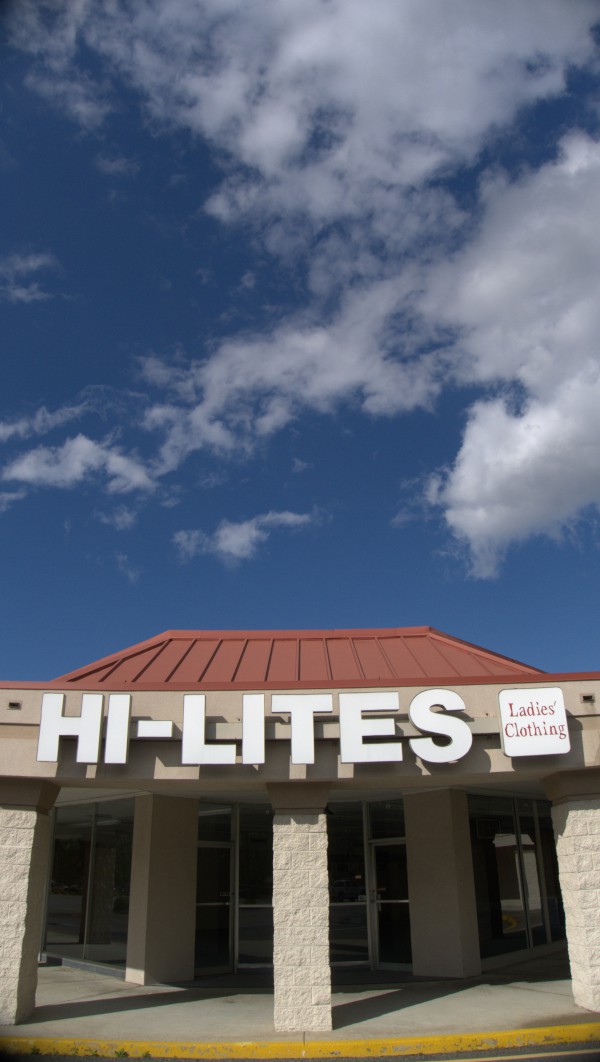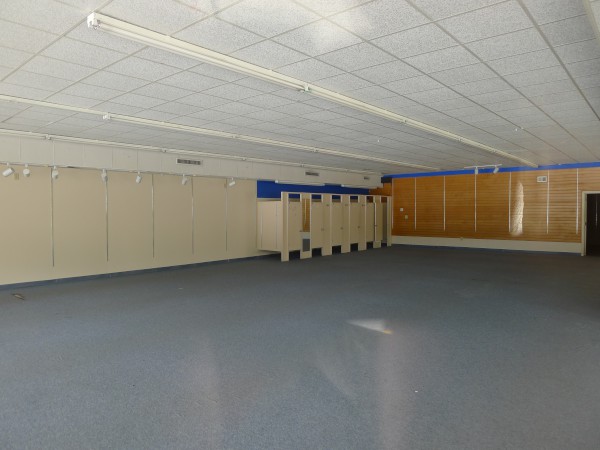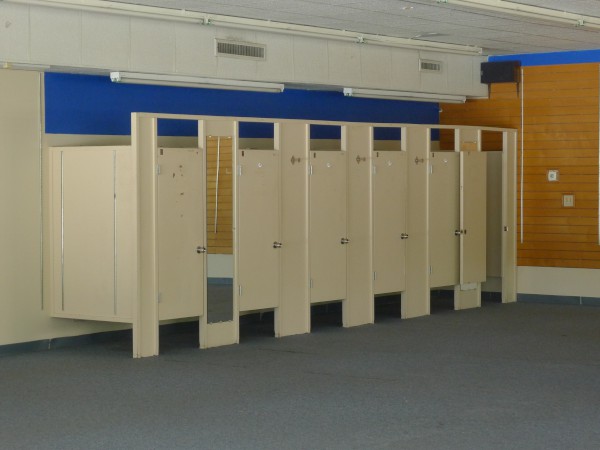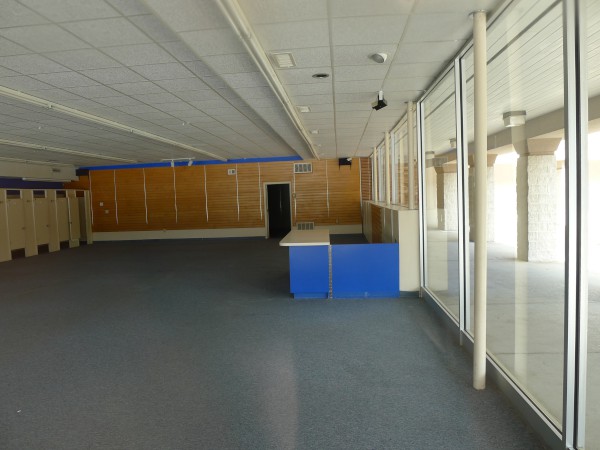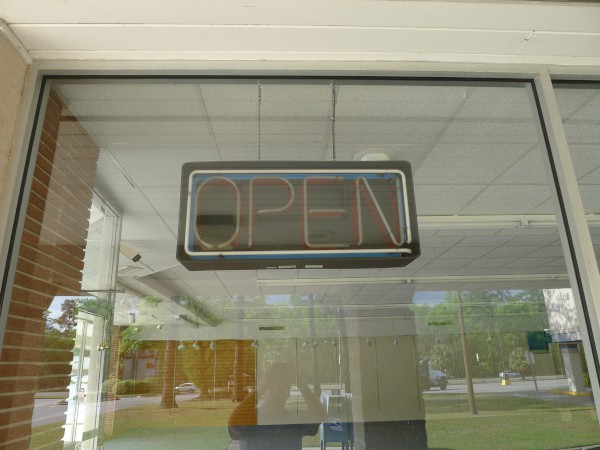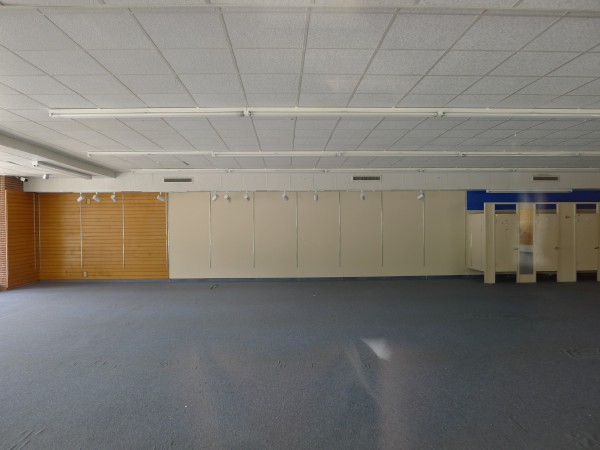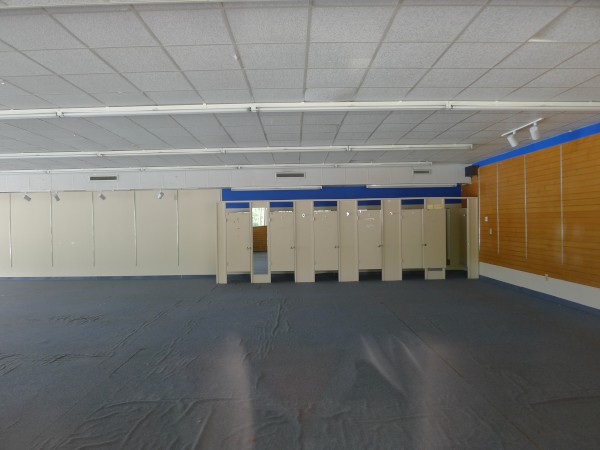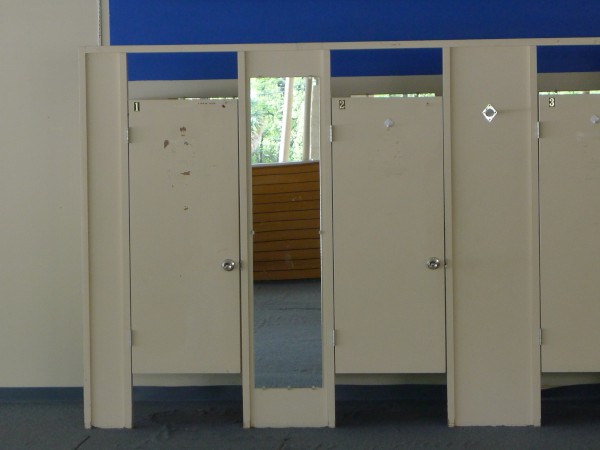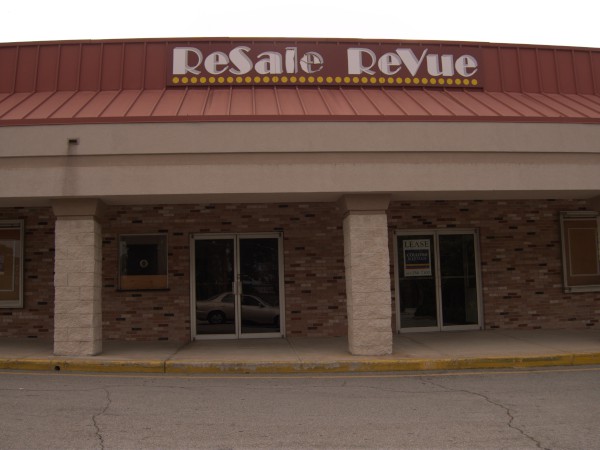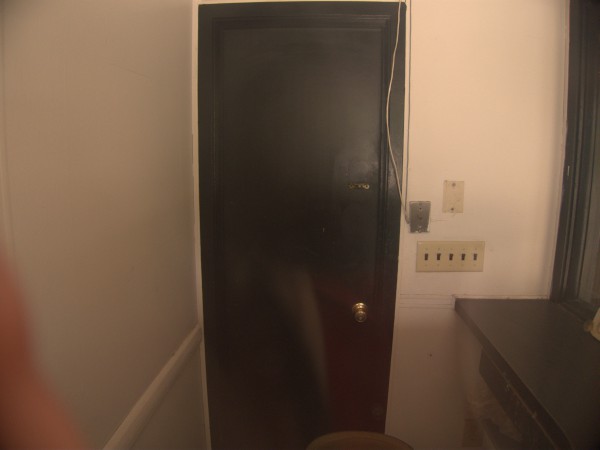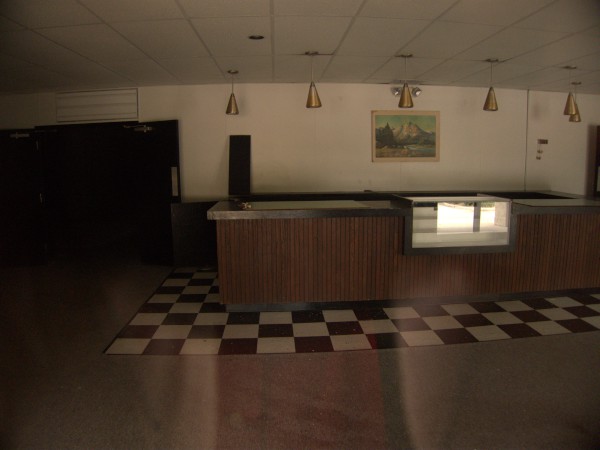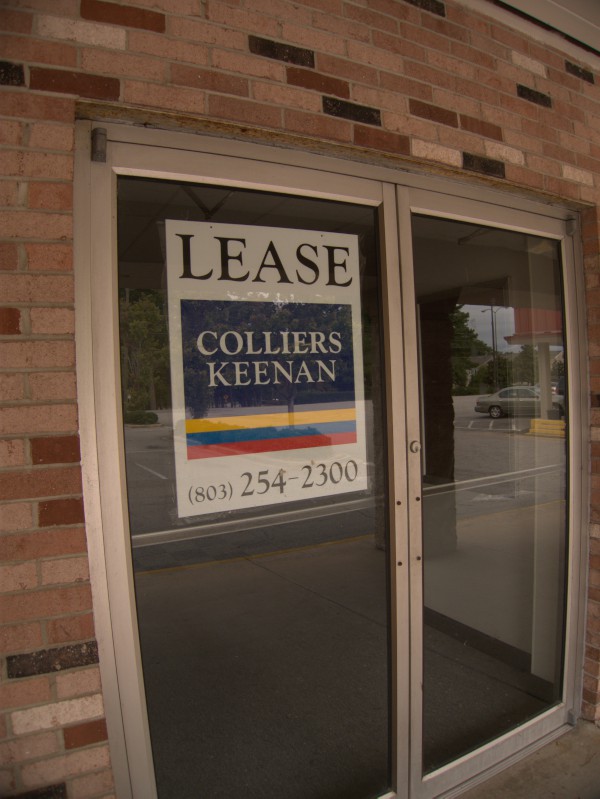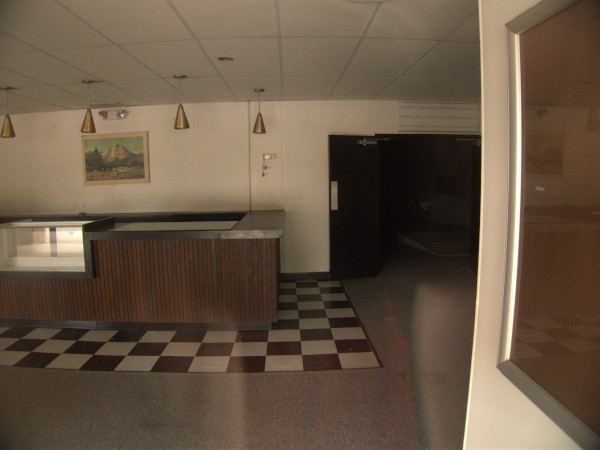 I wrote about this place a good while ago in a closing for The Gamecock Theater, and actually in that closing, from 2008, I noted that it also was closed. It may not exactly be that simple though.
Anyway, Resale Revue, in its first incarnation, was an antique-mall type of place. I only went in once, and it seemed it skewed more towards flea-market type antiques (old records, toasters etc) than antique furniture -- which was fine by me. I think I may have gotten a dial telephone there, but I have a number of them (two still hooked up..) and can't really recall.
That incarnation was gone by 2008, but I noticed this year that the place was hosting events for the Indie Grits Festival using the old theater space as a venue. Given that the a Colliers Keenan sign was in place in 2008 and is still in place, I'm guessing that the owners rent the space out for events from time to time as they are able, and the name carries over as nobody is going to change the sign for that.
Update 2 September 2020: Take "Parkland Plaza" out of the post title and add it as a tag. Add map icon, update tags in general.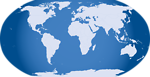 Posted at 11:17 pm in Uncategorized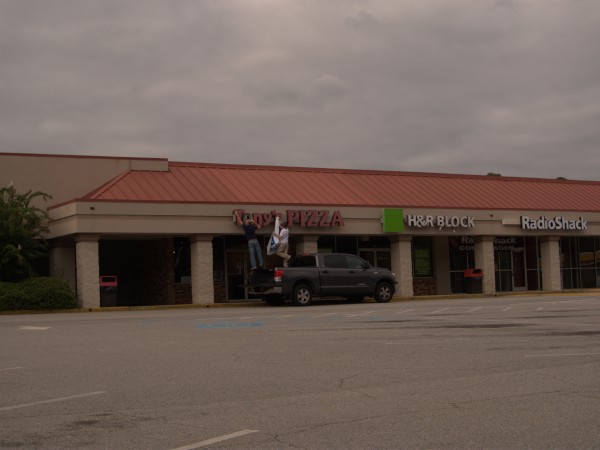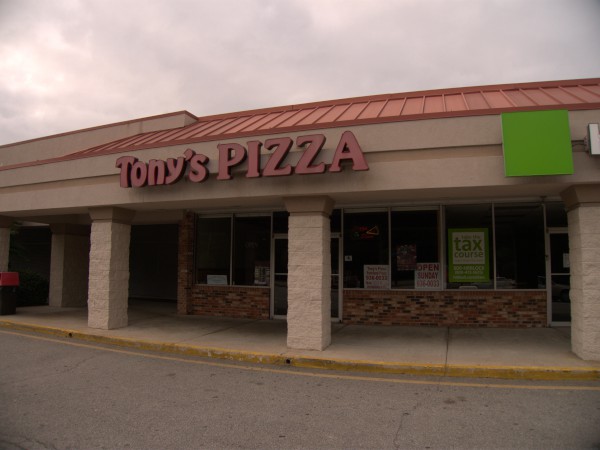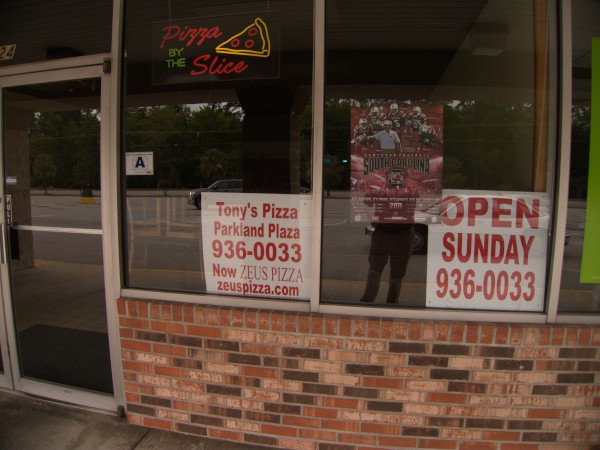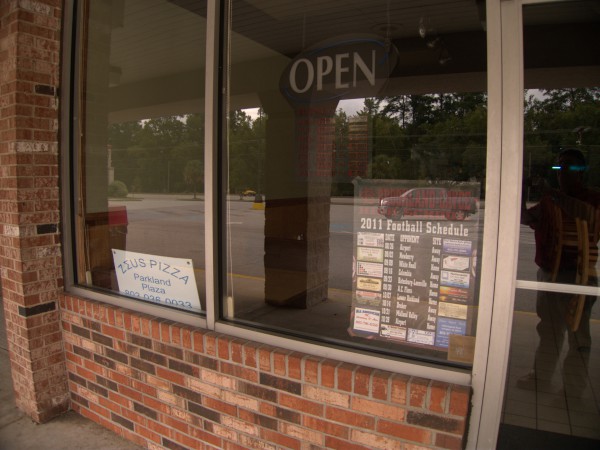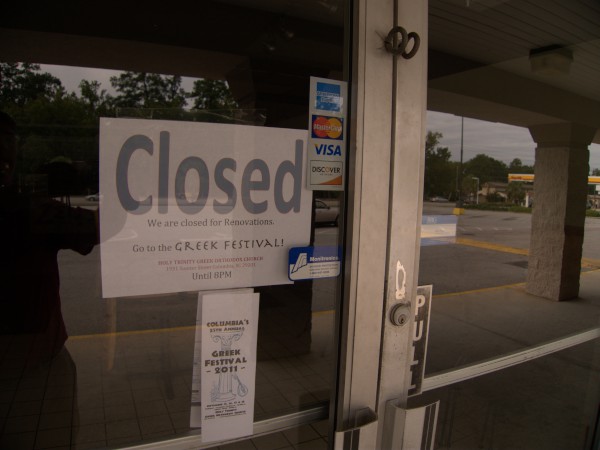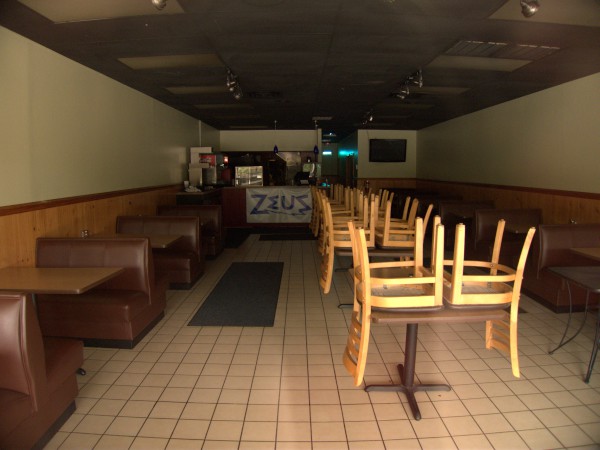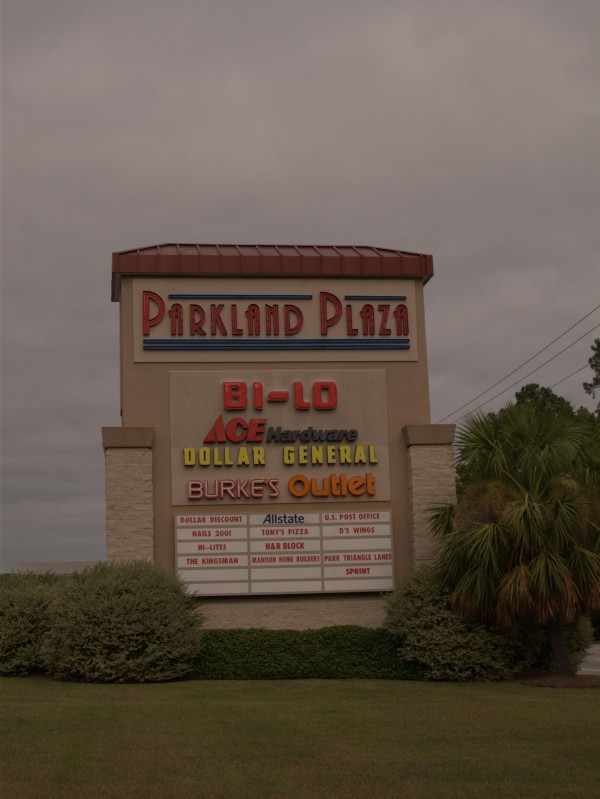 While I was out and about today, I noticed some guys apparently hanging a new banner that said Zeus Pizza on the marquee of Tony's Pizza at Parkland Plaza. When I got back by after making a few other stops, it appeared that perhaps I was wrong and they were taking it down, or they needed some more tools to make it stick. Either way, it's clear from looking at the signs in the store windows that the name change is official. I drove down the street to the Tony's near 12th Street, and there is no indication of any change there, so I guess just this location has changed ownership. (The Parkland Plaza roadside sign still lists Dollar Discount as well as Tony's).
The door sign namechecks Columbia's Greek Festival. I certainly took the opportunity to stop by this weekend and have some Baklava and Galaktoboureko!
(Hat tip to commenter Tonkatoy, sort of)
UPDATE 30 September 2011 -- Commenter Andrew sends these two pictures of the new Zeus banner I saw now being successfully installed: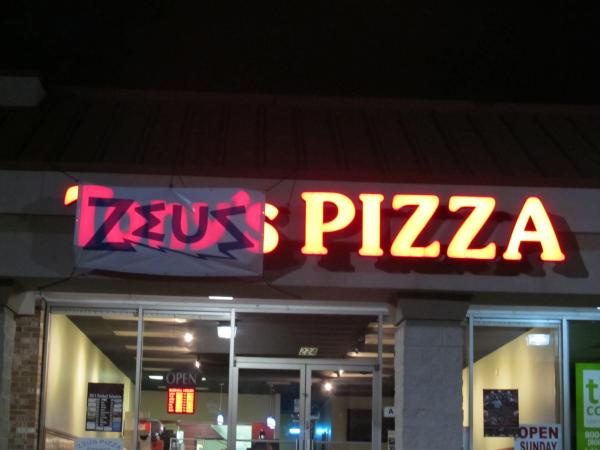 Posted at 2:13 am in Uncategorized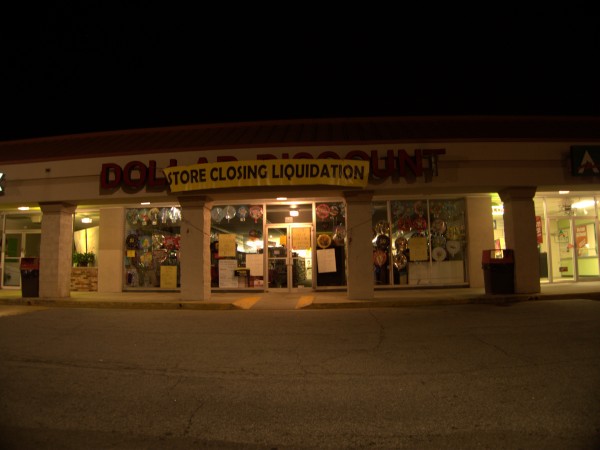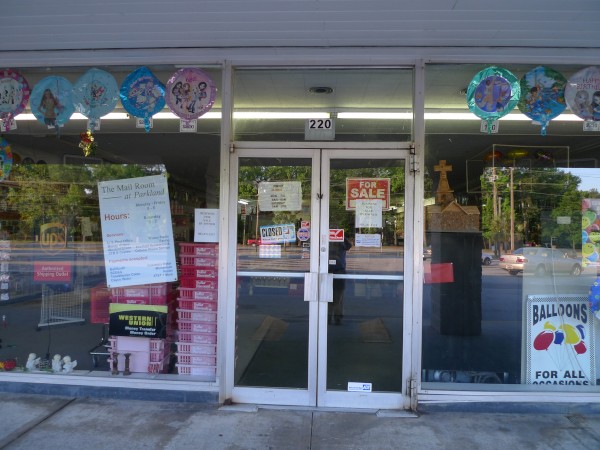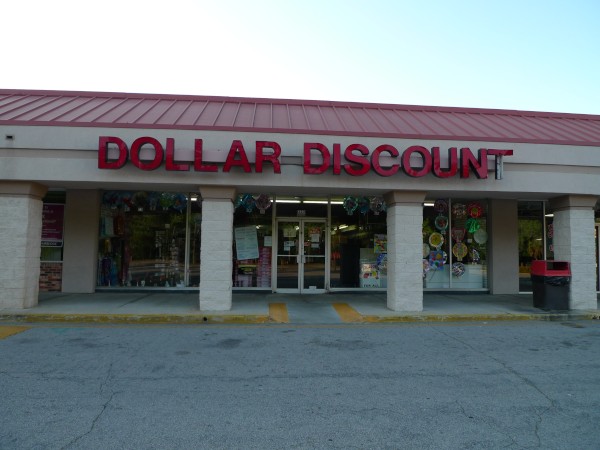 This Dollar Discount store in Parkland Plaza has been "for sale" for a good while, in fact I almost did a post on it before, but they seemed to be in full operation while looking for a buyer, so never did. Driving by tonight, I saw from the banner that they are explicitly closing now. I've never been in this store, but apparently Dollar Discount is a franchaise concept with 140 stores over all and three other stores in South Carolina (Pageland, Effingham and Sumter). I've always liked this kind of store as it gives you a feeling of power to walk in with $5.00 in your pocket and walk out with actual stuff. It seems I can always find something or other that I need or want, and I'll bet the prices are even better right now. This particular store appears to also run a shipping operation called The Mail Room, possibly taking up the slack when the contract post office in Parkland Pharmacy closed.
Once when my cousin noticed an old sign for the company her father used to work for still up on an old barn out in the country, she went to see the owner to try and buy it for her father's birthday. I was with her, and the old gentleman owning the place was a talkative fellow with lots of interesting stories (he claimed that Jimmy Doolittle wanted his help in setting up the Army Air Corps during WWII, but the letter got lost coming from Washington DC to rural SC..). When we asked what the population of the little community was, he said something like "One hundred ninety, same as when I was born. We always figured it stayed the same since every time a baby was born, a man had to leave town". Something of the sort seems to be holding for Parkland Plaza since Ace Hardware is re-opening, just as this store is closing..
UPDATE 29 Oct 2010 -- well the store is definitely gone now: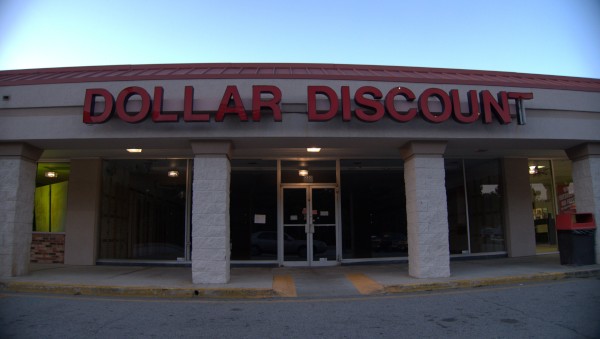 though it is still listed on the Parkland Plaza marquee: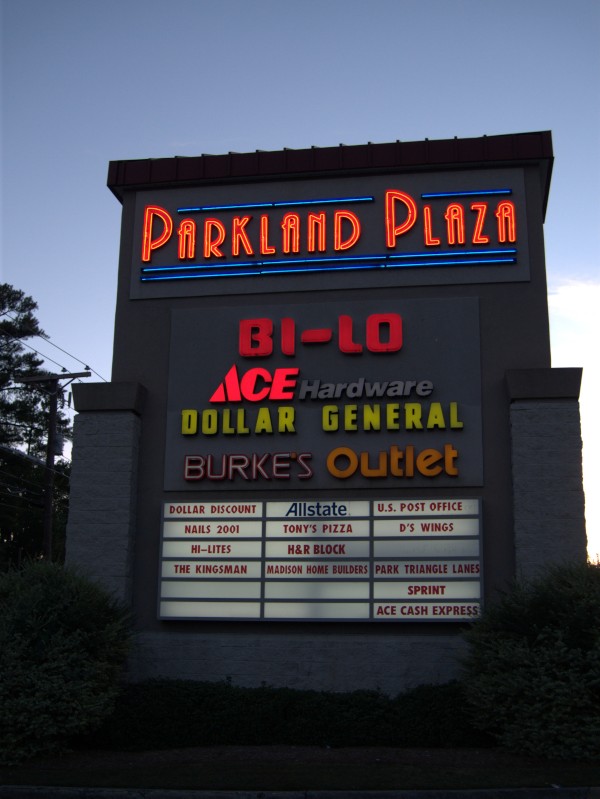 UPDATE 10 January 2012 -- As mentioned by commenter Andrew, this is now a Radio Shack: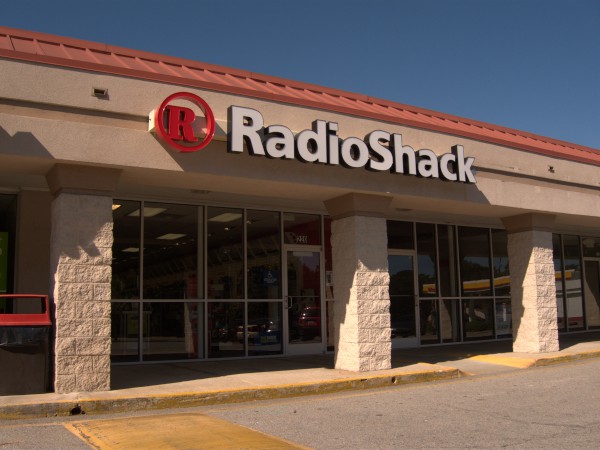 UPDATE 4 March 2013 -- Finally got around to taking a picture of the new (well, not so new at this point!) location of The Mail Room in Granby Villiage on the Charleston Highway: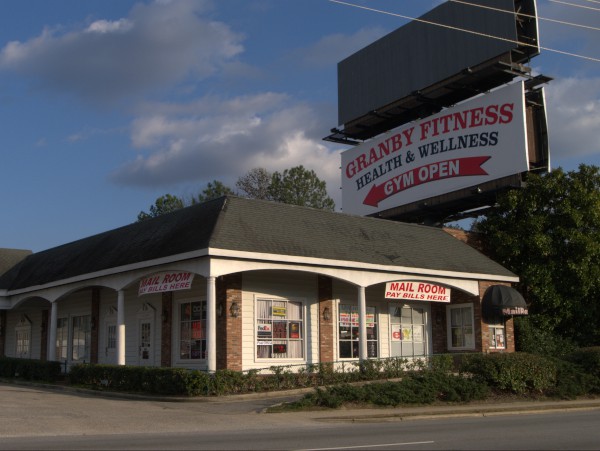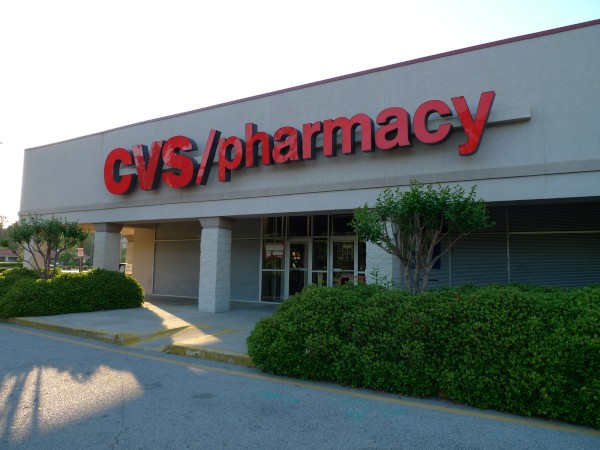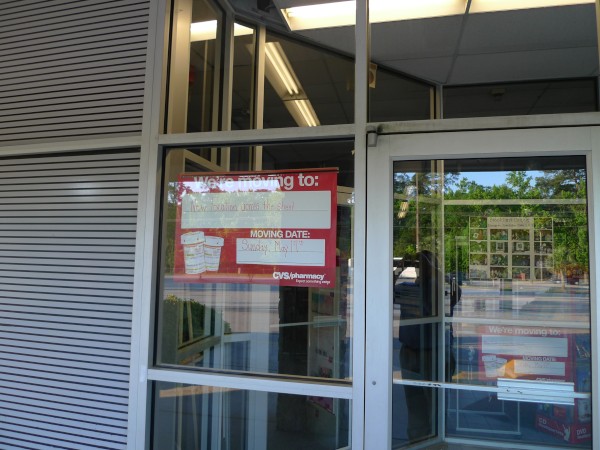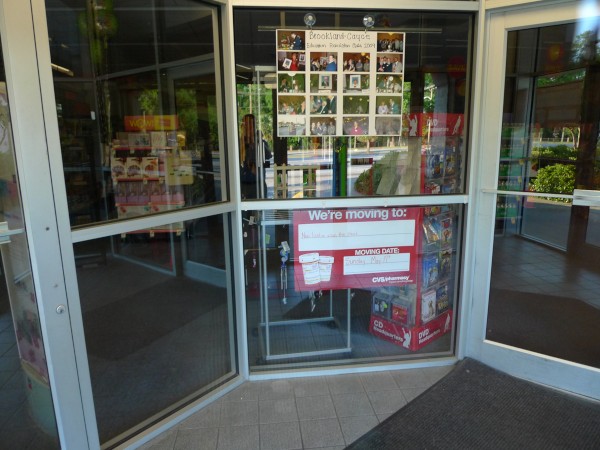 I wrote about this storefront before as Parkland Pharmacy. CVS was the successor to Parkland and made what was a rather interesting and quirky pharmacy into yet another chain drugstore.
I'm not a big fan of CVS in general -- for some reason they never seem quite as nice as Rite-Aid or my preferred store, Walgreen's. They do have a nice "no scent at all" liquid laundry detergent though, and this store was fine for what it was.
They have left Parkland Plaza for the new corner lot across the street opened up by the demolition of the Cinderella HoJo. When I took these pictures, there was no indication of what, if anything, would come to occupy this spot. Parkland Plaza is already hurting; they certainly don't need a longterm vacancy here.
UPDATE 24 June 2009: The move is complete, and the CVS is now open at the old HoJo site: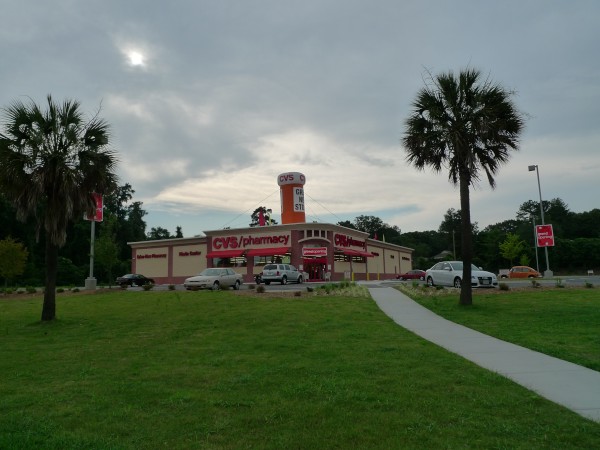 UPDATE 29 Oct 2010 -- To date nothing has moved into the CVS spot at Parkland Plaza:
UPDATE 4 July 2022: Update tags, add map icon.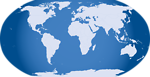 Posted at 10:52 pm in Uncategorized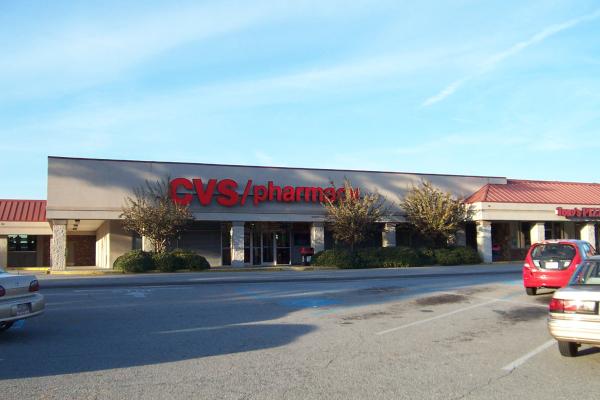 When I think of "real" pharmacies in Columbia, I have a little mental list. If you were born a bit earlier or lived in another part of town, your list is probably different, but on mine are Campbell's Drugstore on Forest Drive, Liggett's in Trenholm Plaza, Cedar Terrace Pharmacy on Garners Ferry, The Big 'T' on Taylor Street and Parkland Pharmacy.
Parkland Pharmacy was on the other side of town from us, so we didn't get there often, but the times we did made an impression on me. My memory is that it served as much as Cayce's General Store as it did a pharmacy, and the aisles were crammed with all sorts of general merchandise. Also, and this is what drew my attention as a kid, it was a "contract" Post Office, and the back wall was lined with personal Post Office boxes. My aunt in Fernandina had a P.O. Box rather than home delivery for all of my childhood, and I always associated them with exotic places. The idea that we had Post Office Boxes in Columbia, and at a drugstore! was very strange to me. I don't think the store had a lunch counter or soda fountain, though it was about the right vintage for that.
Eventually, the same factors that brought down all the other landmark pharmacies in town brought down Parkland. I recall going there a couple of times in the 80s and thinking that it was operating under diminished circumstances, and finally they took the plunge and let CVS buy them out (or at least I assume that's what transpired). I don't know what happened to all the people with PO boxes there. I presume they were let to keep the same box number at one of the Cayce POs. If not, it will have been a mess!
As I noted recently, it appears that the CVS in the old Parkland Pharmacy slot will be moving. I don't know what will take its place.
UPDATE 29 Oct 2010: The CVS moved some time ago, and to date the old Parkland Pharmacy slot in Parkland Plaza is vacant:
UPDATE 9 September 2011: Changed closing date from "1980s" to 1995 based on commenter Andrew's research.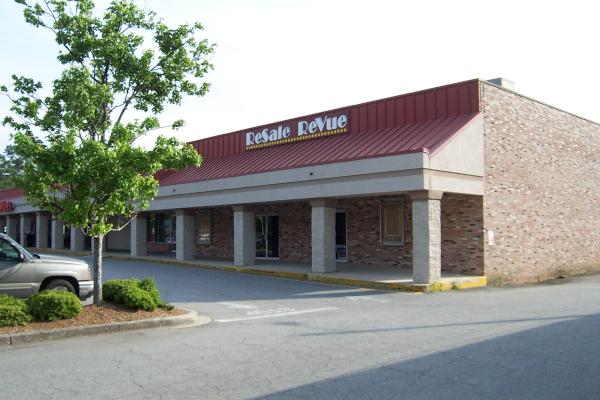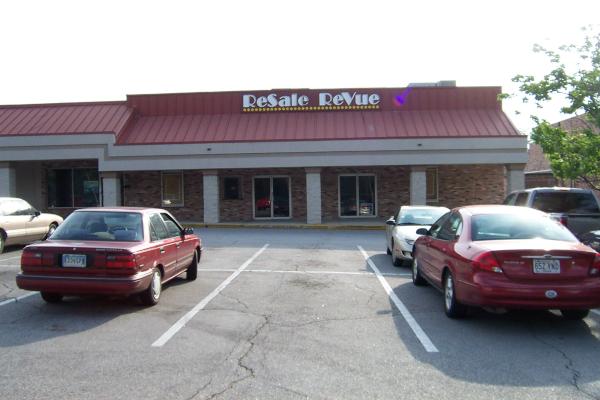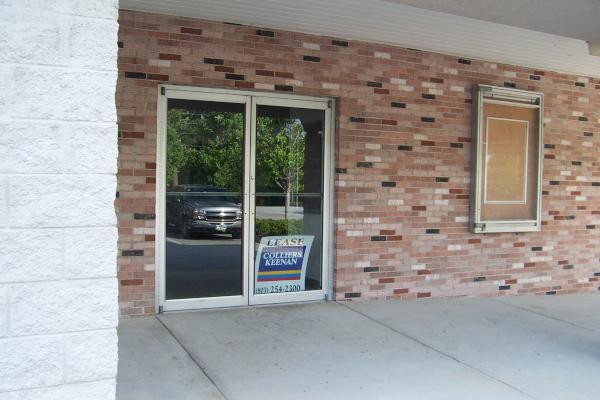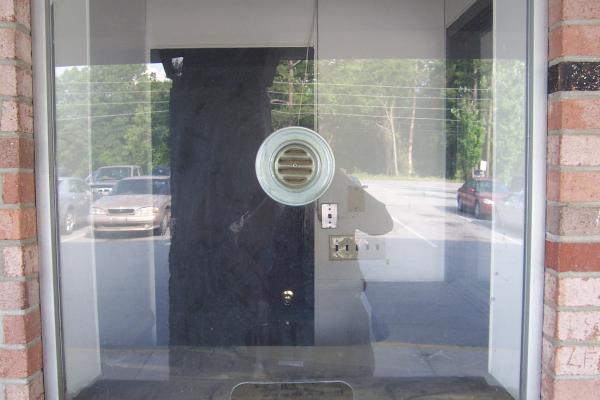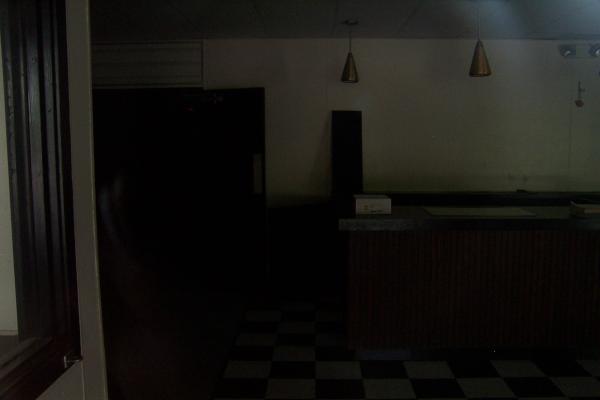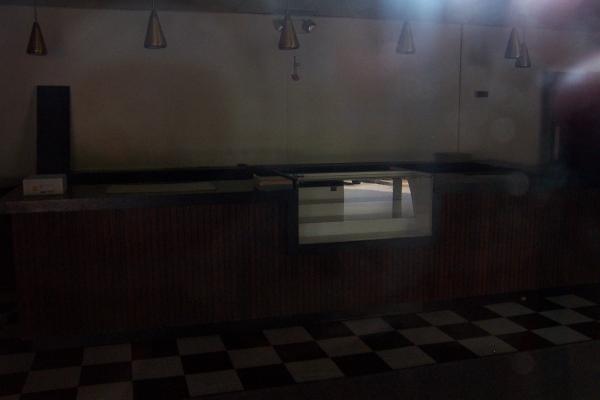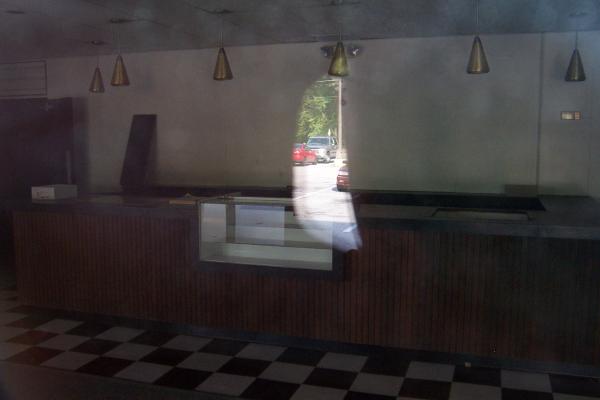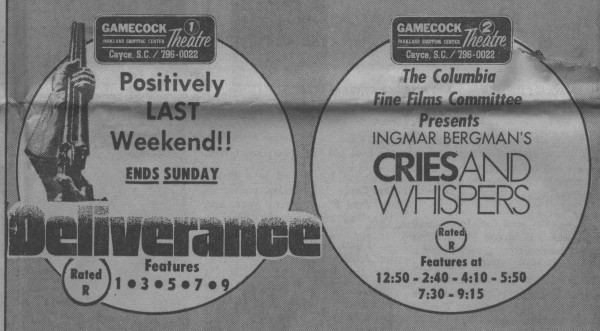 Parkland Plaza is on Knox Abbot Drive just across the bridge from USC (and now, though not then, The State Museum). It's an interesting retail venue, neither thriving, nor totally down on its luck. Over the years lots of businesses have come and gone. Probably the most significant of these was Parkland Pharmacy, which was an old-fashioned rural style drug/general/we-do-everything store which also housed a contract post-office with a wall full of PO Boxes. It eventually sold out and a CVS now occupies the spot.
The other significant business, or significant to me at any rate, was the Gamecock Theater. The Gamecock was on the East side of the plaza and was always a rather small operation rather than anything with pretensions to being a "Movie House". At some point, even the rather limited original space was partitioned, and the place became a duplex with the name becoming, if I recall correctly, The Gamecock Twin Cinemas or something to that effect.
Since The Gamecock was on the other side of town from where I grew up, we only saw a couple of movies there when I was a kid, and I can't recall now what they were. However, when I was in college, it was fairly accessible from The Towers, where I was living. Of course, the Russell House was even closer, and while the theater there was in its glory days, I sometimes saw 4 movies a week there, but those were all classics and The Gamecock was first-run. At various times, a group of us would find a car and go over, but I can clearly recall only two movies that I saw there during college.
The first was The Seduction, a 1982 flick starring Morgan Fairchild. At the time, Morgain Fairchild was in a very popular TV series, which I never saw, and the name of which I forget. I was aware that she was the show's sex symbol and when my roomate and I saw that she had her first big screen outing and that it was rated 'R', we figured (especially given the title!) that there was a good chance that she would not be over-burdened with clothes, and that seemed like a sufficient reason to scrape up the bucks and transportation.
Well, that was true -- in fact several times she was not-overburdened to the point of not being burdened at all, but while that was nice (very nice actually) we gradually became aware, as we looked at each other with incredulity from time to time, that this was an awful movie. Not, "well, it really wasn't that good" awful, but "did they really shoot that whole scene with the boom mike clearly in view?" awful. It was something of a trifecta in fact: Bad writing, bad acting and bad production values. I still don't understand how Fairchild couldn't leverage her small-screen popularity into a decent vehicle. I mean, it's not like she couldn't take her clothes off in a movie with a competent crew and a script that at least made sense!
The final movie I saw at The Gamecock was Yellow Hair and the Fortress of Gold. This was in 1984, and if I recall the timing correctly, I had just finished final exams and was exhausted and wanting a fun popcorn flick. The whole ad campaign for Yellow Hair, inasmuch as it had one, was to position it as a low budget "Indiana Jones" type movie, which was fine by me. As it turned out, the campaign had little to nothing to do with the movie, which was really (as comments on IMDB suggest) a late Spaghetti Western. The titular character "Yellow Hair" was a blond Indian "half-breed" and the rickety plot reached its climax with her finding out that her parents had loved one another (rather than her being a child of rape as she had been led to believe). Along the way, she had some Zorro-ish adventures (Disney Zorro-ish), but really not the non-stop cheesy action the posters implied. I was let down, but this movie was a first for me in a way -- it was the first time I was the only person in a theater! That's happened several times since and sometimes for good movies, but I distinctly remember thinking "Not a good sign!"
With graduation, I took a job out of town and kind of lost track of the Gamecock for a while. The next time I became aware of it, I found that it had closed, had been sold, and was operating as an "Antique Mall". That's the ReSale ReVue you can see in the pictures. As such things go, it was OK (I think I bought an old phone there), but with several very large Antique Malls in the Vista, and one just down the street, I suppose they really couldn't make a go of it. Now the space is empty, and I can't think of any theaters at all in West Columbia or Cayce.
UPDATE 12 September 2009: Added an ad for The Gamecock Theater from the 15 April 1973 State newspaper.
UPDATE 2 September 2020: Change the post title address from "Parkland Plaza Cayce" to the full street address. Add map icon, update tags.