Archive for the 'O'Neil Court' tag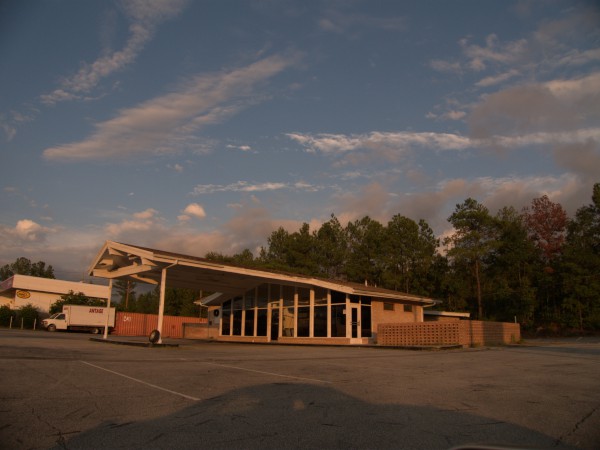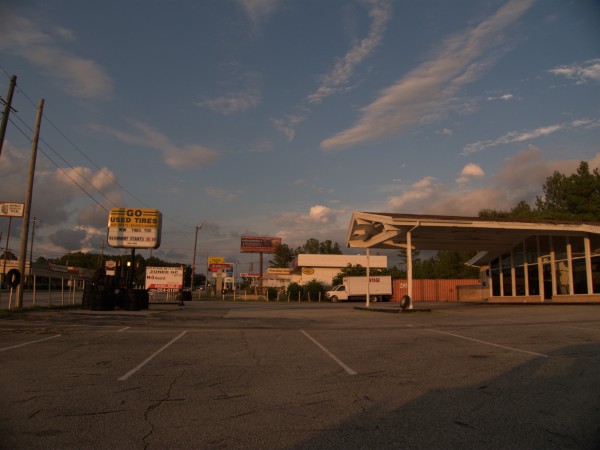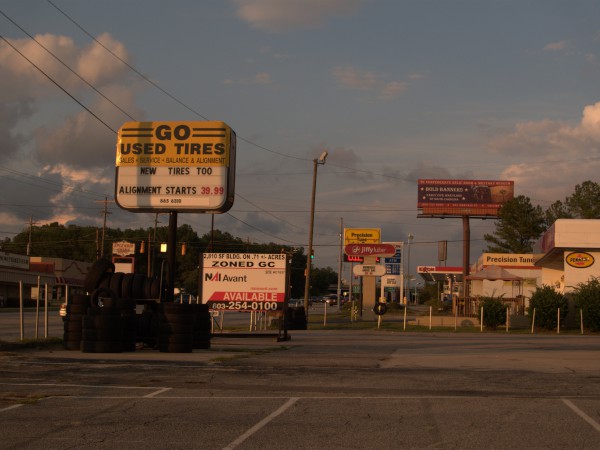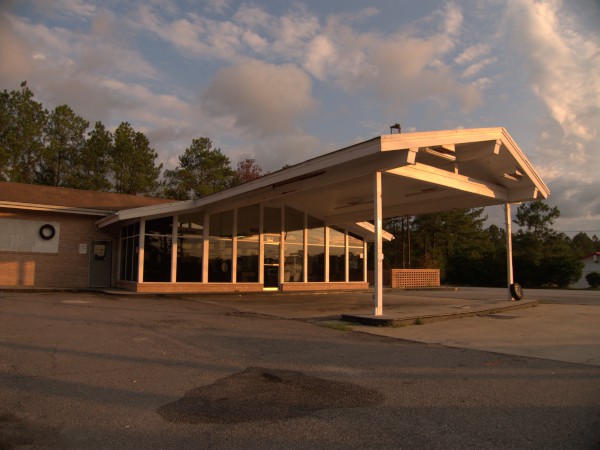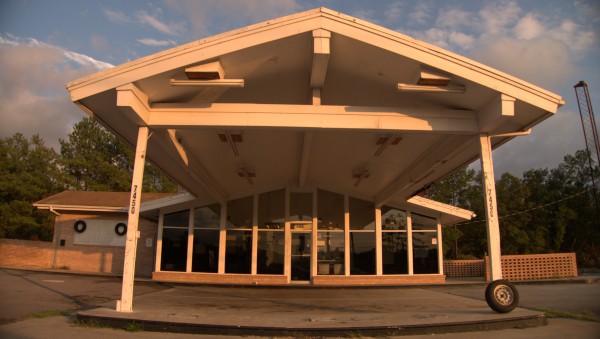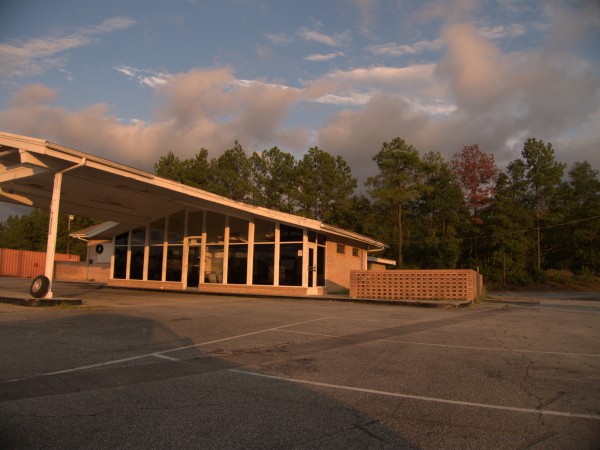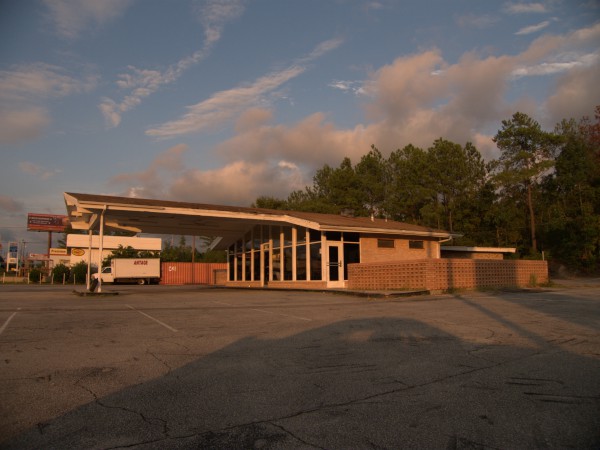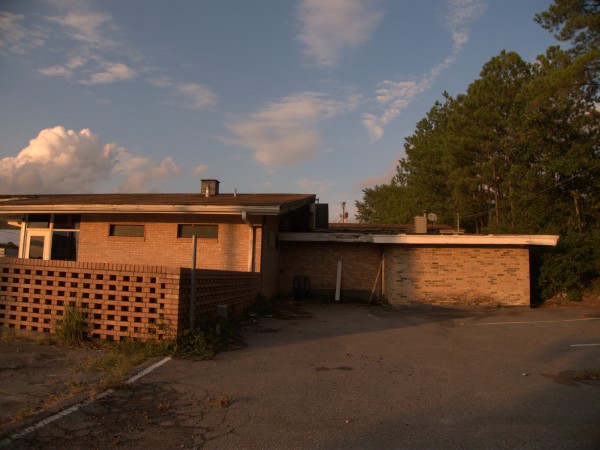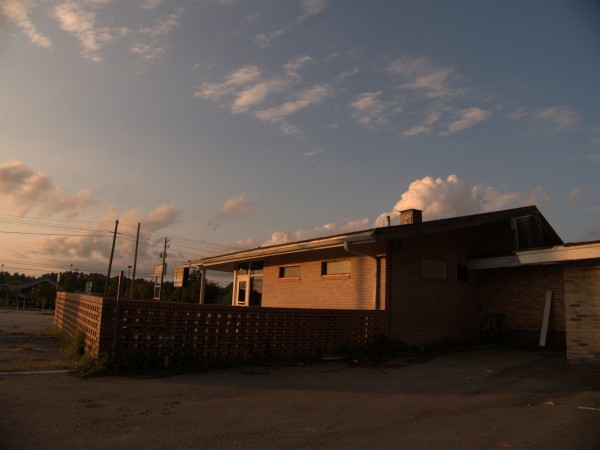 This old-school Exxon on Two Notch near the I-20 interchange, and O'Neil Court is currentl Go Used Tires, but apparently that will only last until the sale of the building, which is currently on offer.
This is a classic look for an Esso/Exxon of that era. Here is a similiar one (which I believe stayed open longer) in Yulee Florida: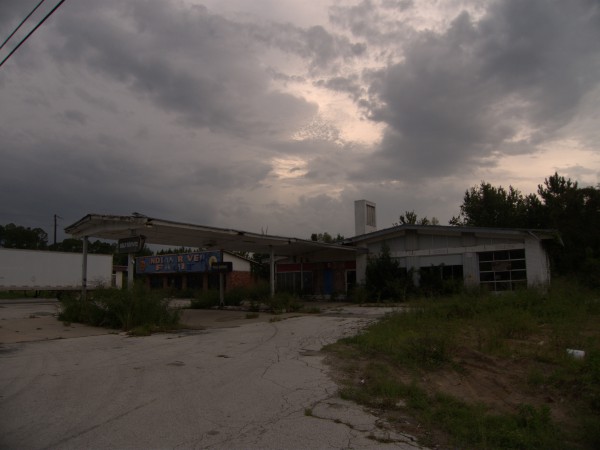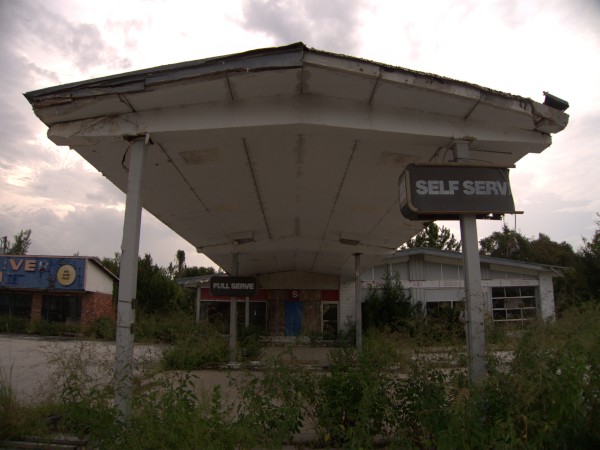 Hopefully the Two Notch building will not be razed, but given the age, I wouldn't bet on it.
UPDATE 5 December 2011: Added Esso to the post title based on the comments.
UPDATE 10 October 2016 -- The Two Notch building continues to deteriorate. I don't see how the next operation won't raze it. I also note the sheltered area looks to have been something of a homeless campout: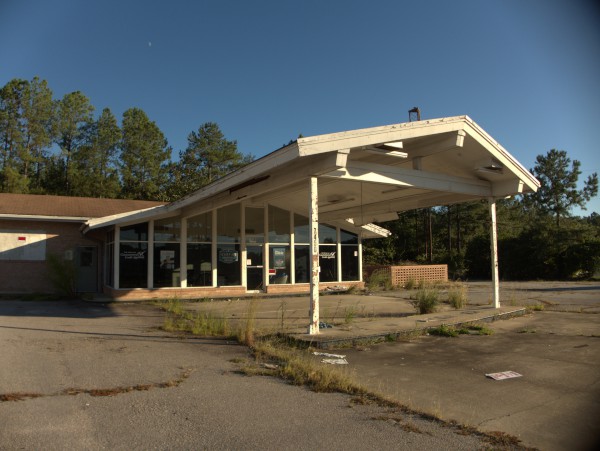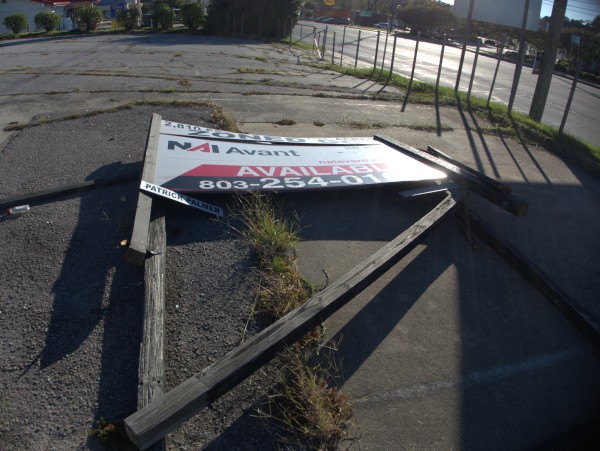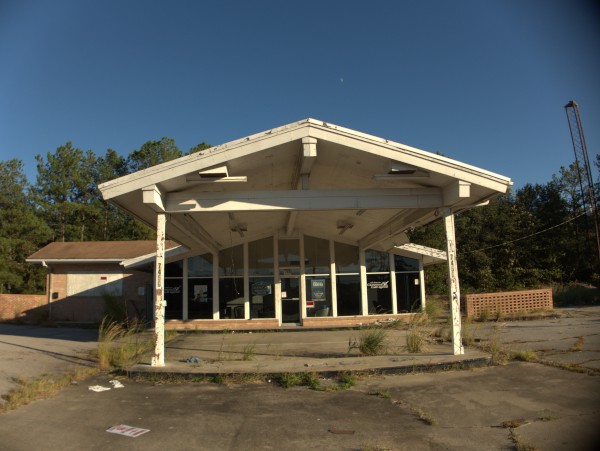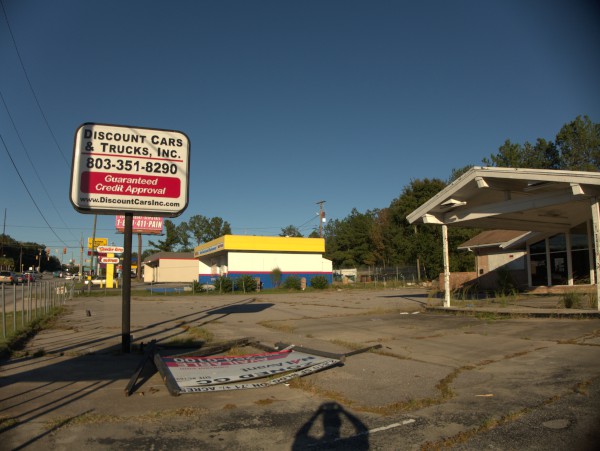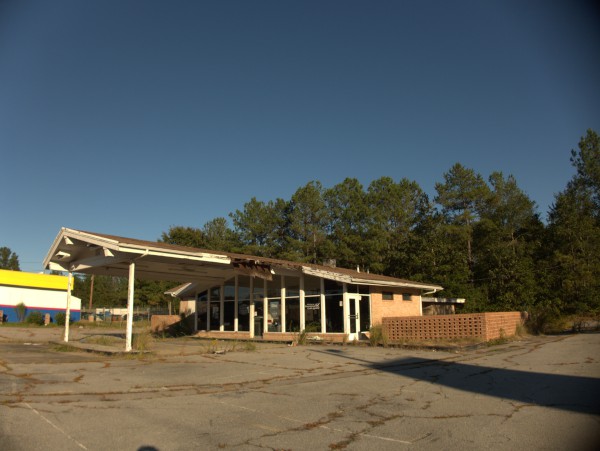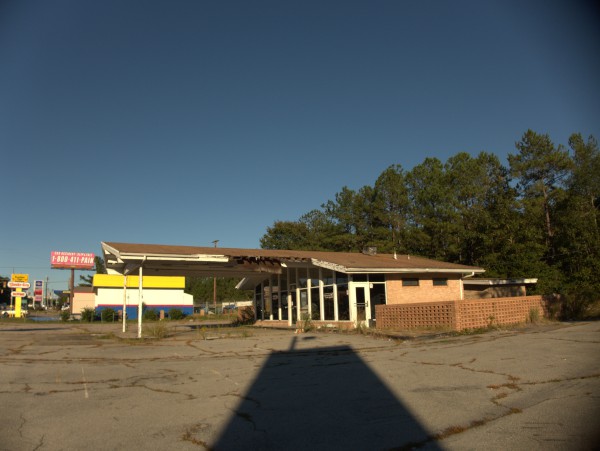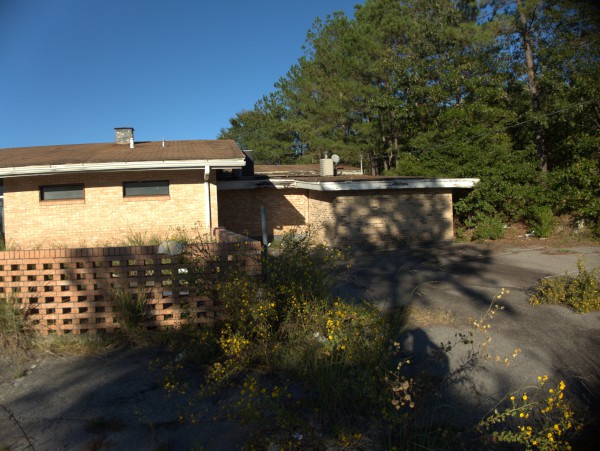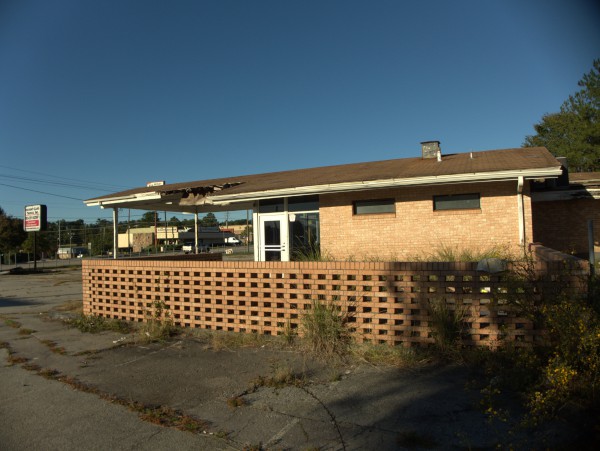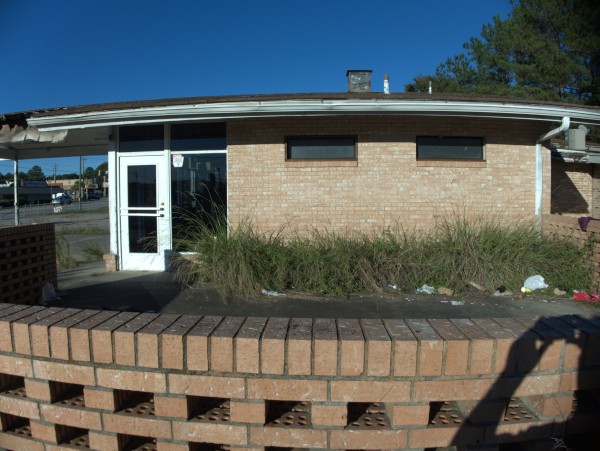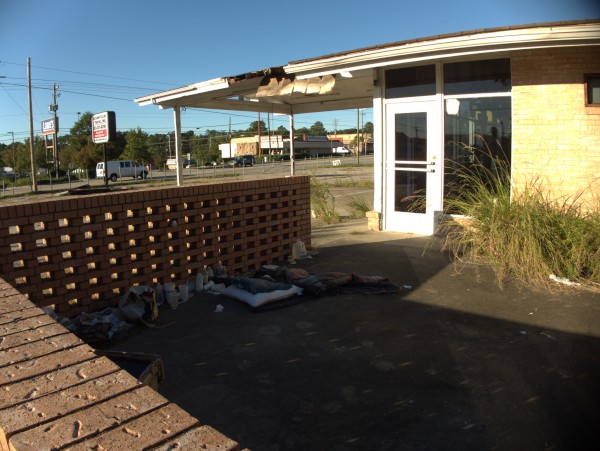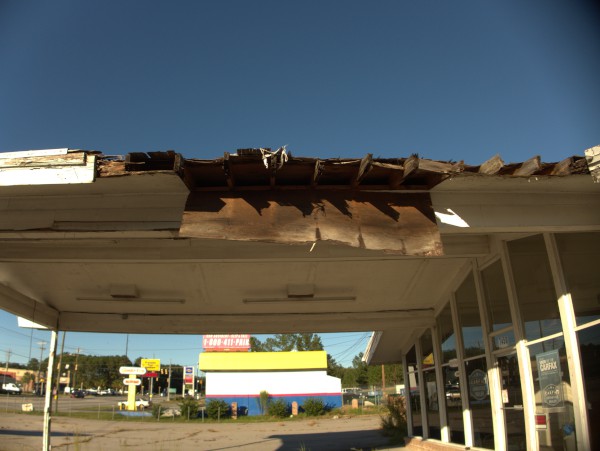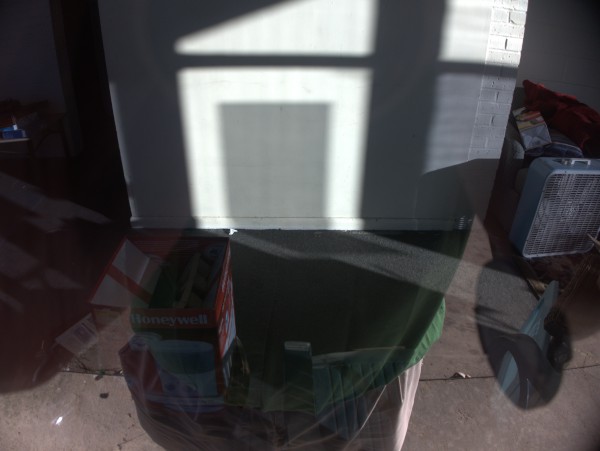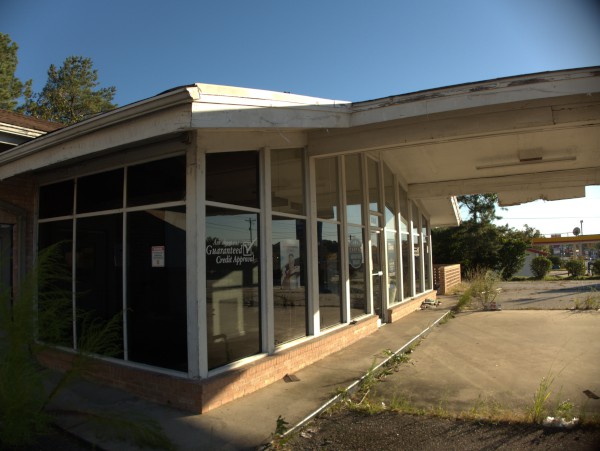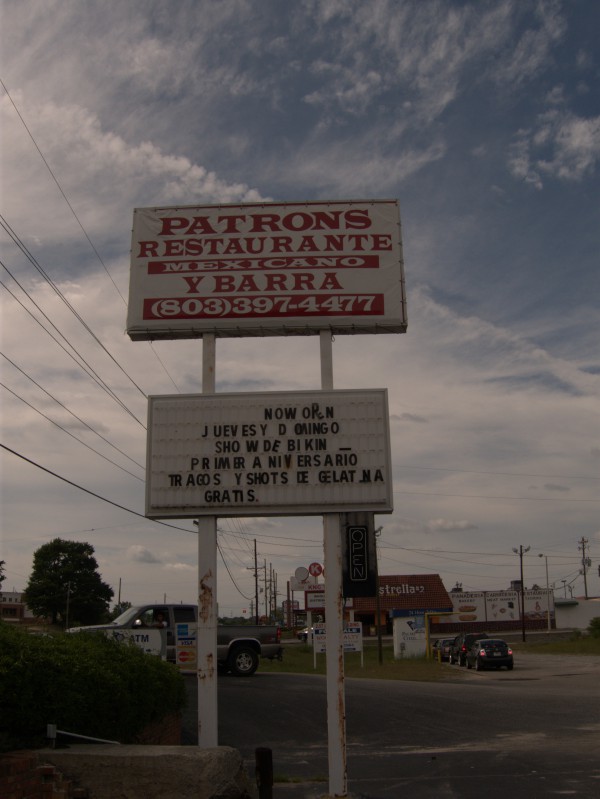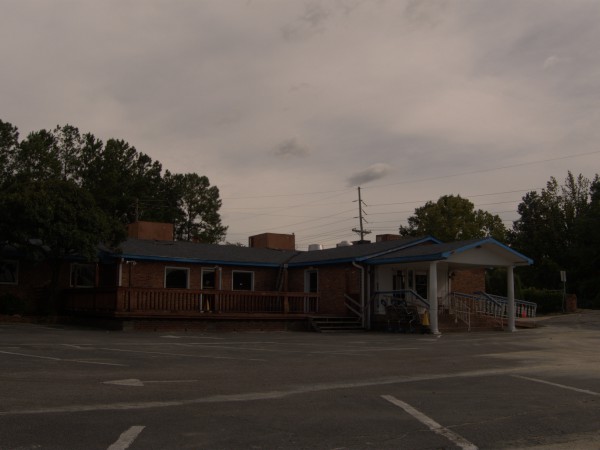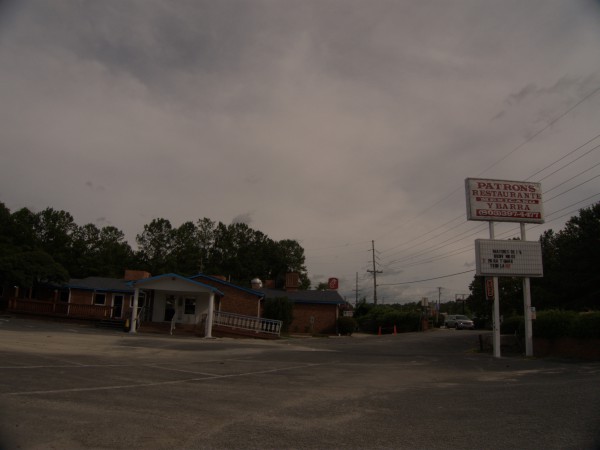 Well, I'm pretty sure that this follow-up operation to Zorba's and The Captain's Kitchen is gone. Or at least I've driven by it several times on weekend evenings now with no signs of activity despite someone having left the roadside OPEN sign turned on.
I never quite knew what to make of the place. It was obviously a nightclub with a latin audience, but it seemed to be open erratically, and for some reason despite it having been a fully kitchened restaurant in all its previous incarnations, Patrons set up a cooking operation on the deck. I don't speak Spanish, but "Show De Bikini" seems clear enough, and the rest of the sign would seem to indicate that the place made it to its one year anniversary at least.
A realty "for-sale" sign remains on the property, and has been there a good long time. I don't know if the owners finally decided to get serious about selling and kicked out the tennants or if Patrons just went under financially.
UPDATE 9 February 2012 -- Well, it appears that the next operation to give this building a go will be Continental: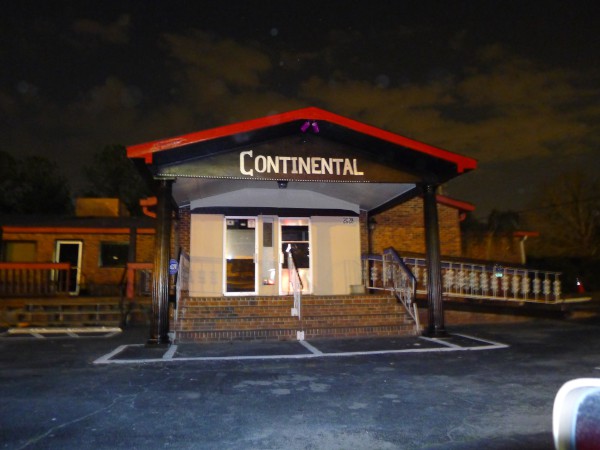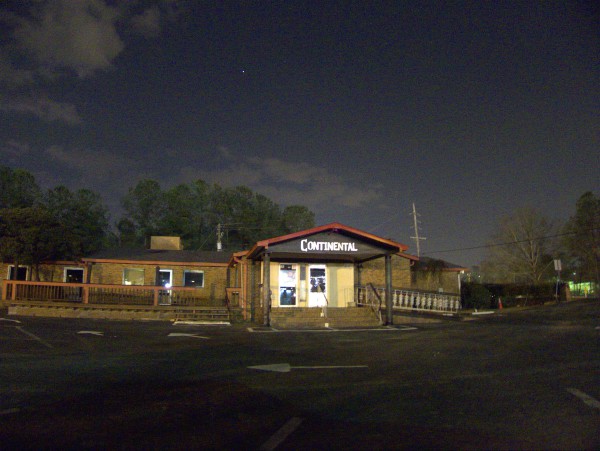 UPDATE 7 August 2019: Adding tags and map icon.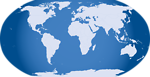 Posted at 9:54 pm in Uncategorized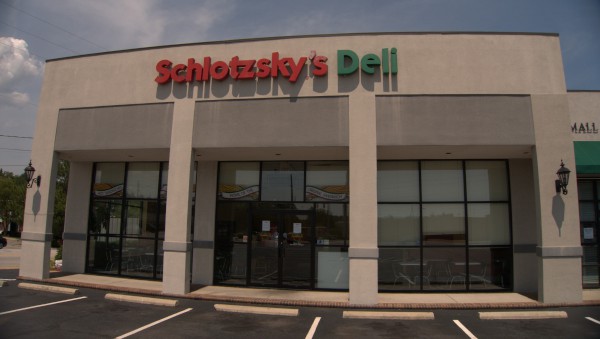 Well, let's see if I can manage to do a closing on a place that actually is closed today!
Schlotzsky's Deli on the corner of Parklane Road and O'Neil Court has been an off and on stop of mine for the last year or so. I like their sourdough buns and its a nice sunlit location to watch the traffic pass.
Last time I was there, they said they would be moving soon though they weren't sure yet to where other than the Dentsville area. In the meantime, it appears this space will become Kaboto Express.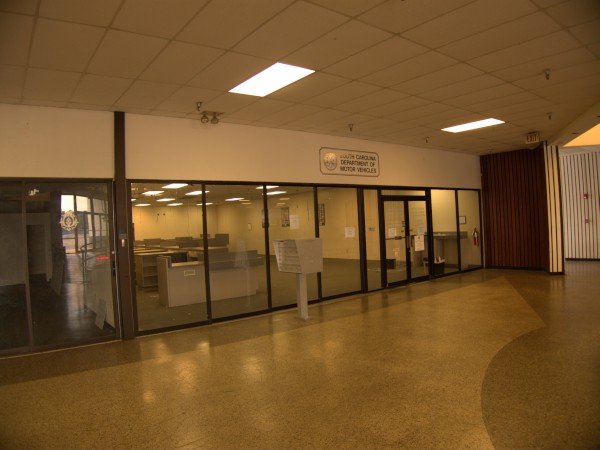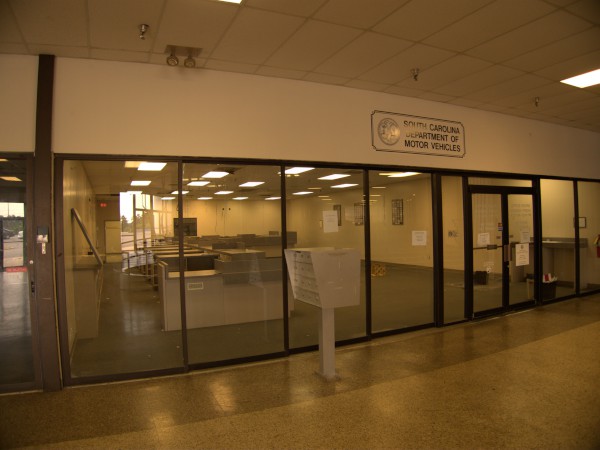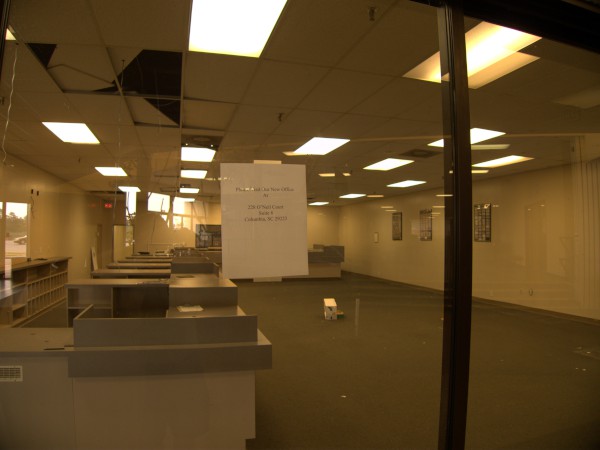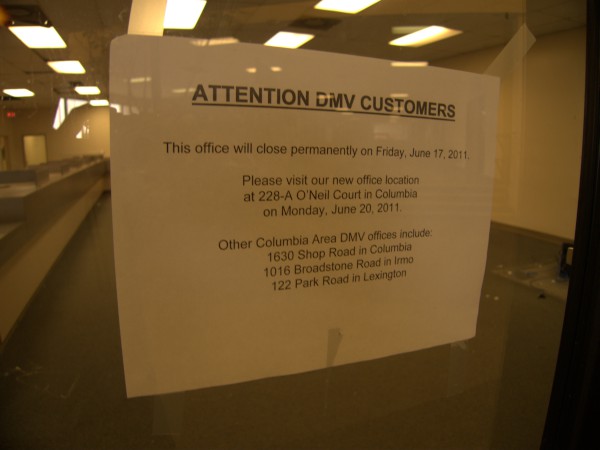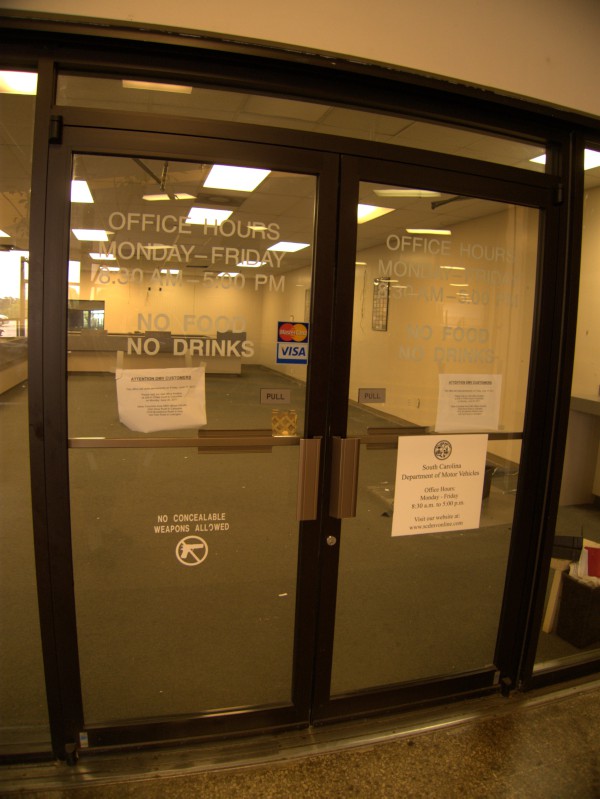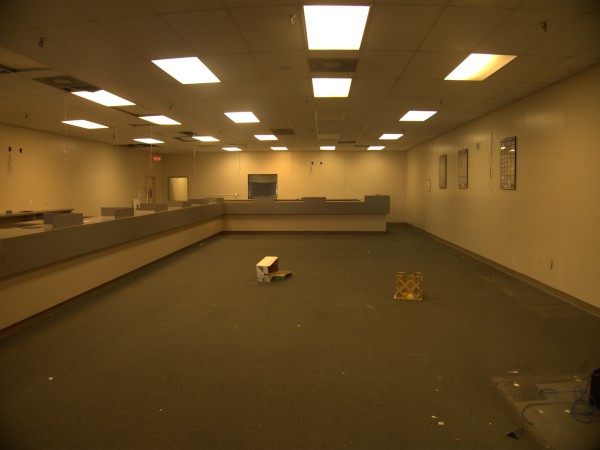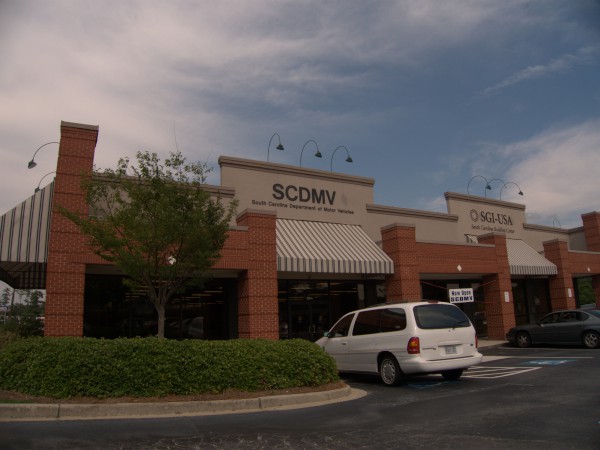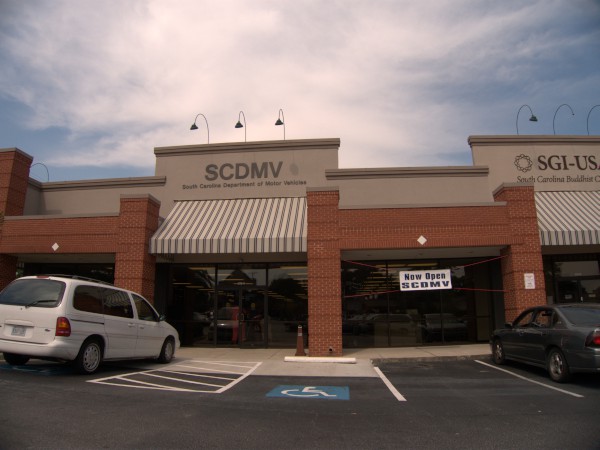 I was at Schlotzsky's on Parklane having lunch today when a guy came in looking for the DMV. Naturally, I sent him across Two Notch to Decker Mall: D'oh!
I realized my mistake as I drove down O'Neil Court just a little later, and saw that the DMV had relocated to the old Pro Golf of Columbia location in The Shops of O'Neil Court.
I suspect this has something to do with the purchase of Decker Mall by Richland County, though I would have expected the two different levels of government to work out a deal of some sort for the space.
Posted at 1:31 am in Uncategorized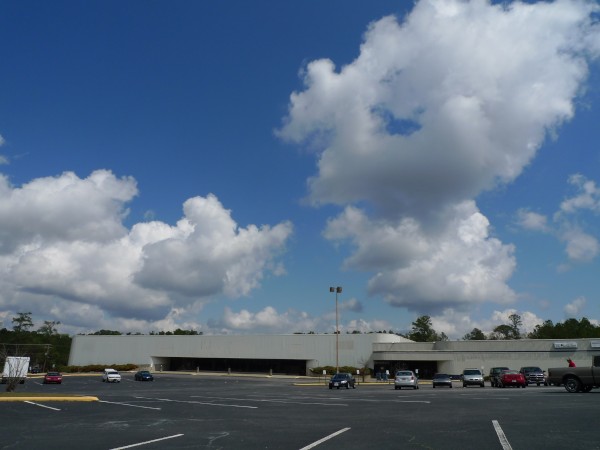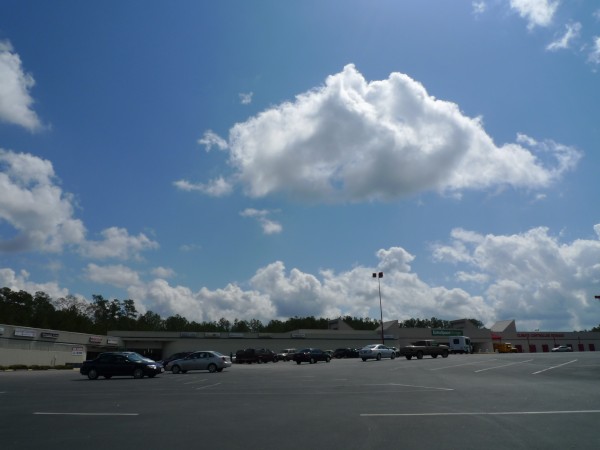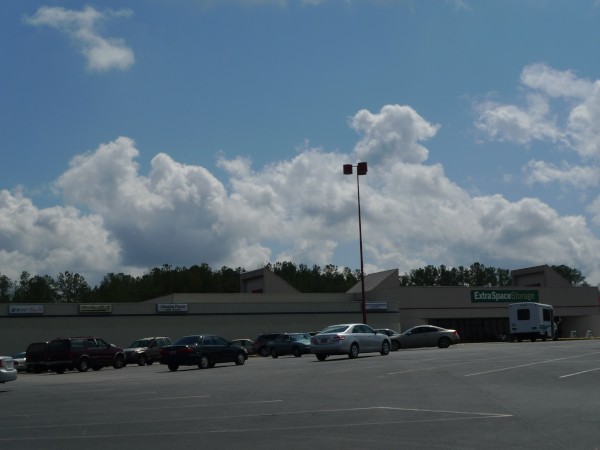 Richland County plans to buy a strip mall on Decker Boulevard and relocate yet-to-be-determined offices there as a way to address a cramped courthouse and administrative offices.
This, of course, is the former home of Kroger Sav-On, Land of Oz, Little China Buffet, Richway/Gold Circle/Target, Flipside and many other things over the years.
Posted at 3:58 am in Uncategorized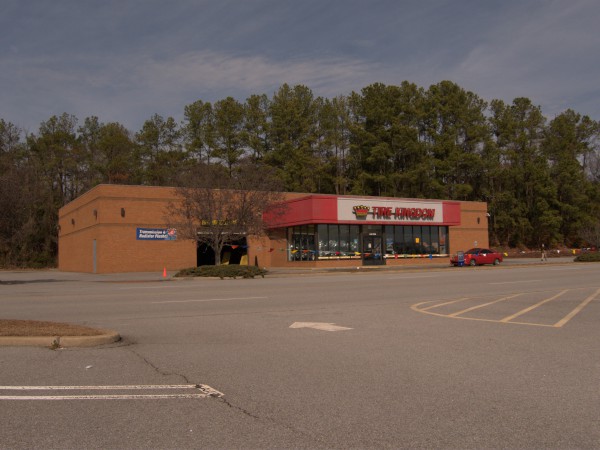 National Tire & Battery (now a Tire Kingdom) was in this Columbia Mall outbuilding more or less behind the old Penny's location. I actually did go there once a few years ago when my car started really thinking about things before turning the starter over. I usually put Die Hards in my cars but for some reason or another I was not able to get served by Sears that day. I'm not building up to anything here -- it was perfectly acceptable service and a battery that lasted several years. (I've actually had much worse luck with alternators than batteries anyway). I guess I would have been hosed if I had needed to take advantage of the battery warranty as they closed fairly shortly thereafter, but in the event it wasn't an issue.
I don't believe the building was vacant long at all as Tire Kingdom moved in shortly thereafter. I find it a little amusing that this large, freestanding building has only a suite number, while all the little suites at The Shoppes at Meeting Place have full street numbers.
Posted at 11:35 pm in Uncategorized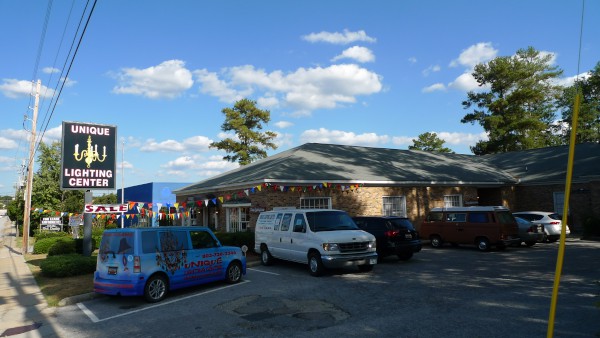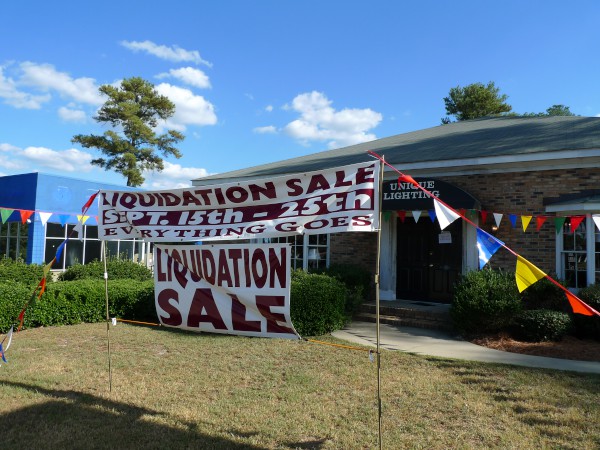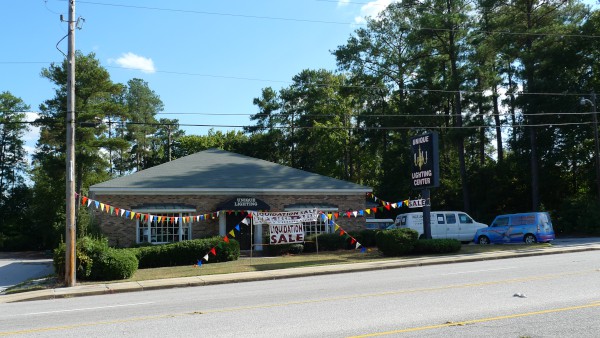 Unique Lighting Center has been on O'Neil Court, just down from Parklane and beside the former NAPA store for a number of years. I actually had occasion to go in there about a year ago. I was looking for a replacement bulb-clasp shade. I had looked unsuccessfuly in a number of non-specialty locations with no luck, but they actually had one here. I figured that eventually I would go back to see if they could replace the globe in an old mogul-base floor-lamp I have, but that's yet another task I didn't get around to soon enough.
UPDATE 16 Oct 2010 -- They are definitely closed now. The banners are still up, but the door signs say "Store Closed" & "Out of Business":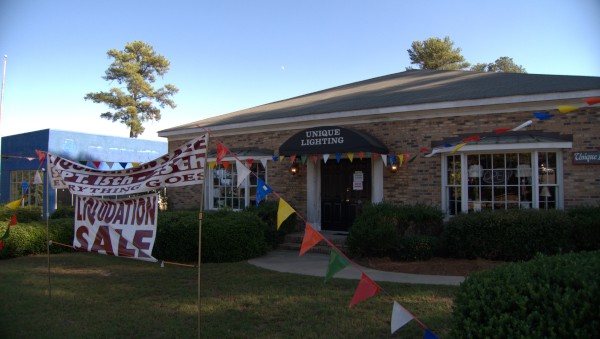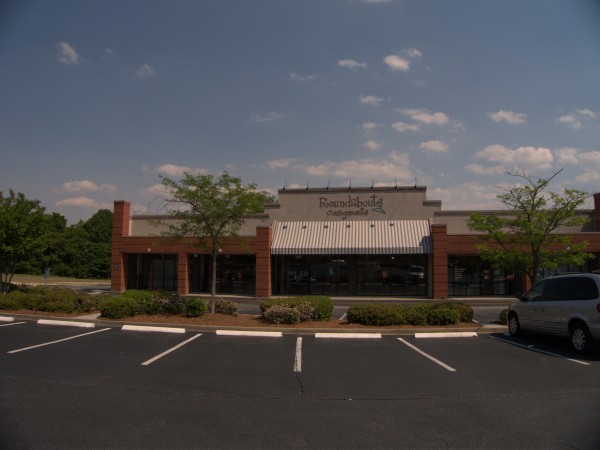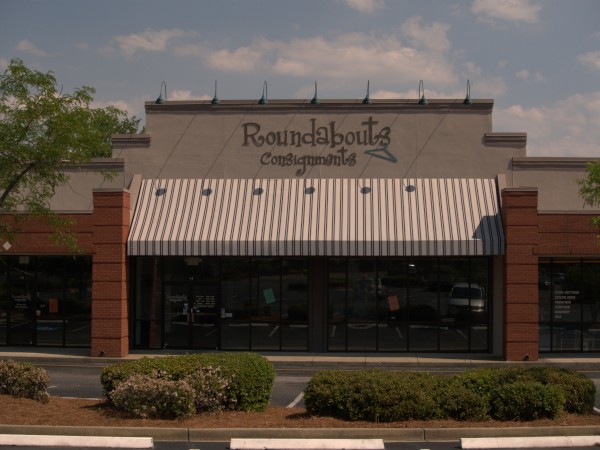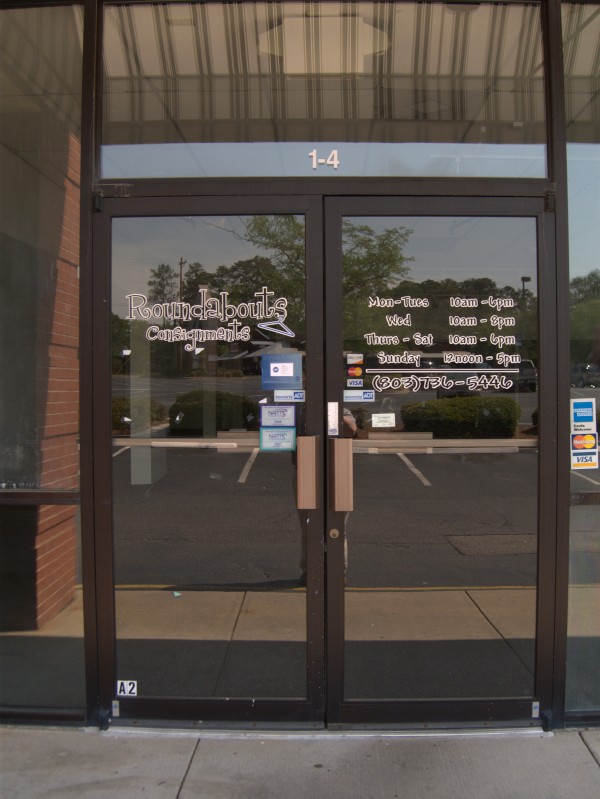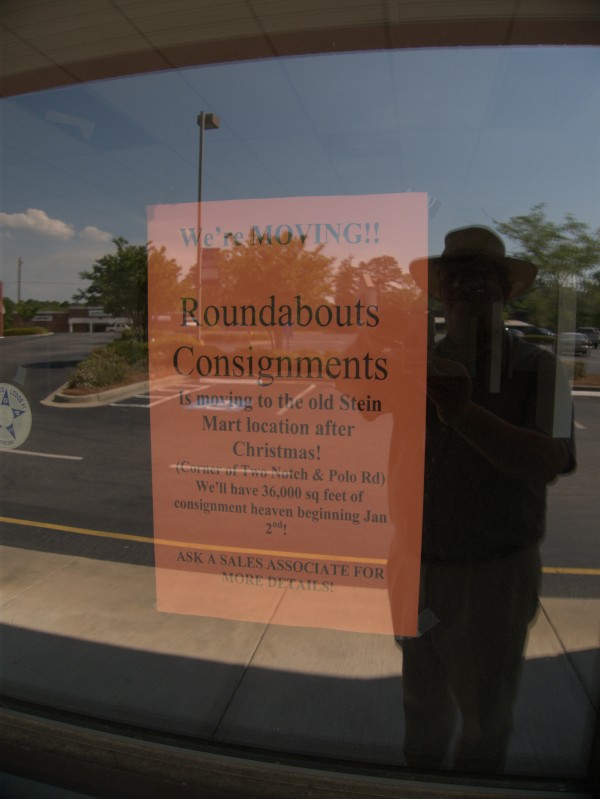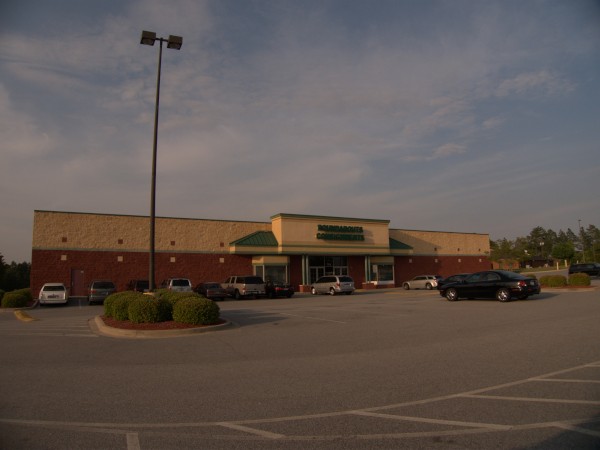 Here's another vacancy at The Shoppes of O'Neil Court. According to Loopnet there are currently six open spots there. This one has been vacant going on half a year now, and the Pro Golf of Columbia slot has been vacant at least a year and a half..
According to the Roundabouts web site, they were established in 2003 as Capital City Consignments and this site was their second storefront, the original one being another slot in the same plaza. This January they moved into the old Stein Mart location at 70 Polo Road. To me it seems like sort of a wash from a visibility point of view. O'Neil Court is off the beaten path, but while the Polo / Two Notch location gets a lot more drive-bys, it's up on a hill that makes it invisible from the road, and there's really nothing else in that plaza to pull traffic in...
UPDATE 7 September 2012 -- There is now (and has been for a while) another consignment store Divine Consign in the old Roundabouts location: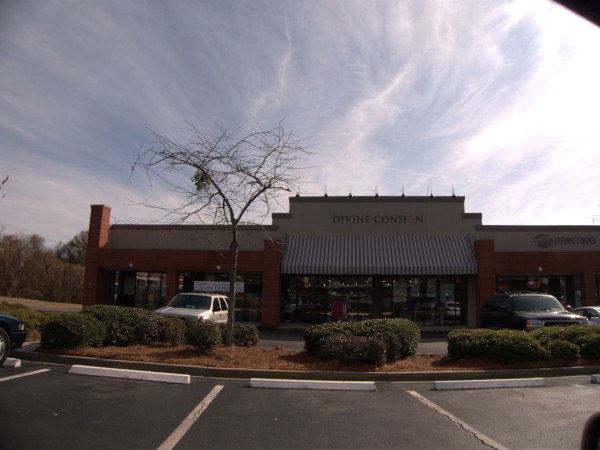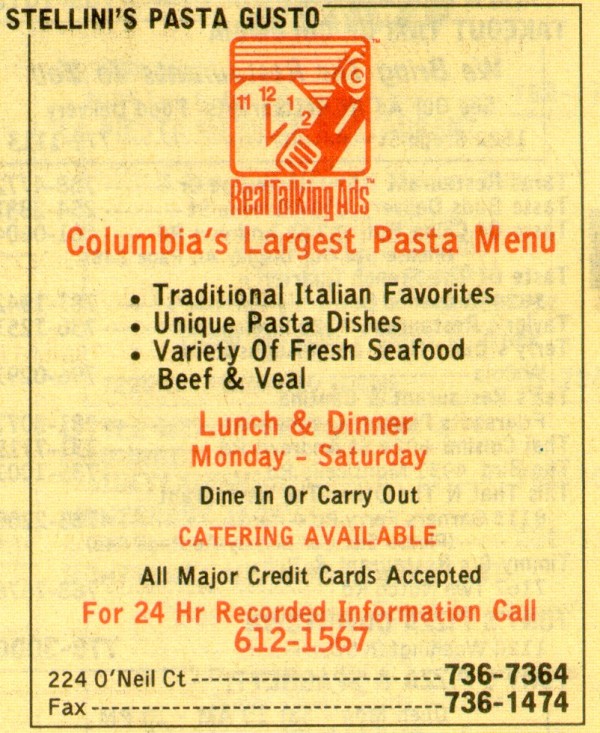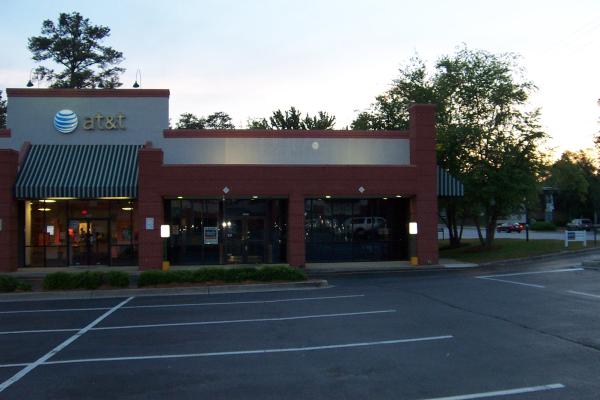 Stellini's was on the corner nearest to Columbia Mall at The Shops at O'Neil Court. I believe it was perhaps the longest lasting restaurant in that little hard-luck plaza, though as I recall the sports bar run by the Very's folks lasted a number of years as well.
This ad from the 1998 Bellsouth yellow pages claims the largest selection of pasta in Columbia. I actually can't remember much about that. If I am remembering correctly, the times we went there, what most impressed me was the garlic bread, which was strong and gooey, not that "hint of garlic on overbaked toast" thing some places do. I do think they had a number of pesto dishes which weren't too common at the time, but while I might try one now, at that point I was still fully in tomato-based mode.
I don't think business was ever great in this location despite theoretical drive-by traffic between Columbia Mall and Two Notch, and I wasn't too surprised when the place closed. I believe at least two other restaurants tried the spot (there was definitely one) but nothing ever lasted long-term, and currently the space is empty and available.
Posted at 2:57 am in Uncategorized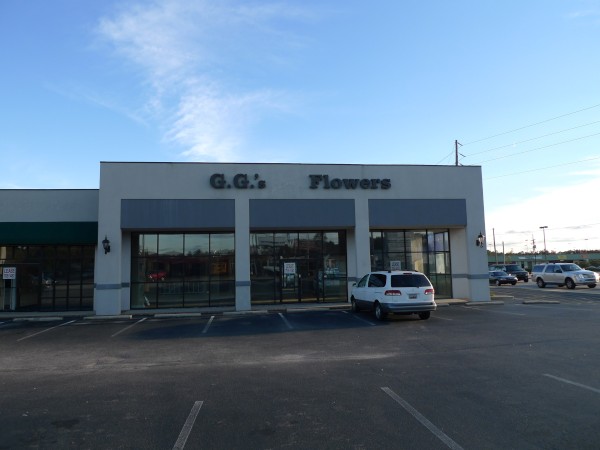 I like to eat lunch at the Schlotzsky's on the corner of Parklane and O'Neil Court sometimes, and the last time I was there, I noticed that several of the suites in the little corner strip it occupies were vacant. You would think that it's a visible high-traffic location, but I guess being near Columbia Mall isn't the draw it used to be.
If you click through to the large version of the picture, you can tell that there was originally some other writing between "G.G's" and "Flowers", but I can't make out what it would have been. I'm putting 2009 as the closing date here, but honestly I can't recall if I ever saw the place open or not. I guess florists don't really impinge much on my attention.
UPDATE 26 Feb 2011: Changed the title to give the full shop name "G.G's Artistry In Flowers" given in the comments, and in the main marquee for the Corner Shoppes of Parklane, which I somehow totally missed when I took the initial picture above. Here it is: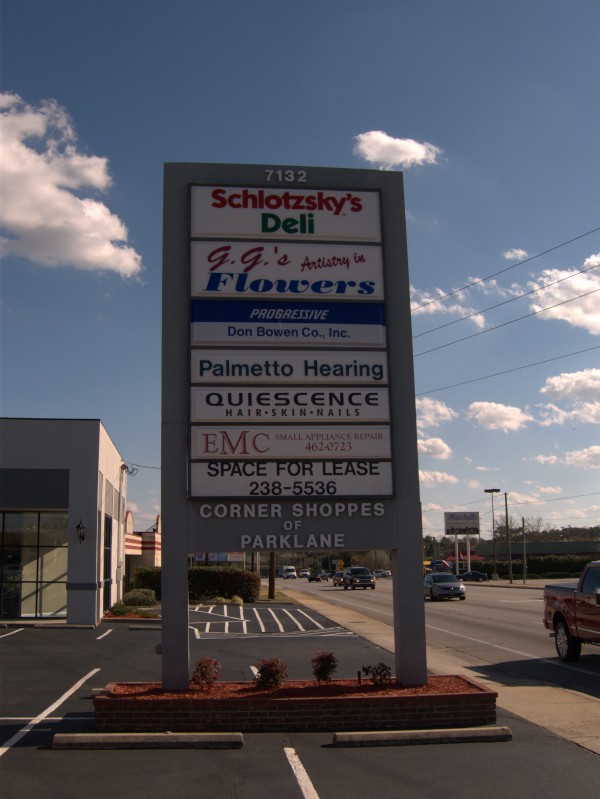 UPDATE 28 March 2011 -- It's now a We Buy Gold place: