Archive for the 'Frink Street' tag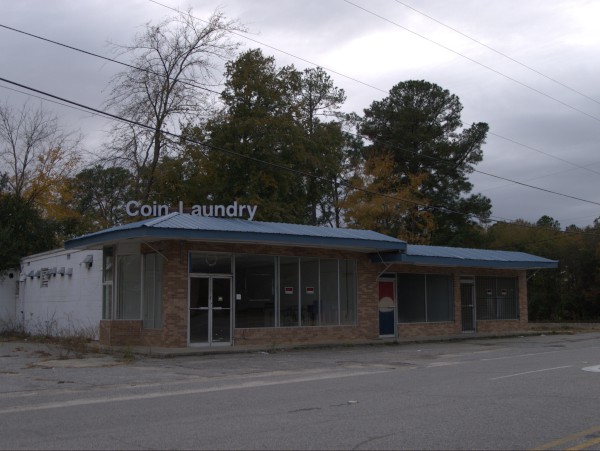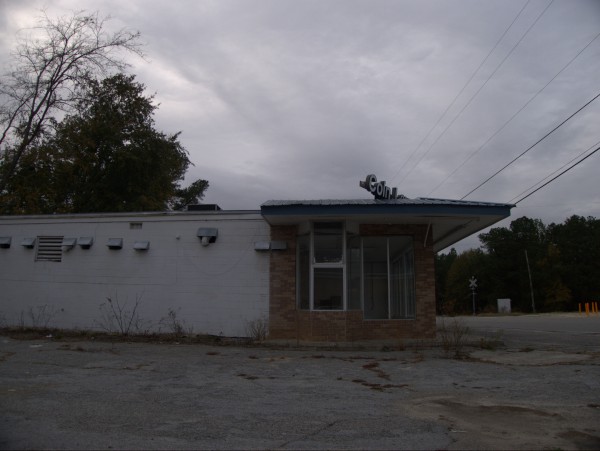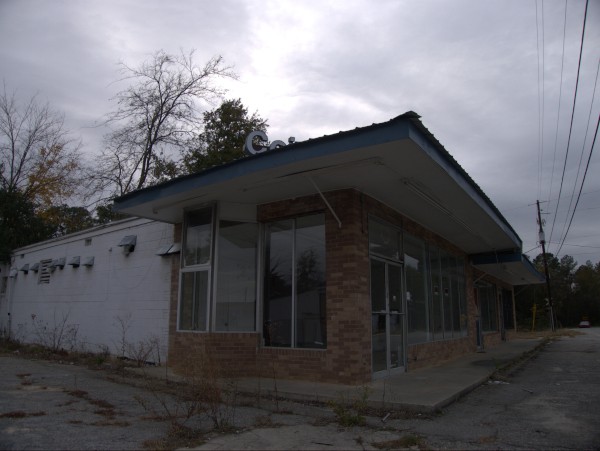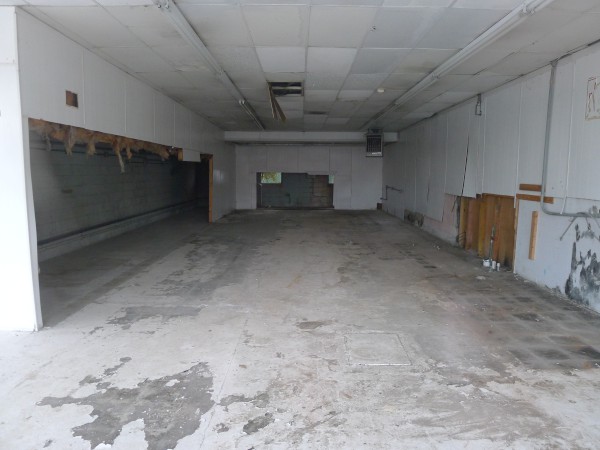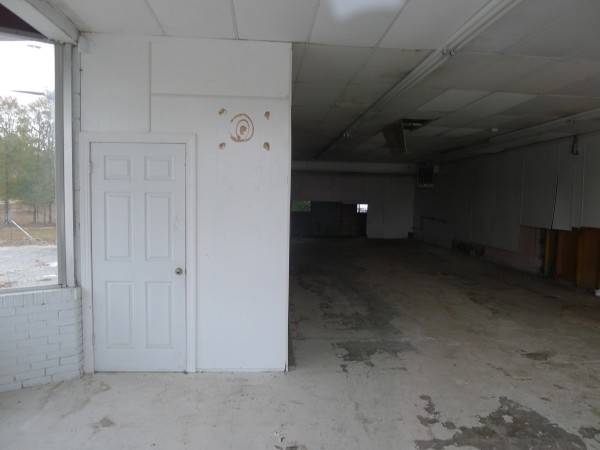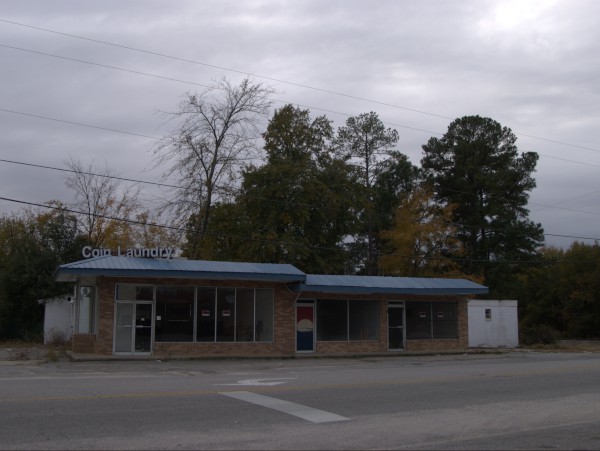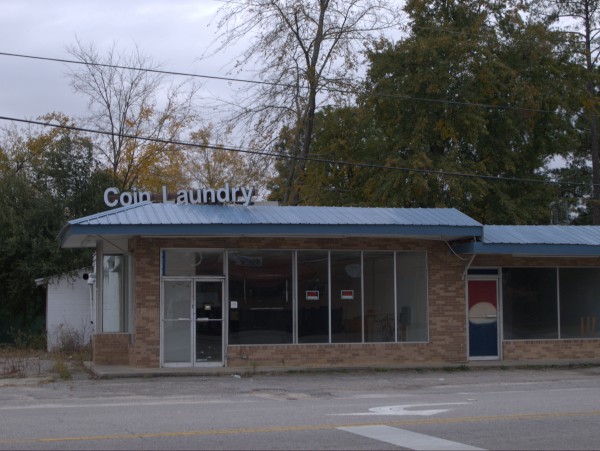 This old laundromat is across the street (Dunbar Road) from Frink Street's Town & Country plaza, and looks to have been vacant for a good while.
City Feet says it was built in 1970. To me it looks a little earlier. These places always had a certain smell, and a certain look, with the soap dispenser machine with its metal levers and slots, the hard plastic bucket chairs welded to a rail, and the plastic high folding tables. And of course, the whish-whish sounds of the washing machine agitators and the clinks of metal buttons each time the jeans got to the top of the dryer drum and fell down again..
UPDATE 14 December 2012: Updated the closing date from "1980s" to "mid-2000s" based on the comments.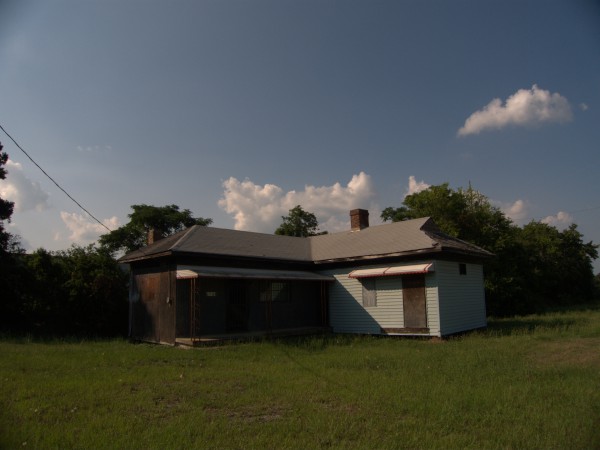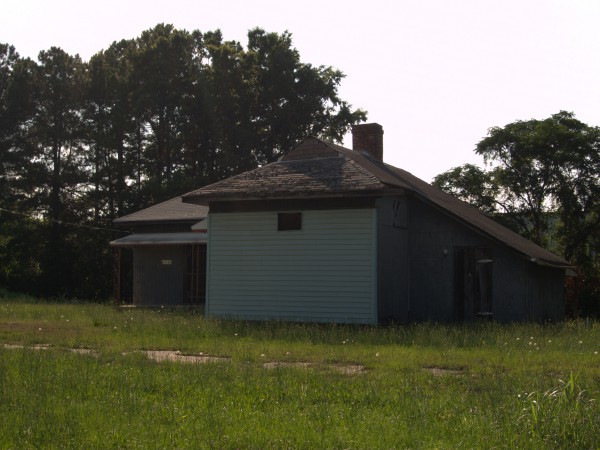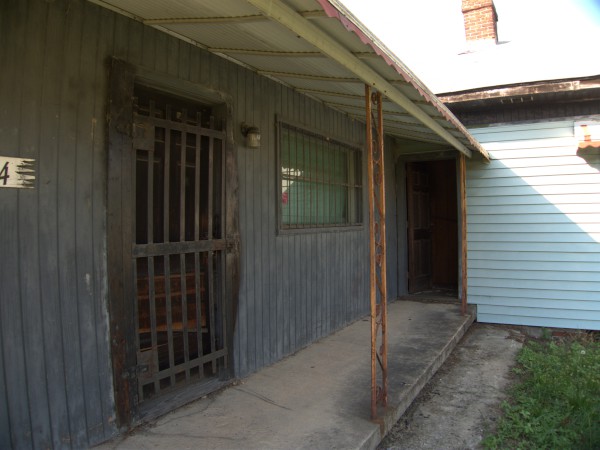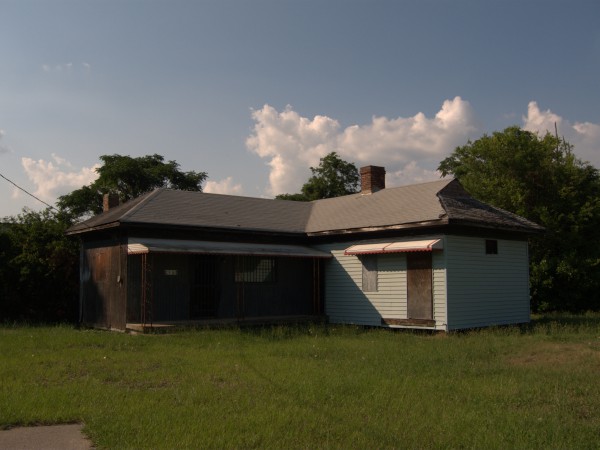 I am reasonably certain that this old building on Frink Street in Cayce was a non-retail business at some time (though it may have started life as a small residence), but can find out nothing about it. Usually a google of a street address will bring up some sort of tax assessment or tax info, old references to departed businesses or some sort of "For Sale" listing, but none of that seems to be the case here.
UPDATE 22 February 2012>: Changed post title from "Building" to "Barber Shop" based on the comments. Also changed closing date from 1970s to "Early 2000s"
UPDATE 29 March 2012: Added "Creamer's" to the barber shop name based on a comment from Mr. Creamer's grandson.
UPDATE 25 November 2012 -- Looks like work is going on here, or at least the next door neighboor's fence is now in front of the property.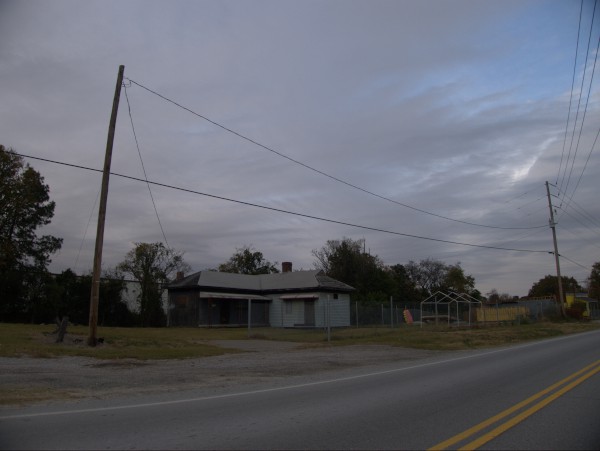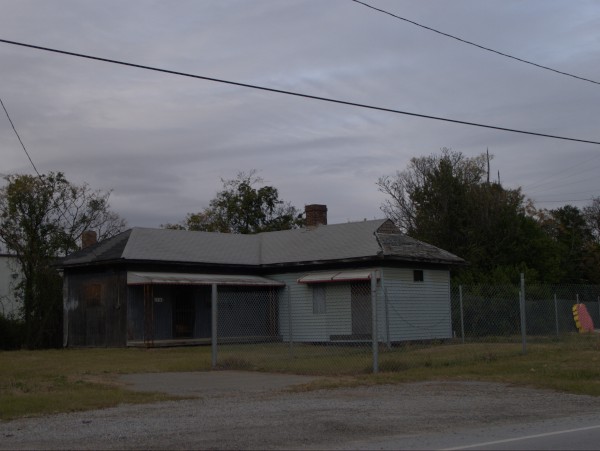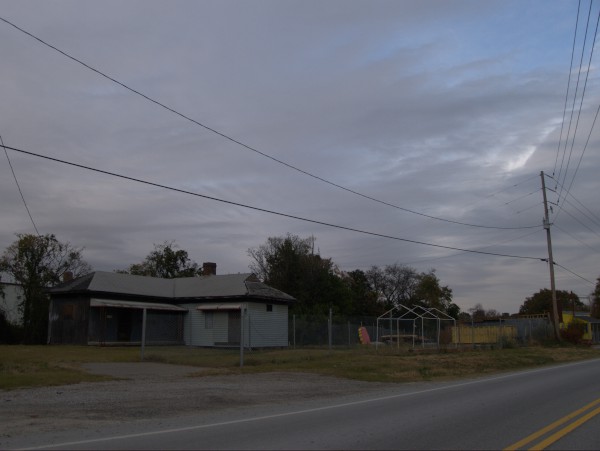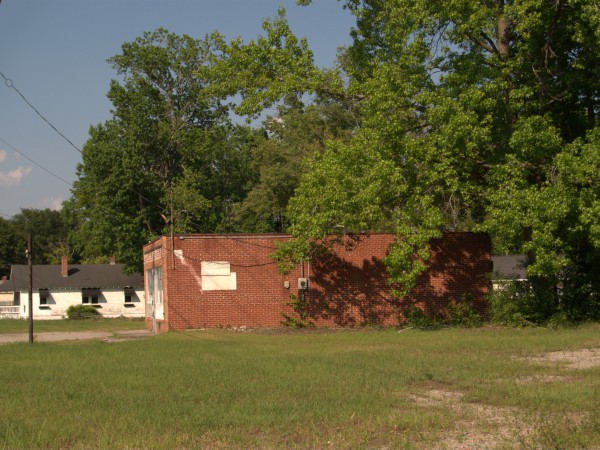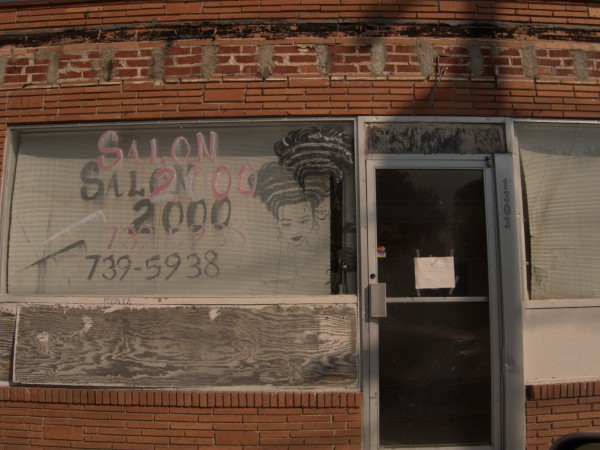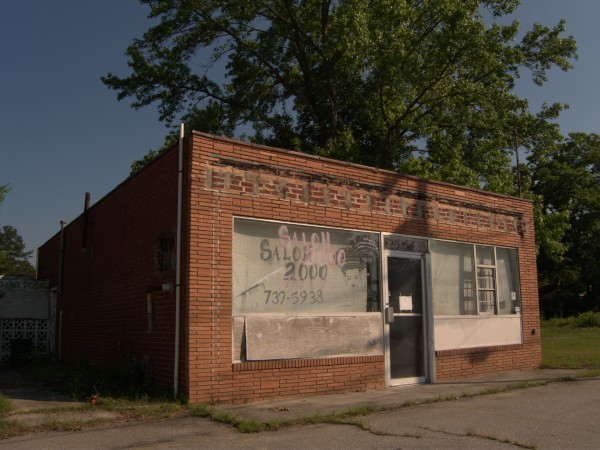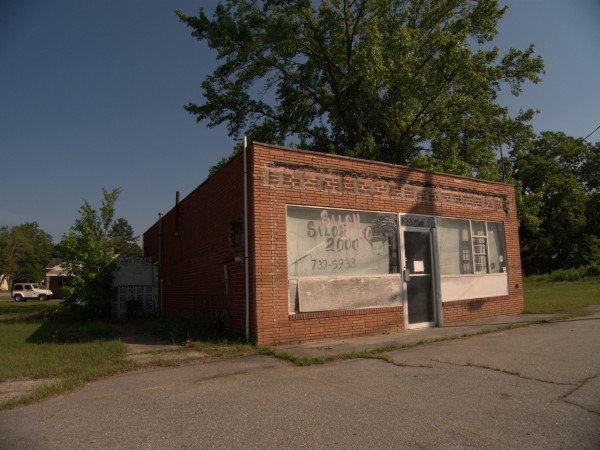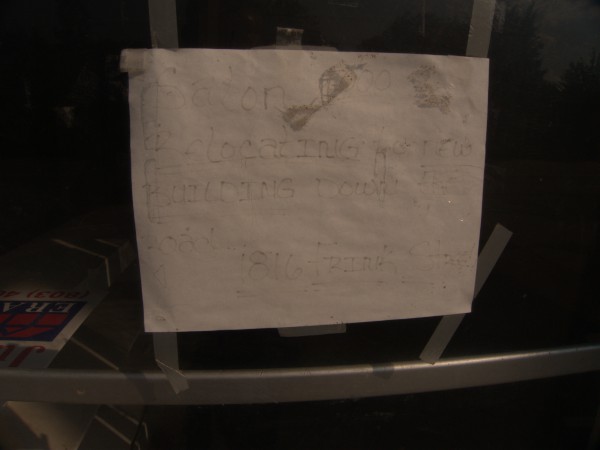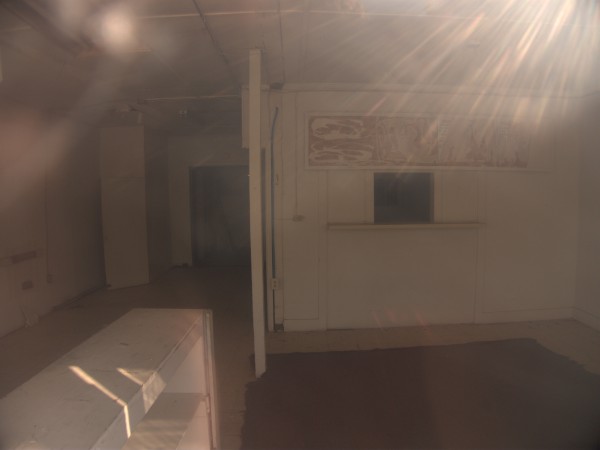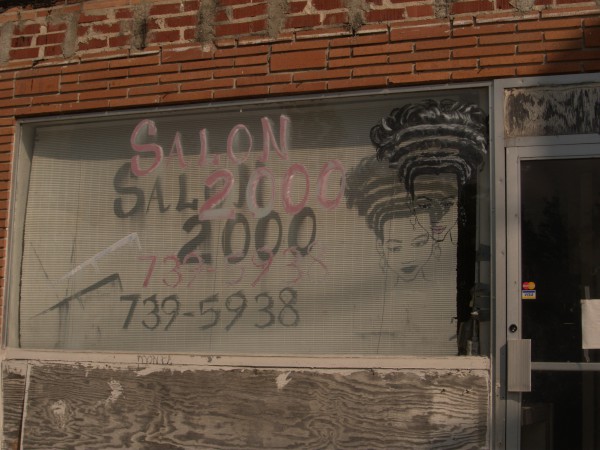 Here's a nice square little brick building at the corner of Frink and James Streets in Cayce. You can read the sign on the door if you click through to the high-res version, but the gist is that this beauty shop moved to 1816 Frink Street. Now, I find Salon 2000 listed at 1816 Frink in the February 2007 phonebook (one of those I have without going to the library), but not afterwards, so a) I guess this place could have moved any time before that, and b) apparently it did not last too long there. (There is also a Salon 2000 currently listed in Forest Acres, but since they were both listed in the Feb 2007 book, I don't think they are the same).
Notice the nice graphic of the lady's head in the last picture. The one you are probably looking at is actually a shadow cast by the one painted onto the window. It's a nice effect: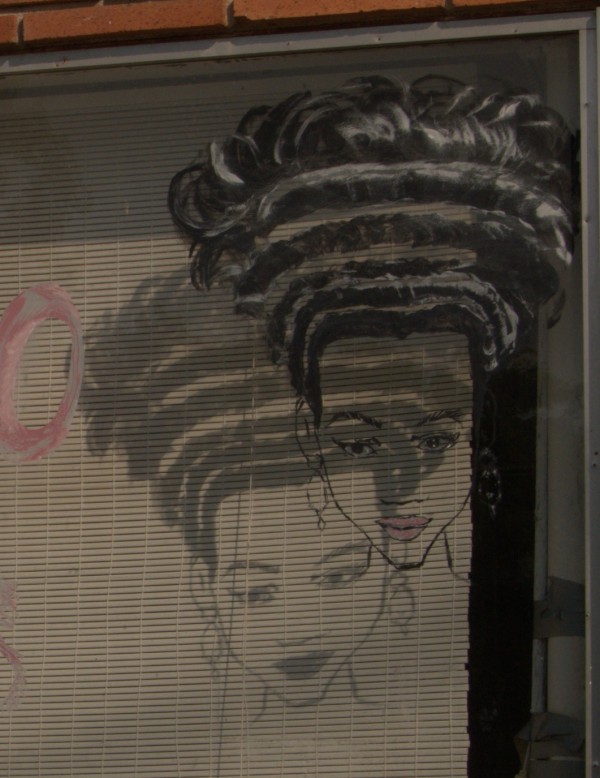 Update 25 November 2012 -- As mentioned in the comments, the windows are now boarded up: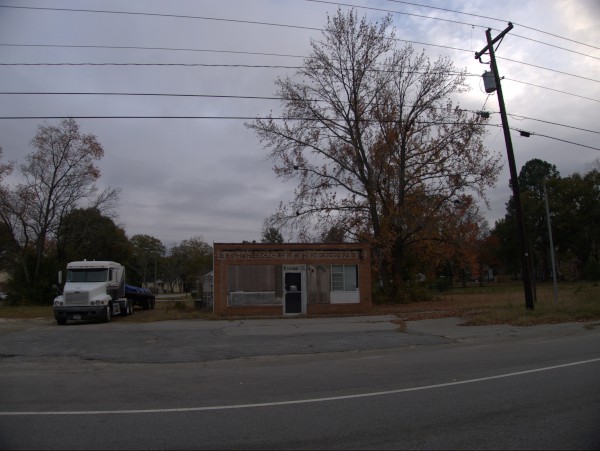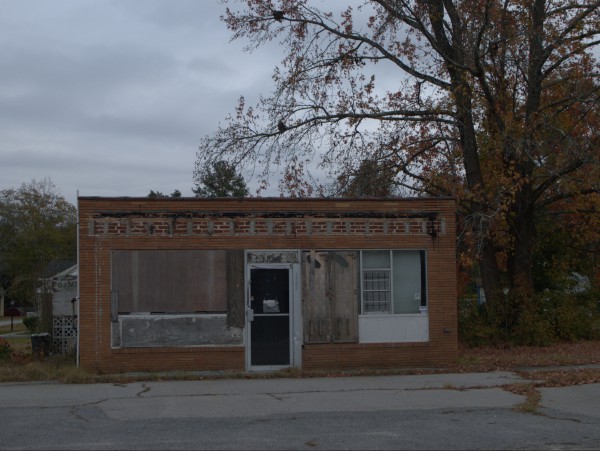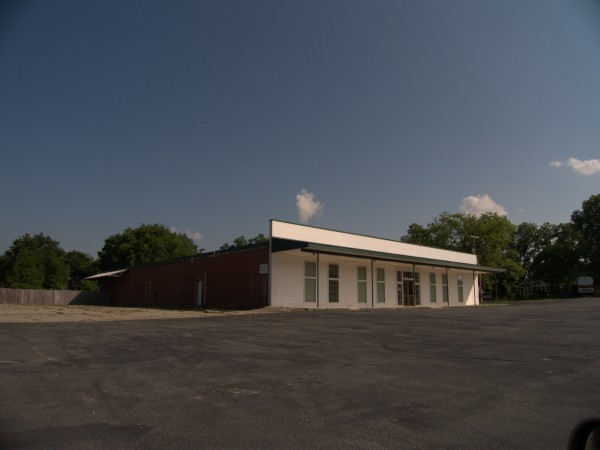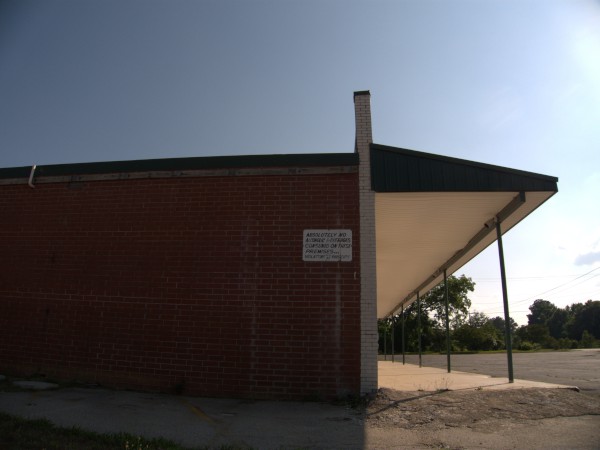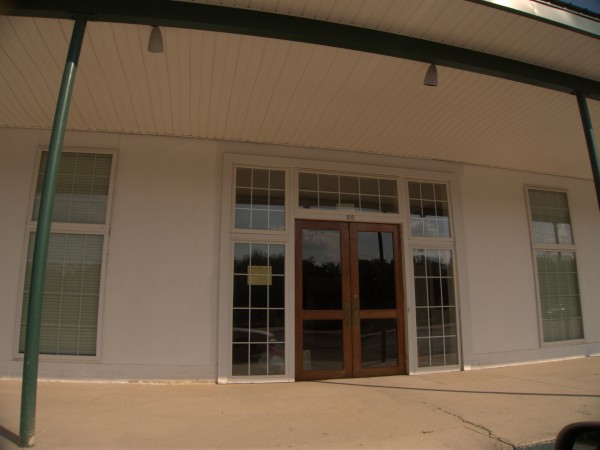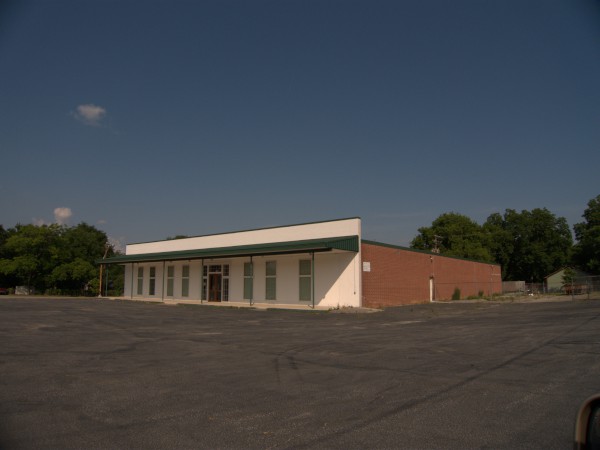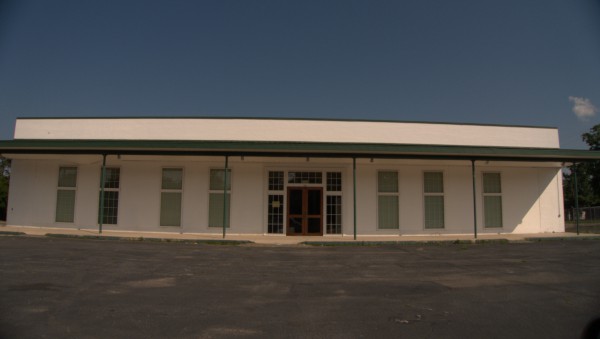 This LoopNet listing says that this building on the South side of Frink Street west of 12th was originally a grocery, and that is especially clear in side views. I don't know what chain it was, but the LoopNet statement that it was built in 1995 looks wrong to me -- I would put it in the 1960s.
Since then it has apparently been a lot of things: Two different churches, a construction company, a bingo parlor and a cellphone store. It is currently vacant, but as you can see, there is a building permit in the door, so presumably it will soon undergo yet another incarnation.
UPDATE 6 July 2011: Changed the post title from "Grocery" to "Piggly Wiggly" based on the comments. Also added "Ace Hardware" to the list of tenants.
UPATE 5 June 2014: Added Red & White to the post title based on the comments.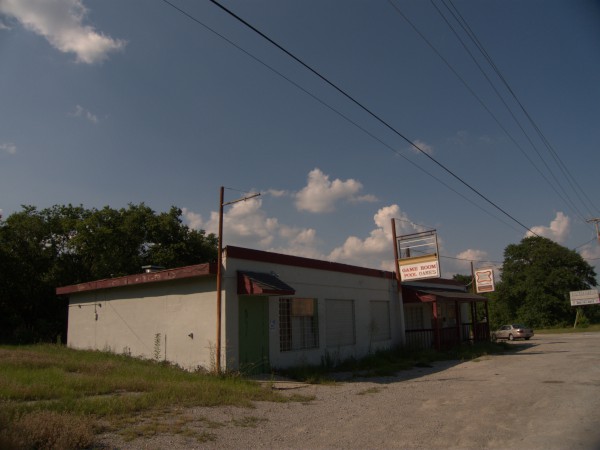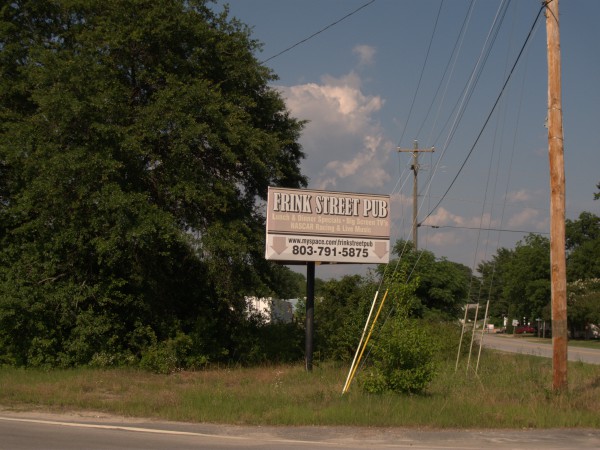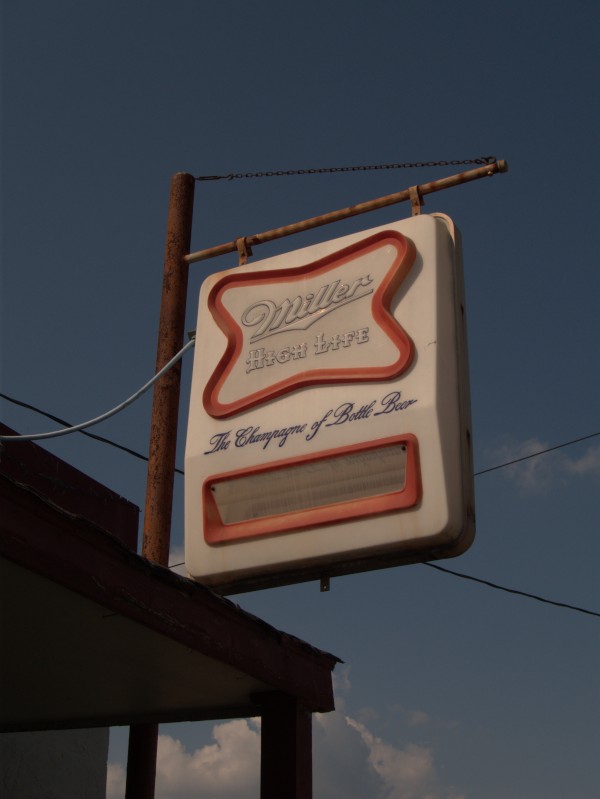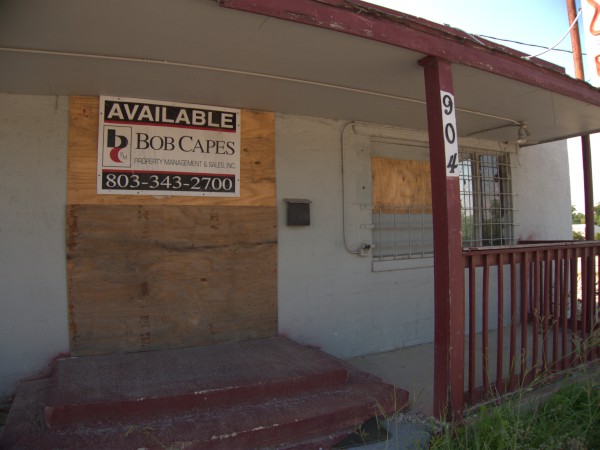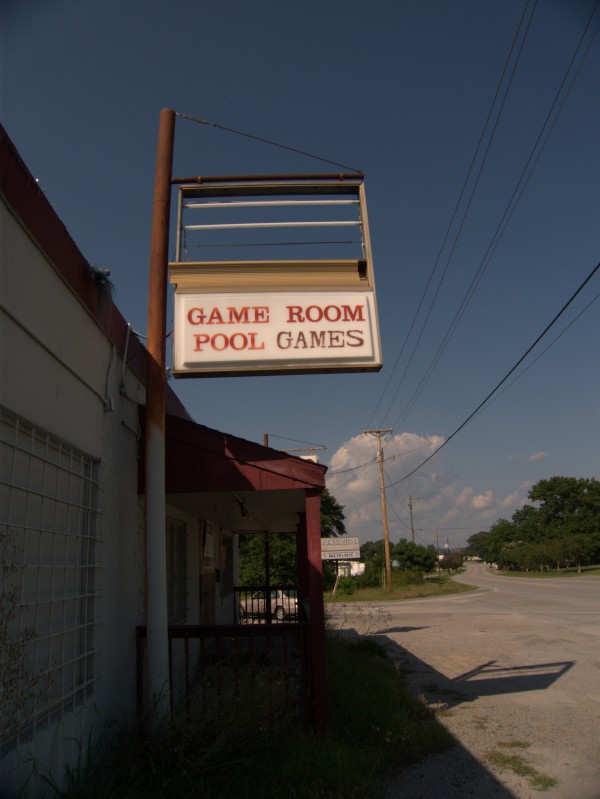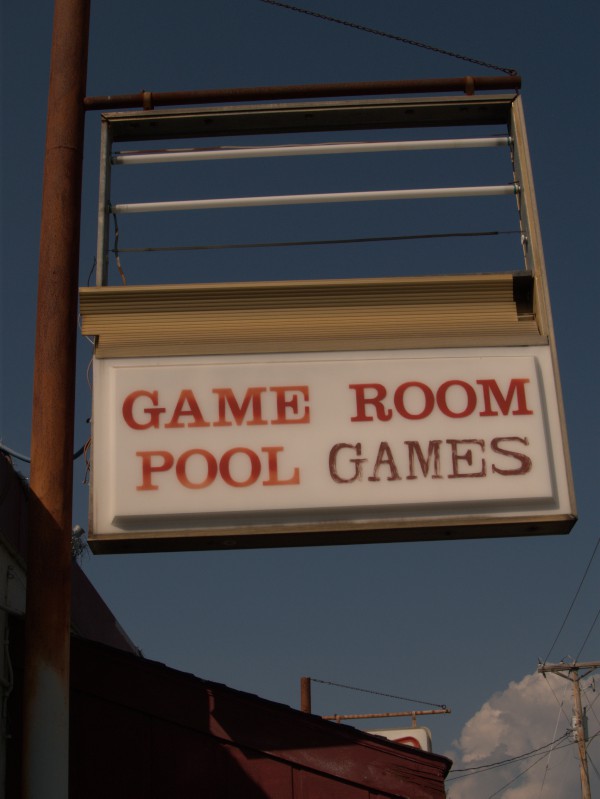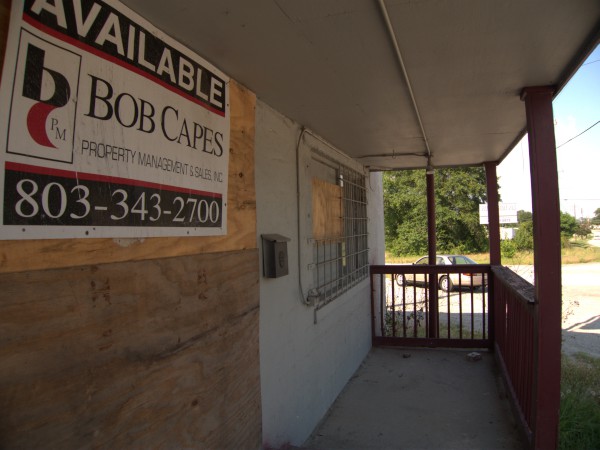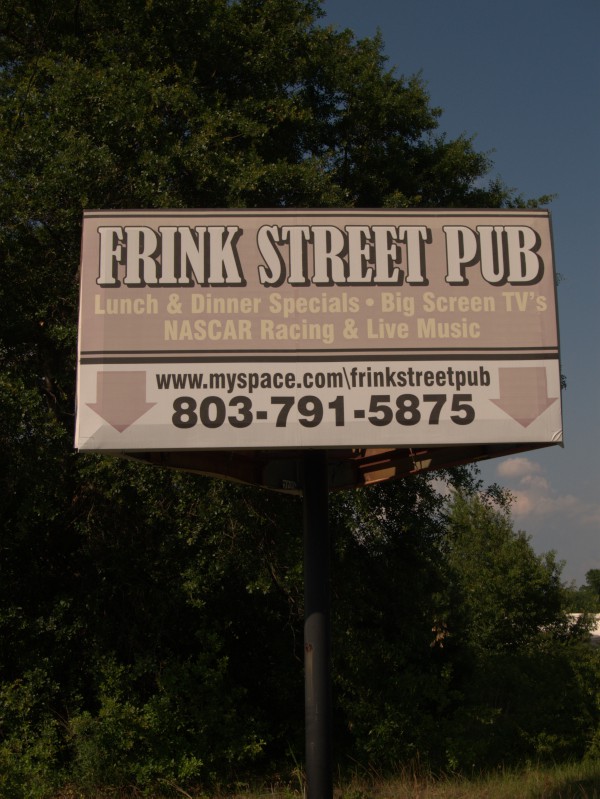 The champagne of bottle beer -- is that like The Cadillac of Fords? It just seems an odd comparison..
Obviously this building in Cayce at the corner of Frink & Ferguson Streets has been there a long time, and has probably been many things. The only two I can turn up in google however are Frink Street Tavern and Frink Street Pub, and in fact I'm not entirely sure those are two separate businesses instead of a variant name or mis-listing. If the are two separate operations, then Frink Street Tavern came first with Frink Street Pub opening and closing in 2007.
I say that because the myspace page given on the street sign still exists (after correcting the backward-slash vs forward-slash typo), and proudly proclaims an opening date of 25 February 2007 (while still looking for bartenders and "Kareoke" performers on 18 February..), giving this description:
We are a local pub located at 904 frink street cayce south carolina ...We have pool tables , golden tee , silver strike bowling and many other games ...we have the lowest price drinks anywhere , most beer is only a buck most liqour is only 2 bucks .....we do Kareoke ... live music ,juke boxes ,and like to have a good ole time ...We play country music , classic rock, and other good music ,we are open monday thru saturday from 2pm until ...and available for private party rentals on sundays .....Please stop by and enjoy an ice cold beer and get to know us ...you will have a great time !!!!!!!!! call us at 803-791-5875
However, the place is not listed in my Feb07-Feb08 or Feb08-Feb09 phonebooks, so I surmise that it did not make it through the year.
The various real estate listings all make clear that at this point this particular "track" of land is being sold with the building as more of a afterthought than an asset.
UPDATE 6 February 2012: Added Mote's Store to the post title based on the comments (which you should read). Apparently it was a little-bit-of-everything type old-time store.
UPDATE 25 November 2012 -- Looks like somebody has bought the property and is doing some work: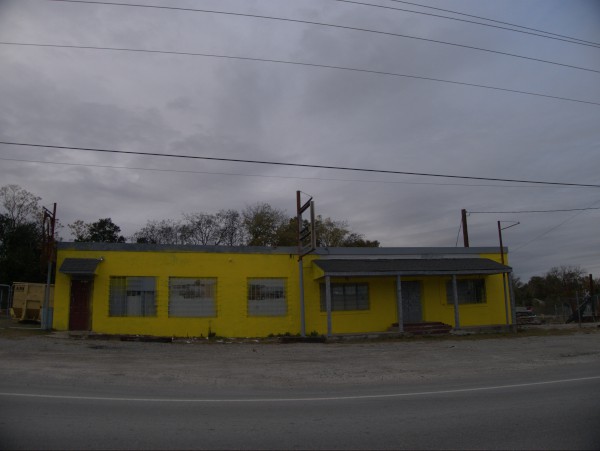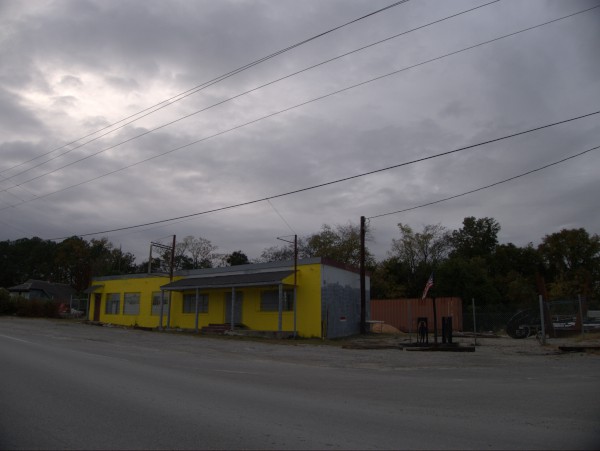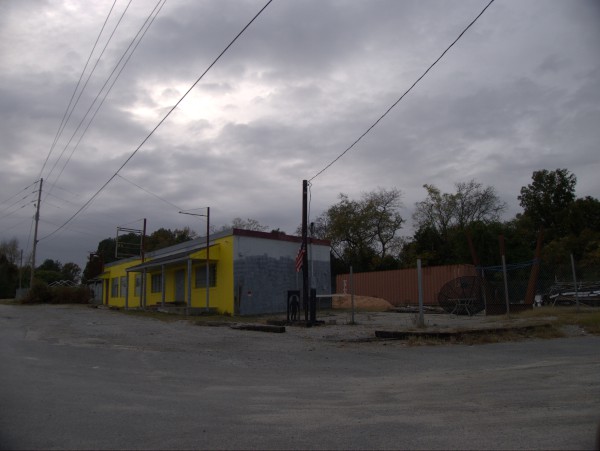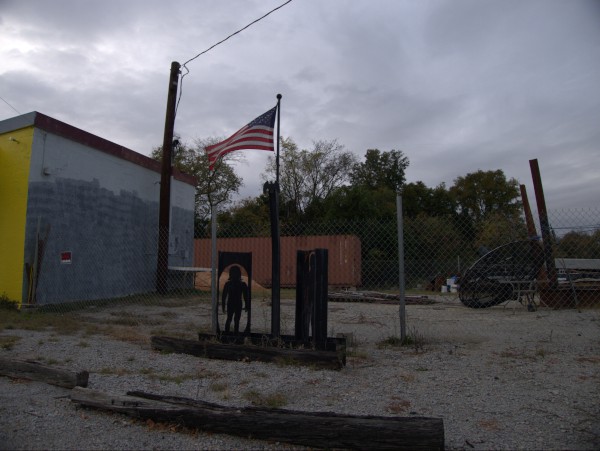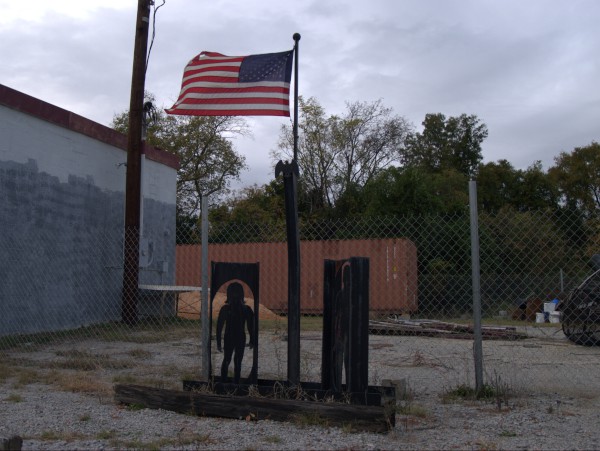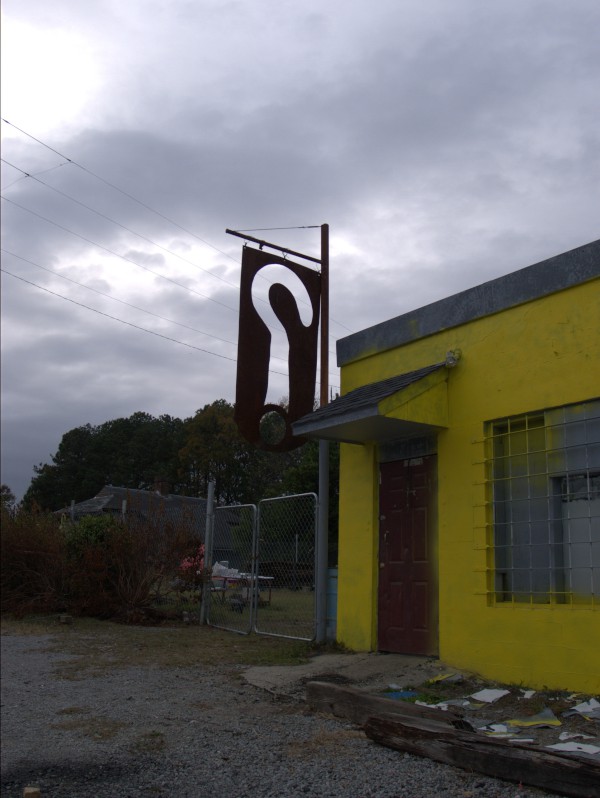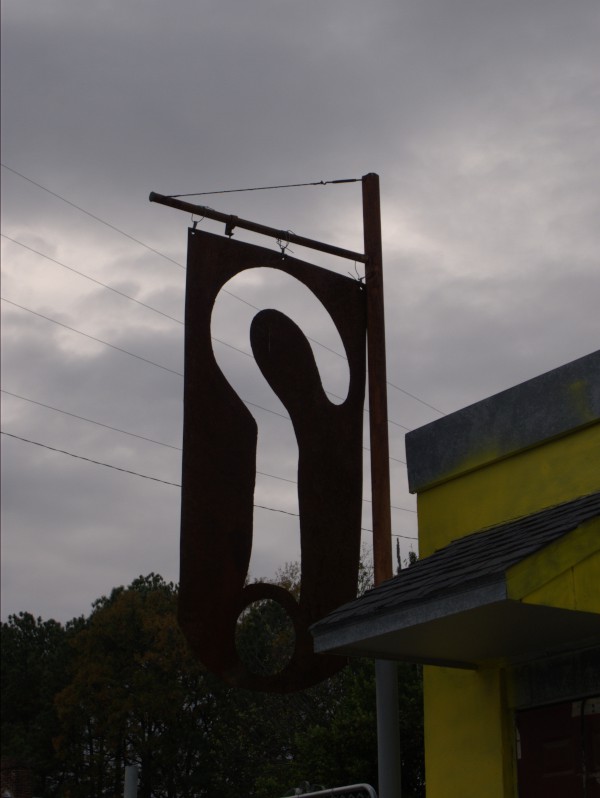 Posted at 3:19 am in Uncategorized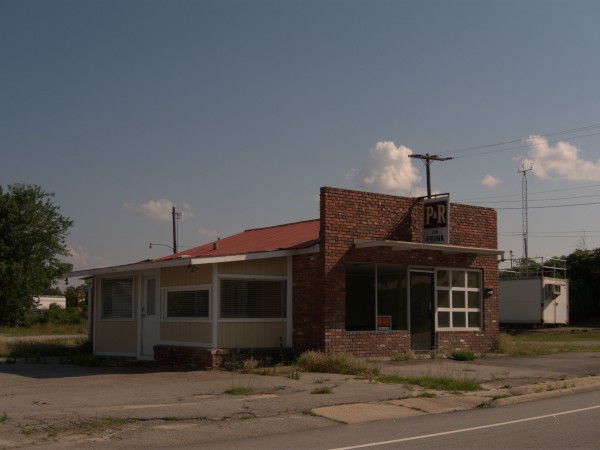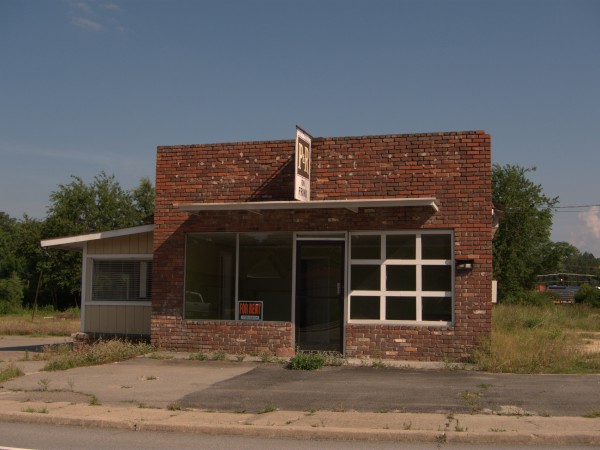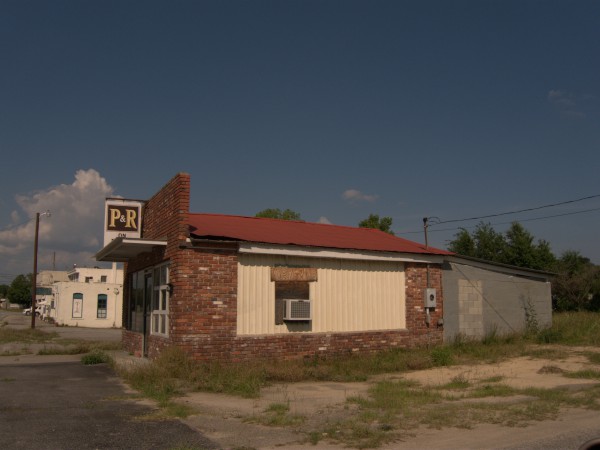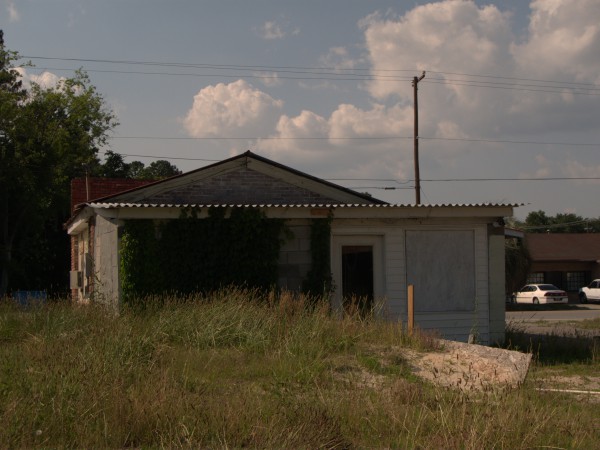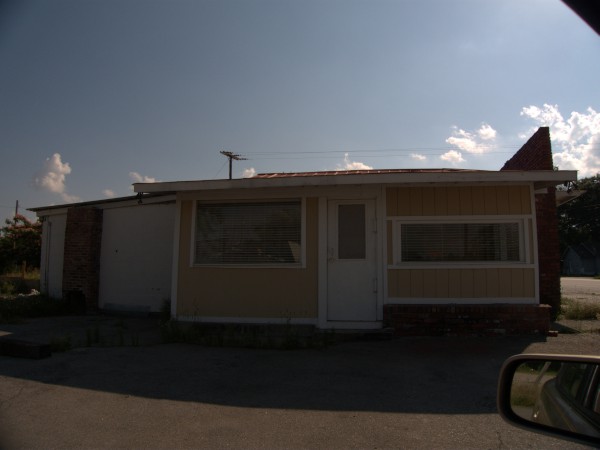 Back to Frink Street! Google only turns up one hit for Thayer Prop Shop on Frink, but from the name, presumably it specialized in theatrical props. It doesn't seem to me that would be a large market in the Columbia area, so perhaps they did a wider business both geographically and in the definition of what a "prop" is. On the other hand, I could be completely off base, and they might have sold bass-boat or airplane propellors..
At any rate, they apparently came before P & R On Frink as that operation's sign is what is still on the building. I can say with a little more certainty that this was a used car operation, though setting the closing date as 2010 is a total guess. I did not find any hit which told what the 'P' & the 'R' stood for either.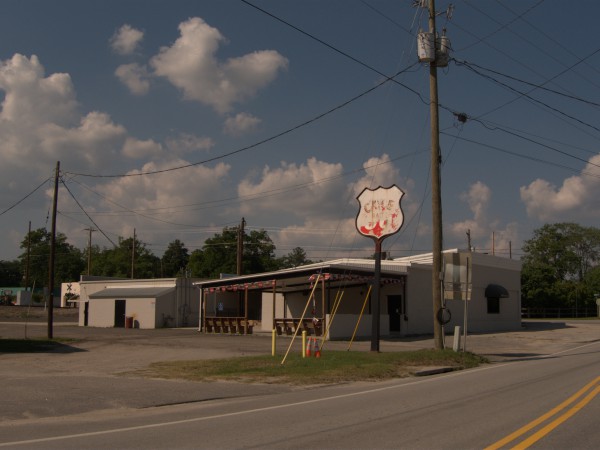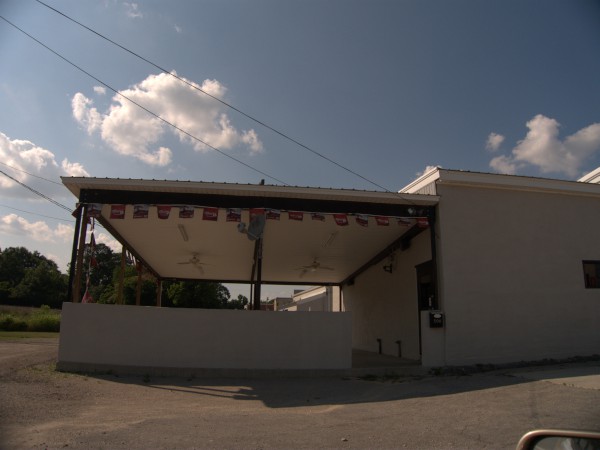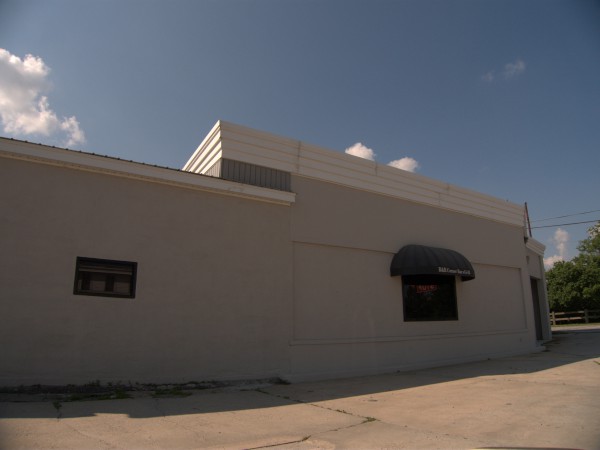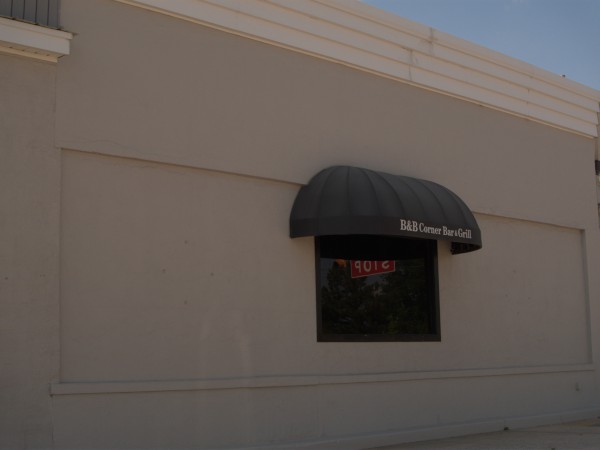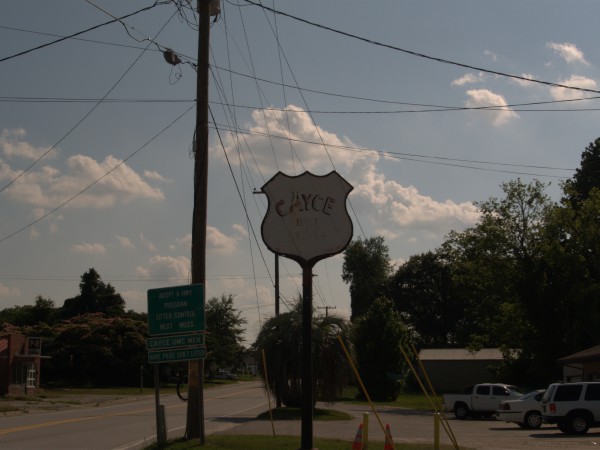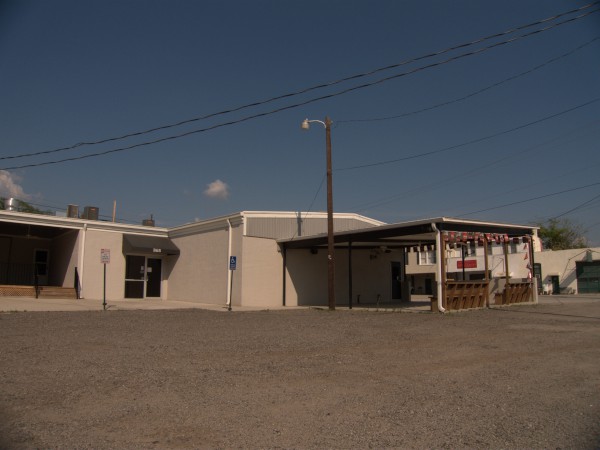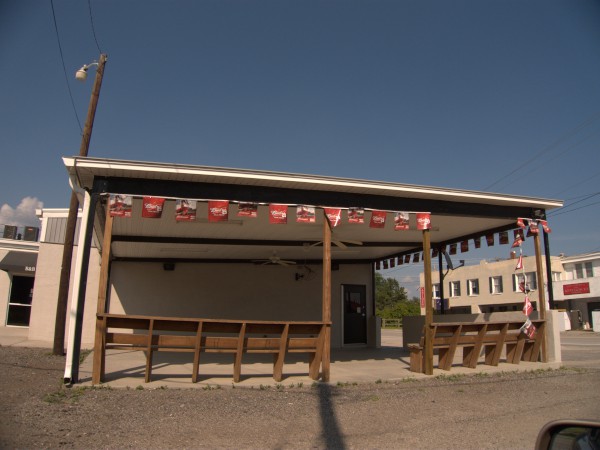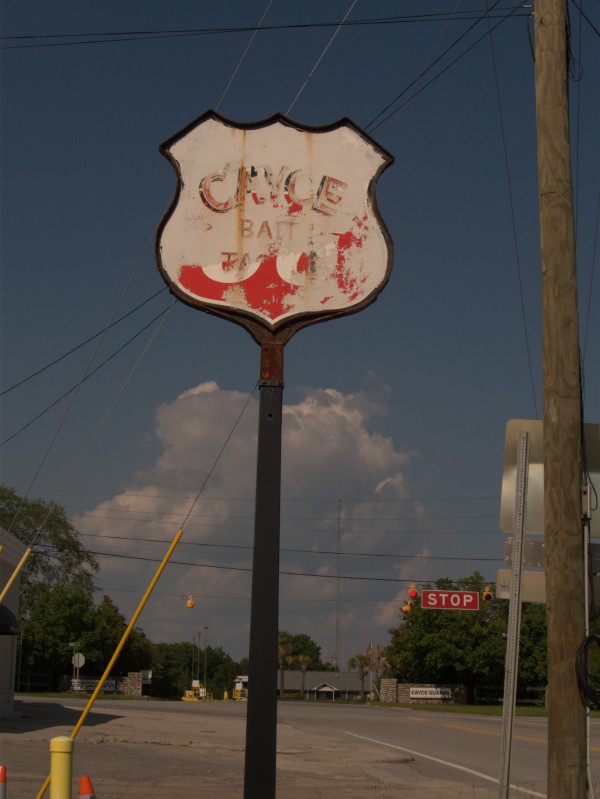 I have to admit that when commenter badger mentioned this place (at the corner of State & Frink Streets) was closed, I had never even heard of Frink Street. As it turns out, I have crossed over it on my way down the 12th Street extension to I-77, but I'm pretty sure I had never actually been on it before this last Sunday. In terms of this blog, it presents something of a "target rich environment". Does anyone know where the interesting (and fun-to-say) name comes from?
From the look at the layers on the roadside sign, I'm guessing this place was a Philips 66 before anything else in the list, with that name being painted over for the Bait & Tackle name. The Secretary of State's web site says that Cayce Bait & Tackle went under in 2004, in some sort of forfeiture, and was followed by the Frink Street Social Club which has never been officially dissolved. I'm not sure if B & B would be the connected with the club or not, but kudos to them for not using the trendy (and incorrect) Grille spelling in their name..
(As an aside, the "look" of this building would tend to validate this one as a Philips 66).
(Hat tip to commenter badger).
UPDATE 12 June 2011: Commenter badger sends in this picture of the "Lizard Woman" mural that once graced Cayce Bait & Tackle: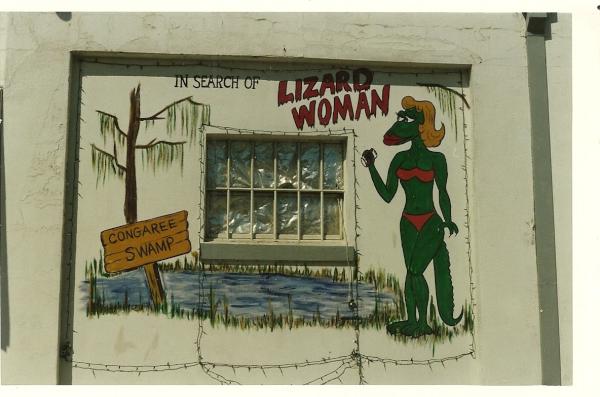 Thanks!
But of course, I must remind folks of the real story of South Carolina's lizard infestation, related by my sister (who changed names to protect the innocent) in her book, The Lizard Man of Crabtree County

UPDATE 6 February 2012: Added Cayce Lunch to the post title based on information from commenter Sid whose family used to own the place -- be sure to read the comments! Also, apparently the Philips 66 was a separate building (now gone?).