Archive for the 'Triangle City' tag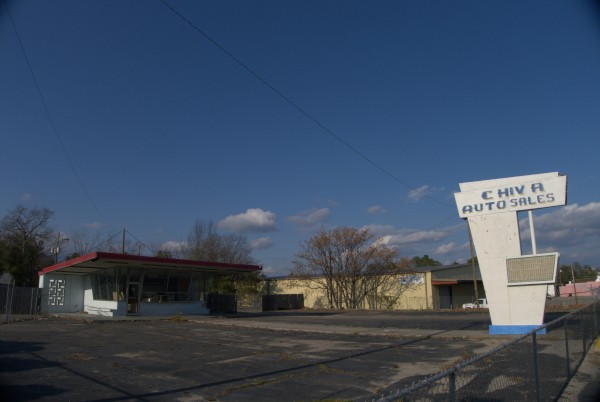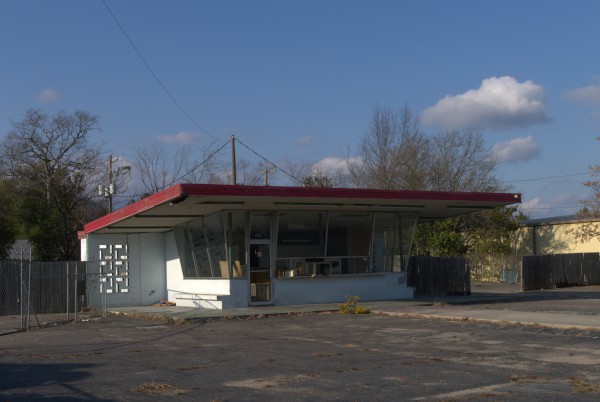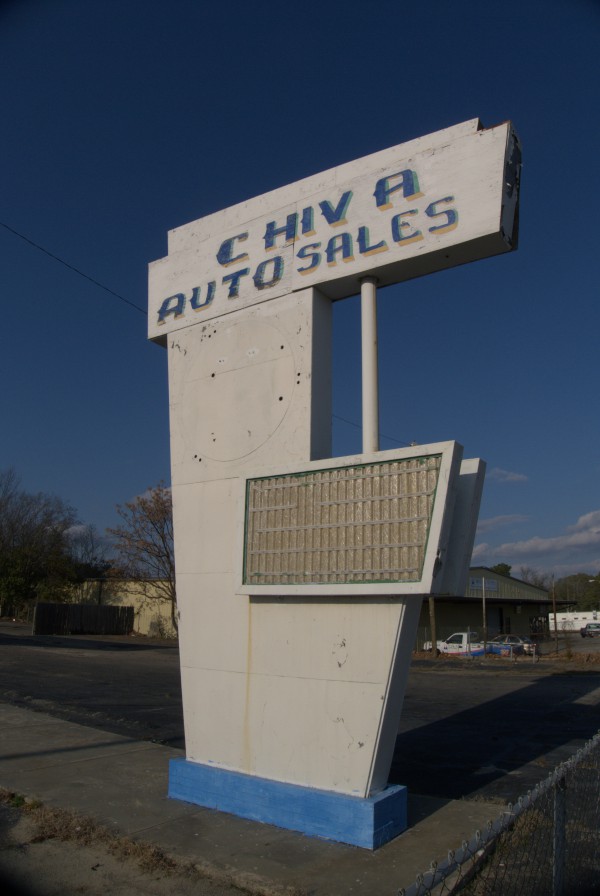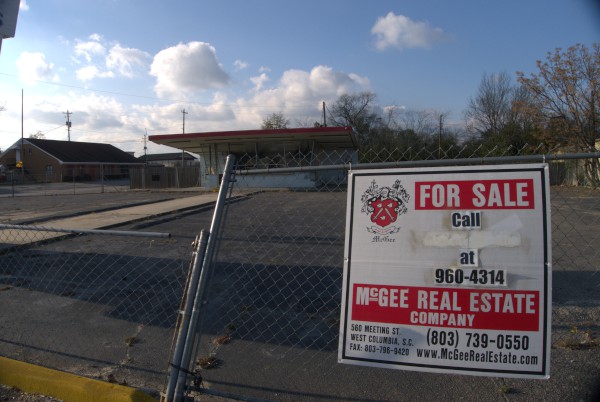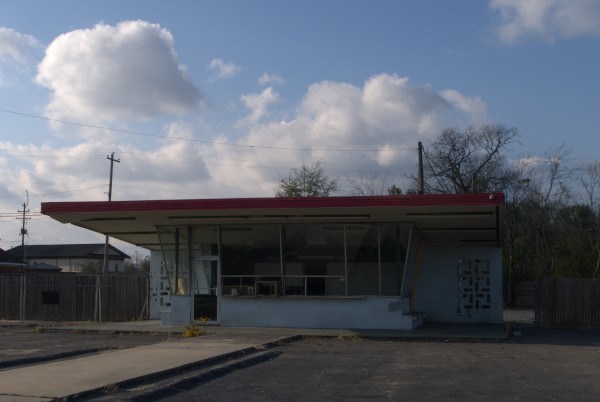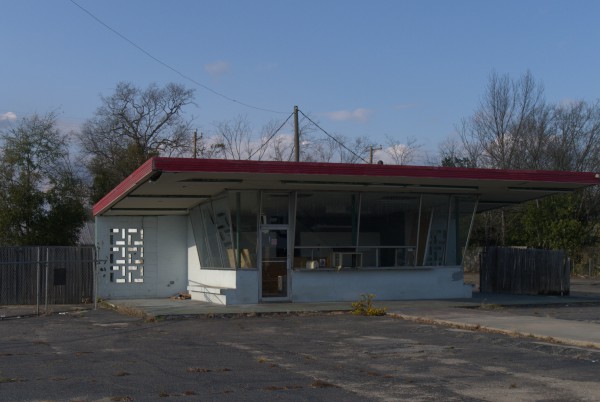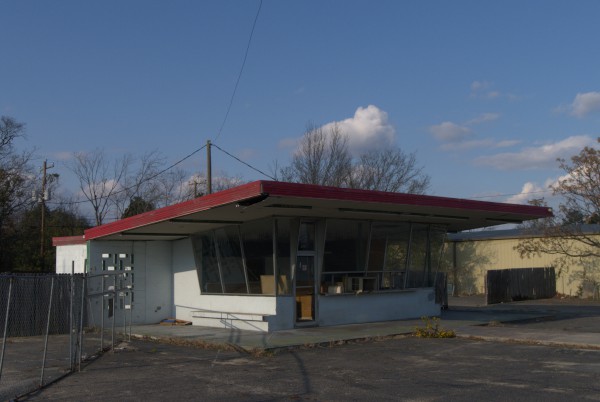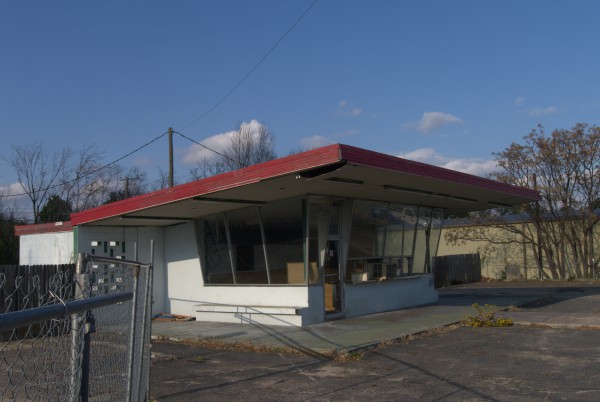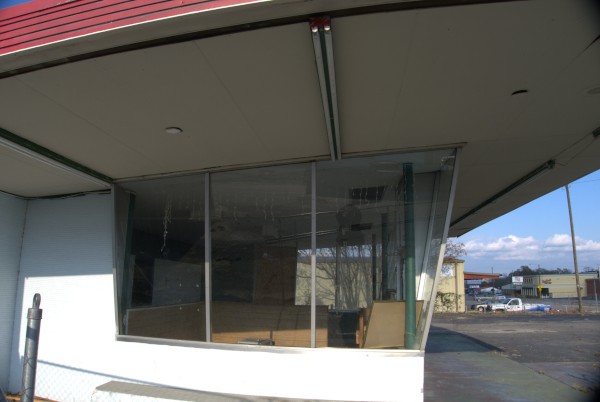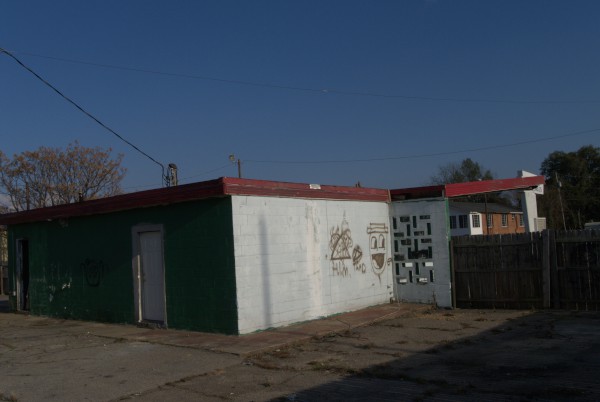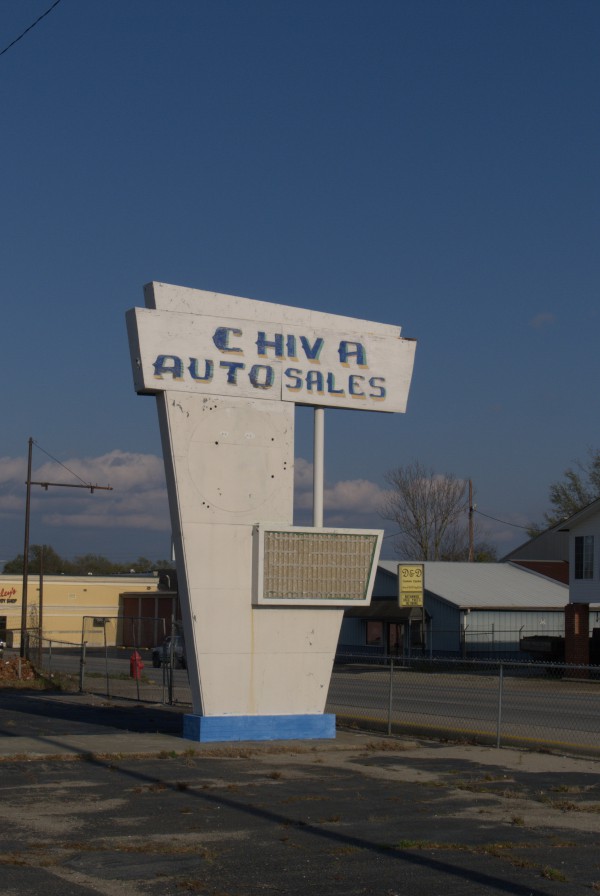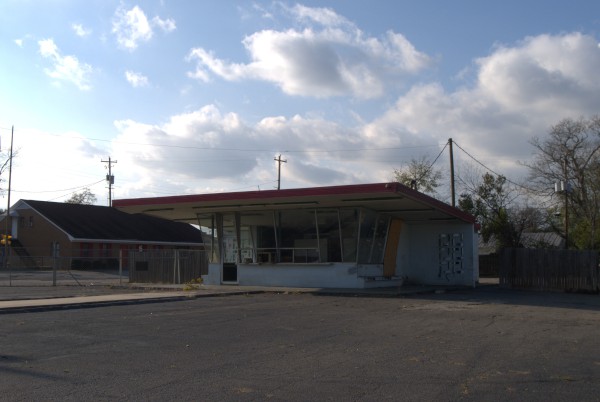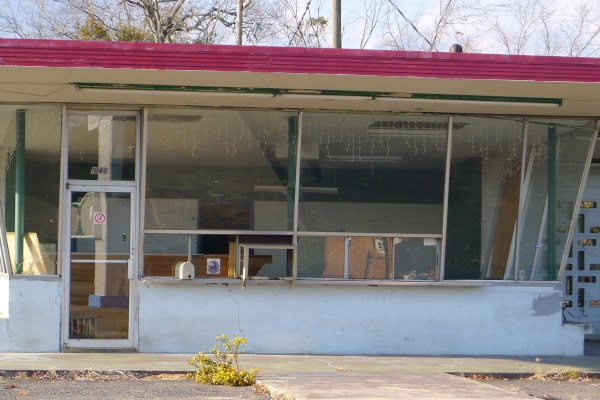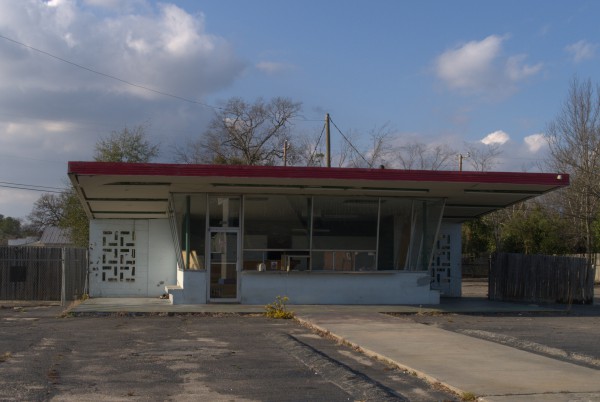 I already did a closing on this building on Meeting Street in West Columbia near Triangle City for when it was Bell's Hamburger Drive-In, but I noticed a while ago that the follow on operation (which was not the immediate follow-on!) Chiva Auto Sales is now gone as well.
That gave me a chance to get some more shots of this place, without all the cars parked outside, and the guy wondering what the heck I was doing sitting inside. However, the place is tightly fenced off now, so I still can't get any close shots through the building windows. It will be a shame if the next owners tear down the building and marquee which absolutely scream of a certain era, but I can't imagine it being suited to much other than used-car office these days..
UPDATE 3 December 2014 -- This building has now been razed. See the pictures at the Bell's Hamburger Drive-In closing.
Posted at 11:01 pm in Uncategorized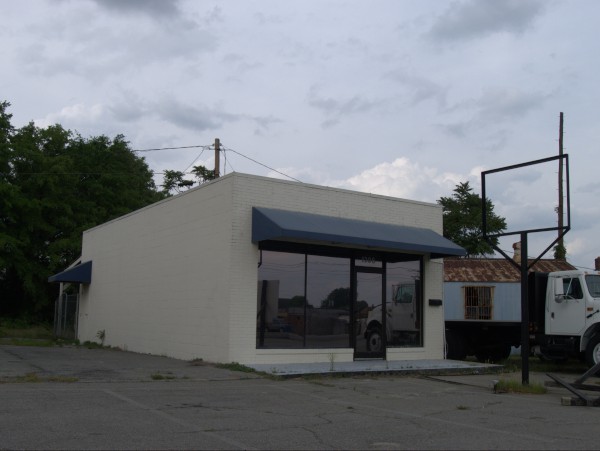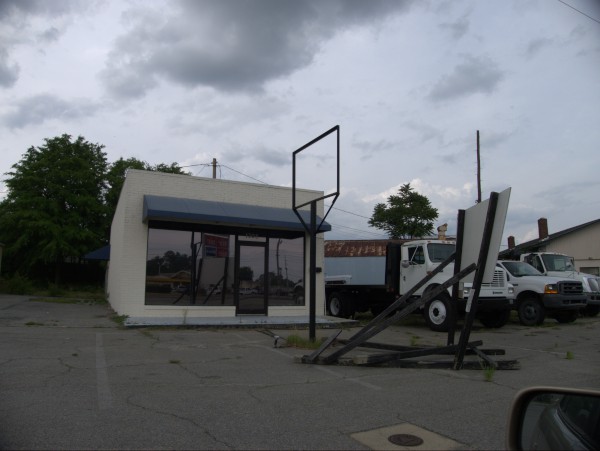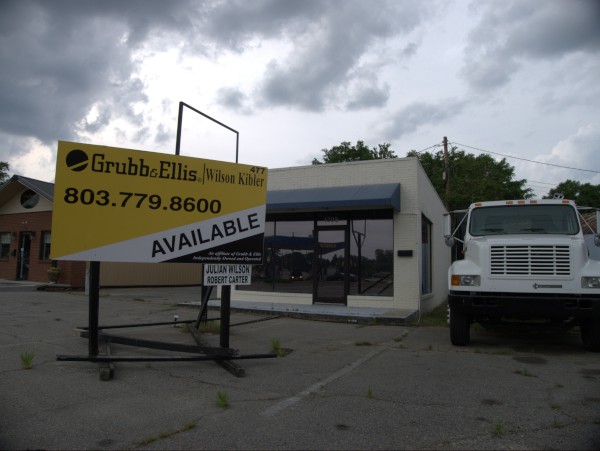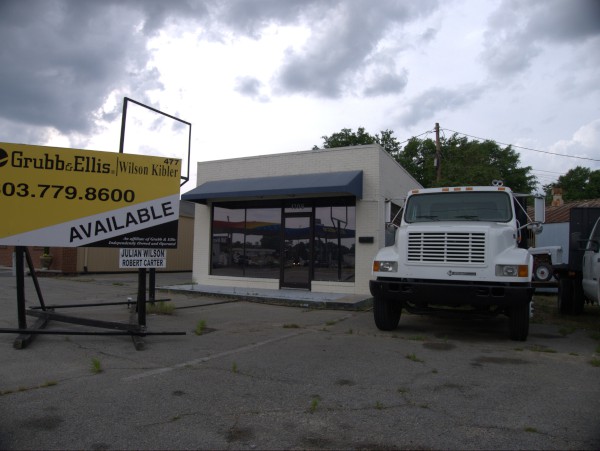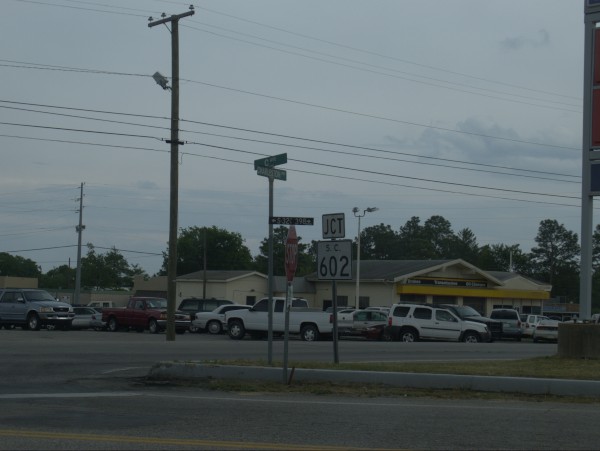 This little building sits on C Avenue in Triangle City just west of the Charleston Highway, and has apparently most recently been a cellphone, game console and computer repair operation called iTecRepair. I believe this was the last tenant, as they booked an oline ad as recently as 30 January 2012.
I am unsure if Cdn Communications was a totally different operation, or just a different DBA name for iTecRepair.
Before the newfangled stuff, the place was one of those urban staples, a bail bonding office called Get U Out Bail Bonding (some google hits give it as Get U Out Fast, but I think that was just their slogan, as pictured in this real estate listing).
Posted at 12:11 am in Uncategorized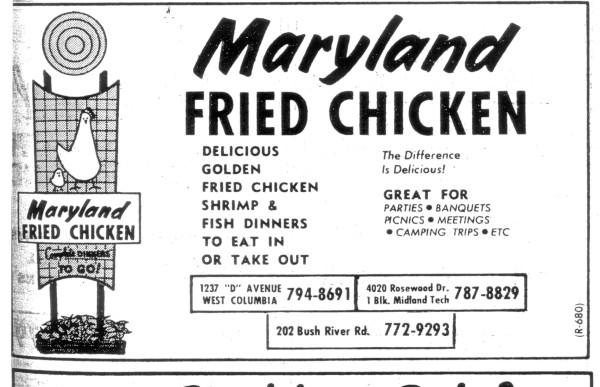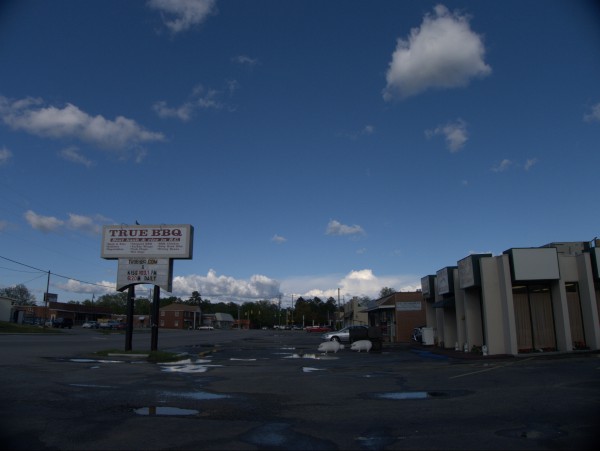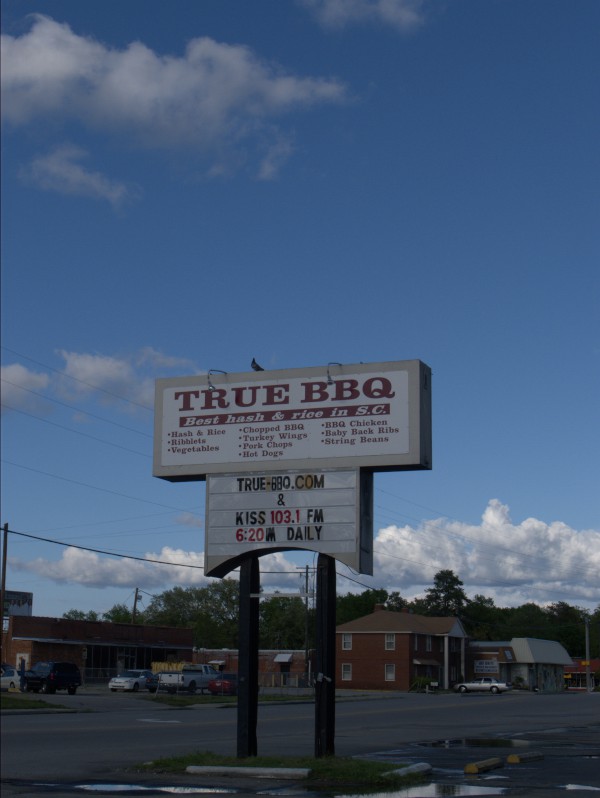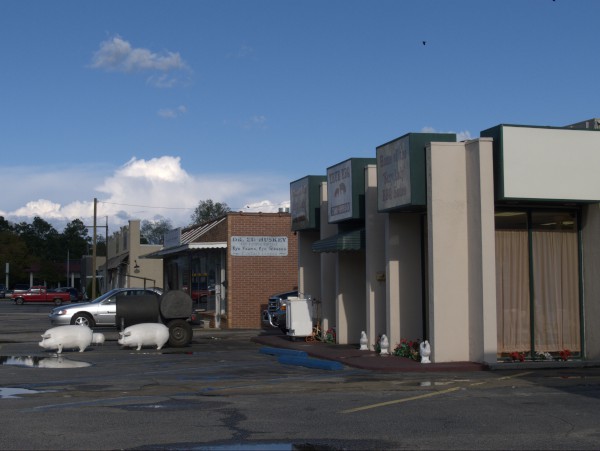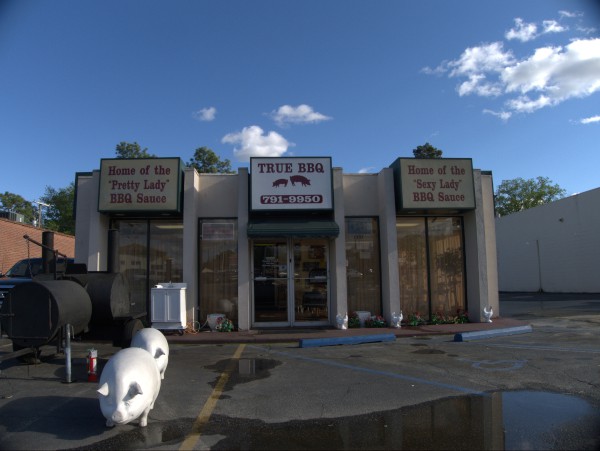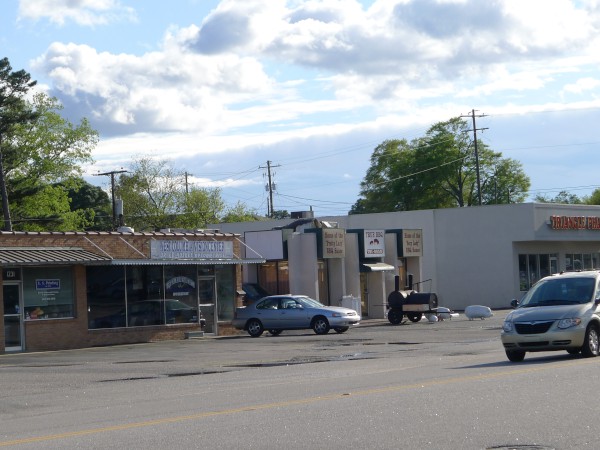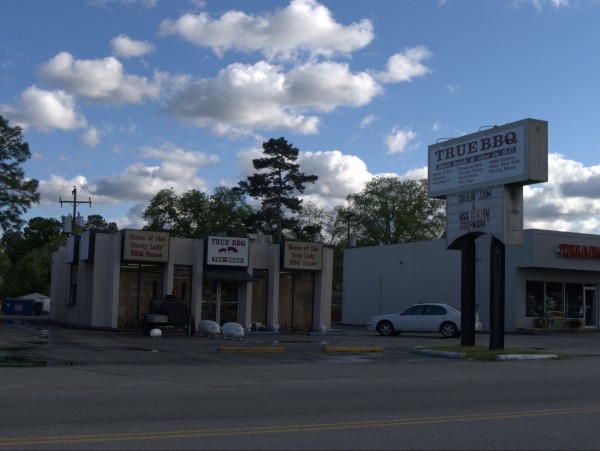 There are still some Maryland Fried Chicken restaurants on the Grand Strand, but they seem to have abandoned the Midlands sometime between the February 1976 phonebook (above) and the February 1985 one. This building, in Triangle City, is still standing, and still a restaurant, but now it's True BBQ. You have to love the pigs, and the sauce names.
UPDATE 5 April 2012: Added Rockingham's and Triangle City Diner to the post title based on the comments, and google.
Posted at 1:16 am in Uncategorized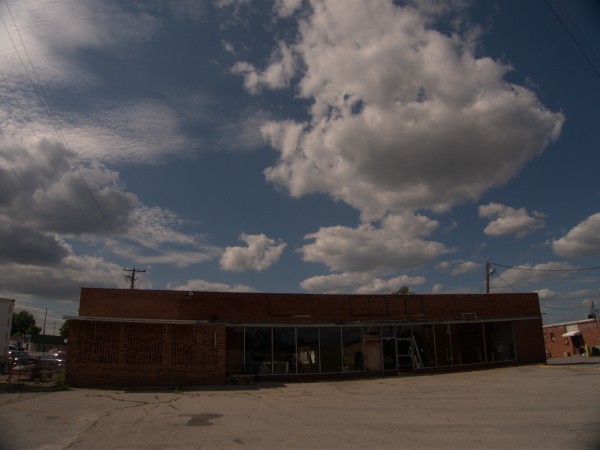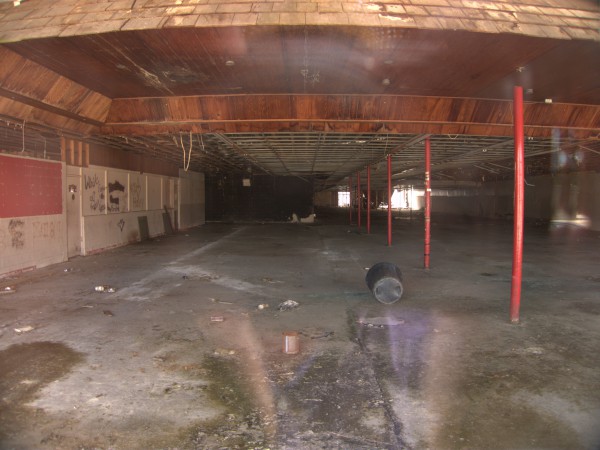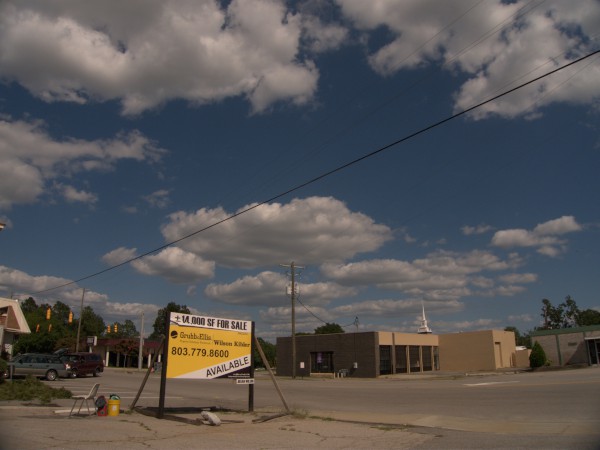 Well, I admit I'm drawing a blank here. This building is in the 1200 block of D Avenue in Triangle City (just a bit up and across from the old Goodyear location. Whatever it was, it is, as you can see now, pretty thoroughly gutted.
When I took these pictures, I thought it would be easy to identify when I got home. In the event though, there appears not to be a street number on the building, and my fallback of finding the Grubb & Ellis listing for it, which I thought would be easy given their big sign, fails as well. Google Streetview shows two business storefronts in it, but won't zoom close enough to read the marquees and won't give the right street number. Anyone know? I'll update below and in the post title when I get more information..
UPDATE 20 July 2011:
OK! With help from the comments this building is identified as Fogle's Food City and Furniture Farm. The actuall address of the building is 1212 D Avenue, which is a higher number than I had thought. This LoopNet listing also makes clear that the building is much larger than I had thought with what must have been the main parking lot facing 12th Street. I will have to go back and take pictures of the 12th Street and C Avenue sides of the building.
The Secretary of State's office says that Fogle's Food City, Inc. was incorporated on 2 January 1970 and dissolved on 21 June 1996. Of course it's possible that the actual grocery started before that as a sole proprietorship or some other form of organization. It's also possible that it closed before the corporation was actually dissolved. At any rate, Furniture Farm ("Where Prices Are Born.. Not Raised") was already listed in the February 1997 phonebook. I'm not sure when it closed as my home phonebooks jump from Feb 97 to Feb 07, but it was not listed as of February 2007.
I've changed the post title from "Building" to reflect this information, and have fixed the street address as well. Thanks folks!
UPDATE 17 October 2011: Added Shumpert's to the post title based on info from commenter Becky Dodson.
UPDATE 5 April 2012 -- The place continues to deteriorate and has now been officially condemned. You can see that the roof is completely gone in spots and that the whole place has been flooded during the recent rains (it's a bad sign when your building leaks to the outside rather than the outside leaking into your building..). I also finally got some shots of the other side with the old Furniture Farm signage: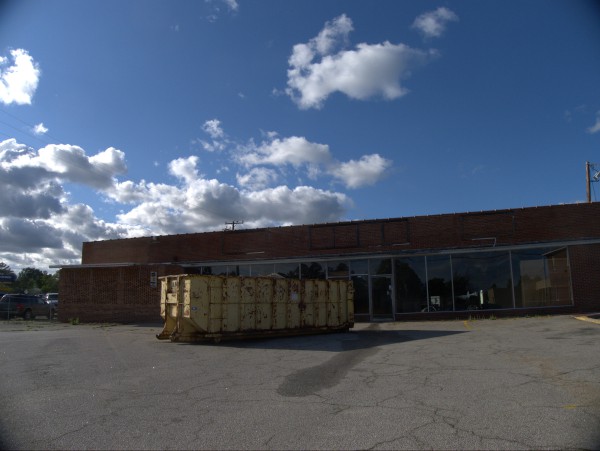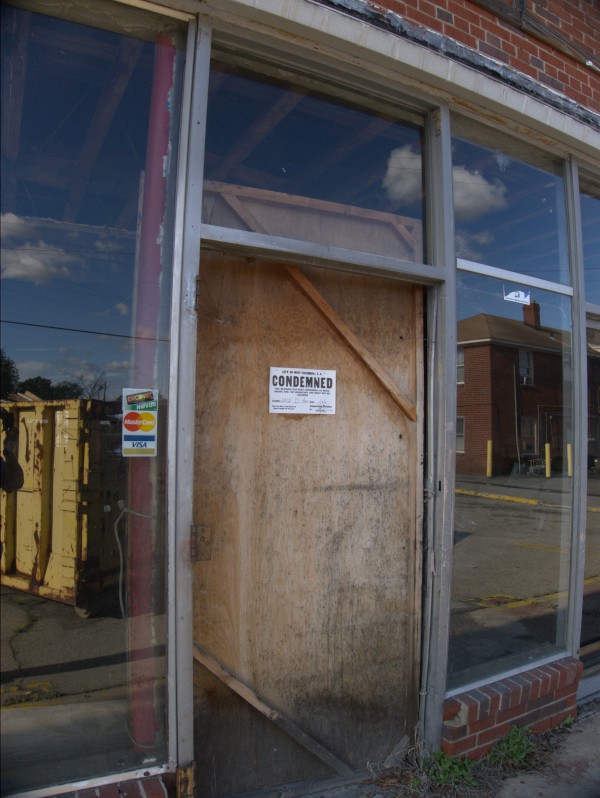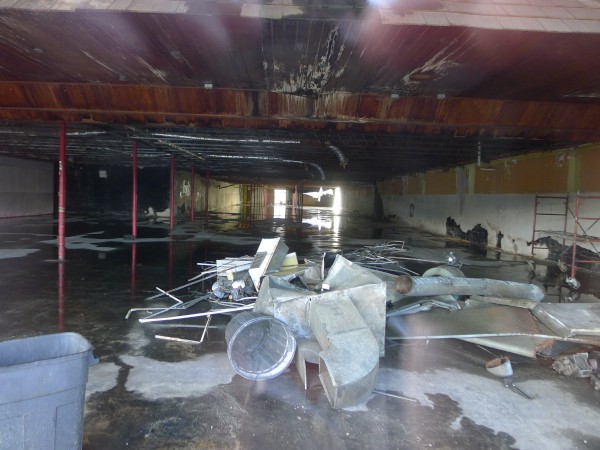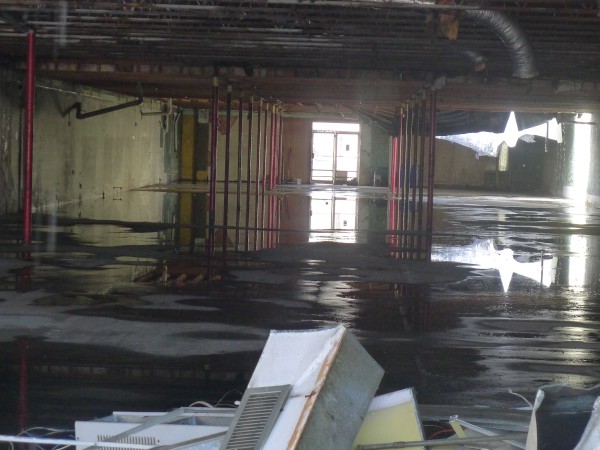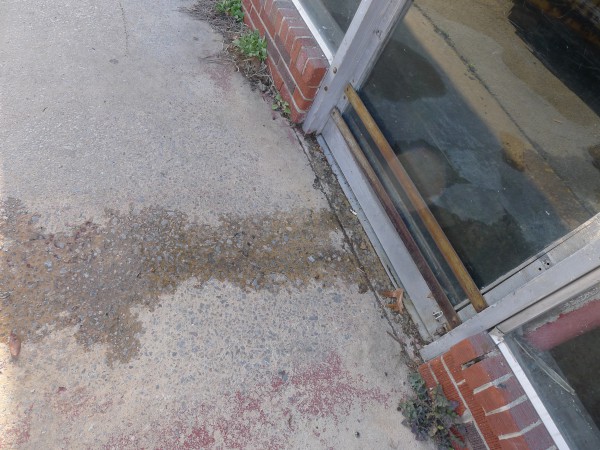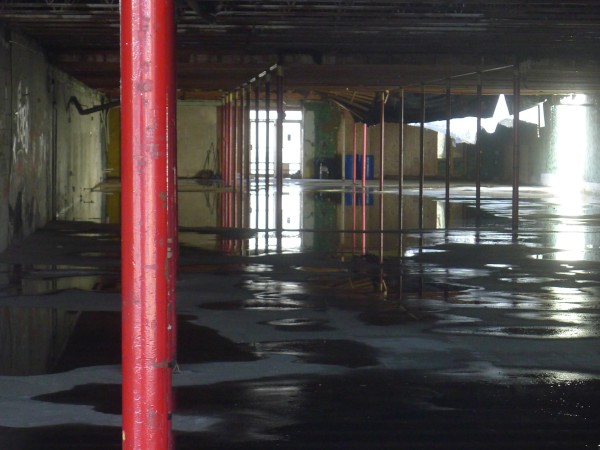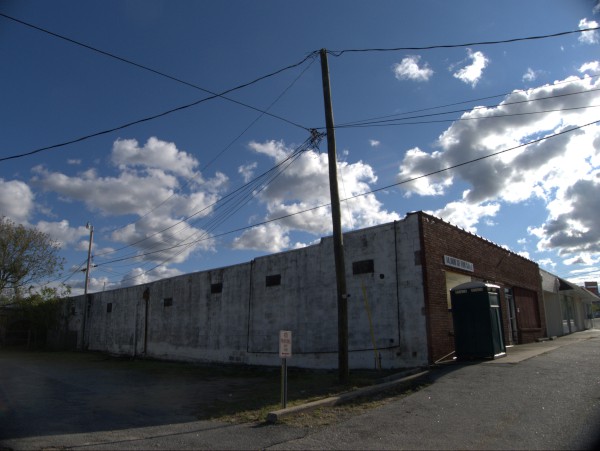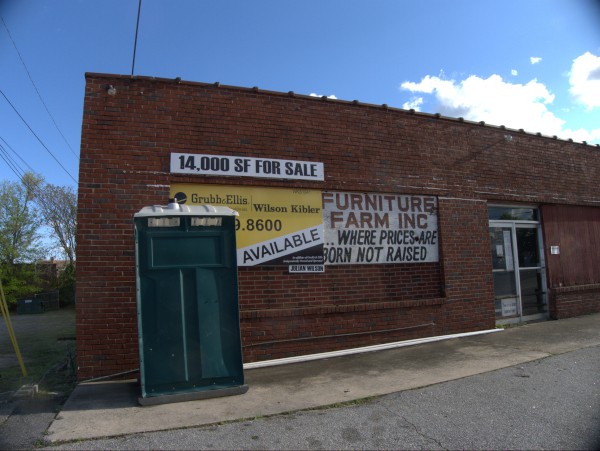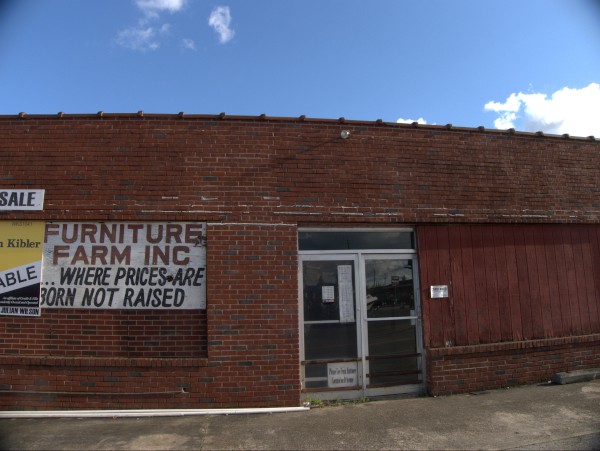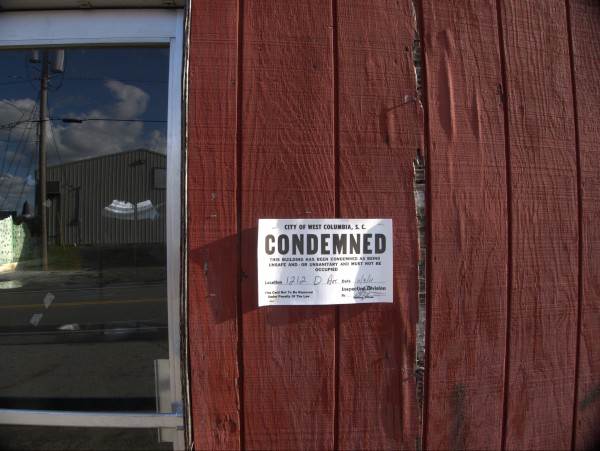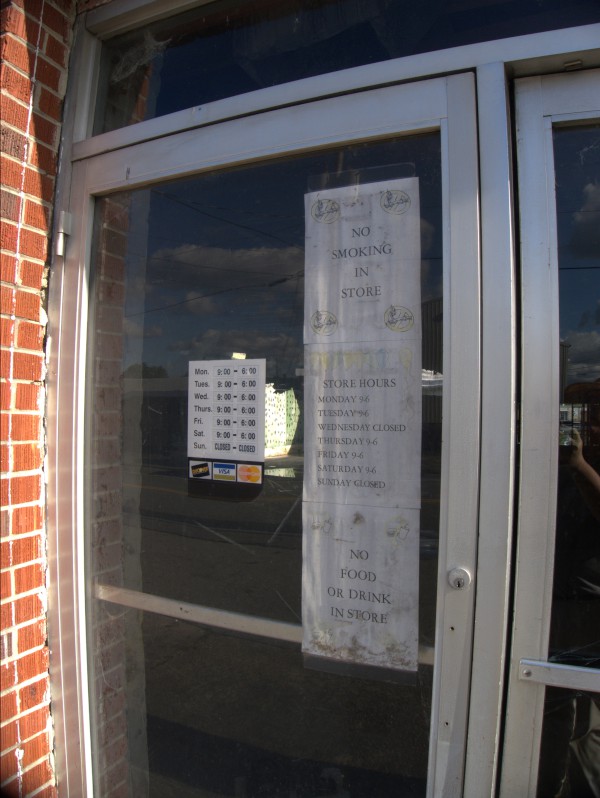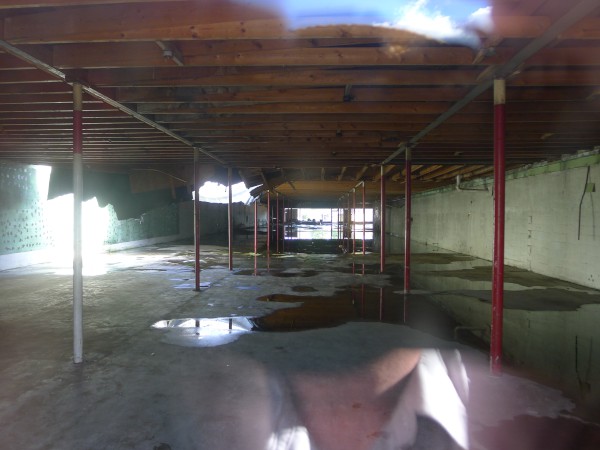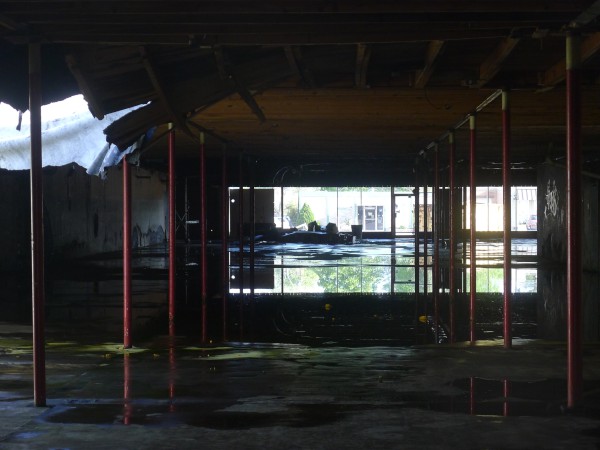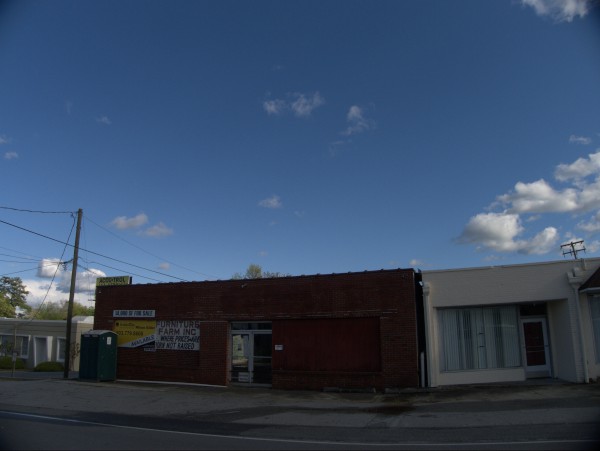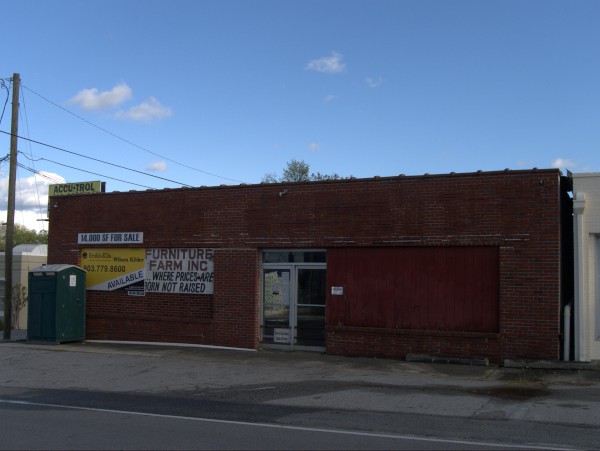 UPDATE 22 April 2012 -- Well, looks like that's it for this building!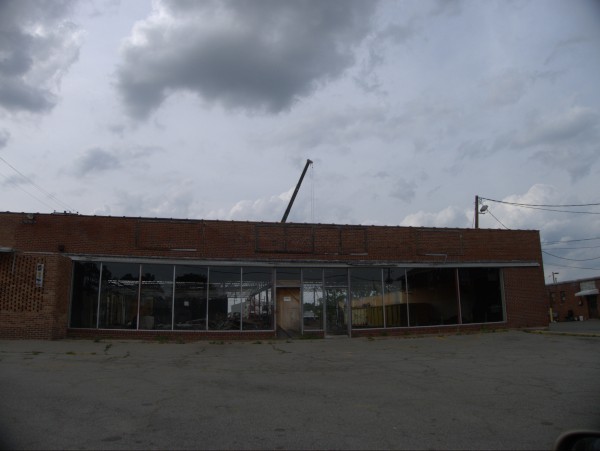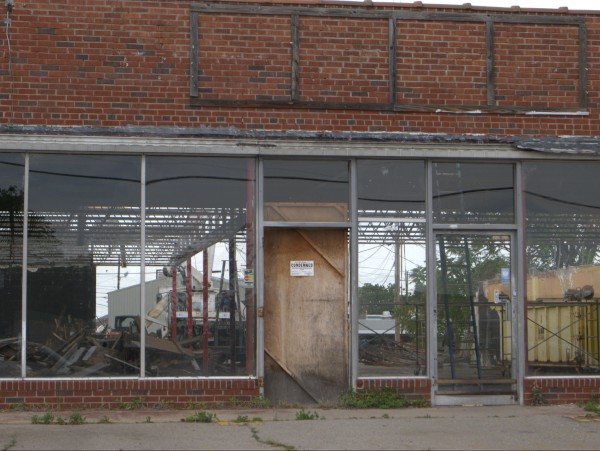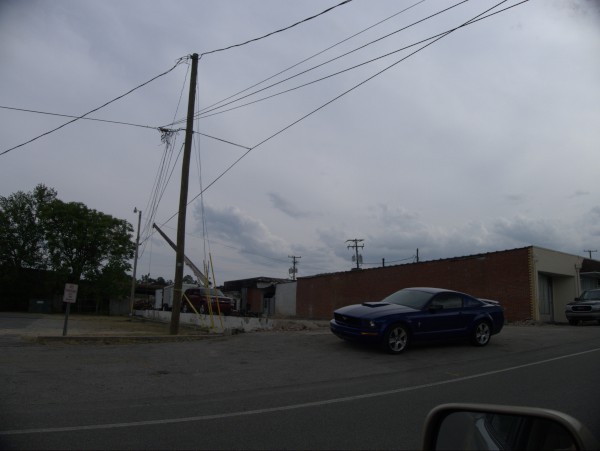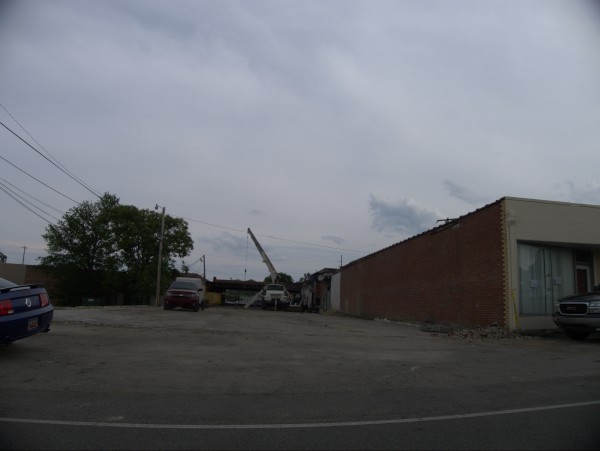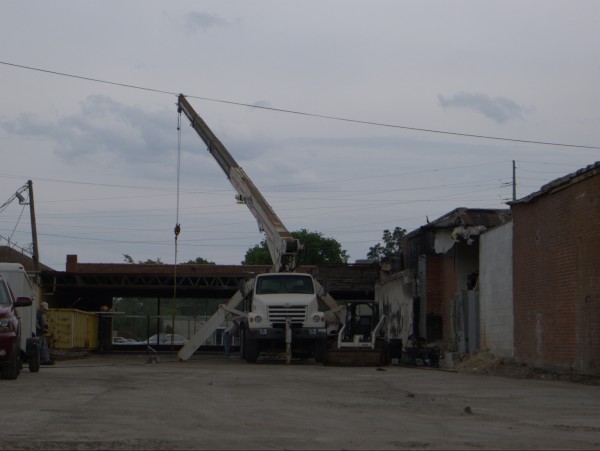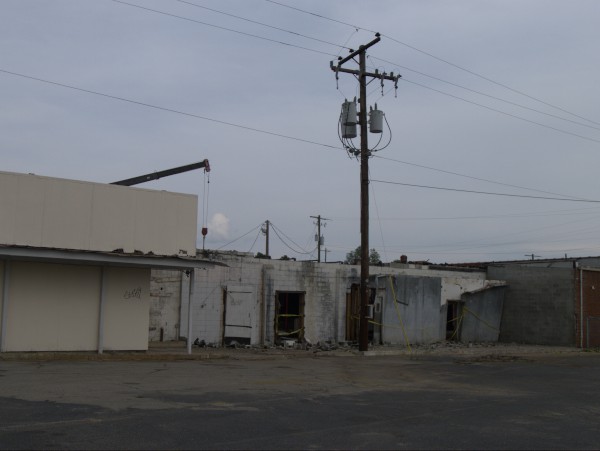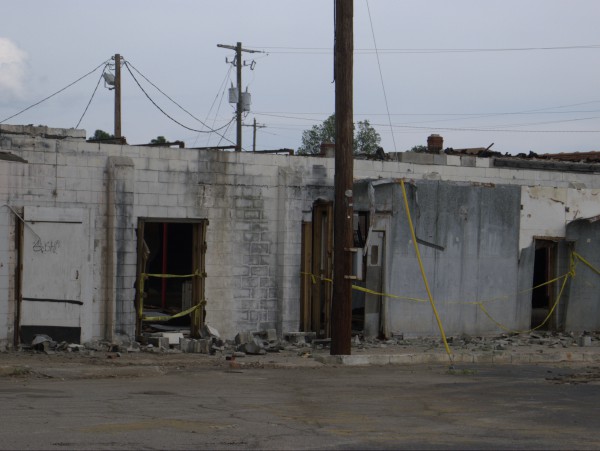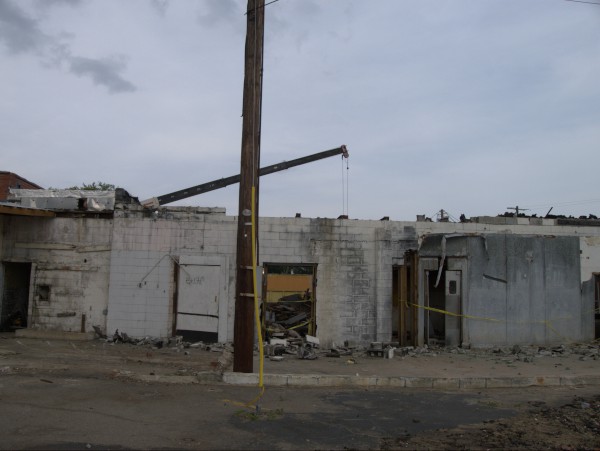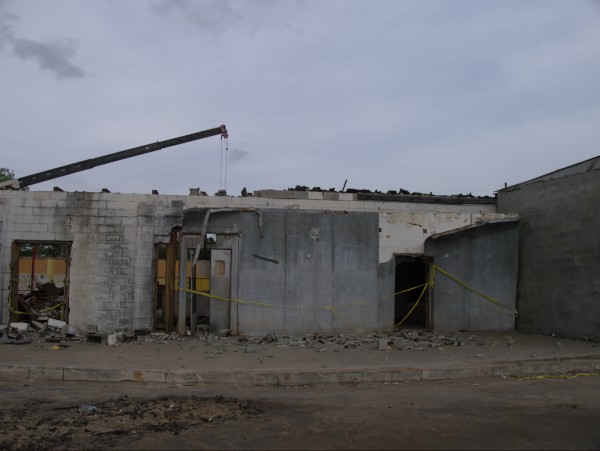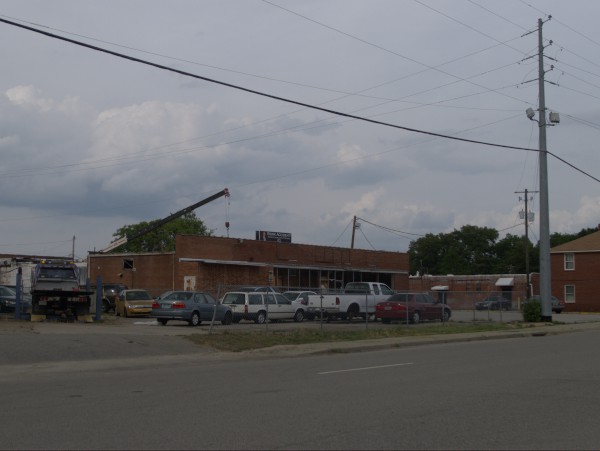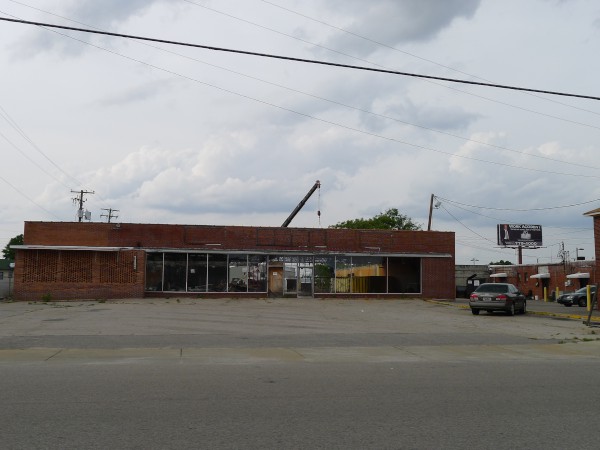 UPDATE 7 May 2012 -- All gone: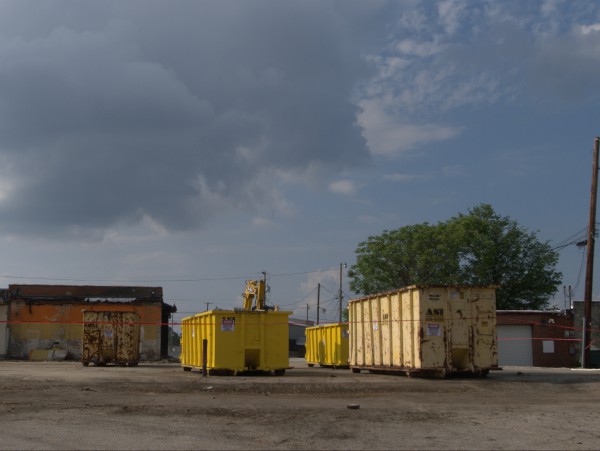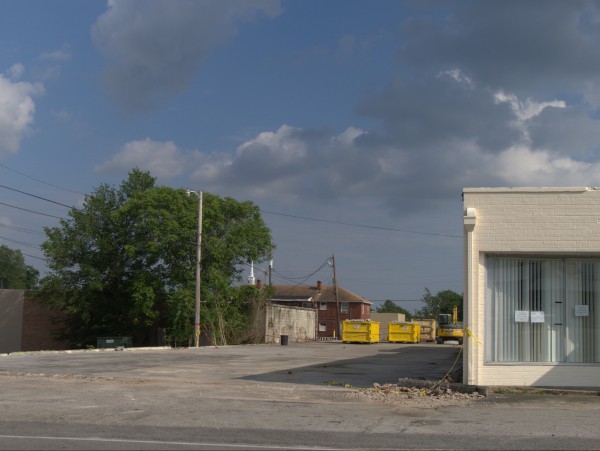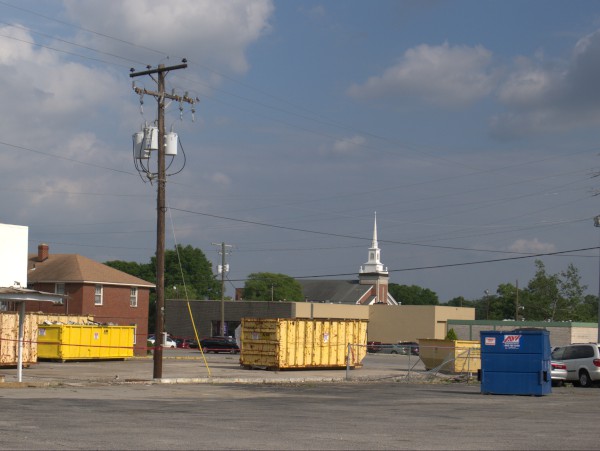 Posted at 1:02 am in Uncategorized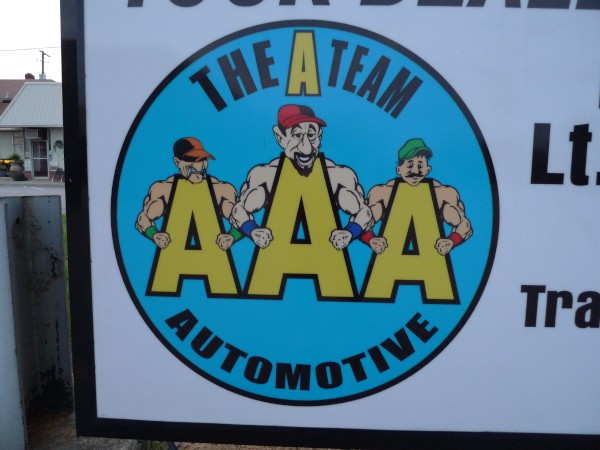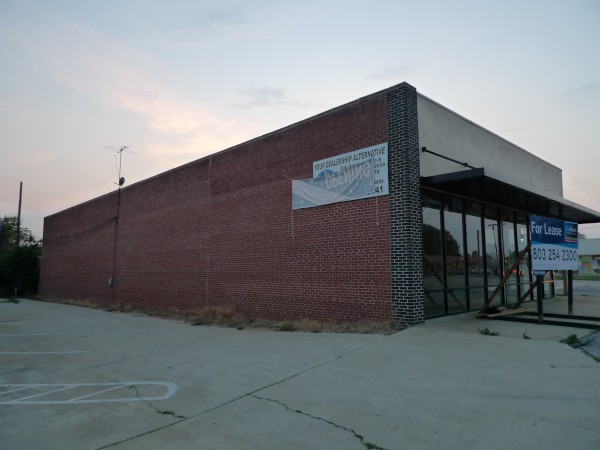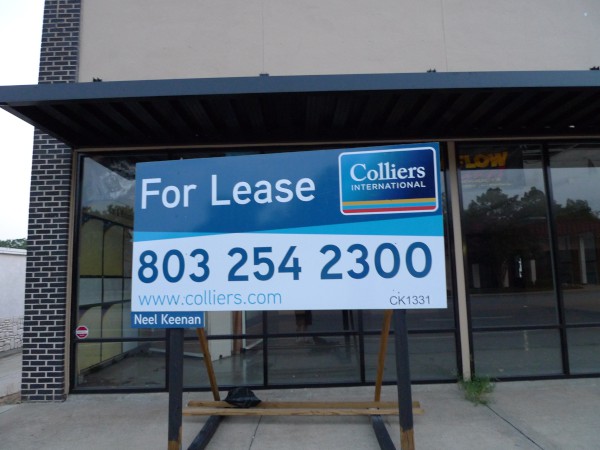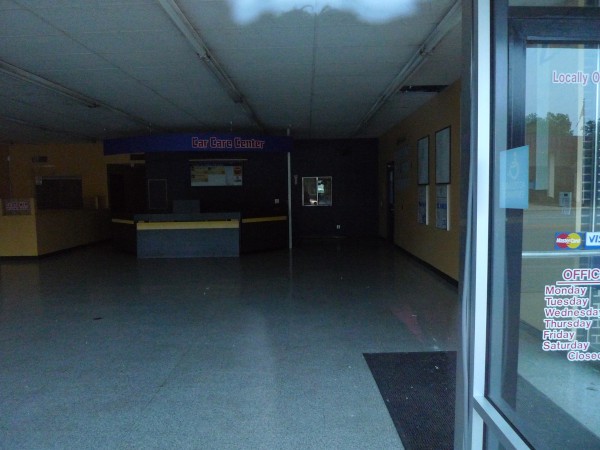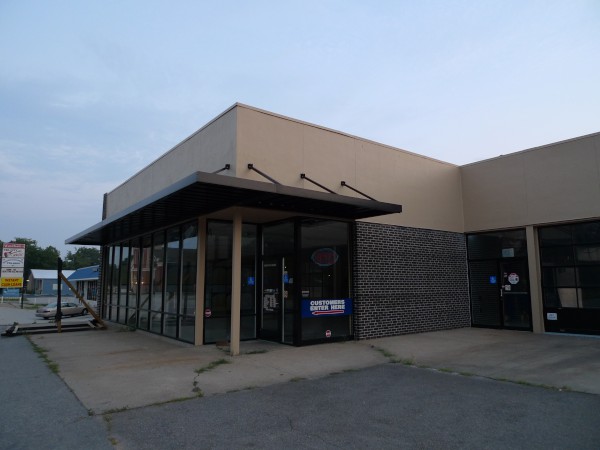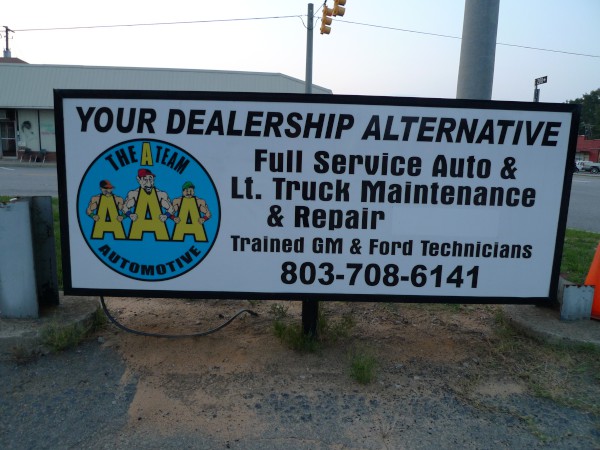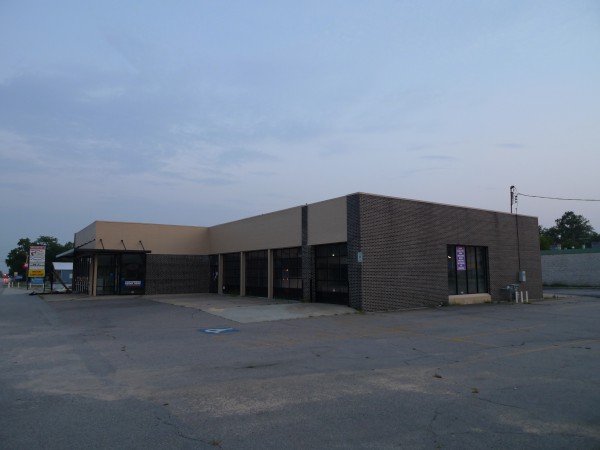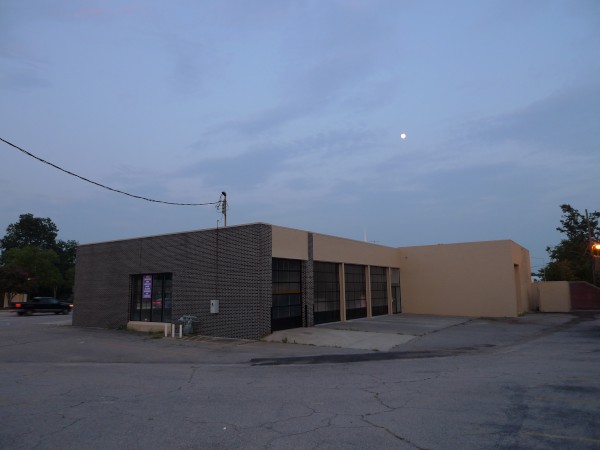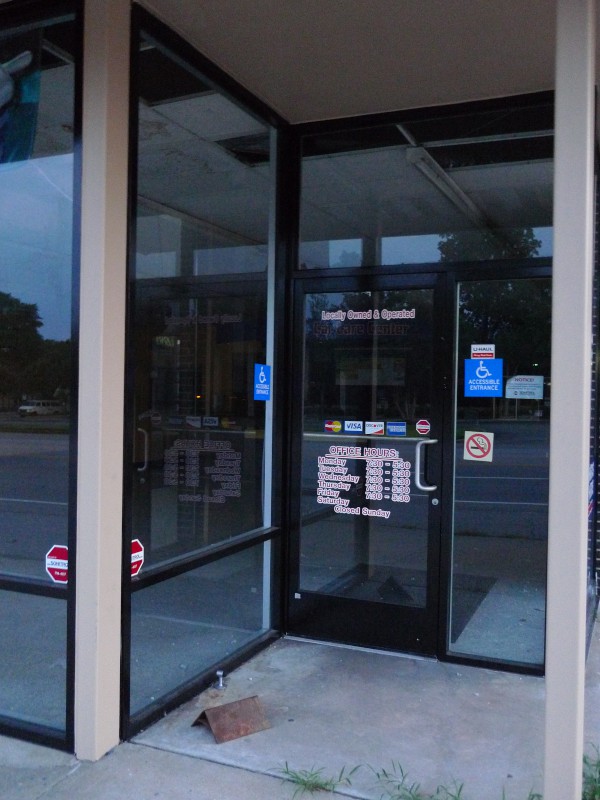 I have to say that the mascots for AAA Automotive are a pretty rough looking bunch. The middle one reminds me of a buffed up version of the boss elf from Rudolph, the one that didn't want Herbie to be a dentist.
I see various versions of the Goodyear name when googling this Triangle City address at the corner of 12th Street & D Avenue in West Columbia including the version I used, Goodyear Auto Service Center, as well as Goodyear Tire & Rubber and Goodyear Gemini Auto Care. Mr. Shine seems to have been a carwash operation, and during either the Goodyear or AAA days the place apparently rented U-Haul trailers as well.
It appears that the building was on the market at one point, but LoopNet says that's no longer the case, and indeed the real-estate sign out front offers to lease rather than sell.
(Hat tip to commenter tonkatoy)
Posted at 2:40 am in Uncategorized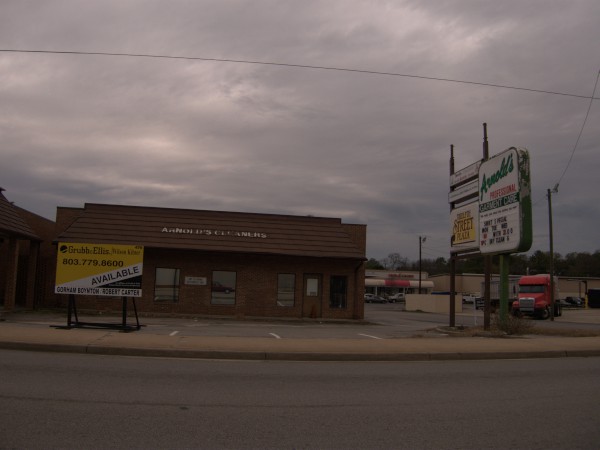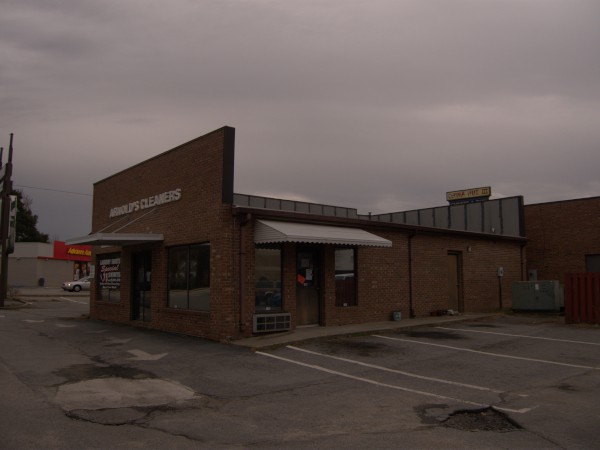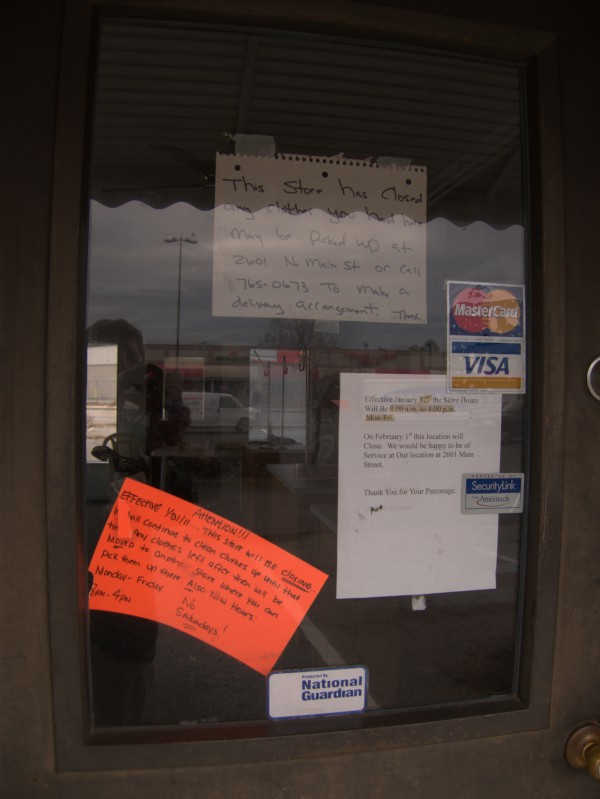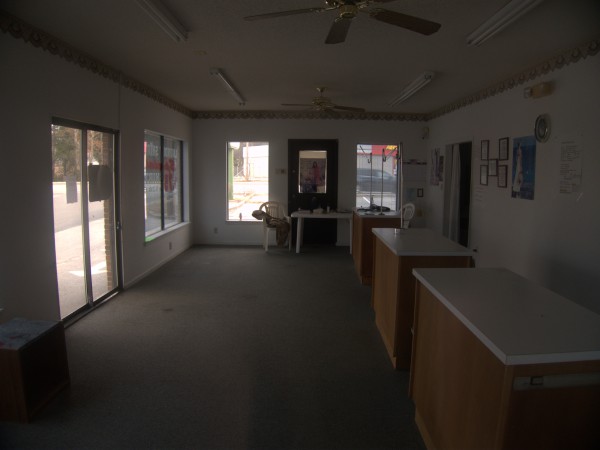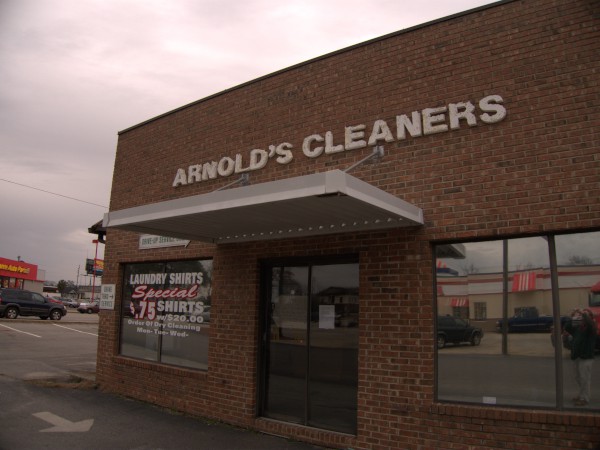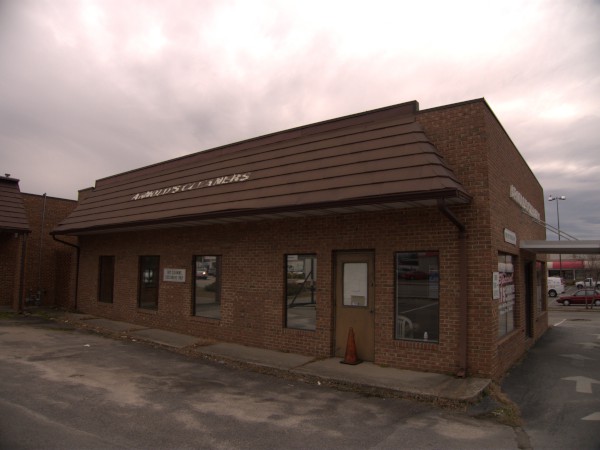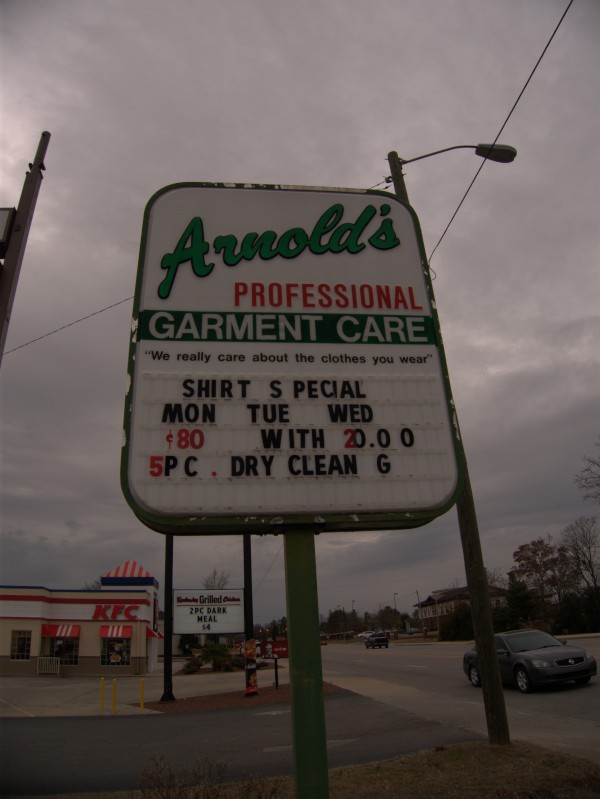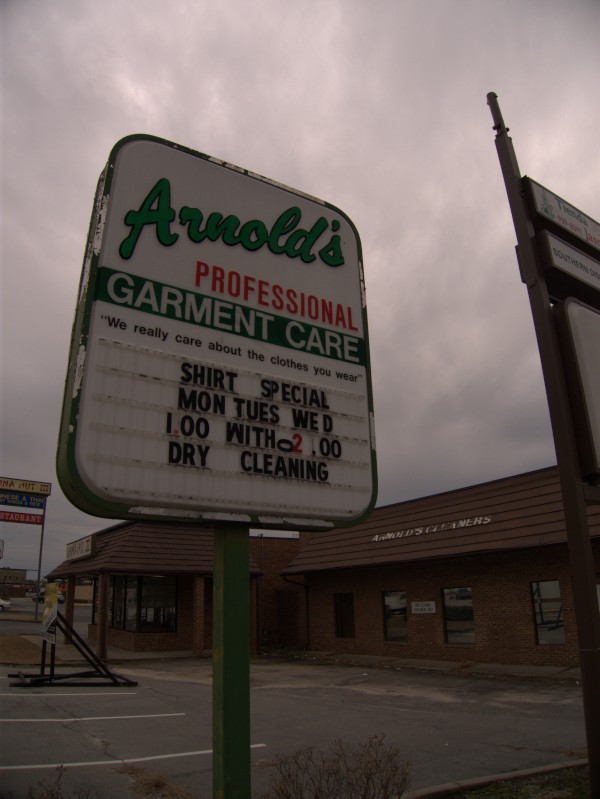 Arnold's Professional Garment Care (or Arnold's Cleaners as the building signage indicates) looks to have been in this building for a good many years. The plaza, at the North West corner of Meeting and 12th Streets is a bit of a hard luck location, losing its grocery long ago, but Arnold's kept going until this location (there are others) closed on the first of February. If you had clothes there, don't panic -- they've been taken to the North Main Street store.
(Hat tip to commenter Sam)
Posted at 12:36 am in Uncategorized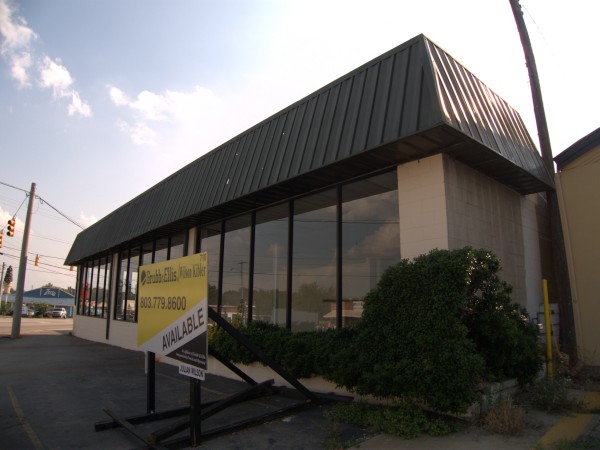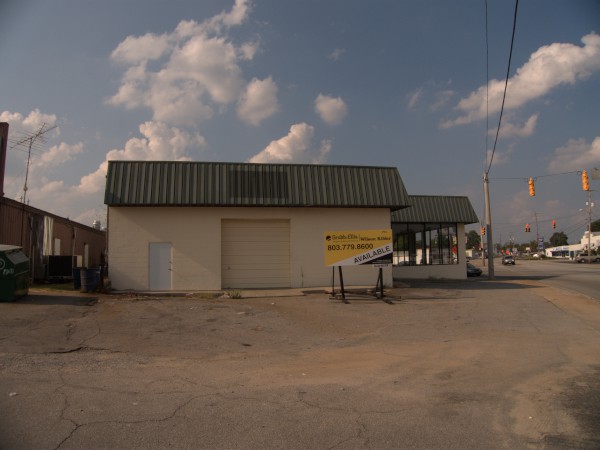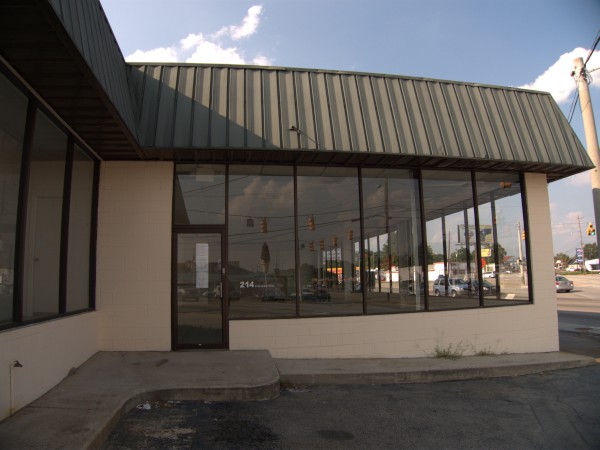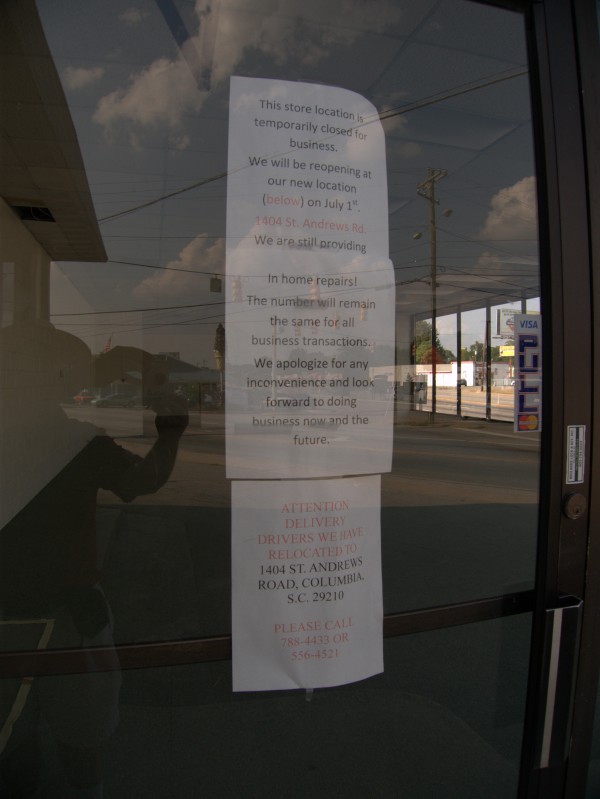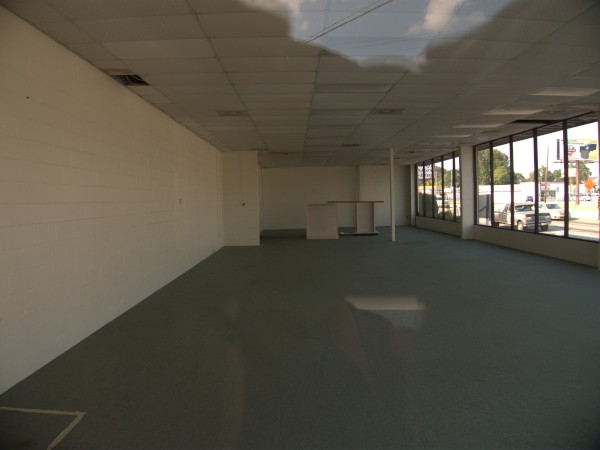 I'm drawing a complete blank on Appliance Professional in West Columbia just across from Zesto. I'm sure I saw it open many times, but not being in appliance-buying-mode, my eyes just skipped right over it. Anyway, it appears they moved to Saint Andrews Road (East of Broad River Road) this summer and the building is now available.
Really, the building isn't that interesting, but I like the reflections of the Zesto cone.
UPDATE 24 Sep 2010: Added a picture of the front side of the building that I forgot.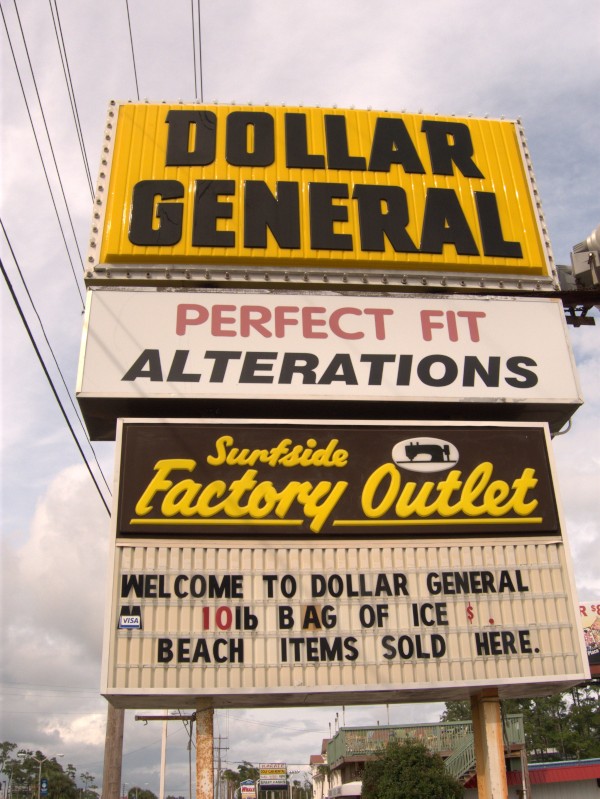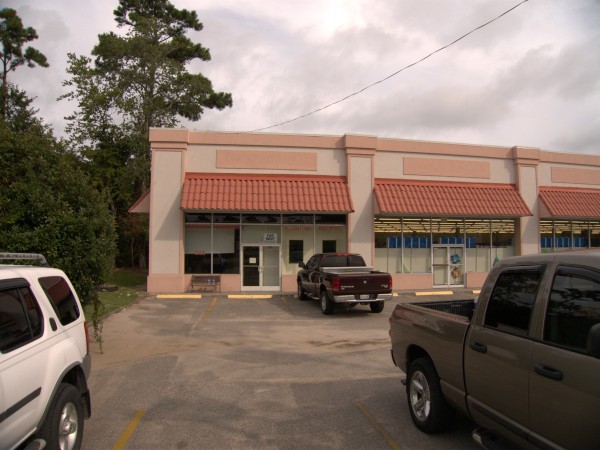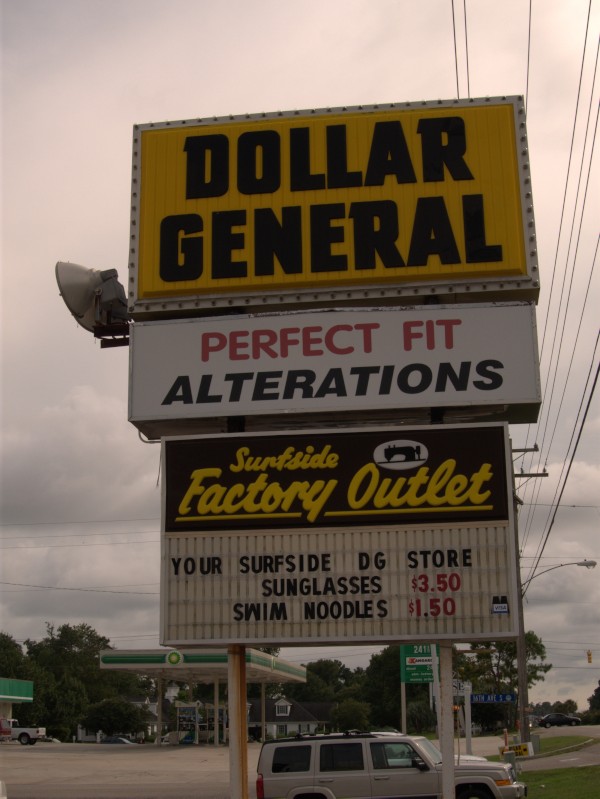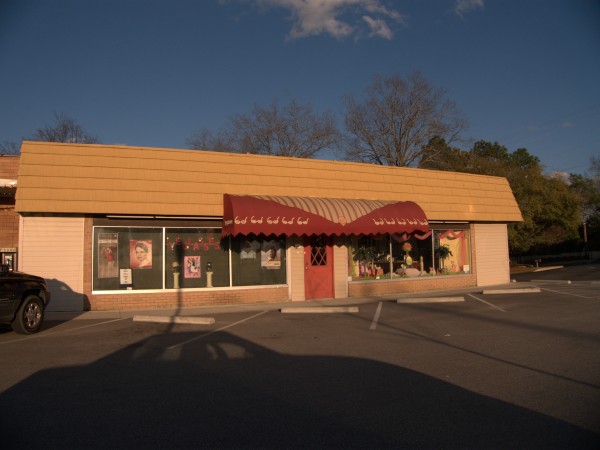 Shop at the Brown Sign With the Sewing Machine in the Corner!
At one time, South Carolina was a major player in the textile field, and I always assumed that these "factory outlet" stores scattered across the state had some South Carolina "factory" behind them, though it was never spelled out in the long running series of radio ads that always included the tag line about the sign.
I never went into one myself, but they were a feature in various shopping trips made by my female relatives. I can't remember all the locations now, but for sure there were Columbia (actually West Columbia / Triangle City), Salley and Surfside Beach.
The first pictures are of the old Surfside Beach location. This storefront (briefly an alteration shop) is at 1511 Highway 17 North (on the east side of US-17 Business between Inlet Square Mall and SC-544). Since these pictures were taken, they have finally gotten around to taking down the brown sign.
The final picture is of the West Columbia location in Triangle City. Their sign is long gone, and the location now seems to be an eyeglass botique.
I don't know exactly what happened to The Factory Outlets. My presumption is that "the factory" closed during the decline of the domestic textile industry, but that's just a guess. At any rate, while the 12th Street location was in the 1998 phonebook, I don't think it (or they) lasted much later than that.
UPDATE 25 Sep 2010 -- Well, I found the Darlington Factory Outlet (1486 Harry Byrd Highway -- almost across the street from the racetrack), and it looks like you can still get women's fashions there!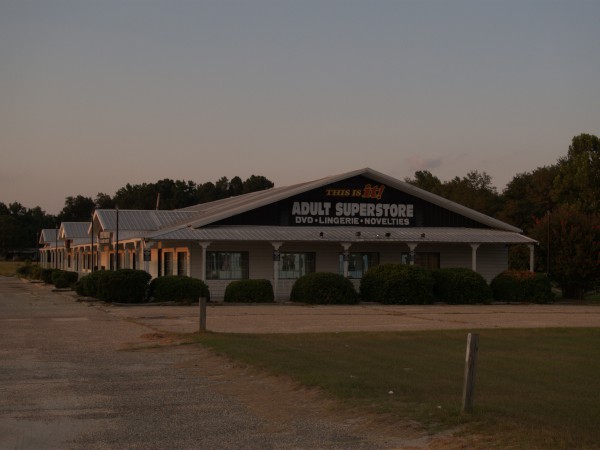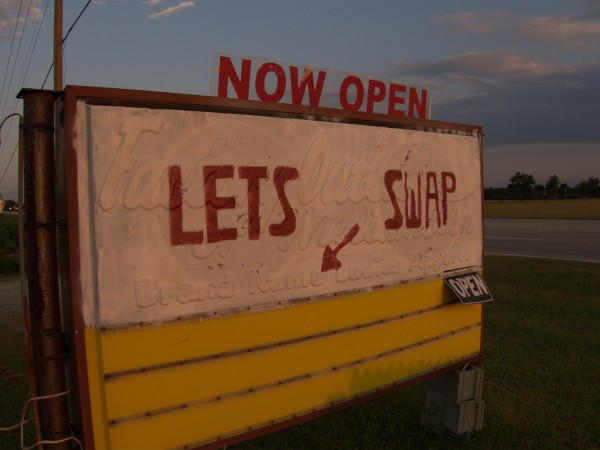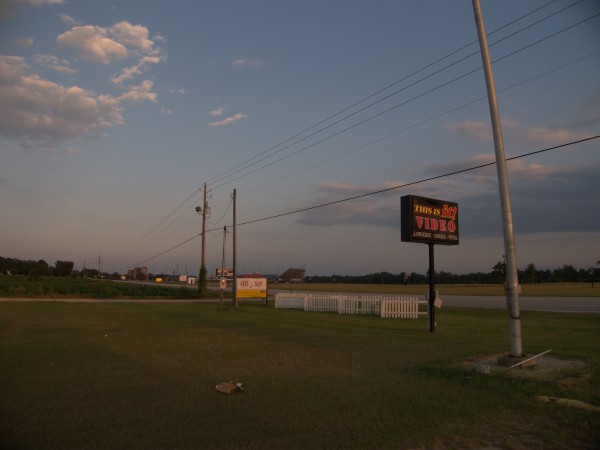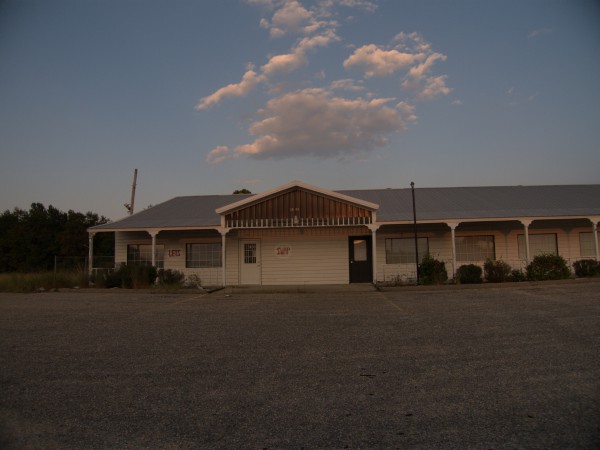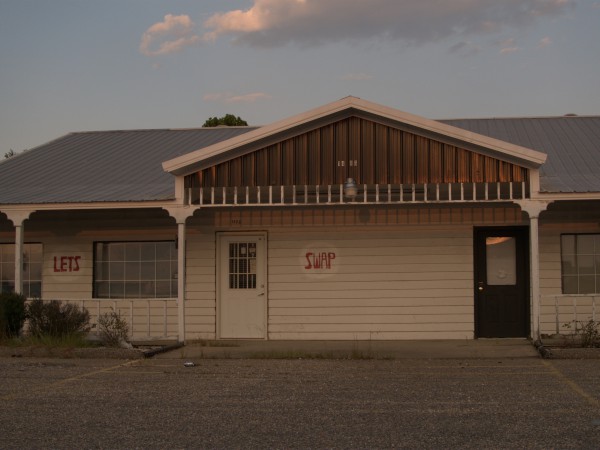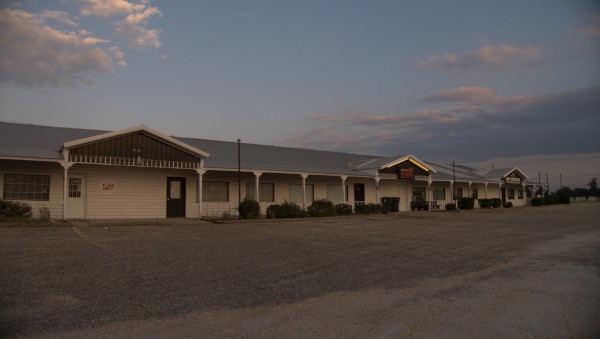 (also added the street address for the Surfside Beach location)
UPDATE 10 July 2020: Added some tags. Also adding the map icon for the 12th street location.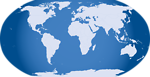 Posted at 12:25 am in Uncategorized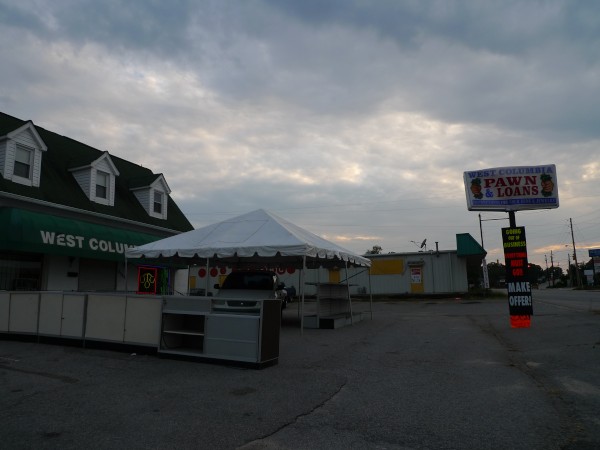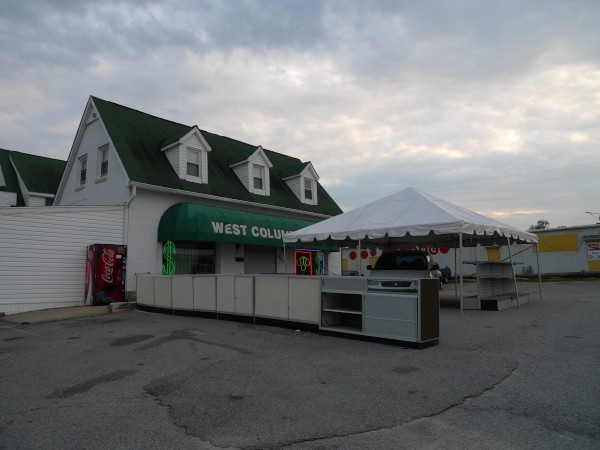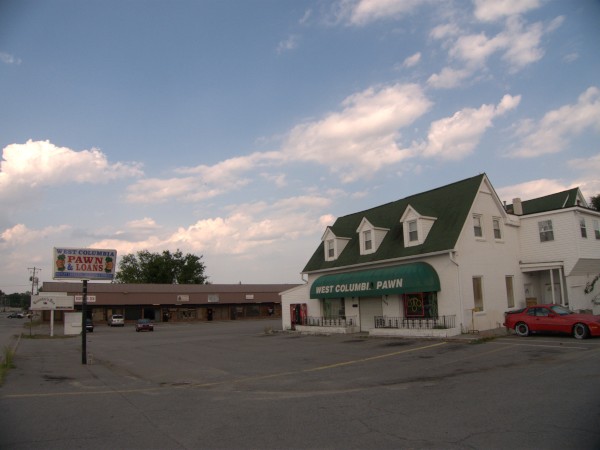 I first wrote about this building doing a closing for Luigi's Italian Kitchen, and that's the post the third picture comes from. The first two, which I took today, are done against the light and from inside the car because I was running late.
Anyway, I don't know anything about West Columbia Pawn & Loan, but you've got to think that if even *pawn shops* are going under, the economy must still be pretty bad.
UPDATE 2 Sept 2010 -- It's now West Columbia Pawn & Jewelry: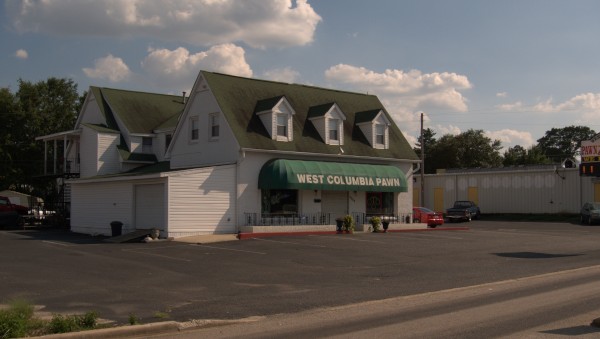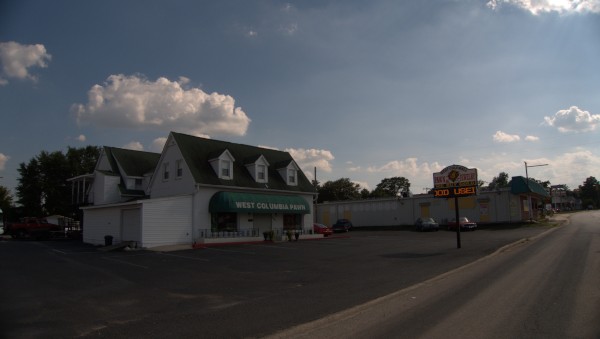 UPDATE 20 Dec 2010 -- And they do it up for Christmas: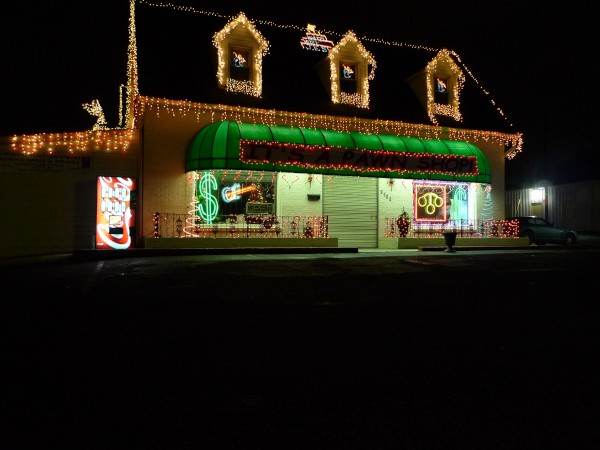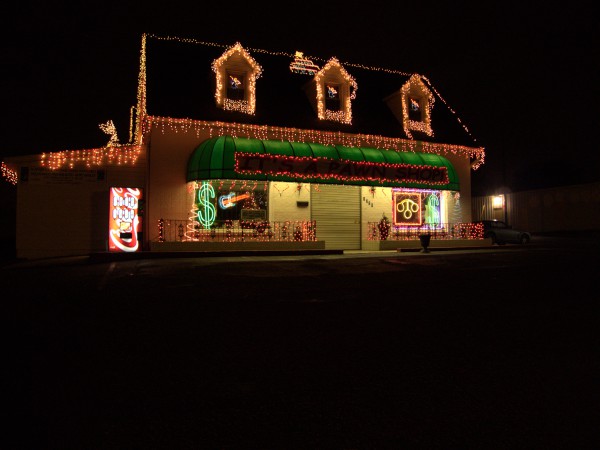 UPDATE 31 March 2014 -- Now it's It's A Pawn Shop: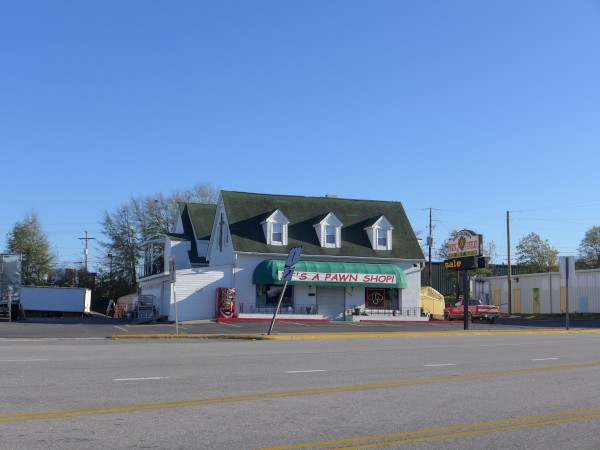 Posted at 1:17 am in Uncategorized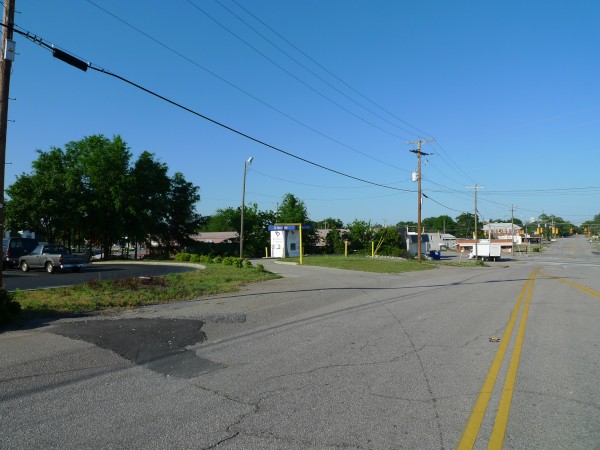 OK, this one is very vague. Hopefully someone will recall more details than this, but at one time this lot (now housing an ATM drive-through) on "B" Avenue in Triangle City West Columbia (up the hill from Zesto) had a WWII-surplus Quonset Hut standing on it.
We only went there a couple of times that I can recall since few of my mother's shopping destinations were in the area (perhaps we had gone to The Factory Outlet on 12th Street..), but the place was some sort of surplus store with all kinds of junk. It was sort of a combination of Big Lots and The Dollar Store, but it was definitely a local, one-off, operation. I have the feeling that it may have been un-airconditioned, with noisy fans running in the rear, but I might be mixing that up with some of the used-furniture stores we used to go to. To the best of my recollection, we never bought anything there, but it was definitely an interesting experience to go through the stock.
Anybody else remember this place?