Archive for the 'hotel' tag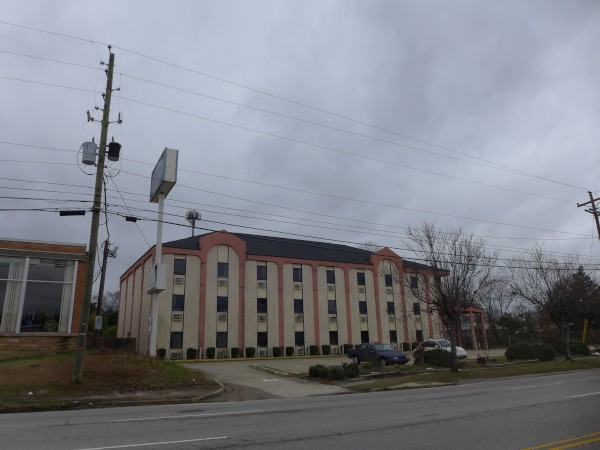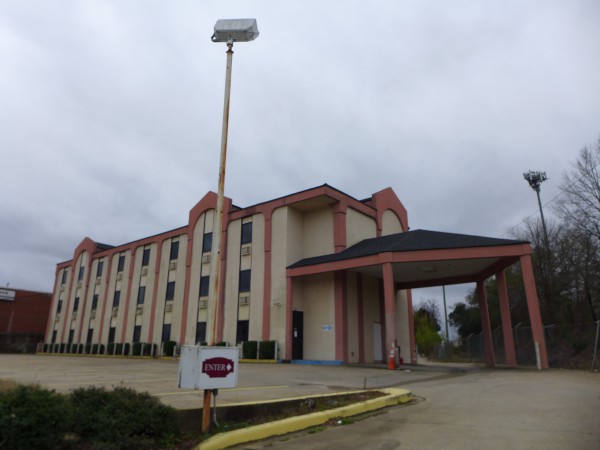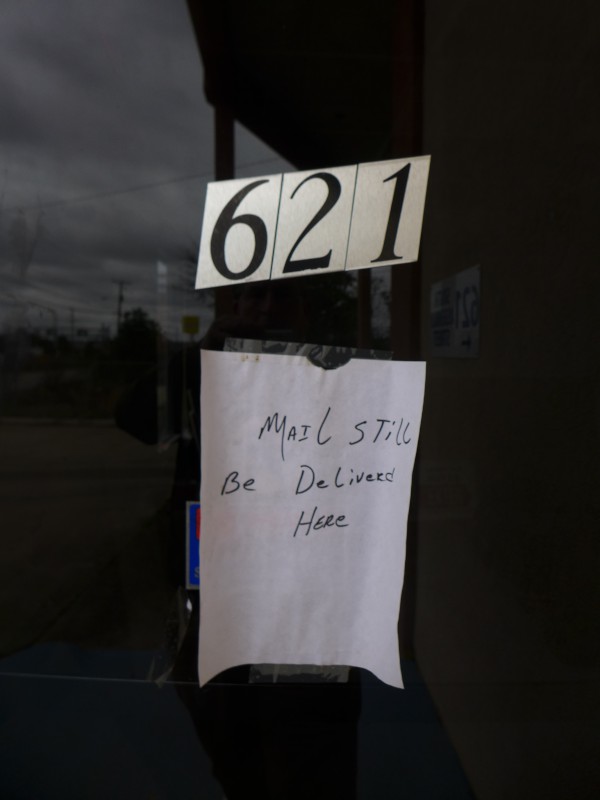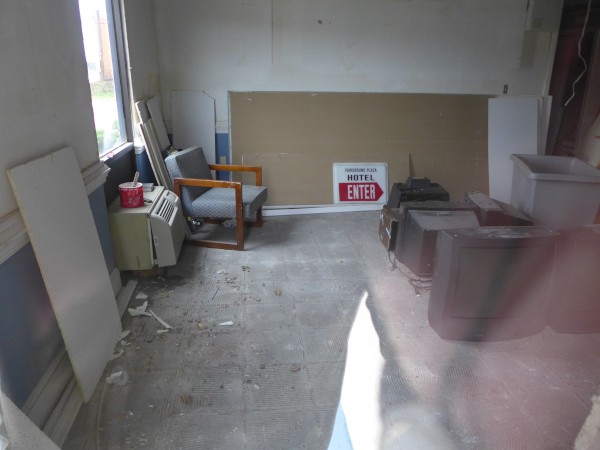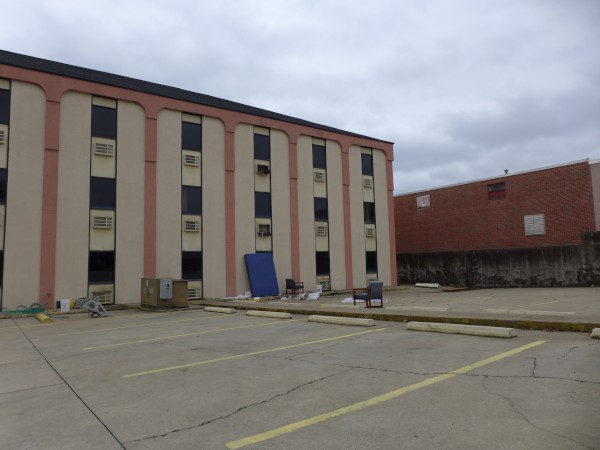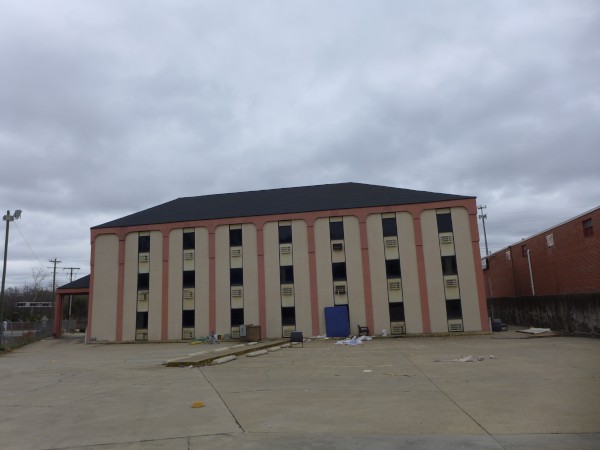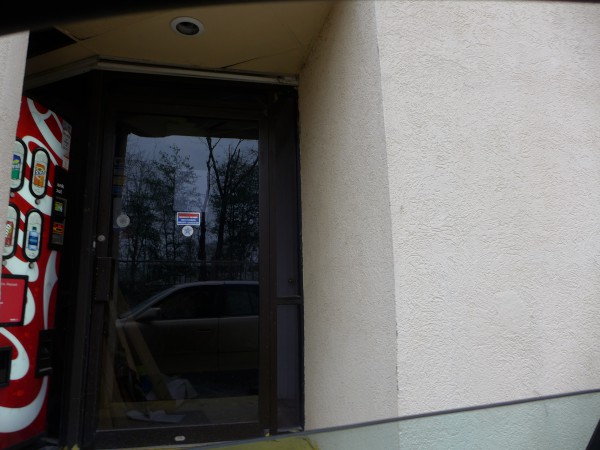 I actually went to take some pictures of this place a couple of years ago after driving past it one day and seeing absolutely no cars in the lot. In the event, it turned out to actually still be open at that time, if apparently having a very slow week. I wondered when I saw comenter badger's heads-up if that would be the case this time or not, but they are actually closed this time.
The sign on the lobby door (which you cannot actually read in the picture here) says that they are temporarily closed for renovations. The general state of the lot suggests that it is yet early in that process, and that it was indeed needed.
(Hat tip to comment badger)
UPDATE 11 October 2017 -- Now reflagged as Gallus Stadium Park Inn: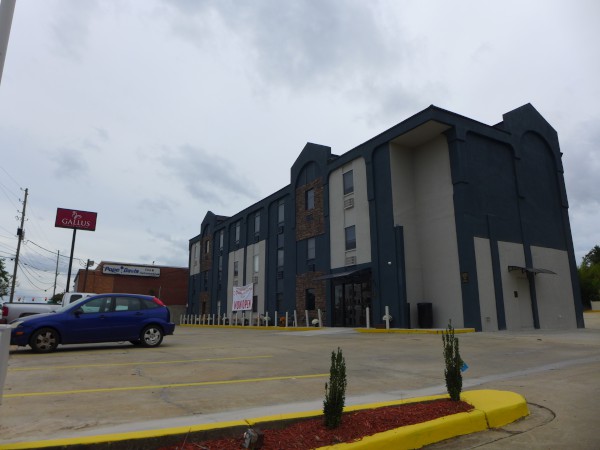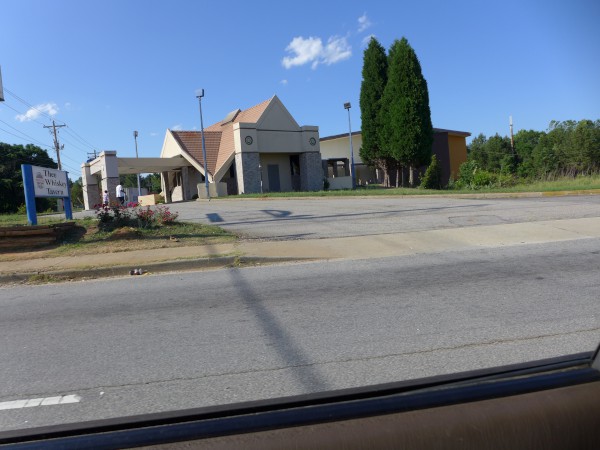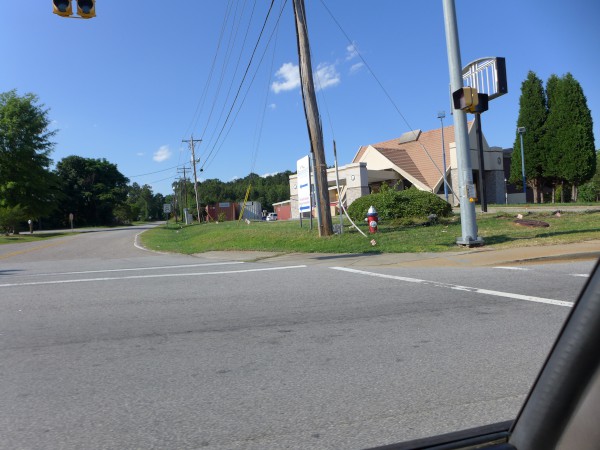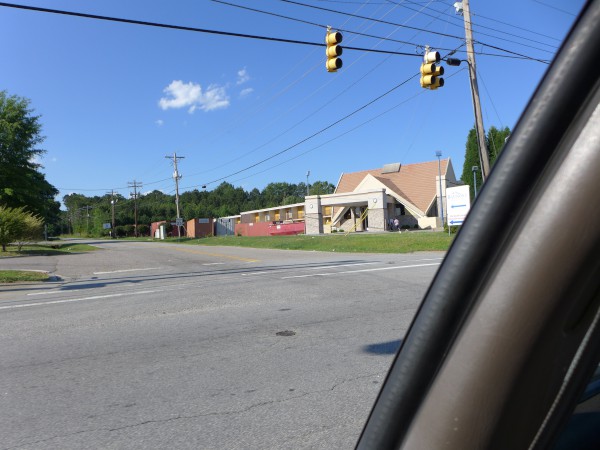 I noticed driving by the other day that the old Howard Johnson's on Zimalcrest Drive at Bush River has closed for remodeling. I believe it has most been under a number of flags since the Hojo days, but most recently, it was a Budget Inn.
This place is a bit unusual in that it has a strip club Thee Whiskey Tavern operating out of a suite of rooms. I have never heard of such an arrangement elsewhere (and don't know if the club is closed during the remodel). You will also remember that the attached restaurant Punjabi Dhaba suffered a fire in early 2014, and has since been torn down.
UPDATE 28 June 2016 -- Renovations continue: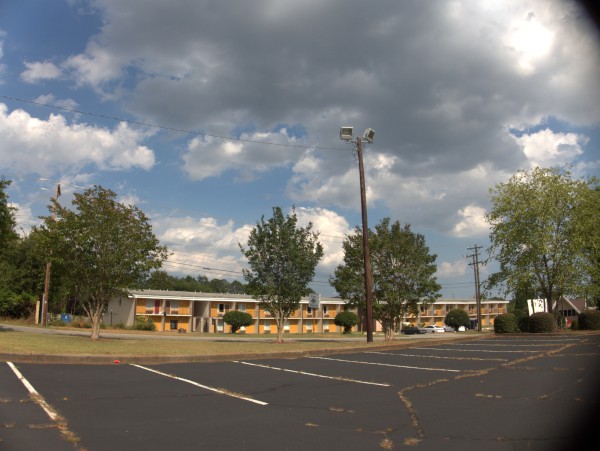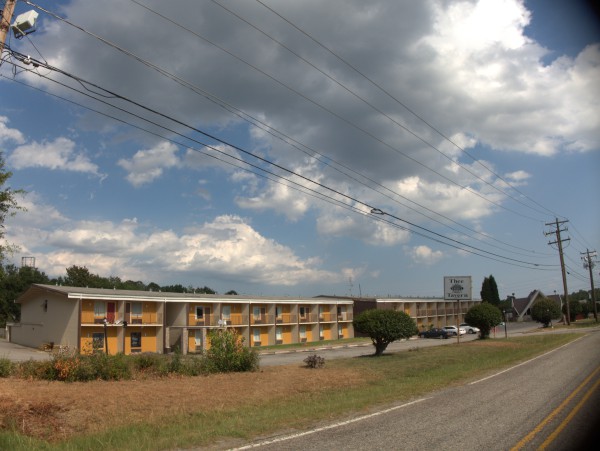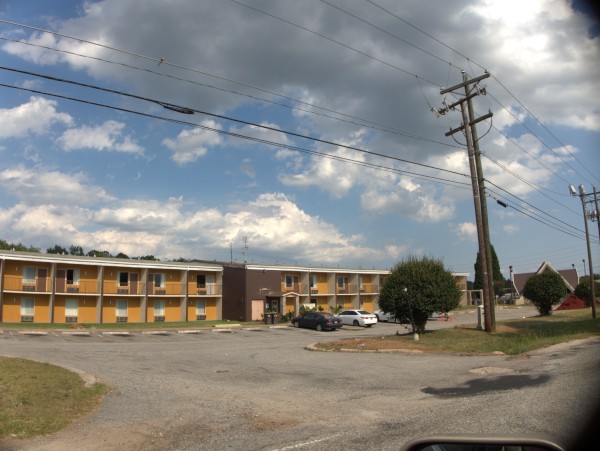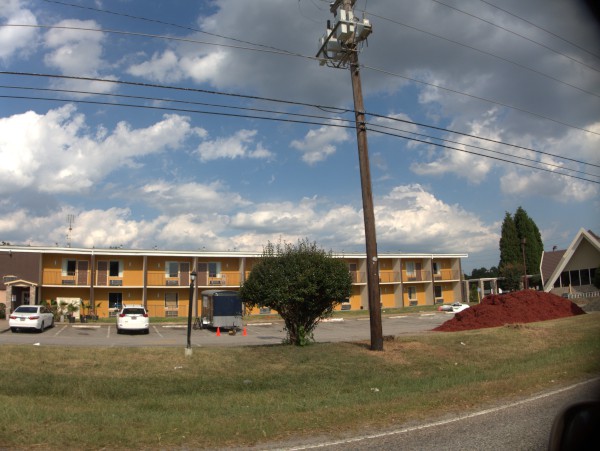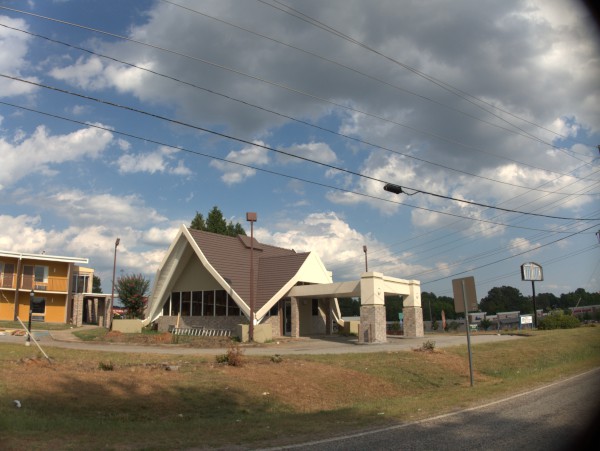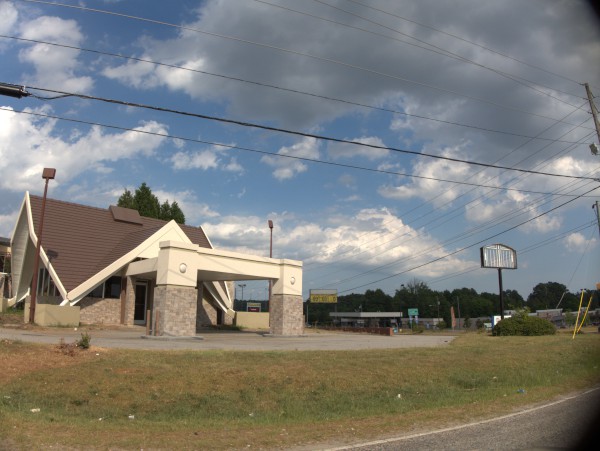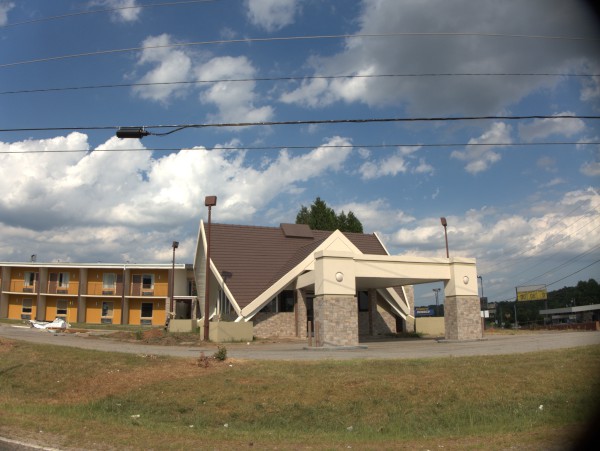 UPDATE 30 August 2016 -- Well this place is open again, now as Hawthorn Suites by Wyndham which at least sounds a bit more upscale this time. I will have to check to see if Thee Whiskey Tavern is still co-located or not: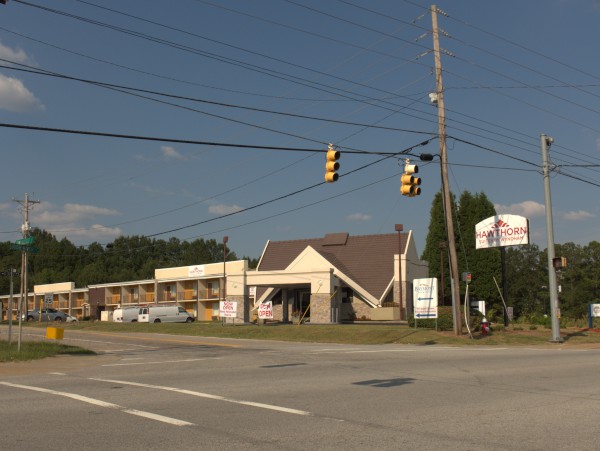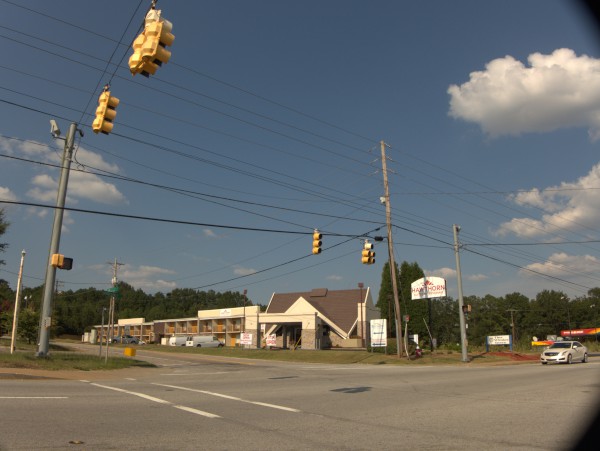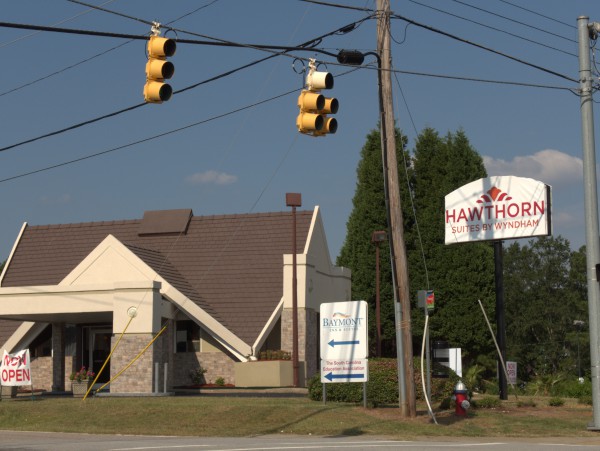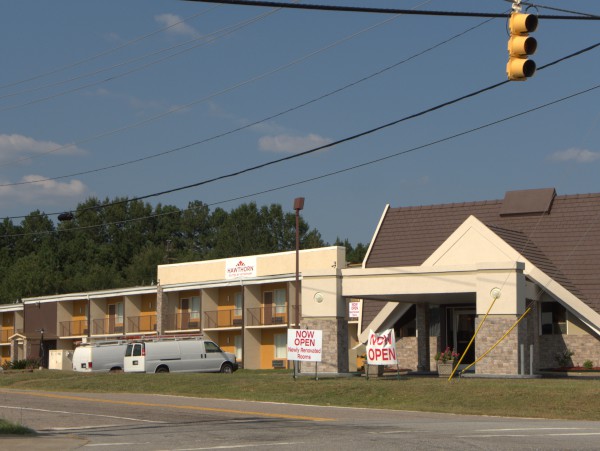 UPDATE 11 September 2016 -- Well Thee Whiskey Tavern is still there, something of an anomaly in a property that's trying to go a little bit more upmarket than Budget Inn: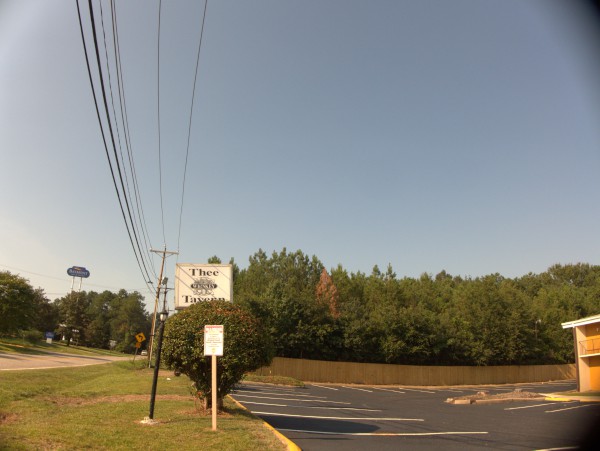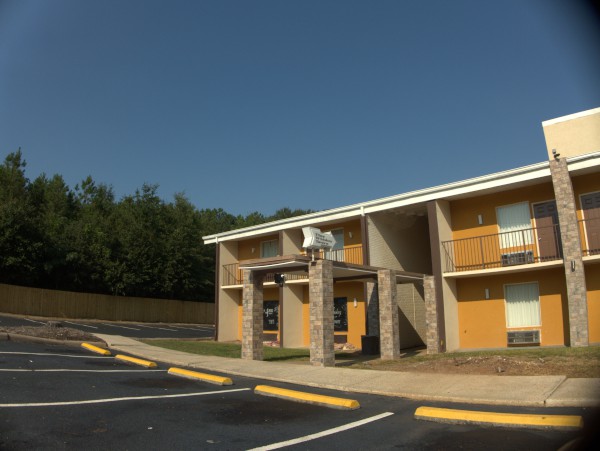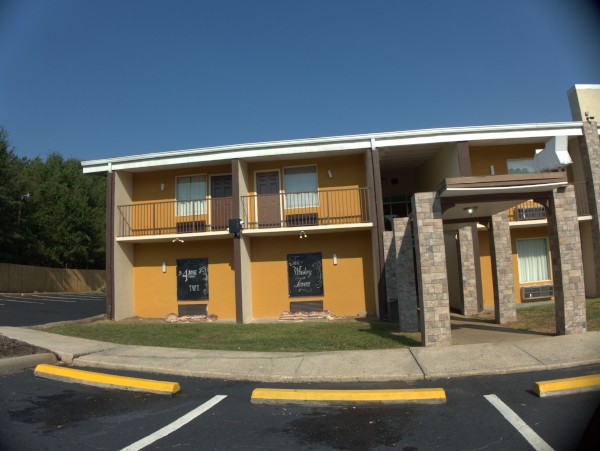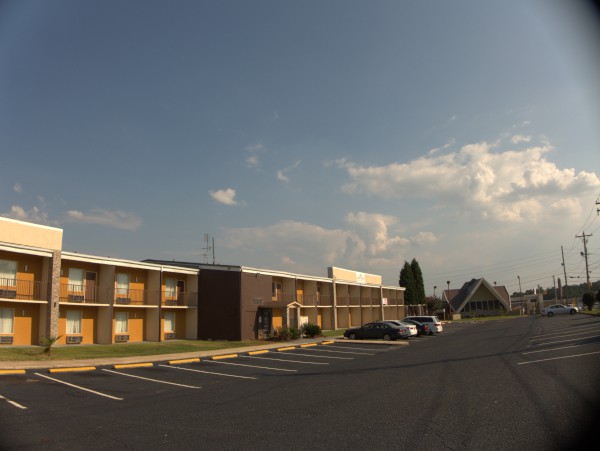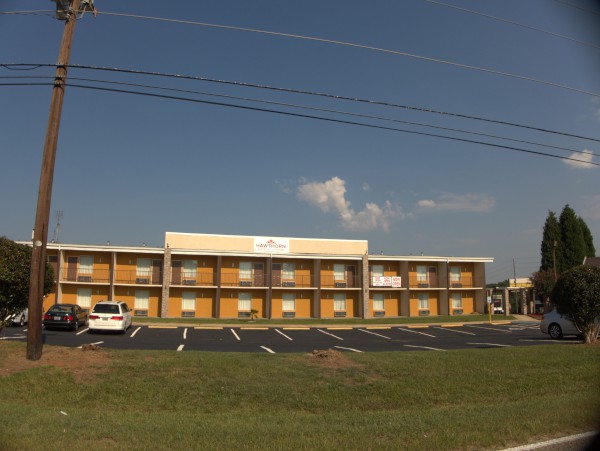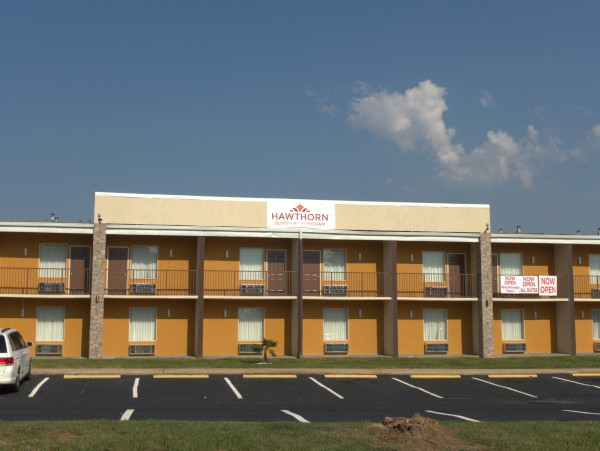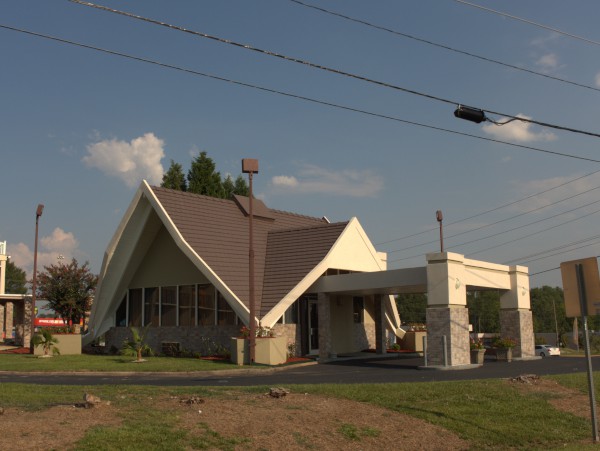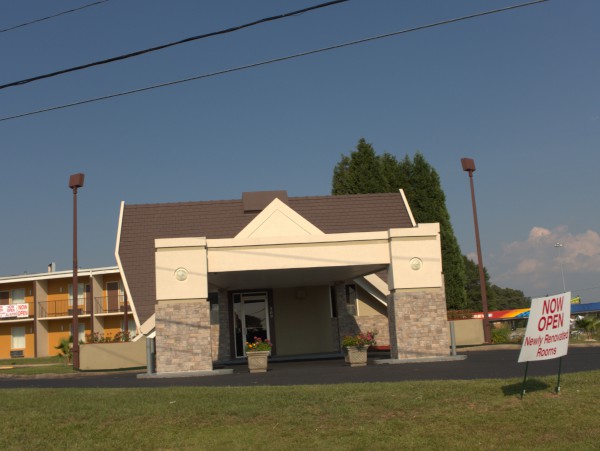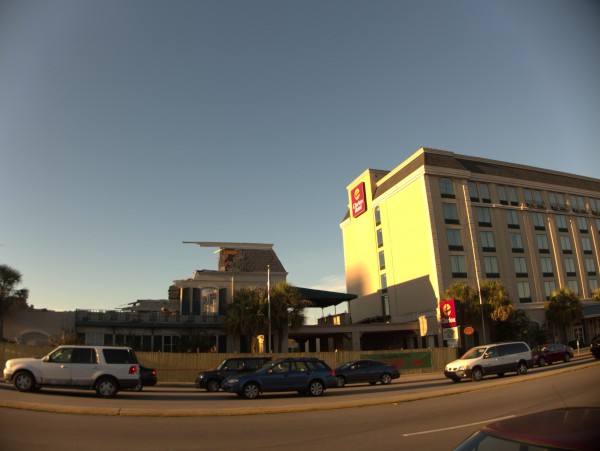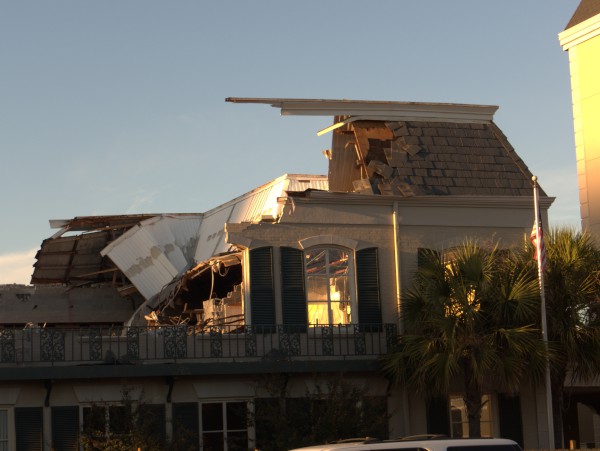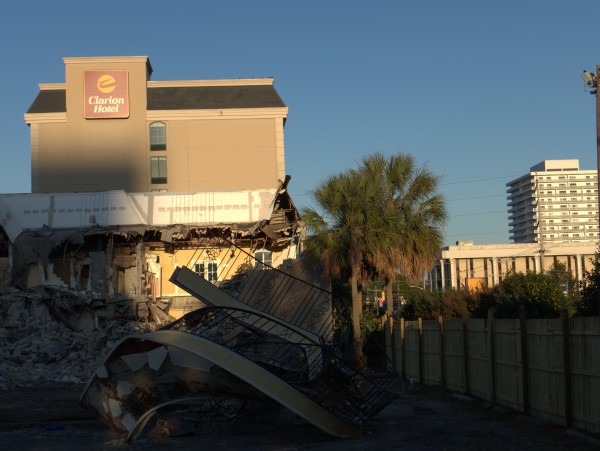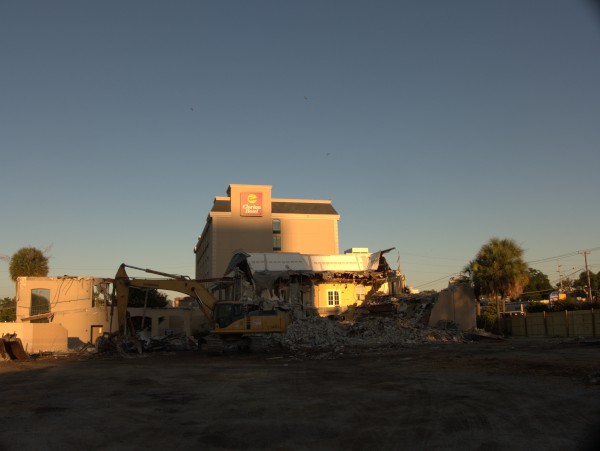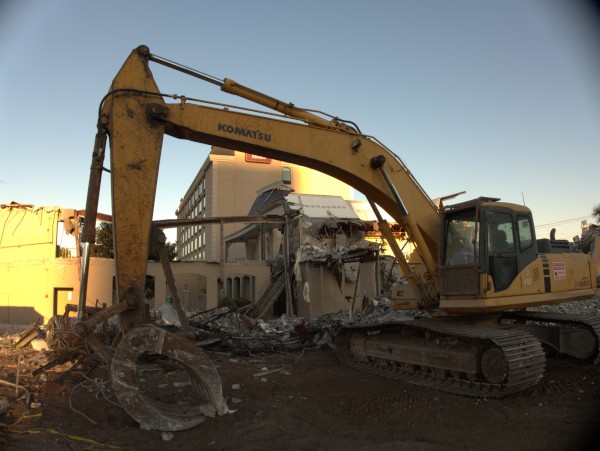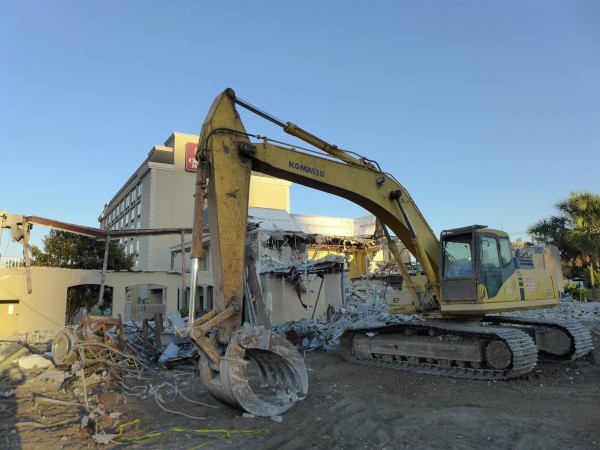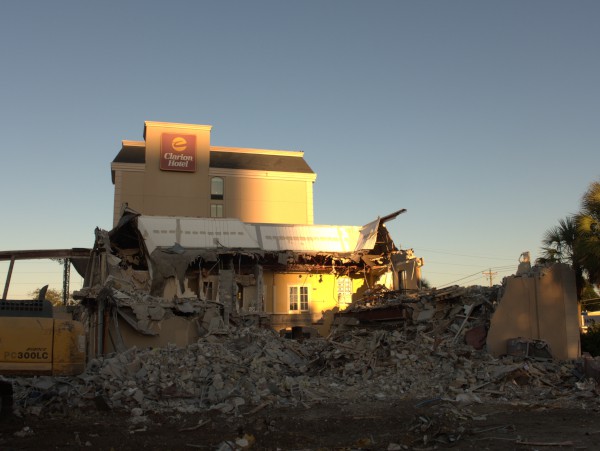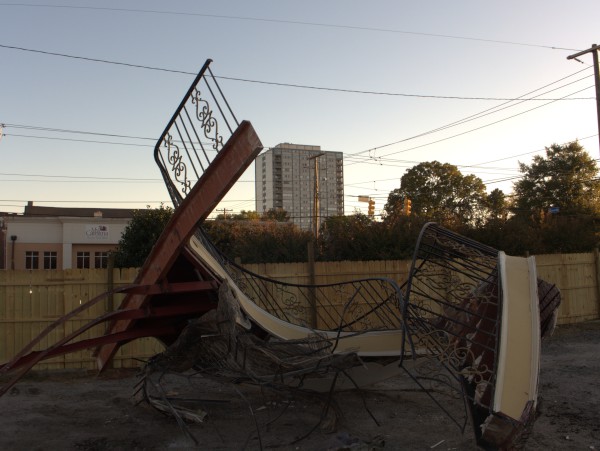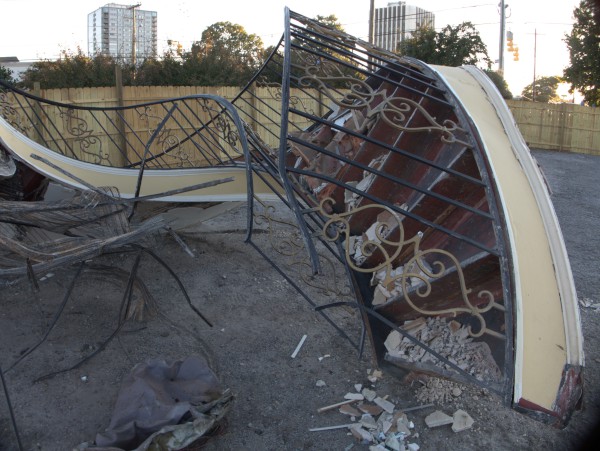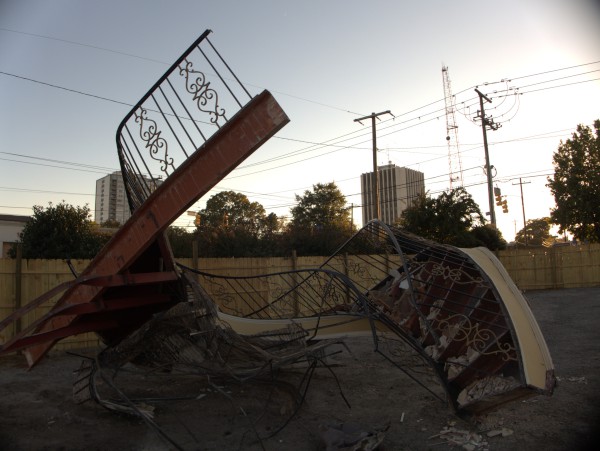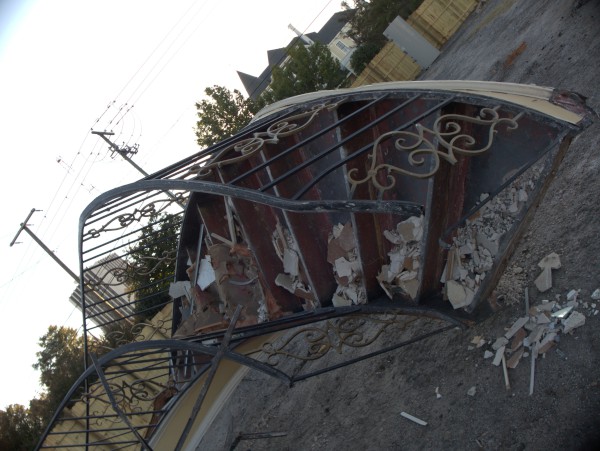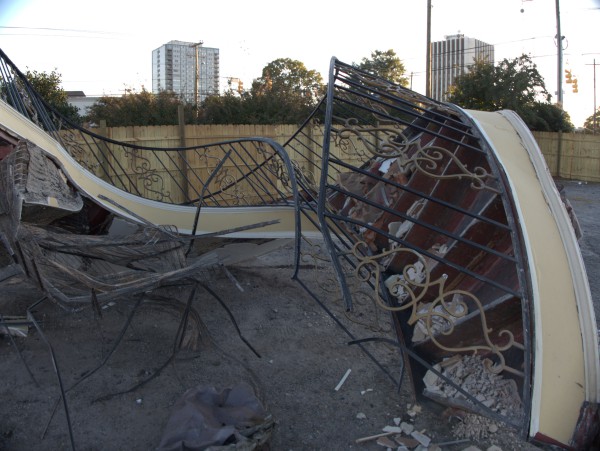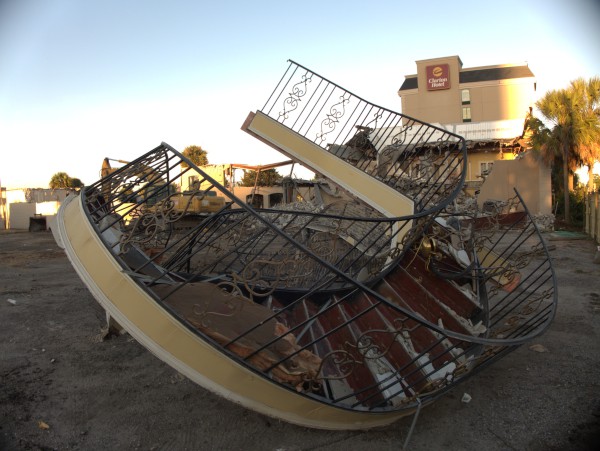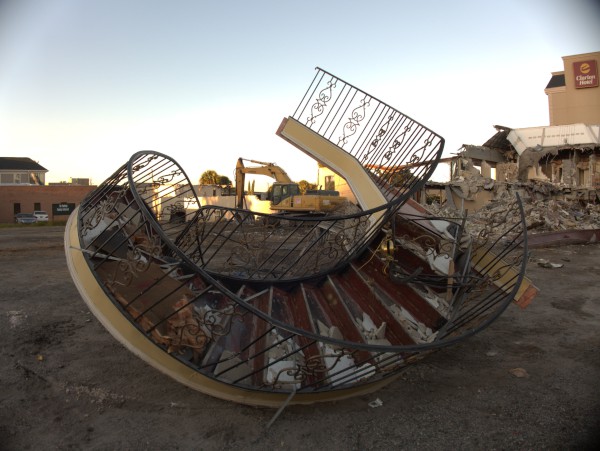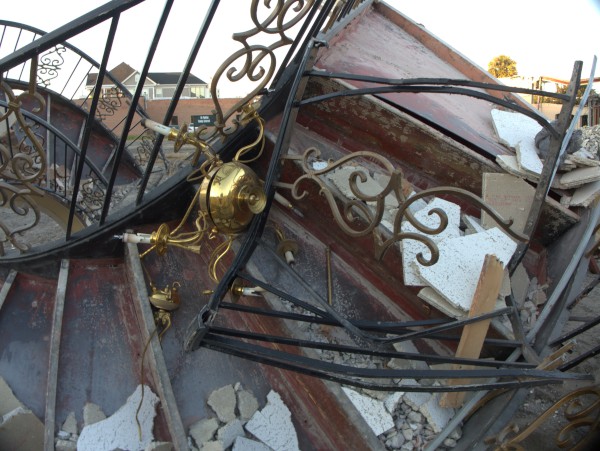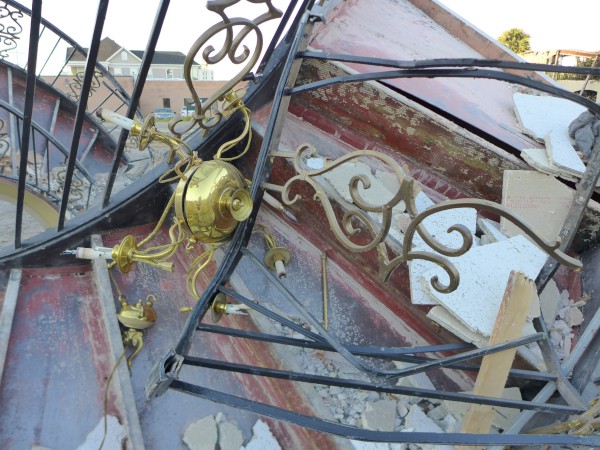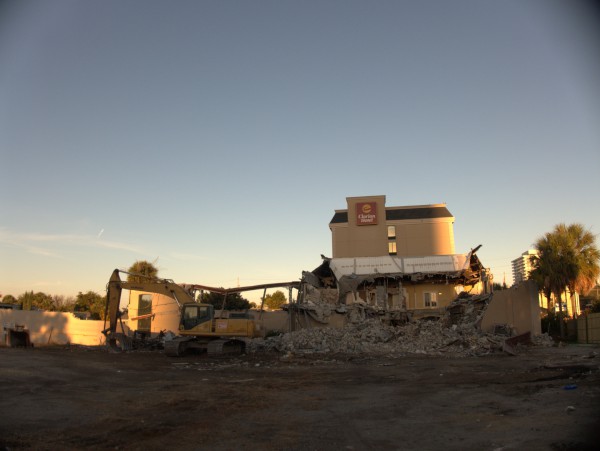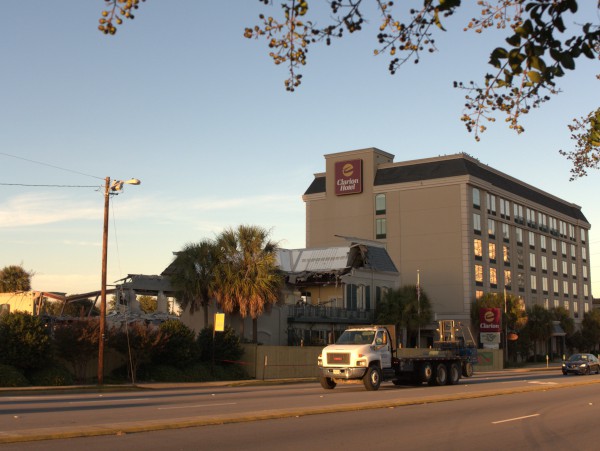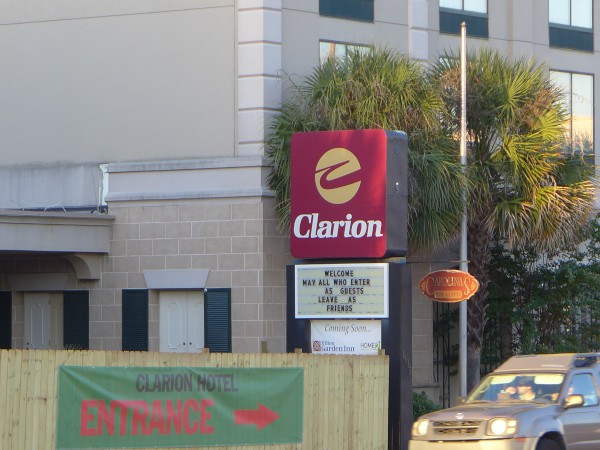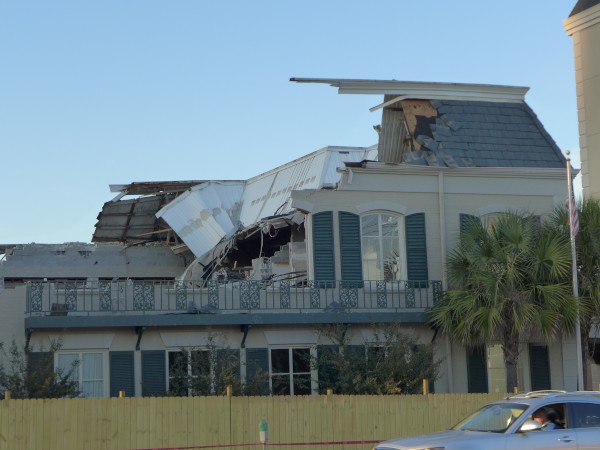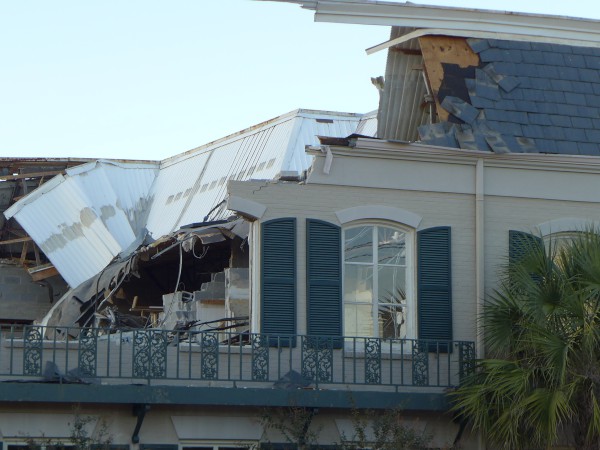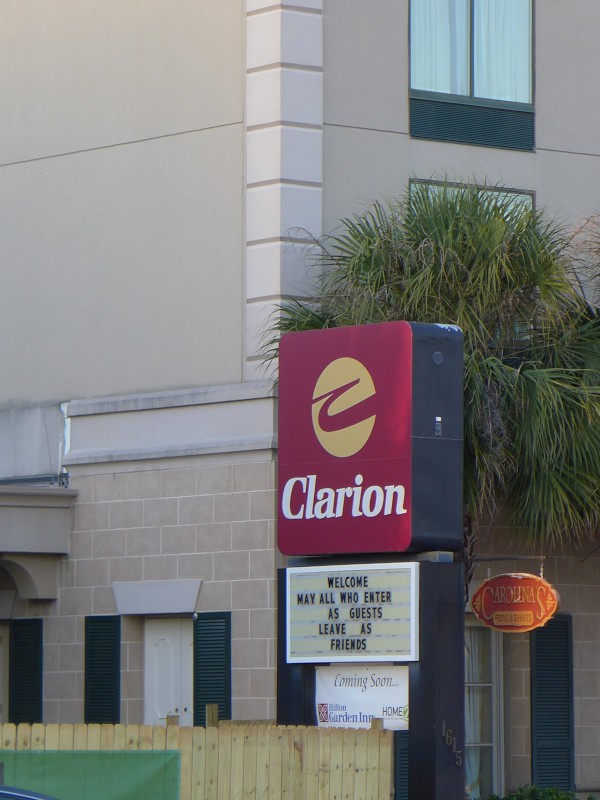 The Carolina's restaurant building at the Gervais Street Clarion is being razed as part of the upfitting of the property to become a dual branded Hilton Garden Inn / Home 2 Suites.
I never went there though over the years I heard it advertised many times, especially with New Years Eve packages at the hotel. I'm not sure exactly where the fancy spiral staircase fit in, but it doesn't seem like the sort of thing you would usually find in a hotel restaurant.
The State notes that the hotel was Sherman's Columbia headquarters and is a historic site. I confess I'm a bit confused about exactly what part of the property dates back that far. Surely the actual hotel building on Gervais is not that old.
(Hat tip to commenter badger)
UPDATE 4 November 2014 -- I had originaly titled this post Carolina's Restaurant, but according to the comments, that restaurant is still in service as part of the hotel proper:
The restaurant itself is still open. It closed temporarily during the construction, and then re-opened. The images that you've posted above were not the actual Carolina's Restaurant. That's actually inside the Clarion Hotel. That building was for banquet halls, conventions, and that sort of thing.
UPDATE 13 November 2018 -- Four years later and work is still ongoing, though things are shaping up: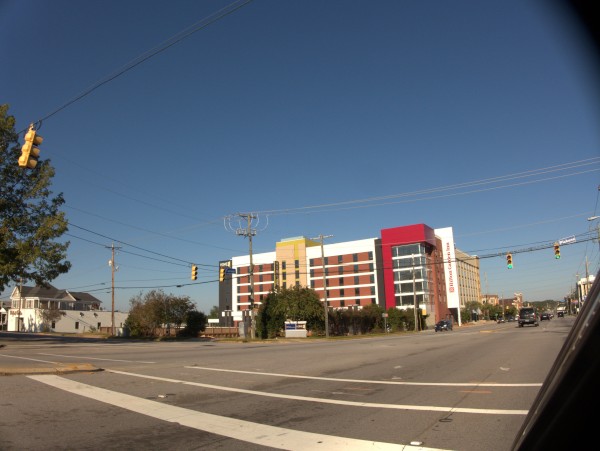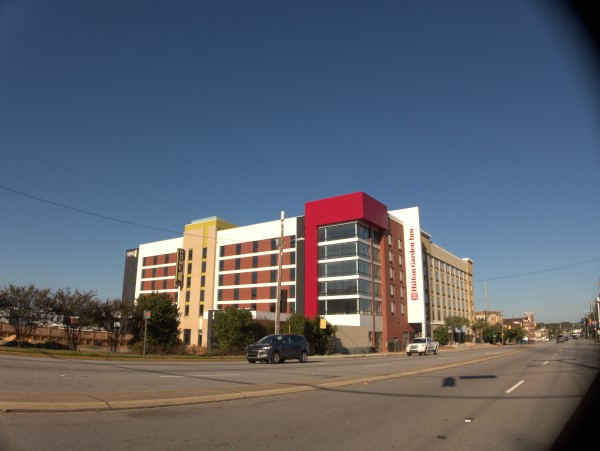 Posted at 12:12 am in Uncategorized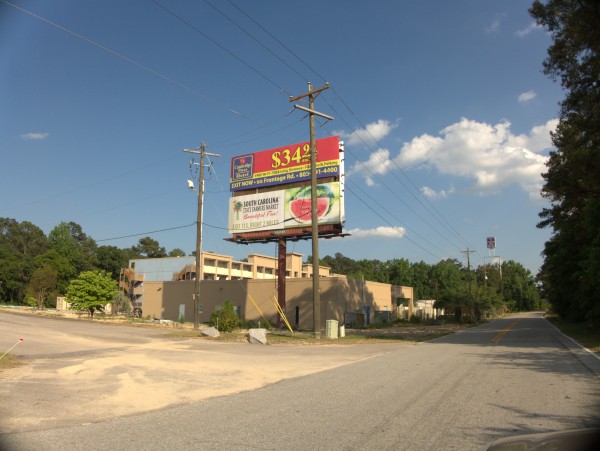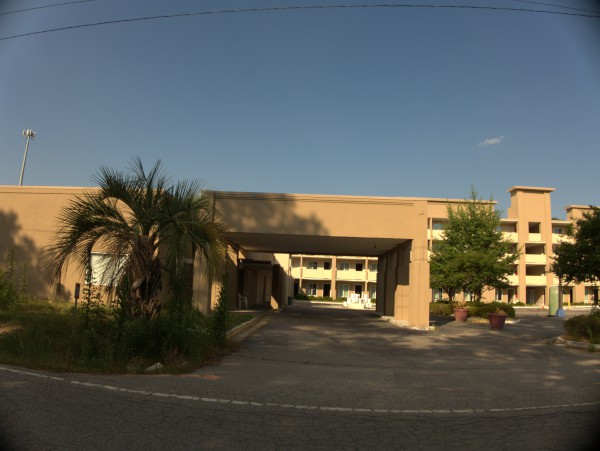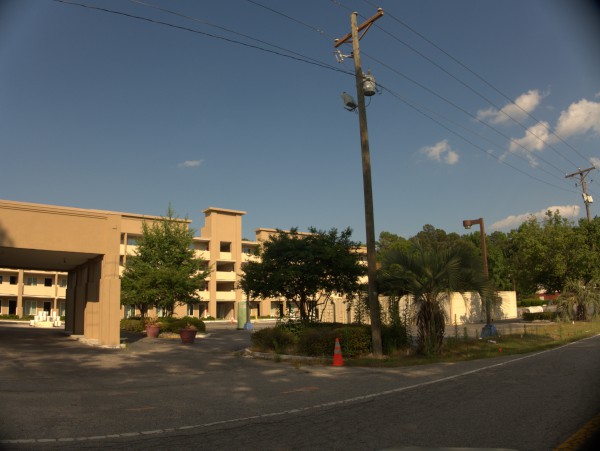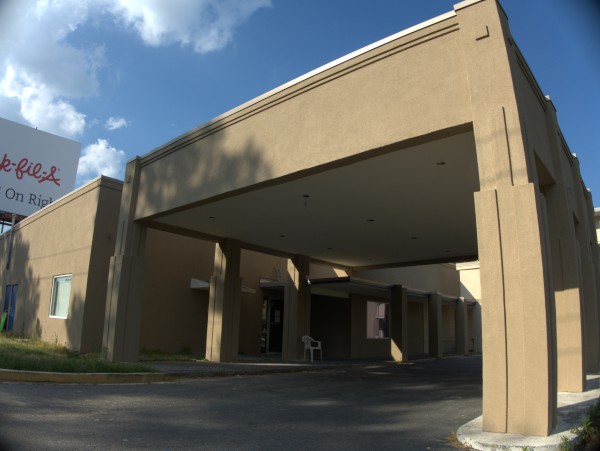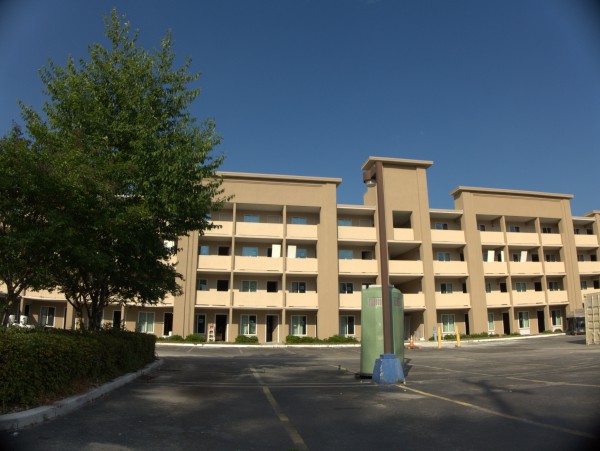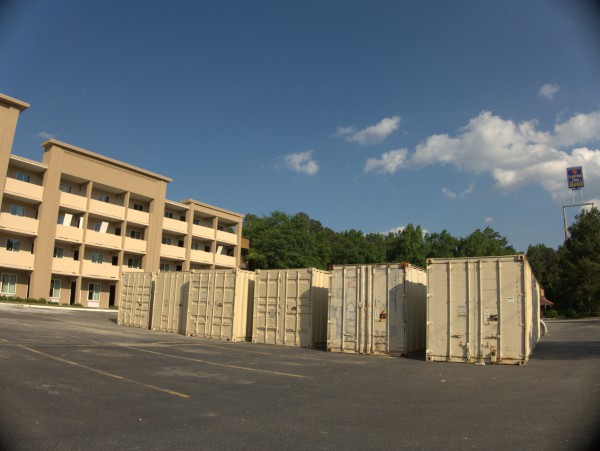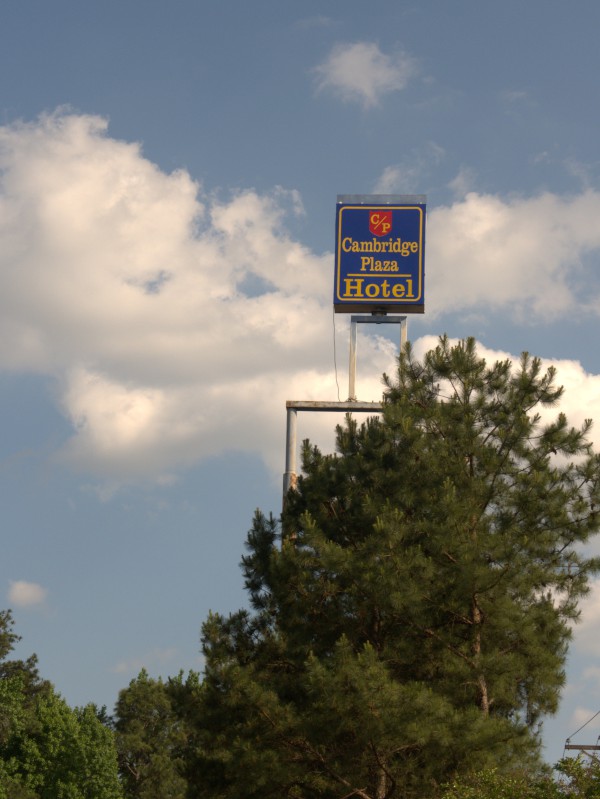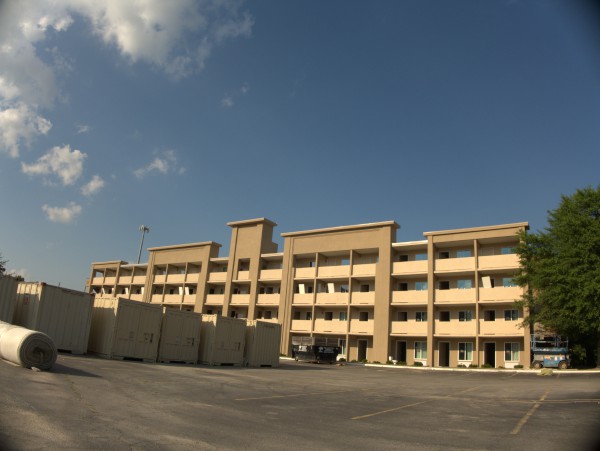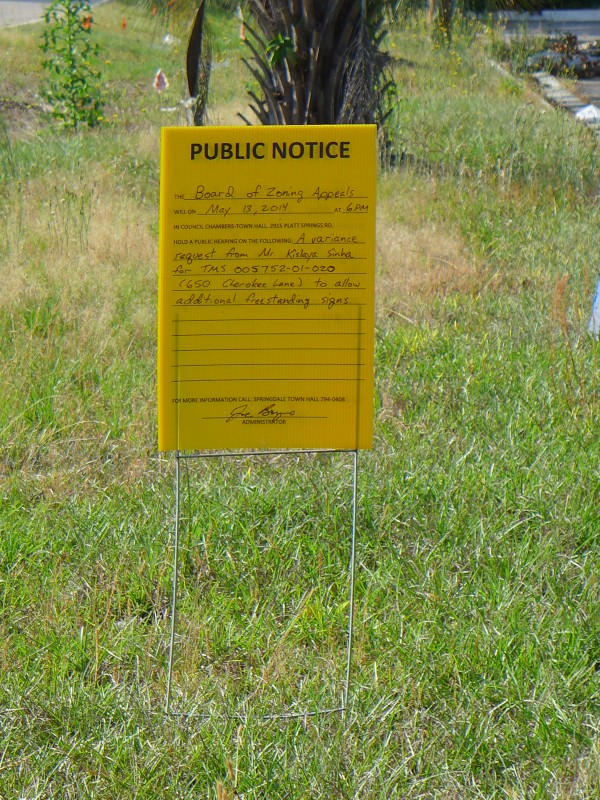 This hotel is down one of those "suicide" Interstate frontage roads like Garner Lane where they use the same on-ramp as the Interstate for frontage access. I don't like 'em.
Anyway, the Cambridge Plaza Hotel there is currently undergoing renovation. It should be back, possibly with increased signage, fairly soon.
UPDATE 4 Jun 2014 -- Commenter Bobby verifies that this place was once a Best Western so I have added that to the post title.
UPDATE 26 June 2014 -- Looks like it's to be a Super 8 when it reopens: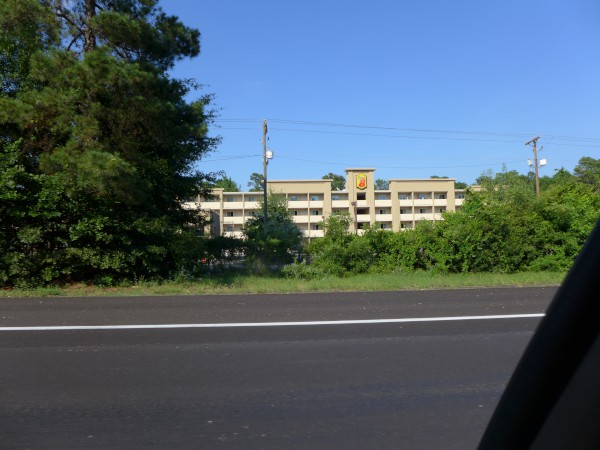 Posted at 11:47 pm in Uncategorized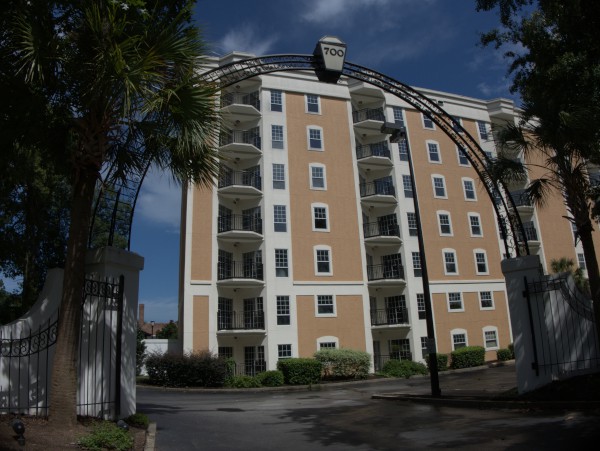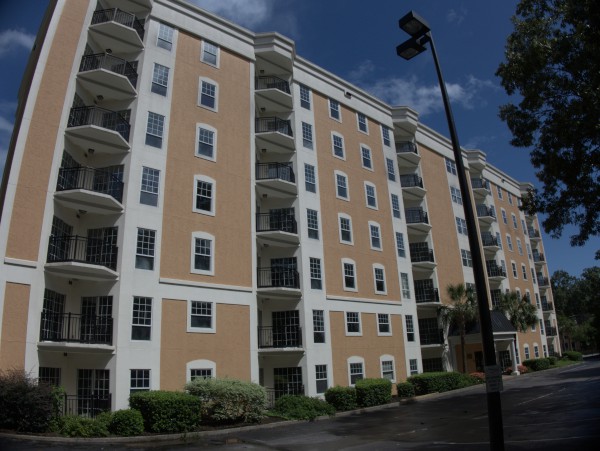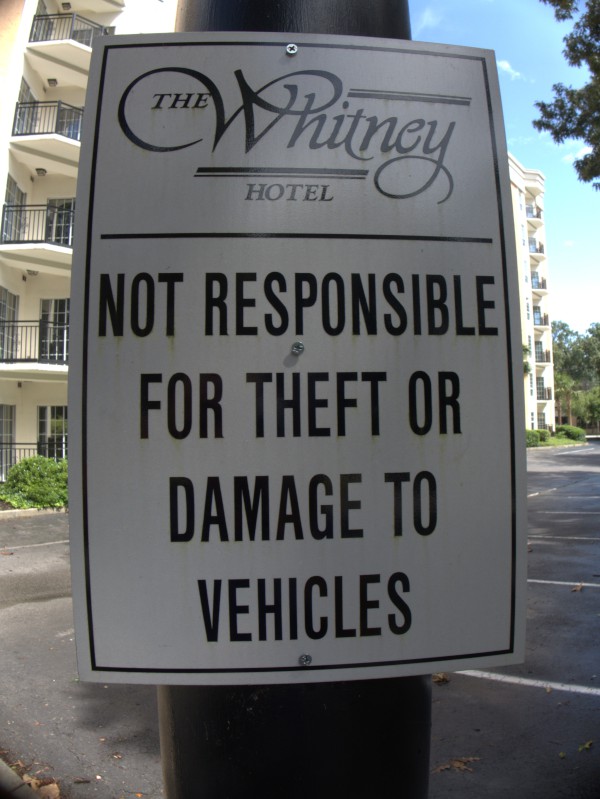 As Sir Elton said, it's "The Circle Of Life". This building in the heart of Shandon at the corner of Devine & Woodrow was a condo back in the 1980s and in fact one of my cousins lived there for a while. Then at some point it became a botique hotel (catering to exactly whom I never understood), and now it's to be condos again.
The State had the story recently on what is to become "700 Woodrow". Of course, at this point it's a pretty old building, and it's going to need a lot of work to become "luxury apartments". It appears said work has already started.
Posted at 12:32 am in Uncategorized
Posted at 1:58 am in Uncategorized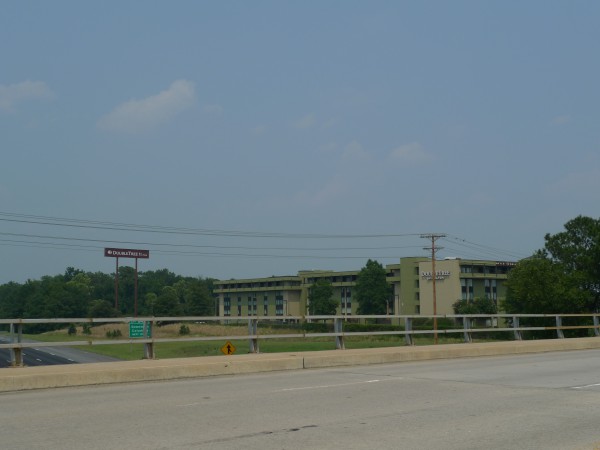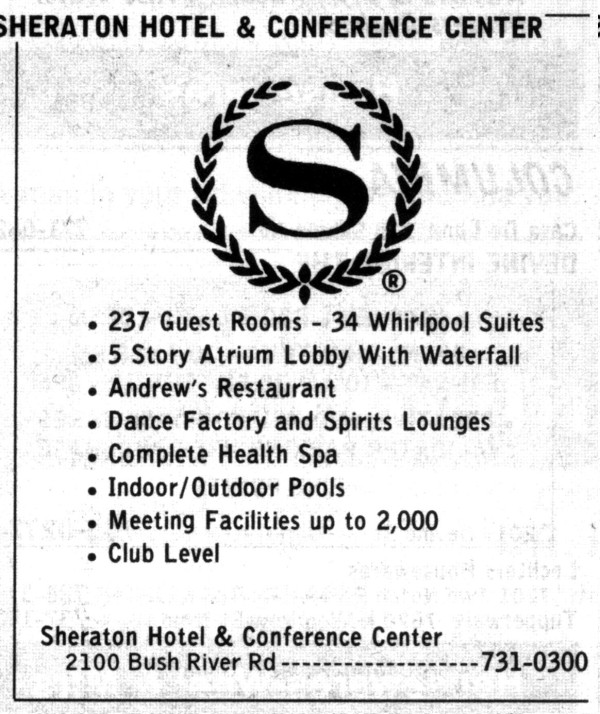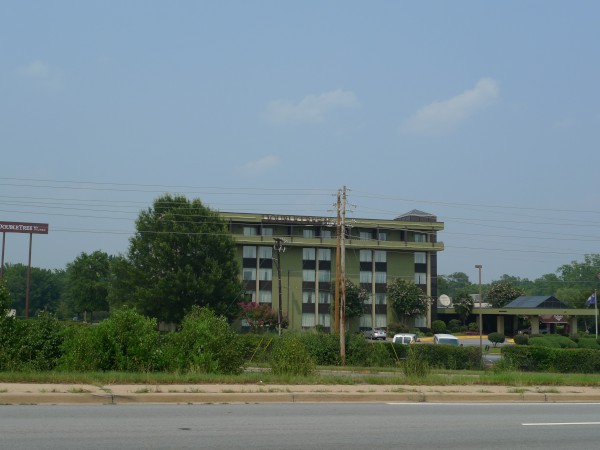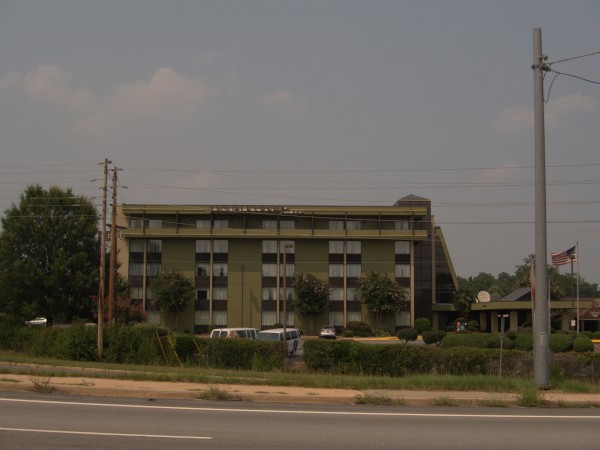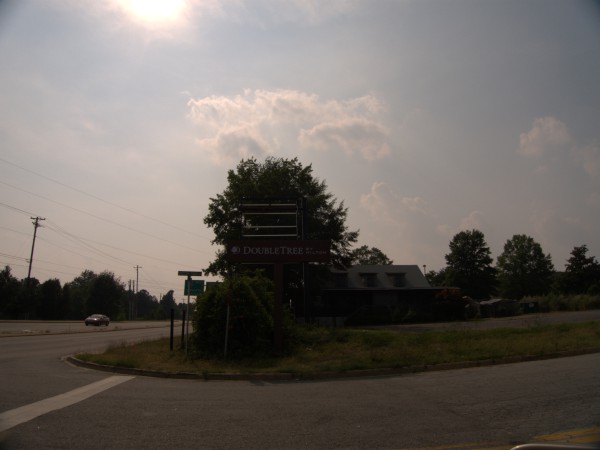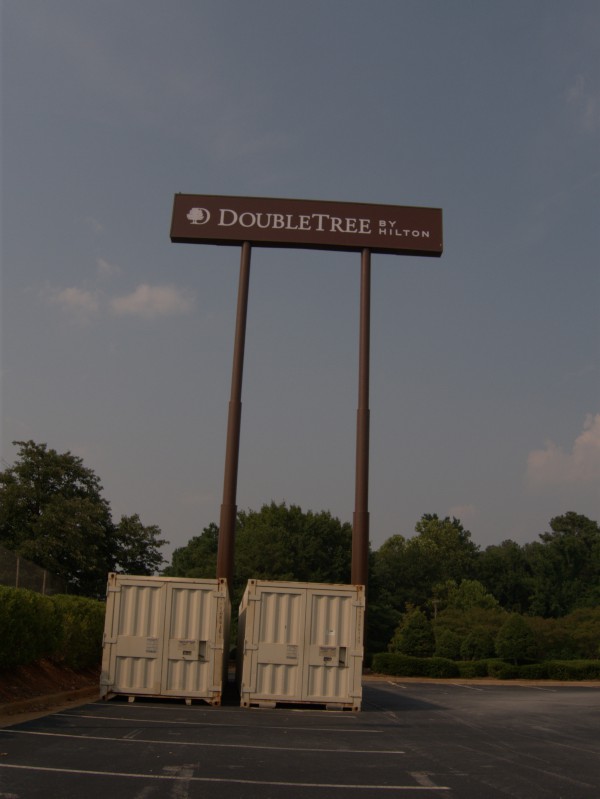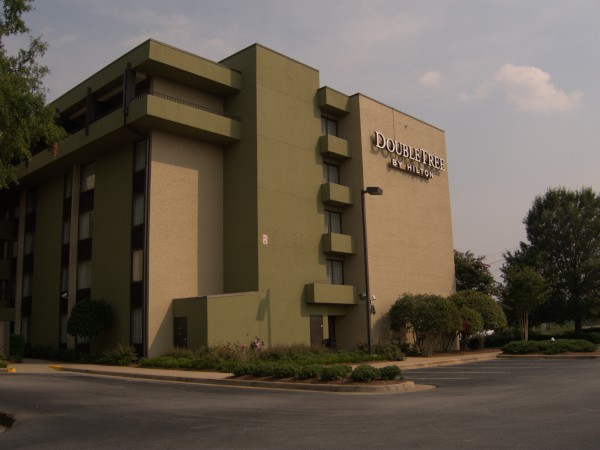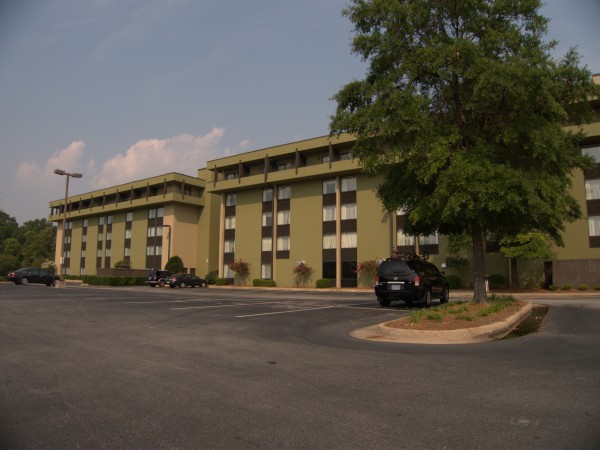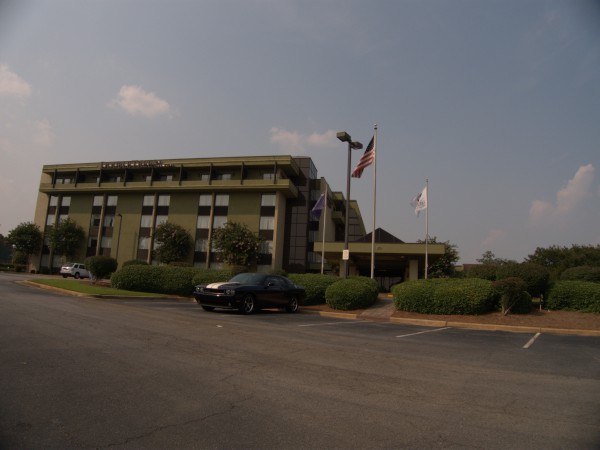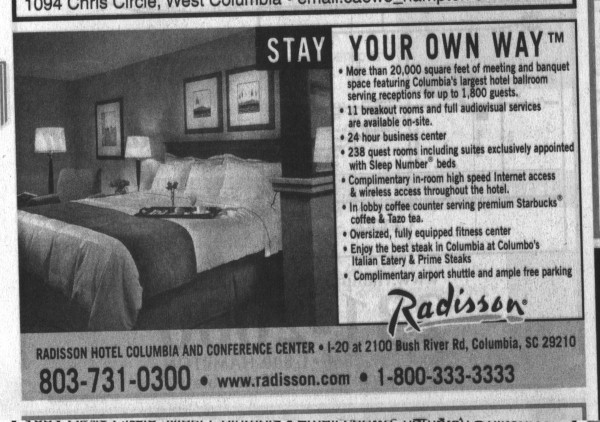 When the The Sheraton on Bush River opened, it was a big deal, and for many years it was certainly an impressive landmark designating the edge of town as you came in from Georgia on I-20. (Now of course the metro area sprawls out past the Lexington exits). Of course since I actually lived in Columbia, I never found a reason to stay at the hotel, and even to visit the restaurant would have been a long drive from Forest Acres, but I always imagined it as a "swanky" place. Thinking about it as an adult, I'm not sure I really understand the concept. It's been my experience in going to conferences that conference hotels are normally built in a downtown, or at least fairly dense suburban area such that there are restaurants and nightclubs for the attendees to go to in the evenings, especially those who took taxis from the airport and want something within walking distance. That pretty much describes exactly the opposite of this spot.. Columbia as a conference destination is a pretty hard sell anyway, but this isn't exactly The Vista (which granted didn't exist as such in the 70s, but there certainly were spots with nightlife..).
Anyway, The Sheraton operated as such until, I believe, the early 2000s. Certainly it still did in 1996 when they would have bought the ad for the February 1997 phonebook pictured here. After that, the hotel reflagged and was operated as a Radisson as shown in this year's (February 2011) phonebook until June. The new flagging is for DoubleTree by Hilton, a brand that I can't really place on the hotel ladder. I'm guessing they don't have a Dance Factory.
(Hat tip to commenter Tom)
UPDATE 11 July 2011 -- Originally I led with this drawing, which I believed was the Sheraton on Bush River, but it appears instead to be another ex-Sheraton, on Assembly Street. I have edited the text claiming that, and moved the picture down here for those who already saw it and commented on it: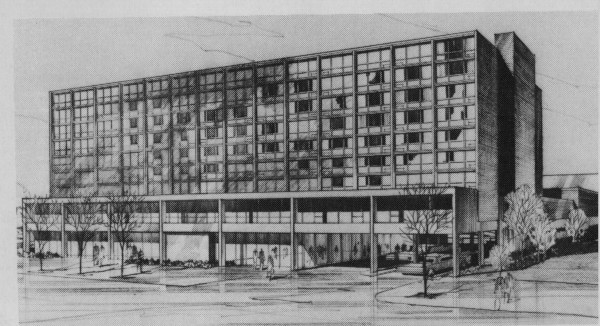 Posted at 11:23 pm in Uncategorized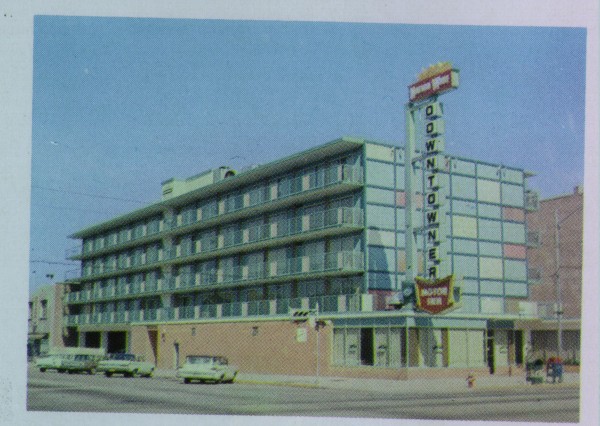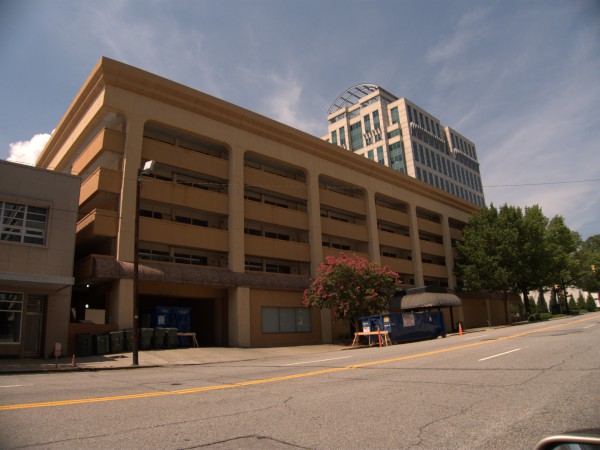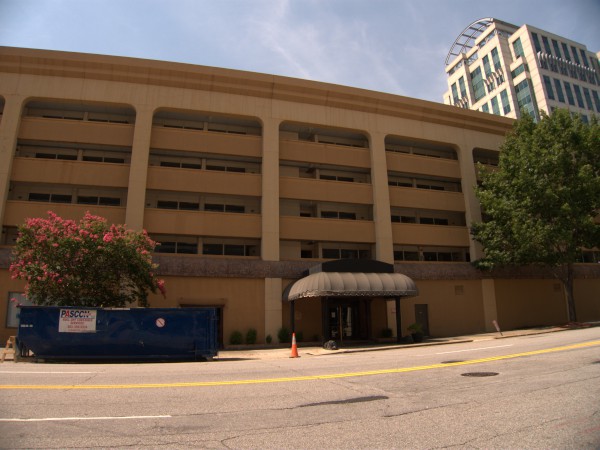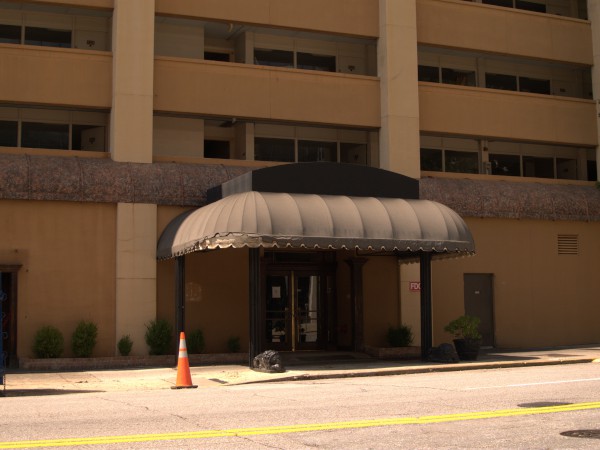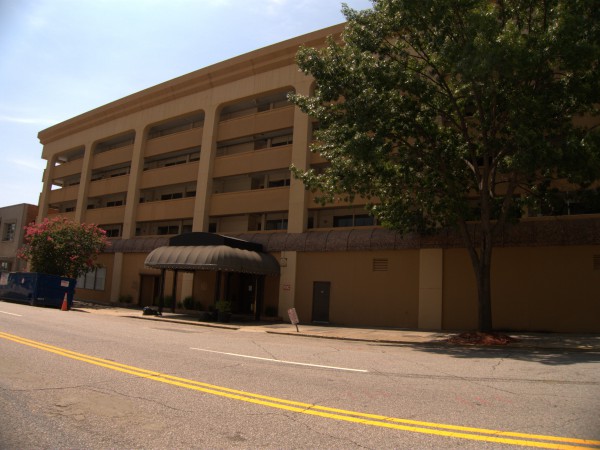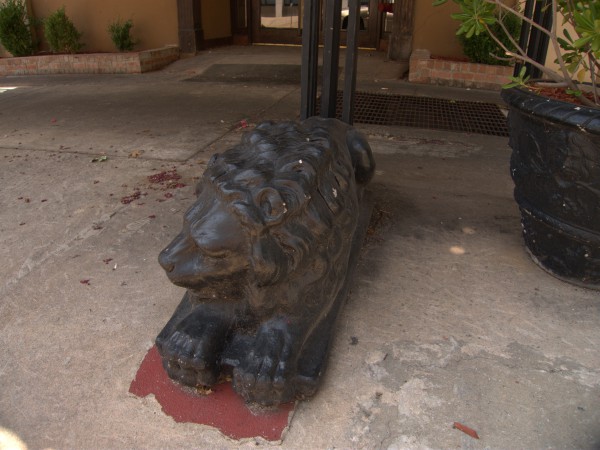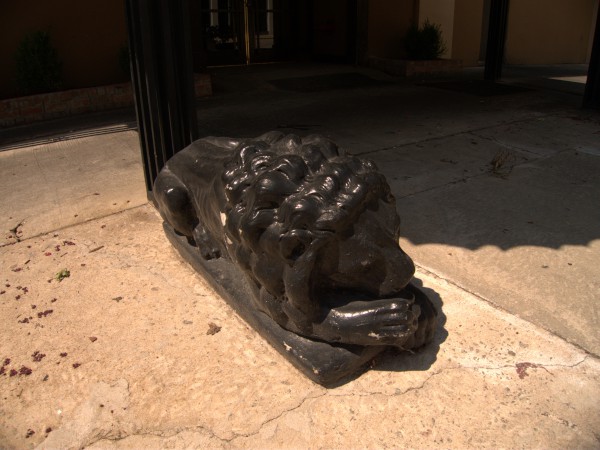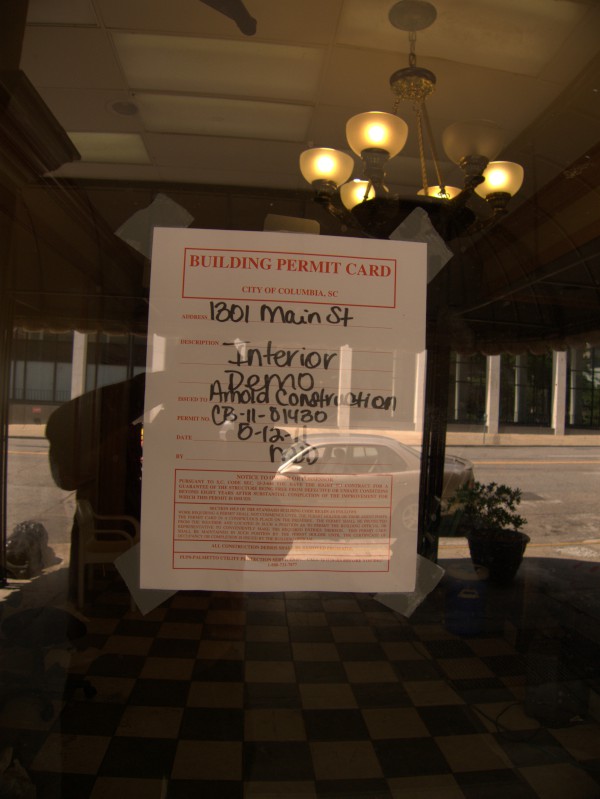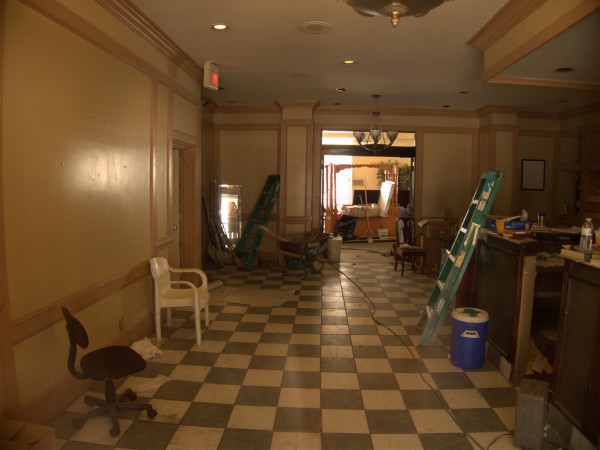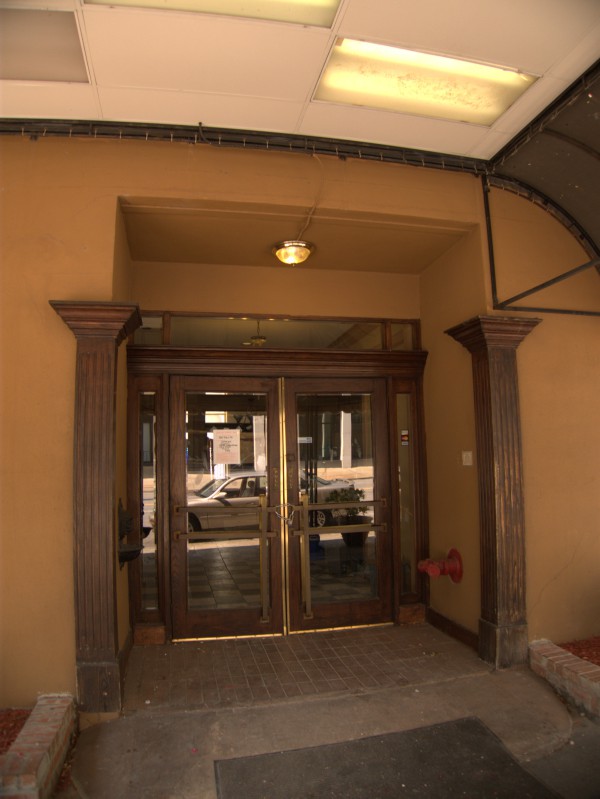 As reported by The State this venerable hotel at the corner of Main & Lady Streets will be converted into a upscale condo called The Palms with 54 "resort-style" units. They will also have a view of what is apparently the only pool on Main Street.
Given that the article talks about the developer struggling to find financing for the project for several years, and the fact that the Rodeway Inn is listed in the Feb 2011 phonebook, I can only guess that the developer owned the property and continued to run it as a hotel until things came together. I admit to being surprised how long it lasted as a mid-to-lower-mid market motel in an area that if it gets anyone (after all who in the general population wants to visit Columbia and stay on Main Street?) would get high-roller business and government connected types.
(Hat tip to commenter Tom)
UPDATE 26 May 2012: Here's a State article on the opening of The Palms.
Posted at 12:48 am in Uncategorized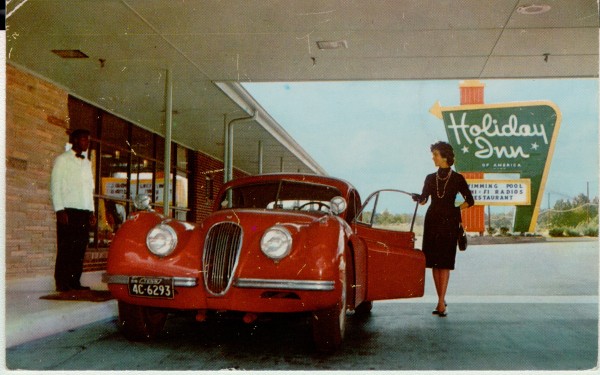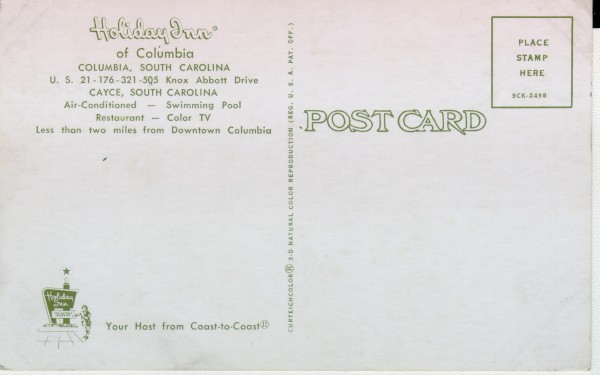 "Your Host From Coast-to-Coast"
I went looking for this building on Knox Abbott last year, and as far as I can tell, there is nothing at that address now. The postcard certainly makes what appears to be a rather nondescript building look impressive by adding a sharp car and elegant model, even if there is perhaps a touch too much of "the old South" in the pose chosen.
My experience with Holiday Inns over the years has been mixed. I currently seek out the Holiday Inn Express sites, which seem to be uniformly good. The "regular" HIs can be a mixed bag. The one I used to go to quite often in DC invariably had the freeze/bake thermostat system, and at least once seemed to have gotten the cold and hot water pipes running to my room backwards (though luckily, hot was at best "tepid" in that case).
Posted at 10:35 pm in Uncategorized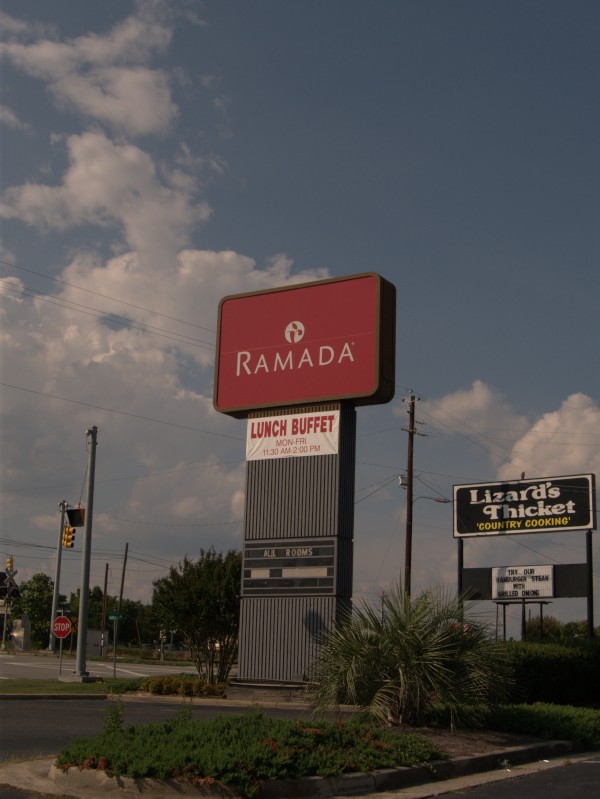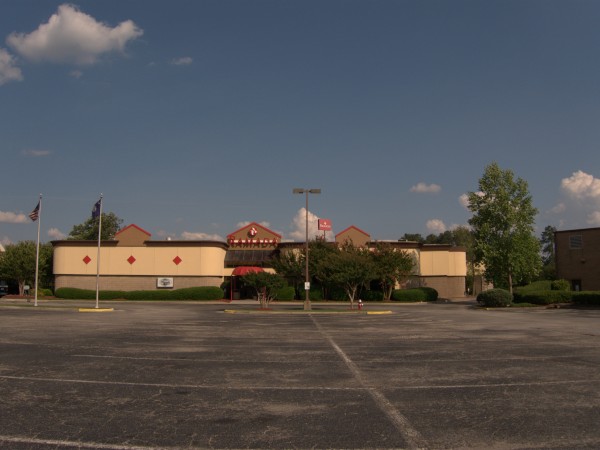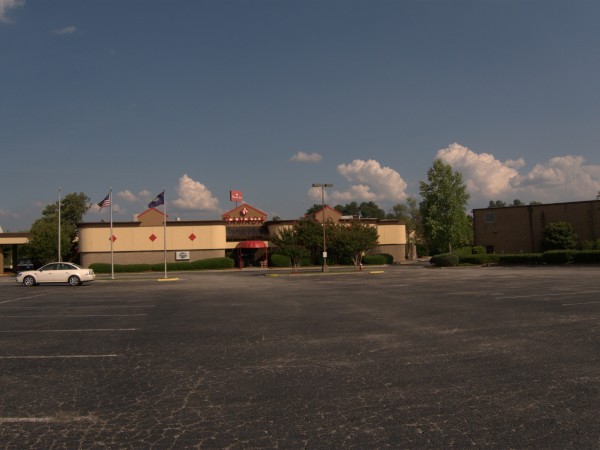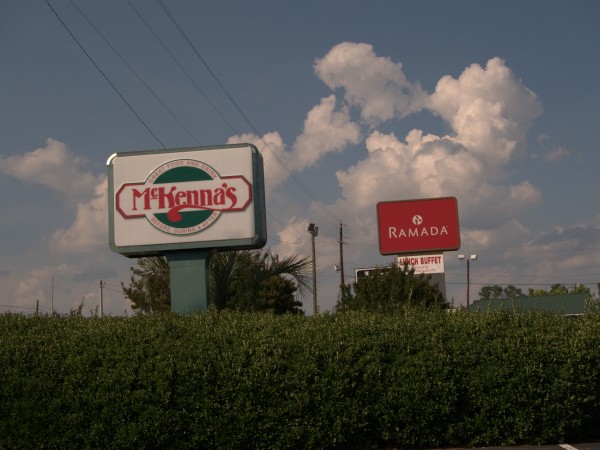 This isn't a current events blog. I don't feel compelled to do a post on everything that closed this week. Even assuming I knew about all that, I'm just as happy to do a post on something that's been gone thirty years. On the other hand, I don't feel compelled to not do a post on something that happened yesterday, since it's kind of odd, interesting and nearby.
Commenter Jamie pointed out this story on the WLTX site:
Richland County, SC (WLTX) - Some Ramada Inn employees and customers are looking for answers after the hotel on Two Notch Road shut down suddenly.

Employees say they haven't gotten paid and customers have been showing up looking for refunds on their deposits.

"It's sad. Why would they do this? Or how could this happen," said employee Stacey Knight. Knight and her coworkers are without a job and without a paycheck. They say the owners of the Ramada Inn closed for business, padlocking the doors shut.
It's not too uncommon for employees at a restaurant to show up for work and find the place closed, but hotels are not a day-to-day business. People make long term plans involving hotels, and normally, at least for a chain hotel, I would expect some sort of orderly wind-down, with people being rebooked to alternate properties or having up-front money refunded. Apparently not so here:
There was one lady in particular that made a deposit for a family reunion, $1100, and she wanted her money back," said another employee.
I'll wager that's one family that never uses any Ramada again..
Anyway, my first memory of this property is when it was a Holiday Inn. I never stayed there (why would I need a hotel in my hometown?), but I think I did go inside once. If I recall correctly, I went with a group of friends after a wedding, probably in the late 70s or early 80s. At that time, the lounge (now McKenna's) attached to the hotel was called Pawleys (a name calculated to attract my attention), and they catered to the backgammon boomlet (which petered out not long afterwards) by having backgammon sets available in the bar area.
I believe Holiday Inn dropped the property after I-77 came through to move closer to that Interstate. For a while the place was (I think) independant, with a big sack covering up the old Holiday Inn sign.
(Hat tip to commenter Jamie.)
UPDATE 26 July 2010 -- Here are some more pictures: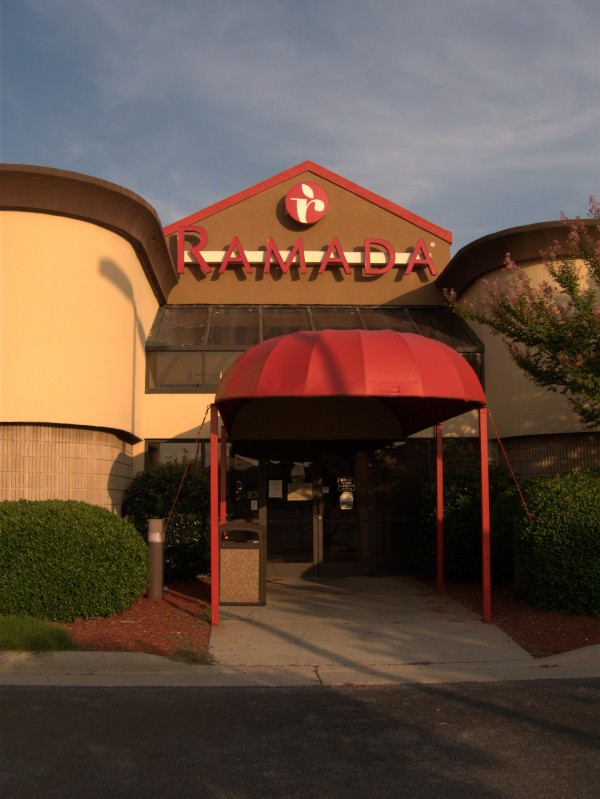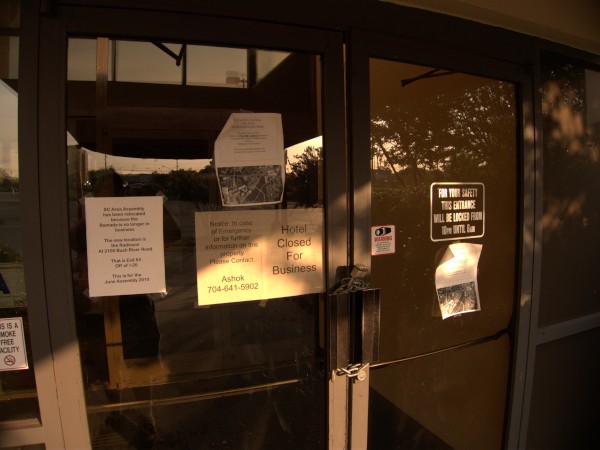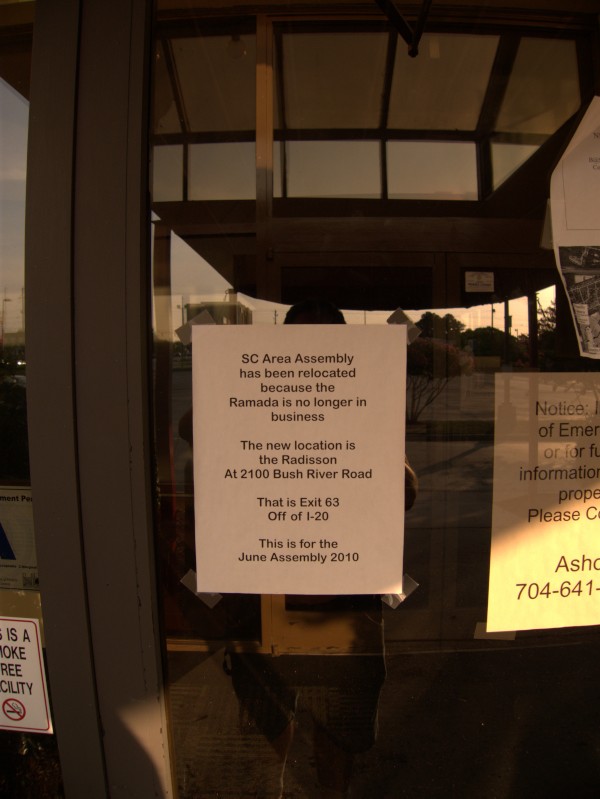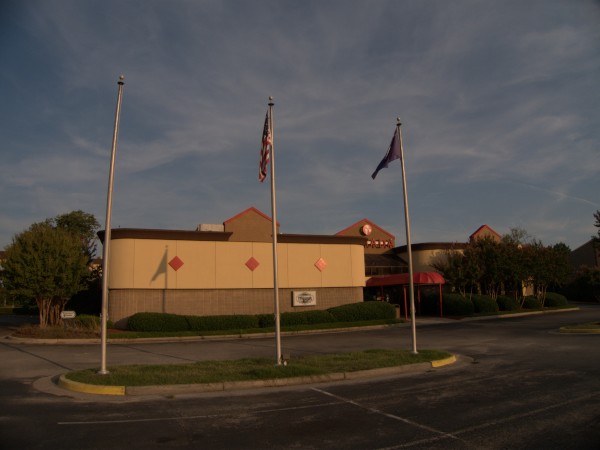 UPDATE 28 August -- After commenter Matt pointed out goings on at this closed Ramada, I decided to take a look and I'm still a bit puzzled at what is happening. It looks like the whole place is being gutted, but they don't seem to be knocking it down in toto. Perhaps it will be like the old Columbia Athletic Club and Splendid China where they have replaced everything except the actual outer walls..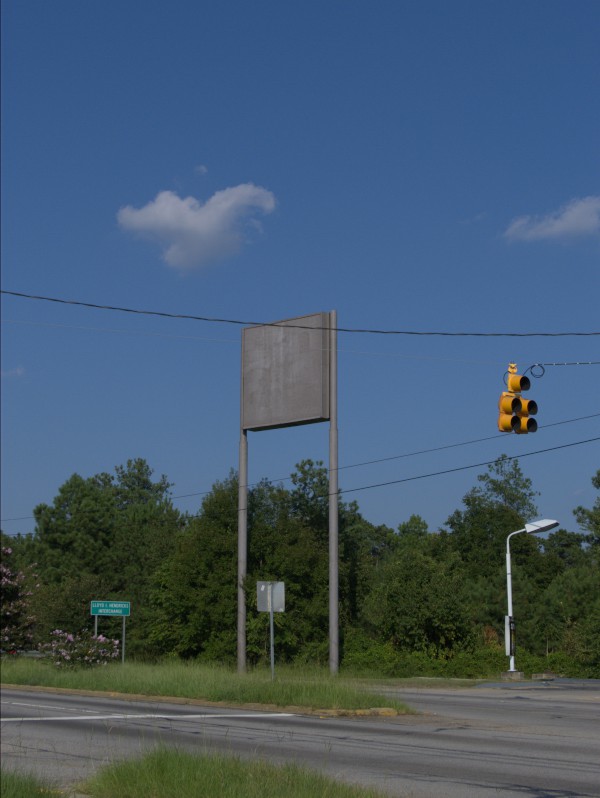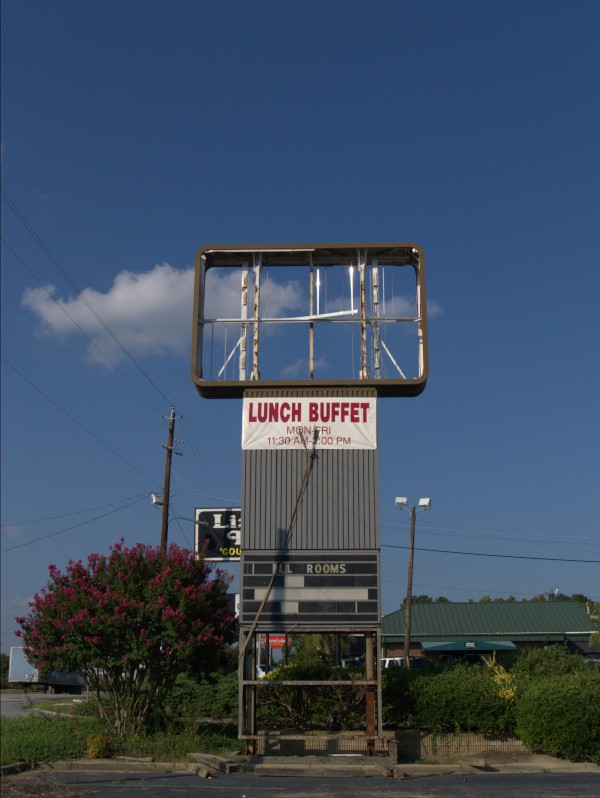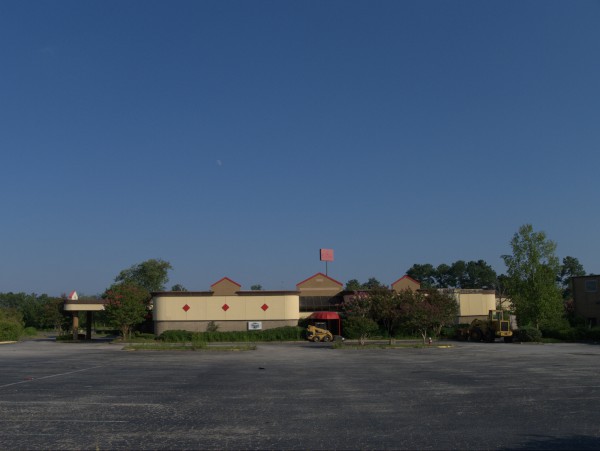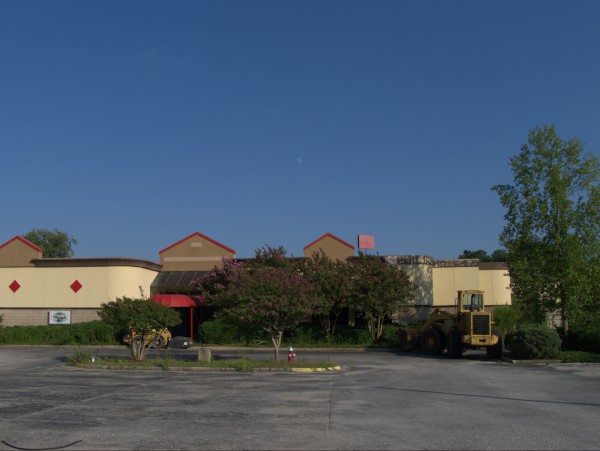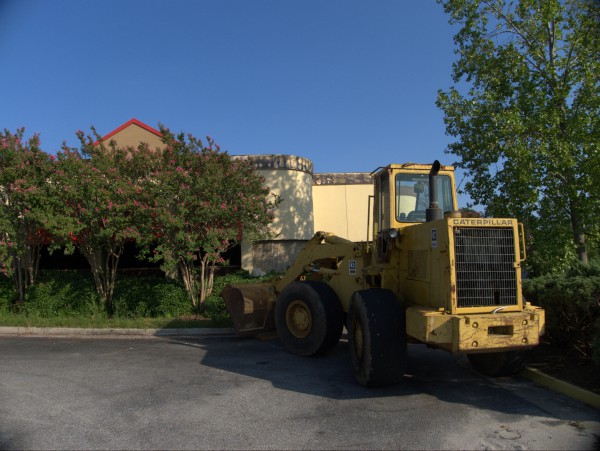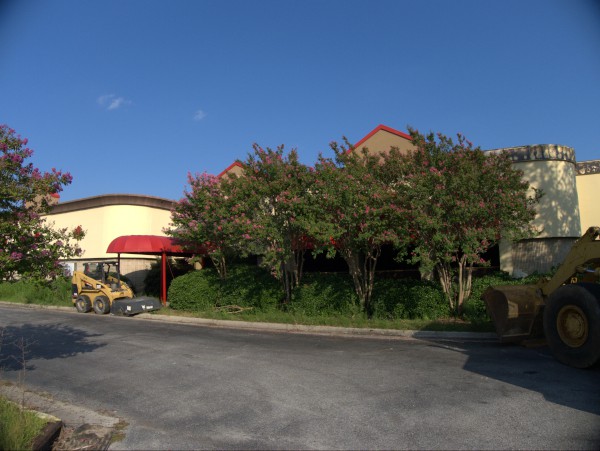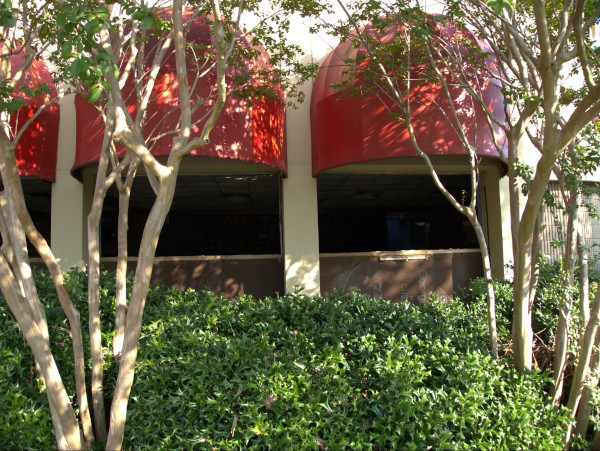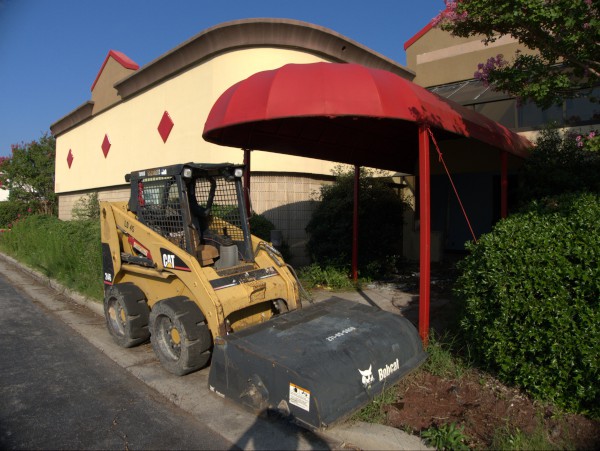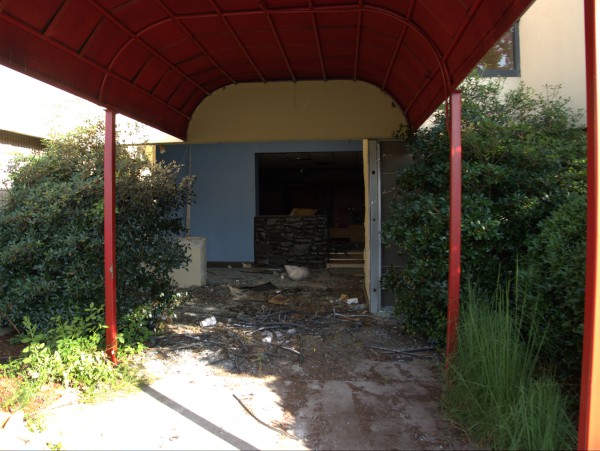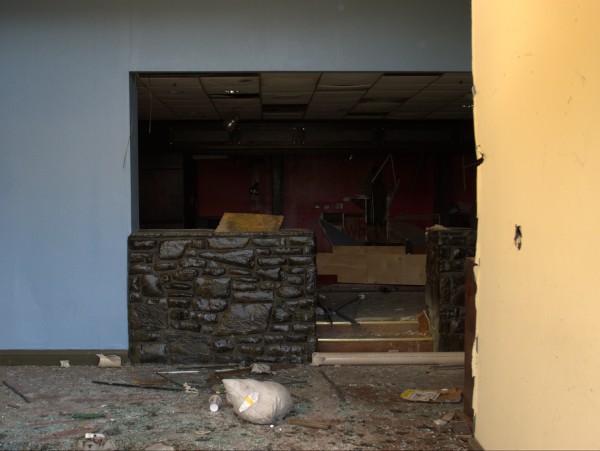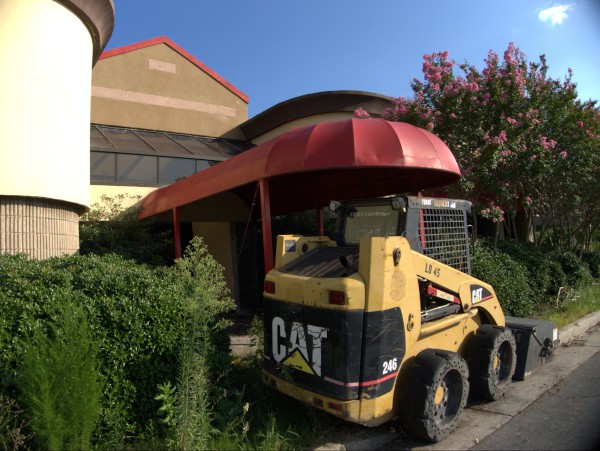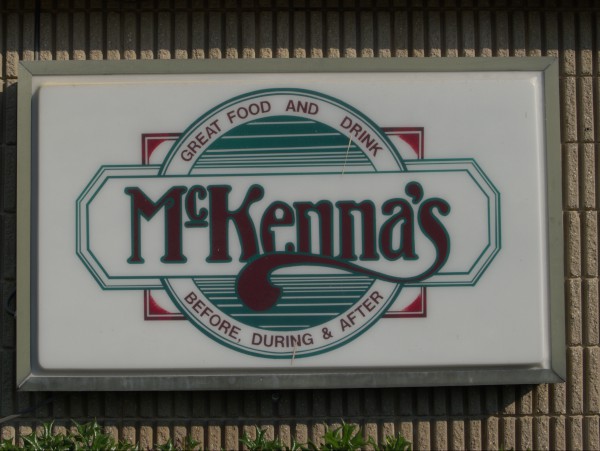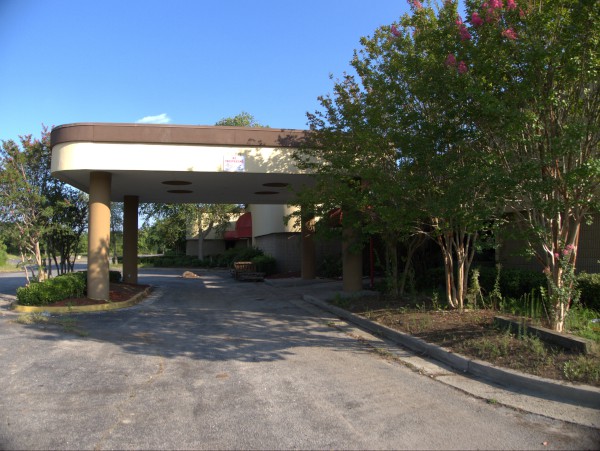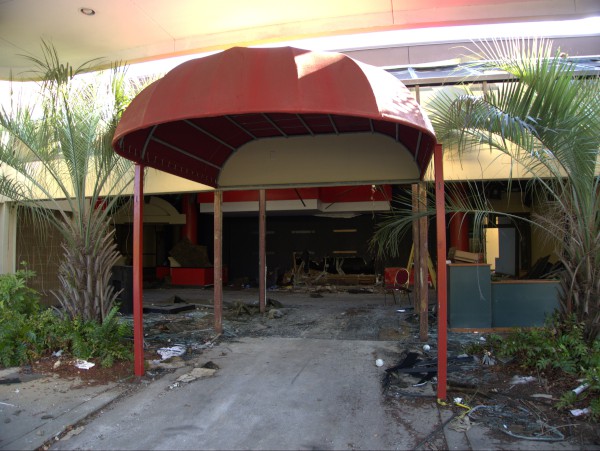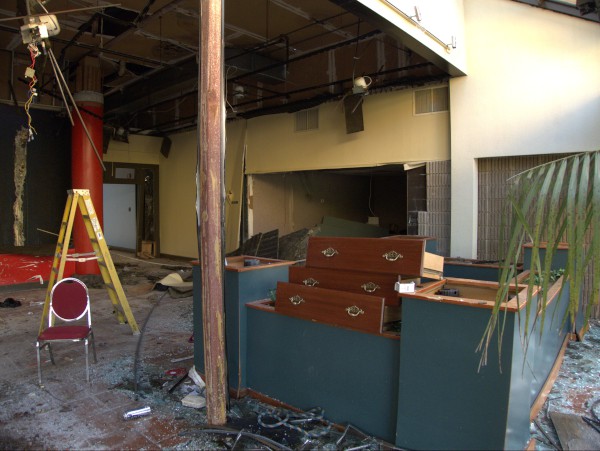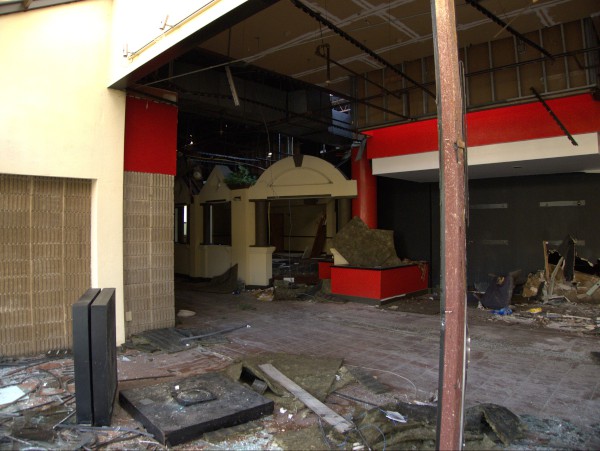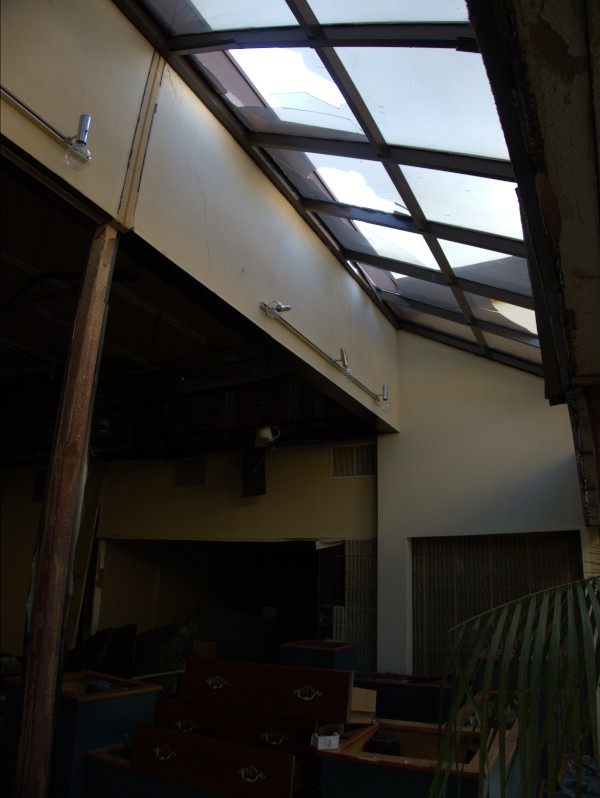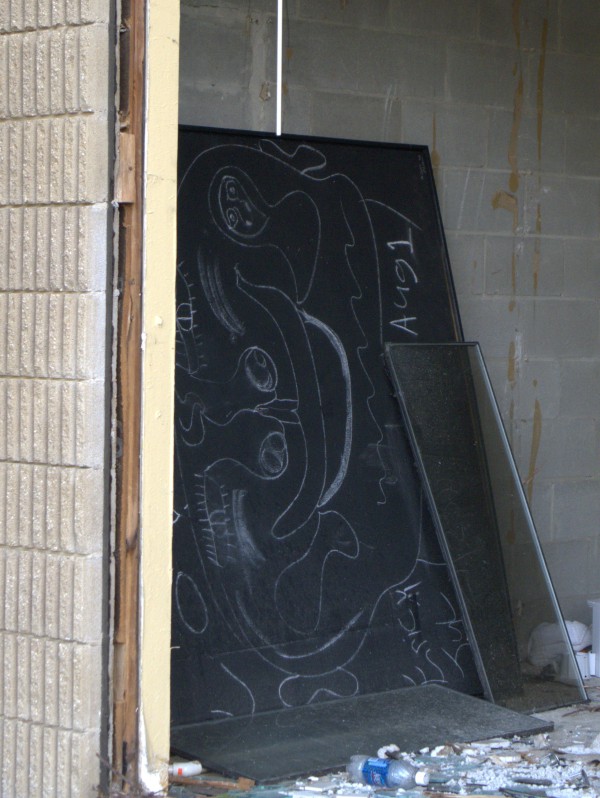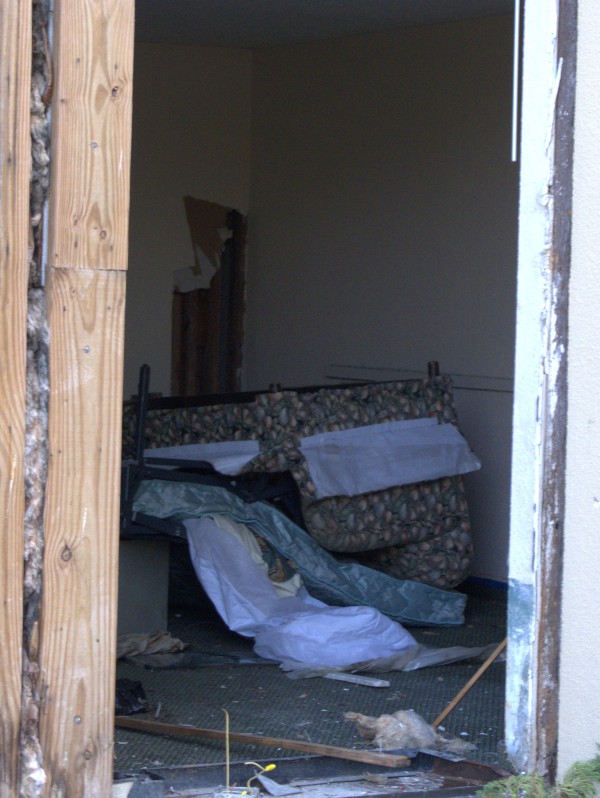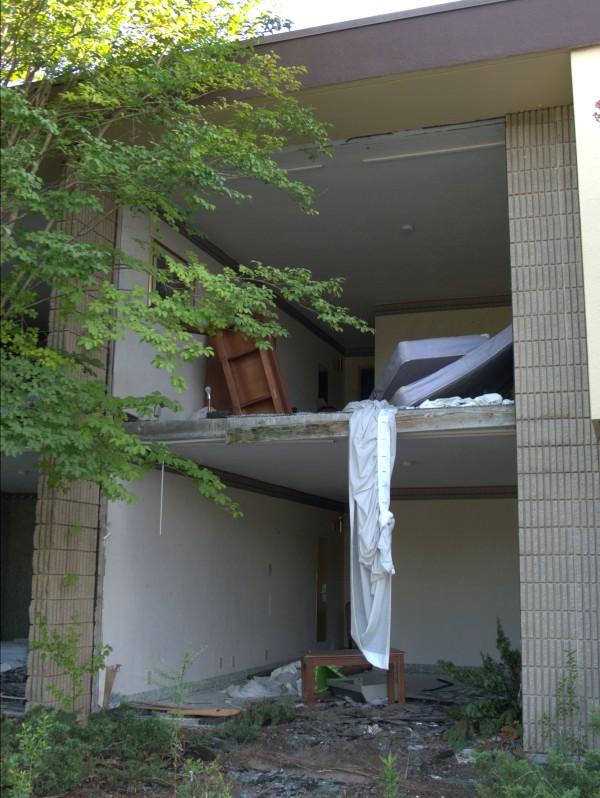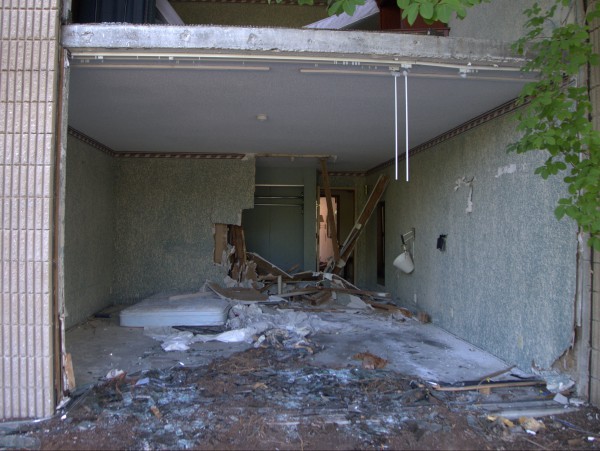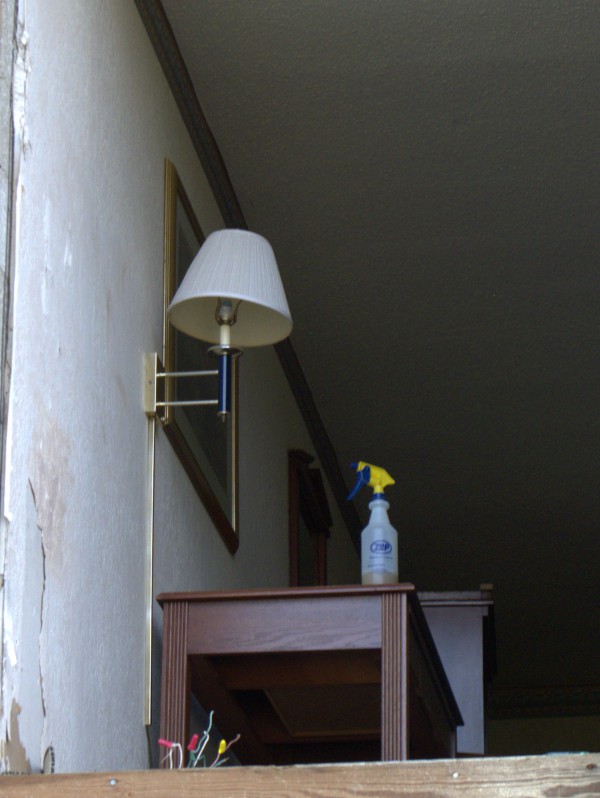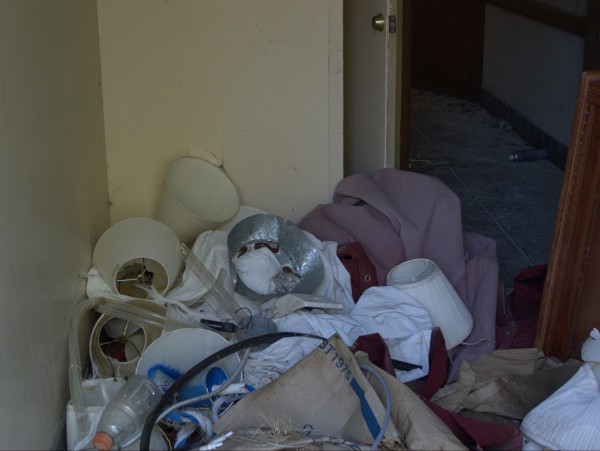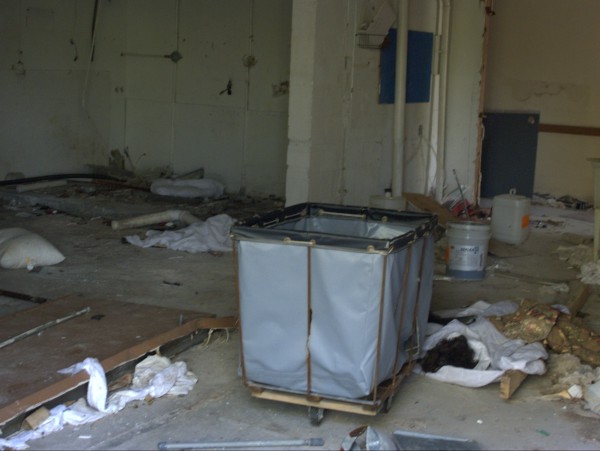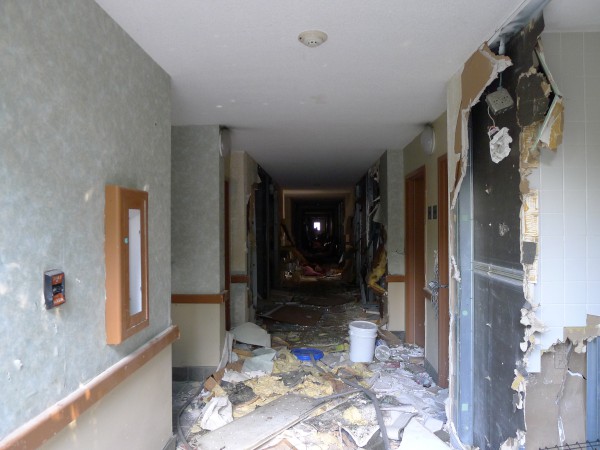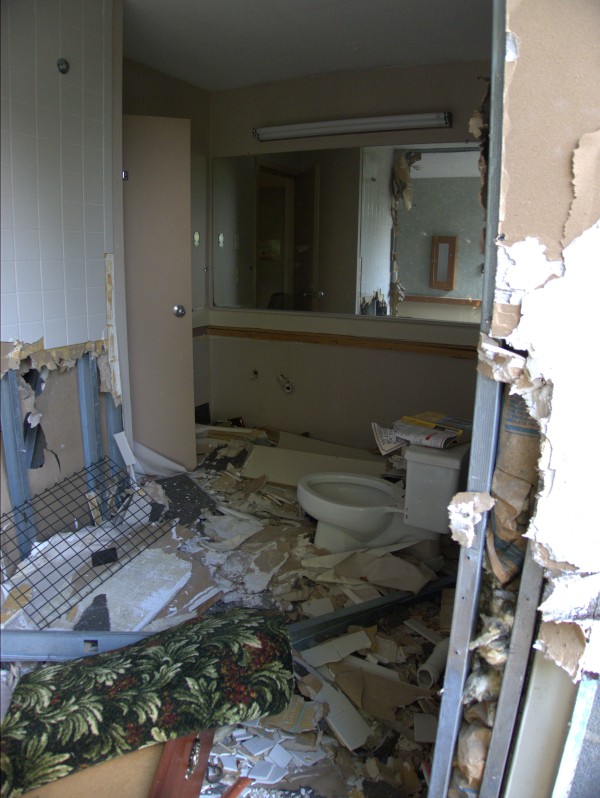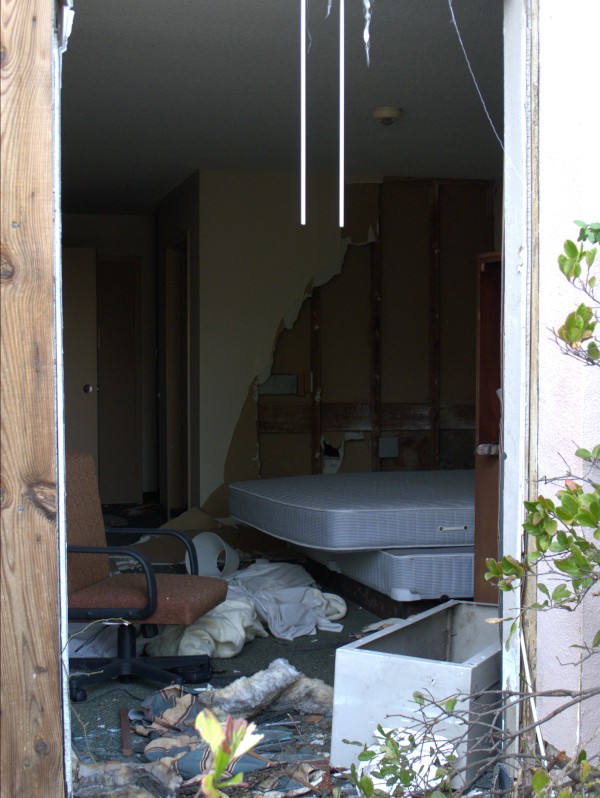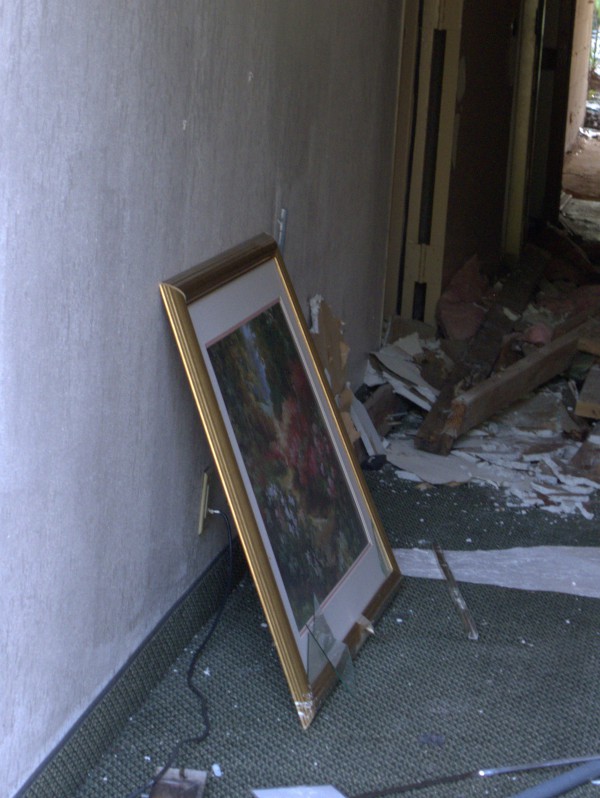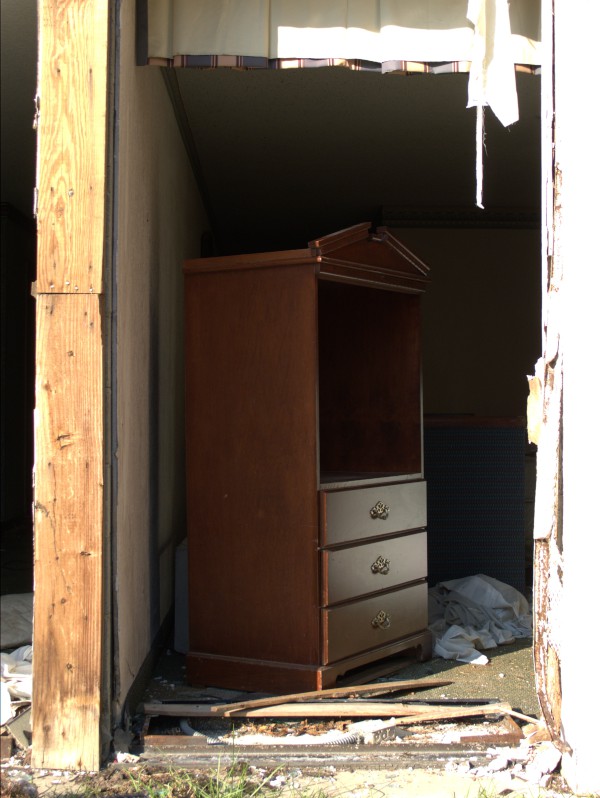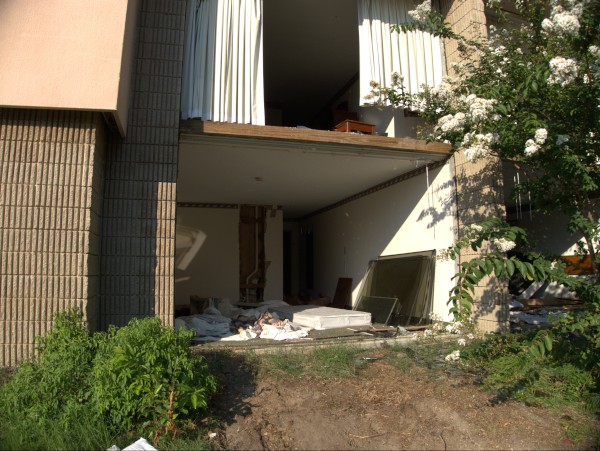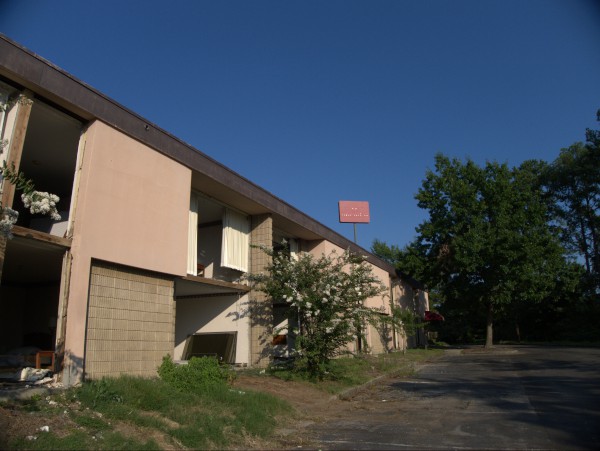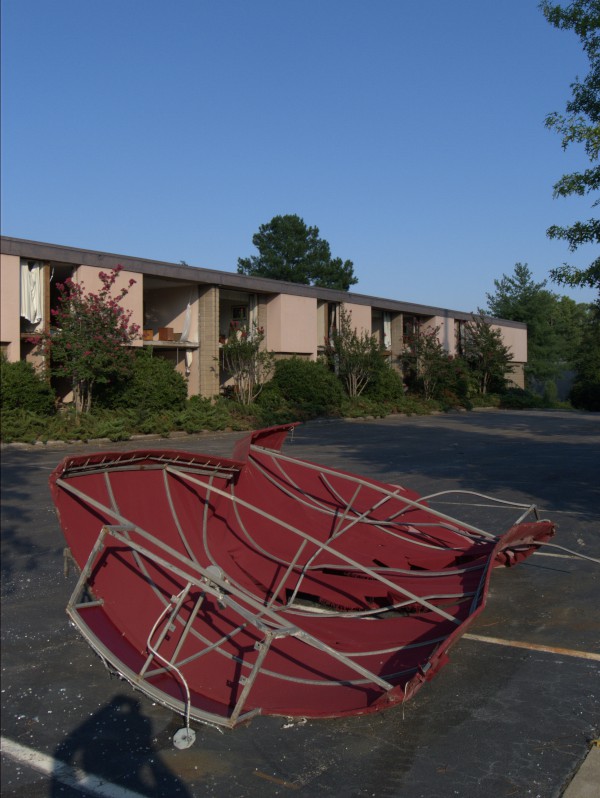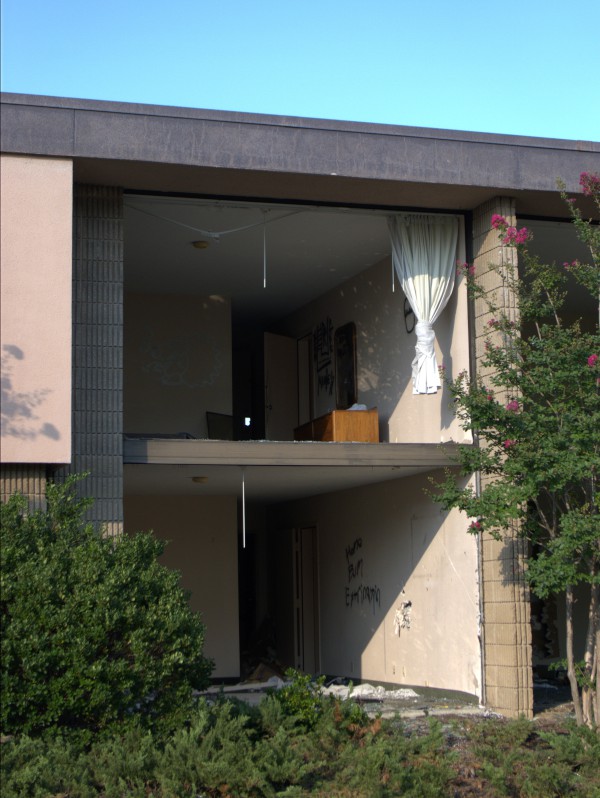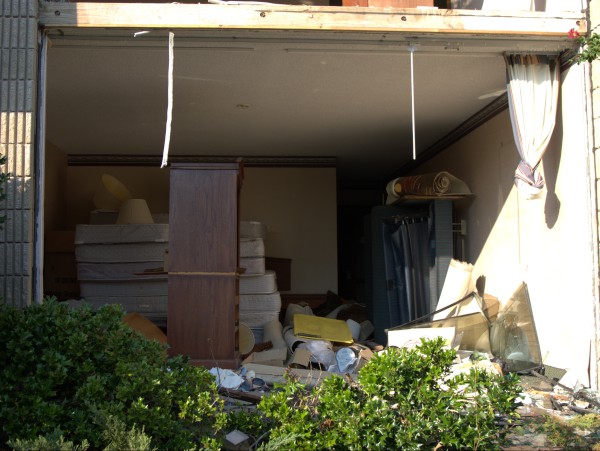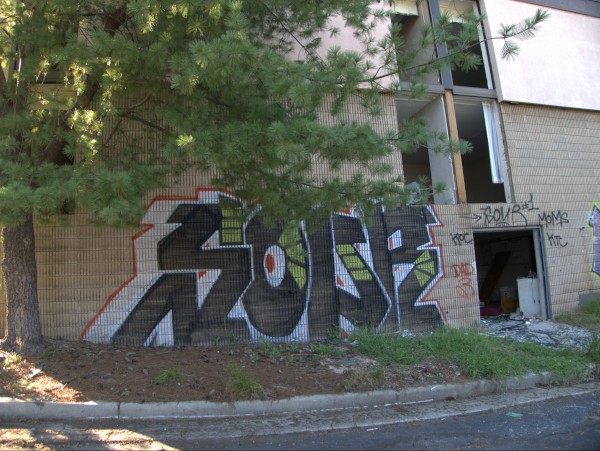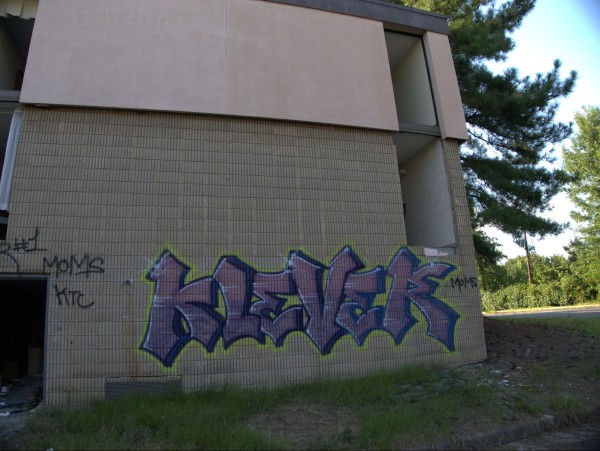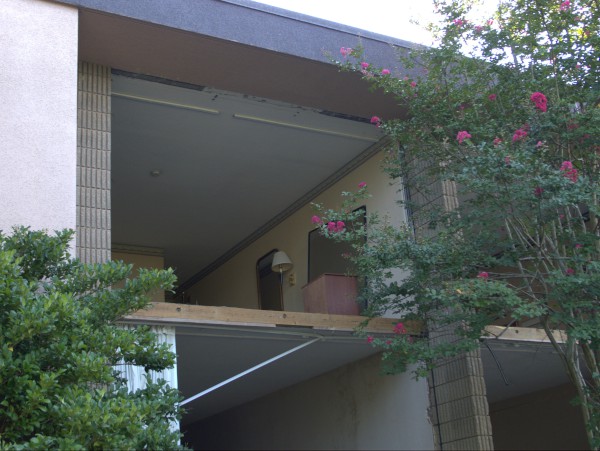 UPDATE 12 September 2012 -- The whole building has now been fenced off. Driving by, I could still hear the chirps of hundreds of smoke dectectors needing new batteries..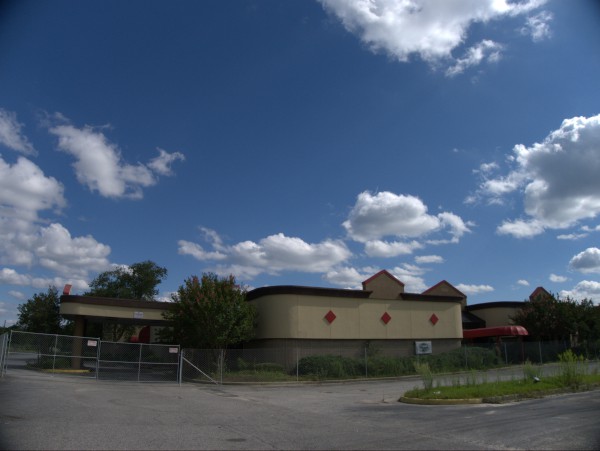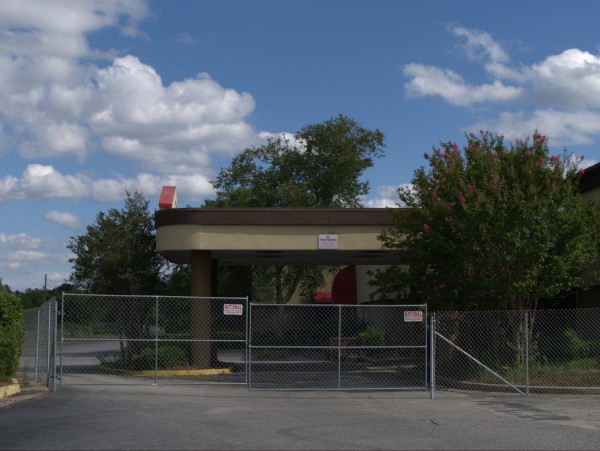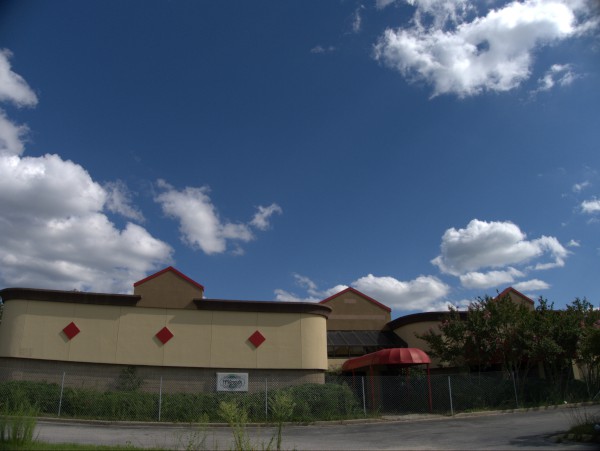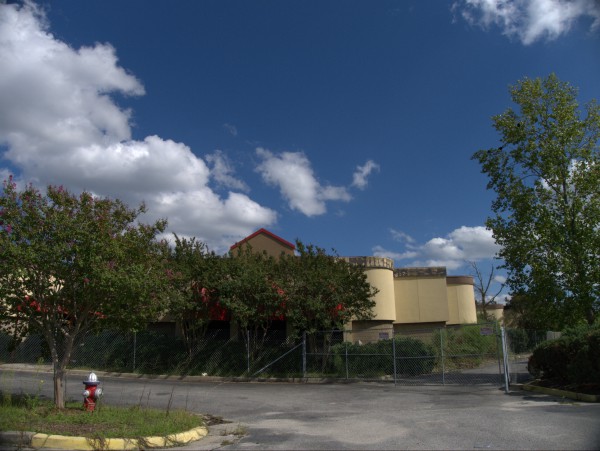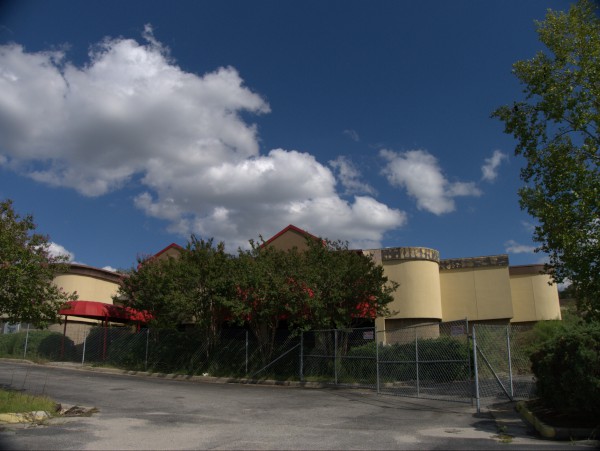 15 June 2013:
Full demolition has started. For a long time it appeared they had only done enough demolotion to "poison-pill" the structure, ie: make sure nobody could buy it and reopen it as a motel. In these pictures, the full knockdown is well underway. Also, note the for-sale sign just off of Trenholm Extension.
14 July 2013:
Not nearly as much "progress" as you might expect, but the demolition goes on.
10 August 2013:
I had never seen a freight train stuck on this stretch of the track by Two Notch, but in this case a long train was stopped for upwards of 45 minutes, blocking off both Dawson Road & Oakway Drive. I had to go all the way down to the Two Notch / Trenholm Extension intersection to get back to the old Ramada. As I finished taking this set, train finally started to move and the railway maintainence pickup truck (fitted with track wheels) came along the tracks behind the train. What a track crew could have been fixing behind a stopped train, I'm not sure.
As you can see, the Ramada is now entirely gone except for a pump building and some incidentals like TVs and silverware.
UPDATE 17 August 2013: Added verbiage and pictures for 15 June 2013, 14 July 2013 and 10 August 2013. Also added complete photosets for those days.
UPDATE 5 December 2014 -- This is interesting. Apparently I missed it, but the property went to forced auction in August 2014. That means that whoever originally owned it tore down a perfectly good hotel property with no idea, or no workable idea, how to make money off the property any other way: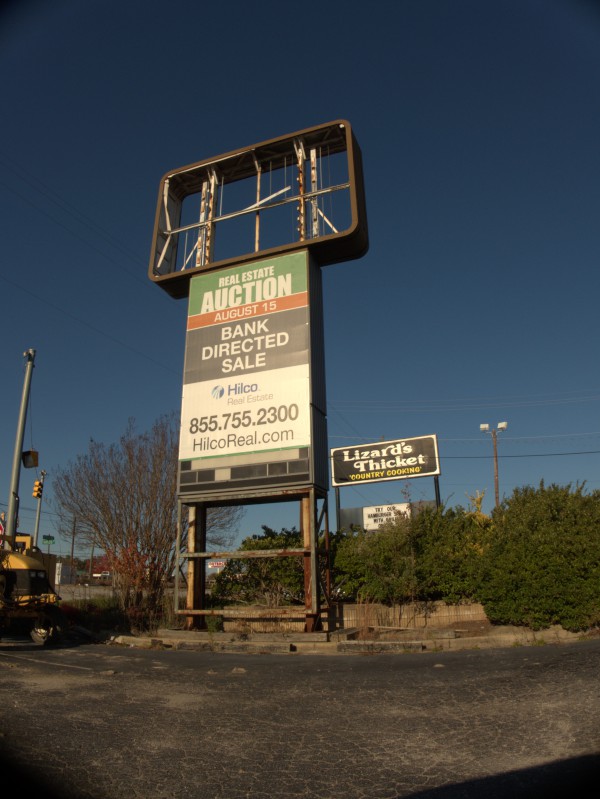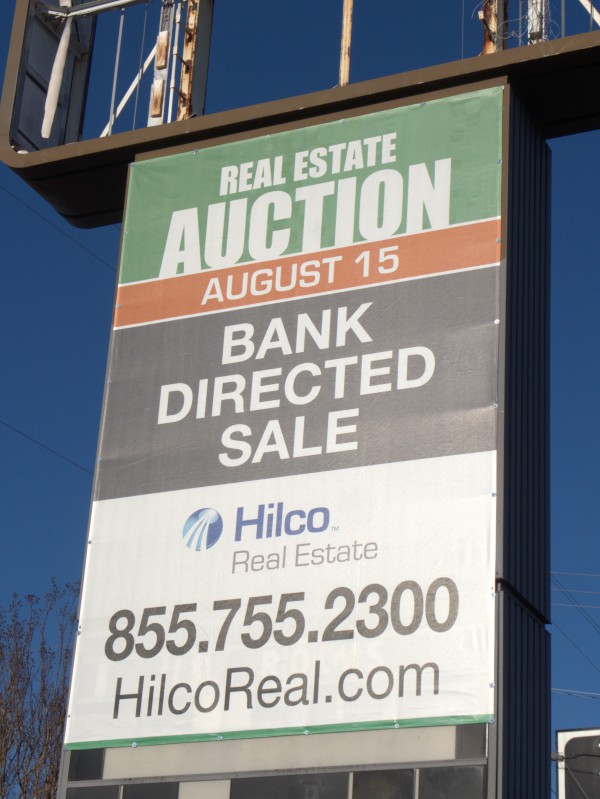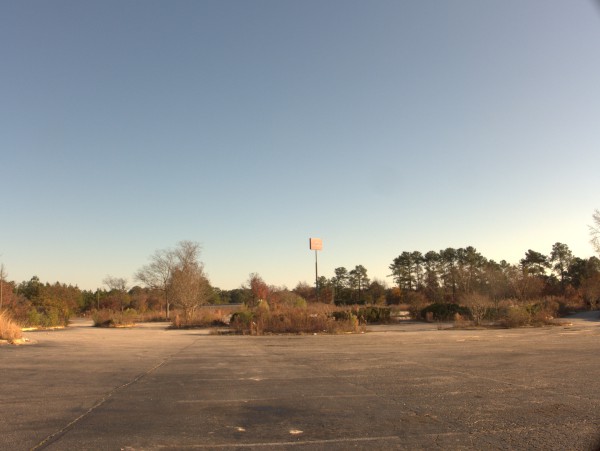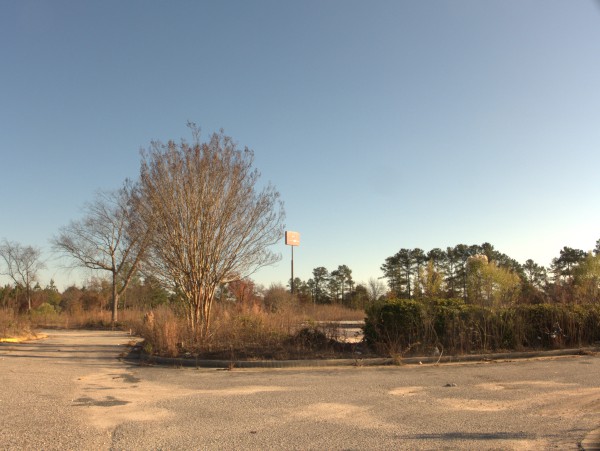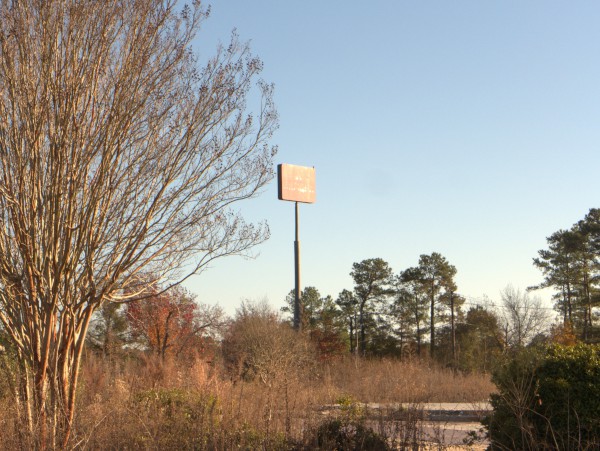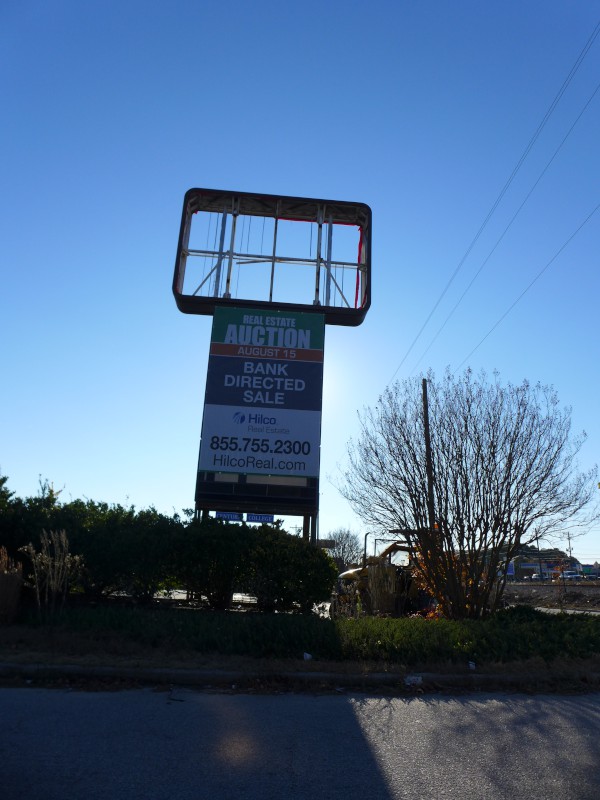 Photosets:
Photoset 26 August 2012
Photoset 15 June 2013
Photoset 14 July 2013
Photoset 10 August 2013