Archive for the 'steak' tag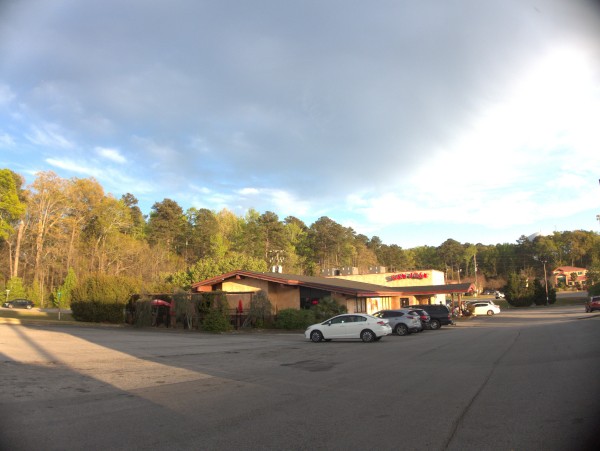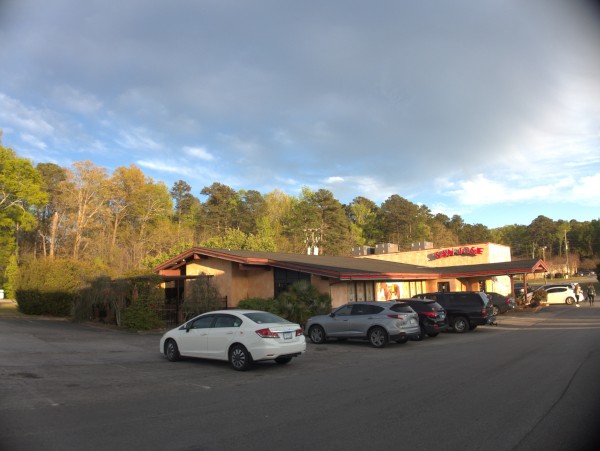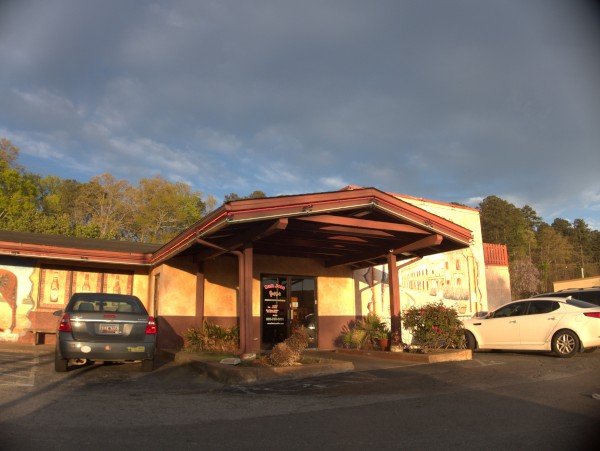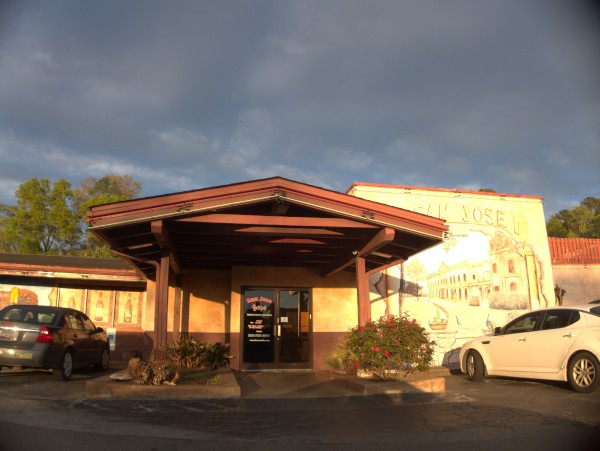 I think I had only a vague idea that this Quincy's location existed while it was open, even though I really liked the chain -- in fact I used to keep a promo brochure with all of their locations in my glove compartment so I would have a sure thing on business travel. Generally though, we went to the one on Two Notch, and rarely got to this part of town.
I'm not sure when it closed and became a San Jose, but it was presumably while I was living out of town, so I've just guessed "1990s" in the title. They haven't changed the distinctive look of the building, though the murals are nice.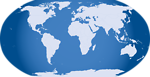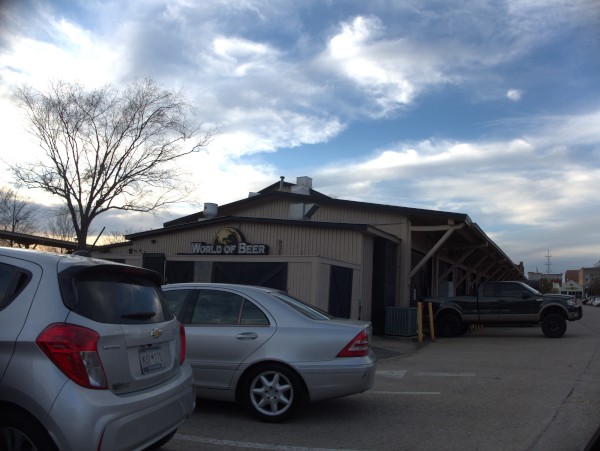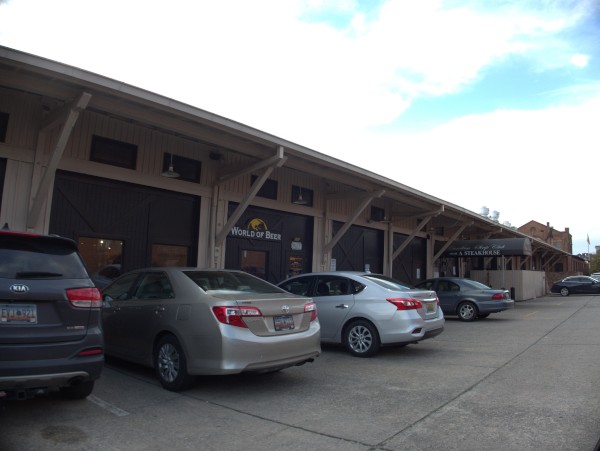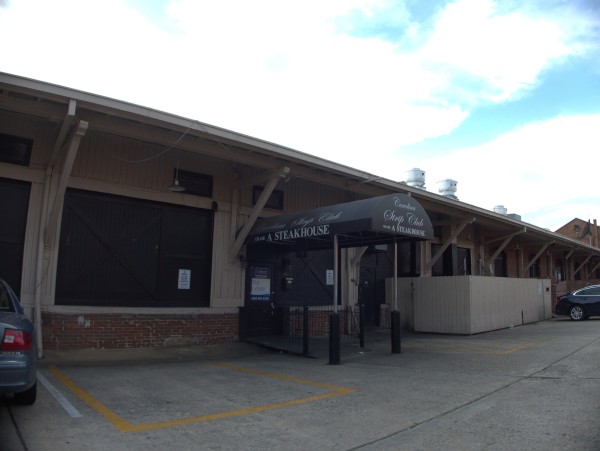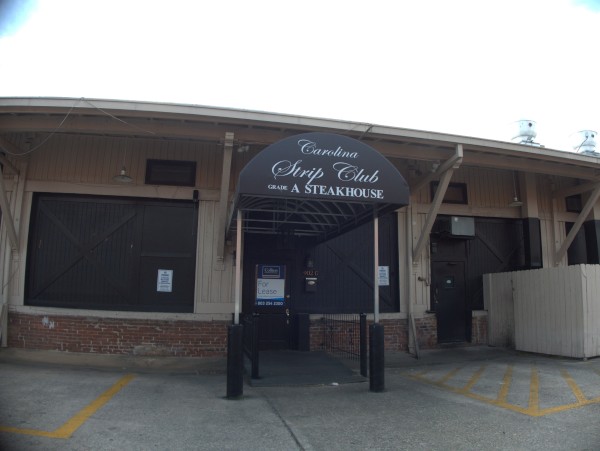 The Carolina Strip Club steak-house was the follow-on operation in this spot to Bull Market & Taverna, something I was not aware of when I drove by, or I might have stopped and gotten pictures from the other side of the building as well for comparision.
According to The Free Times, the owner put the closure down to building issues and wants to try again in West Columbia:
"I love doing business in Columbia, I was just having some major issues with the building," Segal explains. "I couldn't afford to put all that money into it with all the problems."
So far, I do not see anything about future plans on their Facebook page.
(Hat tip to commenter Heath Roberts)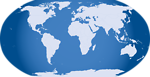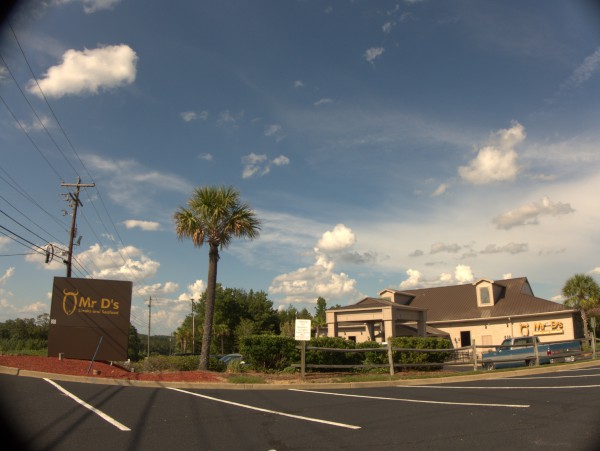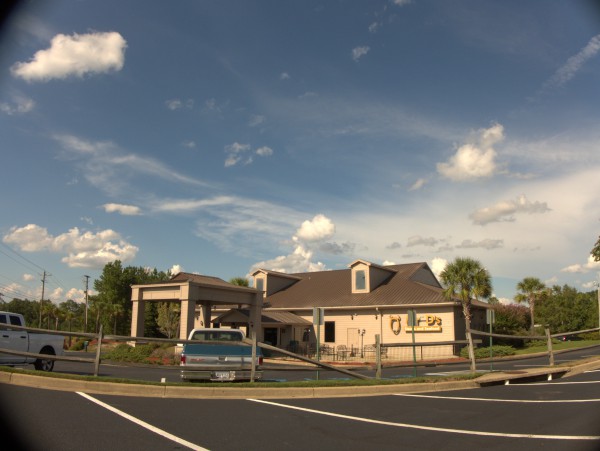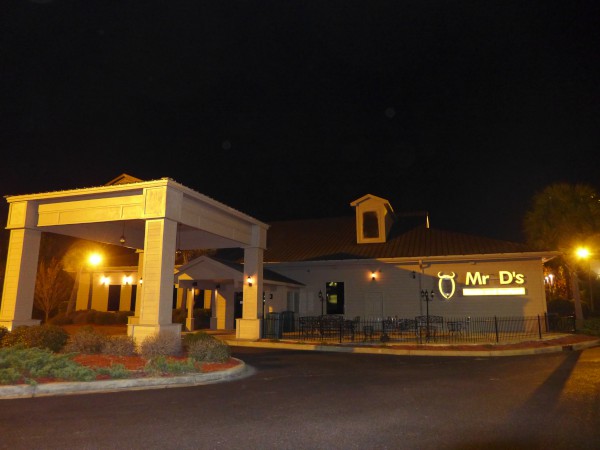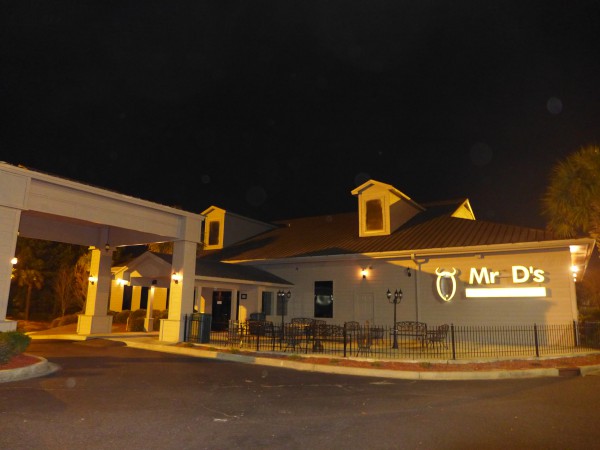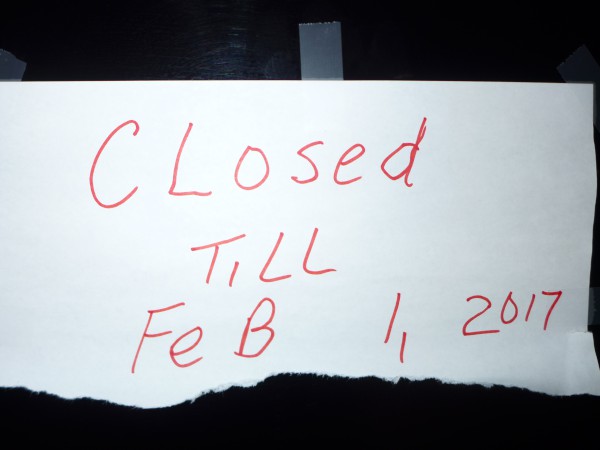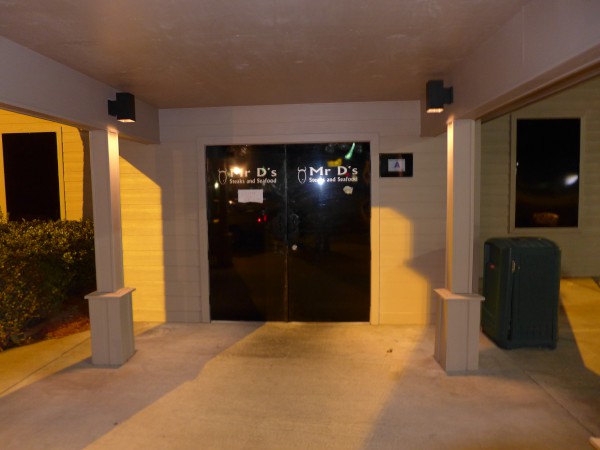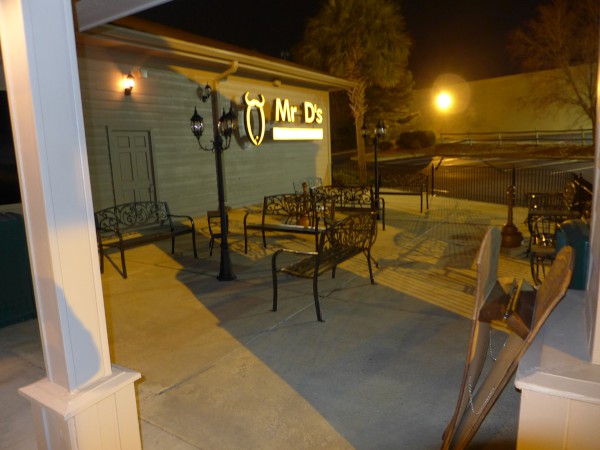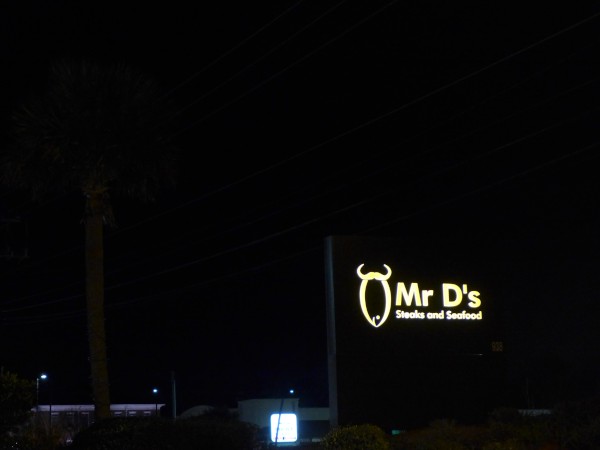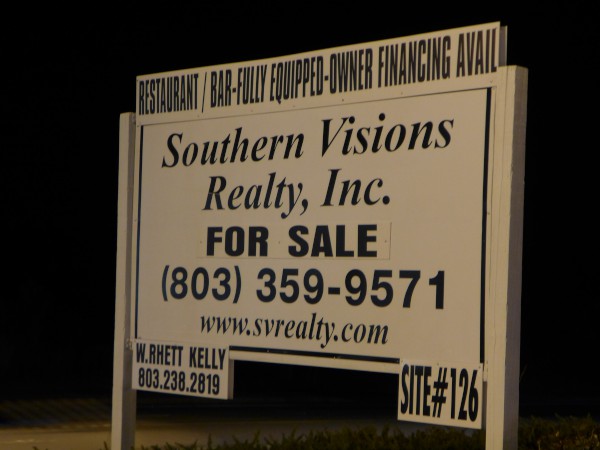 Mr. D's was the followup operation in this location to Gilligan's and as of Mid August 2016 was bought by Steve MacDougall, the mayor of Lexington who had already been general manager.
The restaurant's Facebook page indicates that it was in operation as late as 17 December 2016, but commenter Brian noticed it closed on 16 January 2016. As you can see, a note on the front door indicates that they planned to re-open on 1 February 2017, but the real-estate sign outside suggests that plan has been overtaken by events.
(Hat tip to commenter Brian)
UPDATE 11 May 2019 -- Something is going on here, but there is no sign that says exactly what: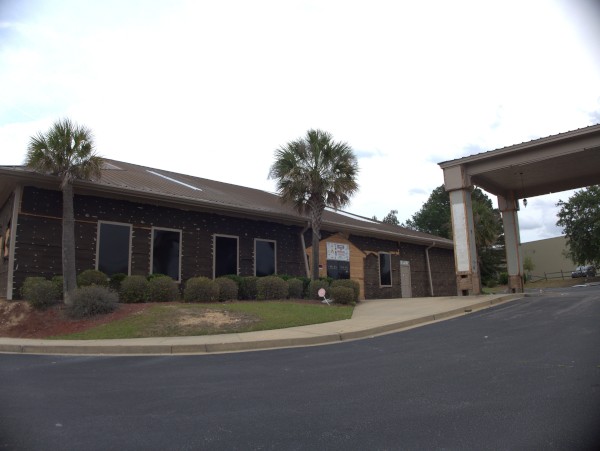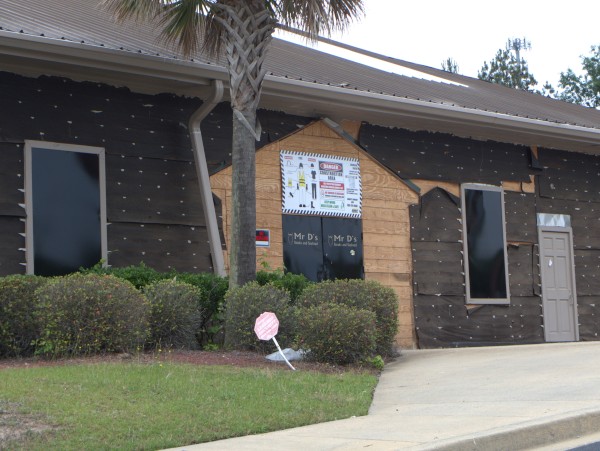 UPDATE 12 March 2020 -- Now Singh Leite Pediatric Dentistry: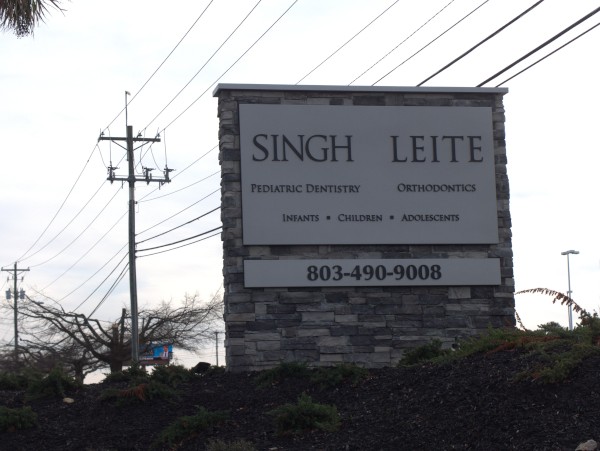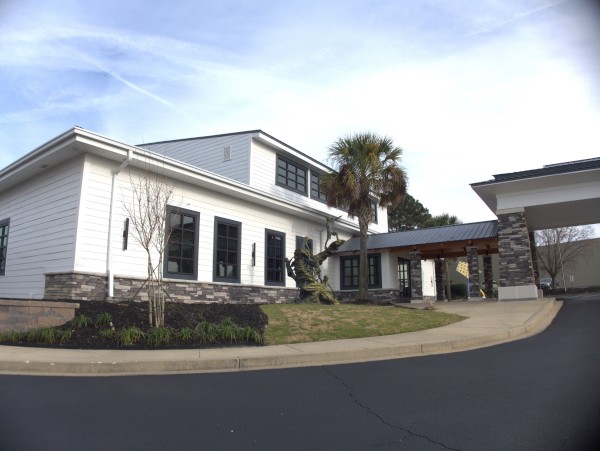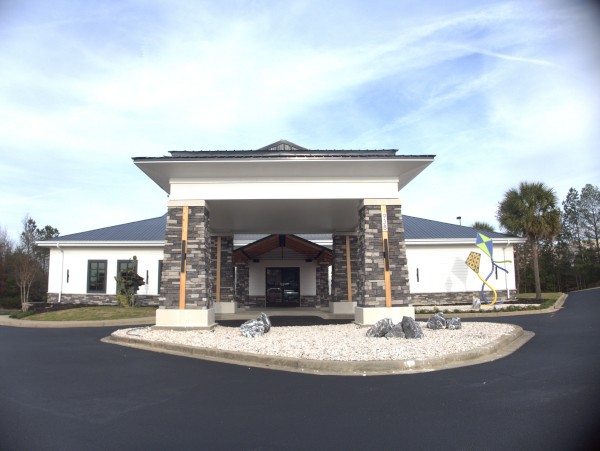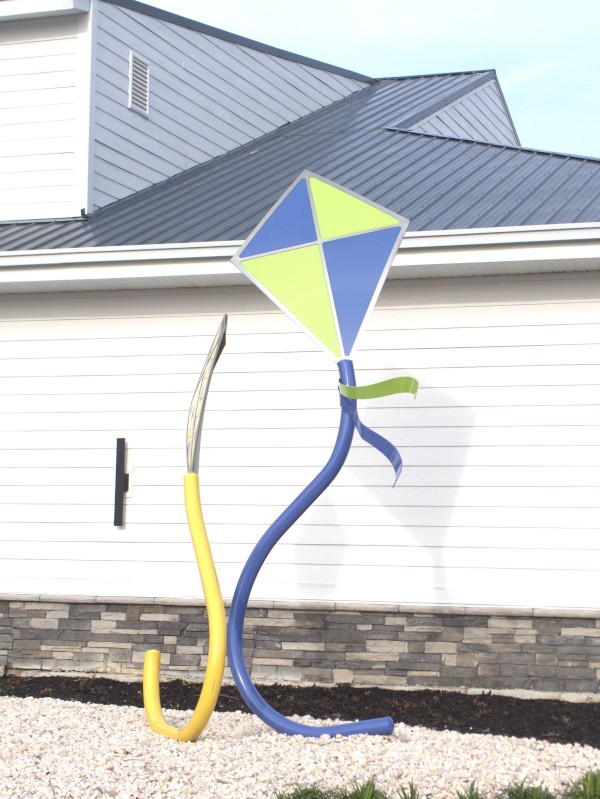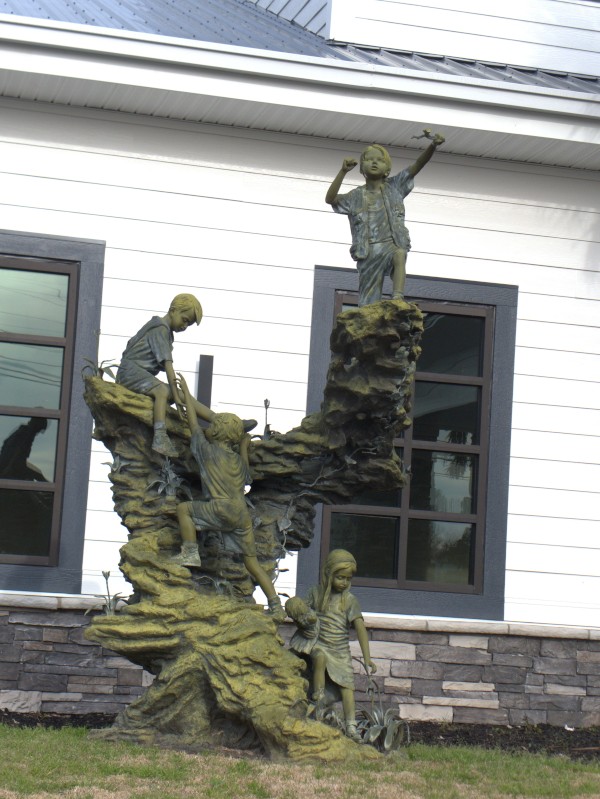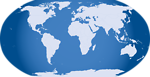 Posted at 1:41 am in Uncategorized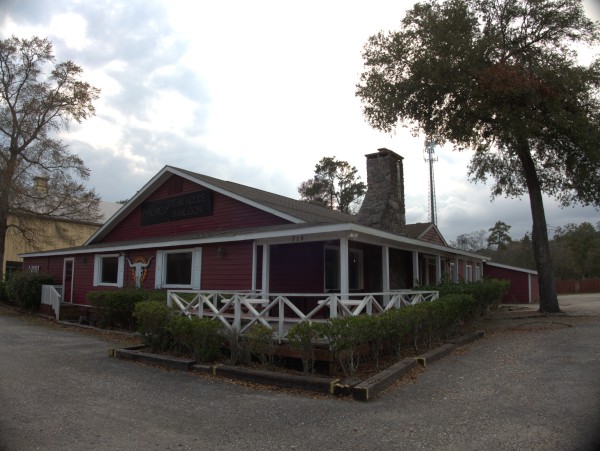 T-Bones (no relation to Tbonz) was in Murrells Inlet on the US-17 bypass almost directly across the street from the old Rosa Linda's South.
I only ate at T-Bones once that I can recall, and that would have been not too many years after they opened in 1988. I had a burger, and it was pretty good.
I'm not sure why I never went back -- perhaps because there were closer options for burgers, and because I have a general list of favorites I try to hit when I'm at the beach. At any rate, though I didn't stop again, I often admired the best slogan on the beach as I was driving by, though I would have used a colon instead of a comma.
I noticed this weekend that the place was closed, and the realty sign suggested it was not an entirely voluntary state, which the article linked above confirms. Of course it would seem so far that closing it didn't actually help the bank that much..
Posted at 12:00 am in Uncategorized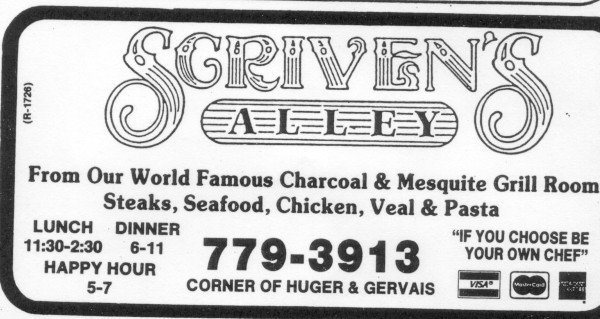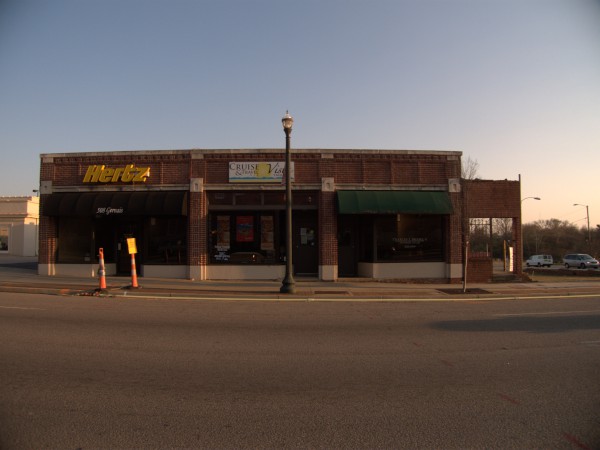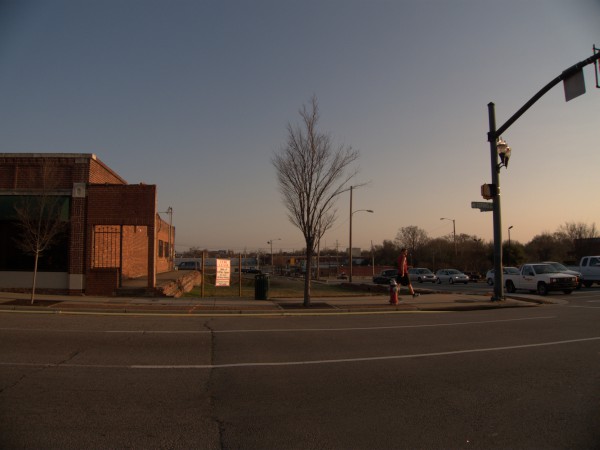 On the whole, Scriven's Alley doesn't sound like my kind of place, though I could have perhaps found some pasta I liked. The opportunity to grill your own food does sound pretty intriguing though. In the end however, it may have perhaps proved fatal to the business as the place burned down and was never rebuilt. I'm thinking that the Scriven's building was where that narrow vacancy right at the corner is rather than on the Hertz site. As I recall, it was a two story brick structure.
I had the impression that it was a pretty well thought of place, and I've always wondered why they never re-opened. I would expect most any building to have fire insurance, but perhaps they were down long enough for all the staff to disperse and the cash reserves to deplete.
Posted at 1:19 am in Uncategorized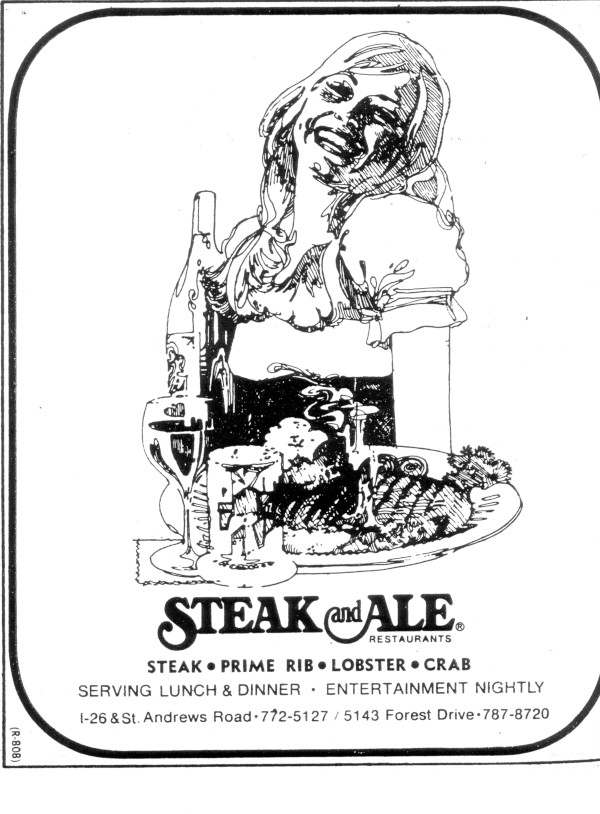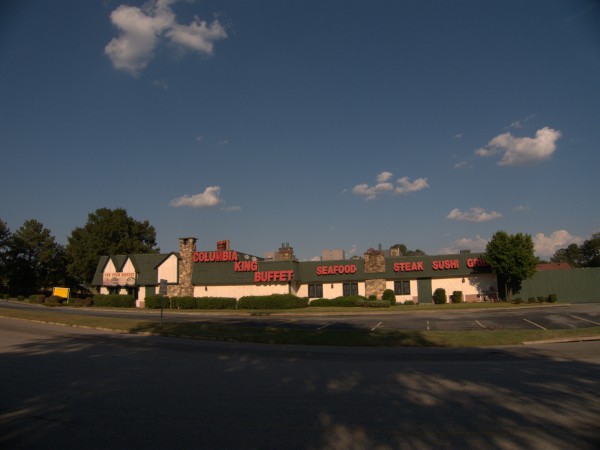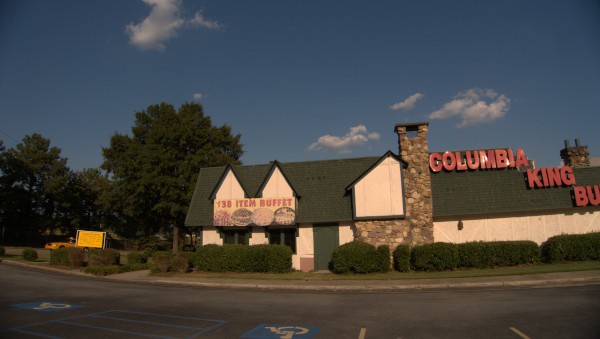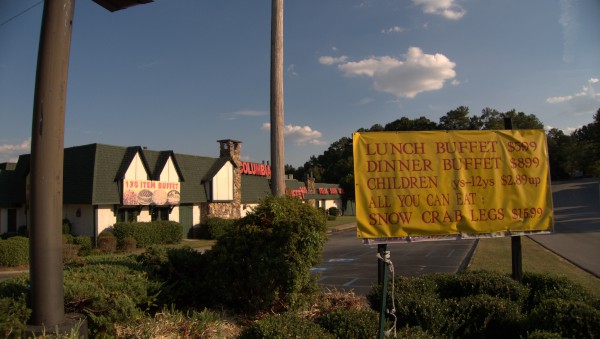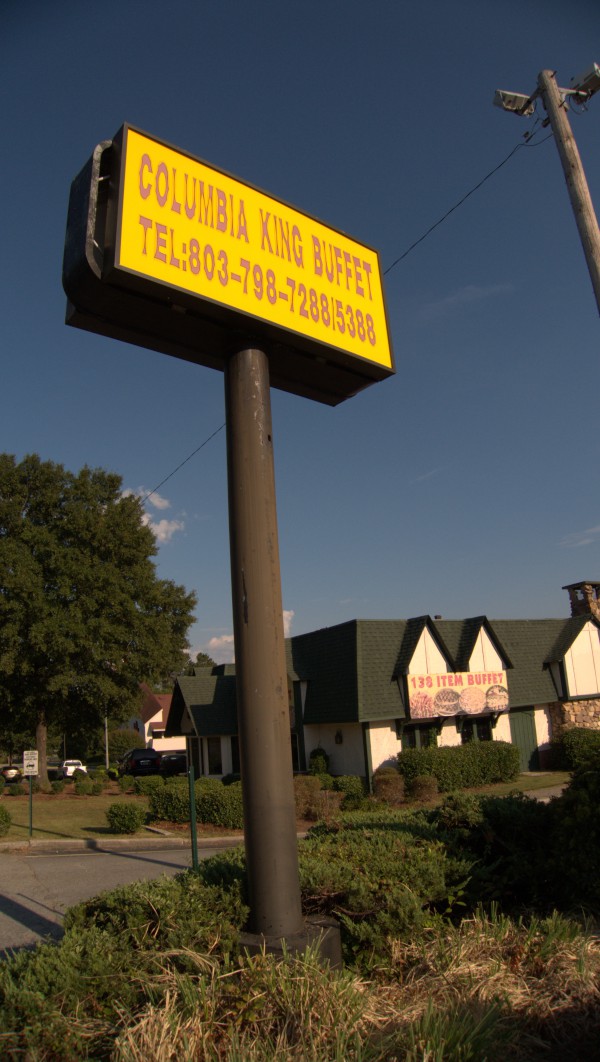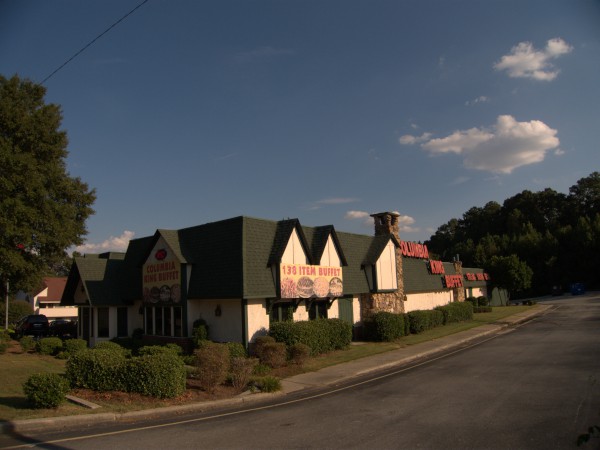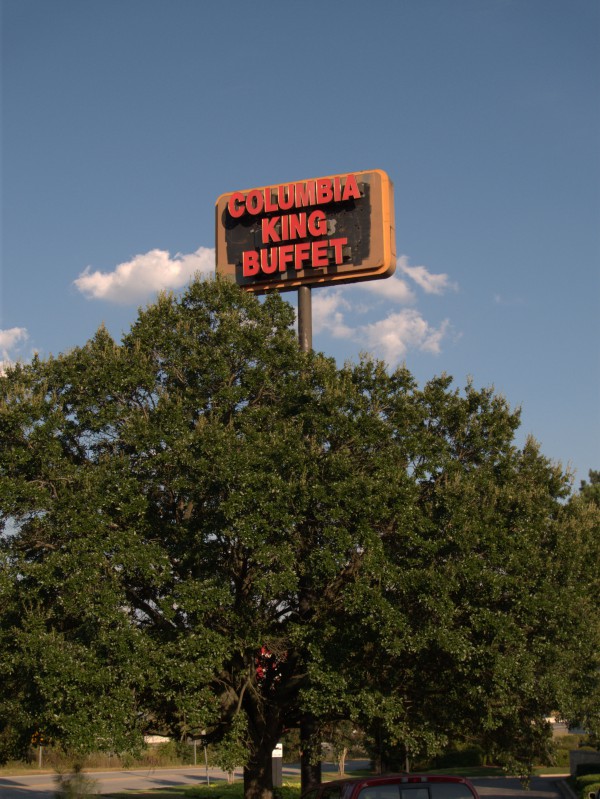 I've written about the Steak & Ale on Forest Drive, but this one I didn't remember as a S&A at all.
It finally struck me driving by that certainly a building that looked like that couldn't have been built as an Asian buffet (is anything?) and almost had to have been a Steak & Ale. Old phonebooks more or less confirmed that (though I never found an actual street address, just verbiage like "the Saint Andrews exit off of I-26"). At the time, I wrote down the last phonebook listing the place, but have lost that note somewhere -- I'm saying it was the late 1970s. (The ad is from the 75-76 Southern Bell directory)
UPDATE 13 Oct 2010: Well, I wouldn't have thought it given that I can't personally recall the place as a S&A, but it is in the 1998 phonebook (interestingly the address is given as 109 Woodland Hills Road, the cross street), so the comments about it being open into the 2000s are probably right, and I'm updating the closing date from "1970s" to "early 2000s". Wish I could get my age wrong by 30 years..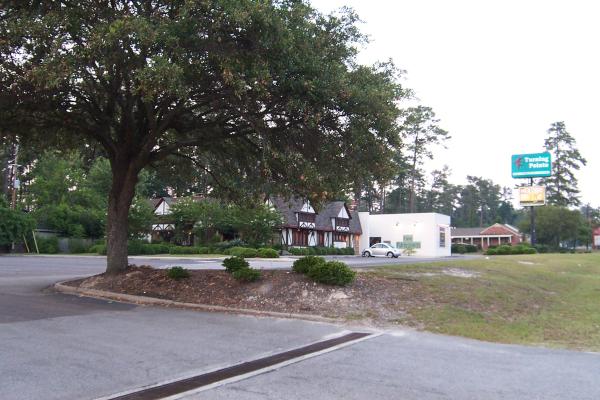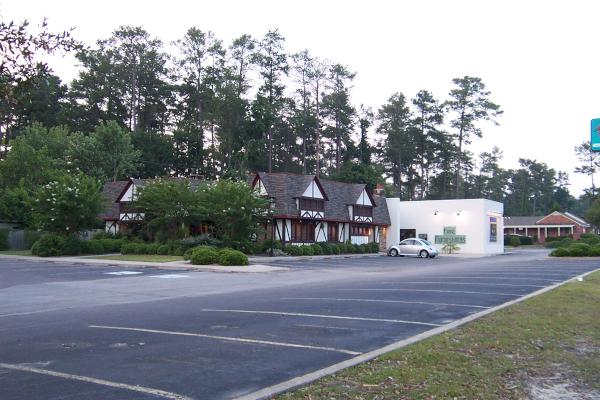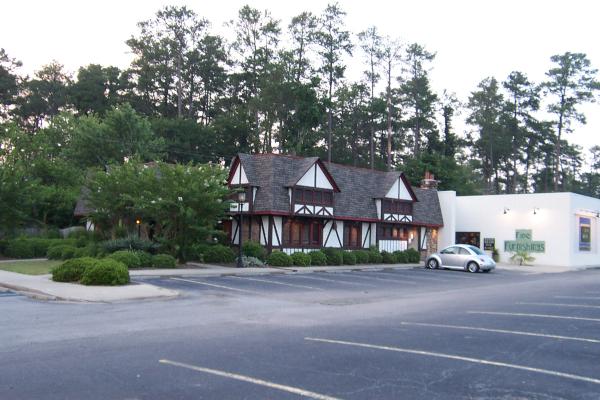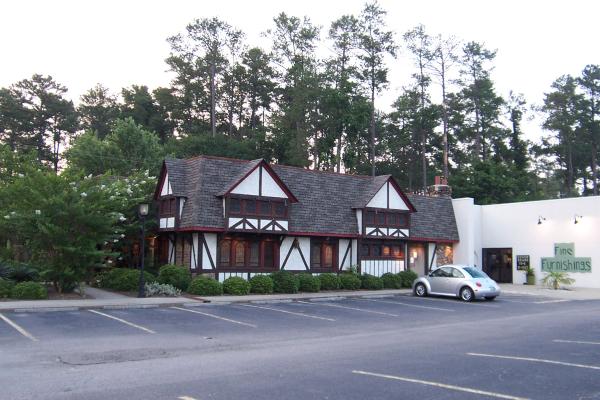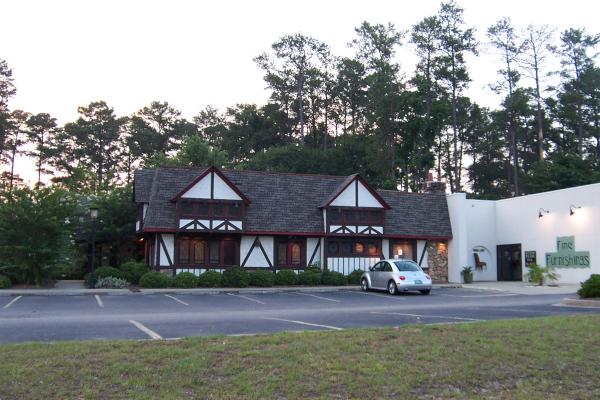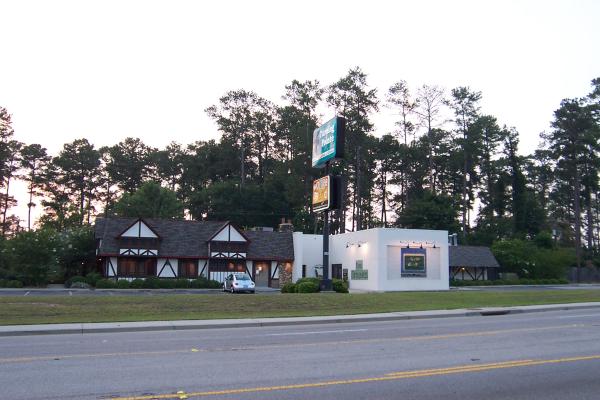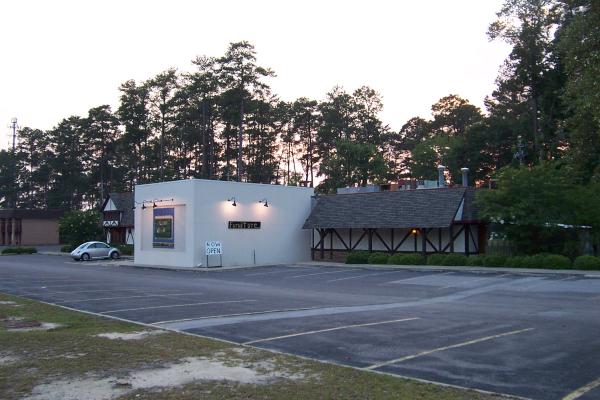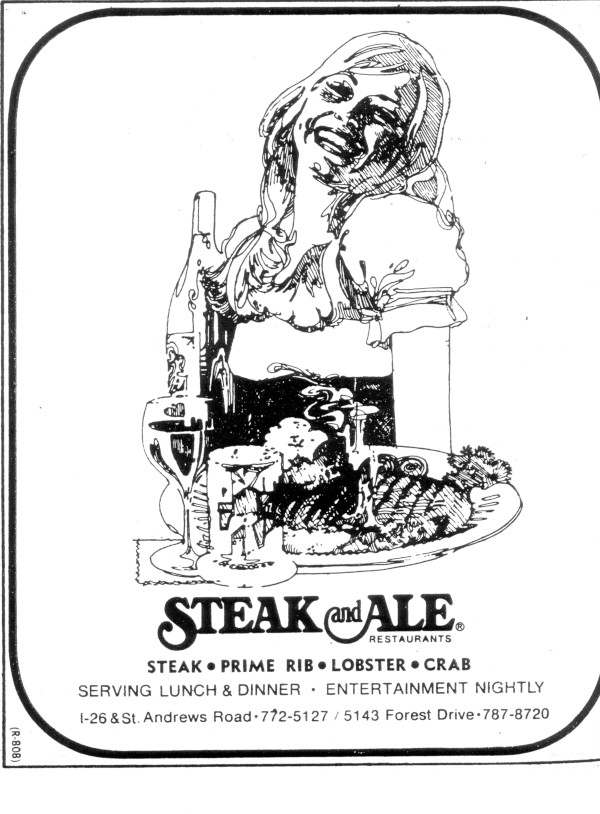 The only time I ever ate at a Steak & Ale was in Tampa Florida in the late 1980s. We were setting up a new office in Tampa at the time, and I had been seconded from the Fayetteville office to work on the software infrastructure down there. In the event, I ended up spending quite a bit of time in Tampa, but never really got to see much of the city because we were working such late hours.
At any rate, most of the team working on the office startup would eat together every night, and one night I was dead tired and just wanted something simple and to go to bed. I recalled seeing what I took to be a Western Sizzling type steakhouse down the road, so during the usual "where do you want to go/I dunno, where do *you* want to go" scrimmage, I just piped up and said: "Steak and Ale". I figured there would be burgers and a salad bar and apparently beer so the guys who wanted a drink could get one. Well, it turned out to be a little fancier than a Western Sizzling. In fact it turned out to be a lot fancier, and I found to my regret that I couldn't get a burger at all. (In those rare situations, I can usually get a baked potato & French Onion soup -- my "too fancy" fallbacks).
I never went back to that Steak & Ale, and it fostered no desire in me to go to the one in Columbia. Nonetheless, it had always seemed something of an institution to me, and I was quite surprised when they closed up shop a few years ago. After they left, there was a very short-lived operation called Buster's Bistro (which I also never visited) in the building, and now the place is split between some kind of furniture shop and some sort of athletic shop.
It looks like the chain is still around, but the closest one is in Greenville.
UPDATE 25 June 2010: Added full street address to post title.
UPDATE 13 Oct 2010: Added yellow pages ad from the 1975-1976 Southern Bell phonebook.
UPDATE 16 June 2022: Adding tags and map icon.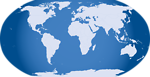 Posted at 6:57 pm in Uncategorized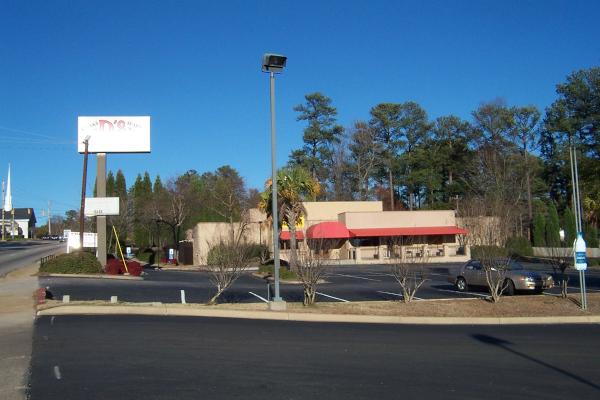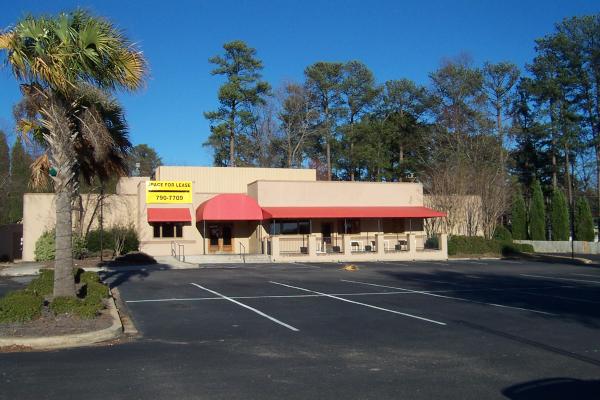 D's is a local (I believe) chain of casual restaurants with an unusually large menu. They have a little something for everyone, and are the only restaurants in Columbia (that I know of) which fry their own potato chips ("raw fries" they call them). They have a number of locations; I can think of Clemson Road, Parkland Plaza, and Beltline Blvd. They now have one less.
This particular building on St. Andrews Road appears to have a restaurant curse attached to it, as I have seen a number of operations go into it over the years, and none of them have lasted very long. More prosaically, it may just be that while it is easy to exit I-26 to eat there, it is difficult to get back on the Interstate because a left turn out of the parking lot is almost impossible when traffic is moderate or heavy.
UPDATE 24 Feb 2010: Added a bunch of previous names to the post title based on the comments. Also see here (Baja's Southwestern Grill) and here (Delmonico Diner) for the next two operations in this building.
UPDATE 31 Jan 2011: Added the full street address to the post title, finally.
Posted at 5:16 pm in Uncategorized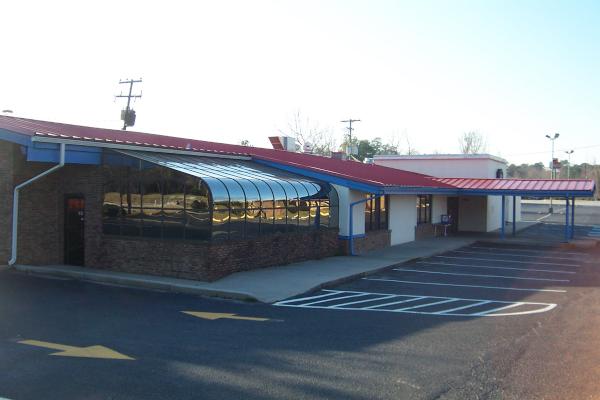 Well this was a bit unexpected. I had been planning for a while to do a closing on Quncy's, but when I went there today to take the picture, I found the successor business, Stiletto's strip club had just closed down as well.
Quincy's Family Steakhouse was part of the second or third wave of steakhouses to hit Columbia, and at its peak, the best of breed in my opinion. The first wave consisted of places like Ponderosa Steak Barn about which I mean to do a post someday, while the second wave (or late first, I haven't decided) was places like Western Steer & Western Sizzling.
Quincy's was a very appealing operation for family Sunday lunches, and we ate there almost exclusively on Sunday for a number of years. You would go in, get in line, pick out your silverware and make your order which would be brought out with reasonable promptness. I thought they had a very good burger (which fewer places do well than you would expect), and their salad bar was unquestionably the best in Columbia. The waitresses were all friendly, and came to know and greet "the regulars". The only fly in the ointment was that whatever mechanism they used to wash the silverware wasn't very efficient, and you always ended up having to go through several knives and forks before coming up with unspotted ones.
I liked Quincy's well enough that when my employer started sending me to various cities around the South East, I would take the little list of "Our Other Locations" that used to be in a stand by your way out, to have somewhere familiar to eat when I travelled. (In practice, it would usually work out that either I didn't get to pick where we ate, or we would end up working so late that it was Denny's or nowhere..). I started noticing too that all Quincy's were not alike. The one on Two Notch was definitely the best one in Columbia, much better than the one on Forest Drive, and a bit better than the one off I-26 & US-378. The one in Surfside Beach was very good, the one in Florence, not so much.
Naturally like any chain with a generally winning concept, they started to tinker with it. First, the salad bar started to decline. They took the large wedges of chedder and pepper-jack cheese off, and would start skipping very basic things, like onions, more and more often. Then they decided that the "honor system" had to go. The initial concept was you got your ticket and paid on your way out. The new system was that you had to pay at the end of the ordering line. I suppose it reduced shrinkage some, and obviated the need for another employee and register stand at the door, but it also slowed up the line, and made it seem that you weren't quite trusted to pay for your food. Real decline set in after this, and the chain obviously realized it with their somewhat desperate ad campaigns for The Big, Fat Yeast Roll. The rolls were actually pretty good, but you want to think several times before launching a restaurant ad campaign in which the words "big" and "fat" play prominent roles.
I think the Forest Drive location was the first in Columbia to go, with Two Notch being the last. I believe the chain is still in business and has a few stores left, but I haven't seen one in several years.
I forget what moved into the Two Notch building after Quincy's, but it didn't last too long, and I think the building sat vacant a while before becoming Stiletto's. That brief-lived operation had a sign with a very shapely set of legs, the feet adorned with the aforementioned footware. I'm pretty sure I saw the sign as recently as last week, but I can't say for certain. The sign also mentioned that, like Quincy's, they had steaks on the menu, but I suspect "the sizzle" was more their stock in trade.
UPDATE 9 May 2008: New construction is going on at the old Quincy's/Stiletto's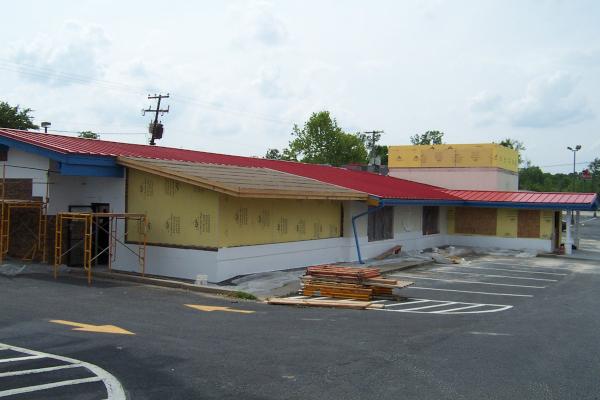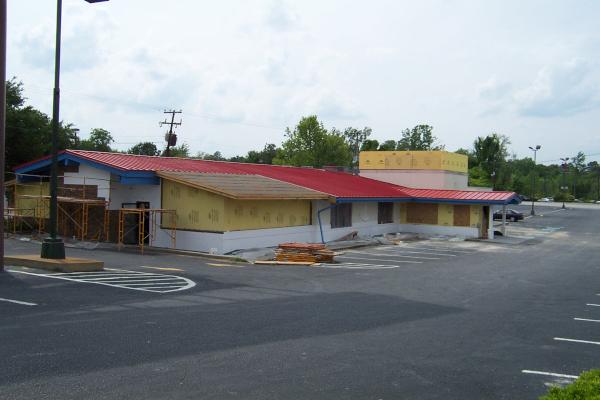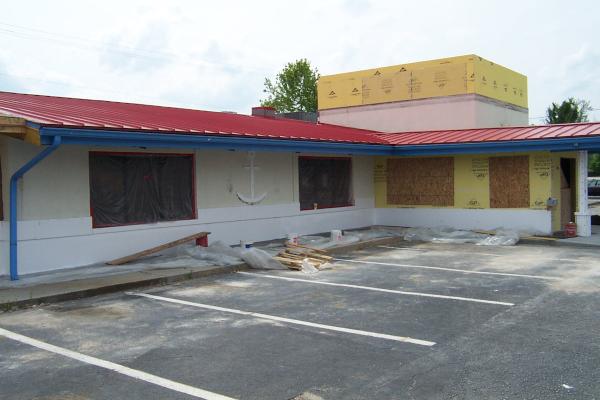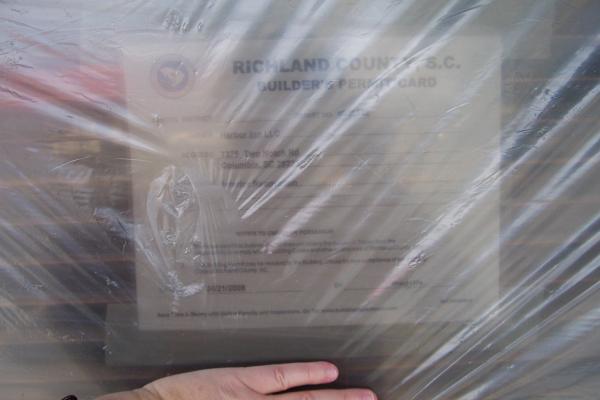 Looks like it will be a "Harbor Inn", which either means that there will be two Harbor Inns within a mile or so of each other on Two Notch, or that the one in front of Bi-Lo (in the old Ryan's building) will be moving here.
UPDATE 22 March 2010: Added full street address (and some tags)