Posted at 4:57 pm in Uncategorized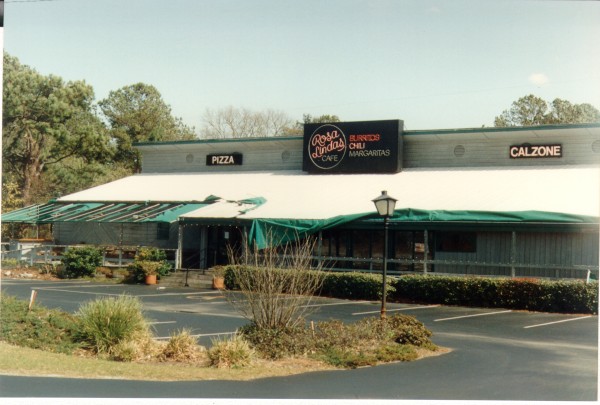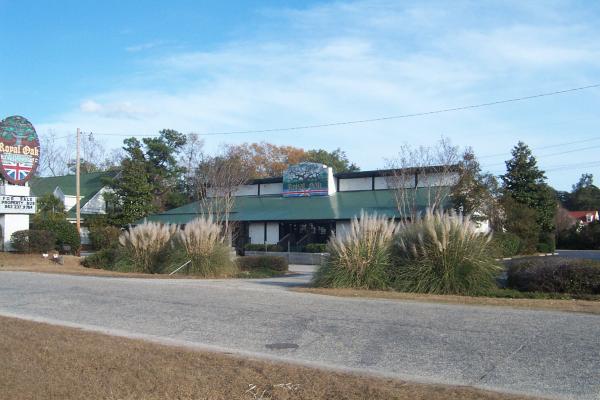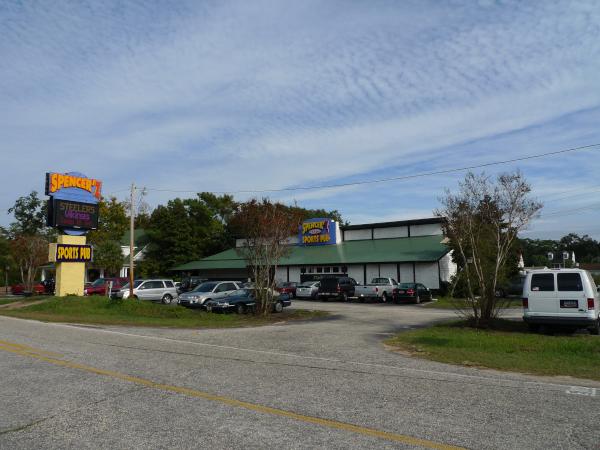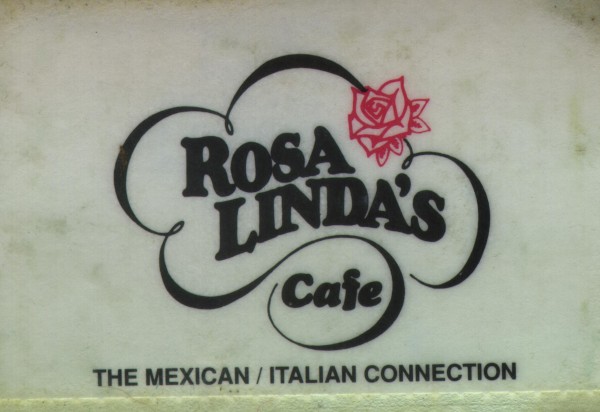 Rosa Linda's was one of the first out-of-town places I became a "regular". Once I had a job, and car, my comings and goings from the beach came to depend more on my whims than elaborate family vacation plans, and when I was on the coast alone, I could always choose a place I liked. At the time (and still to a large extent), what I liked was Mexican and pizza.
Rosa Linda's billed itself as a Mexican/Italian restaurant, a combination which seems natural to me, but which I have seldom seen elsewhere. Of course, it wasn't authentic Mexican food, and the menu would cheerfully admit as much, but it was Mexican food prepared in a way which seemed very natural to me as a South Carolinian, and I quickly became addicted to the chips & salsa, which were almost my first experiences with "hot" food. I realize now that the salsa which seemed so amazing at the time was in fact Pace Medium, but it was certainly better than what was (and is) served at Mexican run Mexican restaurants, and the chips were made on-site, and were excellent. The pizza was prepared in a brick oven, and was the best single item on the menu. The crust was thin, but not anexoric, and firm but not brittle. It was also great for dipping in any of the salsa you might have had left over.
The wait staff was uniformly friendly, and they became so used to seeing me there, that they gave me their "locals" discount card (despite the fact that I was living in Fayetteville and then Aiken at the time) and membership pin. Supposedly, if you wore the pin, you would get seated first if there were a line. That didn't seem quite fair to me, so I never wore it, but I didn't hesitate to take advantage of the discount card which got you 10% off everything except bar drinks for the whole party. Being in the program also meant you got a postcard every year on your birthday with some sort of free food offer. I'm not sure I still have the pin or card. I know they were in my '85 Camry when it was totaled, and I'm not sure I've seen them since.
I was very upset when I came down to the beach one spring and found Rosa Linda's closed. I'm not sure I got the complete story from a lady in another local establishment but it seemed to boil down to family issues, and maybe moving somewhere outside the country to retire rather than to a failure of the business.
There were originally two other Rosa Linda's locations, each run independantly, but with the same menu. Once was in Myrtle Beach near the old Myrtle Square and the other was in North Myrtle Beach almost across from Barefoot Landing. The Myrtle Beach location was subpar. I ate there a few times, but it was never as good as the other two, and it closed before the Murrells Inlet location. The North Myrtle Beach location was as good as the Murrells Inlet (but too far a drive to become a "hangout" for me), and soldiered on until they lost their lease and were unable to find another location. A new Olive Garden restaurant was opened on that lot.
After the Murrells Inlet location closed down, no other operation was able to make a go of the location. The first to try was some sort of chain Mexican place whose name I cannot now recall. That lasted about a year and was followed by a Mexican run Mexican restaurant, which didn't last much longer. That was followed by The Royal Oak a faux English tavern operation which had a formidable number of different beers on tap, as well as burgers and pizza. I tried the pizza, and found it inferior to Rosa Linda's by a good bit. The pub folded last year, and the building is now vacant again. Oh well.
UPDATE 7 July 2009: Added scan of Rosa Linda's loyalty card above.
The Royal Oak was replaced by Spencerz's Sports Pub, which is now "closed for remodeling".
UPDATE 7 October 2009: Added the first picture, which shows Rosa Linda's with some wind damage after Hurricane Hugo in the fall of 1989
UPDATE 26 October 2009: Added the picture of the building's current tenant, Spencer'z Sports Pub (the pizza is 'ok', not nearly as good as Rosa Linda's).
UPDATE 22 Jan 2010: Well, looks like the Rosa Linda's folks are going to have a reunion (see the comments). Maybe they can rent their old building -- because Spencer'z South went under this week..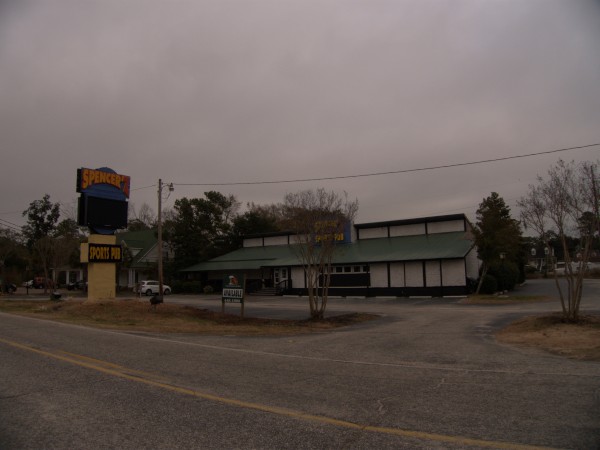 UPDATE 3 June 2010 -- Well, after 30+ years of being a restaurant, it appears the building will now be a golf shop: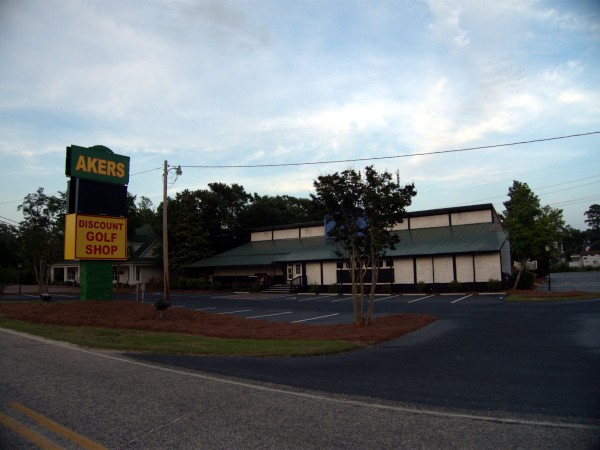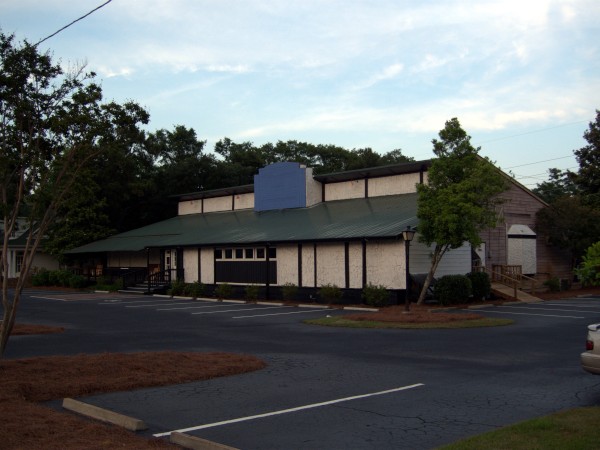 UPDATE 12 April 2011 -- Good news! A new Rosa Linda's will be opening in the old Hoof 'n' Finz: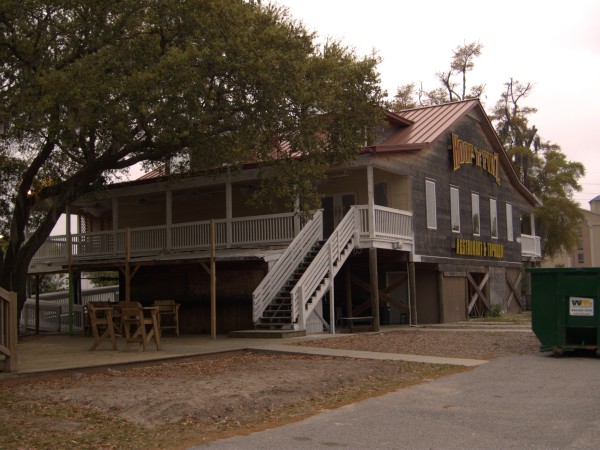 UPDATE 14 May 2011 -- The new Rosa Linda's is open!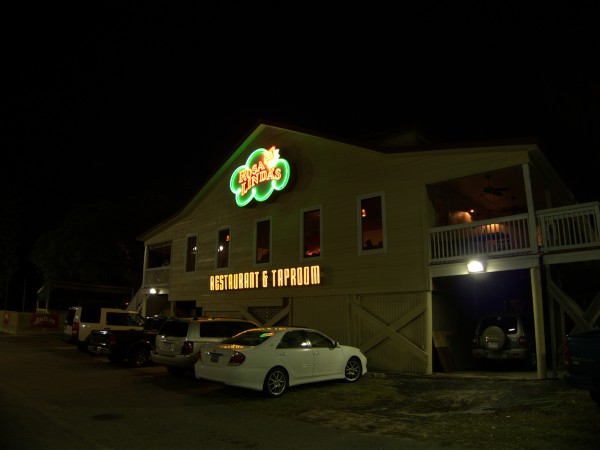 I went by the other night, and am very pleased! They don't have a pizza oven because of structural limitations in the building, but the enchiladas taste exactly as I remember, as do the chips and Mexicana Mud.
29 Responses to 'Rosa Linda's Cafe Murrells Inlet: Late 90s'
Subscribe to comments with RSS or TrackBack to 'Rosa Linda's Cafe Murrells Inlet: Late 90s'.
Leave a Reply