Posted at 1:12 am in Uncategorized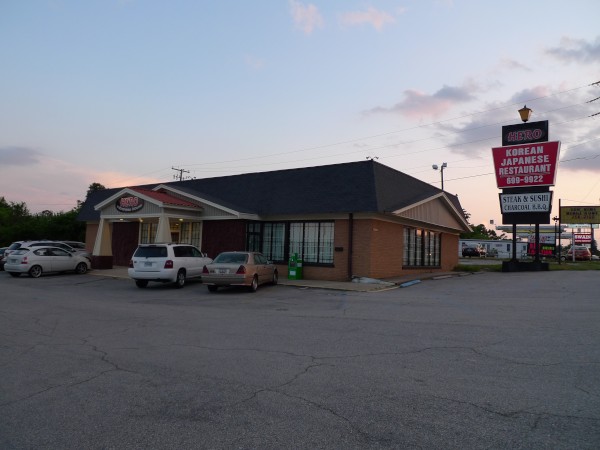 I don't eat at Lizard's Thicket that often, but it's good Southern comfort food. I recall working in Kansas for about a month once, and being so glad when I got back, drove out of the airport here and saw the Liz on Airport Boulevard. There are times when only field-peas-over-rice will do.
Someone described Lizard's Thicket here in the comments of some post or another as a "hermit crab restaurant", ie: one that likes to let another restaurant build the building and fail and then moves into the empty shell. It strikes me as a sound strategy, but that being the case, I can't speak to what was in this building before Liz. This particular store was a bit unusual in that it was one of the two Lizes closest together of all those I am aware of (the other is just a mile or so down Two Notch towards Spring Valley). It was also the closest Liz to our house, and the one we went to most often. I remember two things in particular about it. First, they had a pot-plant by the register which was connected to a lamp. Through some sort of capacitance effect, if you touched the leaves of the plant, the lamp would turn on, cycle through dim, normal and bright and then off again. Second, once when we were eating there, the waitress subtracted the cost of our drinks from the bill rather than adding it. I've had days like that..
The building sat empty for a bit after Liz left (to go down to a new location [and building!] near Sandhill) and then the current tenant moved in. From the amount of time it was taking, and the car I often saw parked there, my impression was that the new owner was doing most of the work him(?)-self. I think too, that when it first opened, the "Korean" rubric had not been added. I haven't eaten there, but it seems to draw a good lunch crowd. I doubt there's peas-over-rice though.
16 Responses to 'Lizard's Thicket, 6634 Two Notch Road: 2000s'
Subscribe to comments with RSS
Leave a Reply