Archive for September, 2008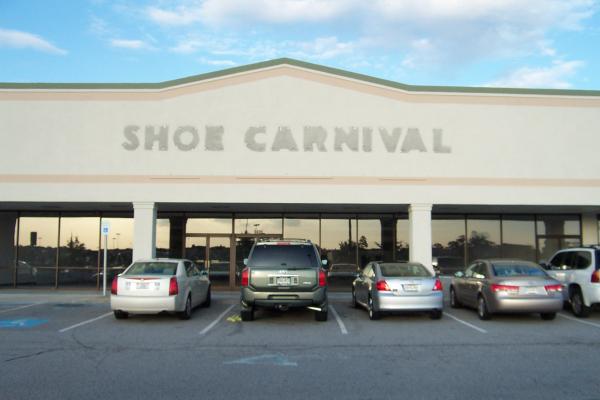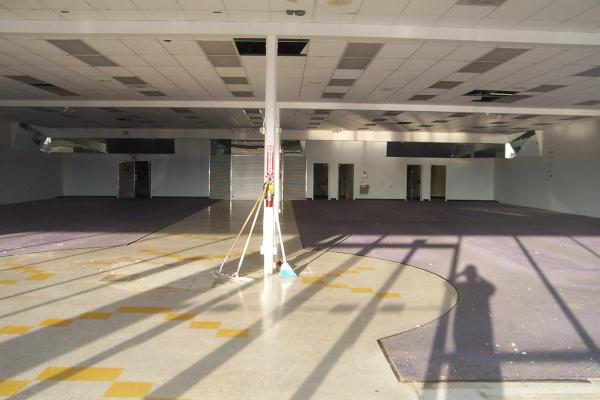 I don't get into the outparcels around the Forest Drive Wal-Mart very often, but I was over there at Radio Shack the other day (needed an audio cable and wasn't willing to forage into Wal-Mart and get it cheaper). While I was there, I noticed that the Shoe Carnival store was gone. It's a fairly big place -- that was a lot of shoes! When I was a kid, I thought shopping for shoes was a step up from shopping for "clothes". Partly this was, I think, because of the neat foot measuring devices which always struck me as kind of futuristic (and that was just the manual ones. The one at Sears on Harden which was fully automatic was a special treat!). It was also partly due to the premiums given out with kids shoes. I remember compasses, decoder whistles and comics coming with Keds, PF Flyers and Buster Browns. I don't think any of that happens any more. It's like cartoons before a movie -- nice but it doesn't help the theater's bottom line. Though apparently nothing helped this place's bottom line.
UPDATE 25 March 2010: Added full street address to post title.
Posted at 10:50 pm in Uncategorized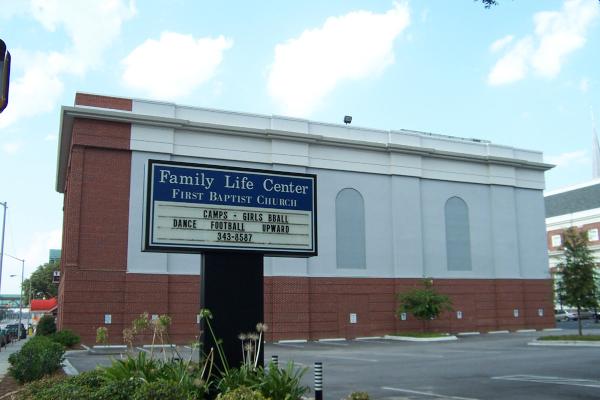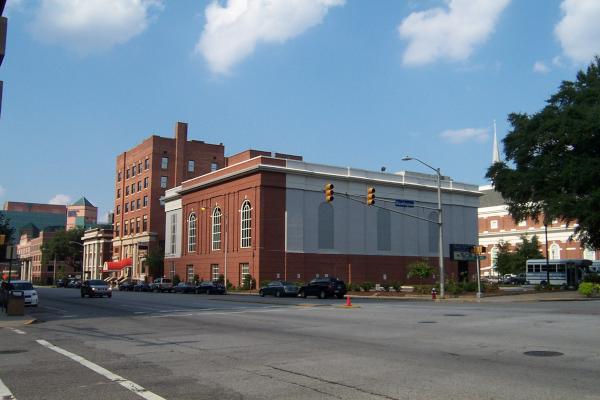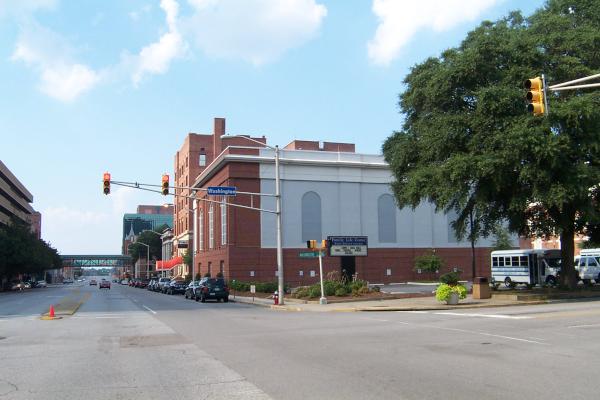 When I was small, the book-mobile would pull up in our driveway every week, and all the neighboorhood kids would come to our house to check out books. After the book-mobile stopped making the rounds, we would usually go to the Cooper Branch Library on Trenholm Road, which was on the way to and from my mother's usual grocery and shopping runs.
Now the number of books in the Cooper Branch was quite impressive to me as a kid, but it really wasn't all that big a place, and the stock didn't turn over that rapidly. Though I enjoyed reading the same books over and over (I'm sure I read Alfred Morgan's The Boy's First Book of Radio and Electronics upwards of 50 times, with the same going for Robert Heinlein's Space Cadet and Alan Nourse's Raider's From The Rings), it was always a thrill to go downtown to find books I'd never seen before.
As you can see from the pictures above, the building that was the downtown main library is gone now, and a church is using the lot. (You can see the original building here). The way I recall it, parking was very much at a premium at the Sumter & Washington site, and a visit would usually involve a metered space. There were two public entrances to the building. If you entered the main entrance, you would be facing the main check-out desk. To your right, would be an area devoted to periodicals taking up the whole side of the first floor. To your left and behind you would be a seperate "reference room" filled with books which did not circulate. Straight to your left would be first the card catalog hive and then the stairs to the upper floors. To your left and in front of you would be the non-fiction area (though though this wasn't absolutely strict as Dewey Decimal code 808.3 did include Science Fiction anthologies).
If you came in through the second public door, you would encounter a flight of stairs which would take you directly to the children's section which was either on the second or third floors. The fact that there was unsecured street access to the children's section seems a bit odd from a 2008 perspective, but those were different times.
Again, I get a bit confused between the second and third floors, but one of them was entirely devoted to fiction. Sometime in the 1970s, the library decided on a very important (to me) innovation: they would organize the fiction section by genres. This meant that romance, mystery and westerns were all broken out into separate sections, which I did not care about and it meant science-fiction was broken out into a separate section which I did care about, a lot. Remember that these were pre-Internet days. I was the only one I knew who read science-fiction. There was no e-mail list for science-fiction. There were no web-forums for science-fiction. As far as I know, there wasn't even a science-fiction book club in town. I knew some names: Isaac Asimov, Robert Heinlein, Andre Norton, Alan Nourse and that was it. Whereas before it wasn't practical to check every book in the fiction section on the chance that it might be SF, now I could check every book on the SF shelves: Nirvana!
When I became interested in rock music in the mid 70s, the library was also the place where I could check out (and tape to casette..) rock & pop LPs, and peruse music magazines like Billboard and Rolling Stone that I would never be able to afford myself.
Sitting in the periodical section happily turning pages, I did start to notice some of the pathologies beginning to affect the downtown library though. I think I first noticed that several guys sitting in the magazine section seemed to have fallen asleep. I didn't make the right connections at first -- my father fell asleep reading all the time, and there had certainly been classes and study sessions where I was very close myself. When I noticed the rank smell, I finally realized that these were homeless people, something I hadn't encountered before. It's a difficult problem to address at all, and the library was ill-suited to do anything. It was a public space after all. I certainly don't know what the answer was, but I do know it hurt the library. I recall friends who were reluctant to go down there, and parents reluctant to take their kids.
None of that affected the need to find someplace for all the books it took to seve a growing population and a growing library system however, and after a process that considered several alternatives, we finally ended up with the new site at 1431 Assembly Street. My memory is that the old library sat vacant for several years, then I sort of lost track of it. The first I knew that it was slated for demolition was when I drove by and there was no trace of it left.
I like the new library (and they seem to have a handle on the homless issue), but the thrill is gone. Now that I have a job, if I really want a book, I can just buy it, and with Amazon and Google, I'm never surprised by what is on the shelves (heck, I get email alerts months before a new book by a favorite author is due!). Still, there's probably some 13 year old making his first trip downtown every day and there's still 8 copies of Space Cadet on the shelves..
Posted at 10:13 pm in Uncategorized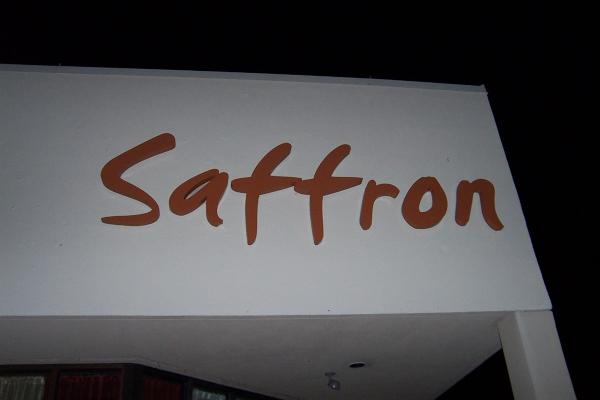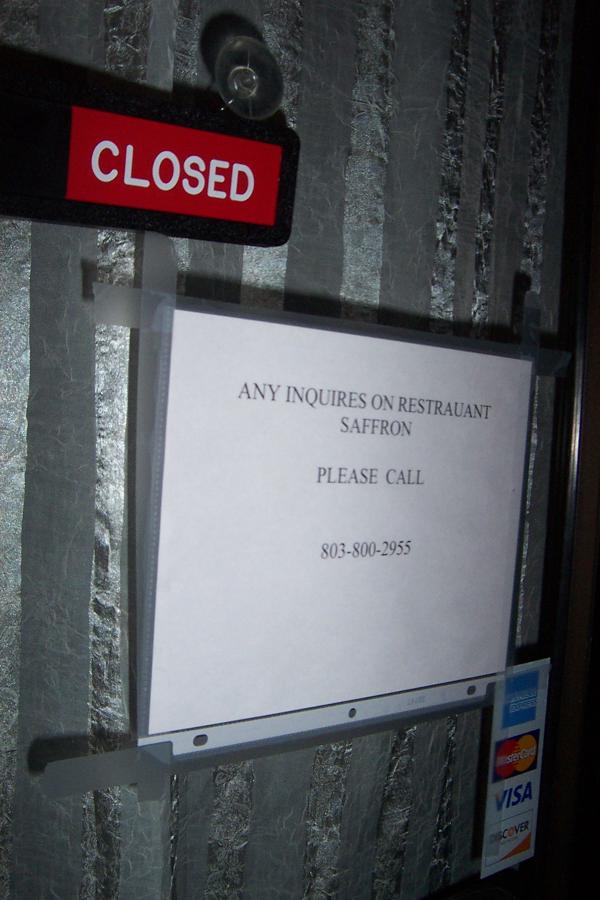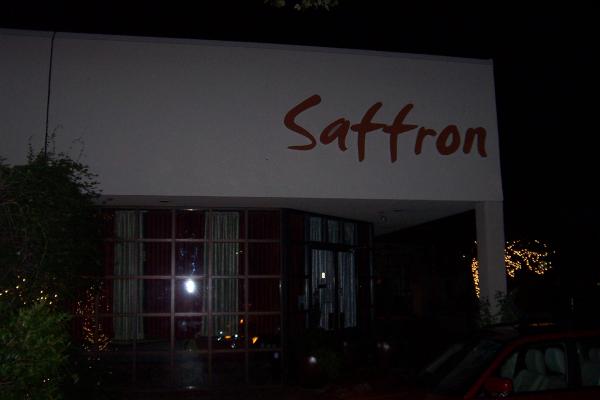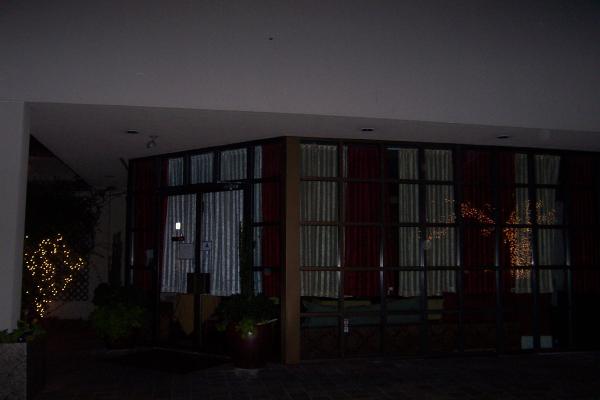 Well, that lasted about, hmm, about two months and a bit given that I posted this shot on 3 July 2008: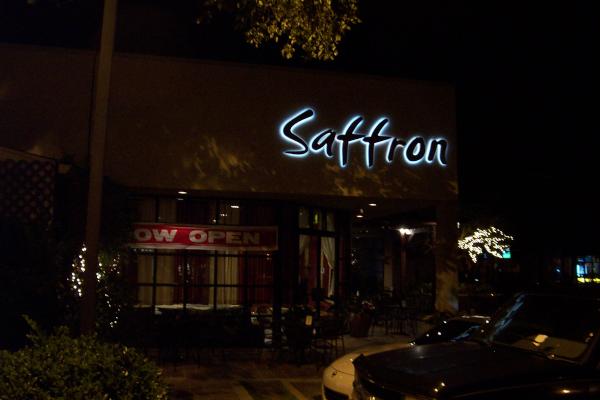 Saffron was the new Moroccan restaurant which opened in the building vacated by the closure of Al-Amir across the plaza from Za's Pizza on Devine Street. I thought it was a bit curious that one Middle-Eastern restaurant was followed by another. The Free Times gave it a mixed review when it launched, and I never got around to trying it. I had thought that perhaps the fact that, unlike Al-Amir, it served alcohol might have given it a leg up in a location that (at least at Za's) seems to attract a party crowd, but apparently not.
This still leaves the The Mediterranean Tea Room as an option for falaffel, tabouli and the like, but I find their hours a bit restrictive.
UPDATE 13 Oct 2008:
Looks like another middle-eastern place is coming to this spot. Get read for Tabouli!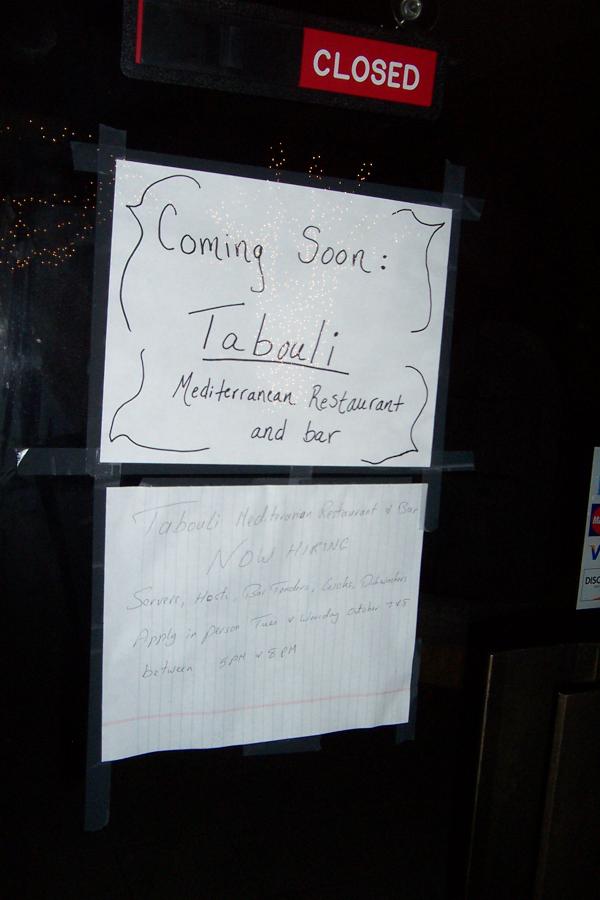 Posted at 5:33 pm in Uncategorized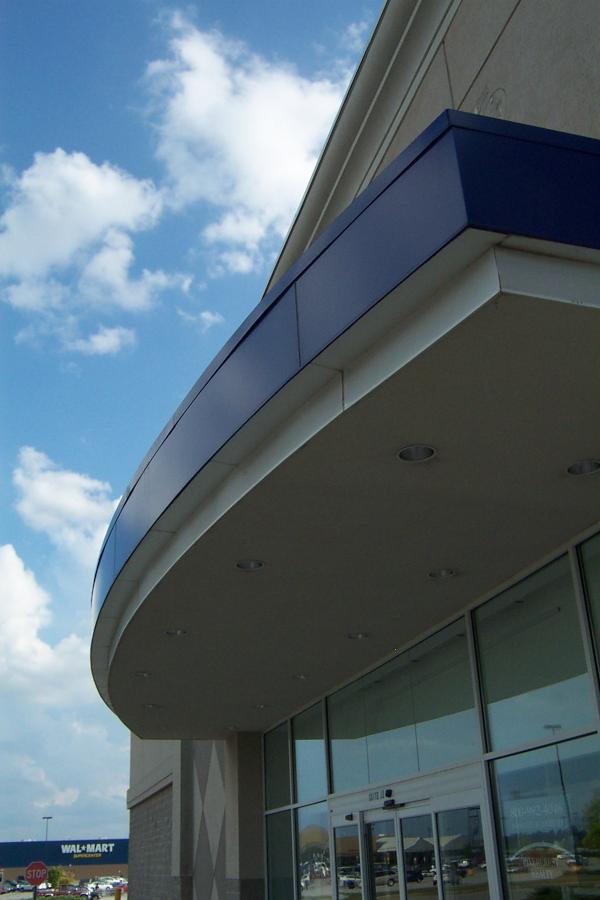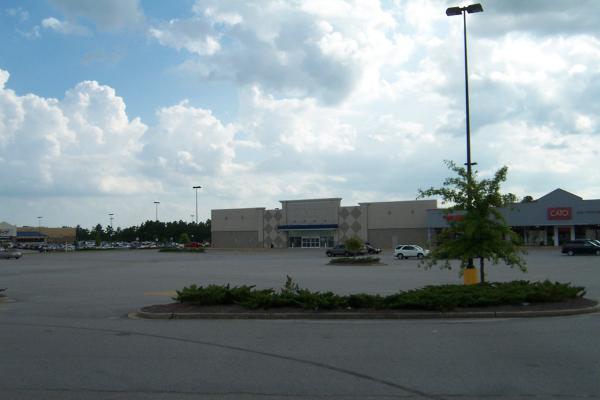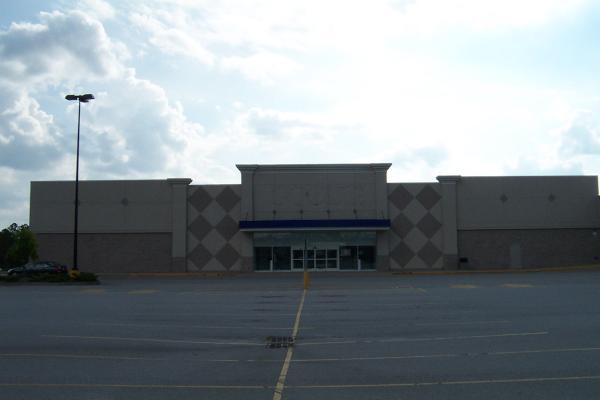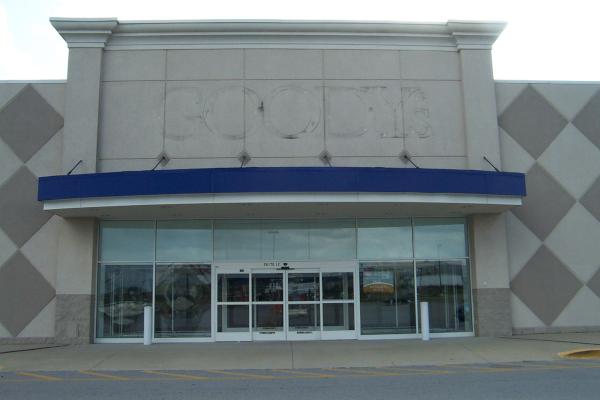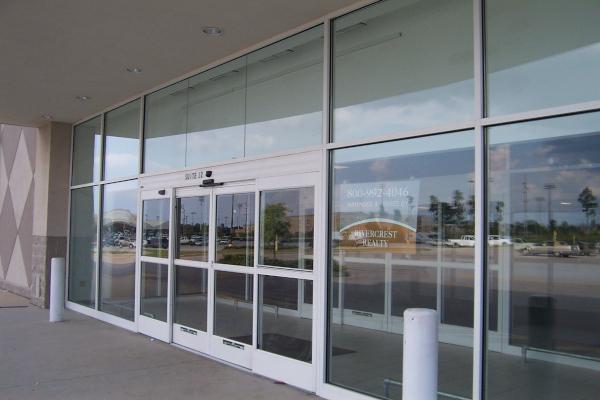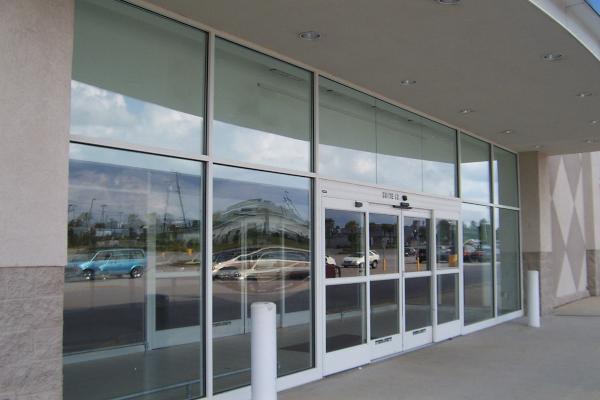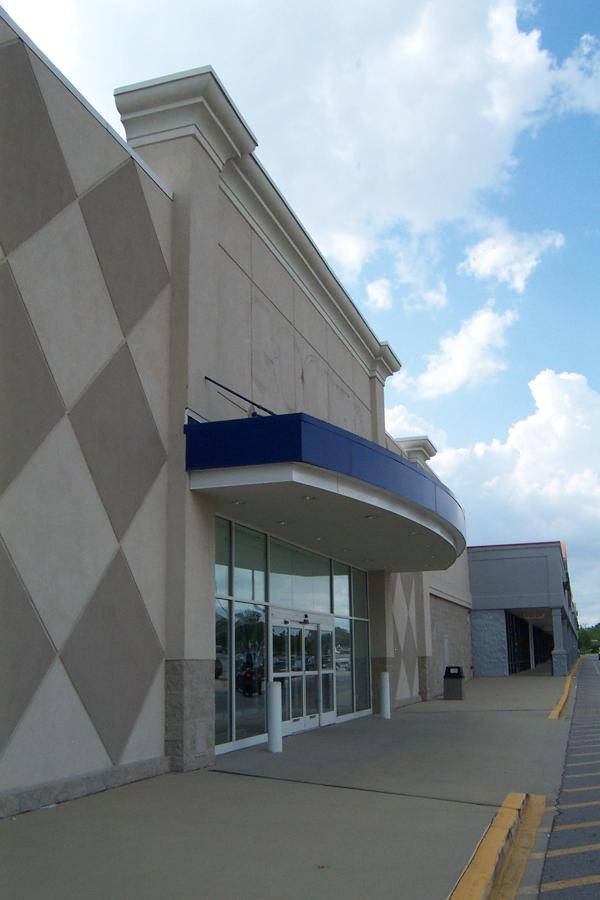 Wow, this one comes as a surprise. If you've read many of these posts, you'll know I hate to shop for clothes, but Goody's was one of the places in Columbia I knew I could go and find the Arrow shirts I like (they look OK, and I know what size will actually fit and I can buy a bunch without the hassle of trying them on). In fact, as I took these pictures, I was wearing a shirt I had bought there.
The last time I was in there, last summer I believe, they seemed to be doing a brisk business, and with that and their mammoth building, I had thought them to be pretty solid. Now with it empty, it makes me wonder what the real-estate owners can find to fill it up. They may have to subdivide.
UPDATE 25 May 2010: Changed post title to reflect stores full offical name and full street address.
UPDATE 13 Sep 2010 -- Jo-Ann Fabrics & Crafts is now in this building: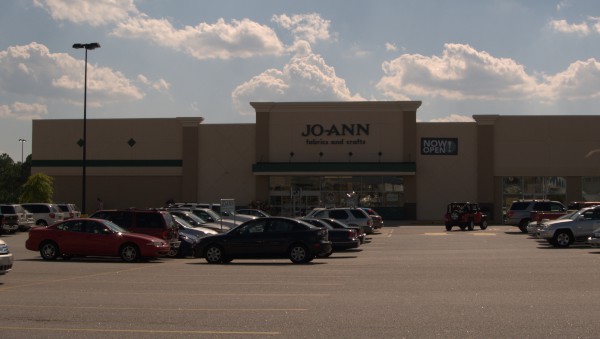 Posted at 5:31 pm in Uncategorized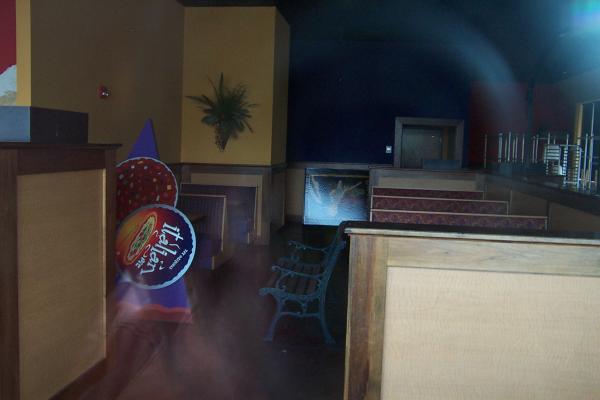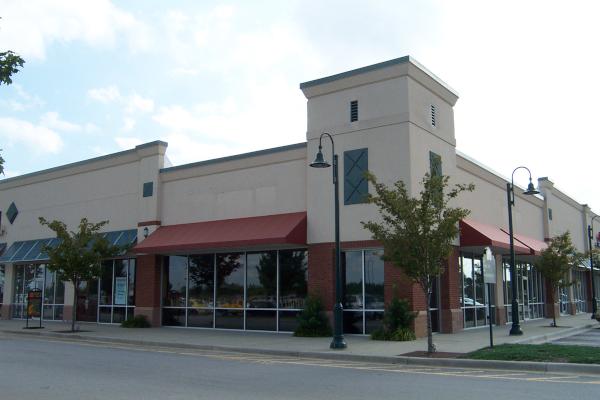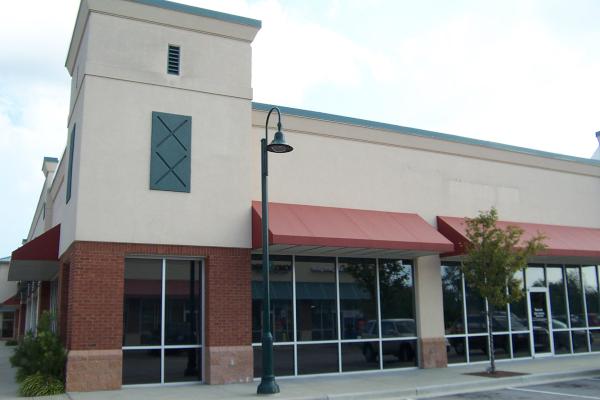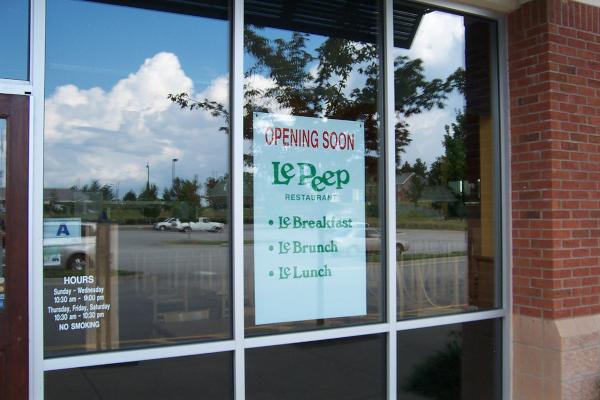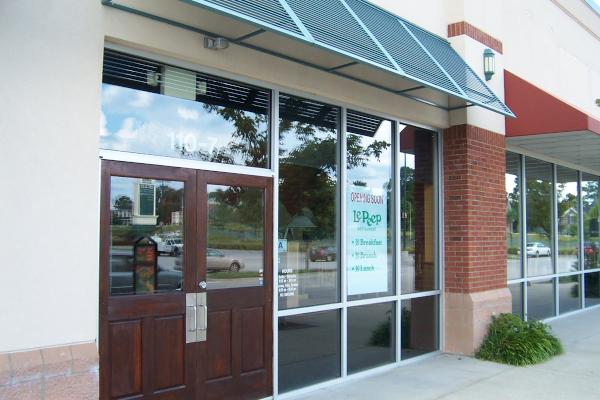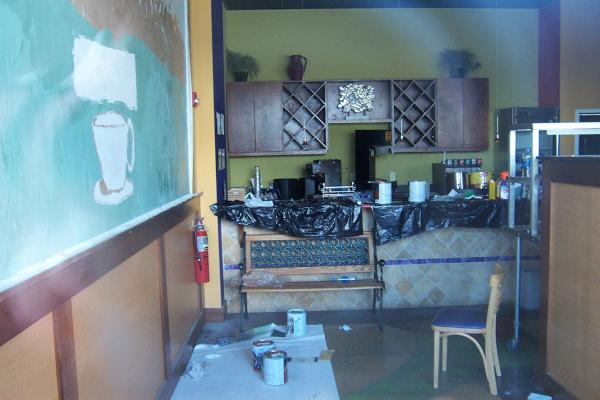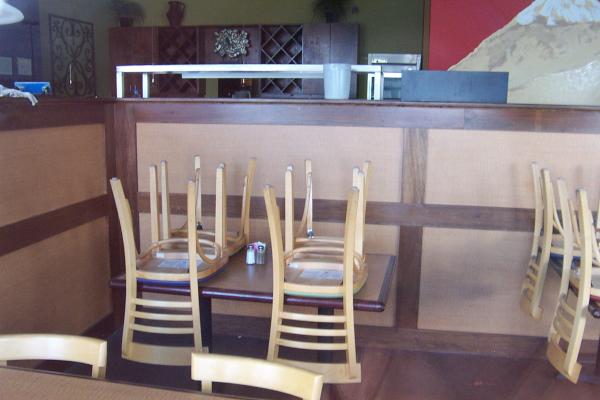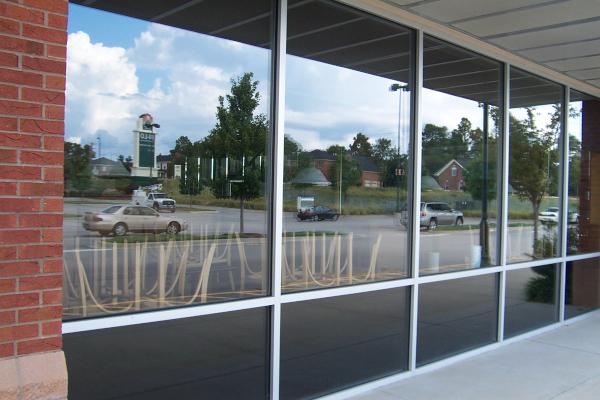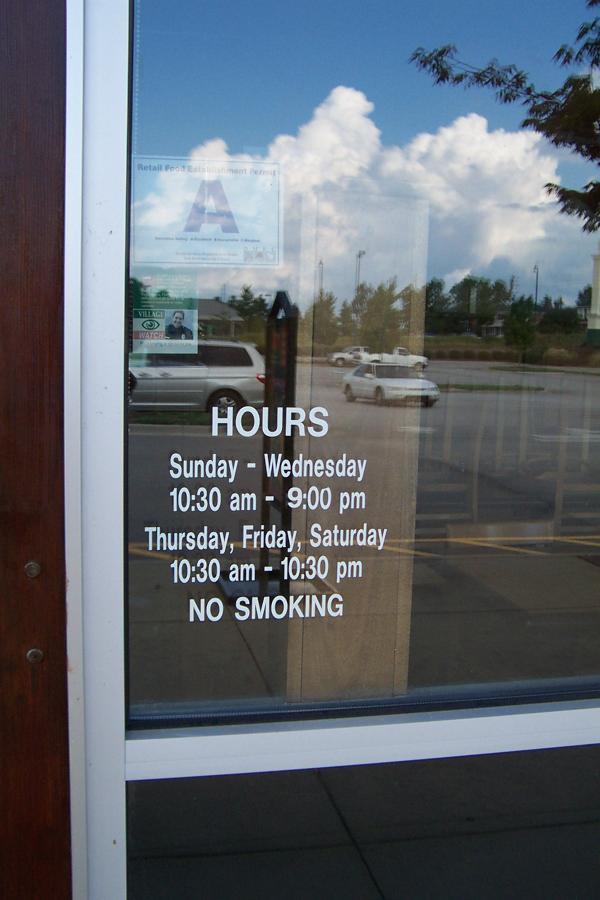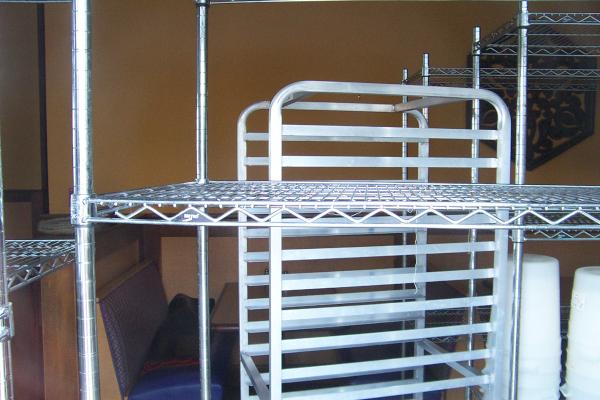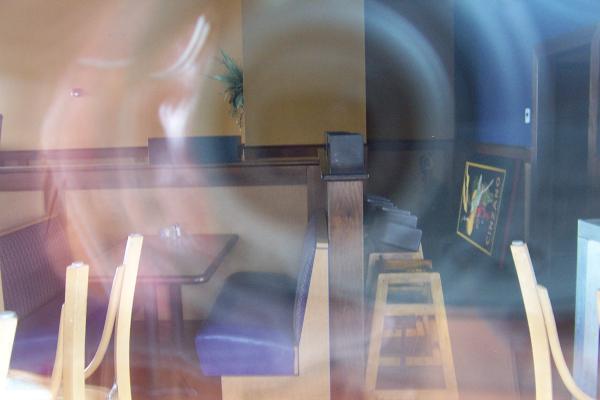 I like The Italian Pie, though I have only eaten at their Forest Drive location. My only problem with that place is their initial violation of Ted's Rules for Restaurants #1": Honor Your Posted Hours.
For a while they were open until 10:30pm Thurs-Sat and I got there at 9:30 to hear the dreaded: "Well, we weren't very busy, so we closed the kitchen". After that, they took down their posted closing hours, and I can generally only get there for lunch now.
I don't know much about the Sandhill location. Since Forest Drive is so much closer, I never made it out there for a meal. I did read in The State a while back that they were reducing their open hours, is Signs Your Favorite Restaurant is About to Close #1. Apparently after that, they reduced their open hours down to zero.
Judging from the salt shakers still on the tables, the end probably came fairly quickly. It looks like a French-ish (I add the "ish" because of the "Pepe Le Pew" spellings on their sign) place is to open there soon. Perhaps they can open before the new Panera Bread, which seems to have been in the offing for a lot longer than necessary now. Maybe they're looking for salt shakers...
Posted at 6:55 pm in Uncategorized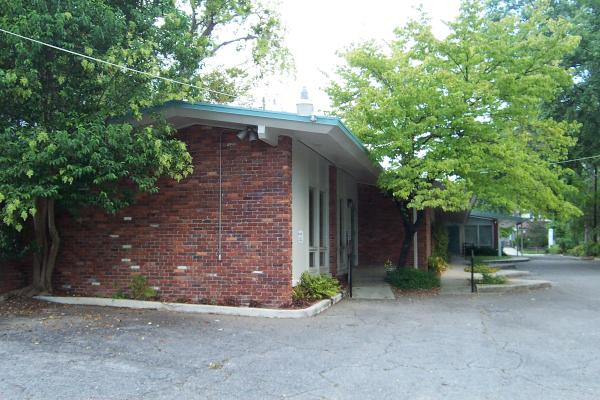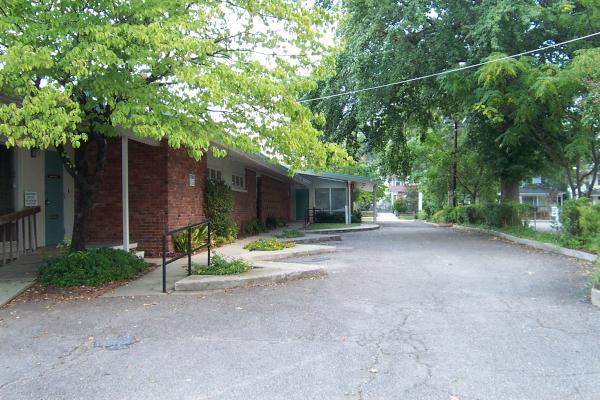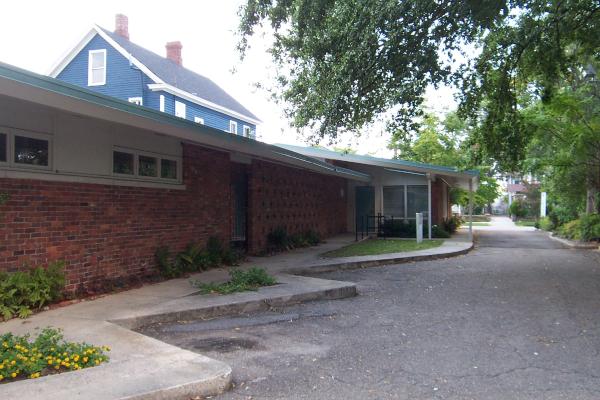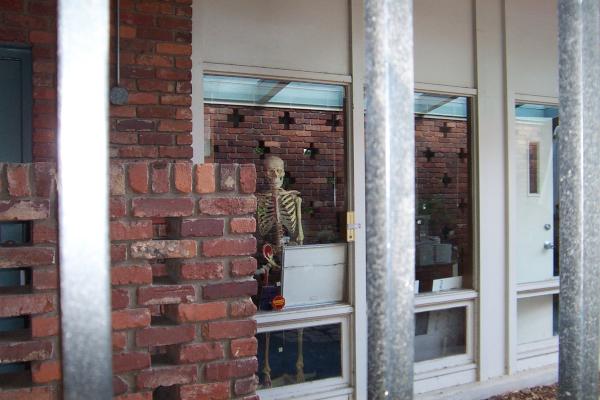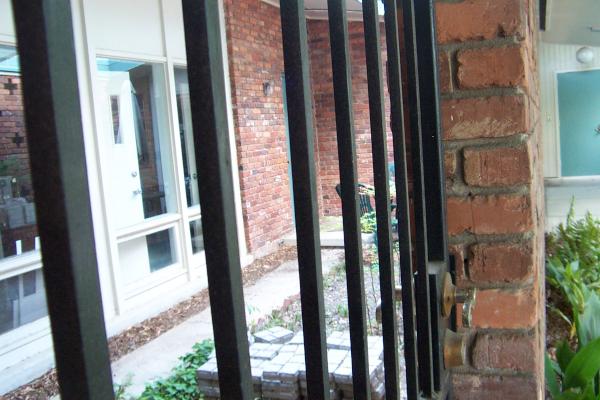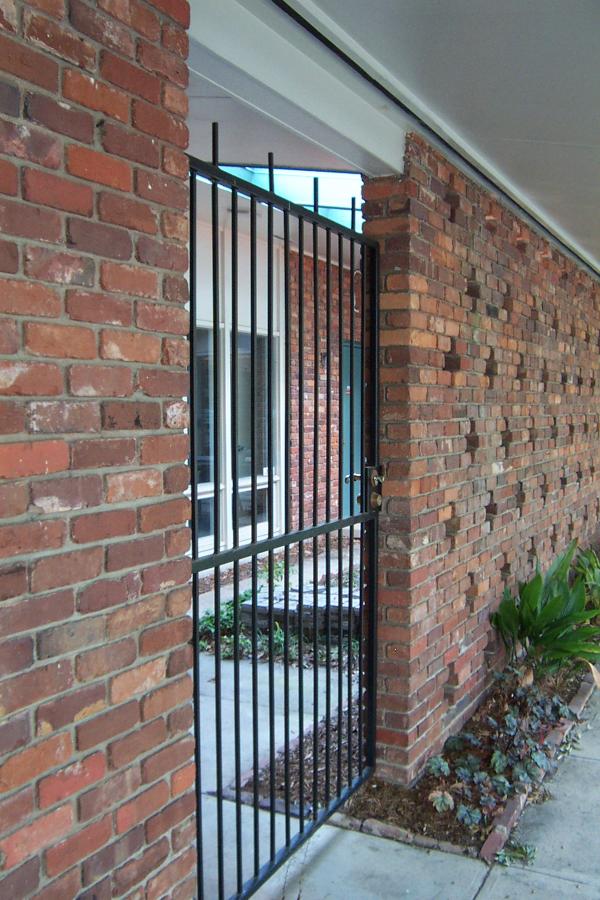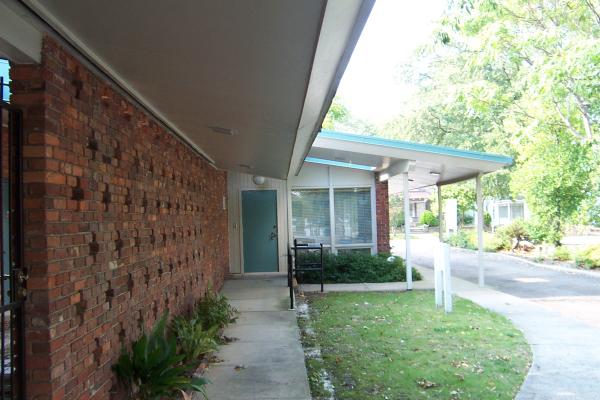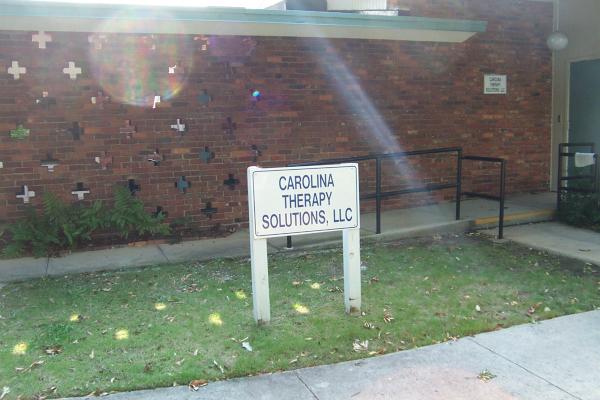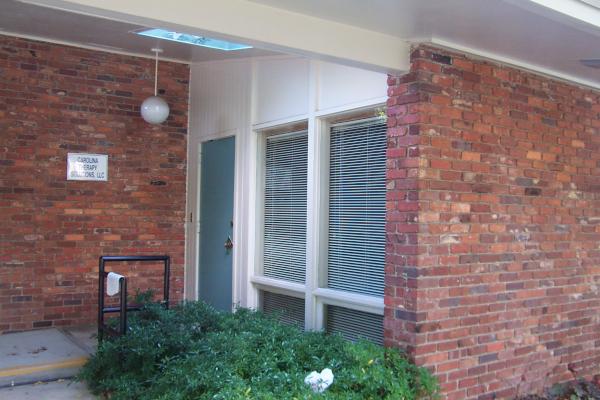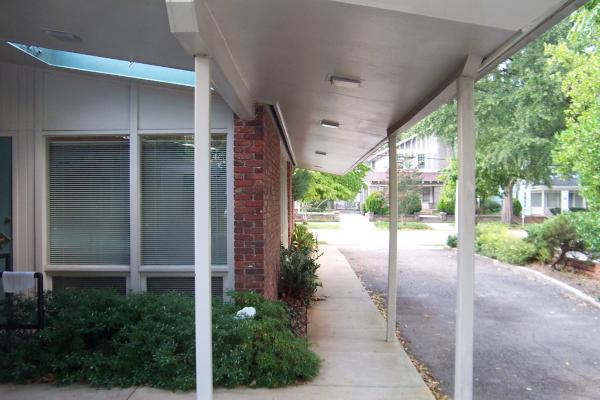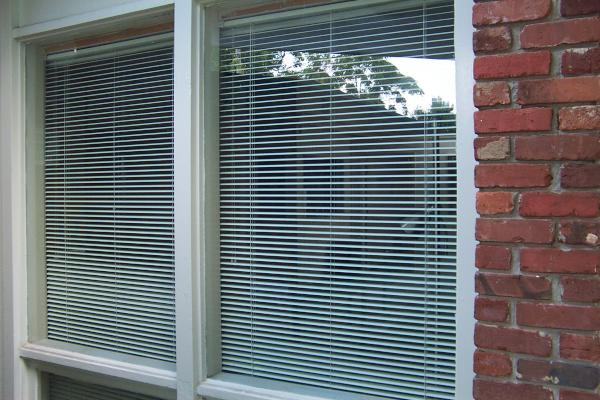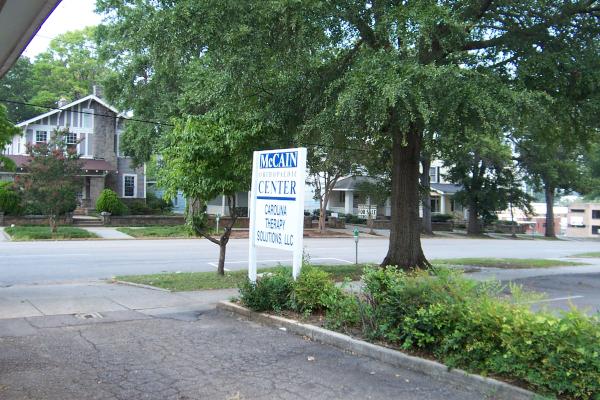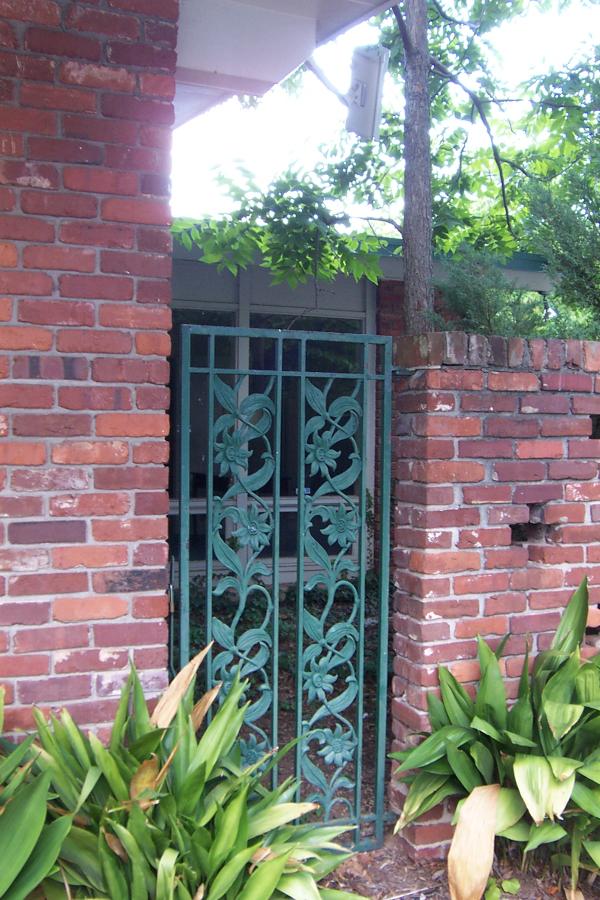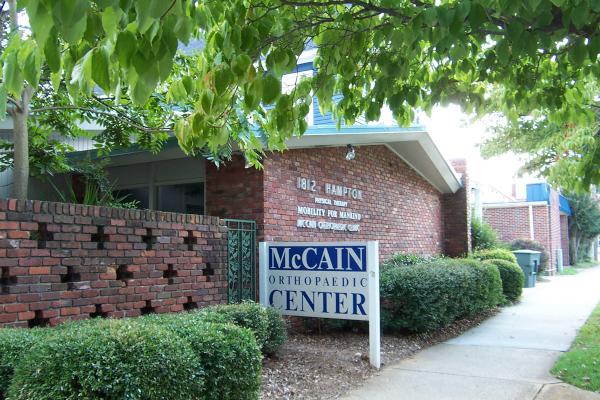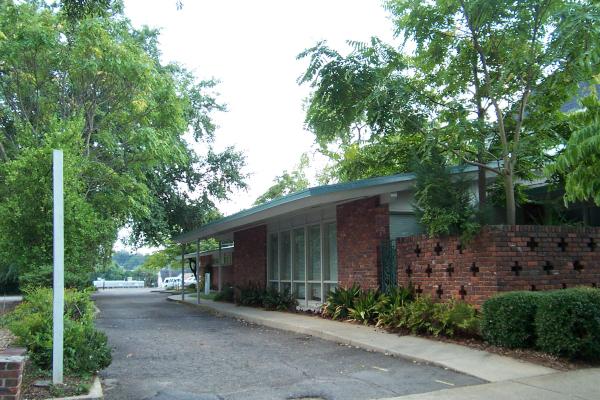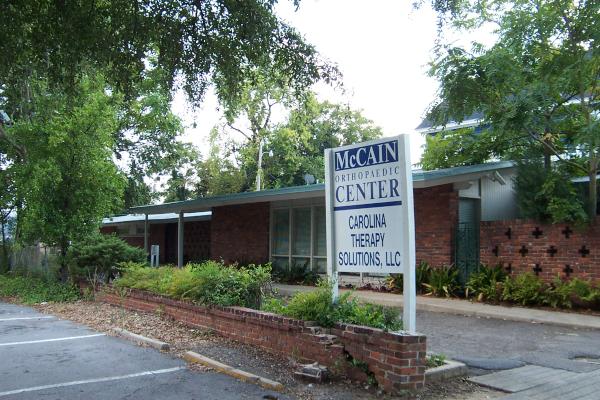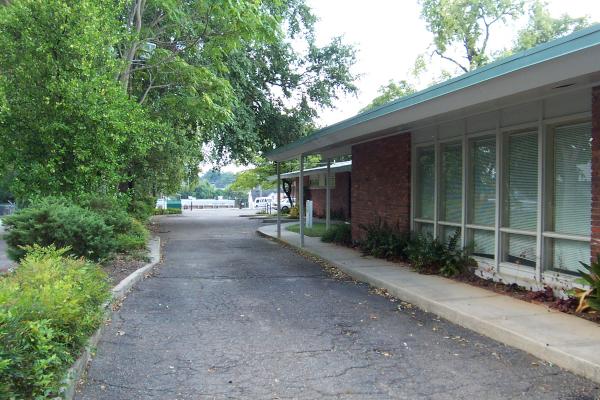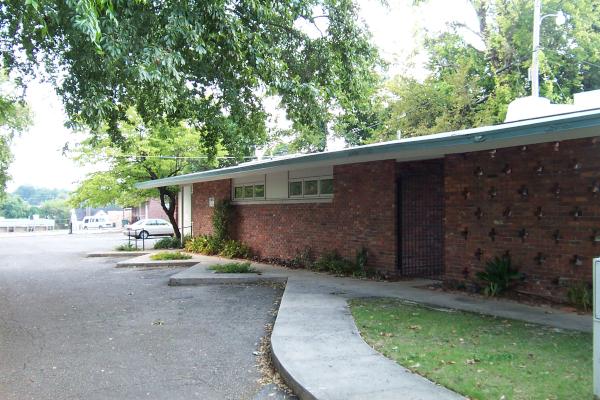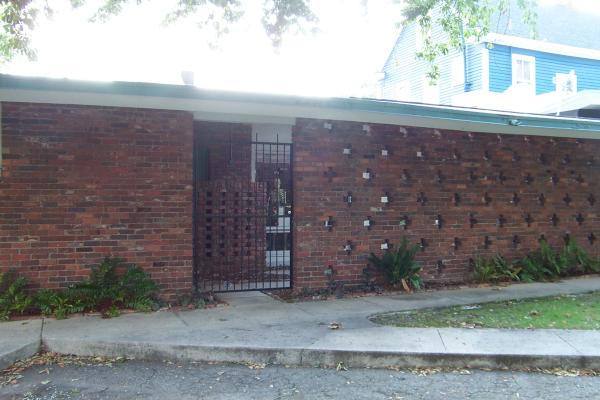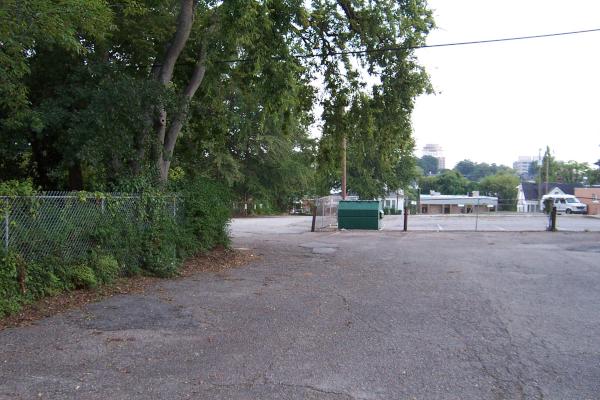 I'm not totally sure of this, and I can't ask anymore, but I think Doctor Harvin delivered me. I am certain that he was my pediatrician, and I spent many unpleasant hours in the waiting room here, sick and surrounded by other sick kids, waiting to see him.
It seemed to me at the time that I rarely saw him by appointment, but that I would get sick, and when I didn't get any better, my mother would call the office and they would "see if we can work you in". and somehow they always did.
The waiting room was behind the blue door with the blinds (which I'm pretty sure weren't there back in 'the day'). By the receptionist's window, there was a large tank full of colorful tropical fish, and chairs and couches lined the walls. Apart from the usual long-out-of-date magazines for adults, there was the ubiquitious Bible Stories book that was a free come-on to get you to buy the others and comic book leaflets with the government vaccination cartoons. Nobody seems to remember these today, but they were big at the time, and featured Rolly Polio, Locky Lockjaw and Whoopie Whooping-Cough. (I'm amazed that the one link to Rolly Polio is all I can find via google!). Once you made it past the receptionist, there were a series of examination rooms where there would be a further wait for Dr. Harvin to actually arrive. My favorite had a lamp with a rotating shade that made a sort of illuminated diorama, except for the fact that it was always broken. I suspect it must have had some sentimental meaning since it was never replaced with something new.
Outside, there as a fascinating (for a child) little enclosed courtyard which can still be seen through the bars and patterns of holes in the bricks. I recall it as having more shrubbery than now, but I could be wrong. It was something of a treat to be allowed to go out into it, and in fact that rarely happened. Of course the skeleton now visible through the windows was not then there -- that would have given us quite a case of The Willies!
We thought the building was kind of neat because as well as having an entrance from Hampton Street, it also had a "sneak-up" entrance on, um, Barnwell Street I think. The hill was a bit steep going that way, but that made it better for sneaking-up.
I have it in my mind that I heard Dr. Harvin had passed away though I hope this is incorrect. At any rate the last time I saw him was when I was about 16 since he was still the only doctor who had my records. I believe he retired some time after that. The building is apparently still in use by two medical practices.
Posted at 11:44 pm in Uncategorized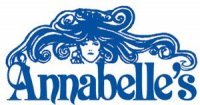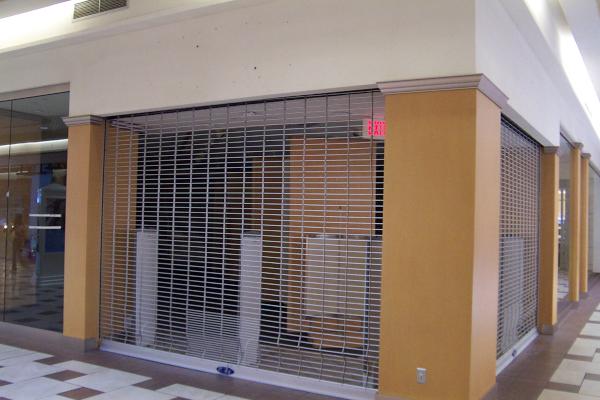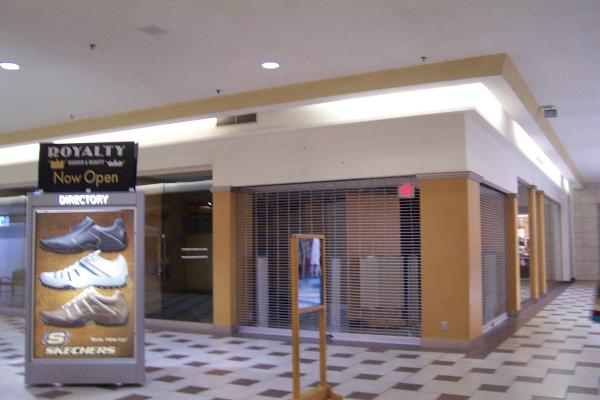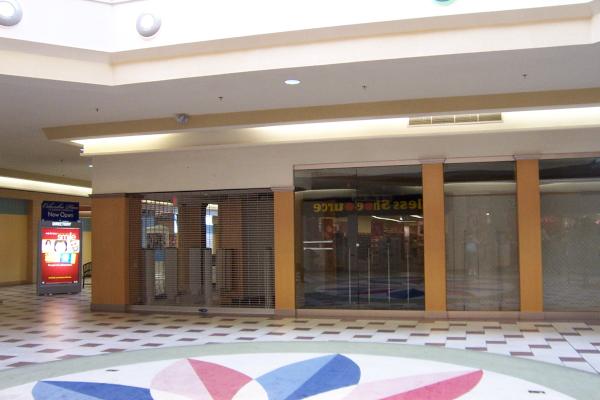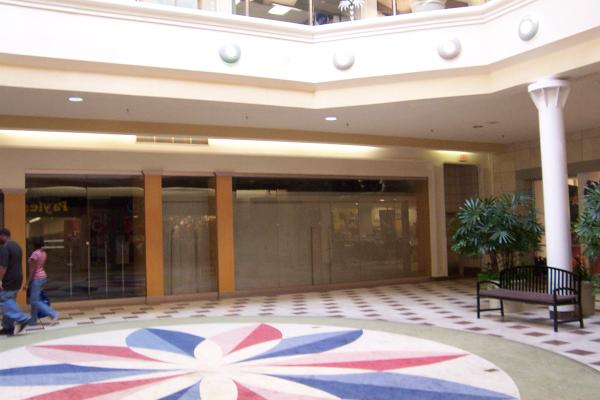 Annabelle's was a casual dining restaurant something like a Friday's or Bennigan's which seemed to speciaize in mall locations. I'm not sure if the chain is still around, but the two that were in Columbia are long gone and I'm responsible.
OK, not really, but I did have a one-man boycott going in the mid to late 1980s. I had always enjoyed eating at Annabelle's. I wasn't too interesting when they started a "Chicken Around The World" promotion because I don't eat chicken, but as I was dining there one day, I came across a promotional display on my table. It was a cardboard rectangle with a chicken dish on each of the four sides. As I recall, there was a French dish, and Italian dish, a Mexican dish and a Chinese dish. Each dish was "presented" by a cartoon Chicken designed to represent each country. The French, Italian and Mexican chickens were fine -- they were dressed in costumes meant to invoke each country, but were good looking cartoon chickens. The Chinese chicken had buck teeth and glasses. Perhaps I was over-sensitive since I had just started working in the software field, and a lot of my new friends and co-workers had Asian ancestry, but it seemed to me that the 1980s were way too late for something like that, and that it should be possible to do a Chinese chicken character that was innocuous as the others. I wrote a letter to the company and never heard anything back, and the next time I went in, the table displays were still there, so I took Annabelle's off my list. In retrospect, I'm sure the chain honcos never got my "crank" letter, and that probably the art approval didn't even go up that high in the first place, but there were plenty of other places to eat and I did.
These pictures are of the downstairs of the Columbia Mall location. This location of Annabelle's was interesting in that that it occupied two floors, though only the bottom floor had an entrance. As I recall, there were stairs inside -- I'm unsure if there were an elevator or not. The Dutch Square location was only one floor and was on the main corridor across from the record store coming in from a Dutch Square Boulevard side entrance.
UPDATE 15 August 2009: It is going to read a bit awkwardly, but I am combining the separate post I did (for some reason..) on the Dutch Square Anabelle's by itself with this one. I'll also move those comments here as well. Also, I'm putting the Anabelle's logo as found by commenter Melanie at the top of this post. So here goes: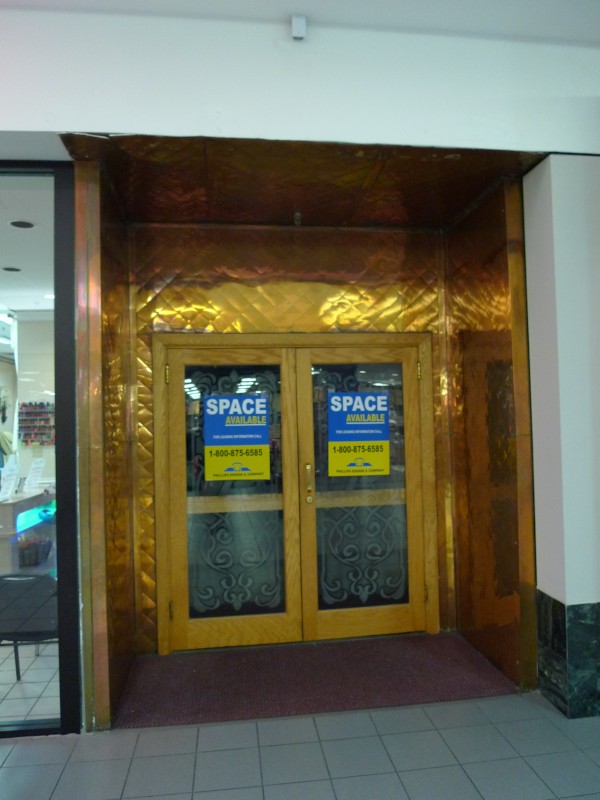 I've written about Annabelle's before, but I was in Dutch Square recently, and saw the old door, so I decided to give the Dutch Square location its own post. I don't have much to add to what I said initially, but for some reason or other, I think I had more meals with friends at this location than at Columbia Mall. Perhaps it had to do with seeing movies at the original Dutch Square Theater. At any rate, I always thought this copper-sheet doorway was a classy touch!
As far as I know, nothing ever followed Annabelle's into this space.
UPDATE 2 November 2009: Well, the old Annabelle's space at Dutch Square will be getting a new tenant: Burger Time Chargrill & Bar. Good!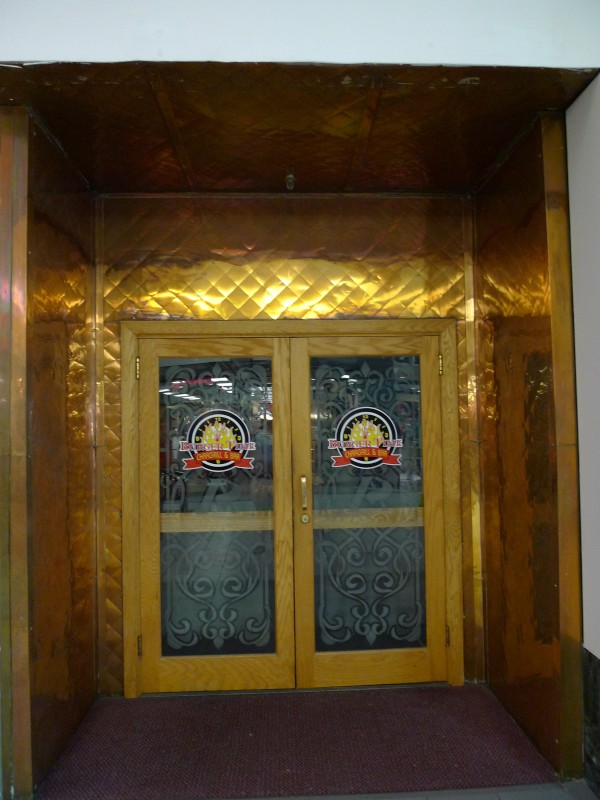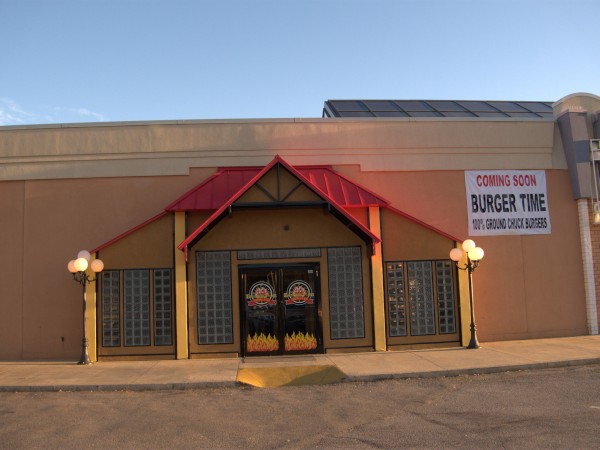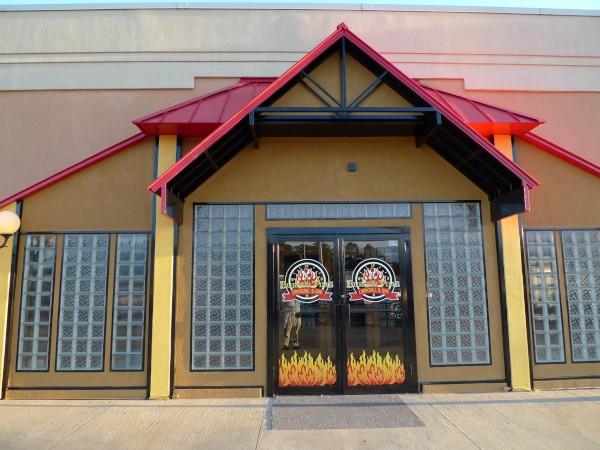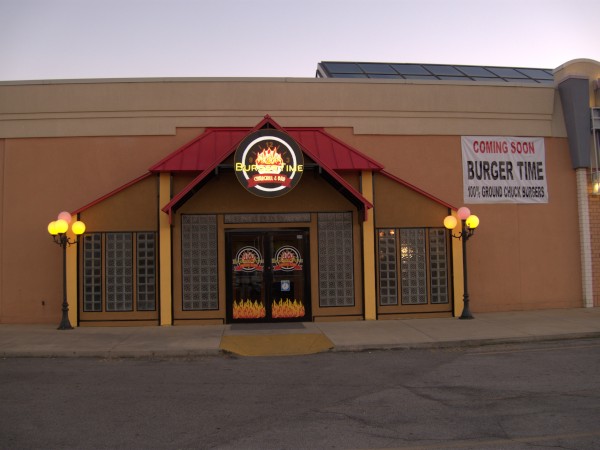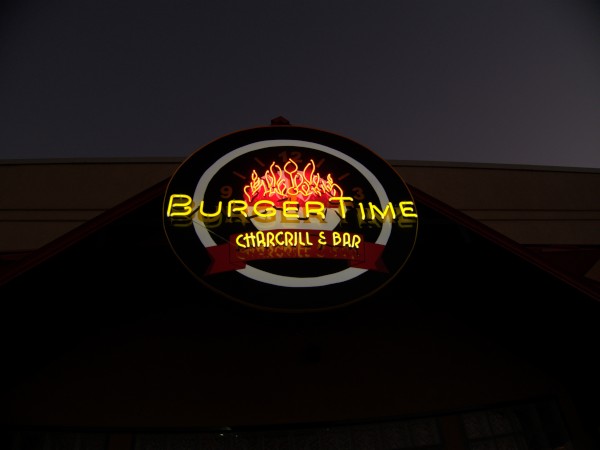 UPDATE 18 November 2009: Added two more photos of Burger Time
Posted at 8:13 pm in Uncategorized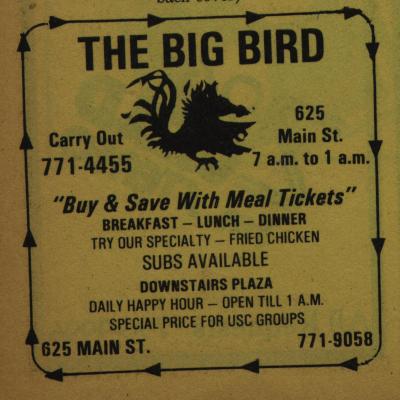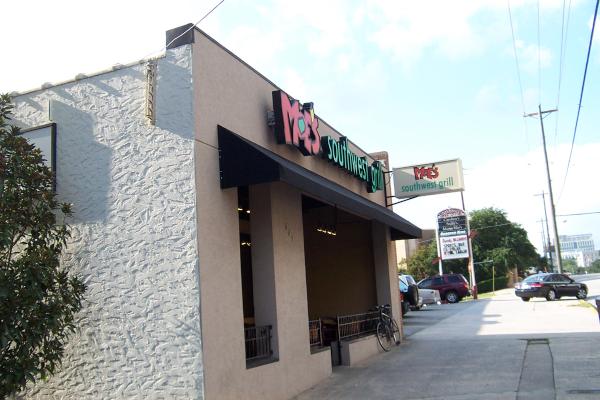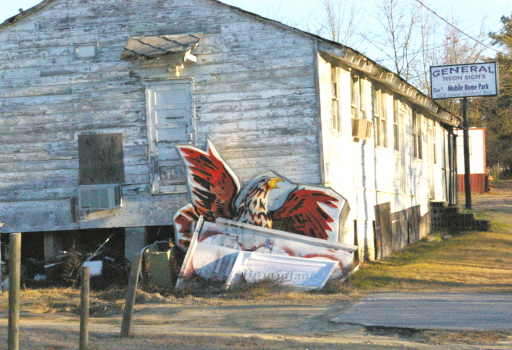 I did a post on University Corner and the changes there. One of the biggest changes was the passing of The Big Bird.
To be honest, I only went there a few times myself. Yes, I lived in The Towers, but I was on the University meal coupon (later meal card) system, so I always ended up eating at Russell House, Capstone or one of the other "company store" places on campus. The few times I did go, it seemed like quite an interesting place, with burgers, a cafeteria-like line with meats and vegetables, and some sort of game room in the downstairs part of the split-level building. The eponymous "Big Bird" was, of course, a Gamecock, and I doubt they got much business beyond college students.
I'm not sure exactly what happened to The Big BIrd -- businesses have always come and gone in University Corner, but it seemed like an institution. The actual address, 625 Main Street is now occupied by Moe's, but it seems to me that The Big Bird was gone for a good while before that happened.
UPDATE 3 Oct 08: Added two pictures of the Moe's currently at the old Big Bird location.
UPDATE 22 Jan 09: Added a picture of the old Big Bird sign from commenter Terry, who
writes:
The Big Bird sign has been stored at this sign shop in Hopkins for some time now. I'm not sure why they hang on to it.
UPDATE 27 December 2012: Corespondent wblood1 sends this 1980 picture of The Big Bird:
Notice also, the old 7-11 to the left of it and Stuffy's to the right.
Posted at 1:03 am in Uncategorized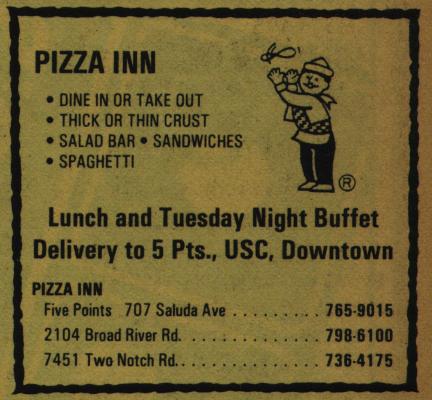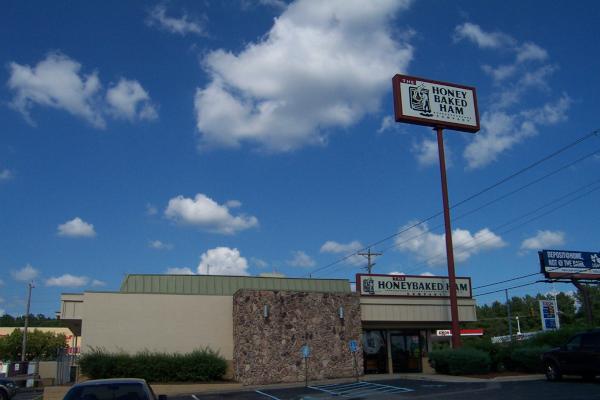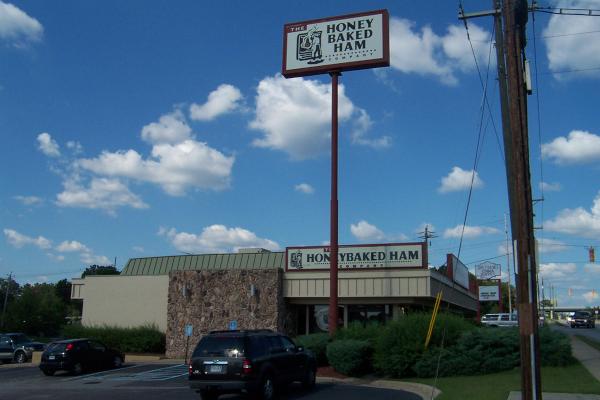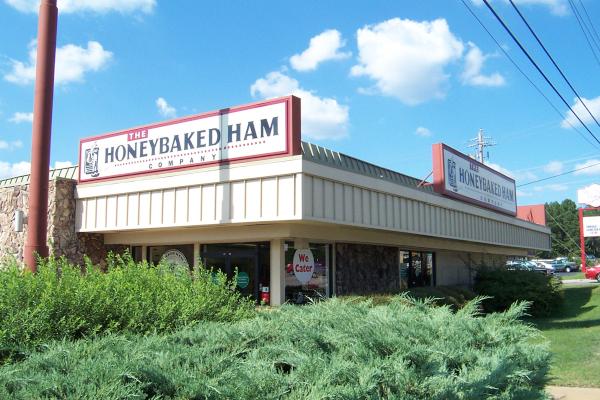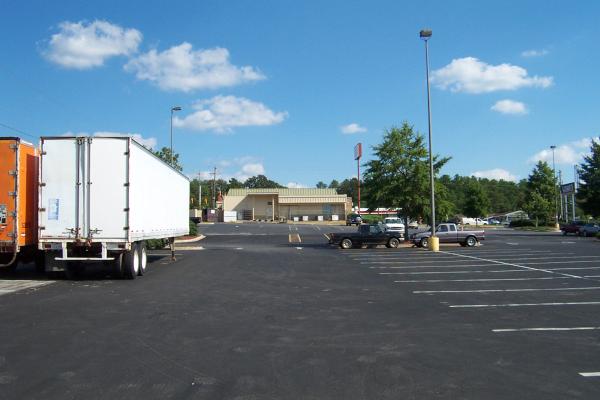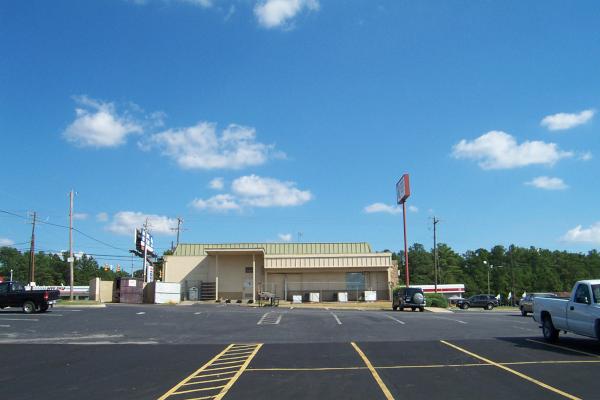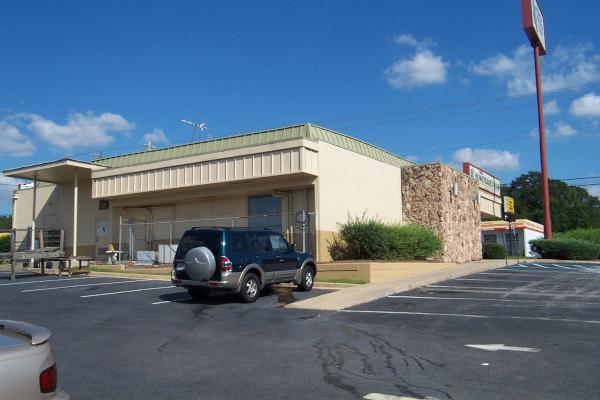 I always considered Pizza Inn kind of a down-market cousin to Pizza Hut, at least in the beginning. Given my declining respect for Pizza Hut, I might reverse that opinion now -- Pizza Inn never tried to serve me fountain ice tea rather than fresh brewed. At any rate, while it may not have been my first choice, I never had a problem going to Pizza Inn, and I recall going to this one on Two Notch (now a Honey Baked Ham store) several times.
The most memorable time was the night my sister and I had dinner with one of my cousins and her husband. We had been seated with no incident, and had negotiated amongst ourselves a suitable mix of toppings for a large pan pizza. For whatever reason, when the server finally came, my cousin's husband placed our order:
"We'd like a large pan pizza with pepperoni, onions, bell-peppers and mushrooms", he said.
"It's not ready yet", the sever said.
There was a full stop while we all kind of looked at each other.
"Um, yes, we know, um, we'd like a large pan pizza with pepperoni, onions, bell-peppers and mushrooms", he tried again.
"It's not ready yet", the server said.
Another full stop.
"No, no, we're not asking about an order, we just got here, this is our order. We'd like a large --"
"It's not ready yet"
Final full stop.
"Ok, we understand that it's not ready. If we order it, will we get it?
At this point things kind of dissolved in mutual incomprehension and finally a manager had to come over and sort things out. As well as I can remember it, what the server had been trying to get across in a completely unhelpful and inarticulate way (and he was a native English speaker!) was that the crusts for large pan pizzas had not yet risen to the point of being cookable. We got two mediums and all was well despite a suspicion that Allen Funt must be around the corner somewhere.
UPDATE 23 Aug 2009: OK, in the comments this place has been identified as having originally been a Sambo's, and I was able to verify that today in old phonebooks at the RCPL. 7451 Two Notch first shows up as a Sambo's in 1978, and is listed for the last time in the 1981 phonebook. Pizza Inn at this location shows up first in the 1983 phonebook. Given that phonebooks only come out once a year, and require a good bit of advance notice, the building was probably not vacant long, despite not being listed as either store in the 1982 phonebook.
I don't know what finally happened to the Sambo's chain, but at one time they got a good bit of bad publicity by being associated with the Little Black Sambo story. As I recall, their response was that one of the chain's owners was "Sam" something and the other was "Beau" something and thus the name. That's plausible, but once having thought of a name, they did go on to associate it with the story by having a little Indian kid and a tiger in their logo (which I forgot to scan), and of course the story was set in India to begin with, and "Sambo" was actually a hero, having run the tiger into butter somehow (I'm a bit vague on the details now), but nonetheless in the US the story had gotten racist associations over the years, and if you're in business it's better to cut your losses and change your name than fight that kind of battle.
Posted at 10:29 pm in Uncategorized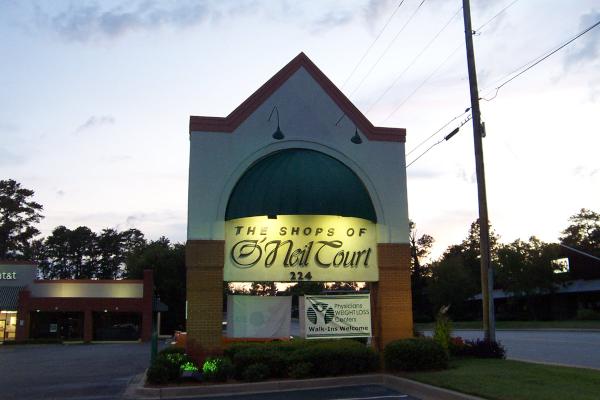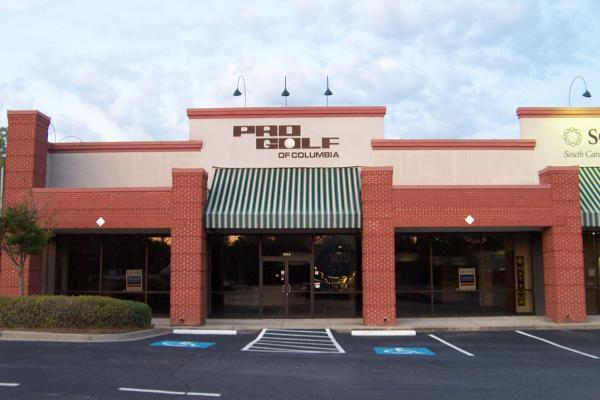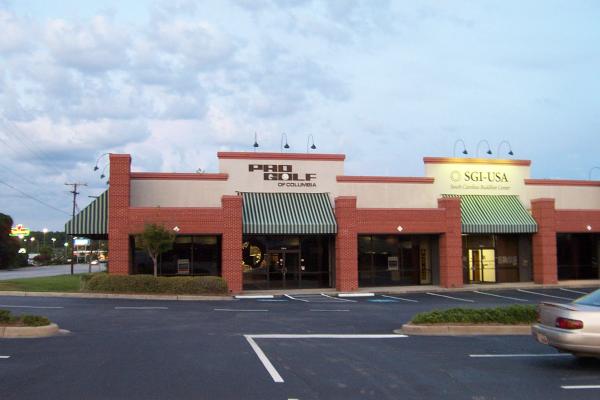 Don't have a lot to say about this one as I don't play golf (except minature golf..), but it's another empty storefront for The Shops of O'Neil Court. If connecting O'Neil Court with Trenholm Extension has helped this plaza any, I haven't noticed it, and it seems like it would -- putting it en-route for traffic leaving the mall and heading back down Trenholm.
What I find a little more interesting is that next door to this place is a Buddhist center I never noticed before. The world really has come to Columbia, especially compared to when I was a kid.