Posted at 8:13 pm in Uncategorized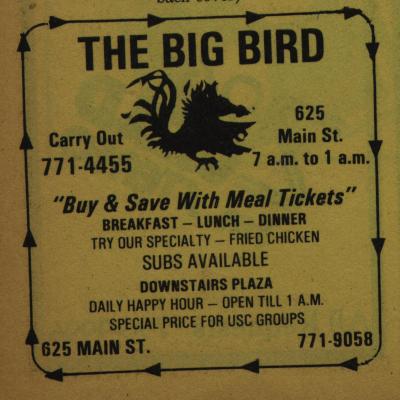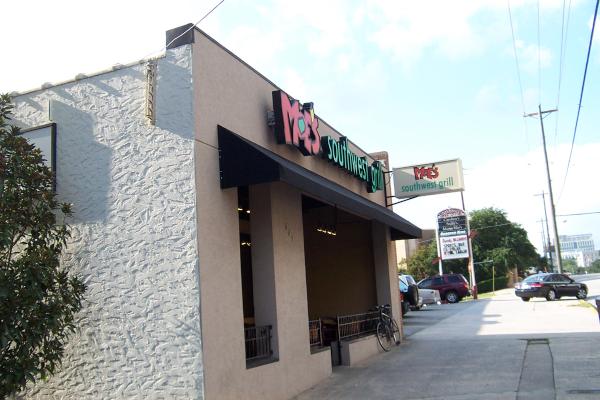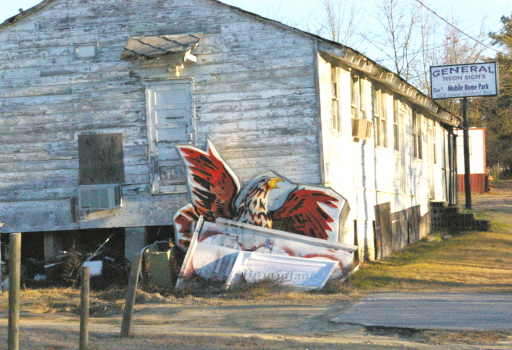 I did a post on University Corner and the changes there. One of the biggest changes was the passing of The Big Bird.
To be honest, I only went there a few times myself. Yes, I lived in The Towers, but I was on the University meal coupon (later meal card) system, so I always ended up eating at Russell House, Capstone or one of the other "company store" places on campus. The few times I did go, it seemed like quite an interesting place, with burgers, a cafeteria-like line with meats and vegetables, and some sort of game room in the downstairs part of the split-level building. The eponymous "Big Bird" was, of course, a Gamecock, and I doubt they got much business beyond college students.
I'm not sure exactly what happened to The Big BIrd -- businesses have always come and gone in University Corner, but it seemed like an institution. The actual address, 625 Main Street is now occupied by Moe's, but it seems to me that The Big Bird was gone for a good while before that happened.
UPDATE 3 Oct 08: Added two pictures of the Moe's currently at the old Big Bird location.
UPDATE 22 Jan 09: Added a picture of the old Big Bird sign from commenter Terry, who
writes:
The Big Bird sign has been stored at this sign shop in Hopkins for some time now. I'm not sure why they hang on to it.
UPDATE 27 December 2012: Corespondent wblood1 sends this 1980 picture of The Big Bird:
Notice also, the old 7-11 to the left of it and Stuffy's to the right.
42 Responses to 'The Big Bird, 625 Main Street: 1990s'
Subscribe to comments with RSS or TrackBack to 'The Big Bird, 625 Main Street: 1990s'.
Leave a Reply