Archive for the '7949 Broad River Road' tag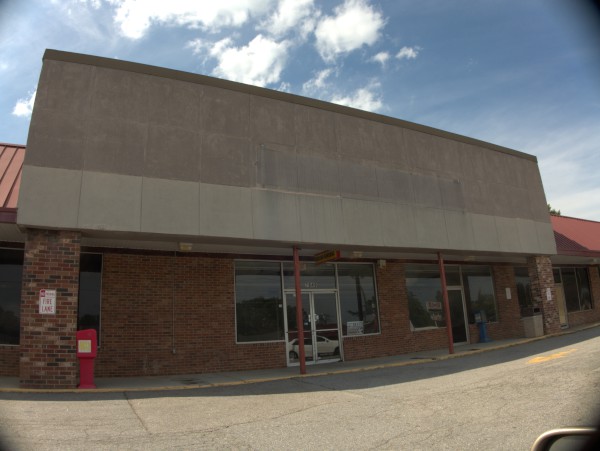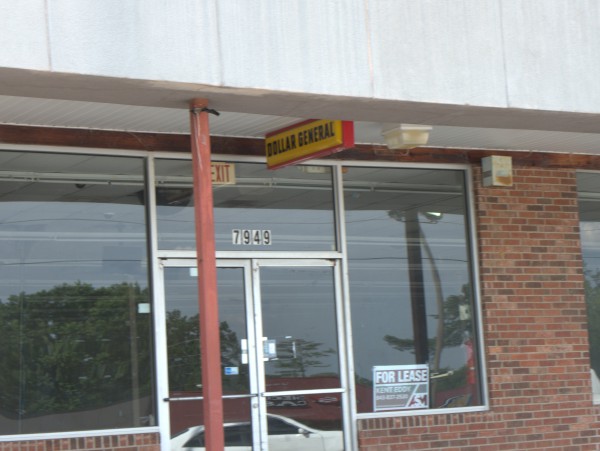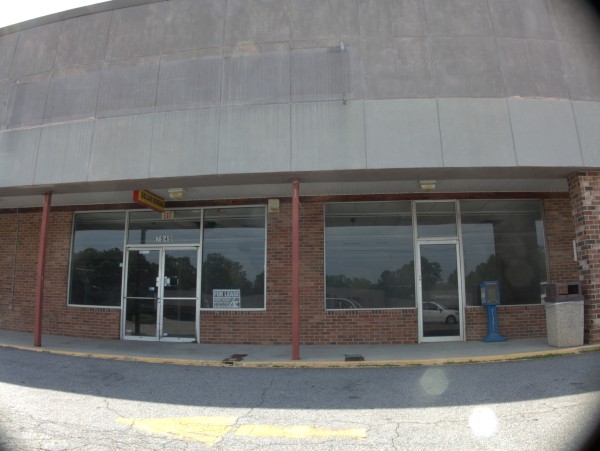 Also in Friarsgate Plaza across from the currently closing Bi-Lo was this Dollar General.
They list in the February 2017 phonebook, and have a Yelp review from 15 April 2017, so I'm going to say they probably moved around May of 2017. The new, freestanding, location is 7812 Broad River Road which is a bit closer to I-26 exit 101 and on the other side of the road.
(Hat tip to commenter Andrew)
UPDATE 20 June 2017: Changing the closing date from May 2017 to "2016" based on the comments. The phonebook is apparently wrong.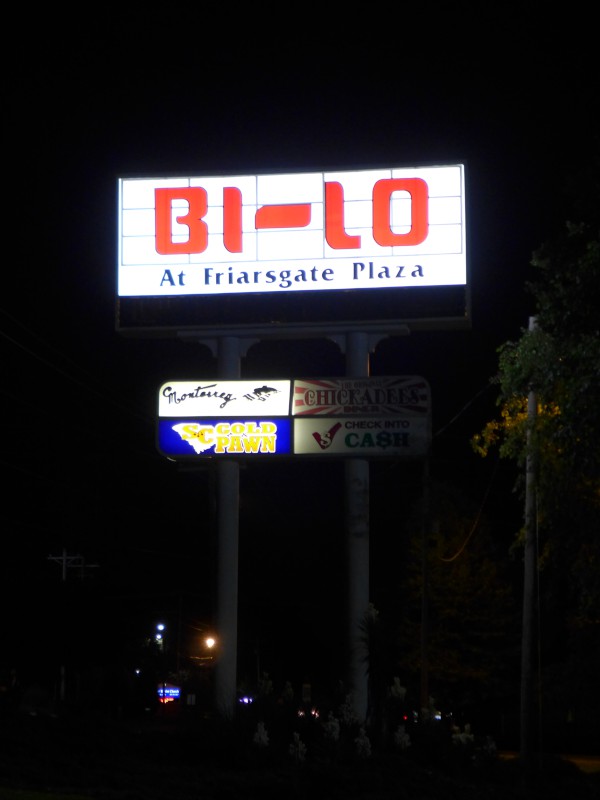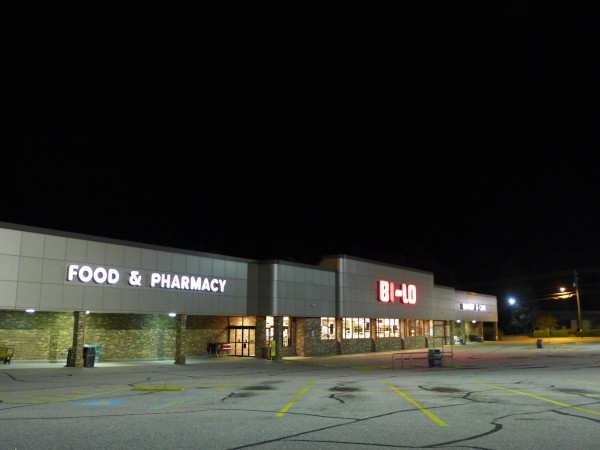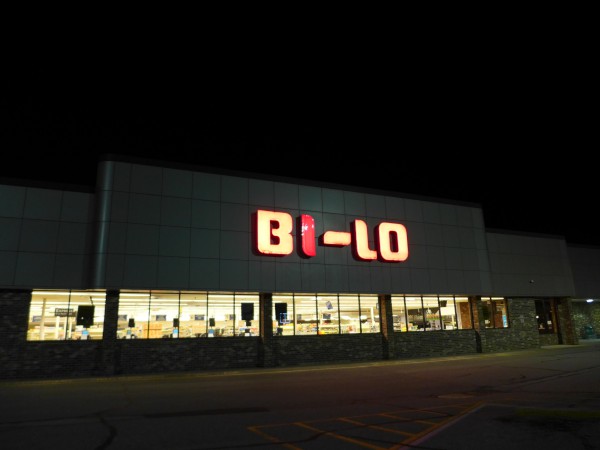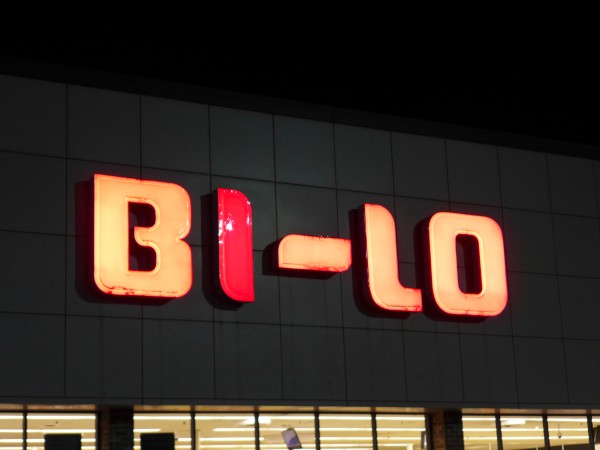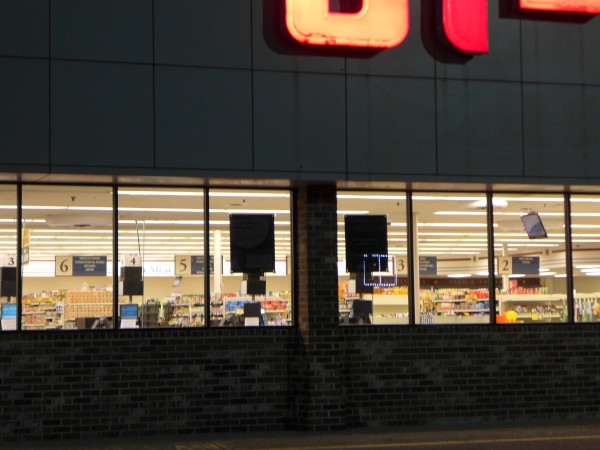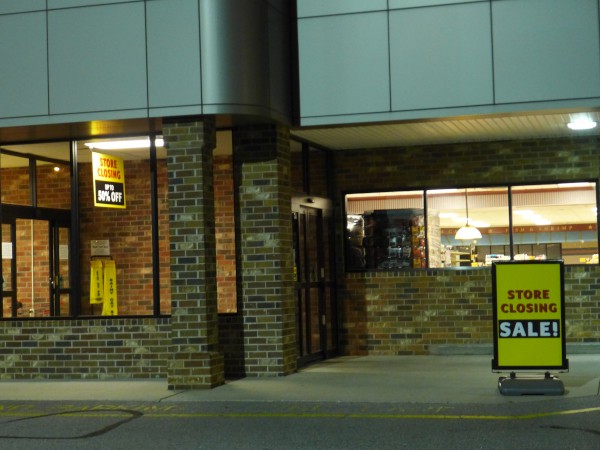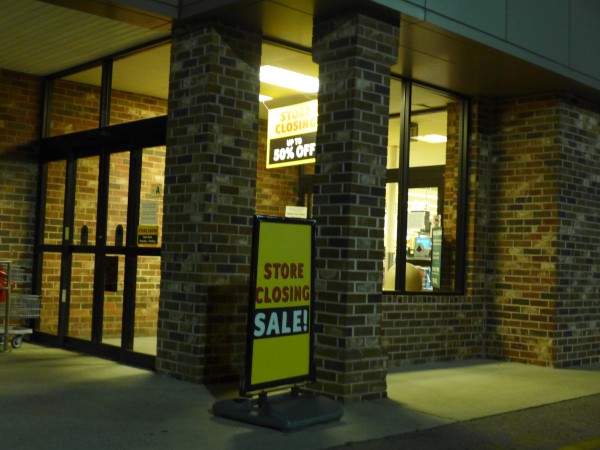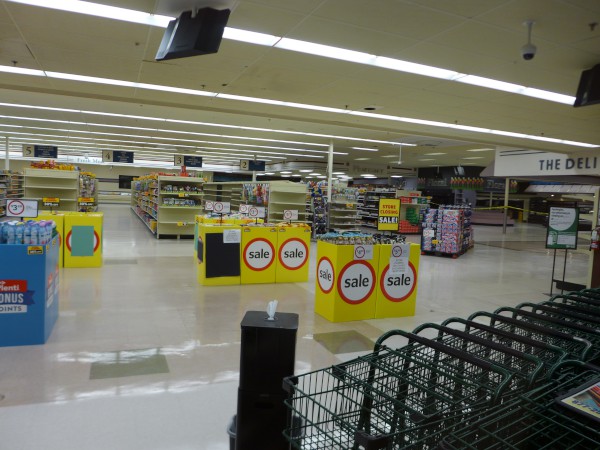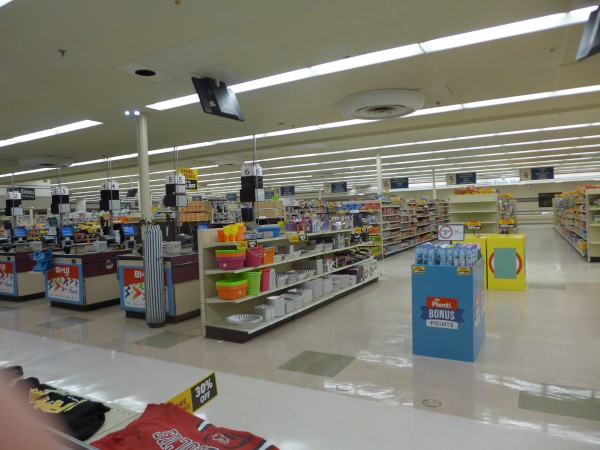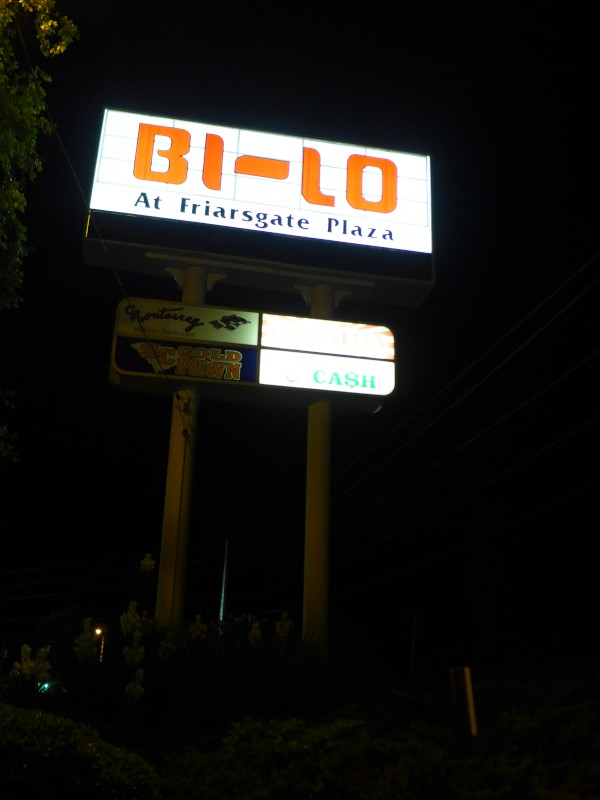 Well this has been pretty ventilated in Have Your Say for a while now, but the Bi-Lo at Friarsgate Plaza will be closing soon. Unlike some of the other local Bi-Lo's, this one will apparently not be becoming a Harvey's.
Googling around, I see that a lot of other Bi-Los have closed recently as the chain continues to fare poorly, though I have always been happy enough with the stores whenever I happened to stop in at one.
In this particular case, the venue does not help as Friarsgate Plaza does not seem to be thriving. You can see one indication of such by looking at the plaza marquee, which continues to tout Monterrey, which featured in a closing here six years ago.
(Hat tip to commenter ED)
UPDATE 12 June 2017 -- Still open. Pretty picked over, but still some good staples. Mostly 40%off: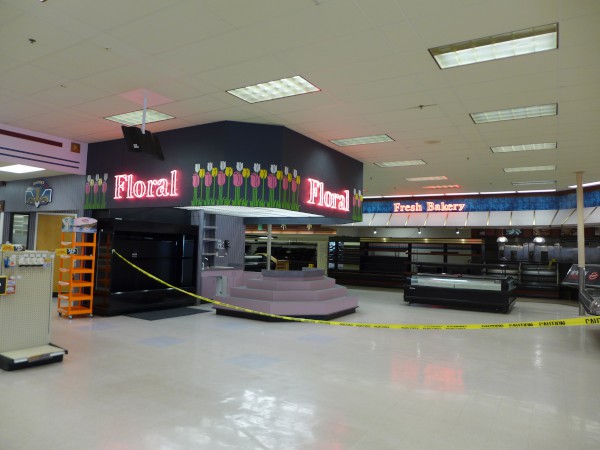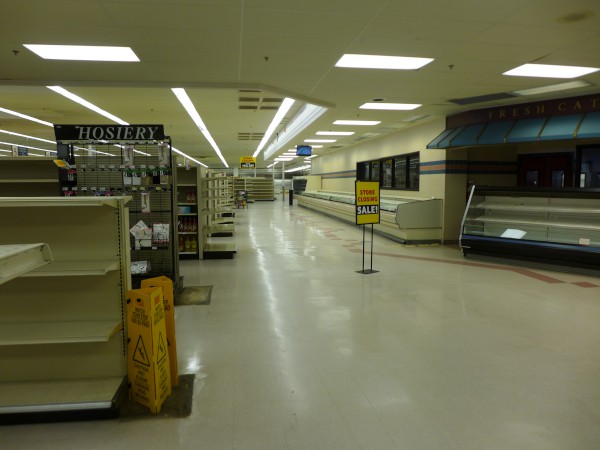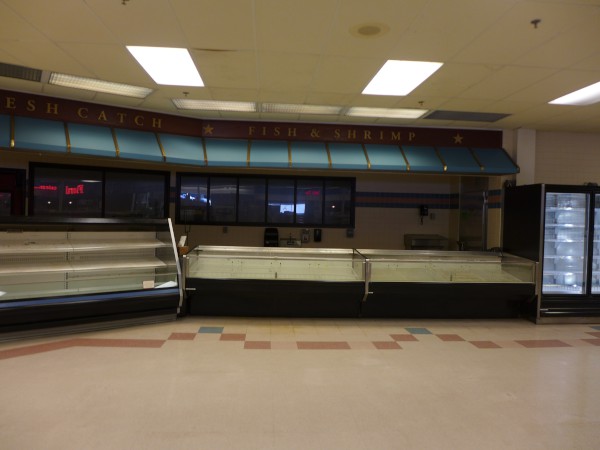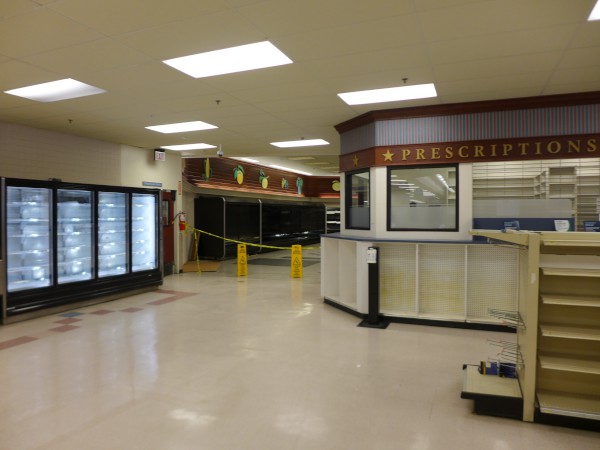 UPDATE 30 September 2021 -- Now a CubeSmart self-storage place: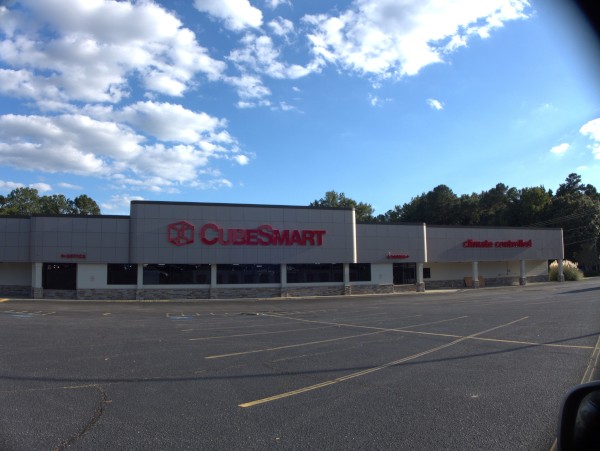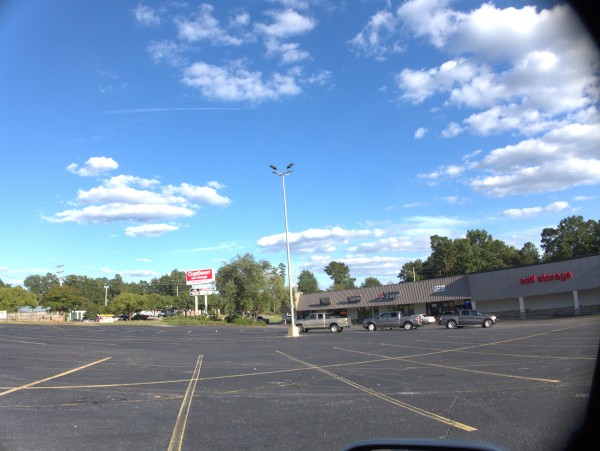 Also updating tags and adding map icon.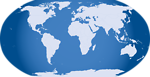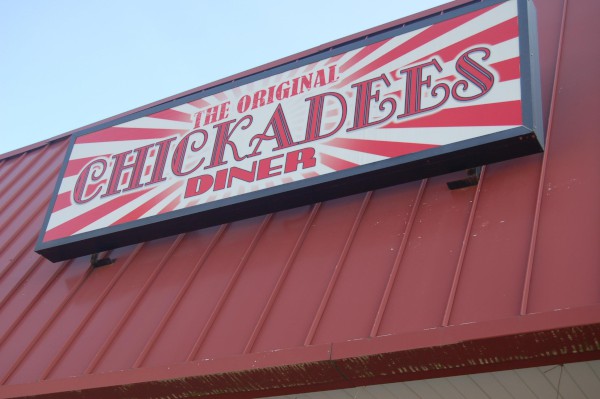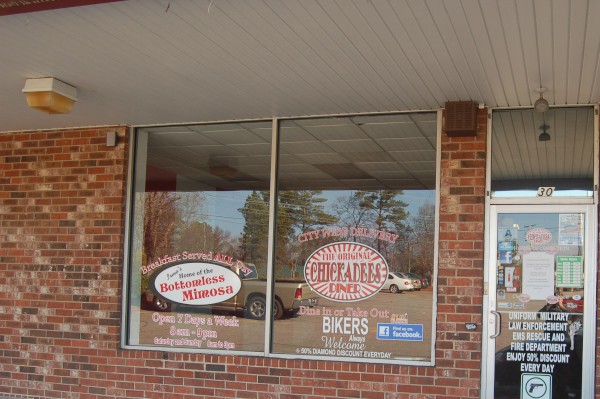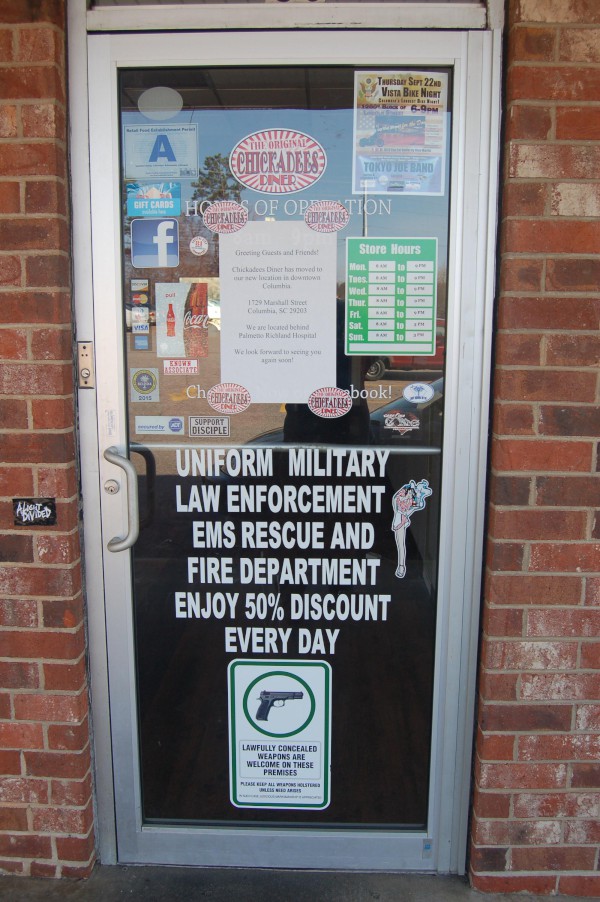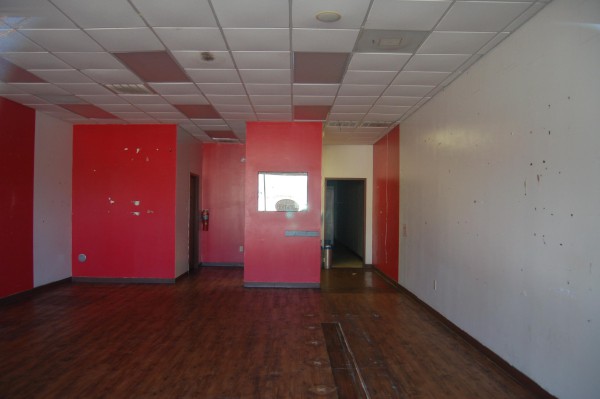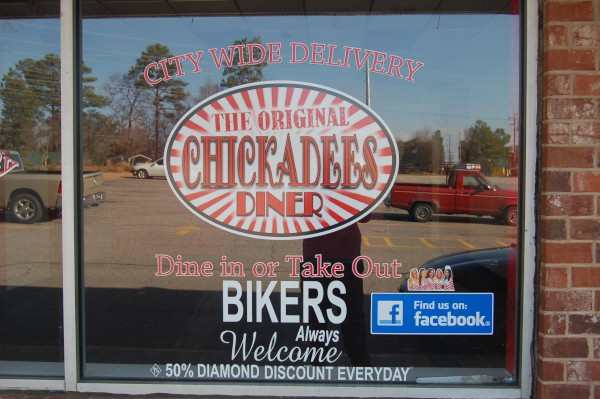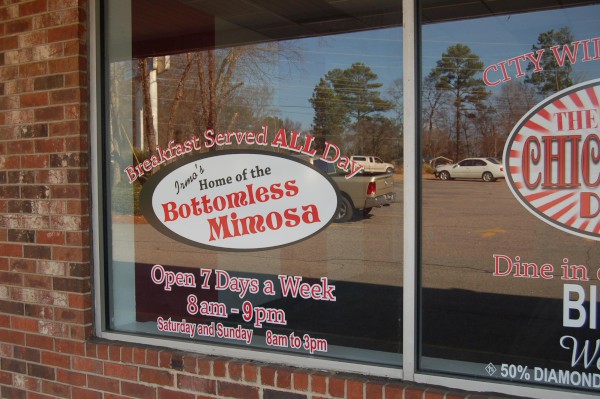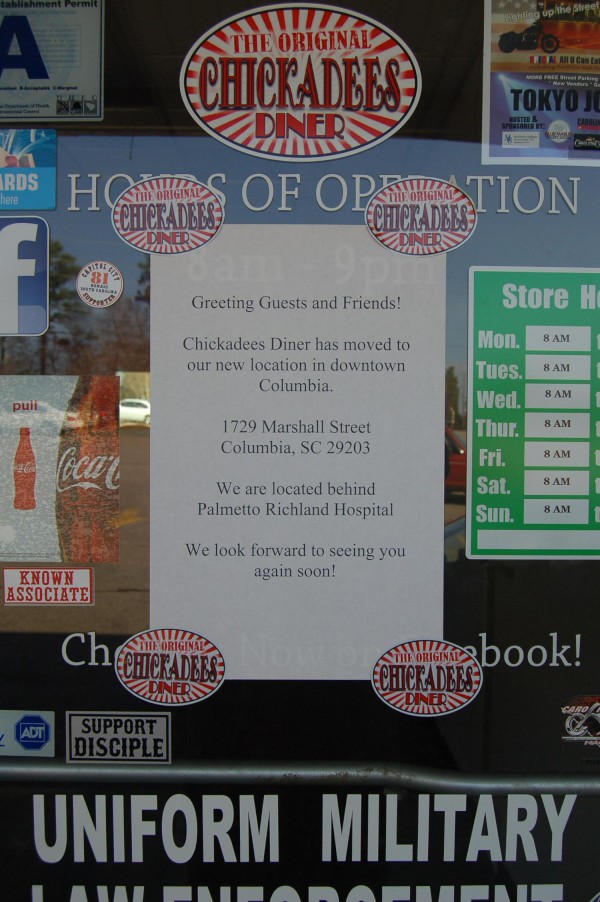 Here's another set of pictures from commenter Homer, who says:
Here are some pictures of the old location of Chickadee's Diner, 7949
Broad River Rd in Irmo (Bi-Lo Shopping Center). I'm not sure when they
closed but they moved to the location that corresponds to the closings
entry for BJ's Cafe at 1729 Marshall St.
You can see the setting up for the Marshall Street location here at the Sunset Grill & Pizza closing. Since I took those shots, Chickadees has opened for business there.
Posted at 12:57 am in Uncategorized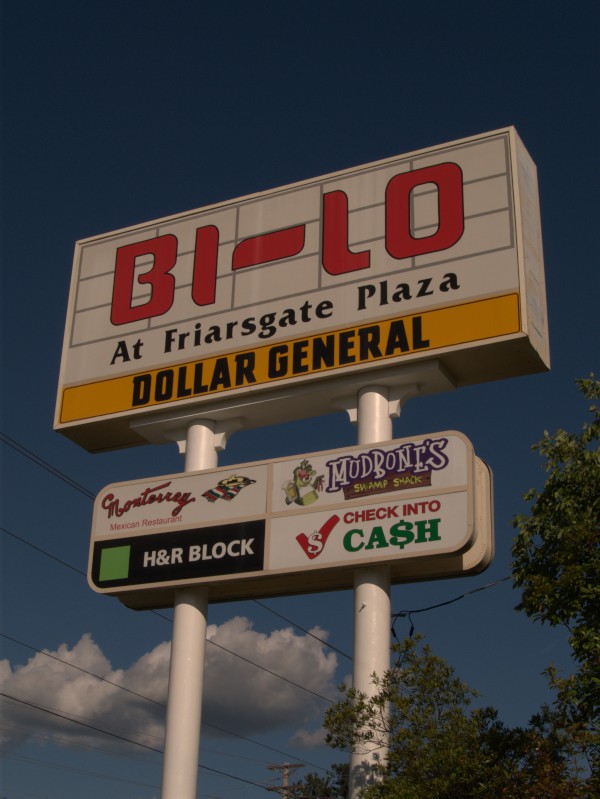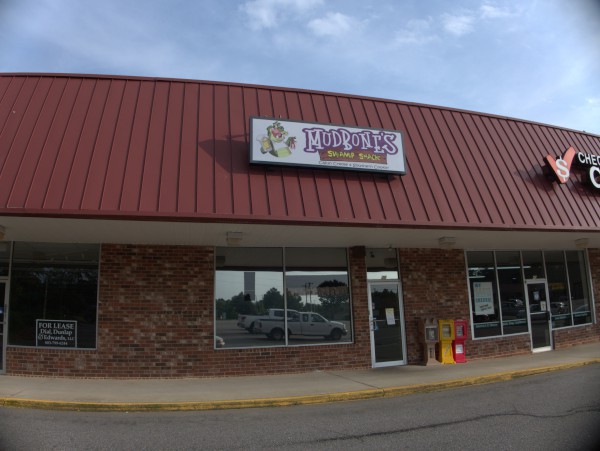 I have some more pictures of this place.. somewhere.
Mudbone's was a cajun restaurant in Friarsgate Plaza on Broad River Road just North of the I-26 interchange.
Reviews were mixed, but everyone seemed to agree they had great hushpuppies.
UPDATE 16 January 2014 -- Commenter badger sends in these scans of the Mudbone's menu: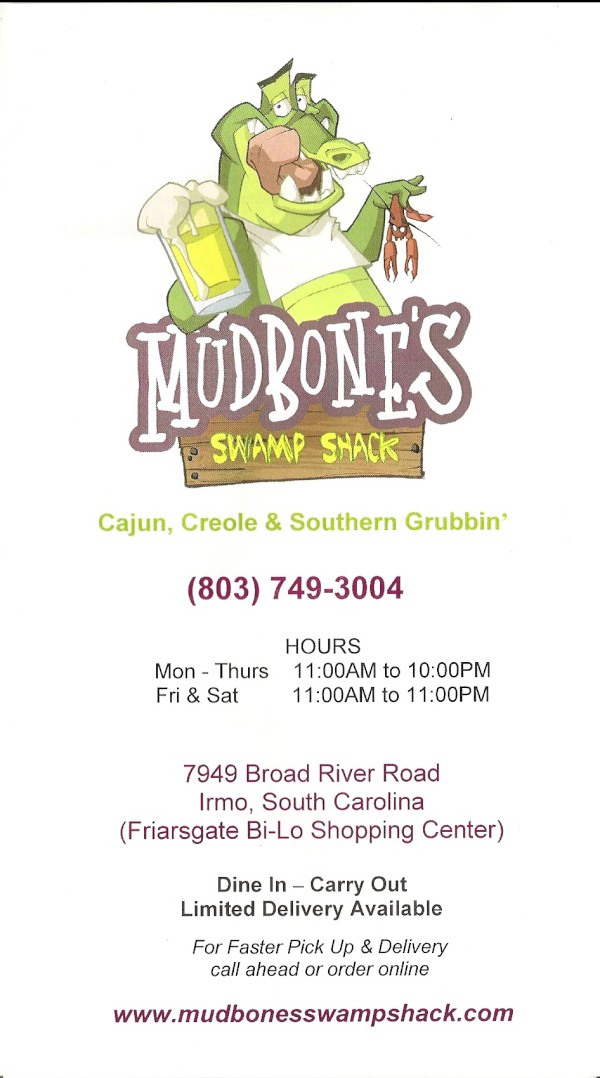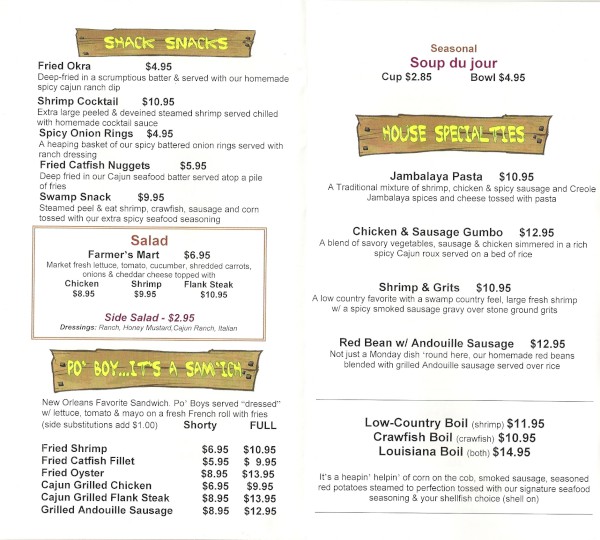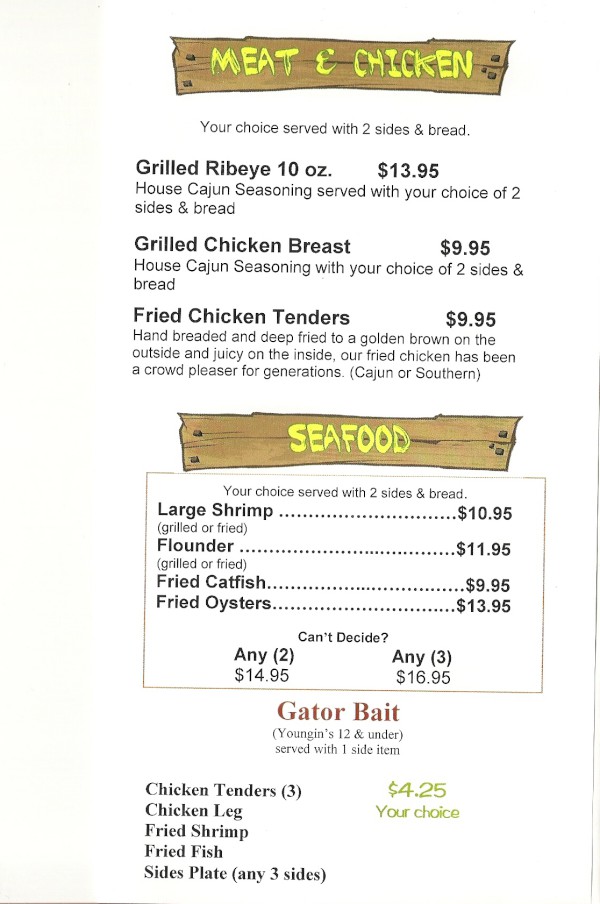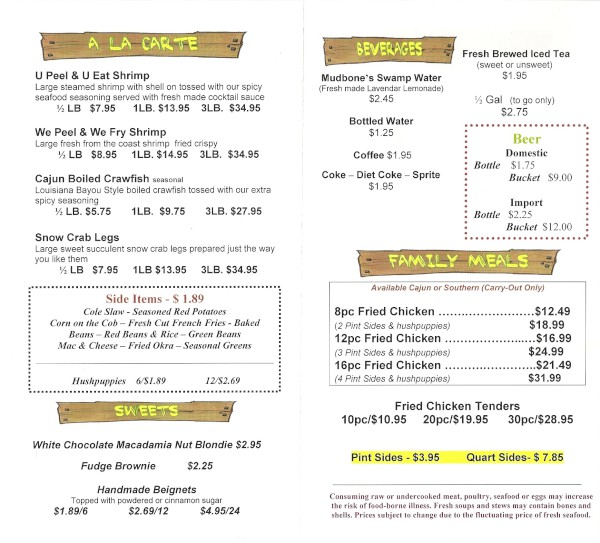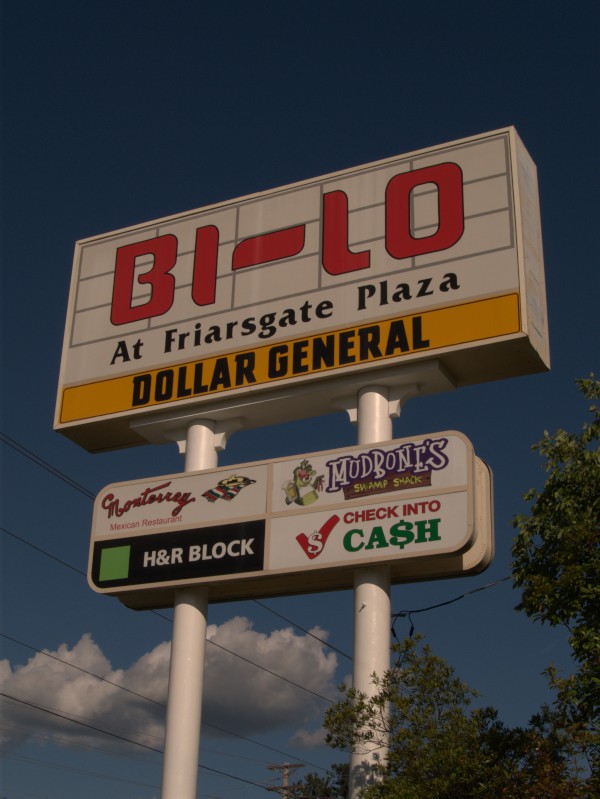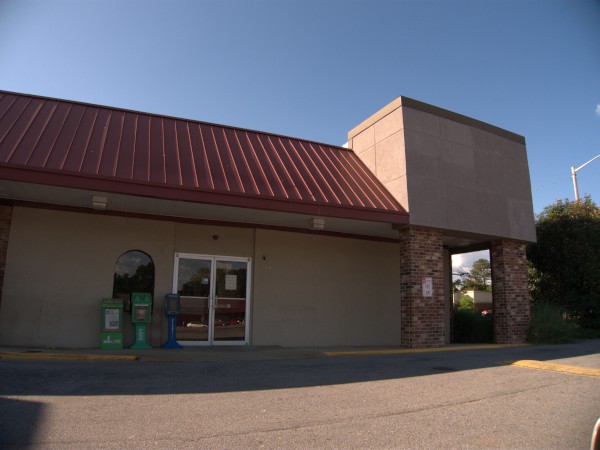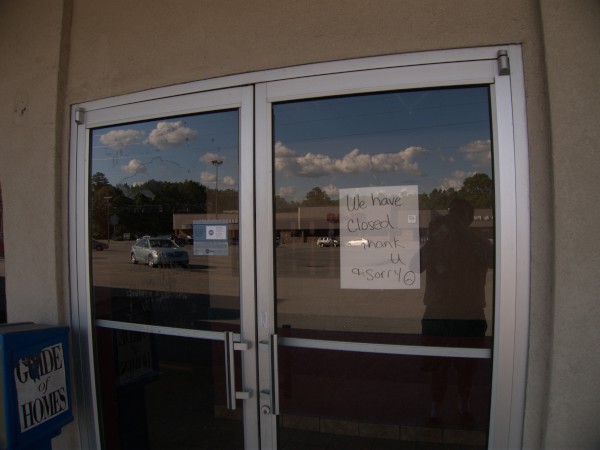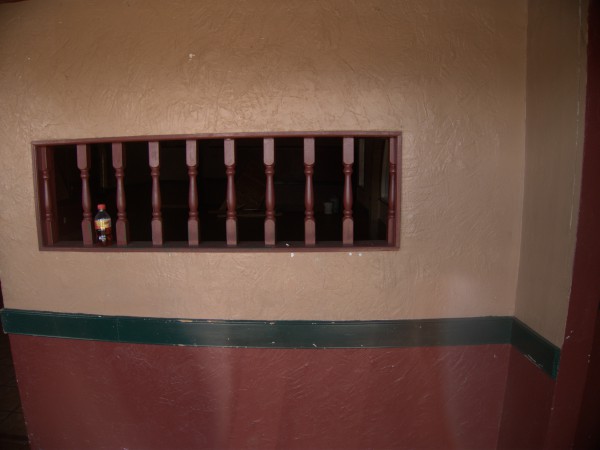 Commenter Heath notes this closing as follows:
Another Friarsgate Plaza closing from the summer or early fall of 2010 – Monterrey Mexican Restaurant. They were located there since at least the early 2000's – after buying out Tez's Mexican Cantina that was located there from sometime prior to 1990 or 1991 when I first knew of it. This Monterrey's was owned by the same group that owns the location on Knox Abbott Drive in W. Columbia, and had slightly different recipes than the other group that owns the Vista, Columbiana (Afton Ct.), and Killian Road locations. The El Monterrey location you see on Broad River near I-20 (and possibly still open on Parklane?) is yet another splinter off of the other Columbia locations.
I think I vaguely recall seeing another Tez's somewhere in the area, and of course there are a number of Monterrey locations as Heath mentions, but I had no idea this one existed. I have to admit that I only just got it through my head fairly recently that Broad River Road goes all the way to I-26 and beyond as growing up I always associated it purely with the Dutch Square/Intersection Center/Boozer Shopping Center area.
(Hat tip, obviously, to commenter Heath)
UPDATE 30 September 2021 -- Now Tavern On Broad: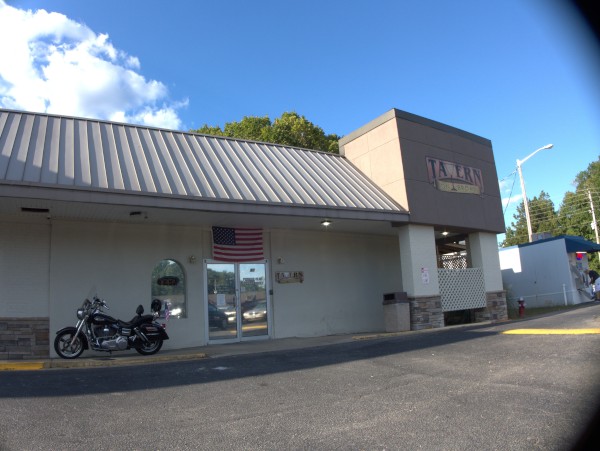 Also adding map icon and updating tags.