Archive for the 'US-17' tag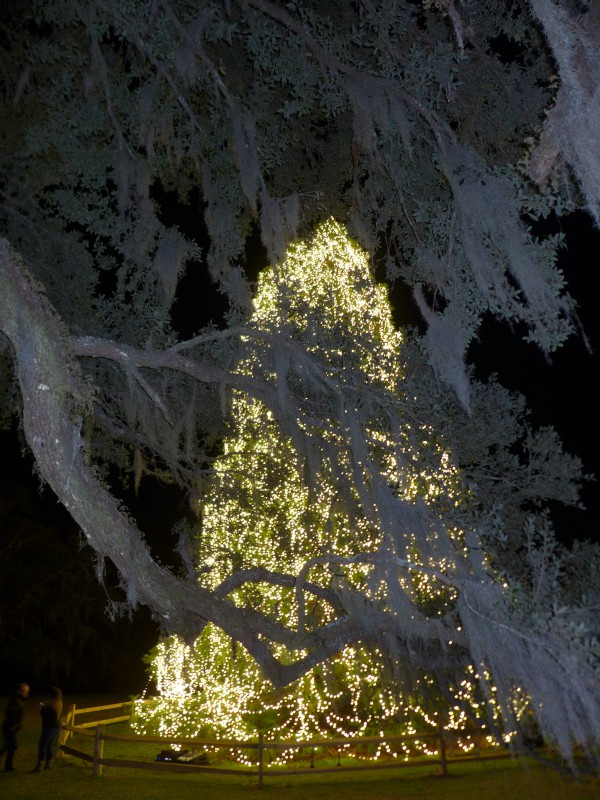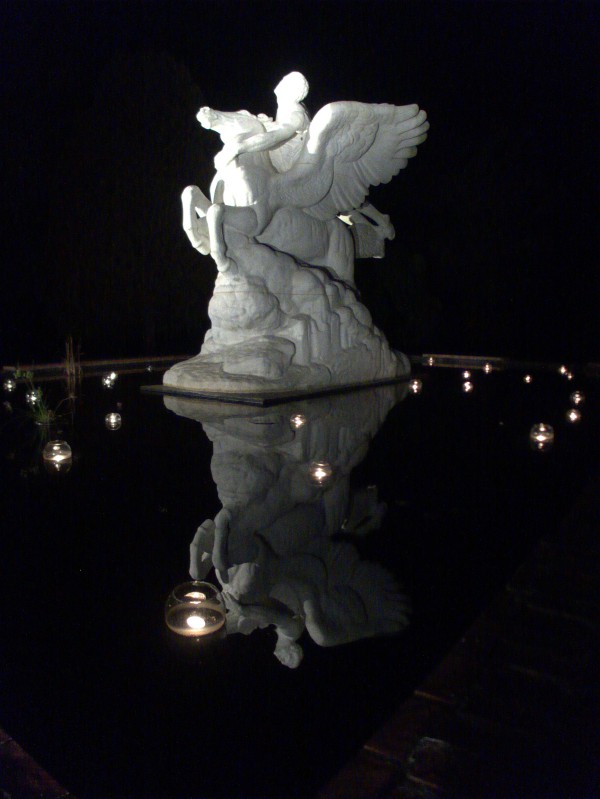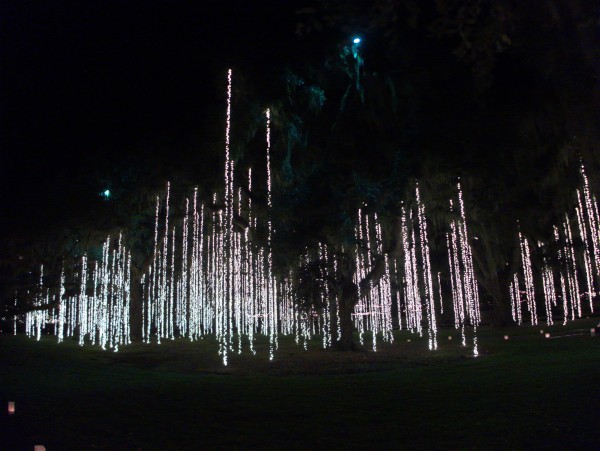 4 December this year was one of the warmer iterations of Brookgreen Gardens Nights of 1000 Candles, and by that, I mean that I could feel the buttons on my camera without my hands going numb.
As usual, the Gardens were beautifully lit, and there were entertainment tents with jazz, vocal ensembles and rock sounds of the season and wandering bagpipers. My impression is that they are getting a little bolder in color choices for the lights though of course the hundreds of candles, floading candles and luminaries remain.
The festival runs for two more weekends, on 10-12 December and 17-20 December and if you have a chance, I highly reccommend you go.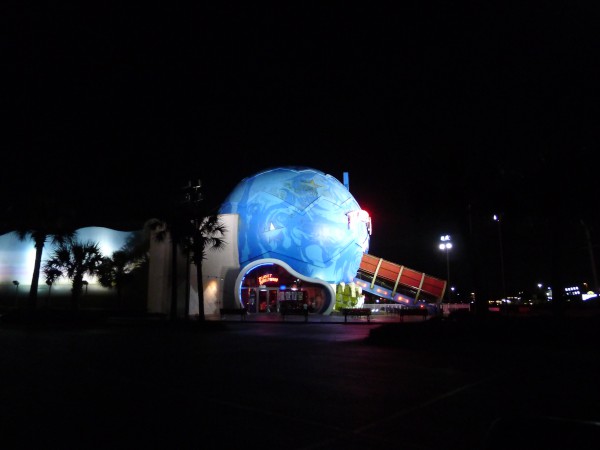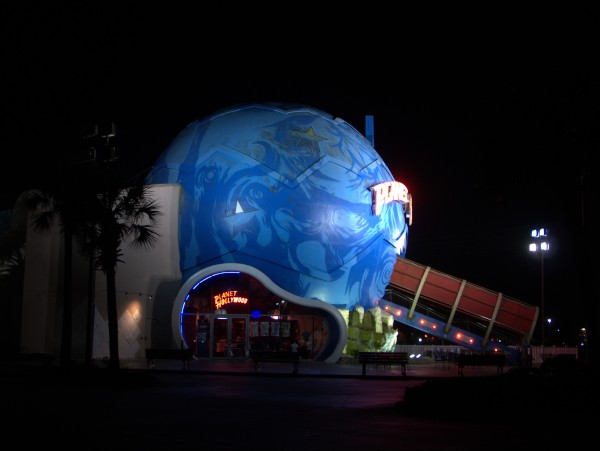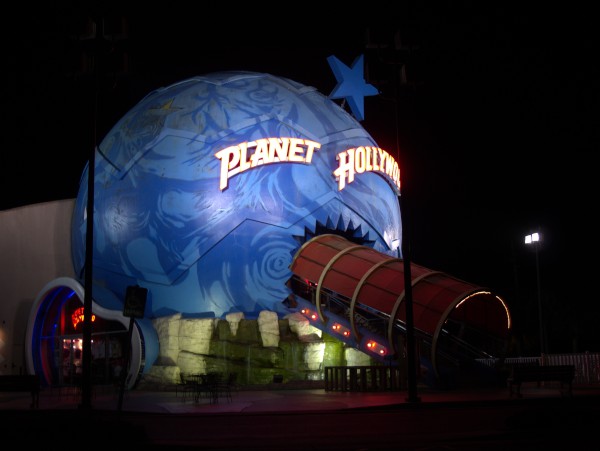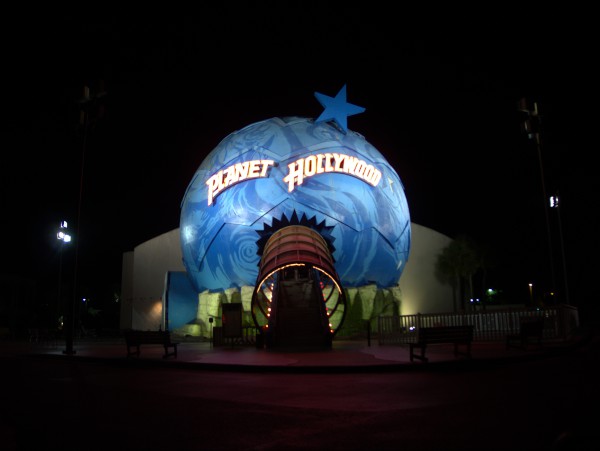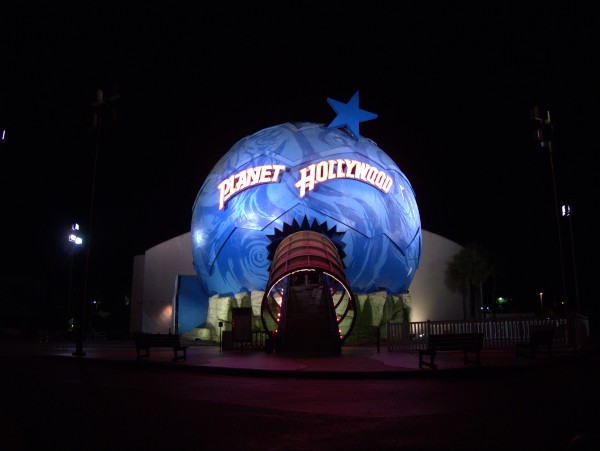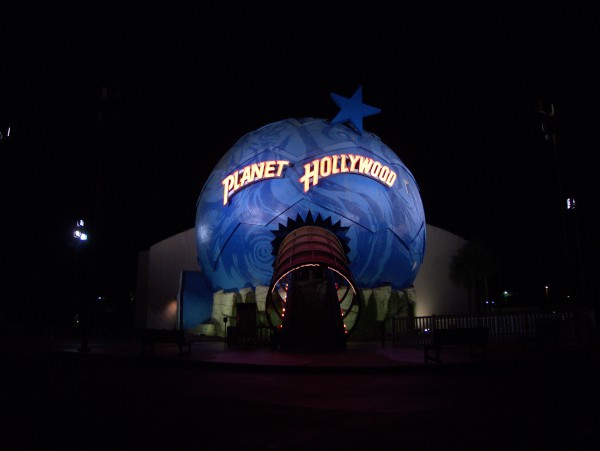 Planet Hollywood in Myrtle Beach was always an interesting building to drive by. I thought it looked a bit like an elephant "hoovering up" (as our Brit friends might say) customers from the parking lot through that trunk-like canopy and into the elephant's head. There also seem to be some scary teeth involved.
In the event, though I drove by many times, I only ate at Planet Hollywood once. I'm guessing it was back in the 90s, and I had an unobjectionable, but completely unexceptional hamburger. I have heard in recent years rumors that the place was in financial trouble, and I can only guess that people wised up to the fact that a burger's proximity to Bruce Willis's tennis shoes or whatever does not make it worth $15 -- the place limped through the 2015 Labor Day weekend and threw in the towel on the following Tuesday.
The night pictures above were taken on 3 May 2012, while the post-closing pictures below are from 3 October 2015, a gray day coming just before the bottom dropped out on 4 October (though it was not anywhere near as bad on the Waccamaw Neck as in Columbia). I find it interesting that while they did not spend a lot of effort destroying the celebrity handprints around the building, they *did* spend considerable time defacing the nameplates that would have told whose hands they were. (Though they did miss a few).
(Hat tip to my sister)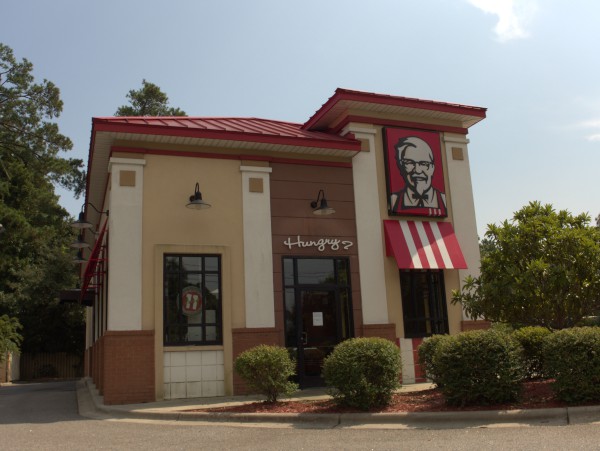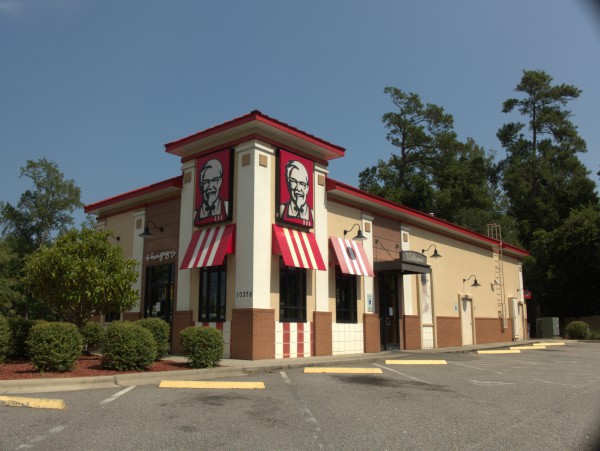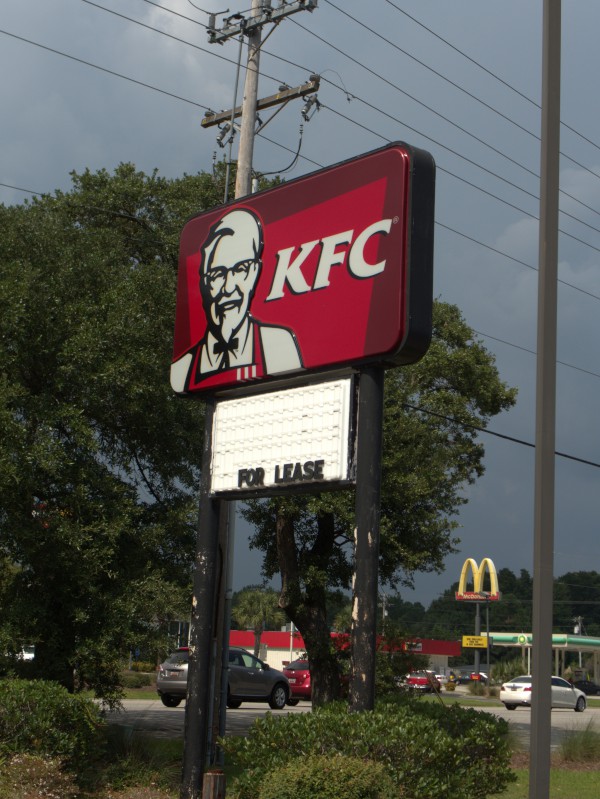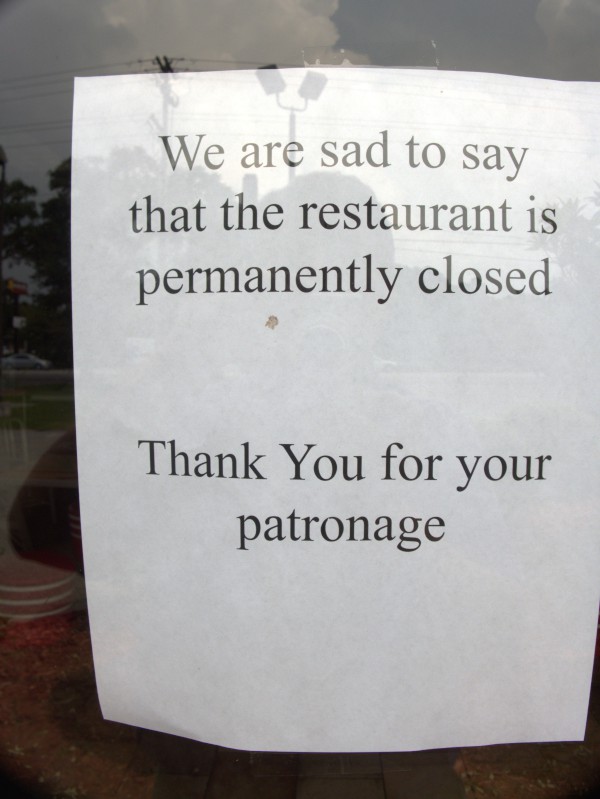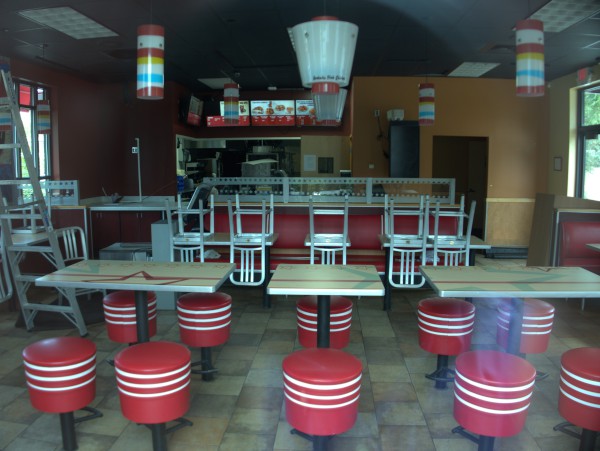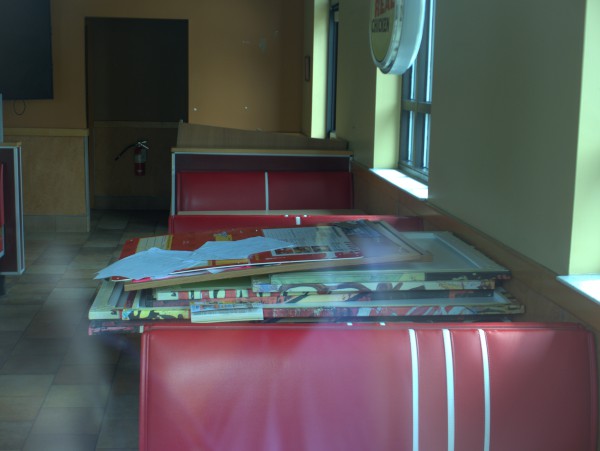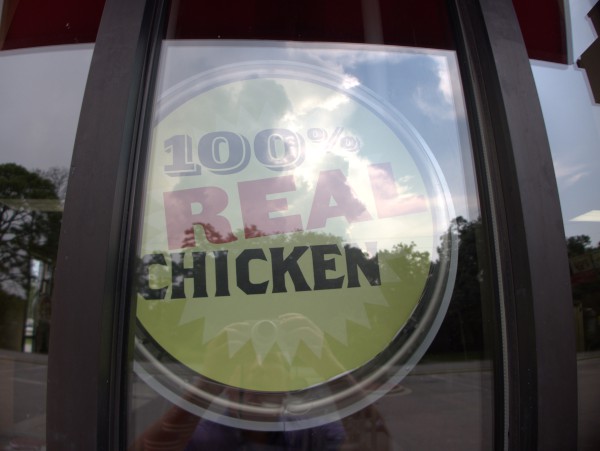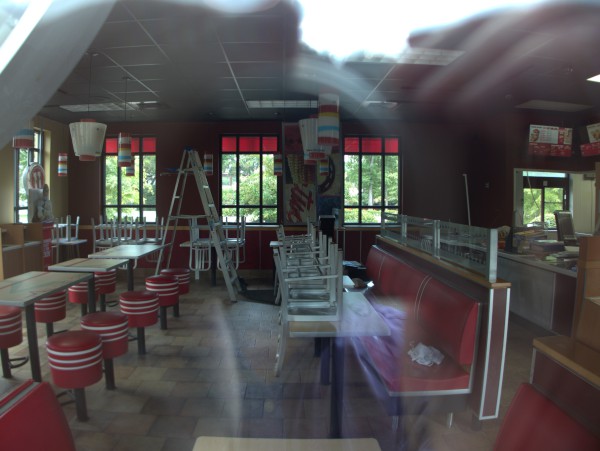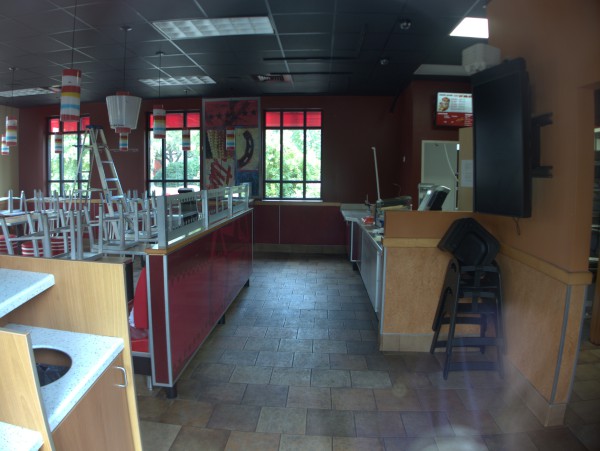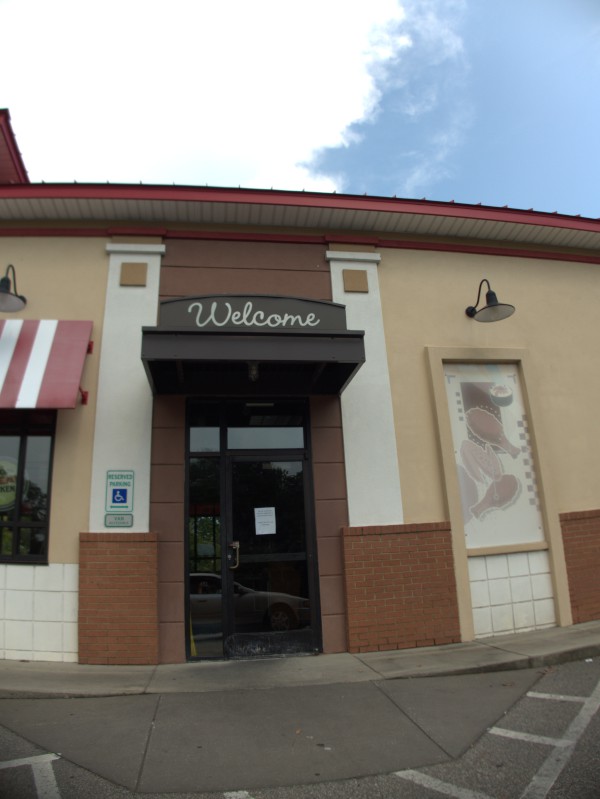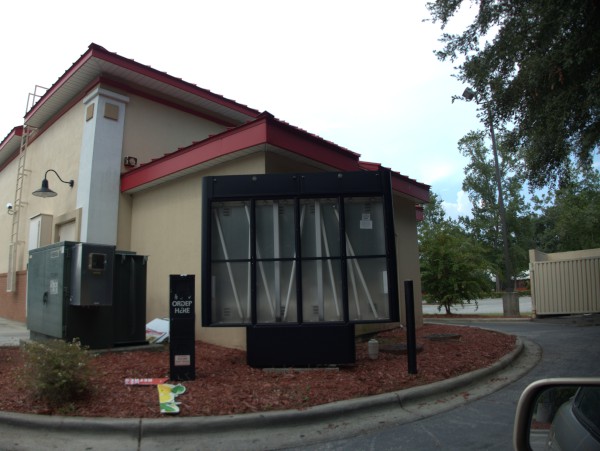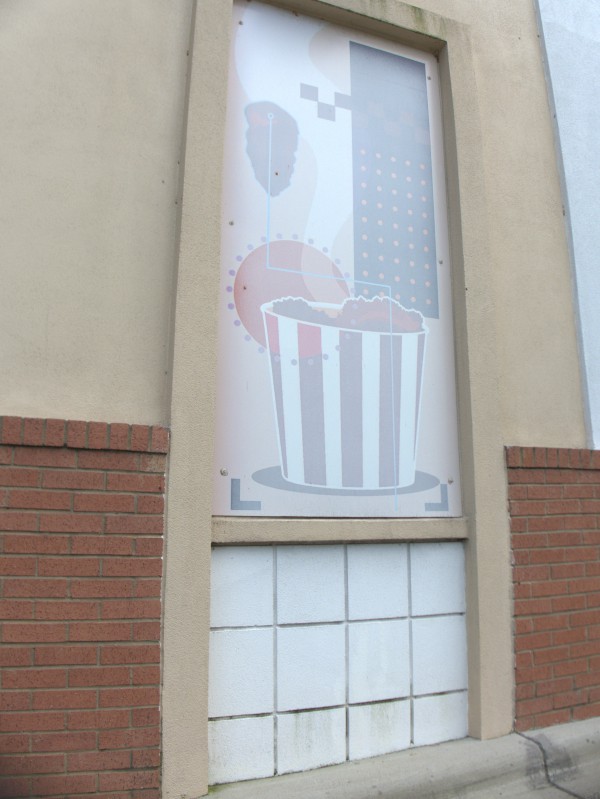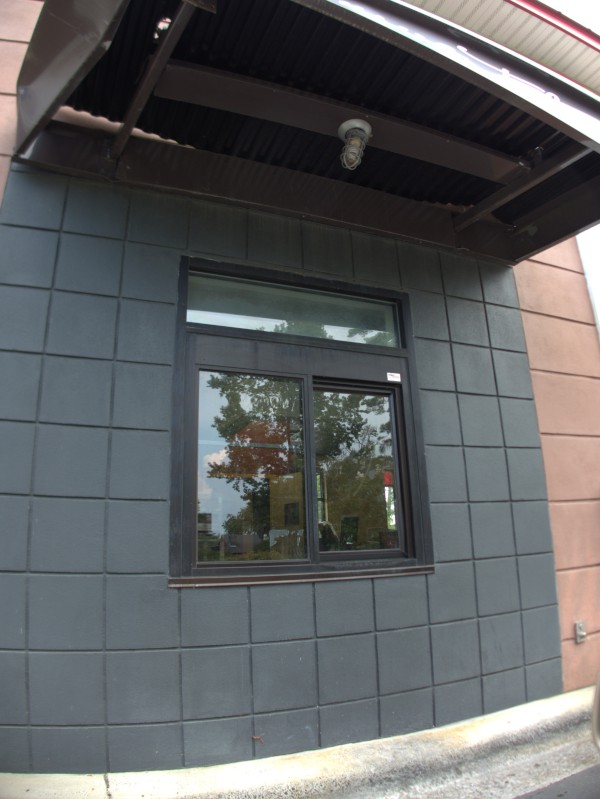 I don't really have a specific date for this closing, but I was down at the beach at the start of August, and am pretty sure I would have noticed if this KFC, next to the new Dollar General had been closed then as it was on Labor Day weekend.
I'm a little surprised at this closing as it was a newly renovated store. The original store, opened probably in the late 80s, was a "mini" KFC that did a mostly drive-through business, and when the time came that the chain wanted a full store, there were concerns whether they could manage it on the piece of property they had, given that the setback and spacing rules had just changed. In the event they came up with the design you see here, which apparently satisfied all the agencies and seemed to do a good business for a number of years.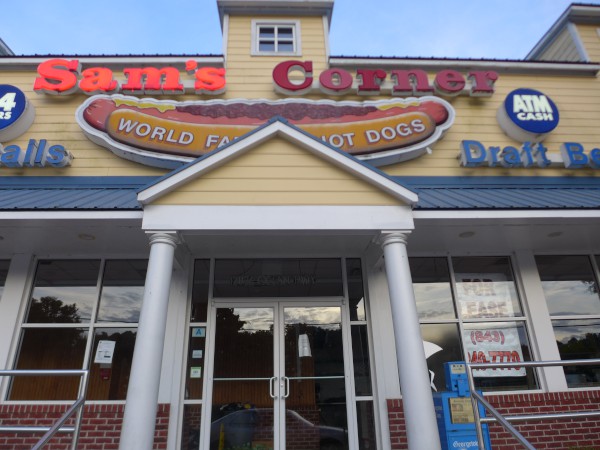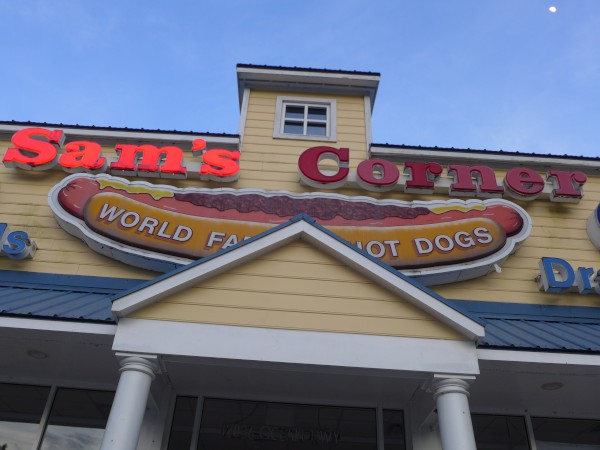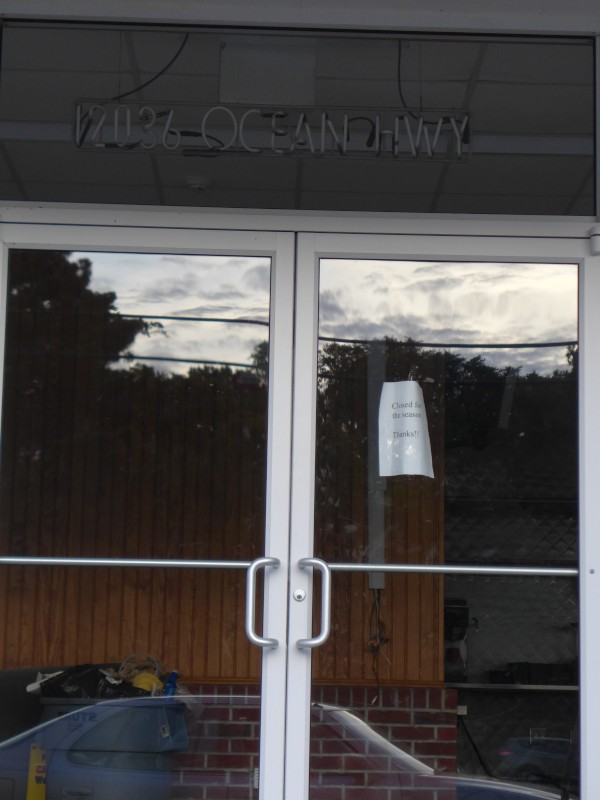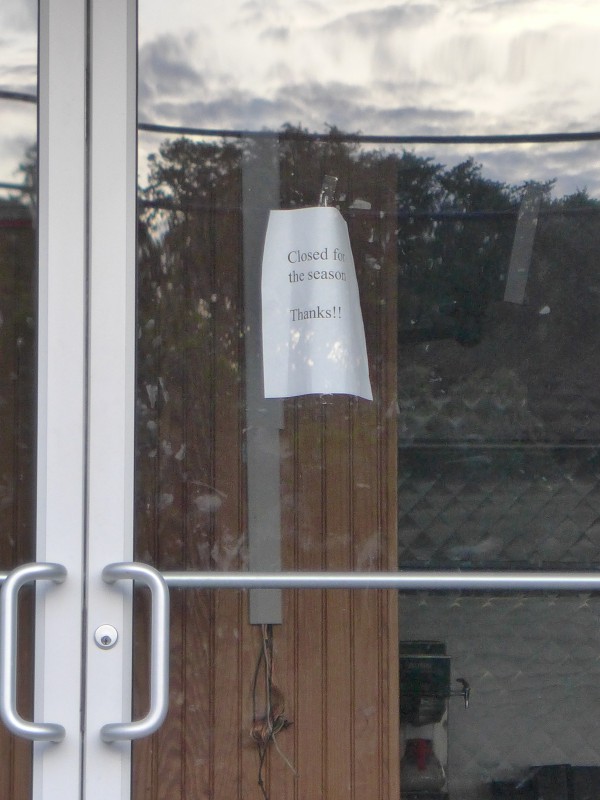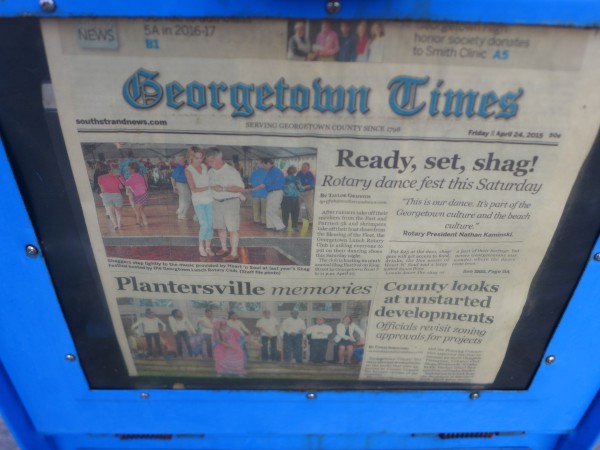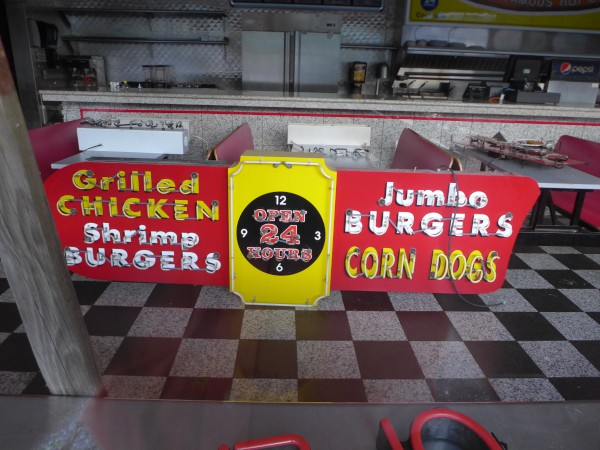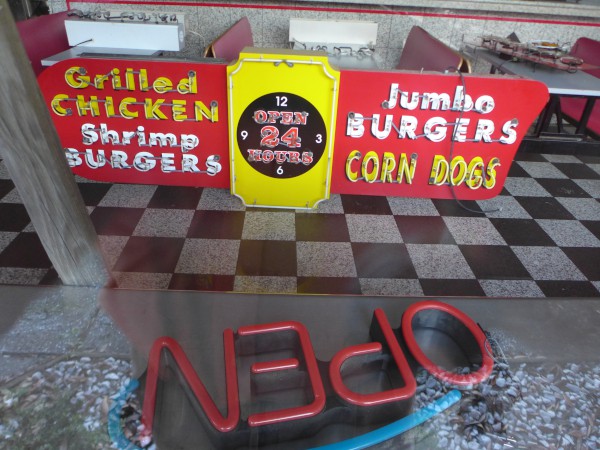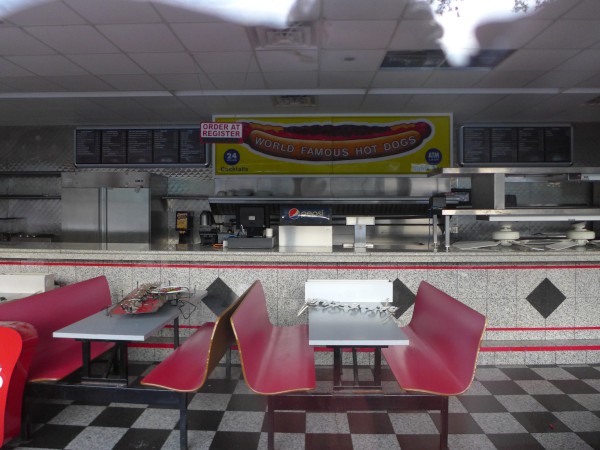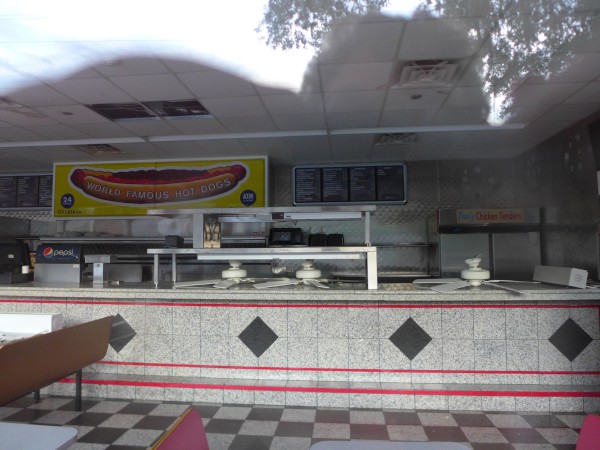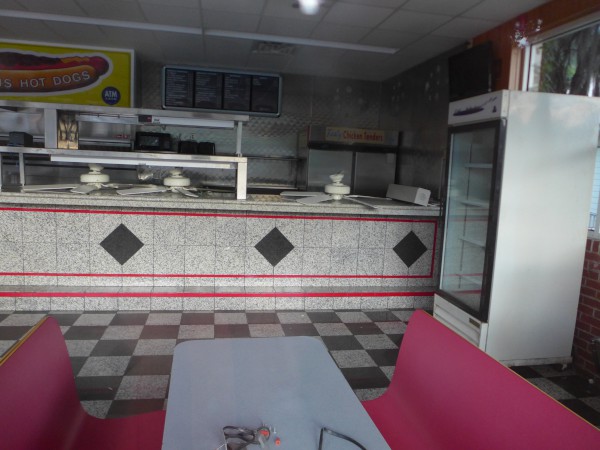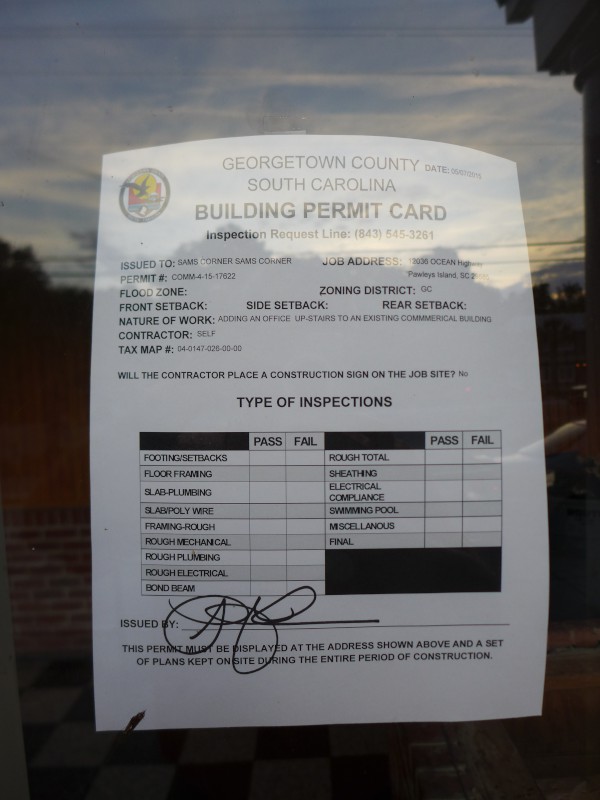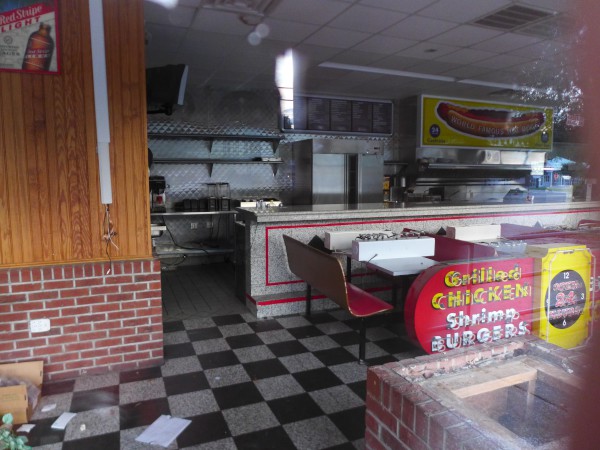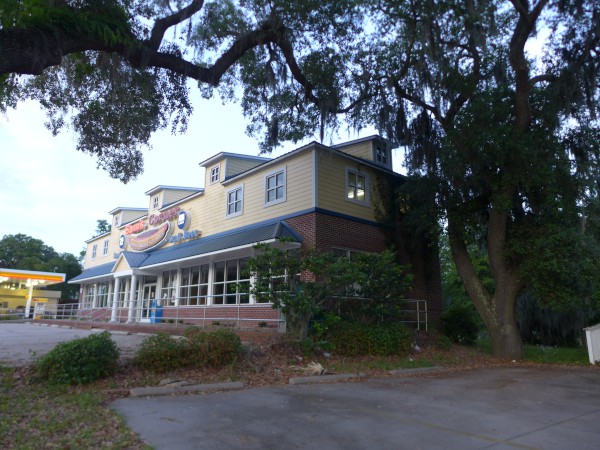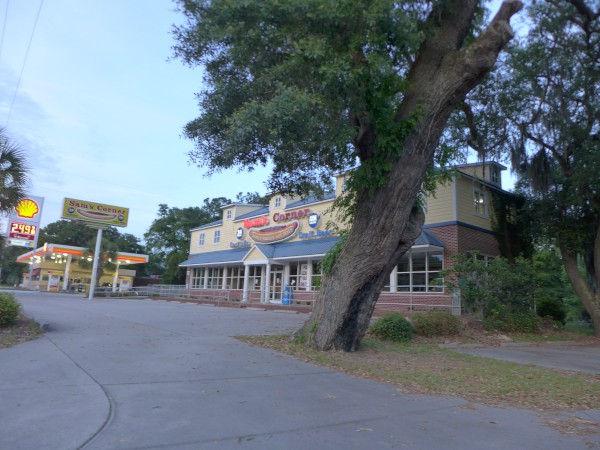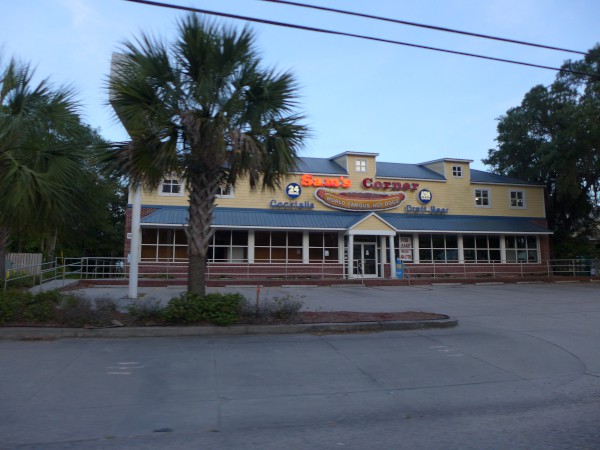 The only time I ever ate at a Sam's Corner was Monday 30 June 1997.
I was living in Aiken at the time (and working in Augusta), but found out less than a week in advance that The Beach Boys were playing the House of Blues in North Myrtle Beach that day. It was a rare small venue appearance, and I think many fans realized it was probably one of the last chances to see Carl Wilson on stage. In the event it was a bittersweet performance. Carl played most of the set seated and I think everyone in the audience could tell he was not long for the world, though he still sounded like an angel.
At any rate, when the show was over, with it not being a weekend, I was on the hook to be at work the following morning, so I fortified myself at the NMB Sam's with a hot-dog and coffee and made it back to Aiken (after further fortification with Waffle House coffee in Manning) in time to slip into bed half an hour before I had to get up. It was not something I could do now, and could barely do then.
Truthfully I was so focused on what I had to do that Sam's made little impression on me other than it was well lit, had an acceptable chili-dog and drinkable coffee.
I think the NMB location was the second for the chain, with one by the pier in Garden City being the first.
This location on US-17 in Pawleys Island came much later, and was, I think, something of a miss-step as the South Strand is a much different place from Myrtle Beach or even Garden City. I had noticed over the few years it was open that despite the proudly proclaimed 24 Hours in fact during the off season, it was rarely open past 10, and lately wasn't open at all except during the summer. I even did a post on the dark building called 25th Hour a few months ago.
On my last trip down over the Memorial Day week I saw that the place is now officially closed, even though they apparently had a plan to upfit the office space.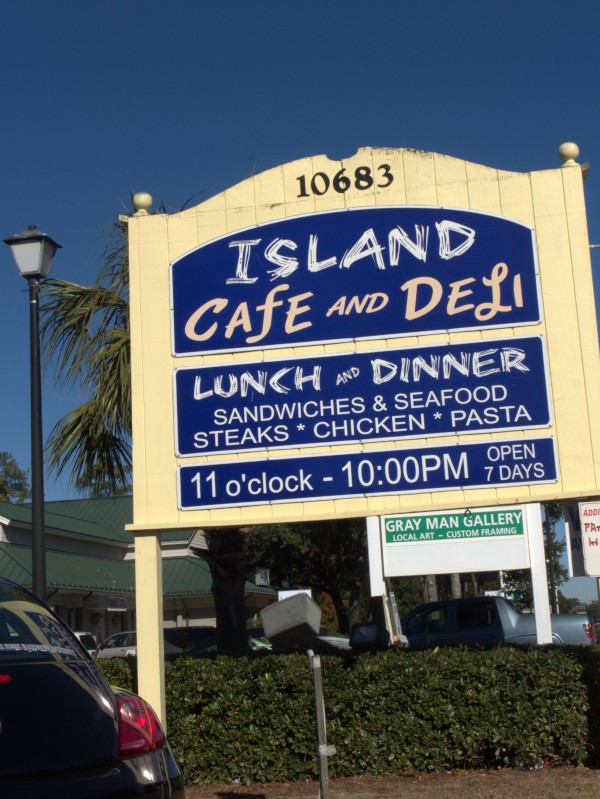 The Island Cafe & Deli was for many years a dependable choice for lunch and dinner at Pawleys Island. Landolfi's is my favorite restaurant in the area, but the Deli had a nice front porch for outdoor dining, and sometimes you just want a grilled cheese or burger with black bean soup instead of pizza. Apart from those options, the menu had a number of quirkily named signature items like the Aristotle Salad or the Strom Thurmond, which the description assured us was "an illustrious member of our menu" and featured "young turkey breast".
Some years ago the place had a bad fire and was closed for an extended period, and I believe that after that, someone once drove a car through the front window. Given that history, I was very surprised when I went down in December for the candles to find the place closed.
It appears that the next tenant will be Rustic Table.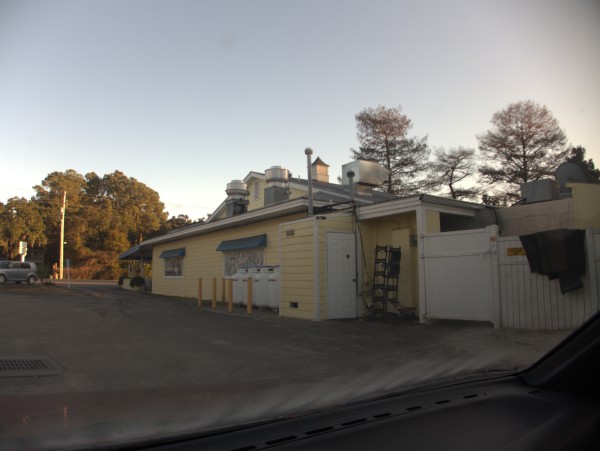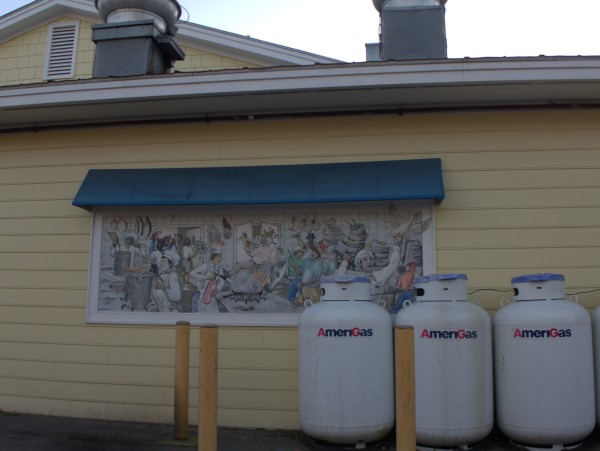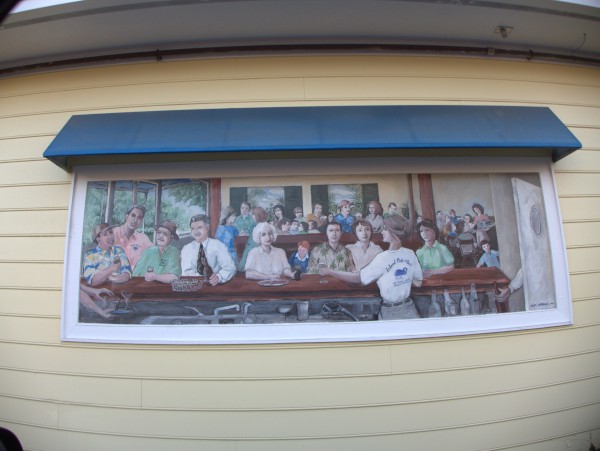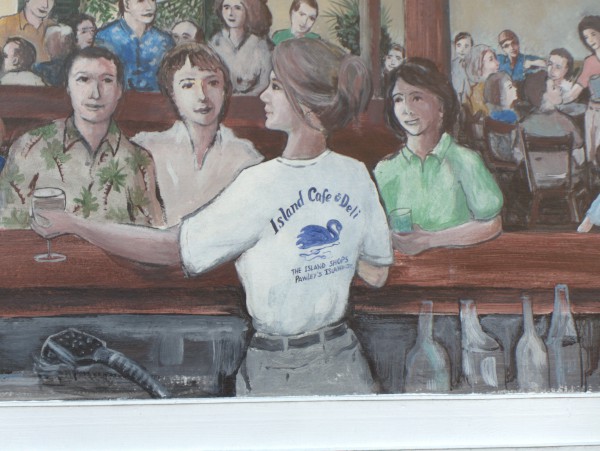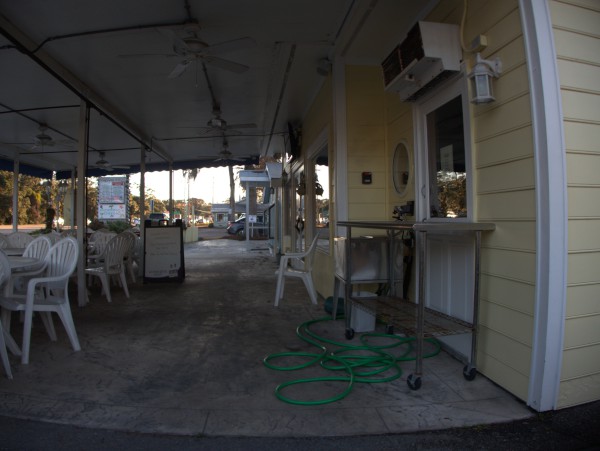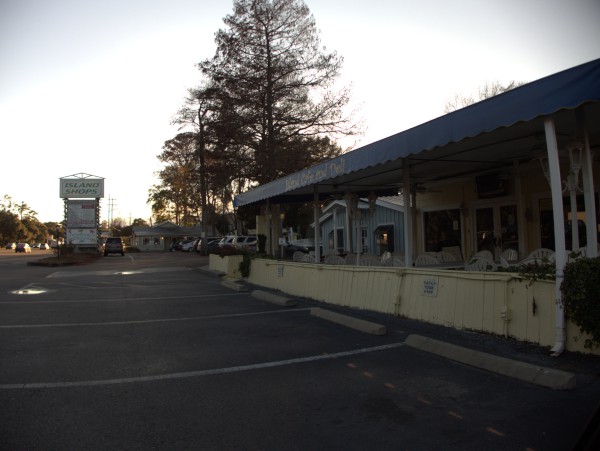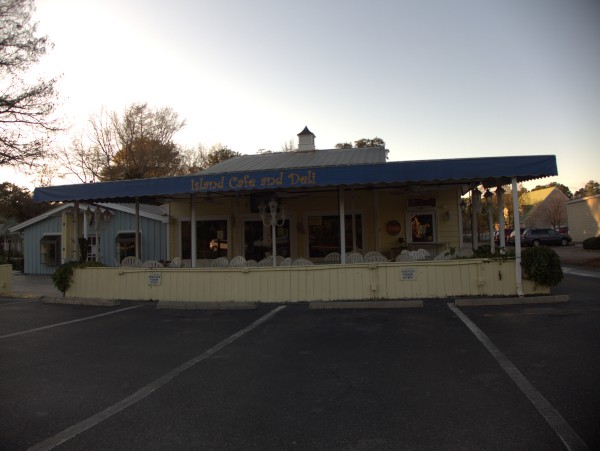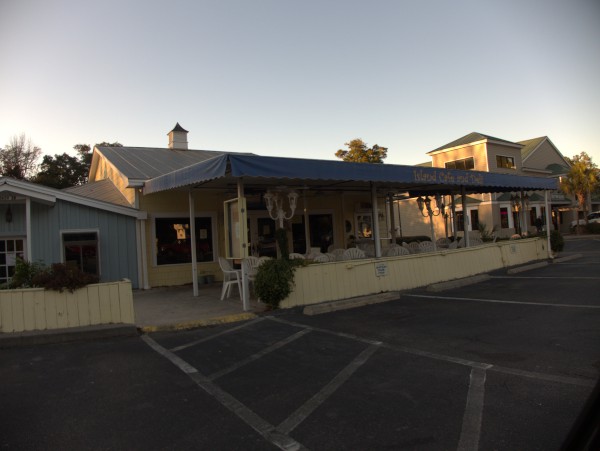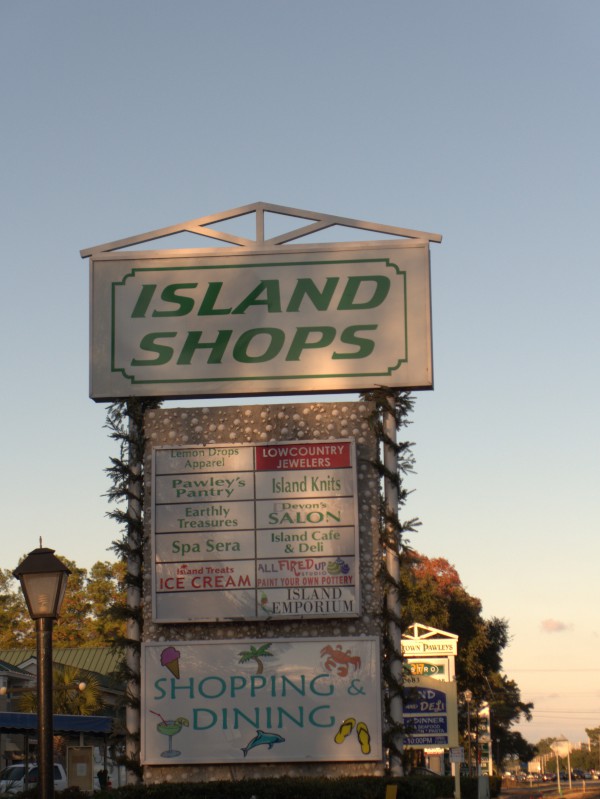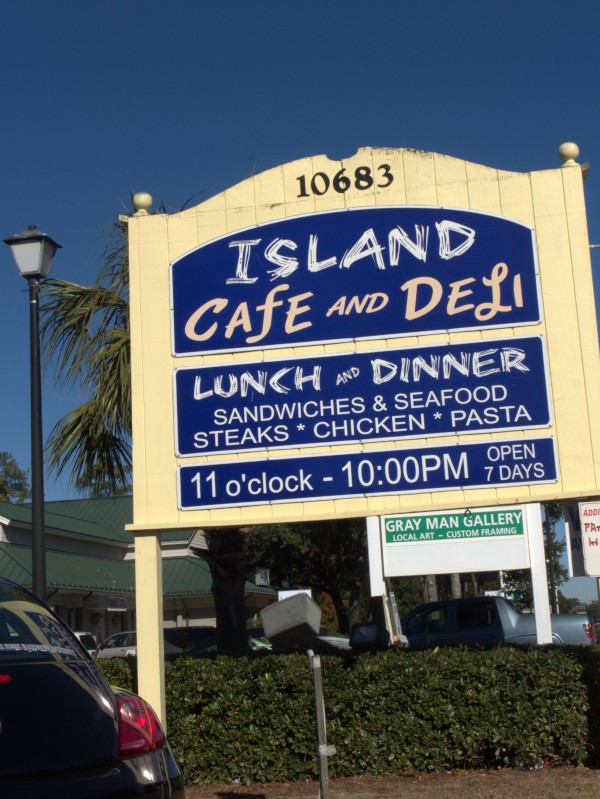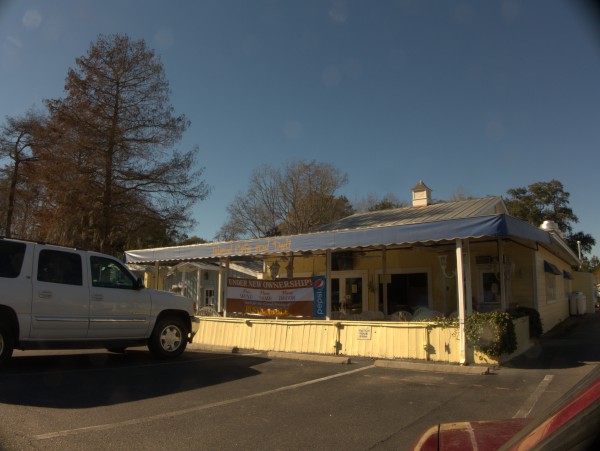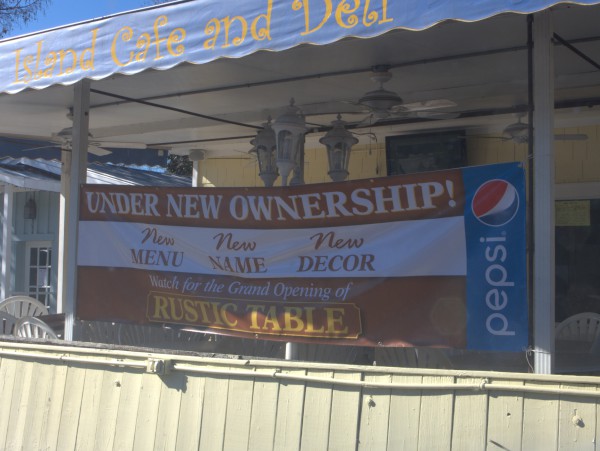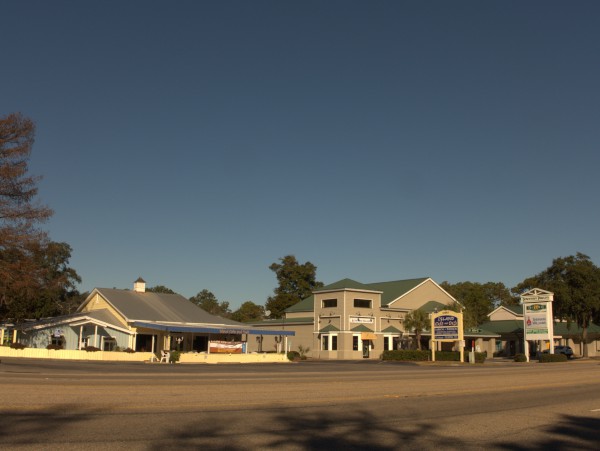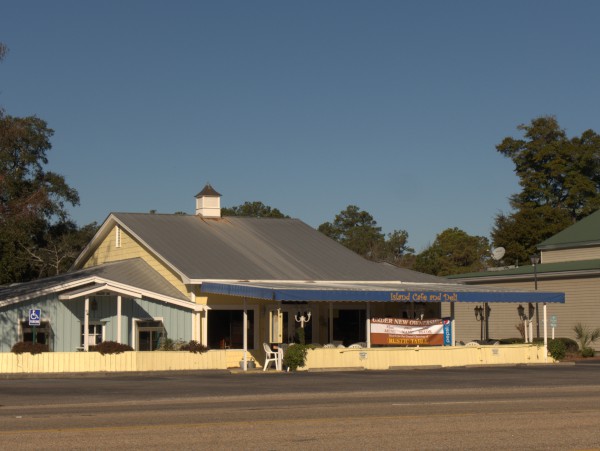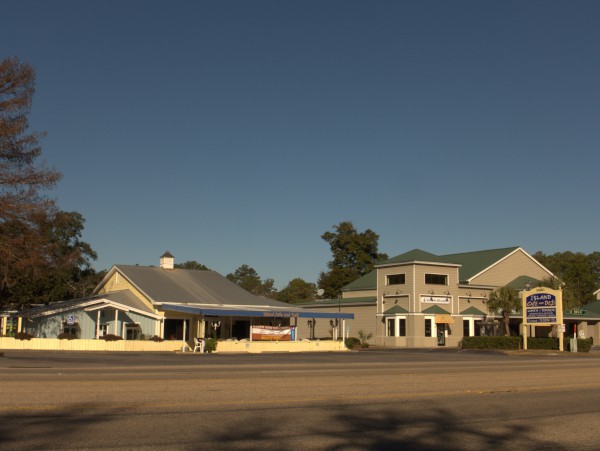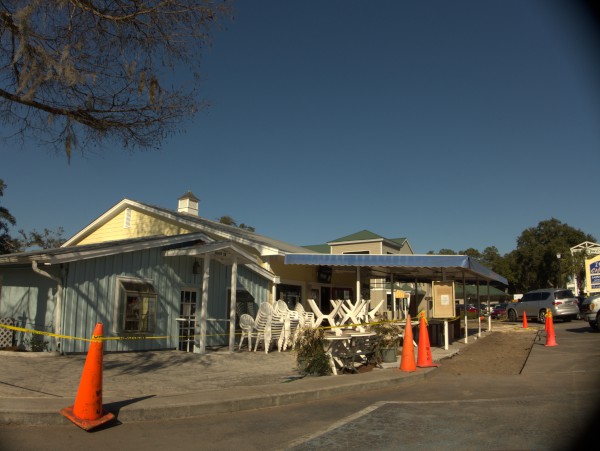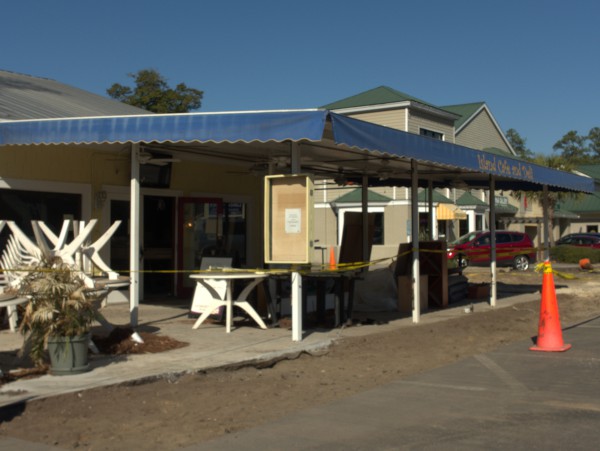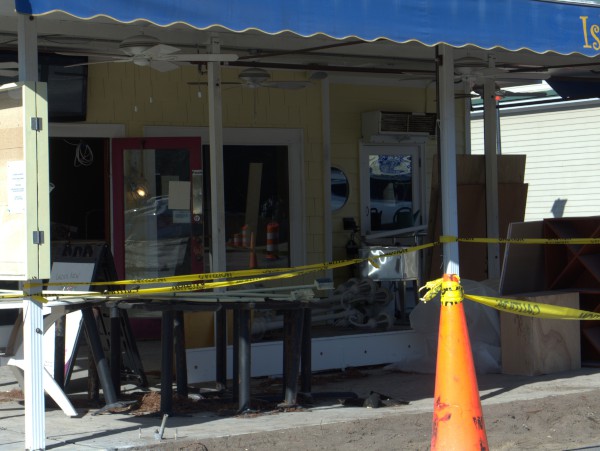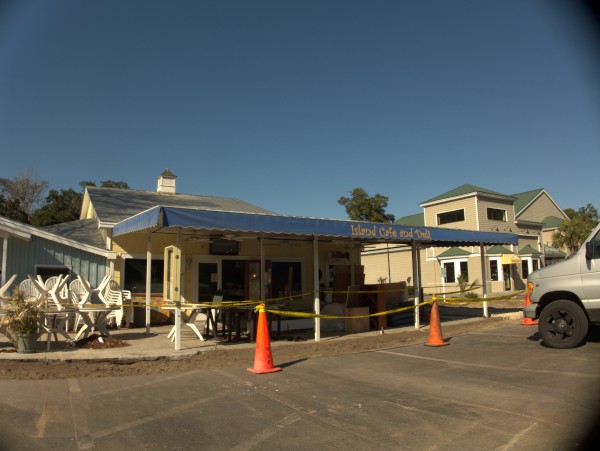 Posted at 12:32 am in Uncategorized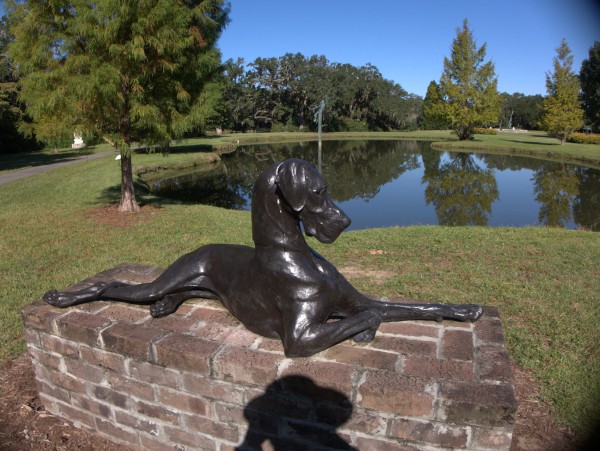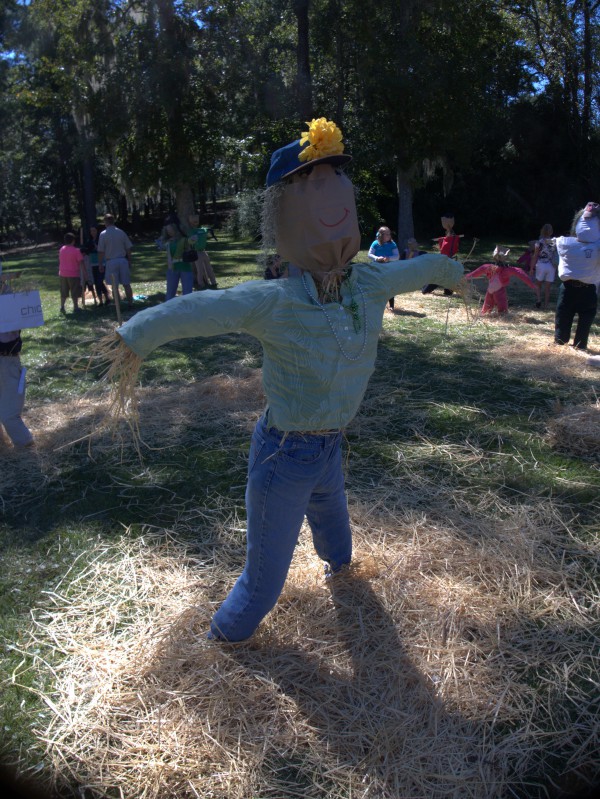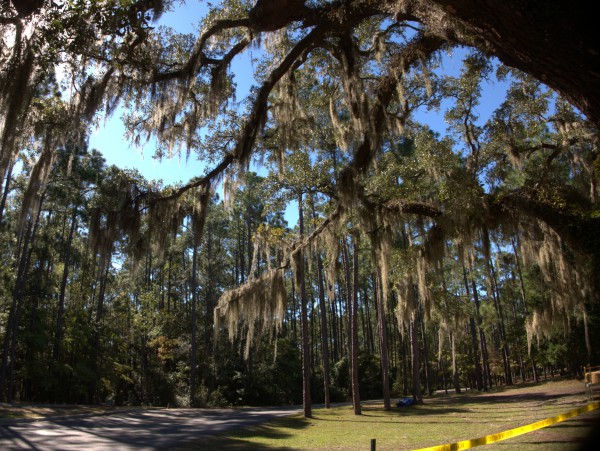 It's a few months until the candles, but what better way to spend a gorgeous Fall weekend than out in the sun at Brookgreen Gardens Harvest Home Weekend? You can build a scarecrow, paint a pumpkin, make a birdfeeder, see butterflies up close and personal, gawk at extroverted otters and cruise past basking alligators.
If you don't happen to have children in tow, you could even look at some sculpture,
Posted at 11:40 pm in Uncategorized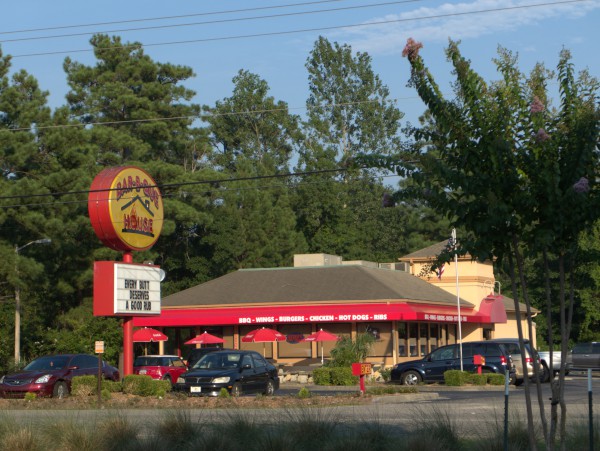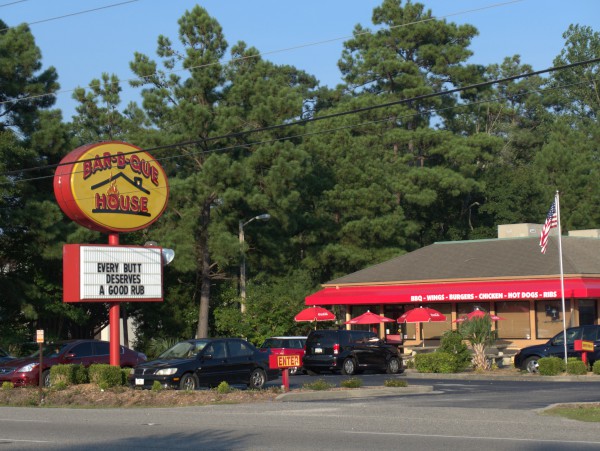 OK, this one is all about the sign rather than any deep attachment to a closed Italian fast-food chain outlet.
That said, this building was a Fazoli's until November 2010, and with this closing, Fazoli's has no locations on the Grand Strand. In fact, the closest Fazoli's to the Grand Strand would seem to be either the Two Notch Road location or the Fayetteville NC location. I'm a bit ambivalent about the chain. I like the breadsticks, but it always seemed to me that every time I found a main menu item I liked, they would change the menu..
Posted at 1:14 am in Uncategorized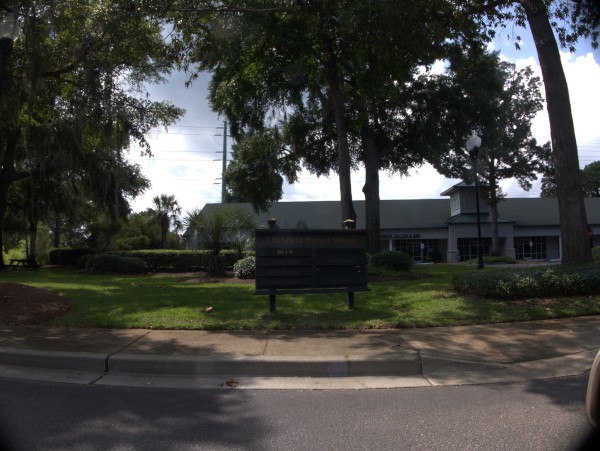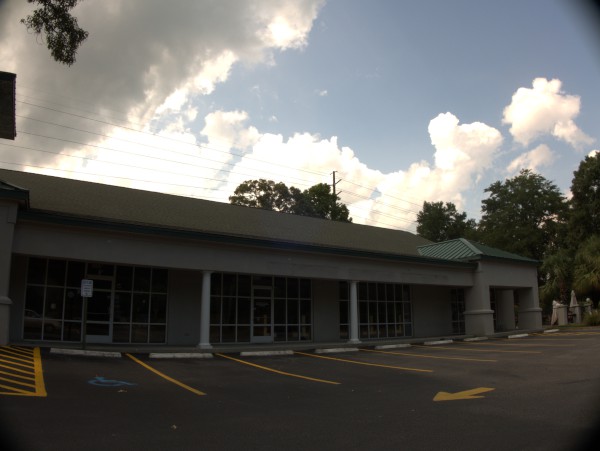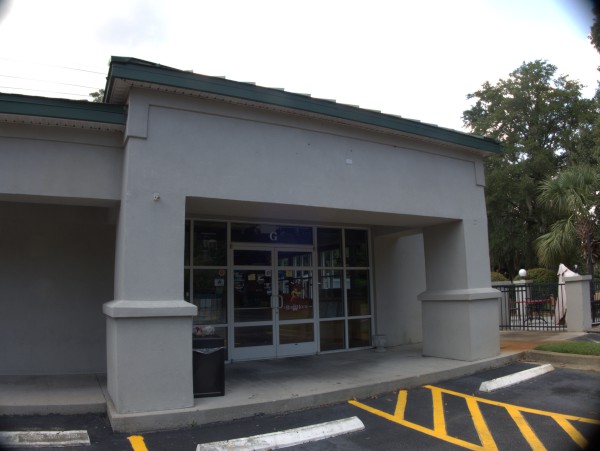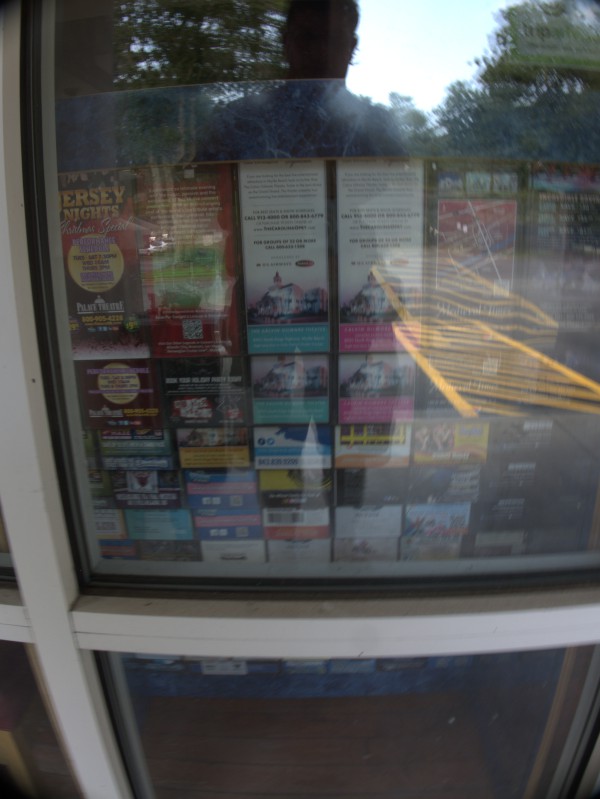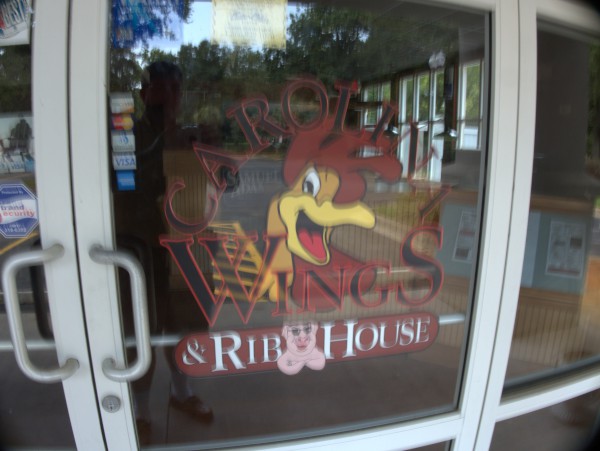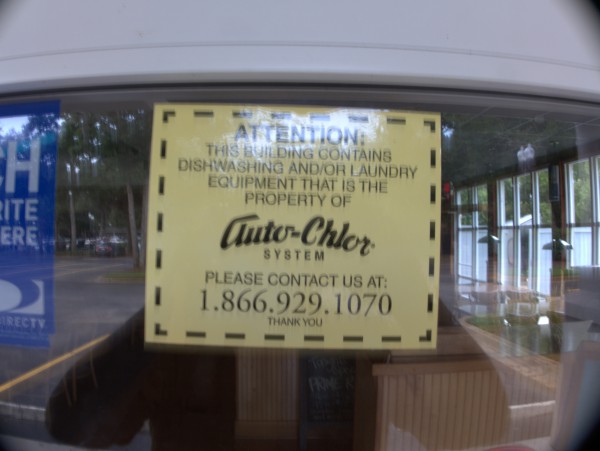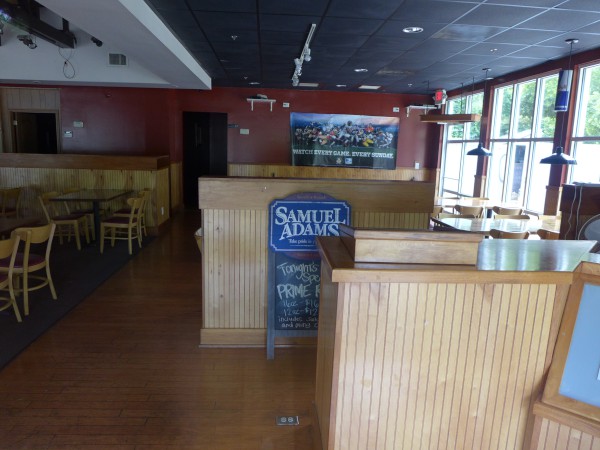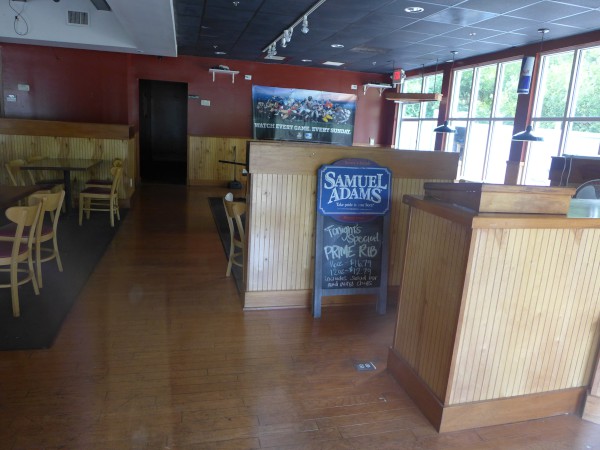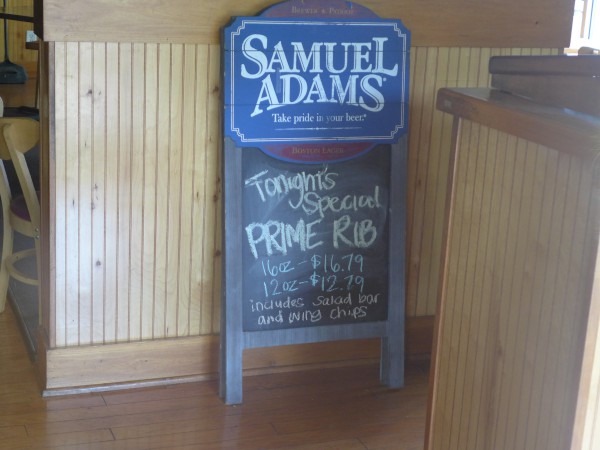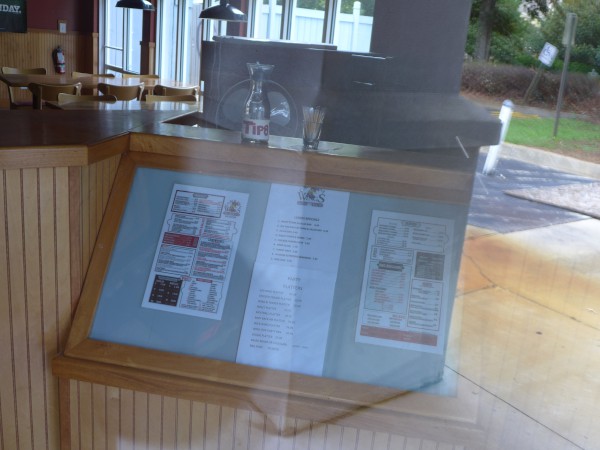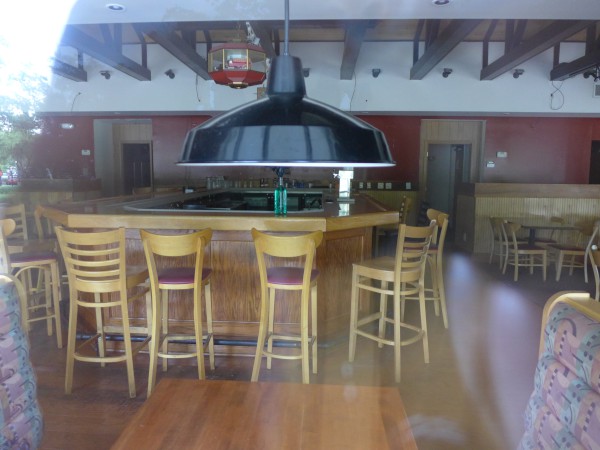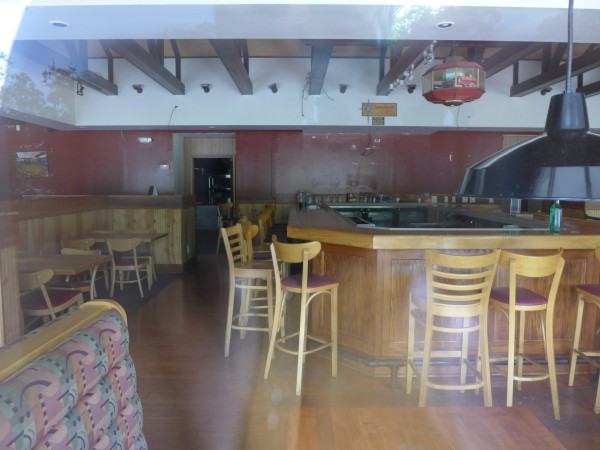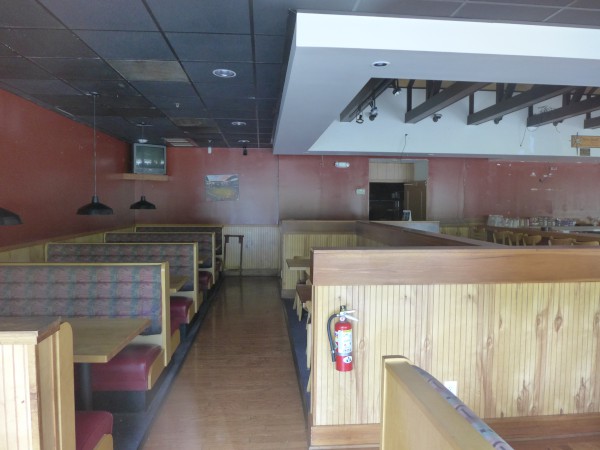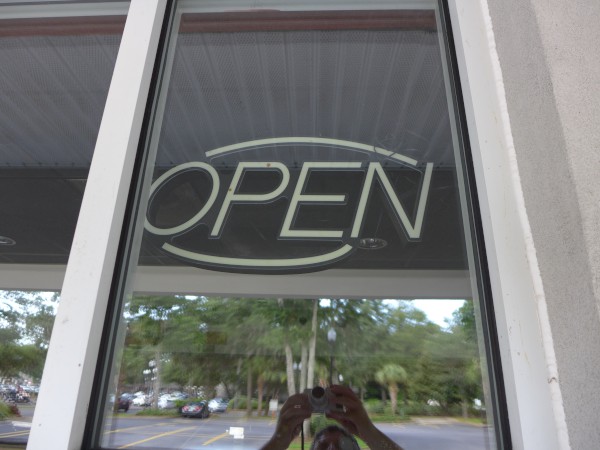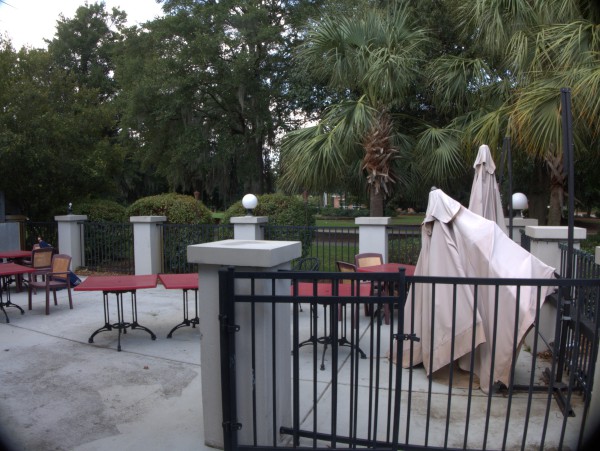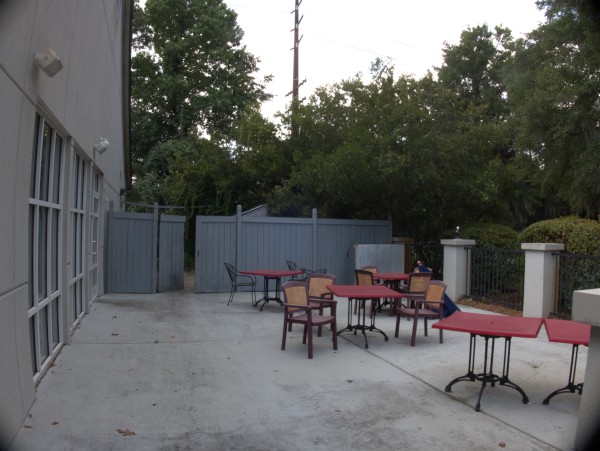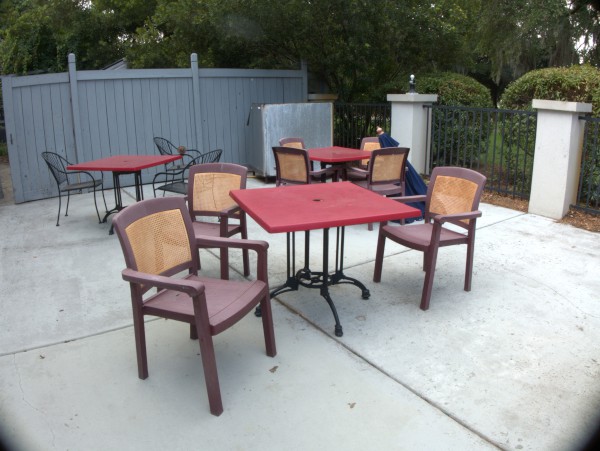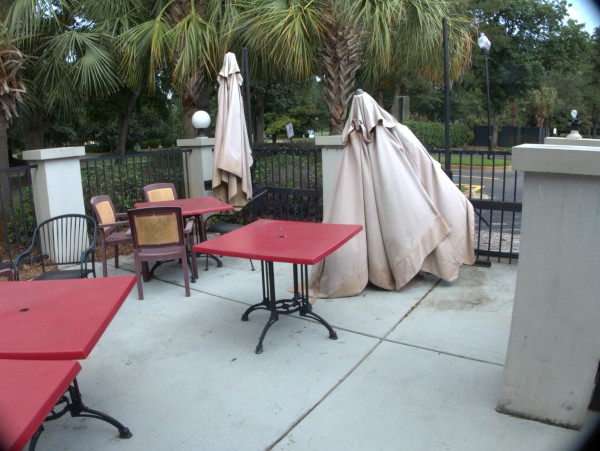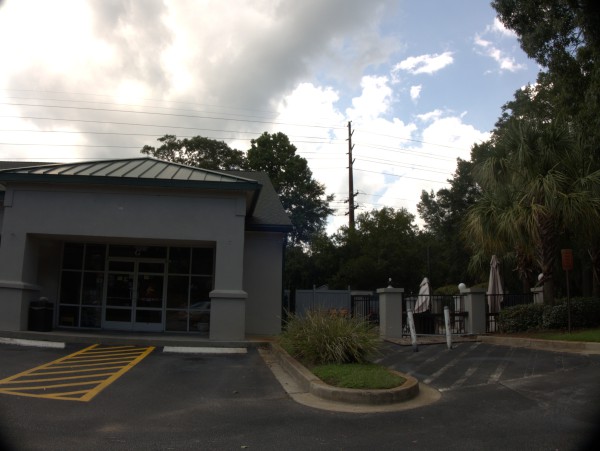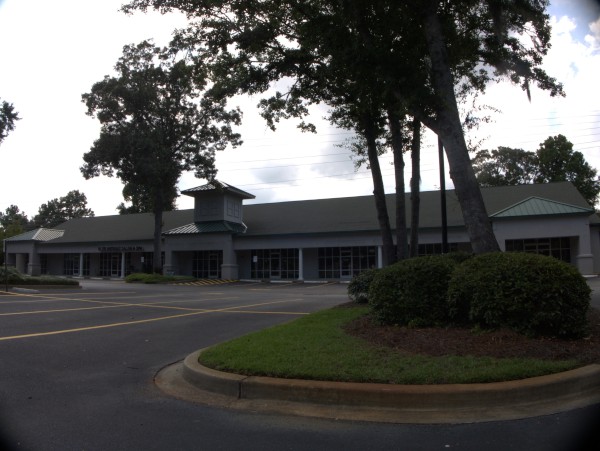 I have had my eye on this location of Carolina Wings & Rib House because the chain has been cutting its Columbia operations to the bone, and I figured this peripheral coastal location wouldn't last much longer. In fact, the place was open for the Memorial Day weekend, but by the time I went by again in late July it had apparently (from the state of things inside) just closed.
This location was in Litchfield Beach, in an outparcel of what was the Litchfield Piggly Wiggly shopping center (but which is now the Bi-Lo shopping center. Although I suspect that the general troubles for the chain were the biggest problem for this location, I also note that it is not visible from US-17 which can't have helped either.
Posted at 10:59 pm in Uncategorized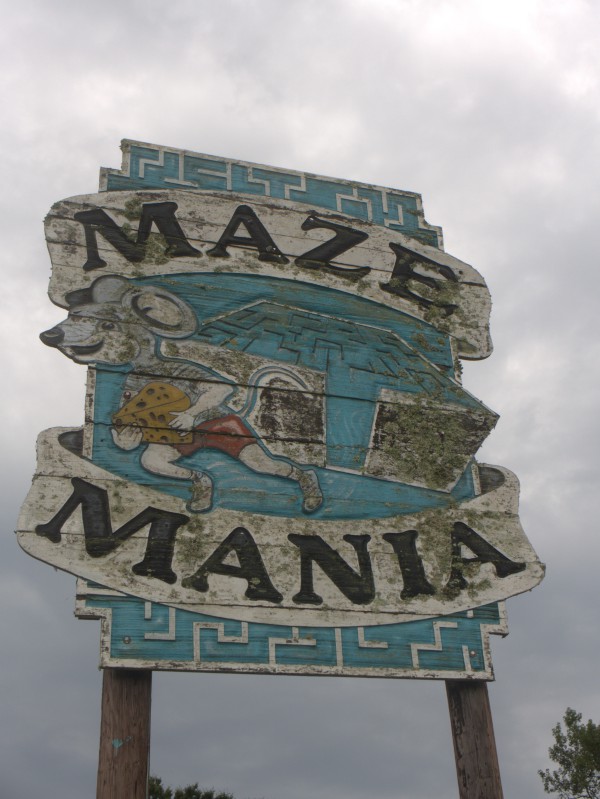 The concept of Maze Mania was simple: You go into the maze, find the cheese, and get out of the maze. Best time wins.
It was a little more complicated in execution. The "cheese" was actually a box size wooden mock-up wedge with an electric rubber stamp device embedded inside it. Every day, the cheese would be moved to a different part of the maze, where it would be put on a special stand near an outlet. When you started the maze, you would be given a timecard with your start time, and when you found the cheese, you would stick the timecard into the block, which would stamp a picture of a piece of cheese on the card (proving that you completed the task), then you would try to find the exit, where your final time would be recorded. Assuming you were a kid, your parents would probably be on the observation deck overlooking the maze shouting down more (or less) helpful hints. Presumably, if you were a college student, it would be a bunch of drunk friends instead.
I only ran the maze, officially, once, probably about 20 years ago. I thought it was a lot of fun, and always wanted to take some younger cousins or other relatives there, but somehow never made it happen. I noticed earlier in the year that the place didn't seem to be open in what should be a viable, if not peak, time, and so made a point of looking in on it this summer as I would drive by at various times which led me to the conclusion that it was closed.
I finally made the time to stop and have a look at it. The big mouse billboard was in obvious need of cleaning, and the door sign said "closed for the season" without specifying what season that was. I have concluded it was probably fall 2013.
Finding my way back into the maze itself, I saw lots of signs of neglect and general decrepitude. The worse bit was a whole section of maze wall that had fallen down (or been knocked over) but overall there were a number of loose boards, and vegetation encroachment. Still, I think a good handyman with some lumber and paint could make the place runnable again with no more than one or two days work.
As you can tell from the pictures, it was a rather gray day, and started raining when I was out in the maze, and yes, I did get lost. (You can always find your way out of a maze by following the right wall if all else fails, but it may not be the shortest route by any means!)
Posted at 1:41 am in Uncategorized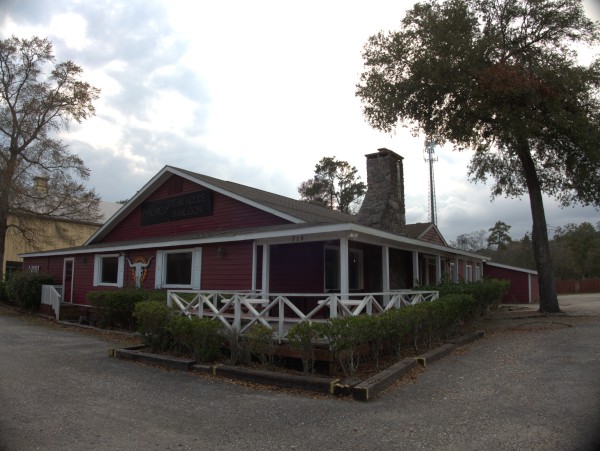 T-Bones (no relation to Tbonz) was in Murrells Inlet on the US-17 bypass almost directly across the street from the old Rosa Linda's South.
I only ate at T-Bones once that I can recall, and that would have been not too many years after they opened in 1988. I had a burger, and it was pretty good.
I'm not sure why I never went back -- perhaps because there were closer options for burgers, and because I have a general list of favorites I try to hit when I'm at the beach. At any rate, though I didn't stop again, I often admired the best slogan on the beach as I was driving by, though I would have used a colon instead of a comma.
I noticed this weekend that the place was closed, and the realty sign suggested it was not an entirely voluntary state, which the article linked above confirms. Of course it would seem so far that closing it didn't actually help the bank that much..