Posted at 12:16 am in Uncategorized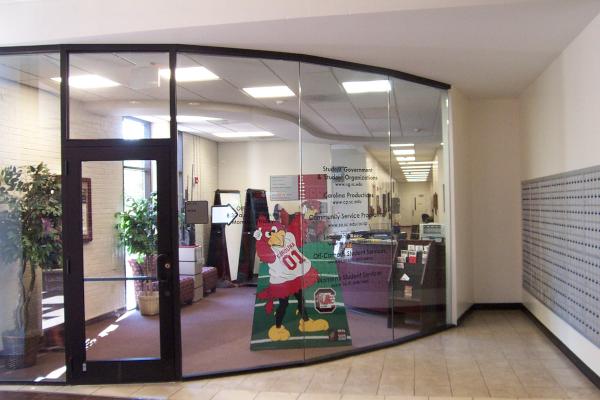 When I was at USC, this space, on the second floor of the Russell House next to the fast-food area housed the student gameroom. I believe it had pool tables, but this being the 80s, what interested me were the video games of which there were a multitude.
I particularly remember playing Galaxian which was sort of a Space Invaders clone except that the invaders were space-ships and could dive down on you. Galaxian was quickly ousted from my affections however by Gorf a game which itself included a Galaxian clone as one of its levels. You almost never see these games anymore, but my next love (which I played much more at Robos than at Russell House) was another Galaxian follow-up Galaga. I still see and play this game today. (Though not until my hands bleed, I must admit).
I don't know when it happened, but on my most recent visit to Russell House, I found that the old gameroom had been re-purposed into a student government office of some sort, and that a new gameroom named after the old student bar, The Golden Spur had been established in the failed basement mall area of Russell House.
To me it would make more sense to keep Student Government out of sight in the basement, and have folks having fun in the daylight..
6 Responses to 'Gameroom, Russell House USC: 1990s(?)'
Subscribe to comments with RSS or TrackBack to 'Gameroom, Russell House USC: 1990s(?)'.
Leave a Reply