Archive for March, 2010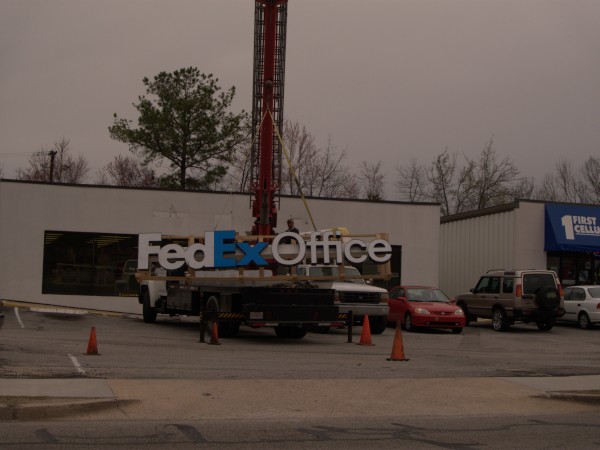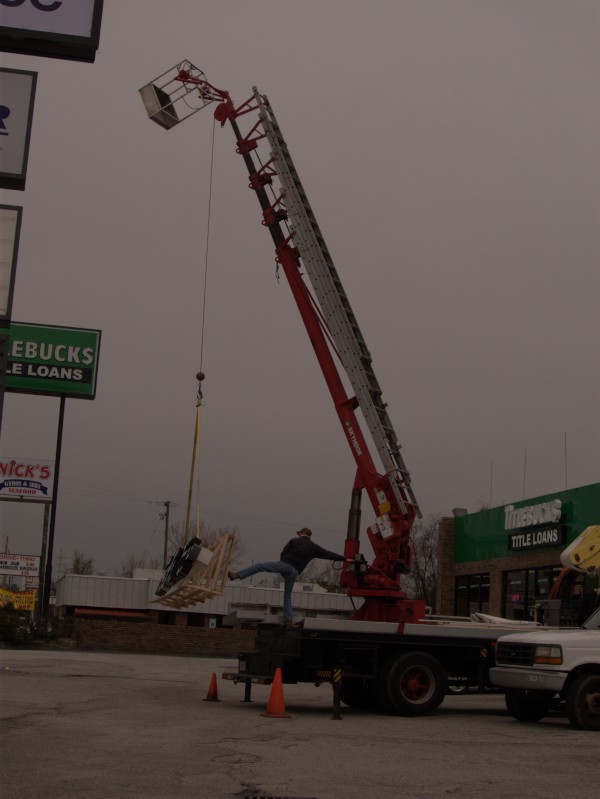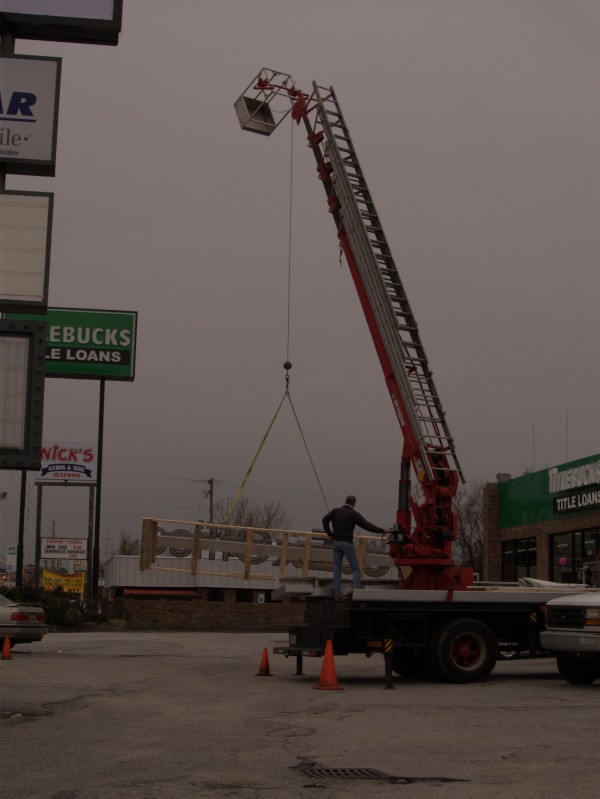 Well, it appears that FedEx has finally decided to deep-six the Kinko's brand for good.
At one time, Kinko's (here and in the old Winner's Circle) was the only copy-center operation around. Other than that, it was feed quarters at the library, grocery store or post office. Later, you could also access either a Mac or PC with a scanner, when such was otherwise uncommon, and then you could access the Internet when you absolutely positively had to send a PowerPoint file across the country right now.
I guess the fact that you would often be working on something that had to be shipped somehow or other attracted FedEx, which brought the chain in 2004, changing the name to FedEx Kinko's. Now with the transition to FedEx Office, the Kinko's name is totally gone.
Also, with the changing times, there is plenty of competition in the copy-center sphere, with shipping rival UPS weighing in as well as office stores like Staples and OfficeMax.
Posted at 12:35 am in Uncategorized
Commenter Dennis sends this link to a bit of Columbia history I don't recall at all -- our own Cowsills / Partridge Family:
There was a family rock band (Before the Cowsills) here in town called Little Red and the Rocking Hoods. For a few years you couldn't go to many public events without seeing them play. I went to high school with a couple of the kids, Julia McGee and Eddie McGee. They graduated from Keenan in '74 and '76, respectively, I think.

Their dad and band leader actually built a sort of recording studio next to their house, which was just across Pinebelt from Keenan HS, on Upland Drive.

I painted a psychedelic design on one of Eddie's guitars.
Be sure to check out the second (1971) picture here, yet another entry in the
The 70s: What the heck were we thinking?
file!
I'd love to hear some of their stuff..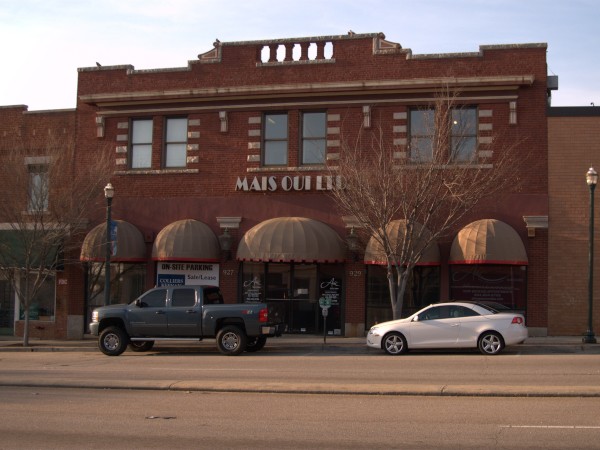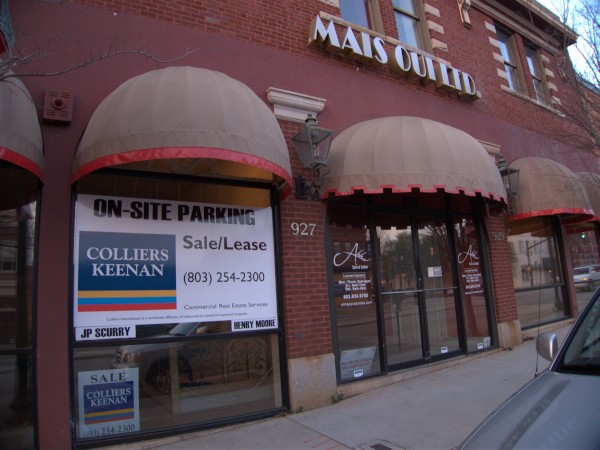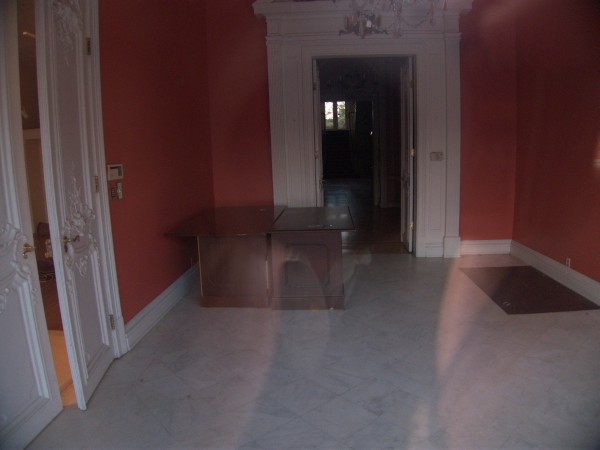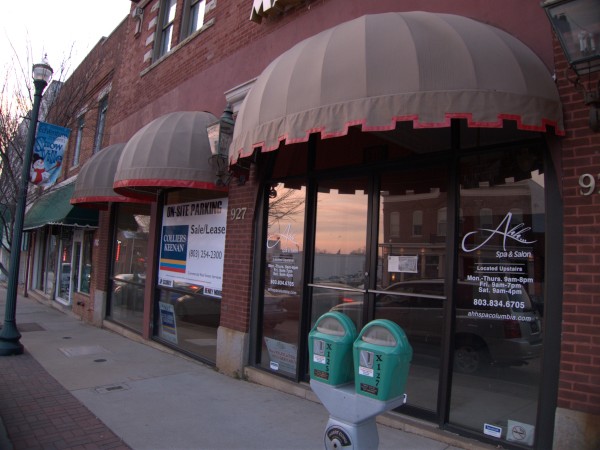 I noticed on my Vista stroll a few weeks ago that part of the Mais Oui building on the north side of Gervais was vacant. Apparently the last occupant, Paul D. Sloan Interiors relocated down the hill a little ways. The building is quite nice, and I found this information in a 1983 application to the National Park Service for entry in the National Register of Historic Places:


54. 927 Gervais Street. This two-story brick building was constructed ca. 1911 as a dry goods wholesale store. The first story has four brick pilasters with granite bases and capitals framing a central entrance and its flanking display areas. The second story has three paired one-over-one sash windows with granite sills and alternating granite and brickwork surrounds. A projecting metal cornice with brackets is located above the second-story windows. A stepped parapet with granite coping and a central brick balustrade is at the roofline. An original second story balcony, a first-floor cornice, and the original first-floor doors and windows have been removed and new doors and windows installed between the brick pilasters. The interior of the building has also been remodeled.
An interesting, if frustrating, story from The Columbia Star (apparently based on old reports from The Columbia Record) gives the candy store information, and this bit of excitement:


About 8 am, on July 23, 1921, John R. Martin departed his home at 1420 Calhoun Street. He was driving an Essex roadster owned by the Flanigan-Clement Candy Company, a local wholesale firm, whose emblem was painted on the right door. As the company's primary traveling salesman, he made some deliveries to various local customers. Around 3:30 pm, having completed his itinerary, Martin was returning to Columbia along a rural roadway in Lexington County. He was heading back to the main store at 927 Gervais Street. The salesman did not realize that he was about to have a thrilling experience to tell upon reaching his destination.
He was approximately two miles from Broad River Road when he noticed a Ford touring car straddling the road. Martin recalled encountering this vehicle ten minutes earlier at a crossroads. Apparently, there were no dwellings along this isolated stretch of roadway. Two white soldiers, in full uniform, were standing in front of the automobile. With their hands they were beckoning him to stop. A third trooper suddenly emerged from some nearby foliage brandishing a Winchester rifle. His two companions also had drawn .45 caliber Colt revolvers.
Who knew the candy business was so dangerous?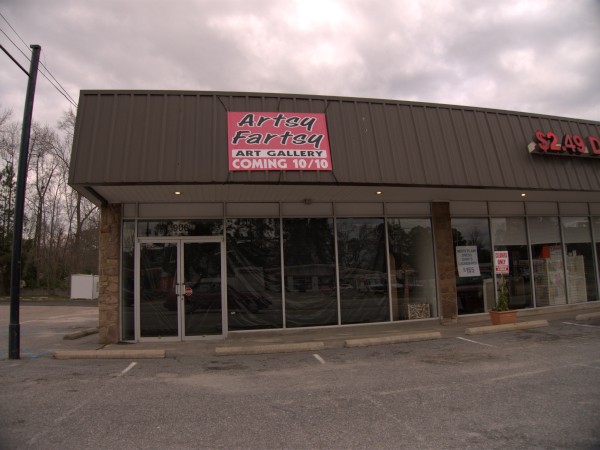 The part of this building at 904 Knox Abbott Drive that is now a cleaners was the original location for Silver city comics, which is now up the street in an old Hardee's building. I used to drive over from USC every Thursday ("new comics day" back then) to see what was out that week. I would park along the west side of the building, and do vaguely recall 906 being the insurance agency though I don't recall Reyland Medical at all. I know that Silver City moved out after a fire, but I can't recall if it affected 906 as well.
Anyway, since I used to go there so often, I always notice the building as I'm driving by, and saw a massage operation setting up shop there late last year. It seemed to be one of those places having a hard time getting started, at least I never saw any cars there, or indeed any sign that it was open. Finally going to Krispy Kreme one evening, I noticed a sign pasted to the door, and figured it had gone under, but when I stopped to take a picture, the sign said something about a "grand opening" instead. I think that was in mid-February. Then when I went by last weekend, I saw the (generously timelined) "Artsy Fartsy" sign you see here.
UPDATE 29 Oct 2010 -- Well, Artsy Fartsy is to be a coffee bar as well as an art gallery: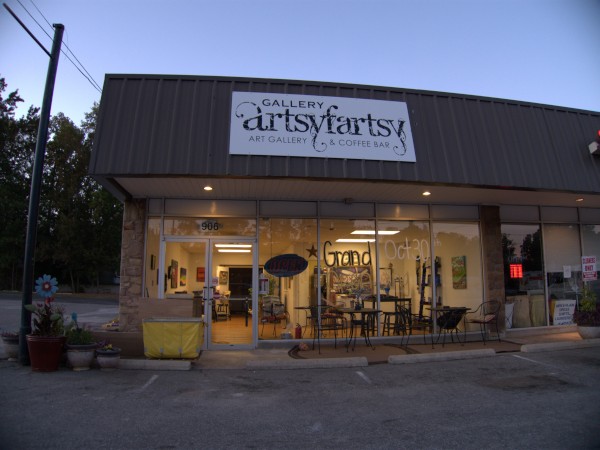 Posted at 1:07 am in Uncategorized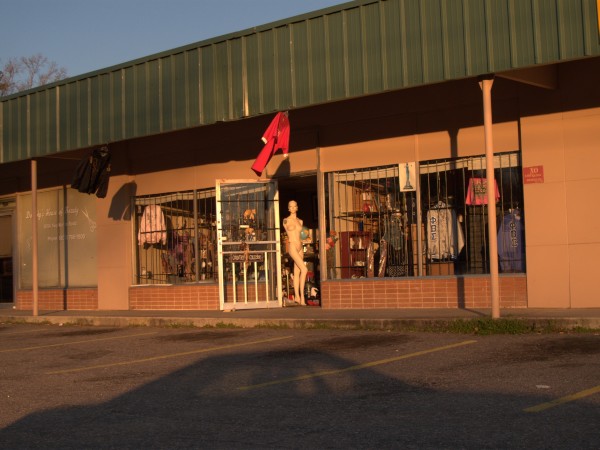 Appropos of nothing, but sometimes you just have to turn around, go back and get the picture (car shadow or no..)
Posted at 11:49 pm in Uncategorized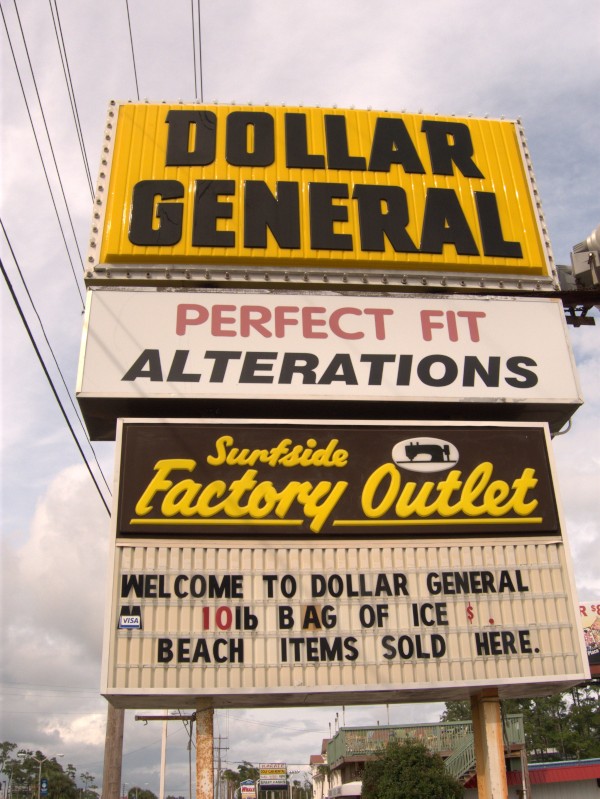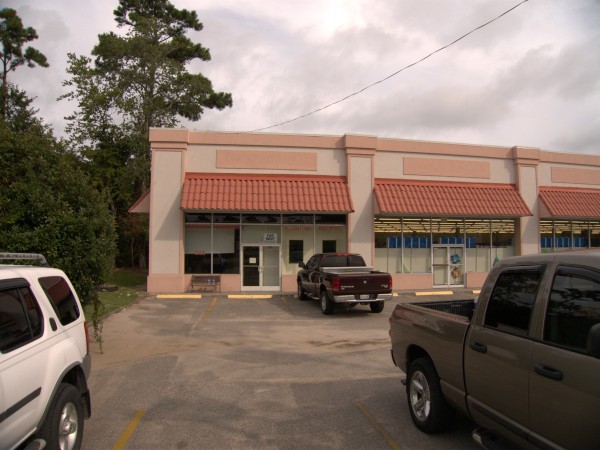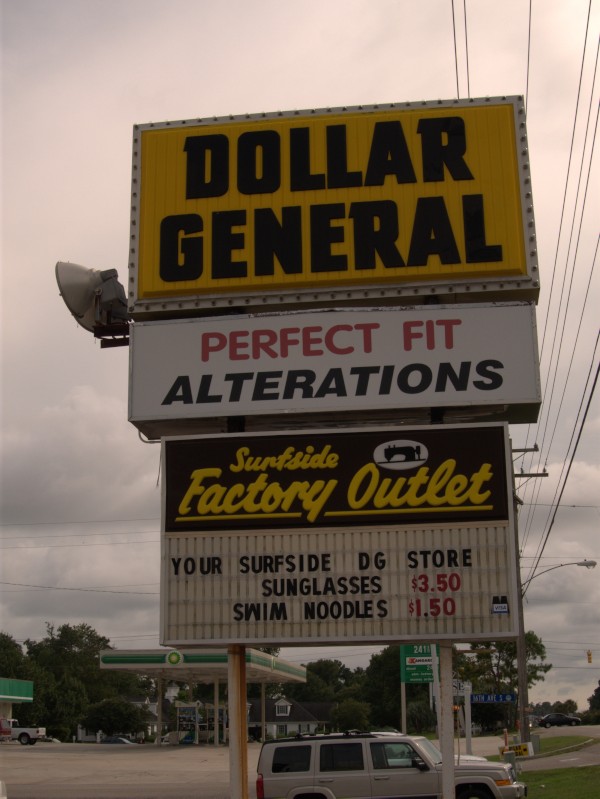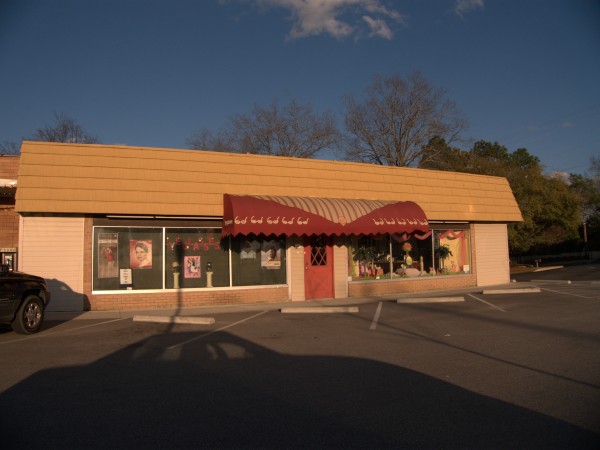 Shop at the Brown Sign With the Sewing Machine in the Corner!
At one time, South Carolina was a major player in the textile field, and I always assumed that these "factory outlet" stores scattered across the state had some South Carolina "factory" behind them, though it was never spelled out in the long running series of radio ads that always included the tag line about the sign.
I never went into one myself, but they were a feature in various shopping trips made by my female relatives. I can't remember all the locations now, but for sure there were Columbia (actually West Columbia / Triangle City), Salley and Surfside Beach.
The first pictures are of the old Surfside Beach location. This storefront (briefly an alteration shop) is at 1511 Highway 17 North (on the east side of US-17 Business between Inlet Square Mall and SC-544). Since these pictures were taken, they have finally gotten around to taking down the brown sign.
The final picture is of the West Columbia location in Triangle City. Their sign is long gone, and the location now seems to be an eyeglass botique.
I don't know exactly what happened to The Factory Outlets. My presumption is that "the factory" closed during the decline of the domestic textile industry, but that's just a guess. At any rate, while the 12th Street location was in the 1998 phonebook, I don't think it (or they) lasted much later than that.
UPDATE 25 Sep 2010 -- Well, I found the Darlington Factory Outlet (1486 Harry Byrd Highway -- almost across the street from the racetrack), and it looks like you can still get women's fashions there!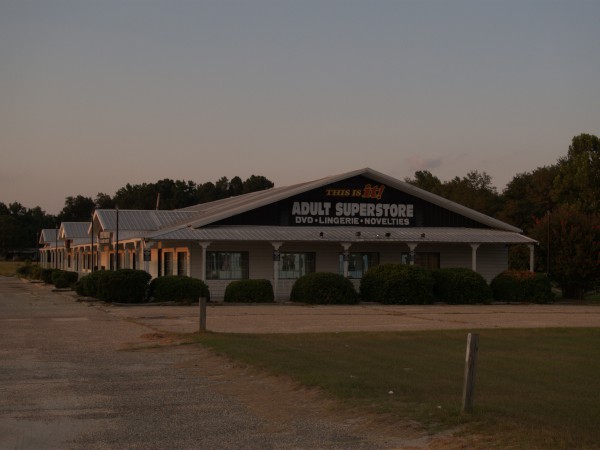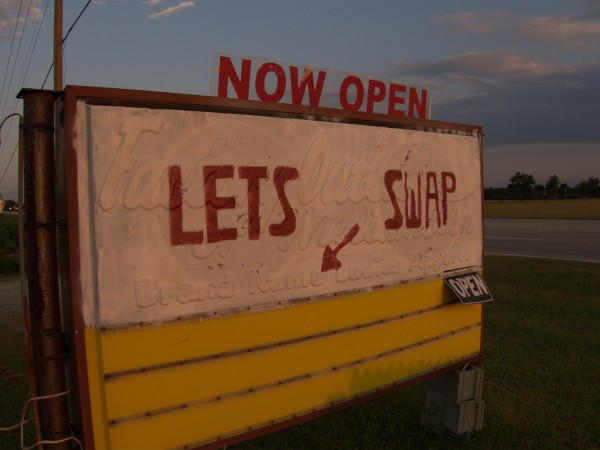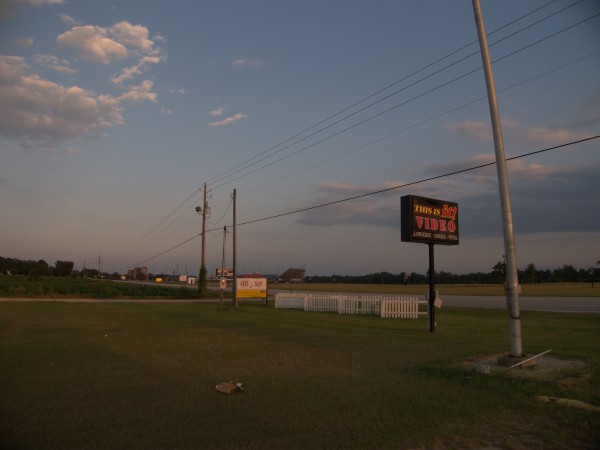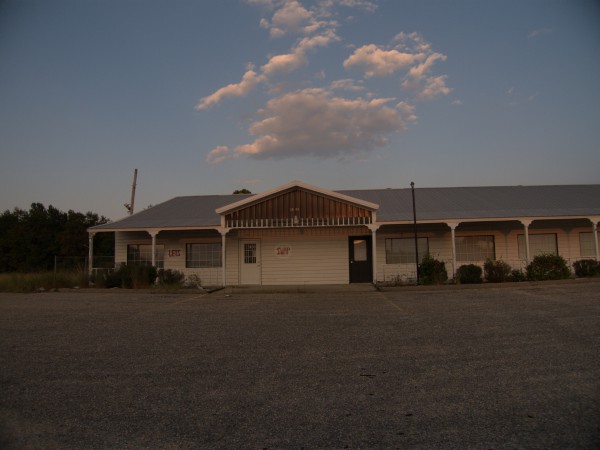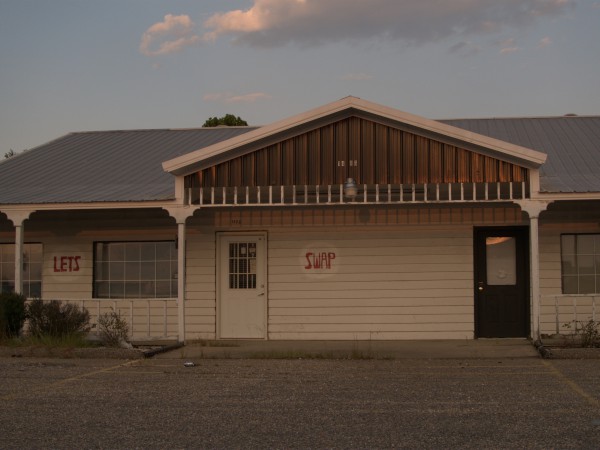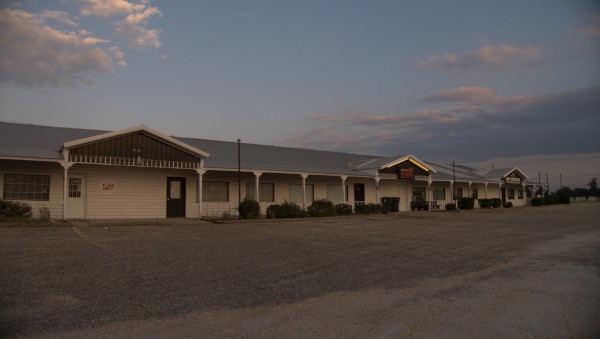 (also added the street address for the Surfside Beach location)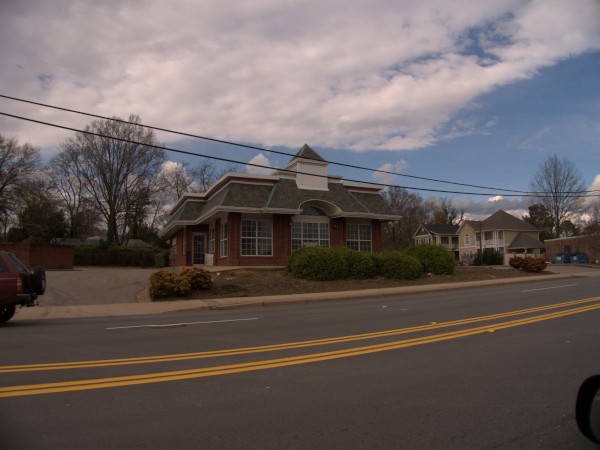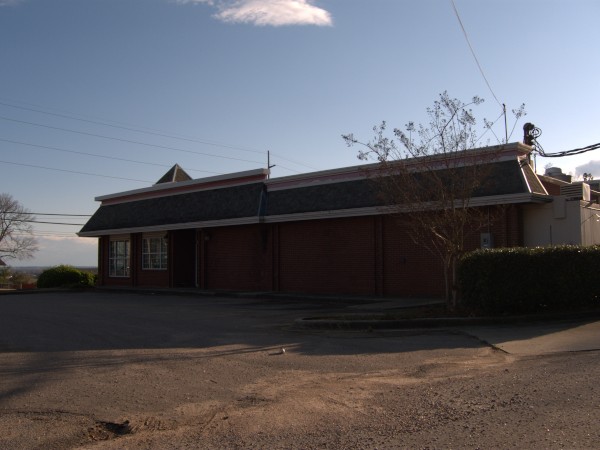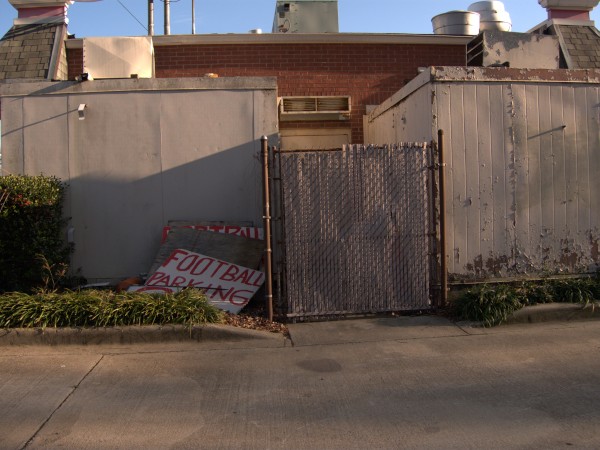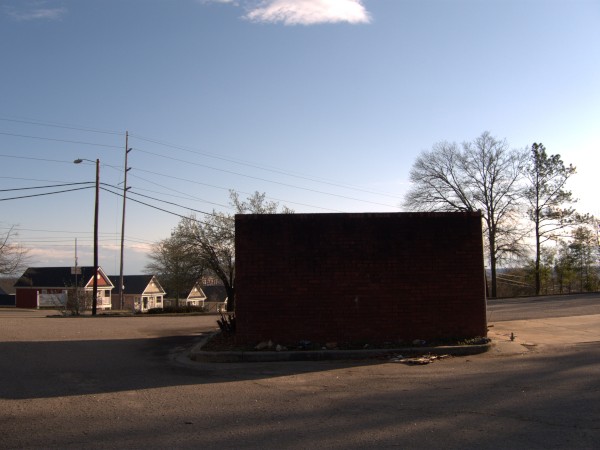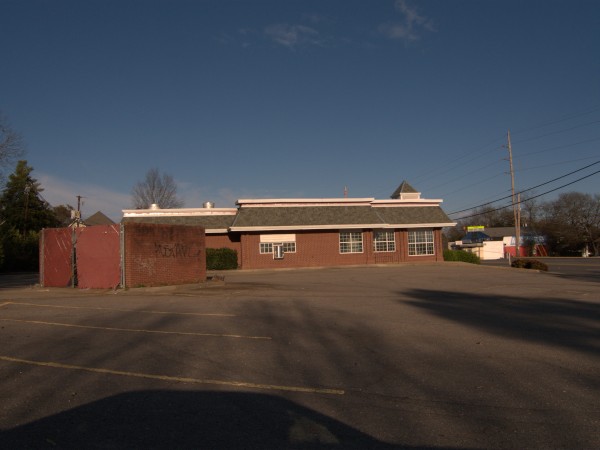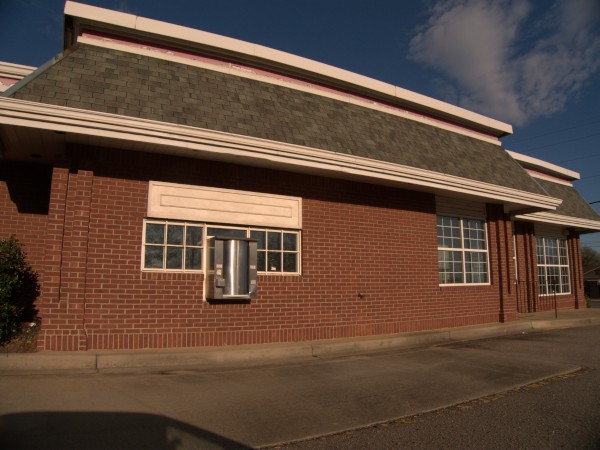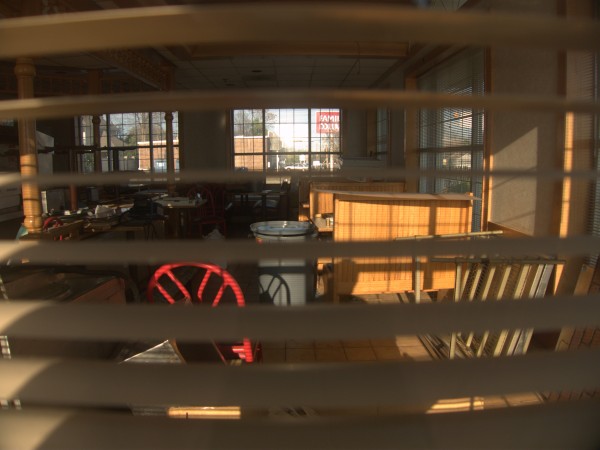 A couple of people have mentioned this former KFC building on Rosewood Drive. According to commenter Beth, it closed as Taste of China Hut about 3 years ago, and is still owned by the same folks. I see that there are still Taste of China Huts on Decker Boulevard and Main Street.
This setup is interesting in that the dumpster alcove is freestanding and brick. I came up on it from behind and couldn't figure out what in the world it was until I got to the other side.
Notice the sign for Football Parking stowed behind the building -- It seems like a long way to walk from there to the stadium, but if you're crazy enough to brave a game day anyway, I guess it's not out of the question.
(Hat tip to commenter Beth, and some others I've forgotten..)
UPDATE 11 July 2014 -- This building is gone: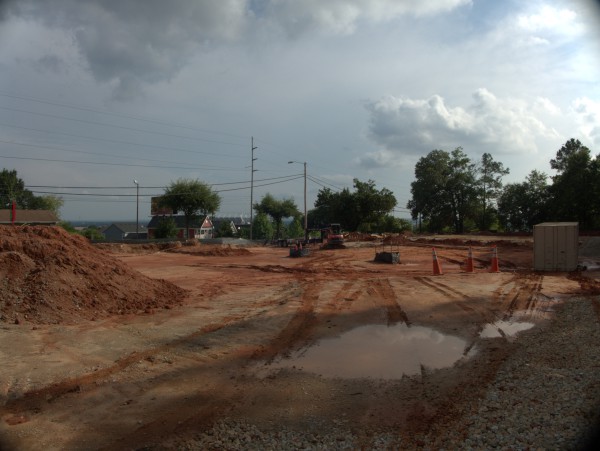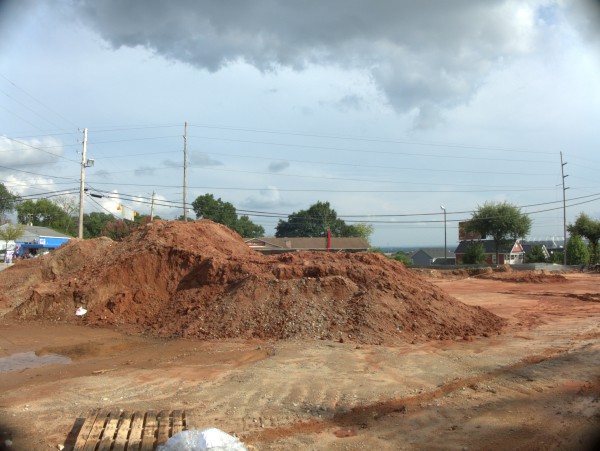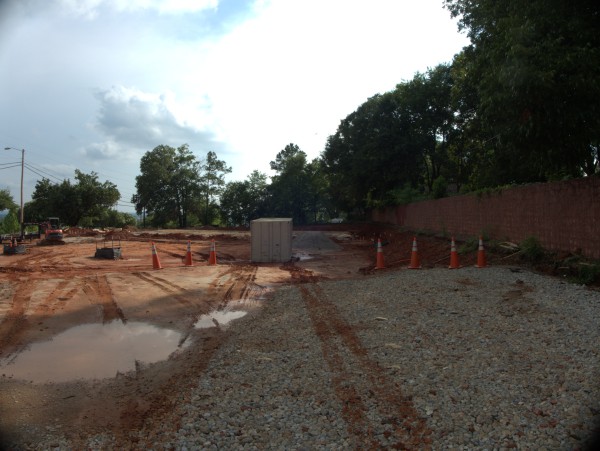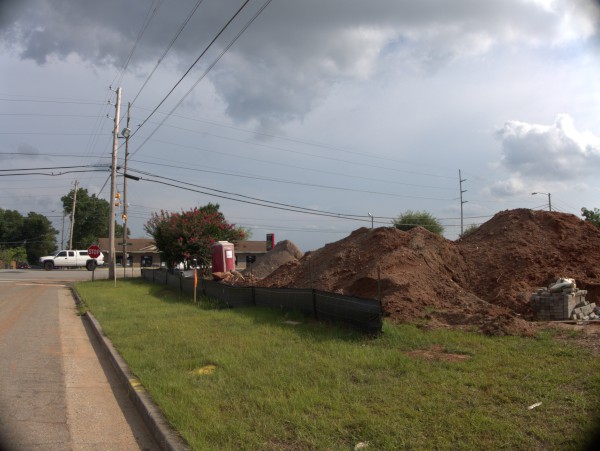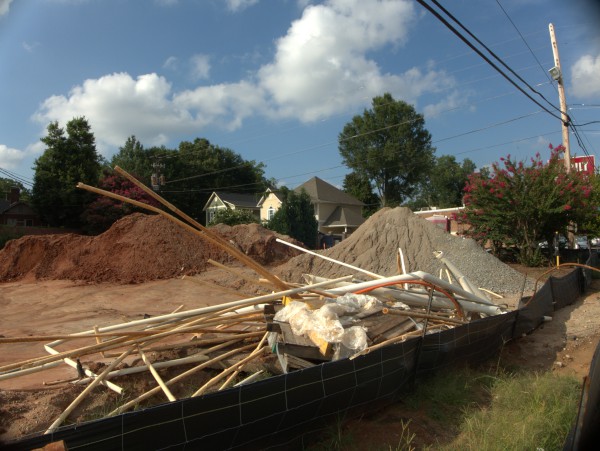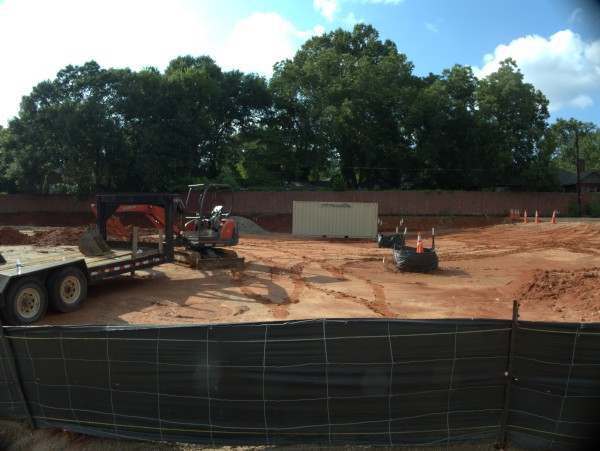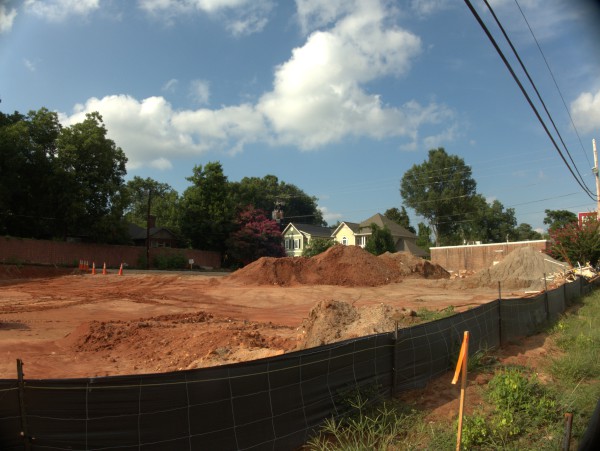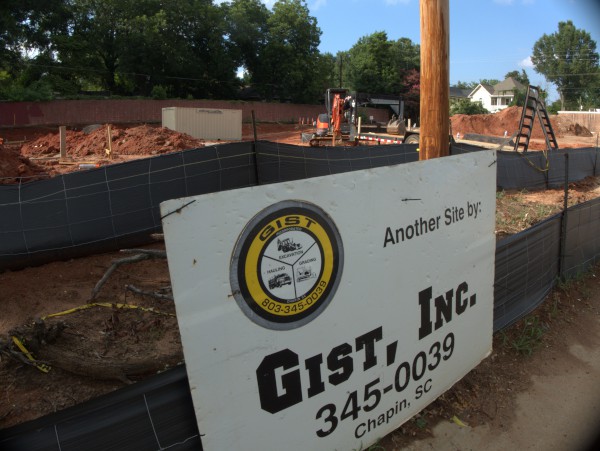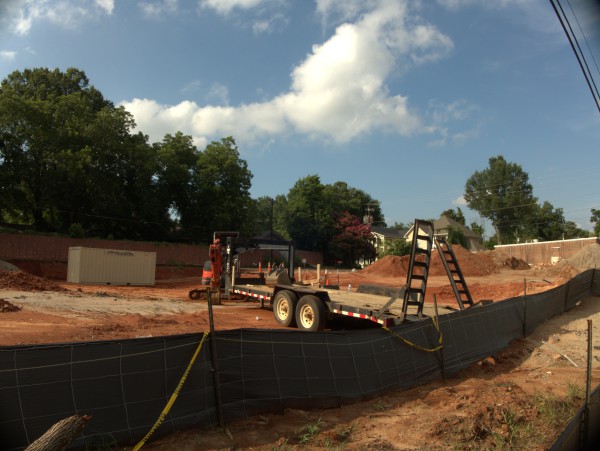 Posted at 12:55 am in Uncategorized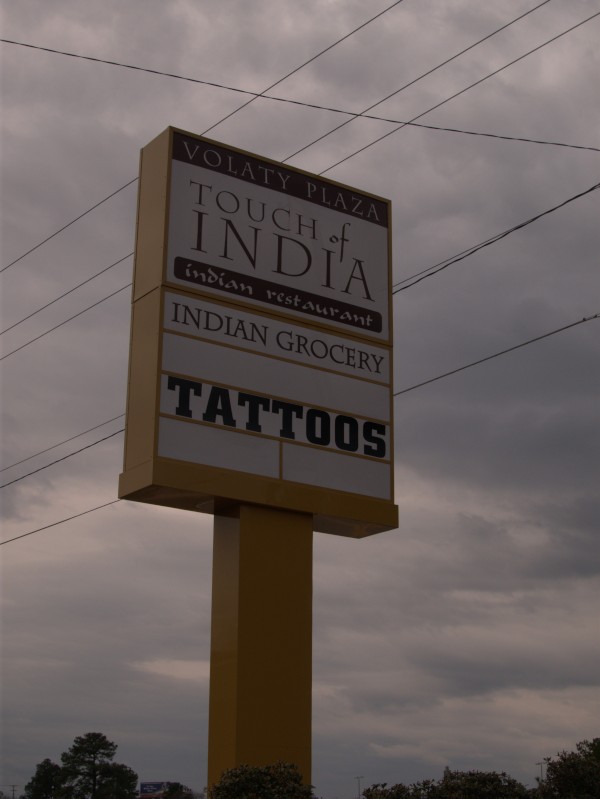 I've updated my original post on Touch of India. Please leave any comments there.
Posted at 2:20 am in Uncategorized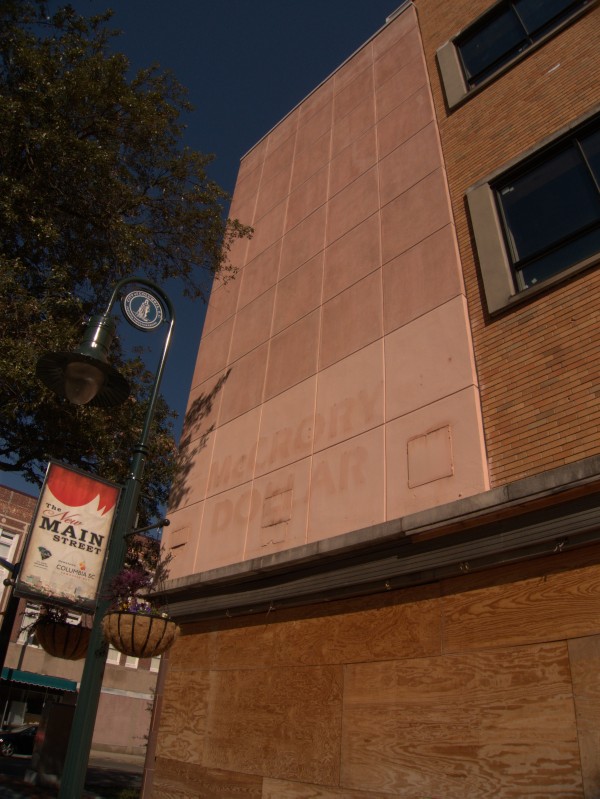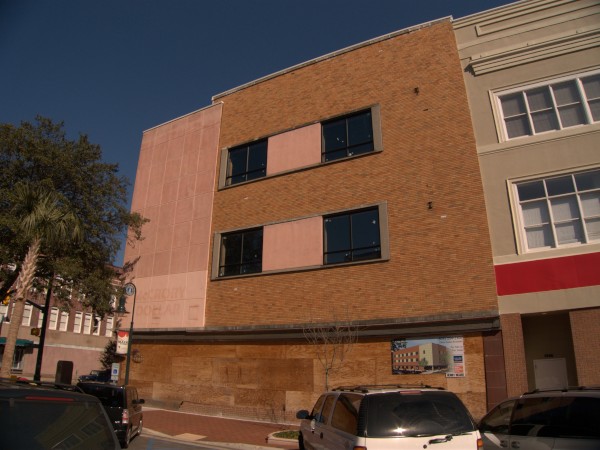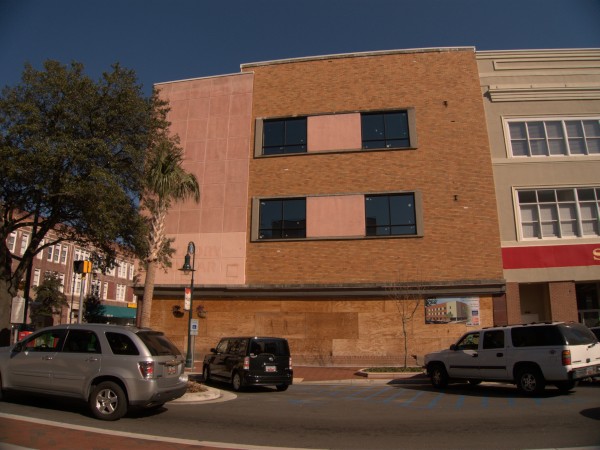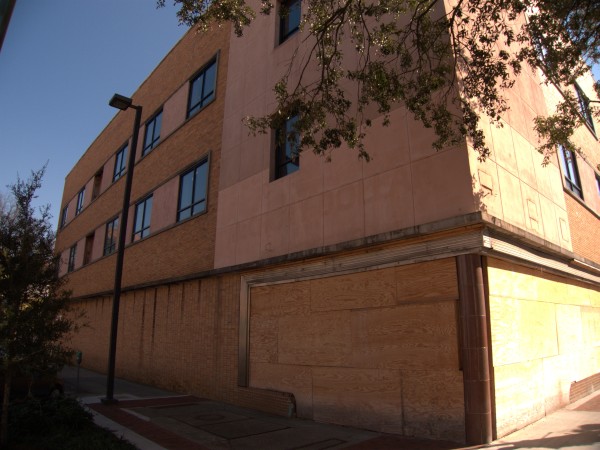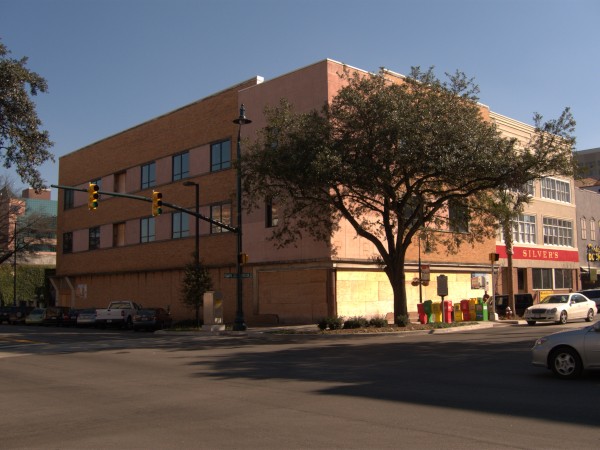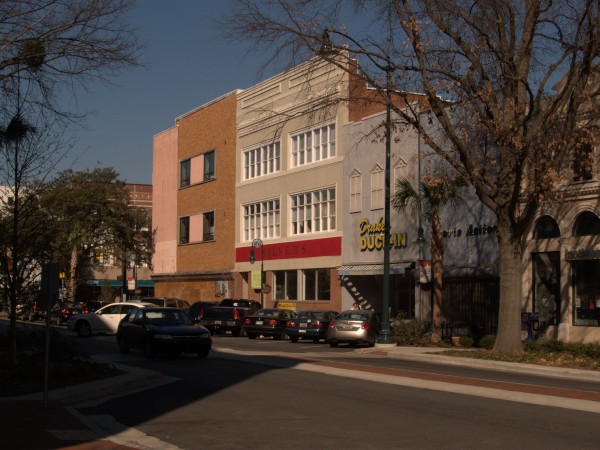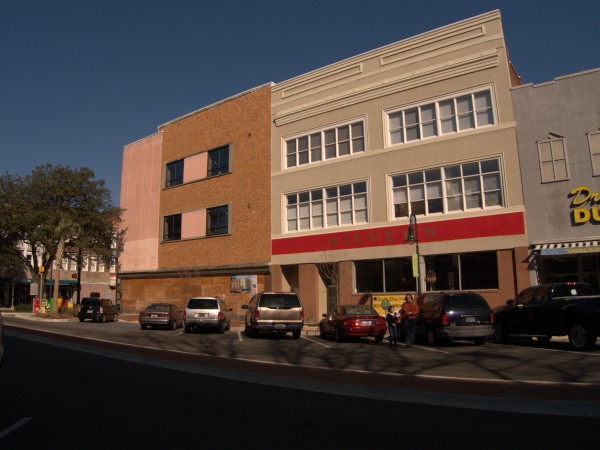 Here's another old-school five and dime type operation on Main Street, right next to Silver's.
I'm not sure I ever went into McCrory's. Certainly it was already in decline when I was growing up, and for that type of retail, we were more likely to go to Woolworth's at Richland Mall, Dodd's at Forest Lake or Rose's at Trenholm Plaza.
My memory is that it did survive up to my college years in the early 1980s, and that it then tried to morph into a Family Dollar type operation which did not last long.
This Loopnet listing is interesting in that it has an optimistic artist's rendition of the building converted into
Renovated 31,000 SF of Class A office space for sale or lease. Suites available from 1,500 SF to 30,000 SF.
That is slated for 2011, but I don't think I've ever seen work going on at the site, and it looks rather sad right now with all the plywood.
UPDATE 19 March 2010: Added Revco Drugs to the post title based on the comments (and verified in the 1998 phonebook).
UPDATE 21 September 2012 -- These pictures from 12 January 2012 show work on the site: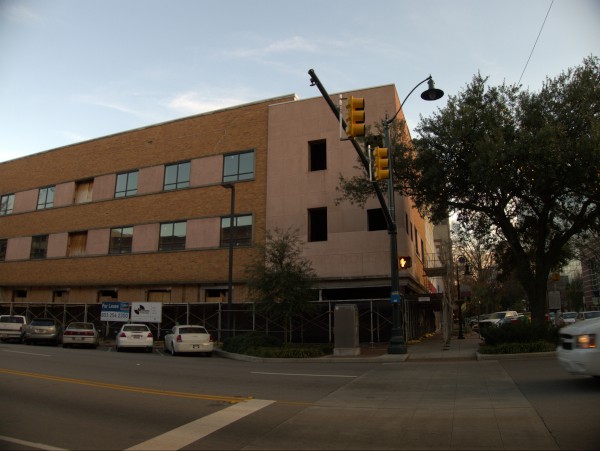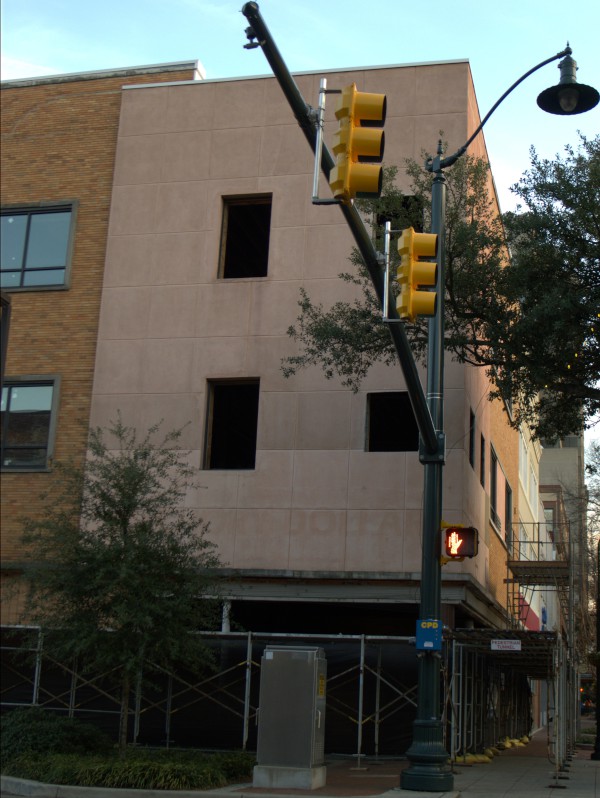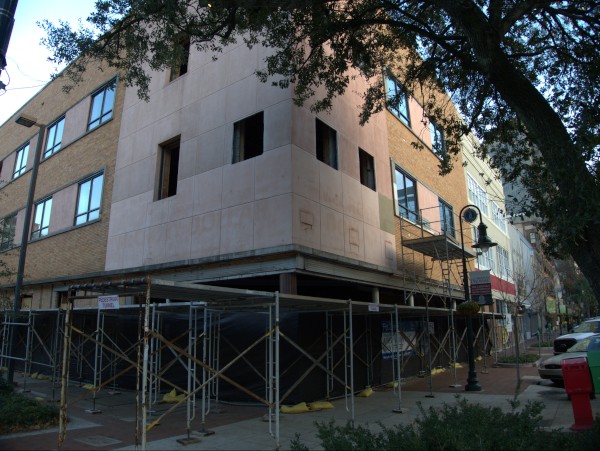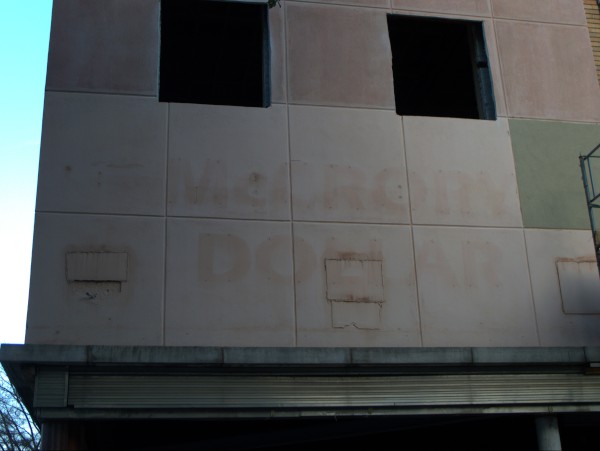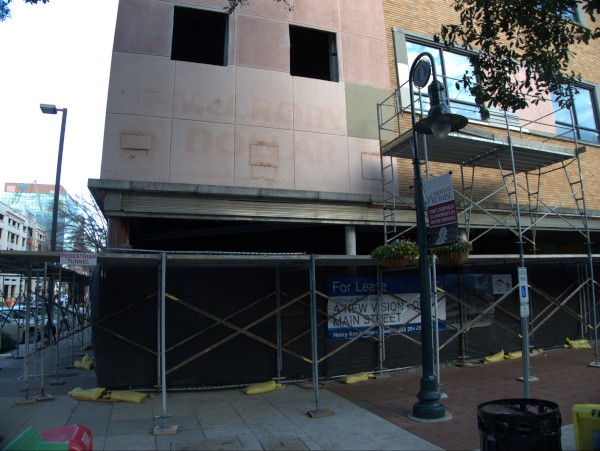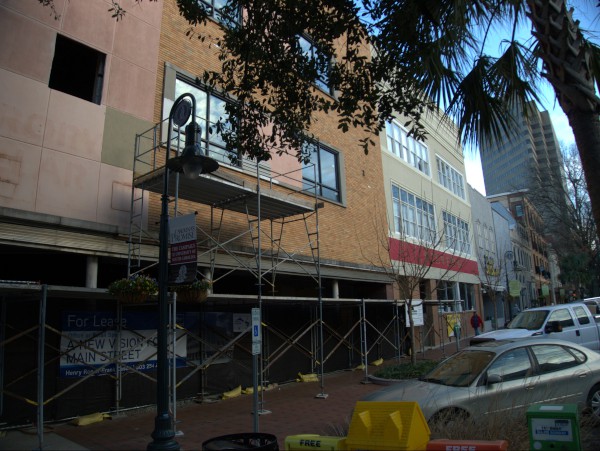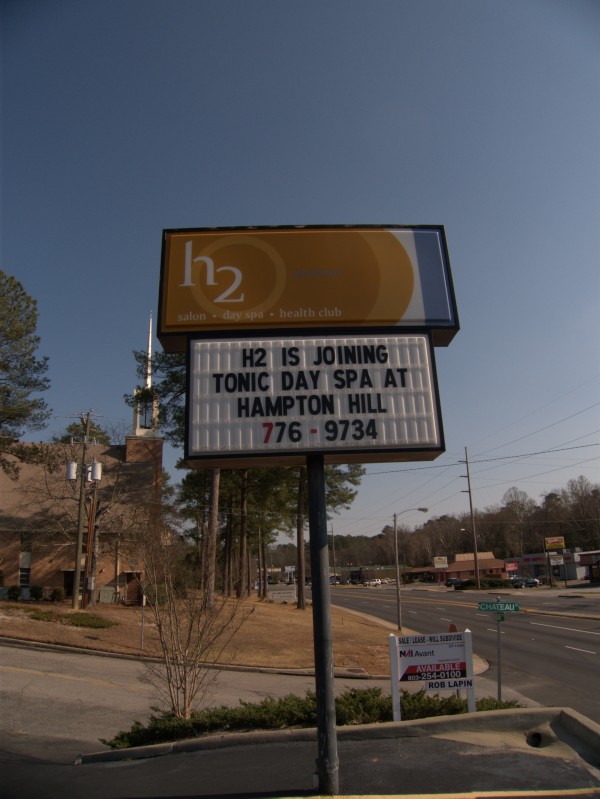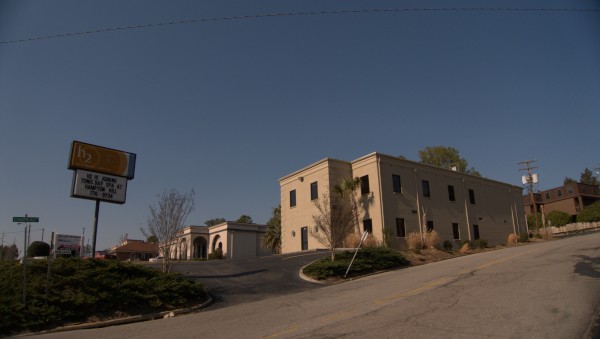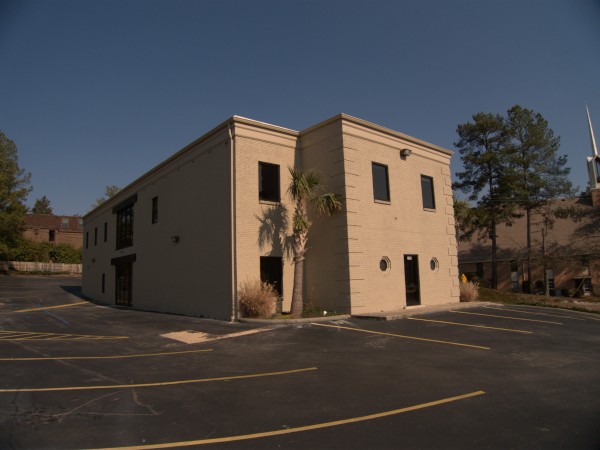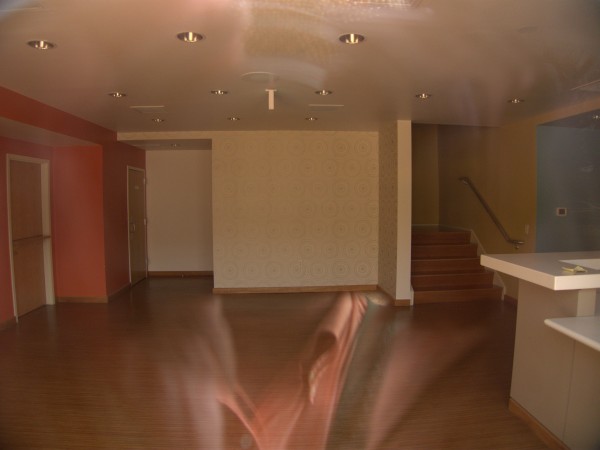 This building, across the street from Richland Mall and just south of Moe's has been a number of things over the years, with none of them seeming to last long. Right now, I can only find two other names (and a Doctor's practice) before H2, but I'm sure there were many others as loopnet says the building dates back to 1969. Part of my difficulty may be that the address is sometimes given as "2100 Beltline Boulevard" and sometimes as "2100 N Beltline Boulevard". One operation I sort of recall had an odd name as though it was a Christian Youth Fraternity or something like that.
I'm not sure what "joining" means in the case of H2 and Tonic. I suspect it just means "we transferred your membership". The H2 facebook page seems unchanged since last year, so it's possible the place was closed for a while before I noticed it.
UPDATE 21 May 2010 -- Here's an ad for European Health Spas (as mentioned in the comments) from the 19 Feb 1979 edition of The State. I can explain why the street address doesn't match. The ad lists 2204, which apparently doesn't exist today (at least as google-able retail), but clearly the ad namechecks "Richland Mall". Perhaps there was a street renumbering in the 1980s? Anyway I've added it to the post title and here's the ad: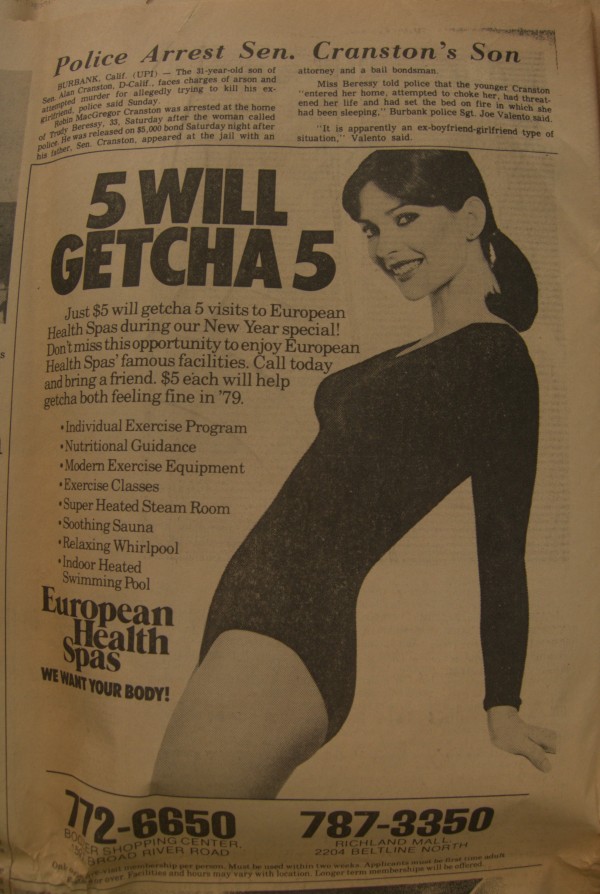 UPDATE 29 July 2010 -- Apparently it's going to be Austral Salon next: