Archive for the 'mall' tag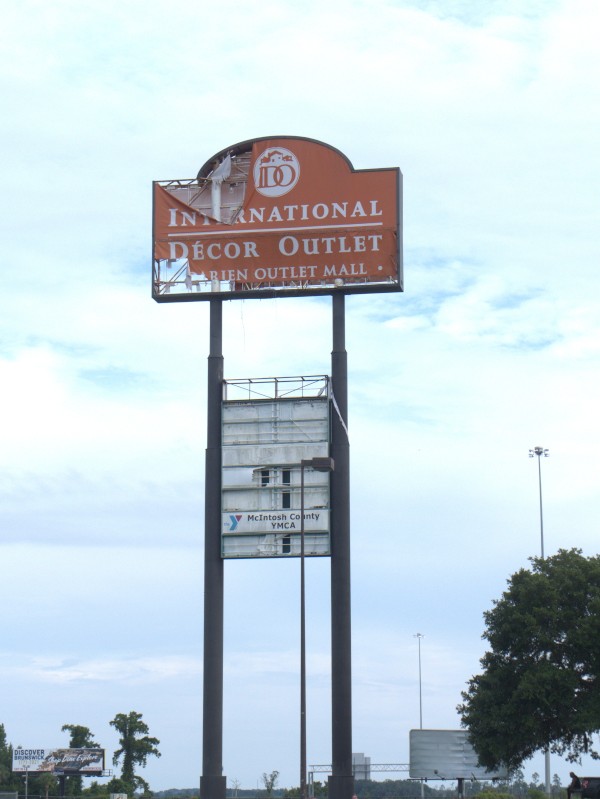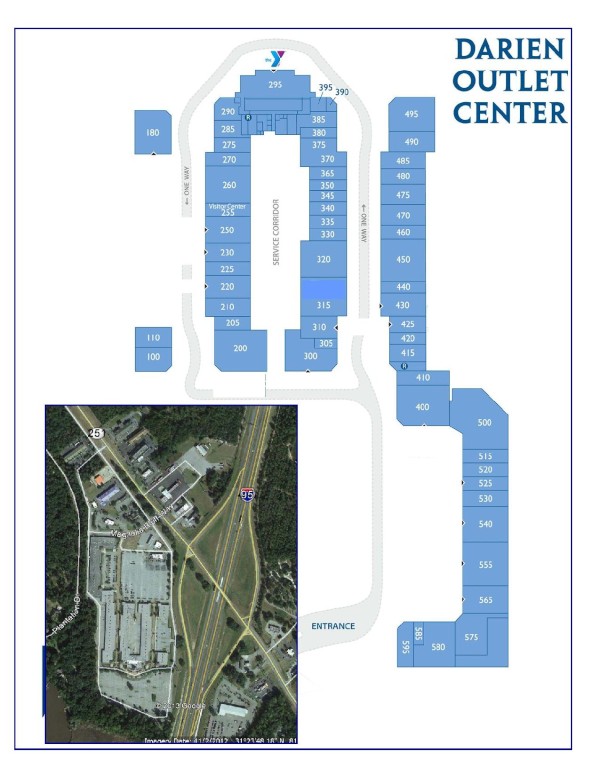 This outlet mall is in Darien Georgia on the west side of I-95 Exit 49 (across the interchange from the old Cafe Risque). I used to stop there from time to time on my way to Fernandina as they had one of those overstock "Giant Book Sale" storefronts where I picked up an interesting title or two over the years.
Starting around 2015 however the place started going downhill fast. I'm not sure why, as at the time the decline started, the buildings were still well maintained and attractive, and I-95 was certainly as busy as ever. I suppose it was part of the general Internet-based retail hollowing out that we have seen in many places. Now the entire place is vacant, and even the antiques store, which I thouht might still be going, is just abandoned stock from the defunct operation, though it does host a large colony of feral cats.
Apparently there have been a number of things that have *almost* happened here, with one of them, International Decor Outlet getting as far as opening their doors before folding. I'm not sure exactly what went wrong, but the whole concept which seems to be something like connecting manufacturers in China with US storefronts seems odd and hard to understand, and the company also got into trouble in a Jacksonville mall and downtown Jacksonville as well.
In mid-2020 another developer passed on the mall due ostensibly to COVID-19. I suspect that is what led to Ruby Tuesday giving up the ghost. As I recall, it was still open when I drove to Fernandina in December of 2020, but the building is now a local sports bar. Along with the restaurant, several gas stations and convenience stores a victim to the mall's closure, and I may feature some here later.
You can see the mall in happier times in some nice pictures at this real estate site and note the demographics that make this place really dependant on Interstate custom: Less than 20,000 people live in a ten mile radius of the site.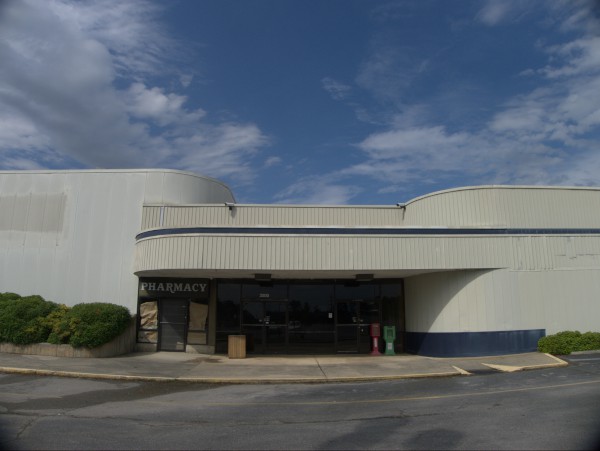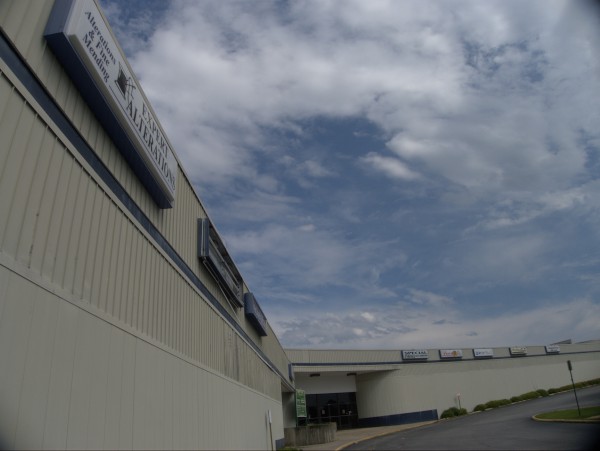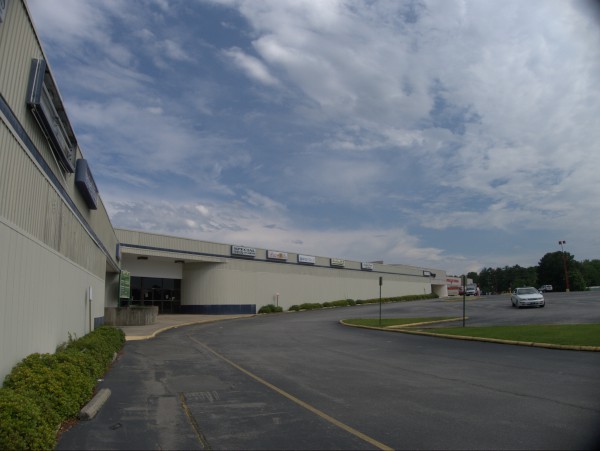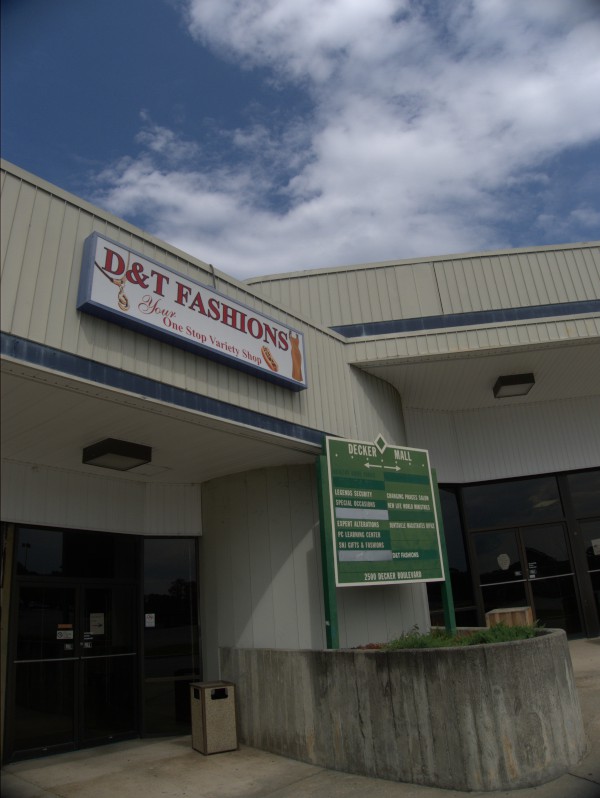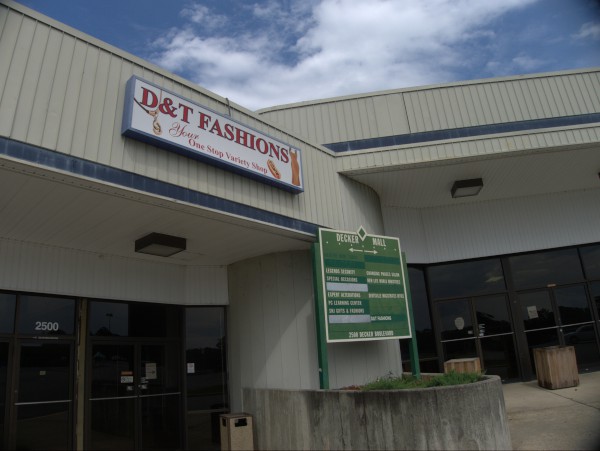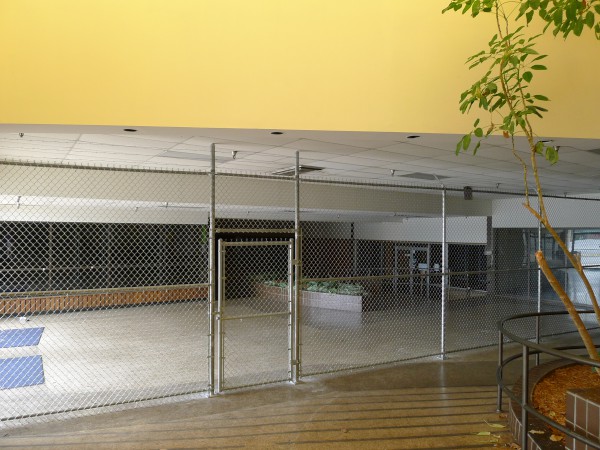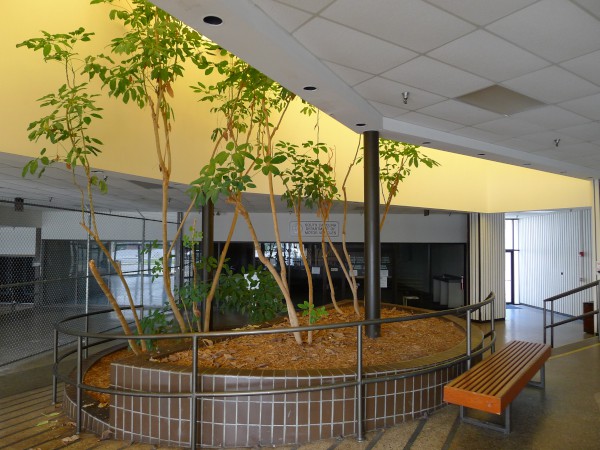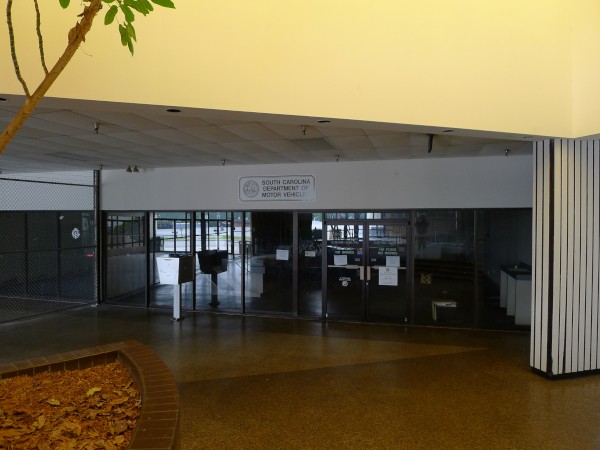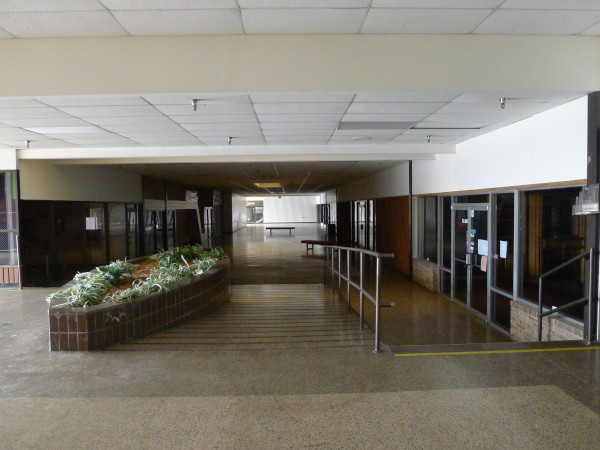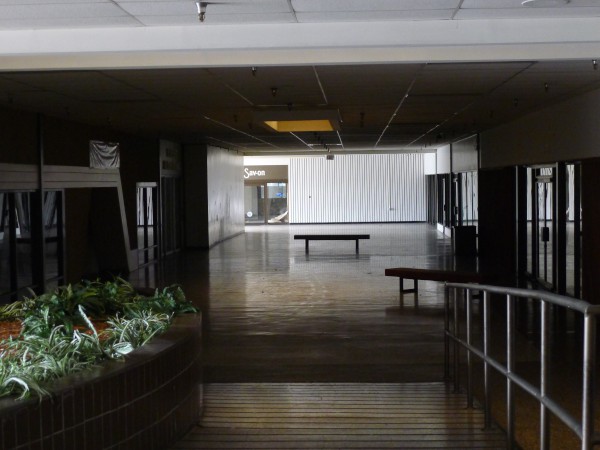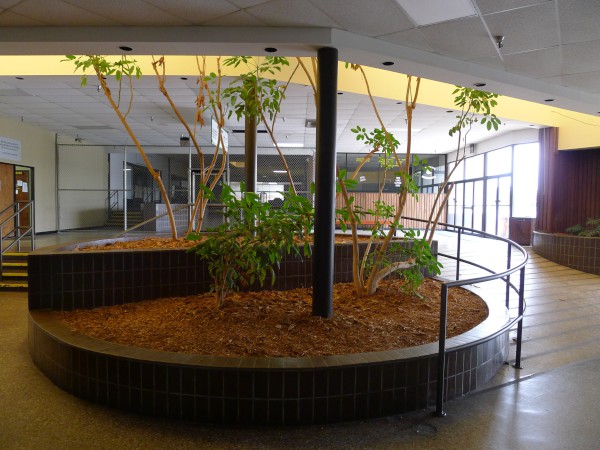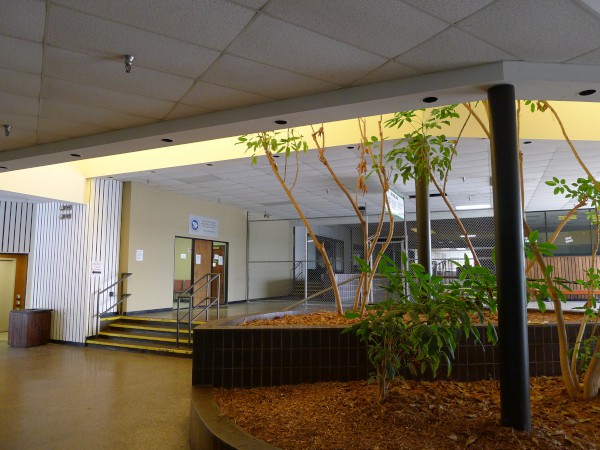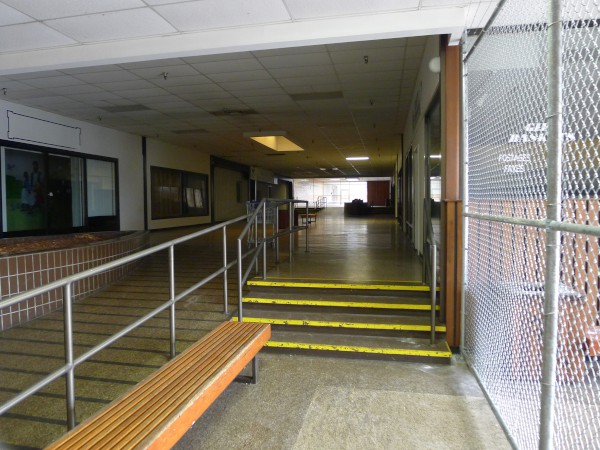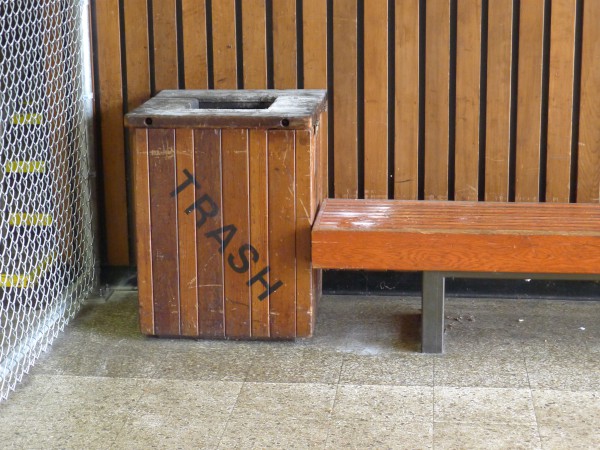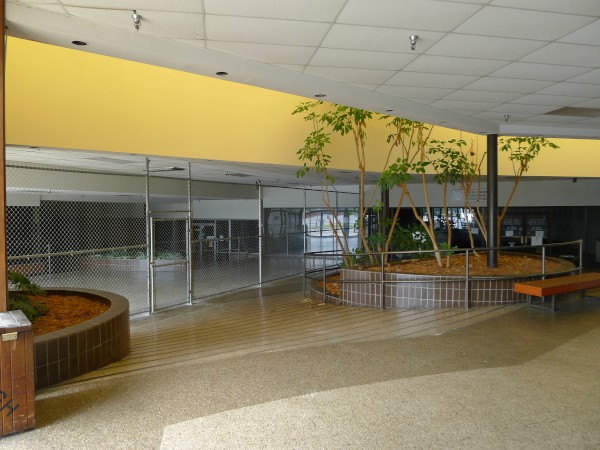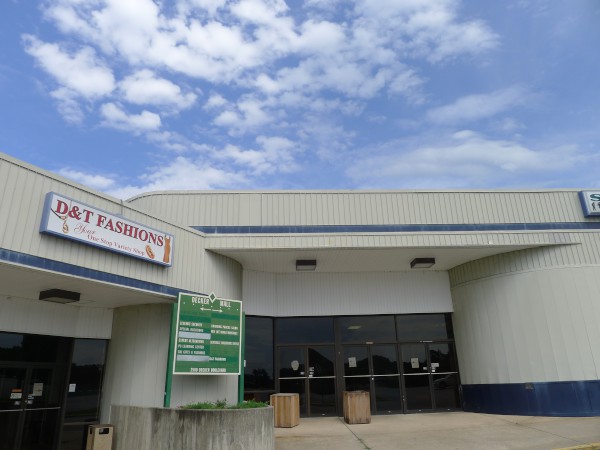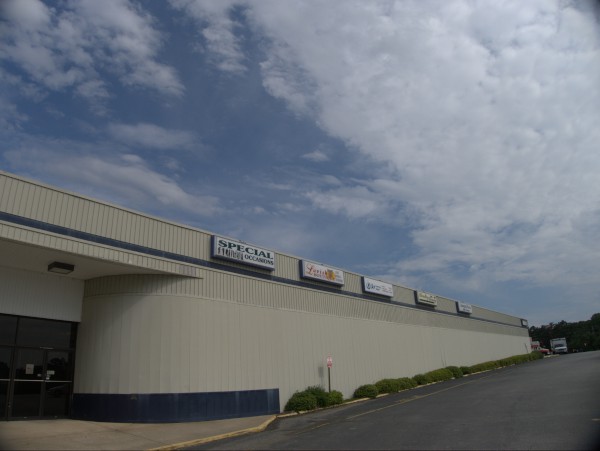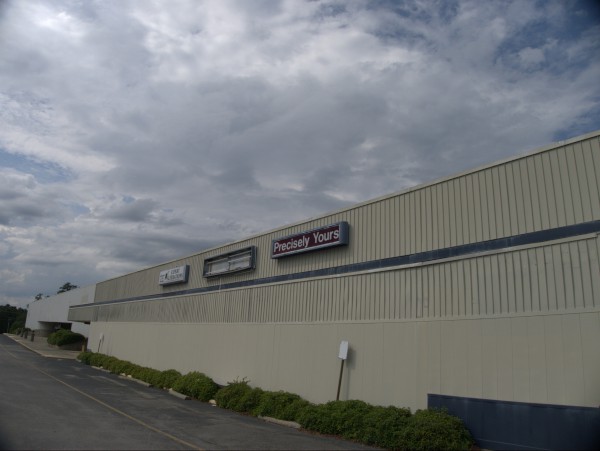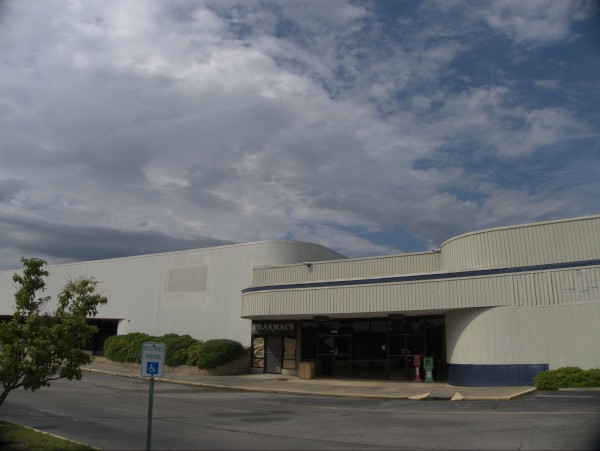 Well, it's unclear to me exactly when the hammer finally dropped, but all the remaining private businesses are now out of Decker Mall. I decided to stop by last week, and found that once I was inside, the only occupied space was the Dentsville Magistrate's office, and that most of the mall is now cordoned off by wire fencing in advance of the place being remodeled to house a bunch of Richland County Government offices.
I've written in various places about Decker Mall tenants, and thus in passing about the mall itself, but I've never done an entry for the mall per se.
In the beginning, Decker and Bush River malls were twins, with both being laid out as a strip anchored on one end by Richway (with the distinctive triangles on top) and on the other end by Kroger. The only real difference was that Bush River had a multiplex and Decker did not.
I'm not sure when Decker Mall opened, but it was definitely while I was in High School, probably around 1977. At the time, Columbia Mall was thriving, and just a few blocks away, so from the get-go, Decker had to find a different focus. With a discount store as one anchor, and a grocery as the other, the stores in the interior between the two tended to be smaller national chains, local chains, and one-off locals. Apart from clothing and other stores that didn't catch my teenage eye at all, I can recall Gateway Books, Flipside Records & Tapes, and my favorite, The Land of Oz video arcade.
After the Richway chain folded, Gold Circle took that anchor spot, and then when they folded, Target moved in. As far as I could tell, they always did a good business, but at some point a general mania struck Decker Boulevard businesses and they all begain a flight to Nort East Two Notch Road regardless whether there was still a customer base at the original location. When both Target and Kroger joined the flight, the writing was not only on the wall for Decker Mall (that wall had been scribbled for years..) but now it was etched in.
A number of local businesses that didn't rely on foot traffic held on there for years, but the last is now gone, and the next phase of life for the mall, if not *as* a mall is about to begin.
I have gone through a number of old city directories at the RCPL and have come of with this list of tenants for various years:
1977:
Does not list a mall at 2500, just Richway Stores.
1978:
Decker Mall Shopping Center
Richway Inc
Richway Auto Center
Ann & Andy Fashions
Fashion Bug of Bush River Inc
Dipper Dan Ice Cream Shop
The Peanut Shack
Country Corner gift shop
Reflections
Fayva Shoes
Good Health Food & Nutrition
Jenkins Flower Botique Inc
Manufacturings Outlet Shoes
Land of Oz
The News Room (restaurant & lounge)
Command Performance
Yummy Yogurt
Flipside Records & Tapes
Kroger Sav On Food & Drugs
1979:
Decker Mall Shopping Center
Richway Inc
Richway Auto cener
Fashion Bug of Bush River Inc
Country Corner
Reflections (men's clothes)
Gateway Books
Fayva Shoes
Jenkins Flowers & Bride's Place
Manufactures [sic] Outlet Stores (shoes & clothes)
Land of Oz
Command Performance
Harvey's Warehouse (stereo equipment wholesale)
Flipside Records & Tapes
Kroger Sav On Food & Drugs
Kroger Sav On Pharmacy
1983:
Decker Mall Shopping Center
Richway Inc
Richway Auto Center
Arnold's Formal Wear
Four Seasons
Mill Fabrics
The Micro Shop
The Shoe Tree
Land Of Oz
Command Performance
Flipside Records & Tapes
Kroger Sav-On Food & Drugs
Video Ventures
Melody Music Center
Olan Mills Inc
Rush's Fast Foods
1988:
Cola Magic & Customs Shop (theatrical supplies & equipment)
Decker Mall Shopping Center
Gold Circle
Four Seasons
China City
Command Performance
Kroger Sav-On Food & Drugs
Stone Works Home of The Dirt Cheap Mine (jewelery specialty)
Melody Music Center
First Federal of South Carolina (in Kroger?)
Olan Mills Inc
Rush's Fast Foods
State Department of Highways & Public Transportation
Columbia Magic & Costume Shop
Magic & Miracles Productions
Pettit William H Agency (talent agency)
Expert Alterations & Fine Mending
1993:
Target
China City
Kroger Sav-On Food & Drugs
First Savings Of South Carolina (in Kroger?)
Rush's Fast Foods
State Department of Highways & Public Transportation
Expert Alterations & Fine Mending
1998:
Branch Banking & Trust Co (in Kroger? in Target?)
Carolina First Corporation (where?)
China City of Columbia
Expert Alterations
Kroger Drugs
Rush's Food Systems
Target Store
2003:
Healthy Home Foods Inc
Legends Security & Sound
Little China Buffet
Pup's Barber Shop Express
Rush's
Special Occasions (catering)
Expert Alterations
Precisely Yours (beauty salon)
Changing Faces (beauty salon)
New Life World Ministries
2008:
Arcadia Self Storage
Legends Security & Sound
Little China Buffet
Division of Motor Vehicles
Nunies Mini Stand (convenience)
Richland County Magistrate
Rush's
Special Occasions
D & T Fashions
Expert Alterations
Changing Phaces (beauty salon)
New Life World Ministries
2011:
Extra Space Storage
Shekinah Glory Family Care (childcare)
Special Occasions (banquet rooms)
Legends Security & Sound
Division of Motor Vehicles
Richland County Magistrate
Expert Alterations
New Look New U (beauty salon)
Rush's
Note that some time between 1988 and 1993, the mall offices stop being listed, so perhaps the mall as a corporate entitiy was gone by that point. Note also that Rush's and China City/Little China are outparcels.
Here is Sky City's writeup on Decker Mall, and following are pictures and links from my other Decker Mall posts.
My post discussing the county purchase.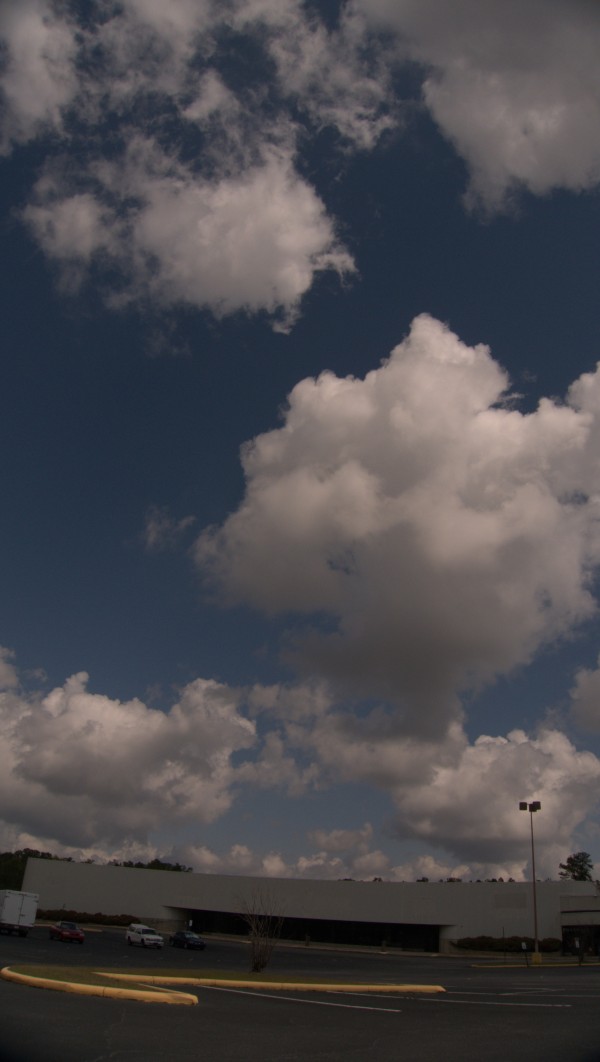 DMV: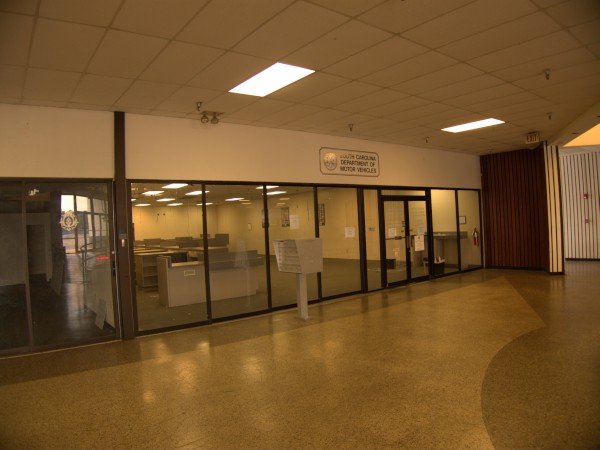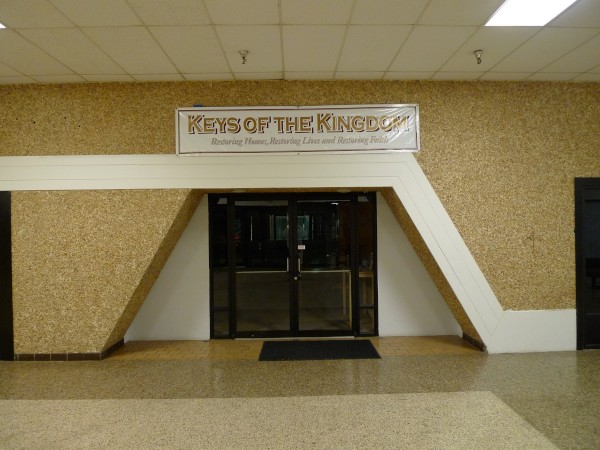 Richway / Gold Circle / Target: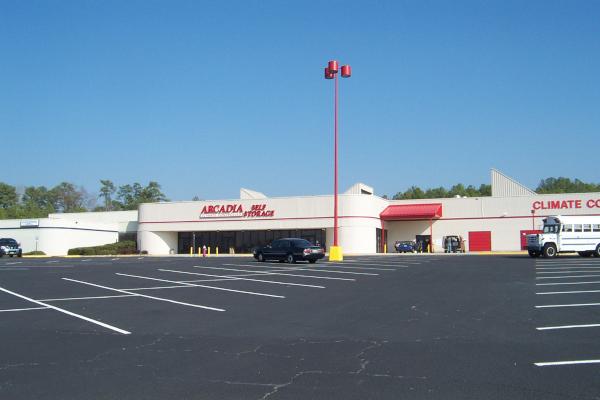 I know I have some other Decker Mall pictures around, and I will add those as I find them.
Posted at 1:31 am in Uncategorized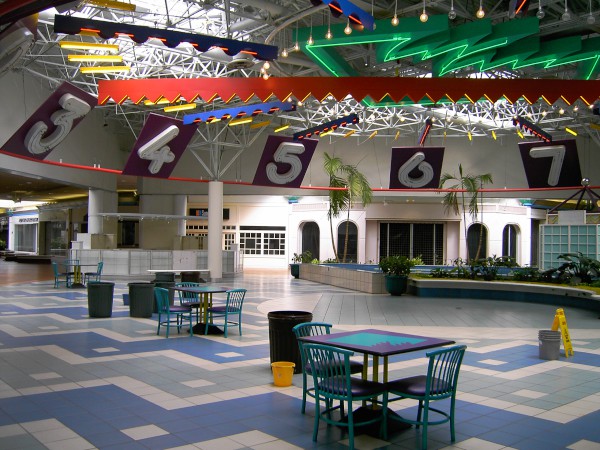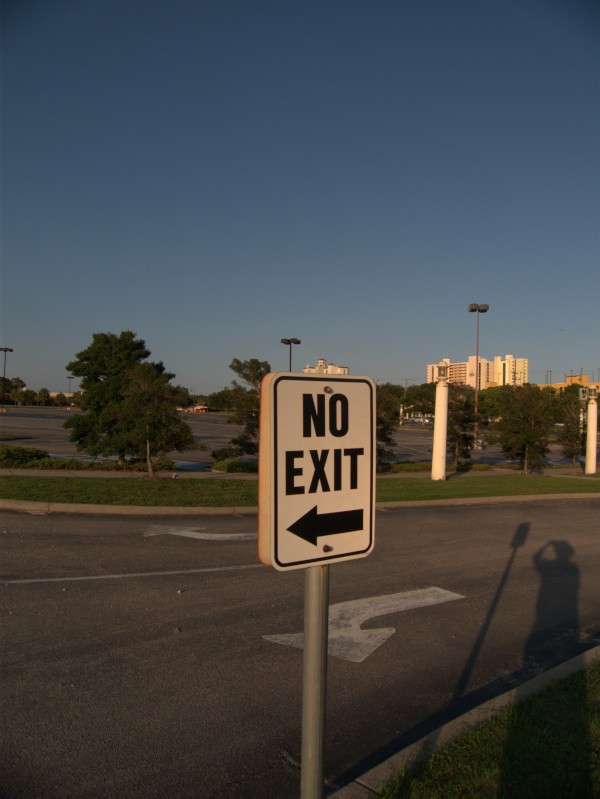 First let me note that although no description of Myrtle Square Mall would be complete without the famous clock, I did not take that picture. It appears in the Wikipedia entry for the mall, and has been explicitly released into the public domain.
What can I say about Myrtle Square Mall? For many years, it was the mall on the Grand Strand and the "general" shopping destination on any beach trip. To be sure, there were outlet and specialty malls like Waccamaw Pottery, but MSM was the "it" place.
As kids, of course, The Pavilion was first in our hearts and minds, but over the years we took many trips to the mall as well.
It had a different mix of retail than anything in Columbia, with anchor stores I never saw elsewhere like Peebles as well as standard stores like Sears and Eckerds. For me, the main attraction was the book store just off the clock court. I cannot now recall the name, but it was either completely independant, or part of a small chain that never opened in Columbia, and I found that it had an interesting selection of science fiction books that I didn't see elsewhere. Recall that in those days the only books you knew about were the ones you saw on the shelves -- there was no Amazon where you could search for any book in the world, or that would recommend books to you based on your previous purchases. I can particularly recall finding there a a Virgil Finlay collection I had never heard of, and had no clue existed. Finlay was an old-school SF pulp illustrator who had an amazing black & white line and stipple style that was unsurpassed (in my opinion) until Stephen Fabian came on the scene, and in retrospect I think Finlay's work has aged better than Fabian's. Anyway -- I bought the book :-)
The record store (whose name I have also forgotten) seemed to have slightly different selections than the Columbia stores as well.
Apart from the stores, obviously I have to say something about the clock. It sat above the central court, and was a marvel of conceptual design. The version pictured above is in fact one of the later versions -- the first version had 60 colored balls suspended from the ceiling in a circle with suspened numbers (similar to those pictured) at every five minute mark. The bulk of the balls were one color, with the ones at the five second intervals being another. As ever second passed, another ball would illuminate until all 60 were lit at which point they would all go dark and the next numeral would be illuminated for the current minute. Hmm, or maybe the numerals were for the hours and there were seperate balls for the minutes. At any rate, you could sit there and watch the time pass before your eyes so to speak. It was not a particularly easy clock to read -- it always seemed to take a minute to figure out just what was lit, but it was a fun clock to read.
I remember a number of interesting solo trips to the mall. The first was when I had just started to drive. My mother and I had gone to the beach to winterize the beach house, and having done that, she agreed to let me drive while she walked on the beach. Well, that's an always risky permission to give to a teenager, and I headed straight to the mall, despite it being a 25 mile drive one way. I had no particular goal other than I was, by gosh, going to drive, but I did end up getting some Trixie Belden books for my sister's birthday from Sears of all places. Needless to say my mother was not pleased at being ditched for three hours longer than she had planned to be...
Another trip to Sears years later (and near the end of the store's life) for dryer parts also yielded a trove of retro flashlights of the kind I grew up with, and which I thought were no longer being made -- I still have four or five.
I'm unsure why Burroughs & Chapin decided to deep six the mall. Certainly it was somewhat dated, but that could have been fixed by a remodel. I suppose access was an issue, but it's not like there's an Interstate in Myrtle Beach, -- the replacement mall at Coastal Grand may have slightly better traffic at US-17 bypass and US-501, but it's not a slam dunk.
At any rate, by 2005 most of the stores had made the transition, and in 2006 they started knocking Myrtle Square Mall down. The fact that B&C owned the replacement mall meant that Myrtle Square never went through the "death of the old mall as the new mall draws stores and traffic" phase. It was not in B&C's interest to eake rents out of Myrtle Square while firing up Coastal Grand.
On the other hand, they seem not to have had any Plan B for the Myrtle Square Mall site. Currently the huge tract bounded by 23rd & 27th Avenues North on the north and south sides and Kings Highway and Oak Street on the east and west sides stands vacant (as does the other large B&C tract at the old Pavilion site). It's hard to believe that two such prime tracts in the heart of Myrtle Beach have sat vacant for so long. (Well, not completely vacant -- there's still an Office Depot which must have had a long term lease, and I saw signs of homeless presence in the bushes).
Posted at 11:37 pm in Uncategorized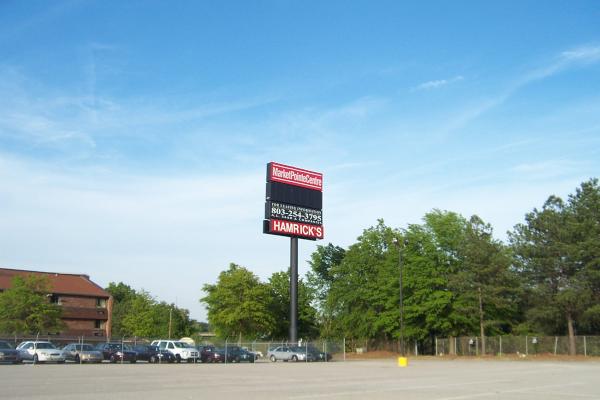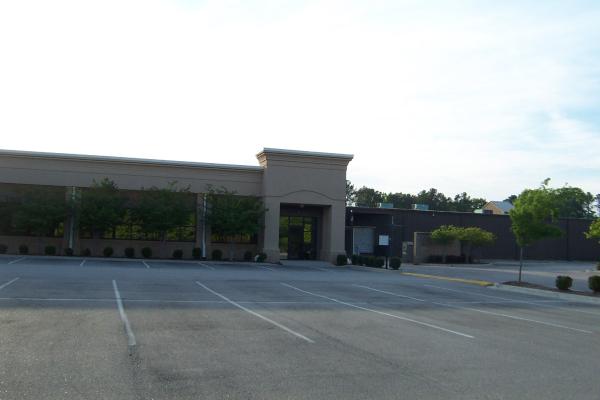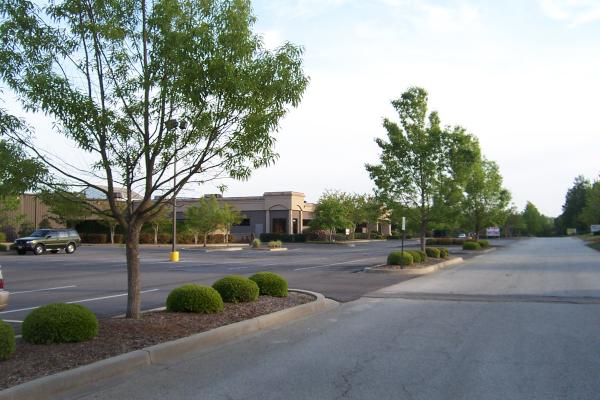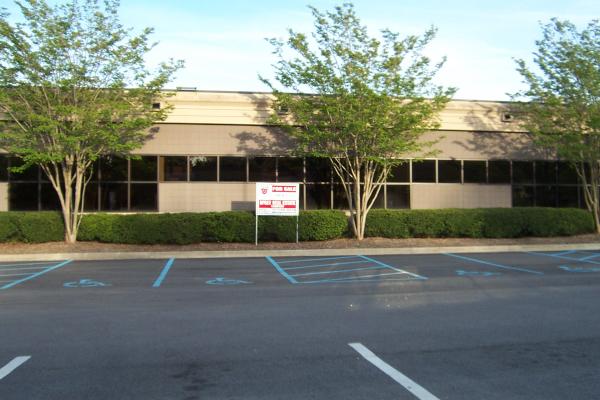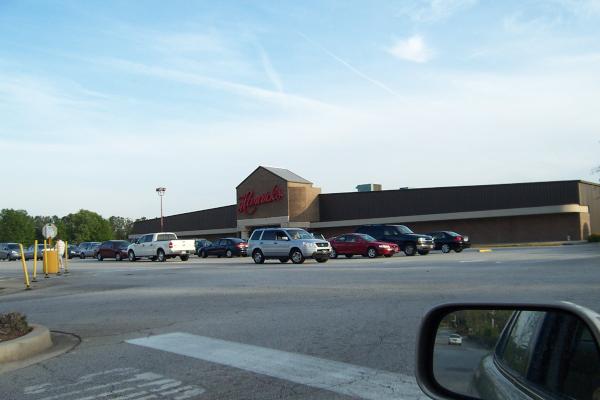 I don't remember what name this mall had when it first opened, but I'm pretty sure it was not Market Pointe Centre. I think it was something that emphasized the initial theme of the place like Outlet Point Mall.
At a certain time in the 70s, it seemed that everything was going to "outlets", and outlet malls sprung up everywhere. The largest and most famous of these in South Carolina (the way I recall it anyway) was Waccamaw Pottery in Myrtle Beach, but there were many others. Market Pointe or Outlet Point or whatever it was, was Columbia's attempt to cash in on the trend. Frankly it was never a place I was really interested in because as far as I could tell, "Outlet" essentially meant "little clothes store", and I wasn't interested in clothes stores, big or little. I suppose there were non-clothes stores there, but what really interested me were bookstores, electronics stores or hardware stores, and I don't think there were any of those. Still, I would always end up there when my cousins made one of their whirlwind shopping trips to Columbia, and the place always seemed busy to me. Apart from the outlet stores, I remember they had Columbia's only "Orange Julius" kiosk, though I never got to try one.
Sometime in the 80s, I think, the "Outlet Mall" concept ran into hard times. I don't know why exactly, any more than I know why it came into vogue in the first place. Waccamaw Pottery went under, with the mostly empty buildings still sitting there in front of Hard Rock Park today. A mall very similar to Market Pointe went through several unsuccessful incarnations while I was living in Fayetteville, and Market Pointe itself started to struggle.
I never seemed to get back there to check it out (apparently few people did..), but my understanding is that they soldiered on as a mall for a good while with lots of empty storefronts, but the writing was on the wall. Even the success of locating Hamrick's there didn't help the rest of the mall, and parts of it have now gone to state government offices and parts of it are for sale.
Outlet malls still seem to be viable on I-95; I can think of one in Santee, a couple in Georgia and one up in either NC or VA. I'm not sure why I-95 works and I-20 didn't, but I'll speculate that I-95 gets a lot of vacation traffic, with people more in the mood to spend money while the east-west traffic on I-20 is less festive and free spending.
Or maybe people just don't want to shop at a place that manages to mispell two of the three words in its name.