Archive for the 'bread' tag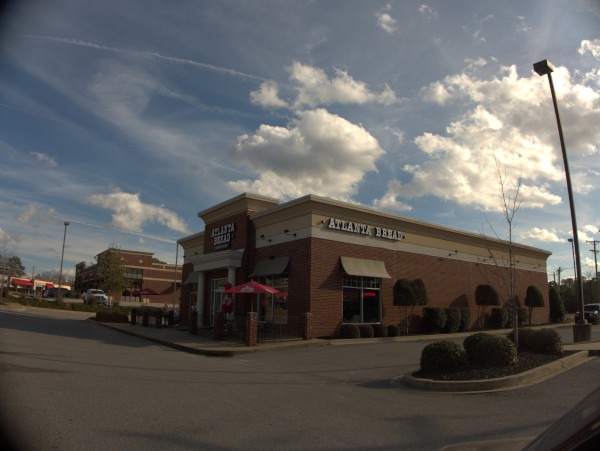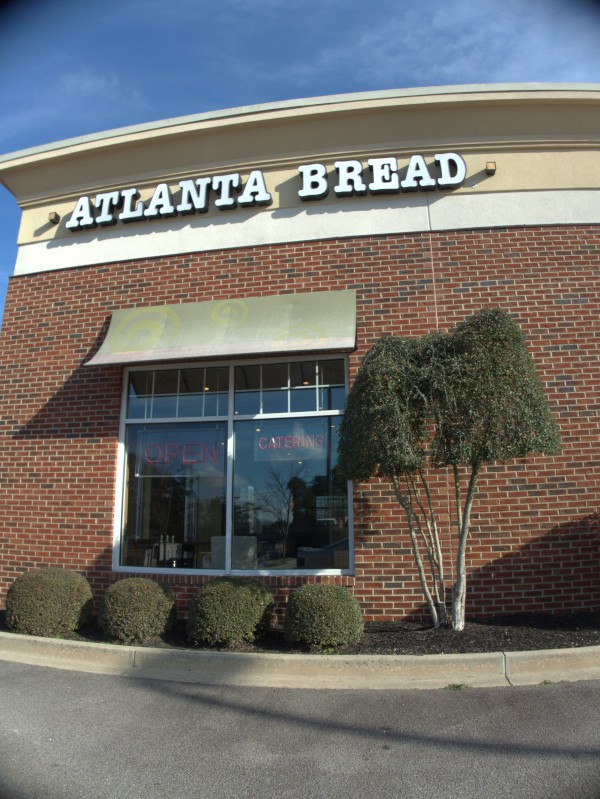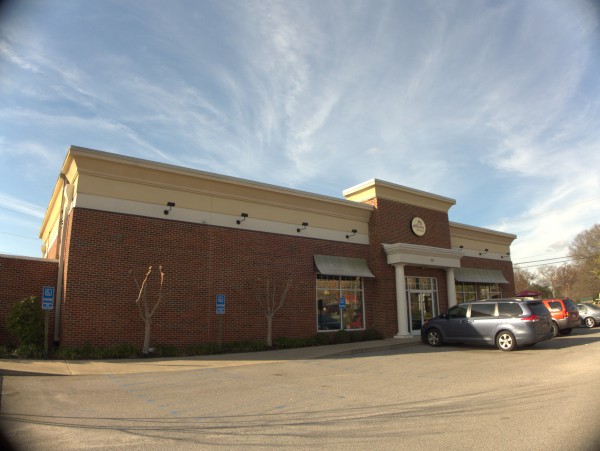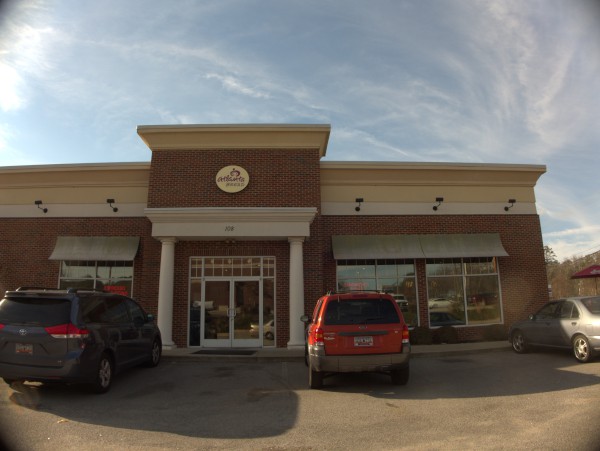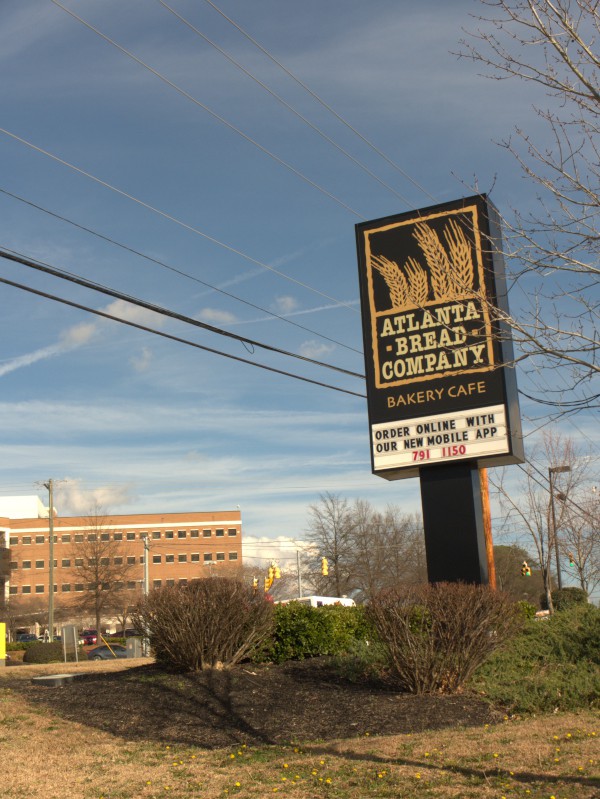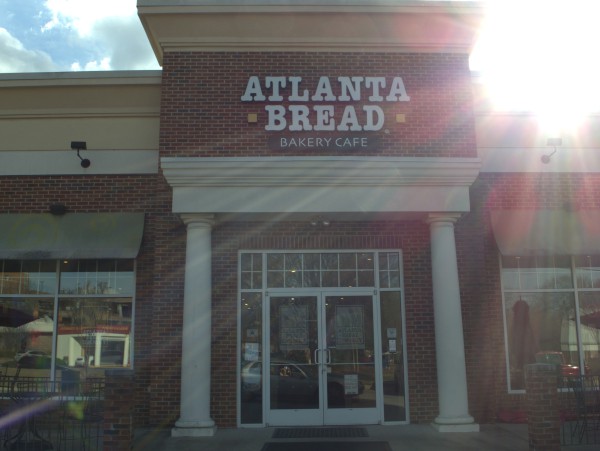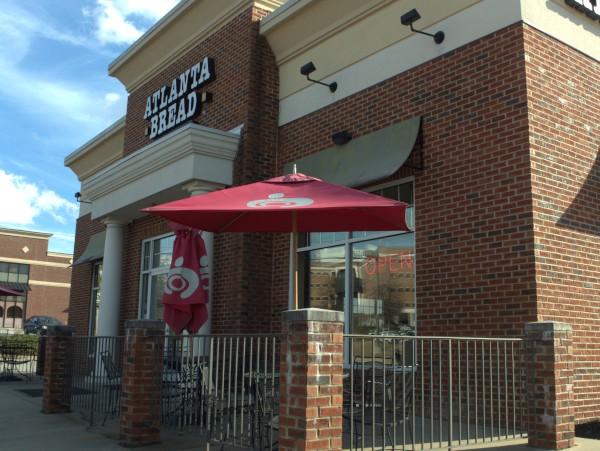 Commenter Bobby reports this location closed as of today (16 February 2017). It's not a surprise as it's been in the offing for several months. As to what's next, as The State reported in December:
In the spring, the location will become home to the second area Charleston-based East Bay Deli. East Bay opened its first area location at 1426 Main St. in Columbia's The Hub apartment complex downton on Nov. 14.
I used to eat at this location every few months. I liked to get the Pumpkin soup in the winter. Along with a bread bowl, it was a very nice meal. I enjoyed the white chocolate macadamia nut cookies as well; something they don't have at Panera. They used to have a pepper grinder at the condiment station that was nice as well.
(Hat tip to commenter Bobby)
UPDATE 18 February 2017 -- Well, they certainly started into the remodeling quickly: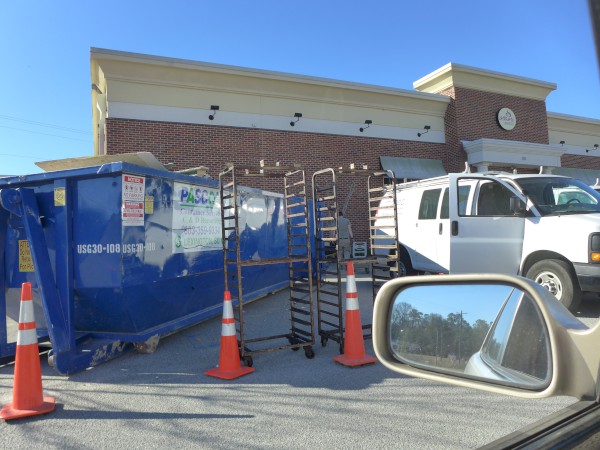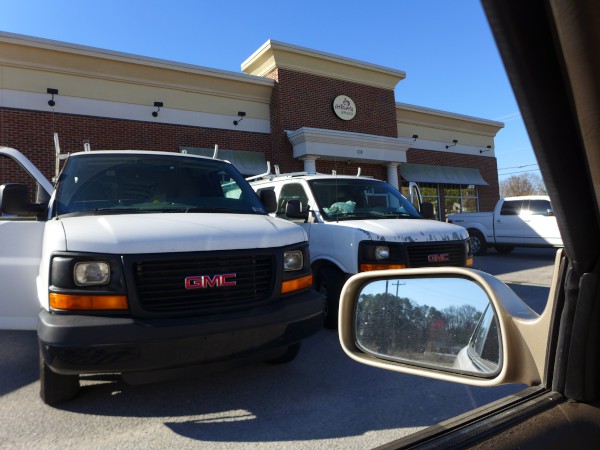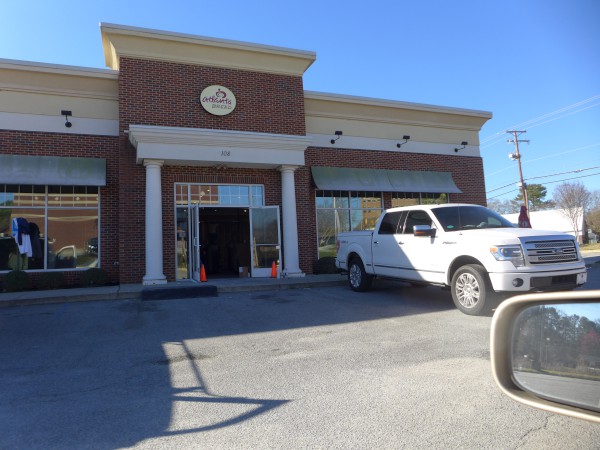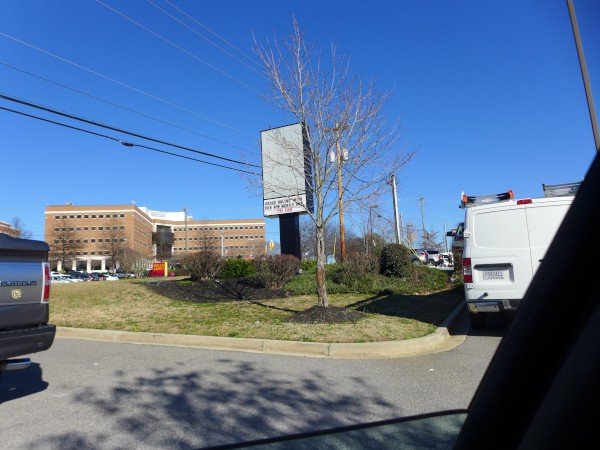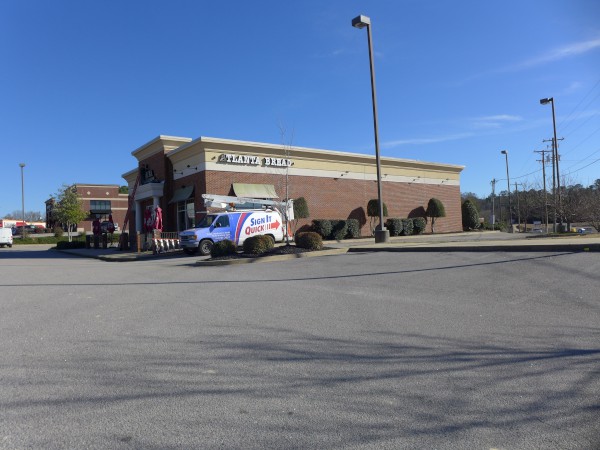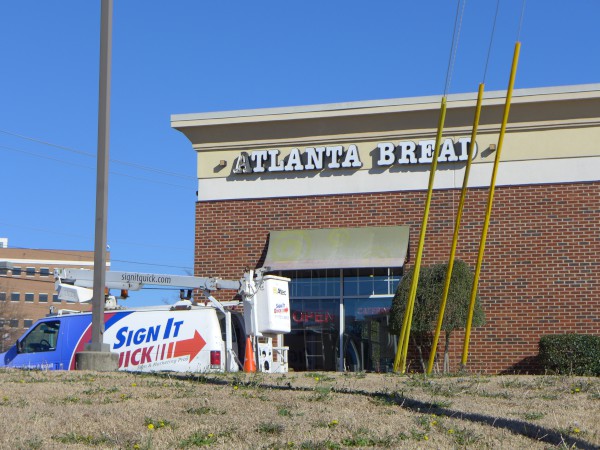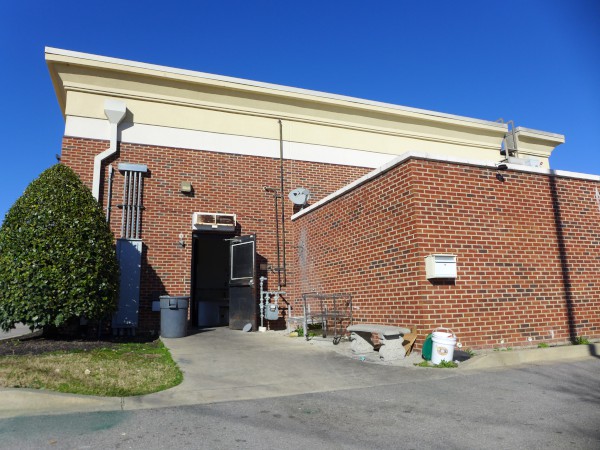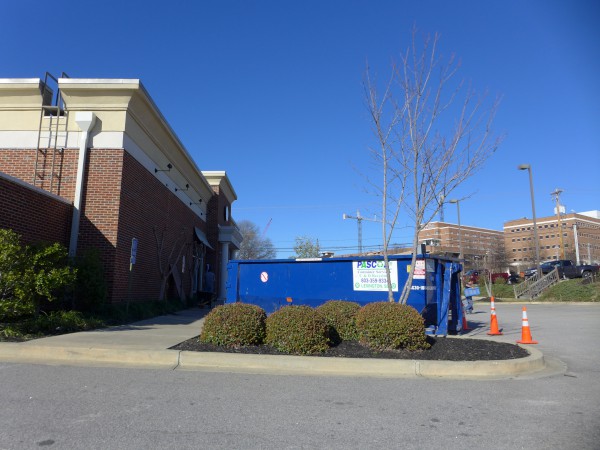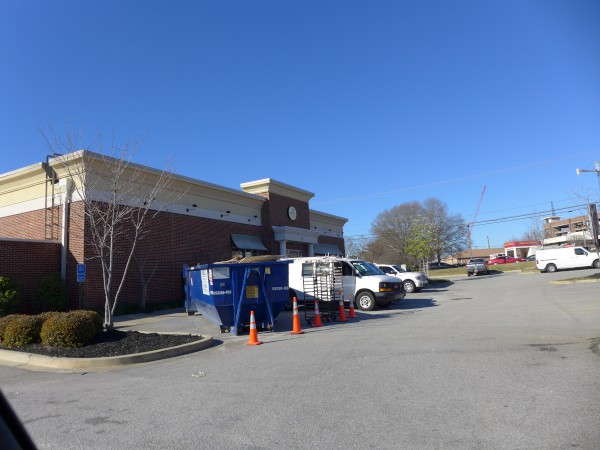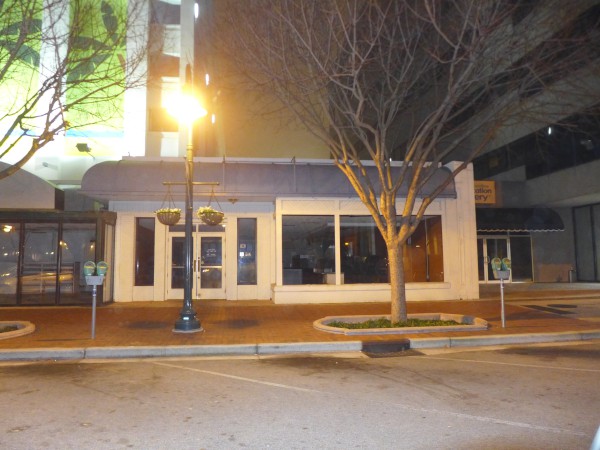 When I heard about this closing, I did a google search for ABC troubles at the corporate level, and surprisingly to me did not turn up anything. Usually when a chain starts closing lots of locations, there will be a story in Forbes or Bloomberg or *somewhere* trying to explain the situation, and the prospects for turnaround.
Since I started this blog, Atlanta Bread Company has closed the locations at Sandhill, Lake Murray Boulevard, Socastee, Charleston and North Myrtle Beach. Now they seem to be leaving the Columbia market entirely with the closing of this store and upcoming closure of the Sunset location. Although there may be something in the Upstate, the Aiken Whiskey Road location is the only SC store left that I know of.
Absent any hard news of what's going on, I can only speculate that Panera took their formula and executed it just a little bit better, and indeed this store closed shortly after the Gervais Panera location opened just a few blocks away.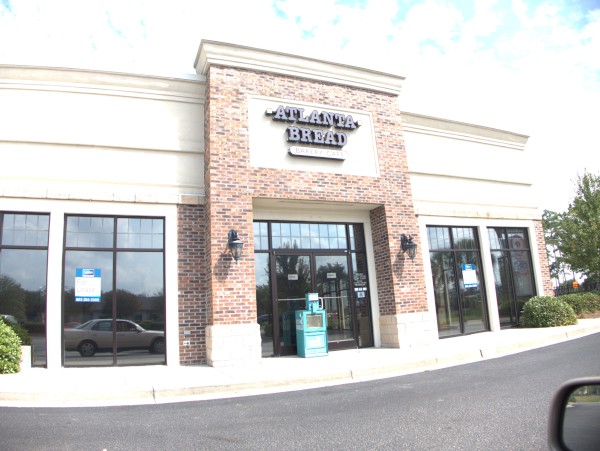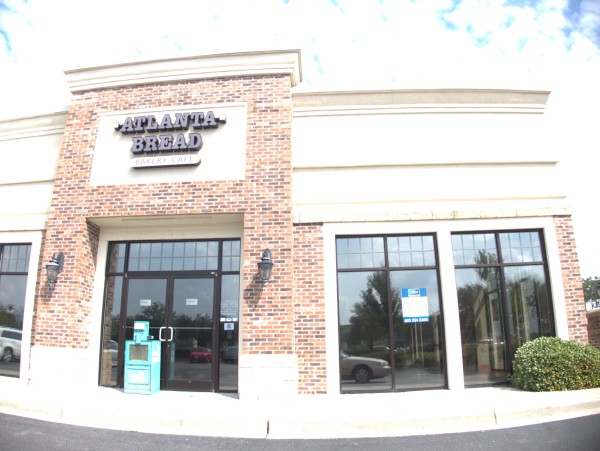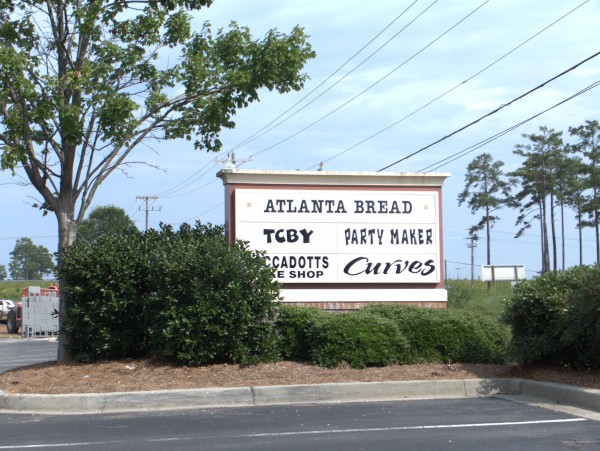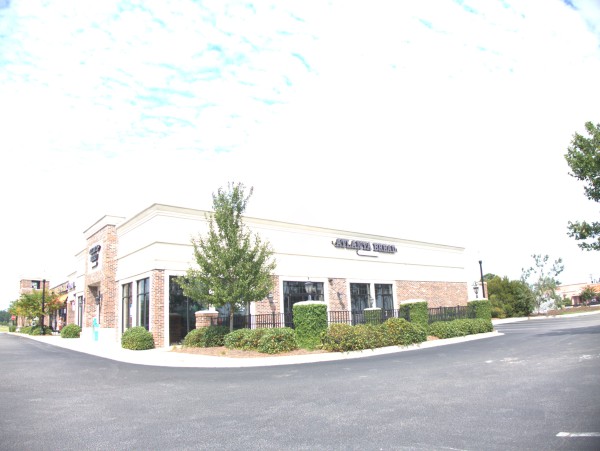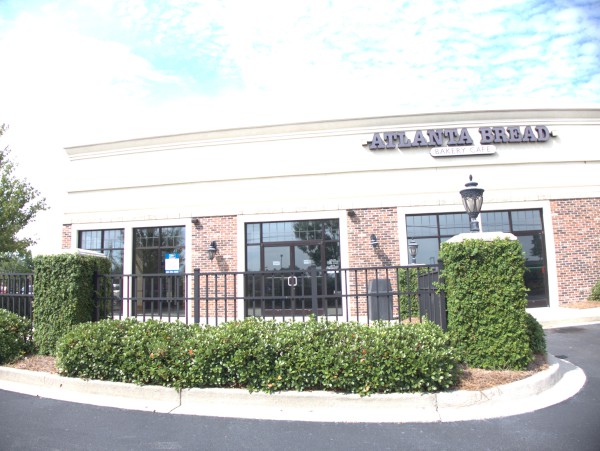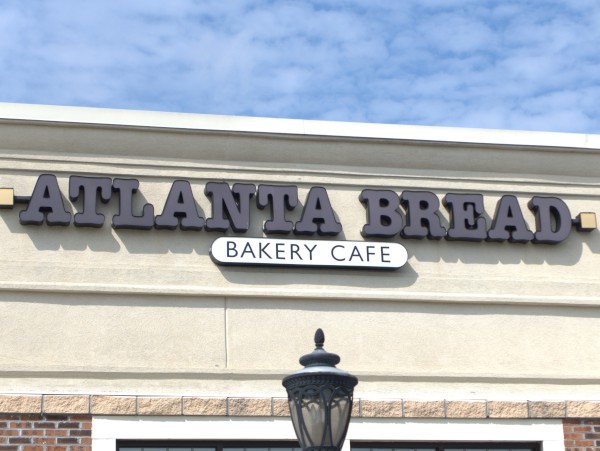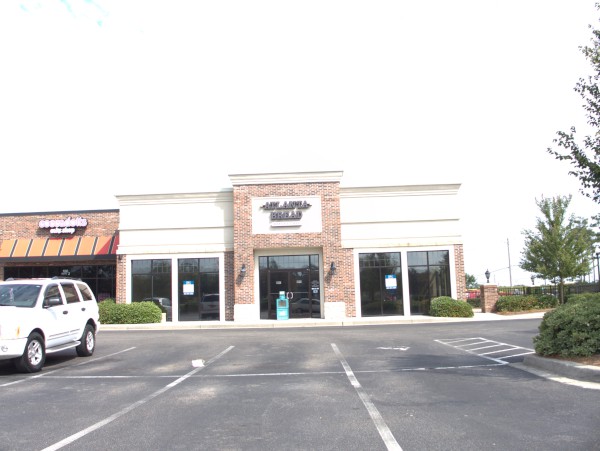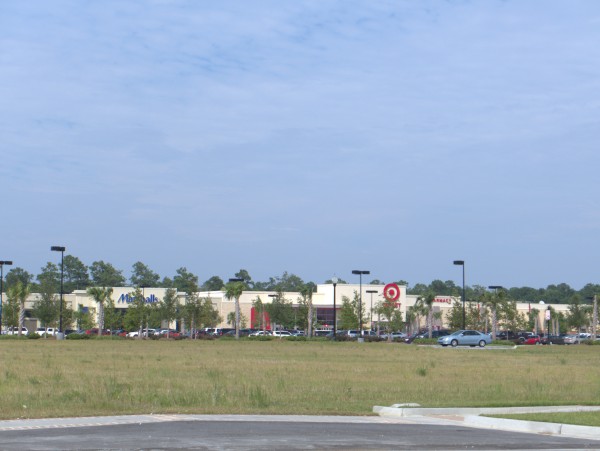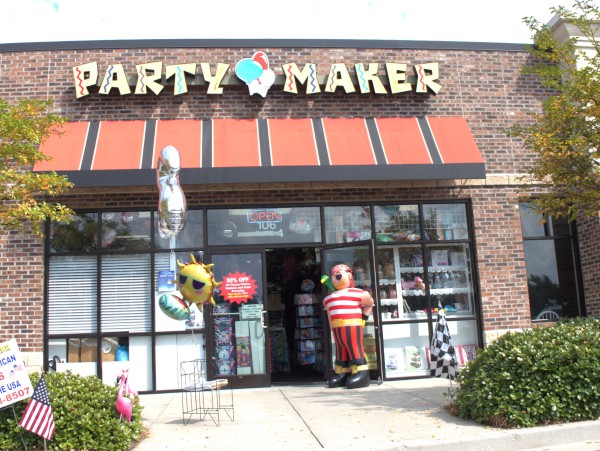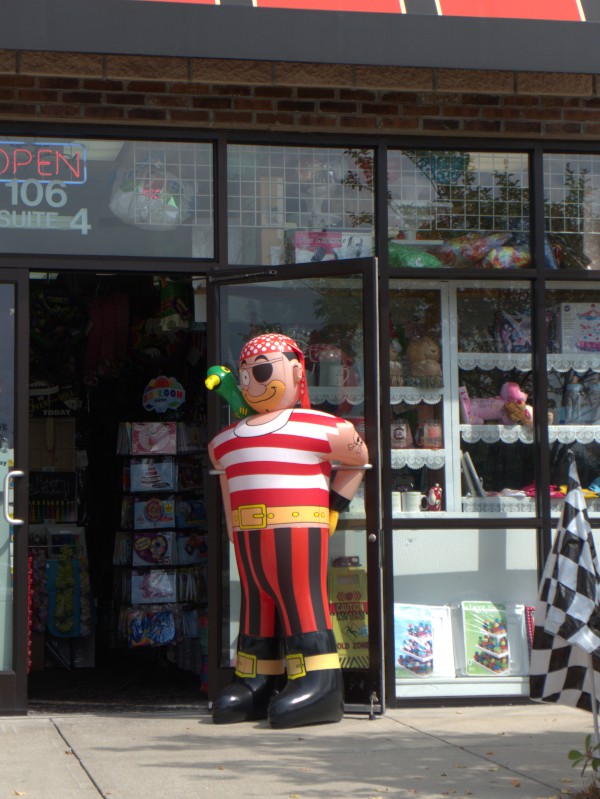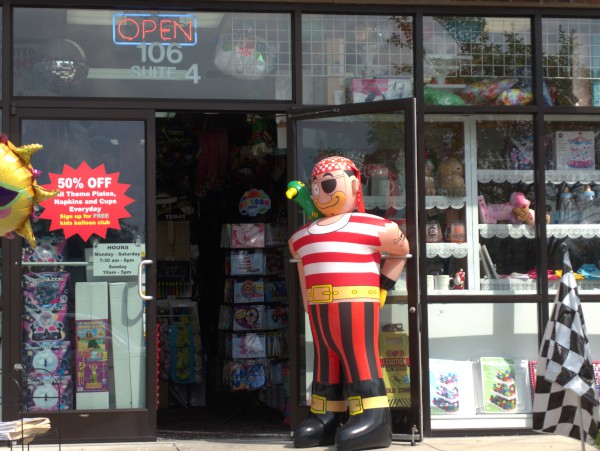 Not sure what happened to my pictures here -- it looks like maybe I forgot to reset from a nighttime ISO to daylight before starting to shoot. The essentials are clear enough though, if more than a bit washed out.
The Atlanta Bread in North Myrtle Beach closed either last year or in 2011, I'm not really sure anymore. The only other ABC at the beach was this one on SC-54 just west of the US-17 bypass interchange. For a number of years, it sat sort of all by its lonesome (though the sideroad it was on obviously implied grander plans), but finally this last year Target started building behind it, and finally opened in late 2012 or early 2013.
I had had some concerns about the place -- it was the sort of operation which seemed to have no idea how many cookies to bake to last out the whole day (I'm pretty sure your loss in day old cookies is smaller than the loss you have from not making a sale..) and had the infuriating habit, which is pretty rare in chain stores, of not honoring their posted hours if things were slow. Still, it was nice to have a bread-bowl of soup there for lunch every now and then, and I figured that if they had hung on until Target opened, they were home free. That proved not to be the case, and the place was closed when I went by in late July.
The rest of the little strip mall has a gym, fro-yo, and a party shop. I had to include some pictures of the punch-me-pirate, including the one below from a few years ago.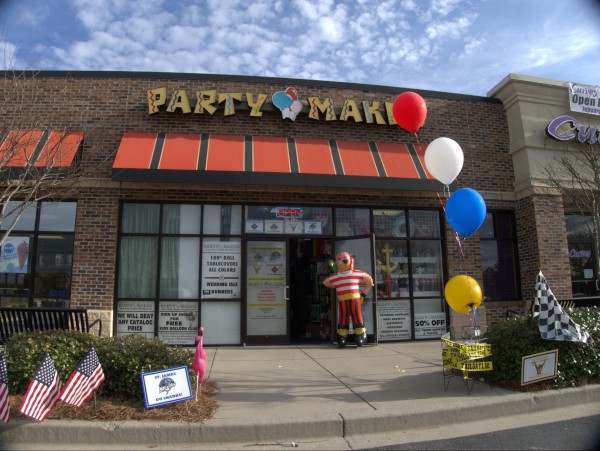 Posted at 1:00 am in Uncategorized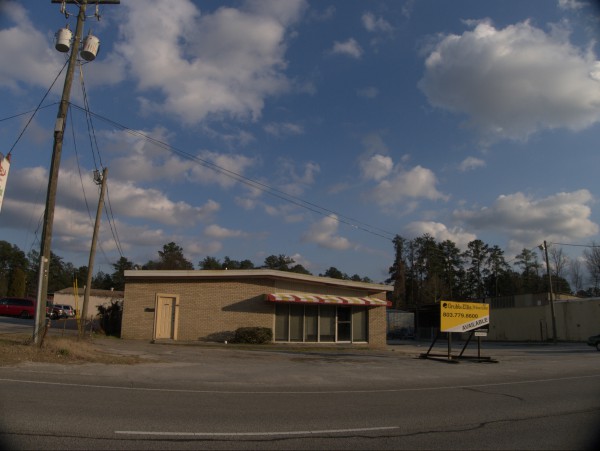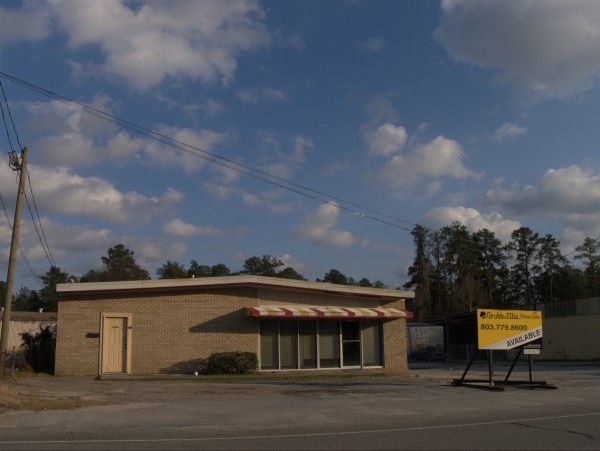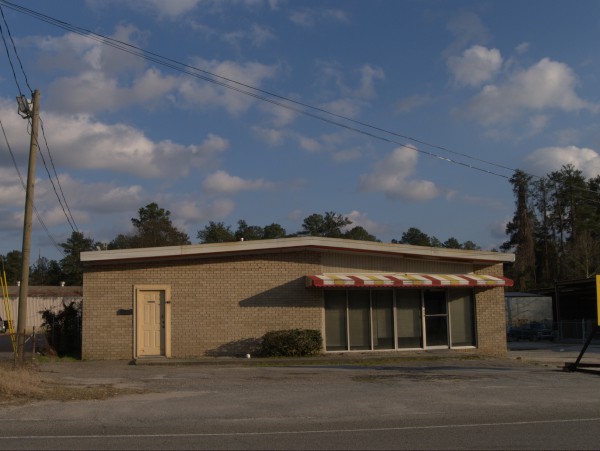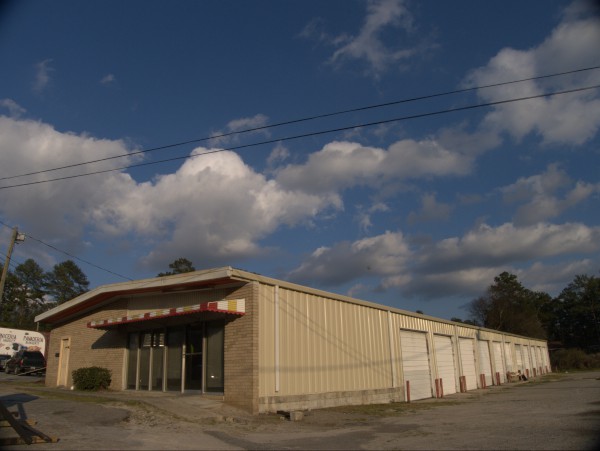 Growing up, Merita was one of our primary breads, along with Sunbeam ("It's batter-whipped!"). Gradually it seemed we moved away from white-bread a bit, and Roman Meal became our staple. Nowdays I tend to go with something denser like Arnold's. Still, I was rather shocked to find that Merita was part of the Hostess collapse (along with Wonder Bread and Butternut, which we never bought). I saw those diamond wrappers at the breakfast table many days in grade-school, with the scent of toast in the air..
Posted at 11:30 pm in Uncategorized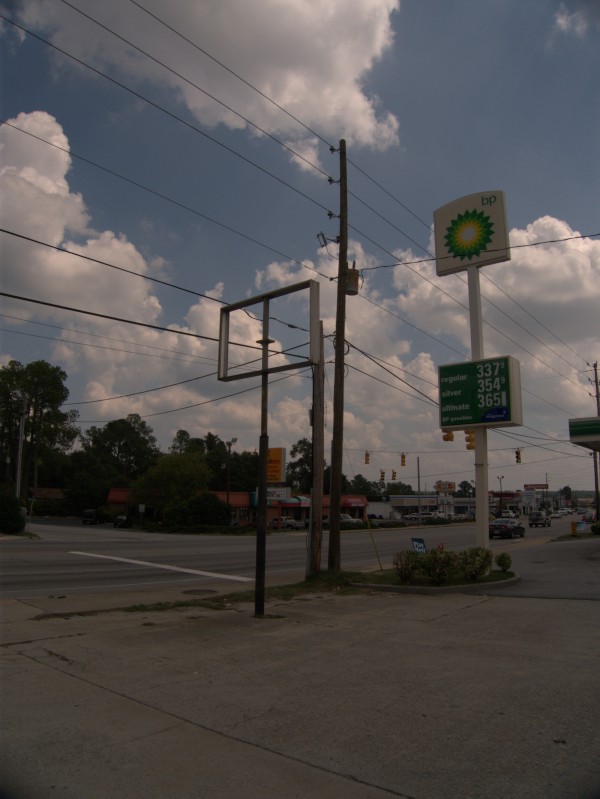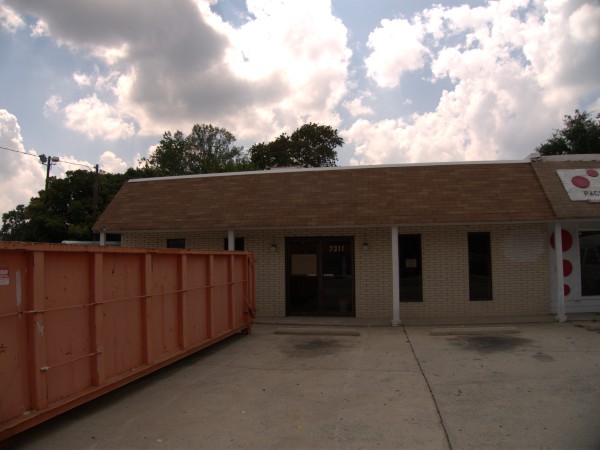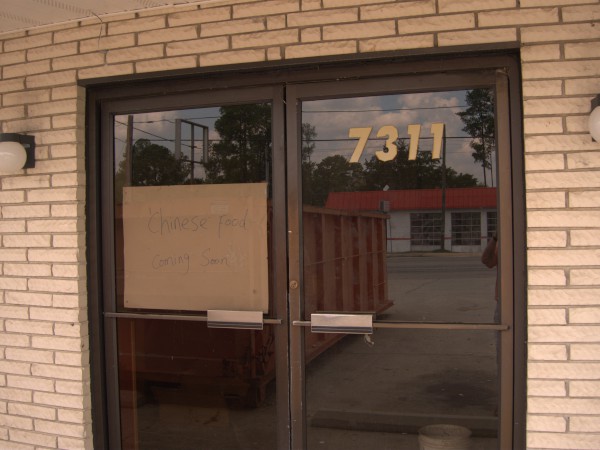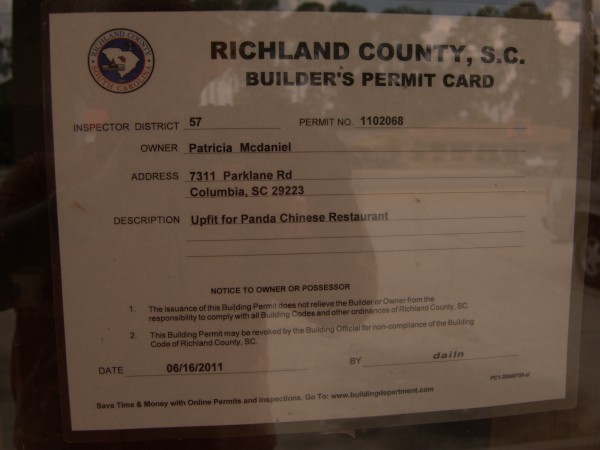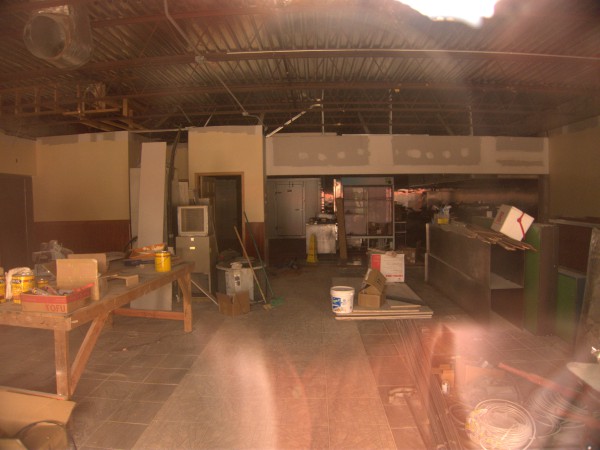 It seems to me that there used to be a number of "day old" bakery thrift stores around town, but I can't recall seeing any recently. This one on Parklane not from from the old Sounds Familiar location was completely unknown to me. It appears from the signage and construction permit that it will reopen as Panda Chinese Restaurant, which will make three (that I know of) in the general area.
(Hat tip to commenter Miz T)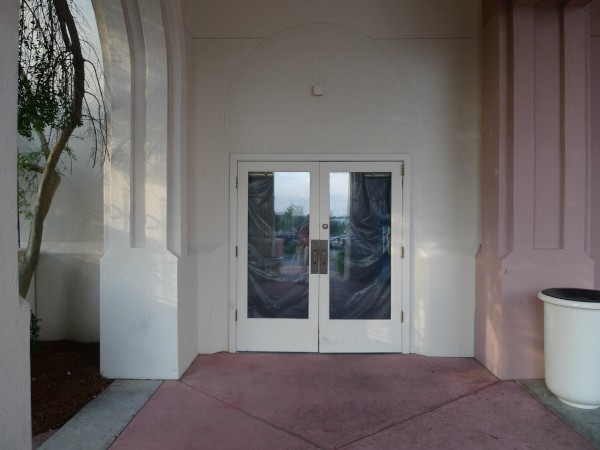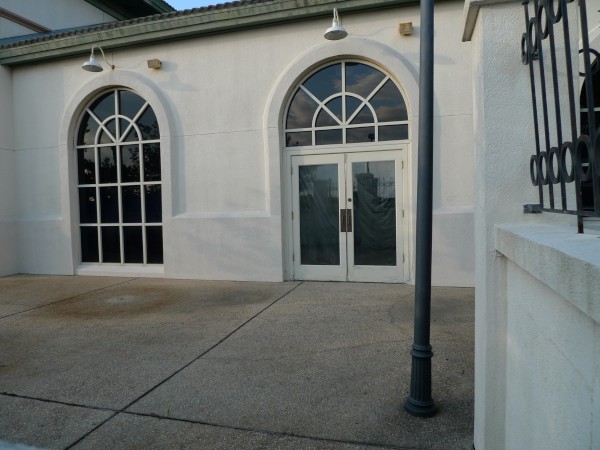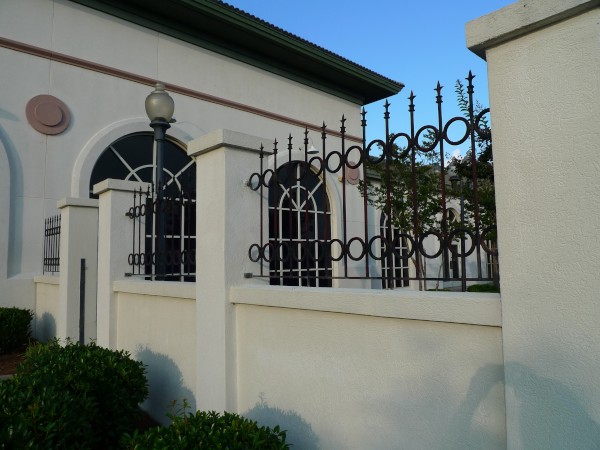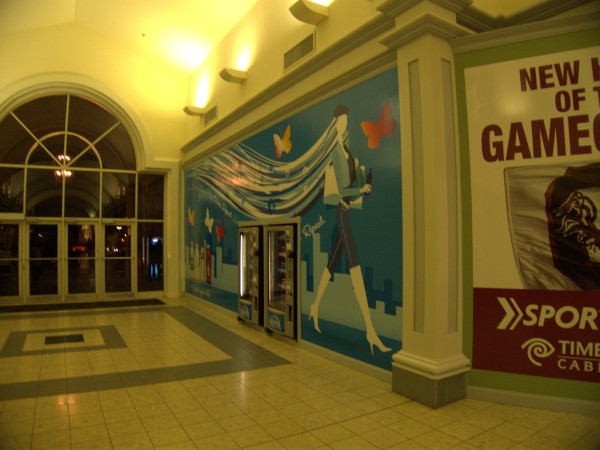 Spinnaker's was at one time a fairly popular casual dining restaurant along the lines of Bennigan's or TGI Friday's. To differentiate themselves from the casual pack, they had two branding gimmicks.
First, they would generally locate as part of a mall rather than in a free-standing building, and second, they would bake the complimentary table bread in a glazed terra-cotta flower pot and bring it still in the hot pot to your table.
When I started working in Augusta, Regency Mall was already on the way down, and Augusta Mall was in its prime with a Spinnaker's on the Rich's side of the mall. On the Grand Strand, Spinnaker's had locations at both Briarcliff Mall (now Myrtle Beach Mall) and Inlet Square. In fact, I blame the loss of Spinnaker's at Inlet Square for the start of that unhappy mall's long (and continuing) downward spiral as the space was never re-leased.
The Inlet Square closing was the first one I noticed for Spinnaker's, and my memory is that it was fairly early on, perhaps in the early 90s. After that, it seemed as though every time I drove by a former location, it was gone. I believe the Briarcliff location closed next, followed by the Augusta one. According to The State's archives, this location at Columbiana Centre was open as recently as November 2001. At least one location was open as recently as November 2009 (picture also here). I'm thinking that one lived on as a legacy on the strength of the local operators as I can't seem to find any corporate site for the chain.
While I don't know why Spinnaker's went into decline, I can only say that I personally found it rather average. In particular, I recall two things: The French Onion Soup was chicken based rather than beef based, making it distinctly sub-standard in my opinion, and the Flower Pot Bread was a better concept than actuality as it tended to stick to the pot giving you a mangled loaf when you tried to get it out and was actually a very bland and uninspired recipie.
Until quite recently, the interior mall corridor at Columbia Centre still had the doors into the vacant Spinnaker's space. Within the last year, they have covered the whole facade over with a mural of a walking girl sporting Rapunzel hair and vending machines.
UPDATE 2 March 2010 -- Here's the empty Spinnaker's spot in Inlet Square Mall in Murrells Inlet: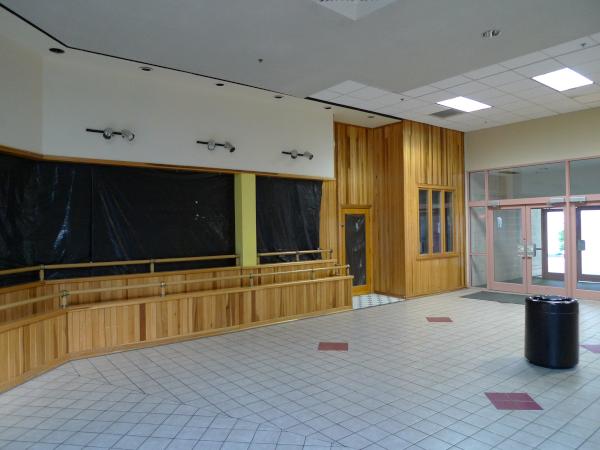 UPDATE 26 march 2010: Changed closing date to "mid-2000s" based on comments.
UPDATE 9 October 2017 -- Finally a new restaurant! This spot is now a Red Robin: