Posted at 11:11 pm in Uncategorized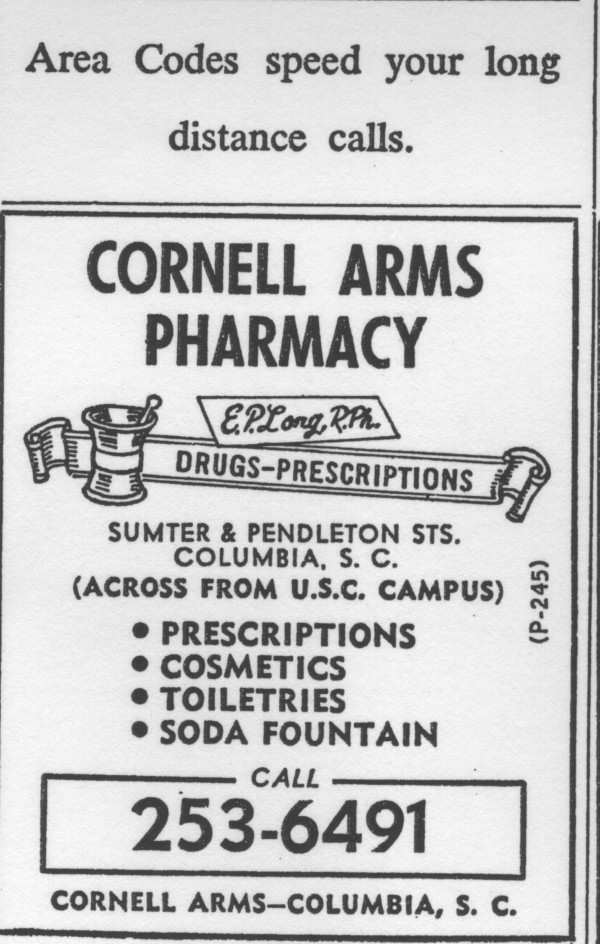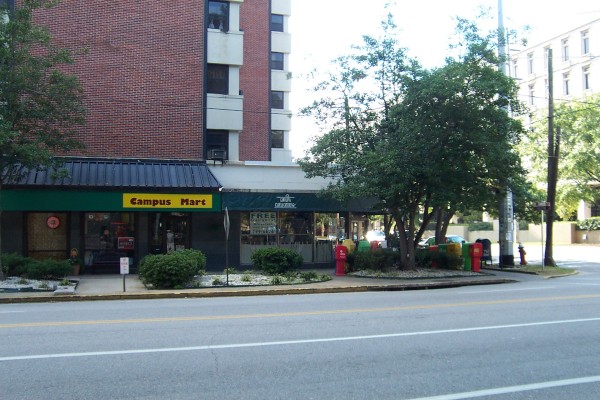 I've always liked Cornell Arms, the apartment building on the corner of Sumter and Pendleton Streets. I'm not sure why exactly, except that it has been there my entire life (that I can recall) and that the name with the antique "Arms" designation harkens back to the era of classic movies (and, admittedly, Hee-Haw). The section underneath the residences is retail space, and the tenants have come and gone through the years. I know that for decades, my father's barbers were there, and the restaurant space now housing Tio's has in the past had both McDonald's and Lizard's Thicket.
I can only vaguely remember the pharmacy, as our main drugstore was Campbell's. It was in the space now occupied by Carolina Cafe & Catering. I think we may have gone in a time or two if we were visiting my father's office, or if we were in the area taking the bus to the fairgrounds (which we used to do both to avoid the parking crowds there and to give us kids an 'adventure'). I am pretty sure it was fairly no-nonsense from a kid's point of view, except for the soda fountain, with few of the mini-department-store pretensions of modern big-box drugstores.
I don't really have a closing date for this place, but I started at USC in 1980, and I think I would recall it if it were still open then, and I don't, so I'm saying 1970s.
22 Responses to 'Cornell Arms Pharmacy, 925 Sumter Street 1970s'
Subscribe to comments with RSS
Leave a Reply