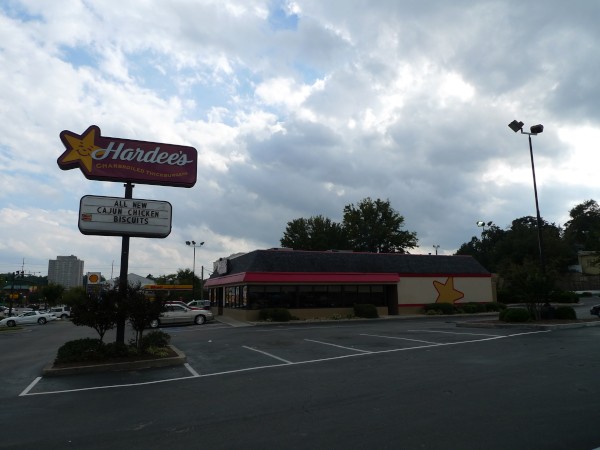 This closing has been talked about long enough that I actually got these photos last year, knowing I would have to deploy them eventually. This Hardee's has been a fixture in the old Five Point's Sears parking lot for years. I think it may even date back to when Gene's Pig & Chick across College Street would have been its competition. (It certainly does not date back to Hardee's original space-age designs such as at Silver City or The Eggroll Station though).
This story from The State last year tells how the Hardee's is going to be replaced with a Chick-Fil-A, and how it will all be carefully landscaped in accordance to the new Five Points streetscaping guidelines. Color me unimpressed. You have only to compare US-17 as it passes through Mount Pleasant where everything is set-back so far and blends in so blandly that you can't even tell you are passing stores that want to sell you something with US-17 in the Myrtle Beach area where even failed and vacant storefronts are exuberant to see how guidelines can suck the life out of a road. Not to mention this quote:
"Chick-fil-A is a business of high quality and we anticipate this development will add great character to the already diverse and eclectic makeup of Five Points," she said.
Of really? Replacing one national fast-food chain (which is actually currently on the rebound) with another national fast-food chain will add character and diversity to Five Points? I guess character and diversity aren't what they once were..
(Hat tips to commenters Tom, Mike D, Larry & Jim)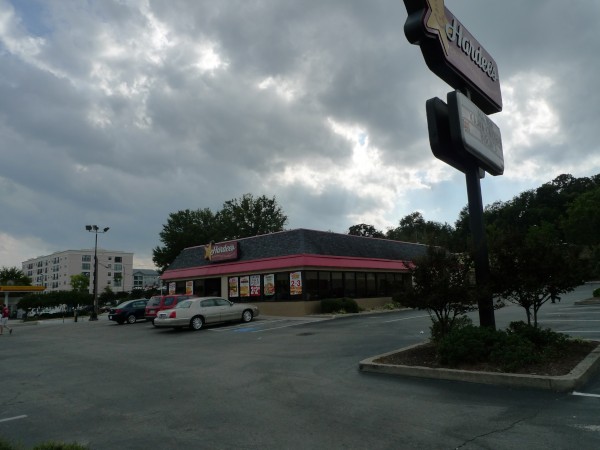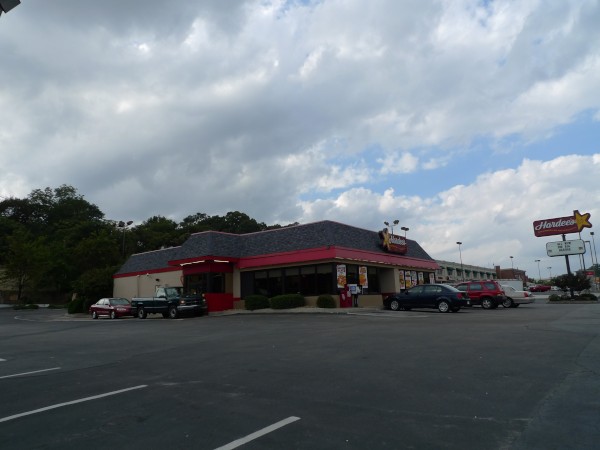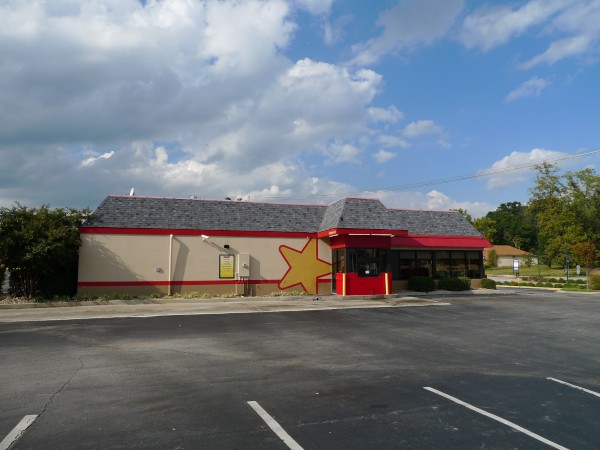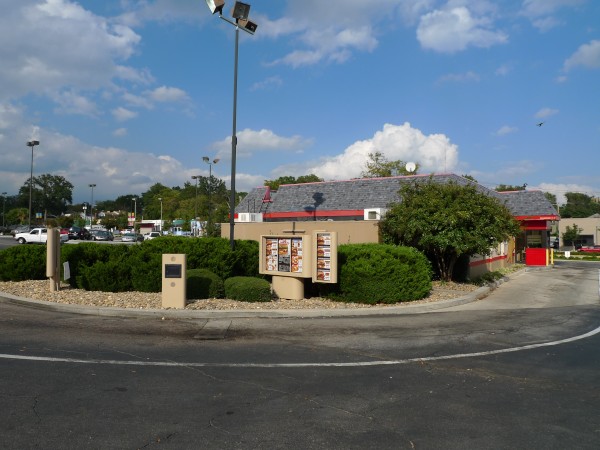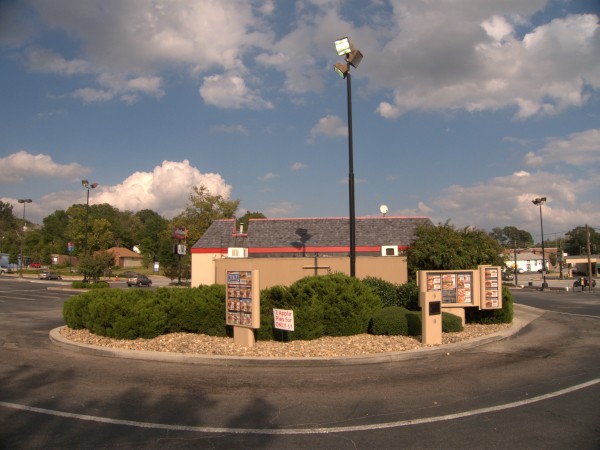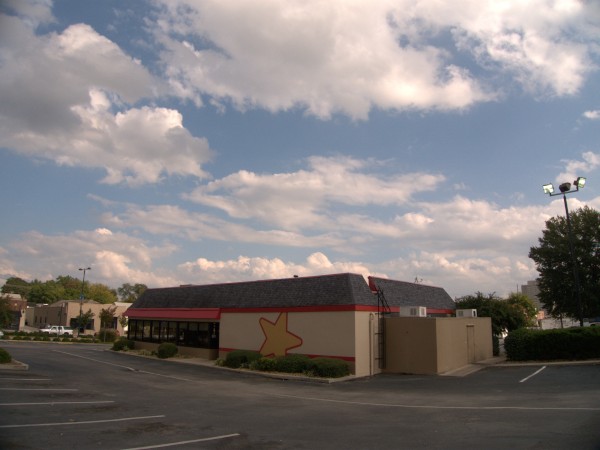 UPDATE 21 May 2010 -- here are some pictures taken after the closing: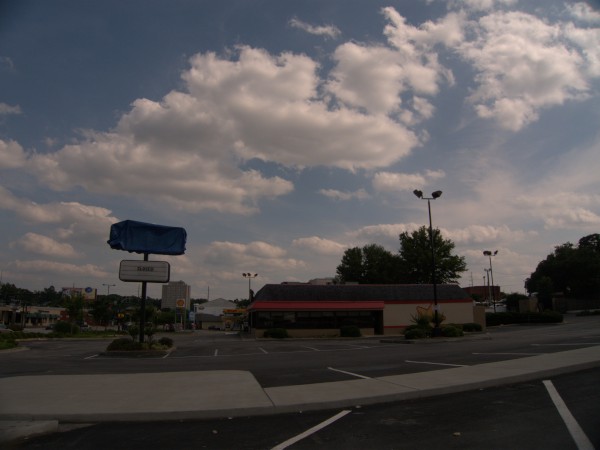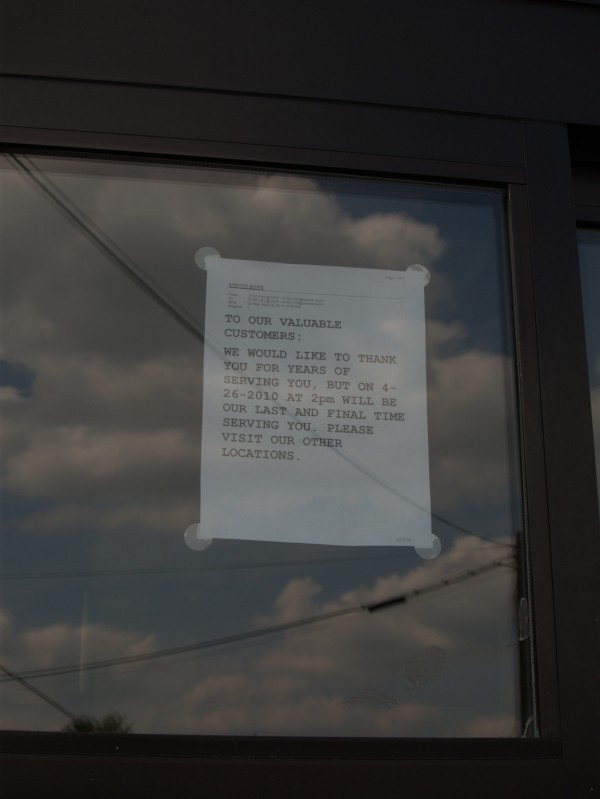 UPDATE 8 June 2010 -- Well, it's gone: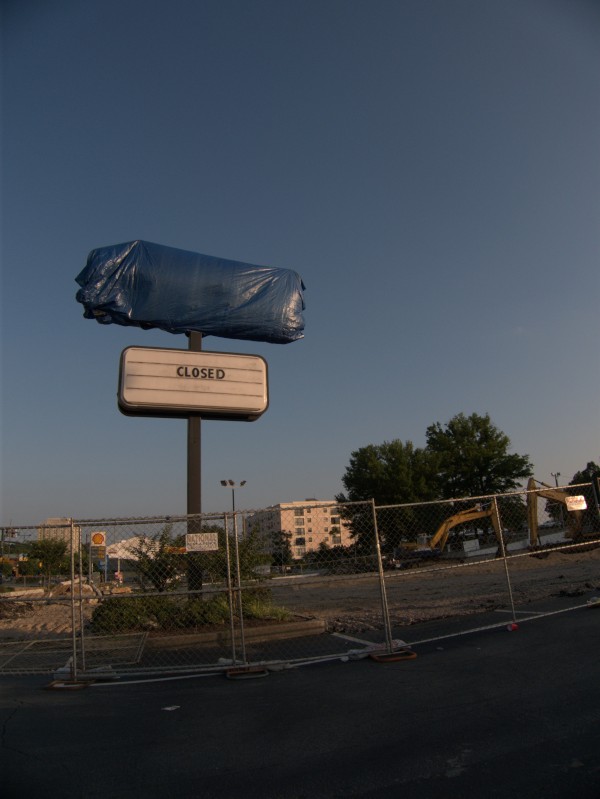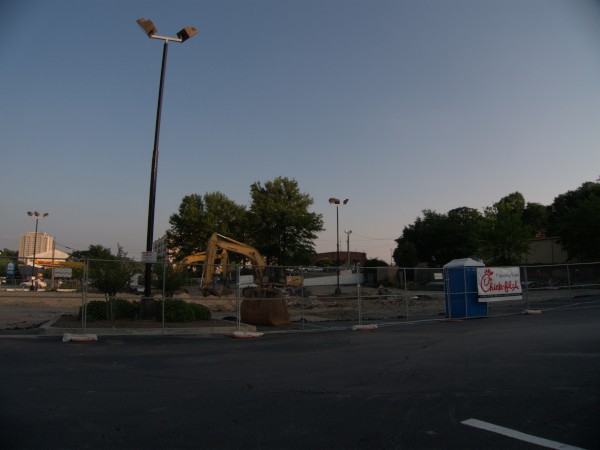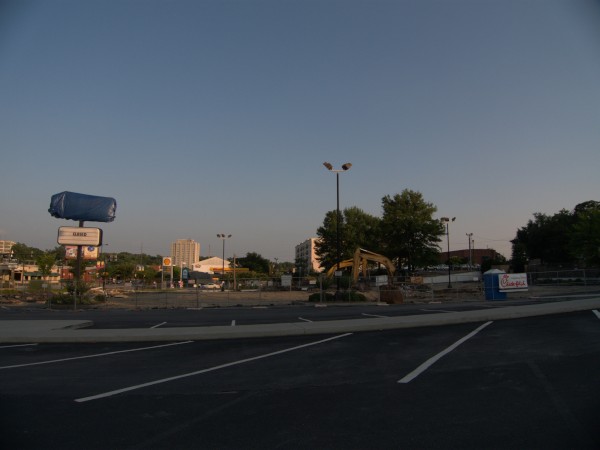 UPDATE 24 July 2010 -- The new sign is going up on 9 July 2010: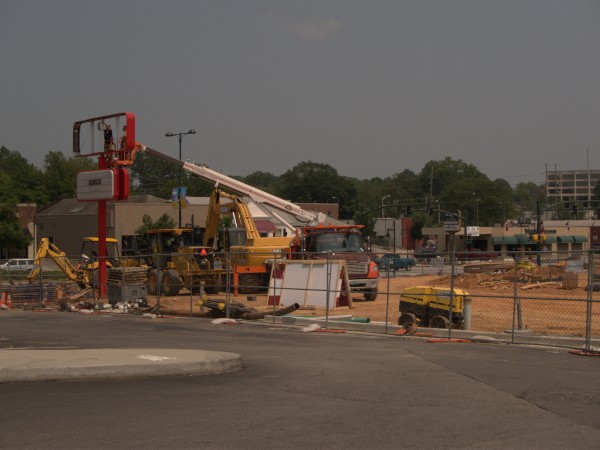 The new sign on 23 July 2010: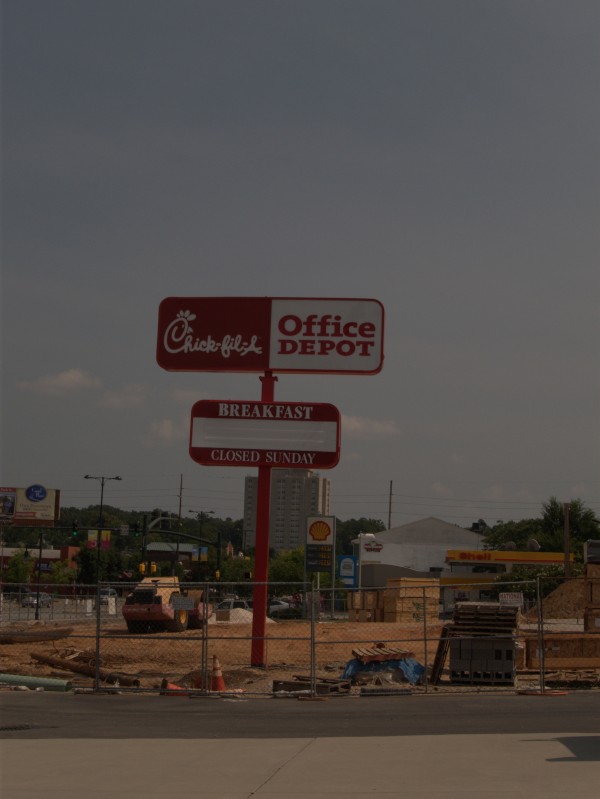 I have no idea how (or why) Office Depot got themselves on the Chick-Fil-A sign. Yes, office Depot is in the same plaza, but it has its own sign on its own building..
UPDATE 6 November 2010 -- The Chick-Fil-A is open: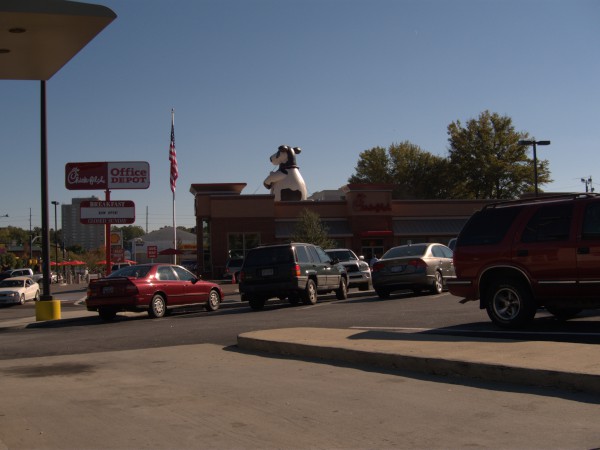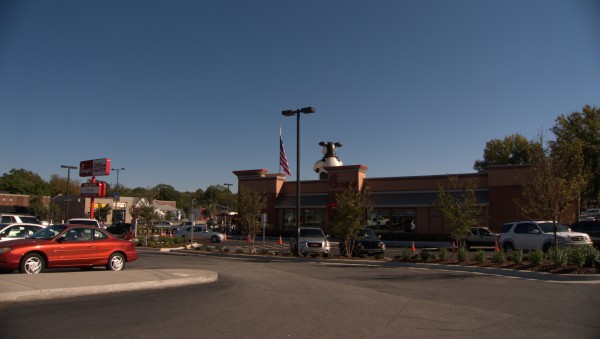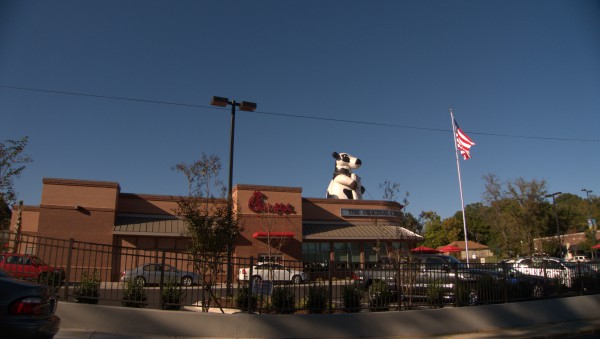 UPDATE 3 Dec 2010 -- A somewhat better view from across Harden Street: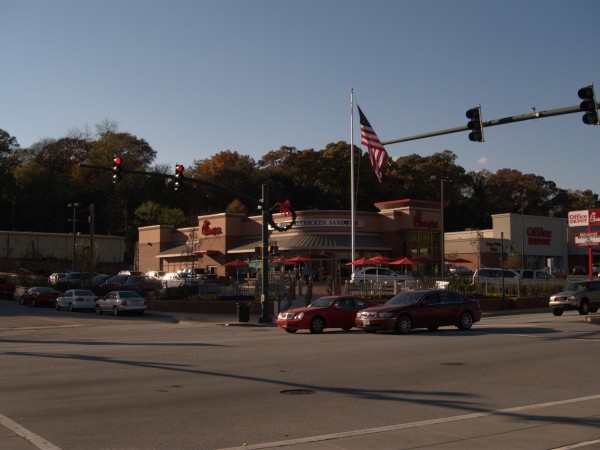 UPDATE 19 July 2021: Updating tags and adding map icon.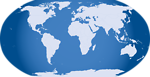 8 Responses to 'Hardee's Restaurant #11, 901 Harden Street: 3 May 2010'
Subscribe to comments with RSS or TrackBack to 'Hardee's Restaurant #11, 901 Harden Street: 3 May 2010'.
Leave a Reply