Archive for the 'US-15' tag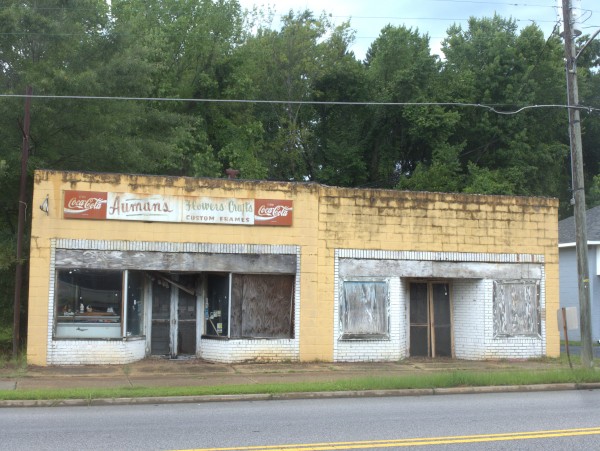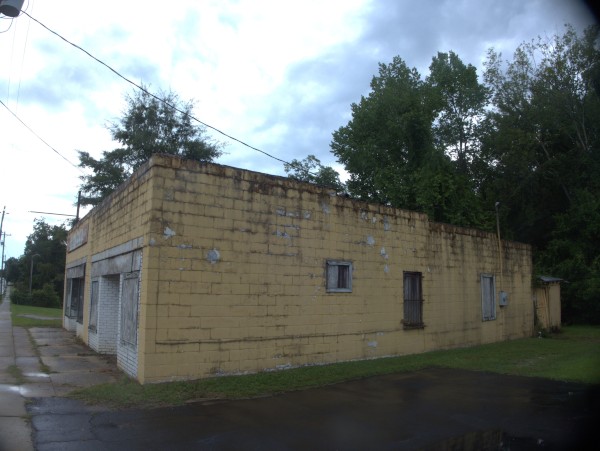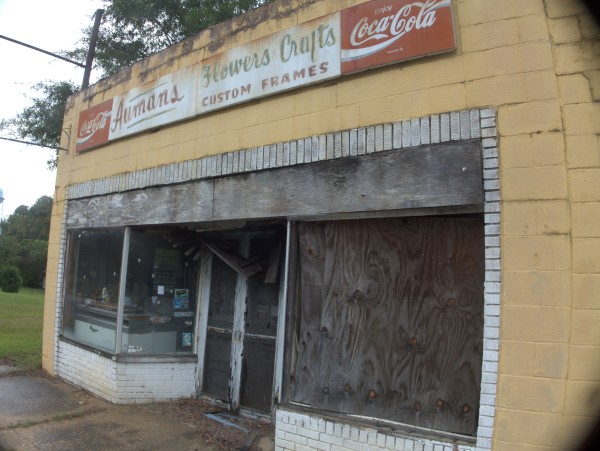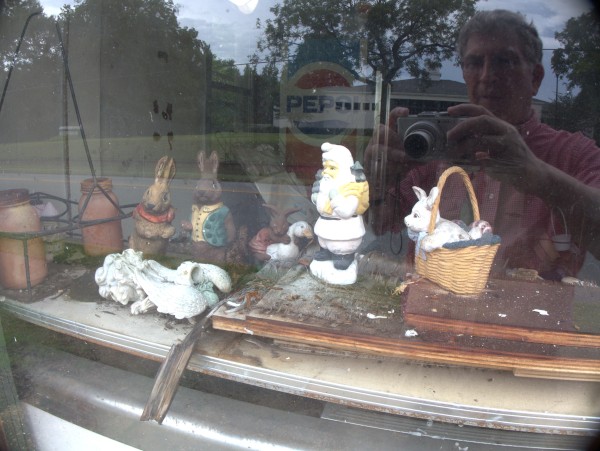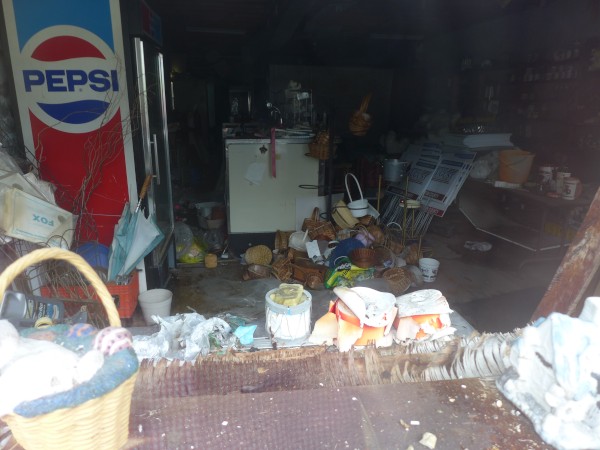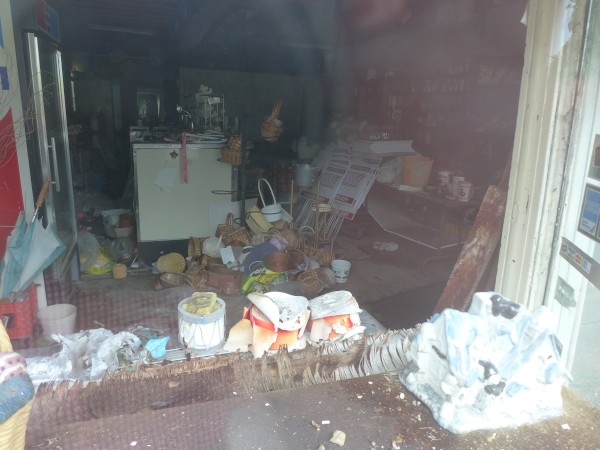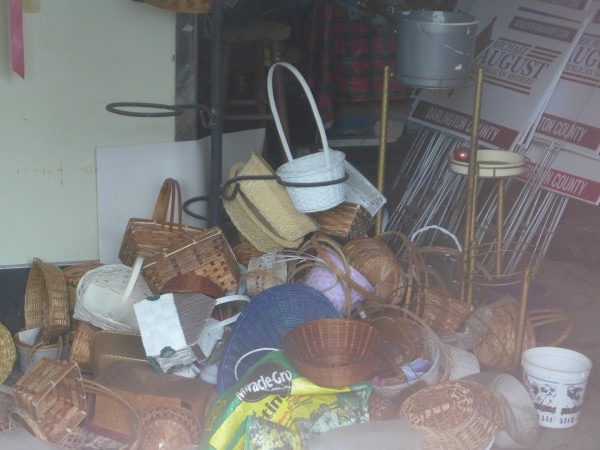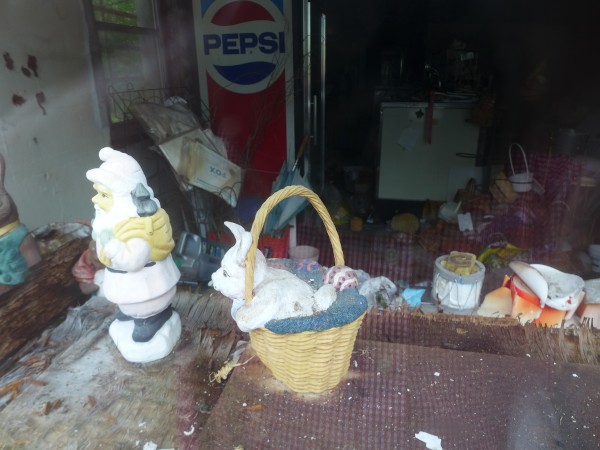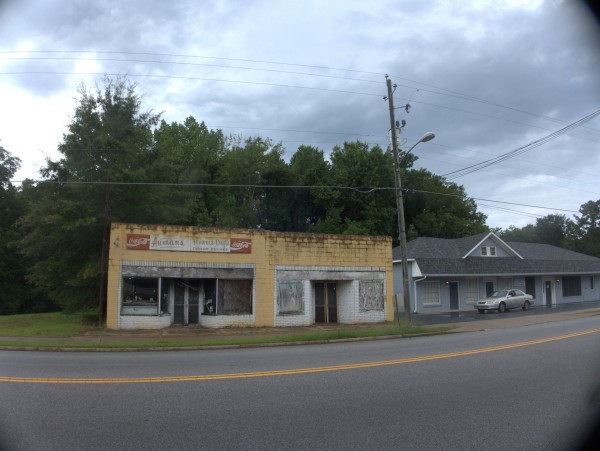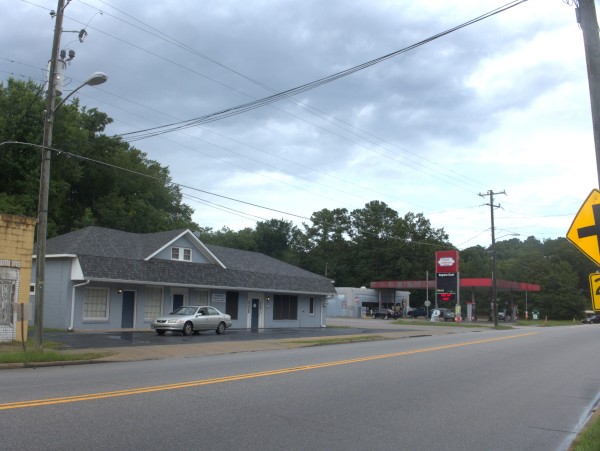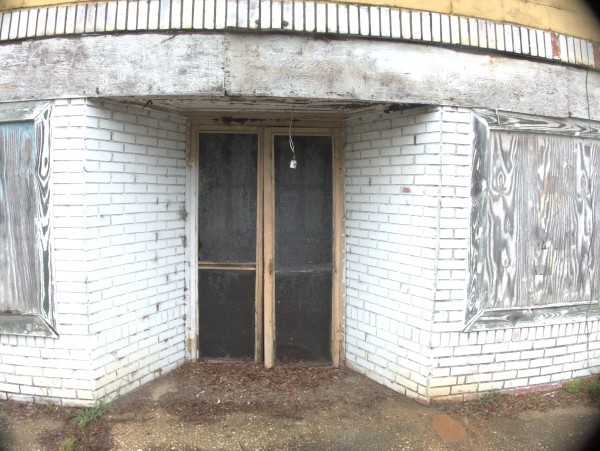 This old-style retail storefront is on Society Hill's main drag, next to an insurance agency. As far as I can tell from looking at Google Streetview, it may have been open as late as 2012. You can check there for a view of the "Buttercup" sign, which is no longer present. There is also a nice one taken in 2018 here. The flickr link says that Buttercup Ice Cream started in Hamlet NC in the 1920s and lasted into the 1960s, surviving as Mello Buttercup. Here's one of the whole building from the same photoset, and a much better shot than any of mine.
It's not clear to me if the ice cream operation was part of the flowers, craft & framing business, but it is on that end of the building, and the main sign does call out Coca Cola, and the Pepsi coolers inside, so beverages were also sold there.
This stretch of road does the neat trick of being US-401, US-52 & US-15 all at the same time.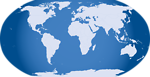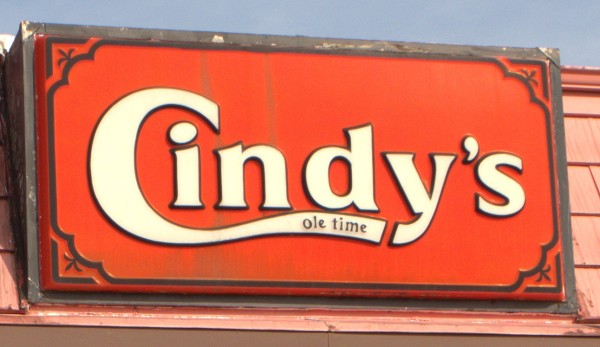 They say imitation is the sincerest form of flattery, so at the time, Dave Thomas must have been very flattered.
Shortly after Wendy's came to town, a number of copycat restaurants popped up. They all had young girl mascots after which they were named, had square hamburgers and interiors set up with what at that time was Wendy's signature: One serving line. Unlike Burger King which was famous for letting McDonald's spend a lot of money finding ideal locations and then setting up across the street, these copy-cats tended to set up in smaller towns where there was, at the time, no Wendy's, or at least that's how I remember it. I'm pretty sure I recall chains called Judy's and Penny's (which I think had a restaurant in Georgetown which became El Cerro Grande before they razed it and built their own building). And then there was Cindy's Ole Time Hamburgers, which honestly I don't recall at all. Locating in Hartsville at the time would definitely be the setting up in a smaller market strategy though.
I haven't been able to find out much about Cindy's except that it definitely was a a Wendy's copy-cat and that its trademark was filed in 1976 (about the right time) and is expired. However, the chain still seems to exist in the Phillipines.
This particular location is at the intersection of US-15 & SC-151, and would have been basically in the boonies back in the day. It's still not what you would call a dense area. I may have the street address a little bit wrong, but it's close enough for Google Streetview to show the restaurant.
As you can see from the pictures, nobody else has ever set up shop here. In fact, I believe the place is now what you call a micro-clime which is uniquely suited for various plant life, though not so much for beef.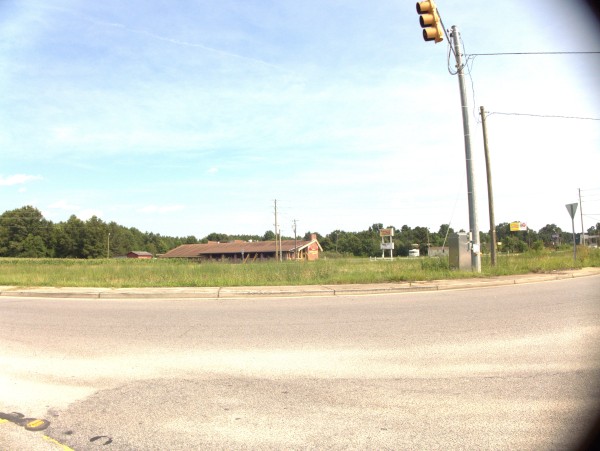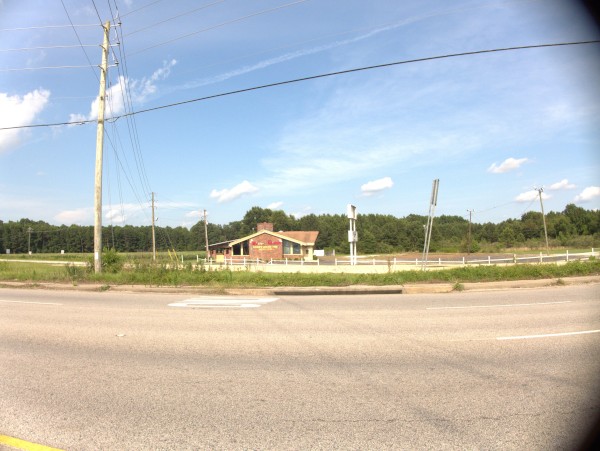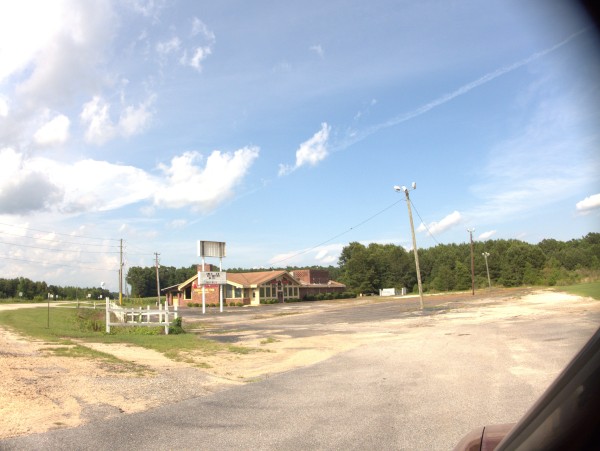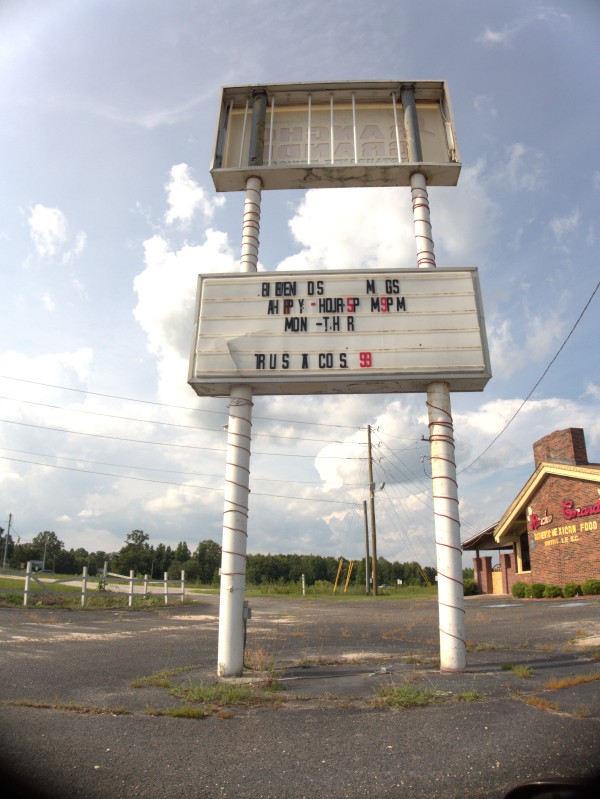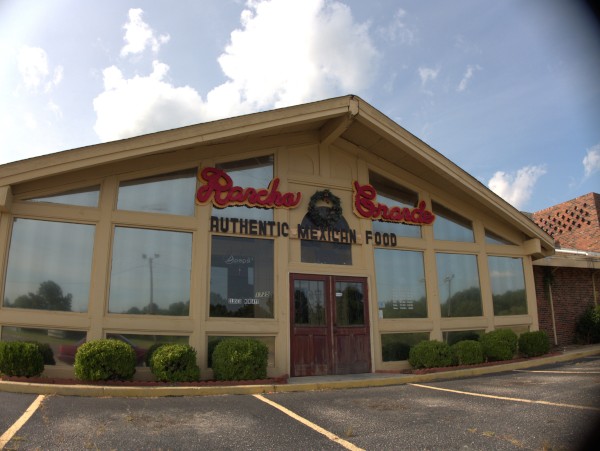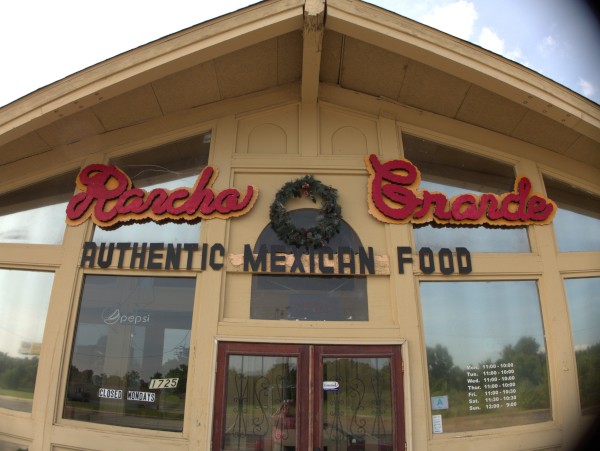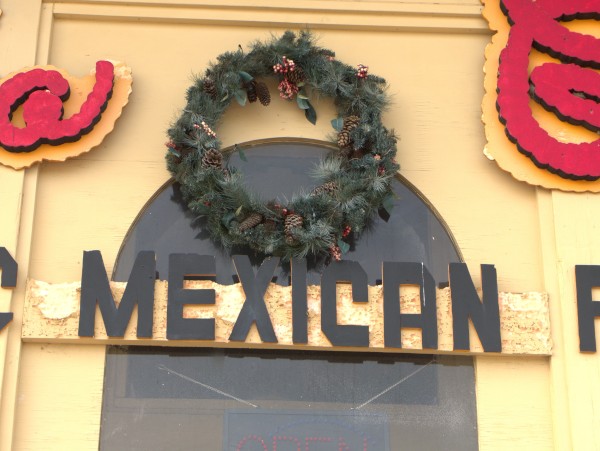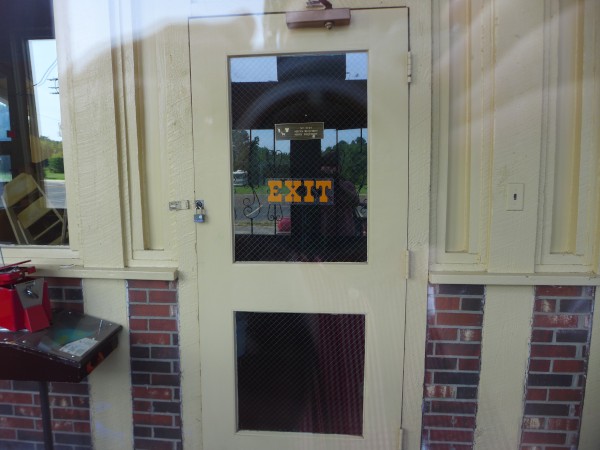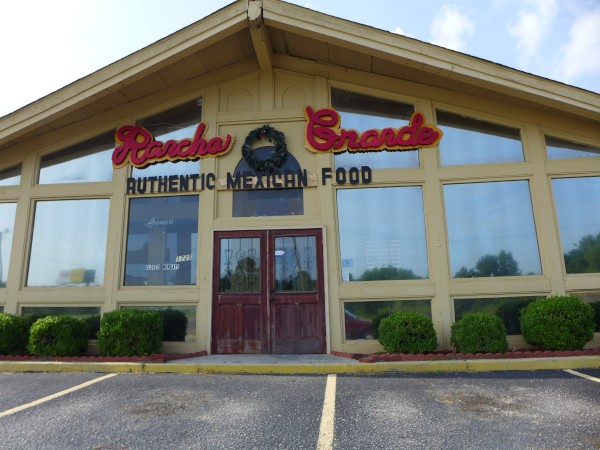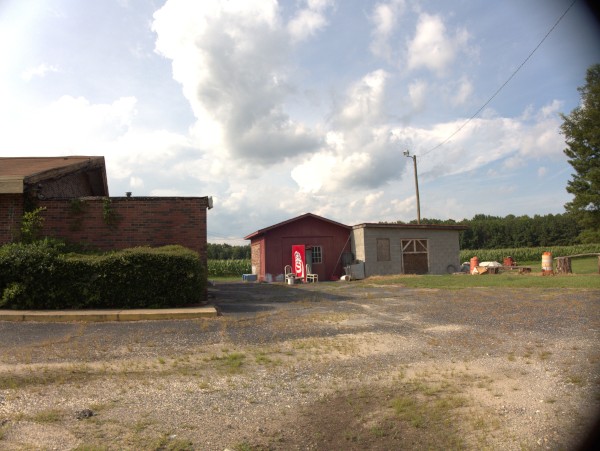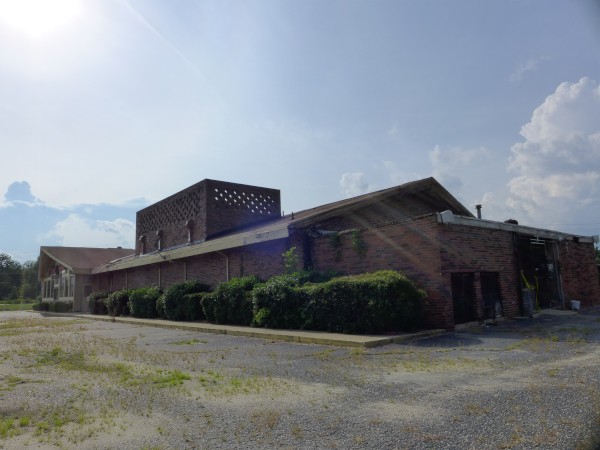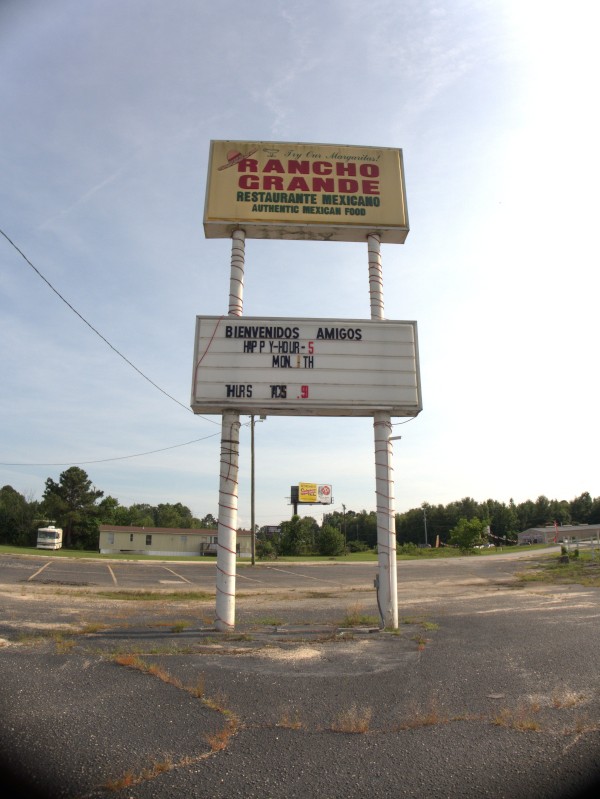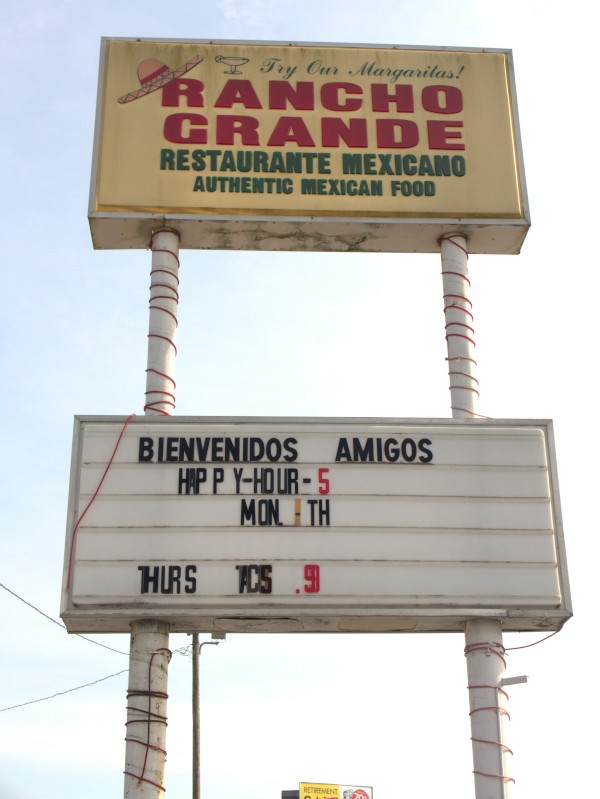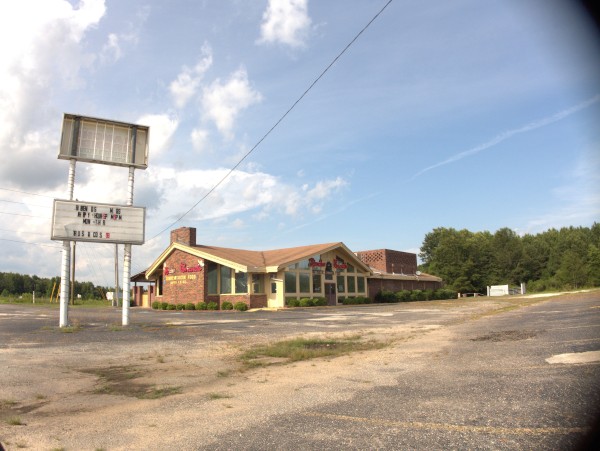 I never actually ate at Rancho Grande, but I was aware of it as we would drive by on the way to visit relatives, and they mentioned eating there from time to time. I'm pretty sure the building started life as a national brand steakhouse, possibly a Western Sizzling.
Hartsville has urbanized to a surprising extent this millennium, but when this was built, the area was still quite rural and I'm sure the out-of-town location was chosen because it is at the intersection of US-15 Bypass and US-15 Business, something quite important before the Interstates.
The restaurant's Facebook page indicates that it closed around 17 May 2017, though I am unable to explain the wreath on the door which would otherwise indicate a post-Holiday-Season closing. The page also directs patrons to Neuva Villa which is apparently owned by the same family.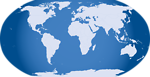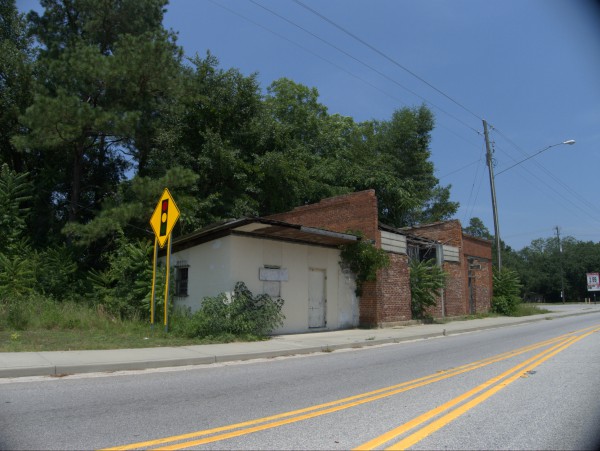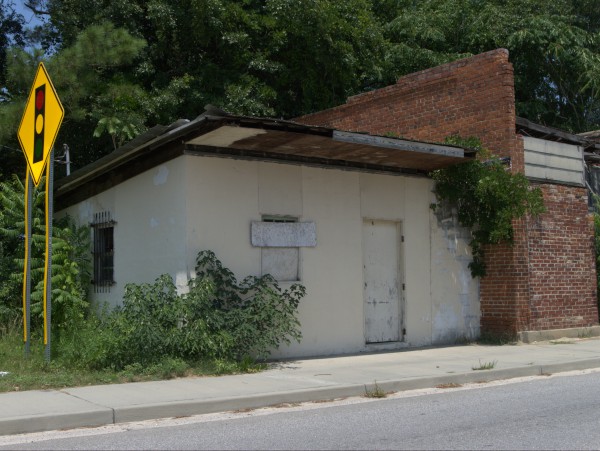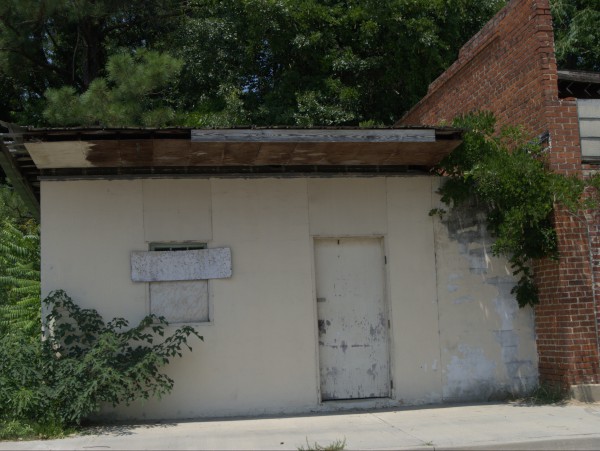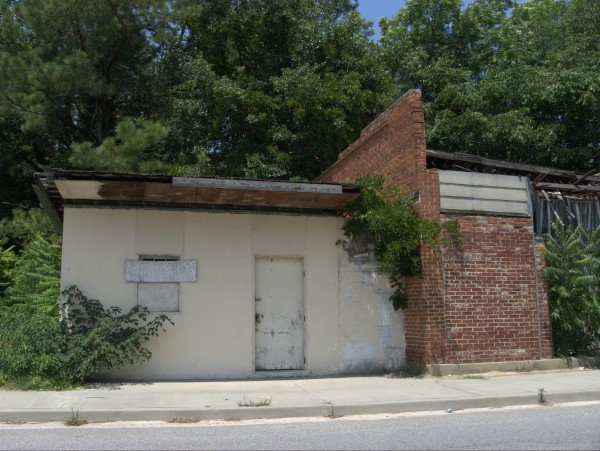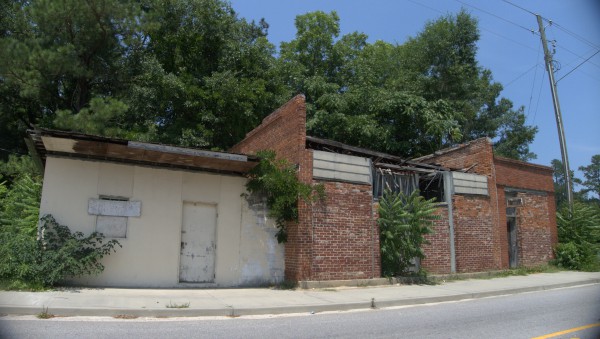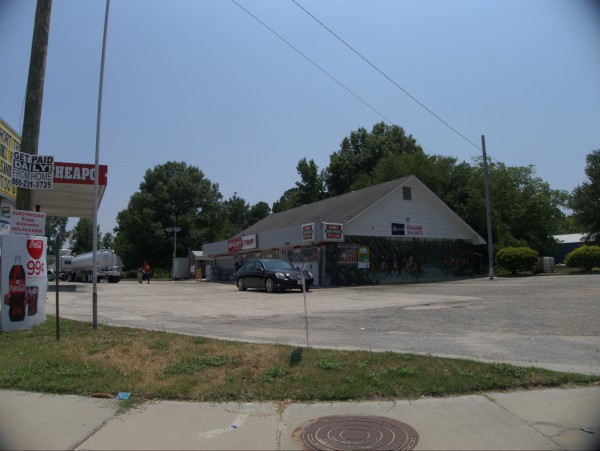 As far as I have ever been able to tell, Paxville is simply a cluster of buildings at the intersection of SC-261 and US-15 in between Pinewood and Manning on the way to the beach.
Driving to the beach growing up, we used to marvel at the little Paxville Post Office, which was the leftmost in the small strip pictured here. The Pawleys Island Post Office (in those days) was certainly tiny, but the Paxville Post Office managed to both out-tiny and out-decrepit it, and I never saw anything anywhere else to compete either. Although we never stopped to get a closer look back in the day, my impression always was that it was an official US Post Office, and not a contract Post Office.
Finally one trip, I believe it was in the 1990s, I noticed that the place was no longer open. For a time the pictured convenience store serving the intersection had a sign up advertising a contract Post Office which I guess functioned as a replacement, but that no longer seems to be the case, and the USPS web site seems to show the nearest facility is now in Pinewood.
UPDATE 12 September 2023 -- The buildings have been razed: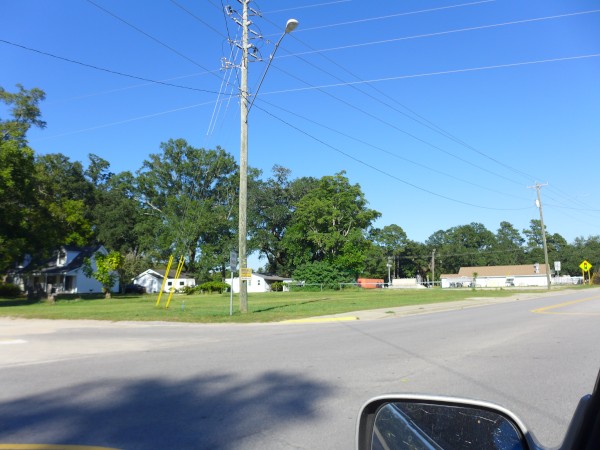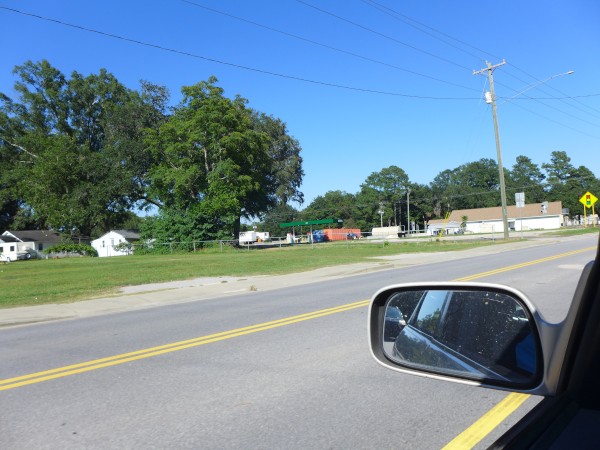 Going by Streetview, this would have happened between August 2019 and September 2021.
Also adding map icon.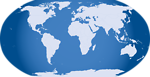 Posted at 10:59 pm in Uncategorized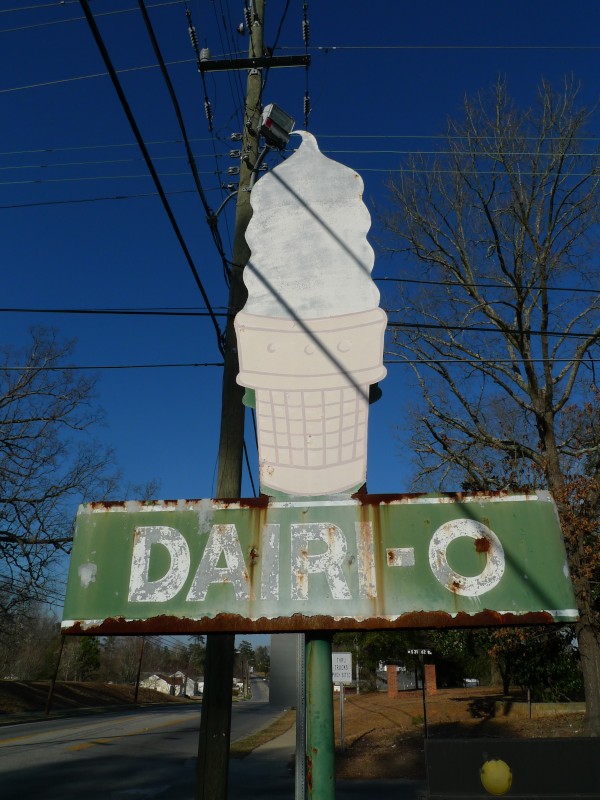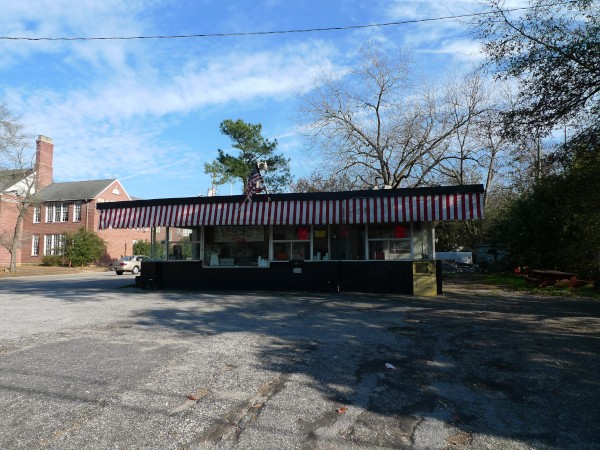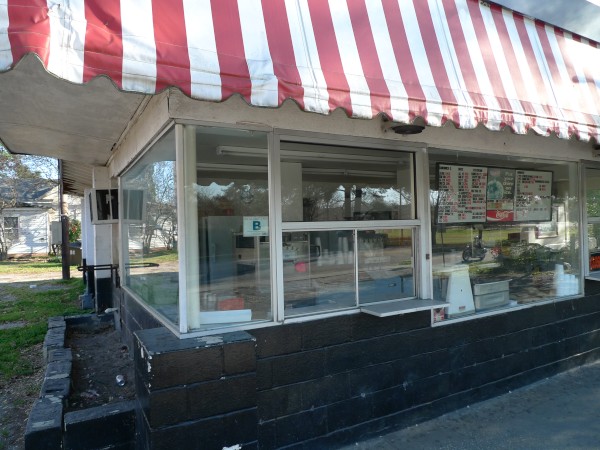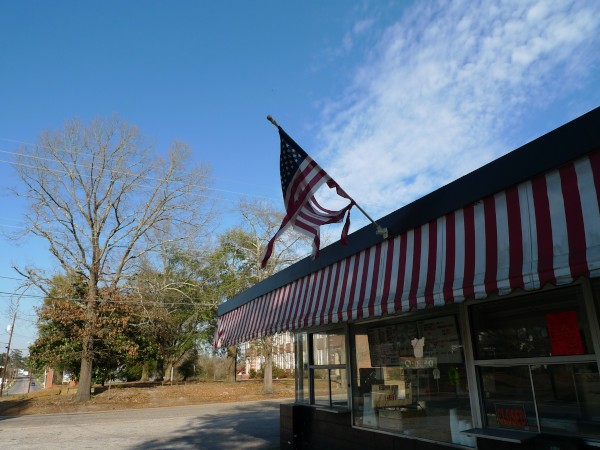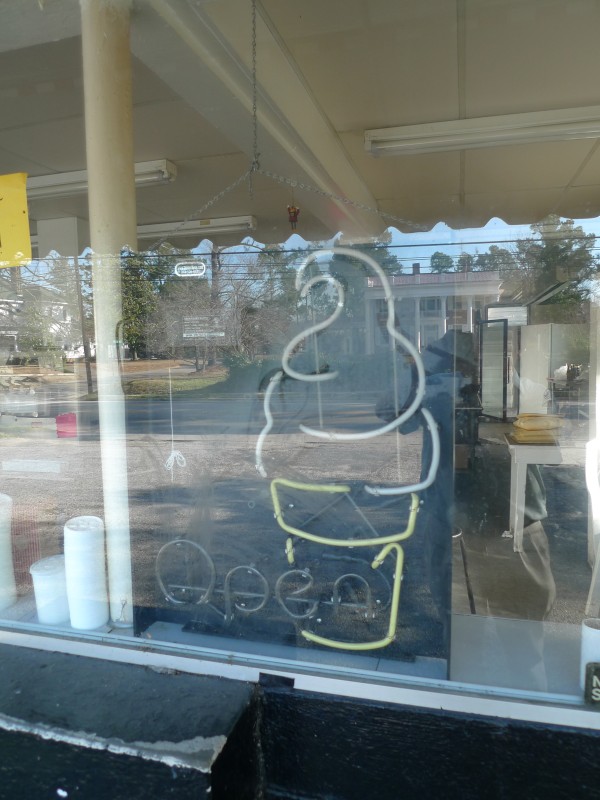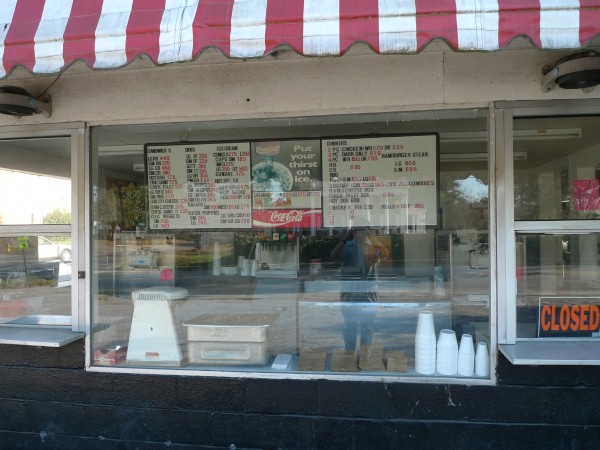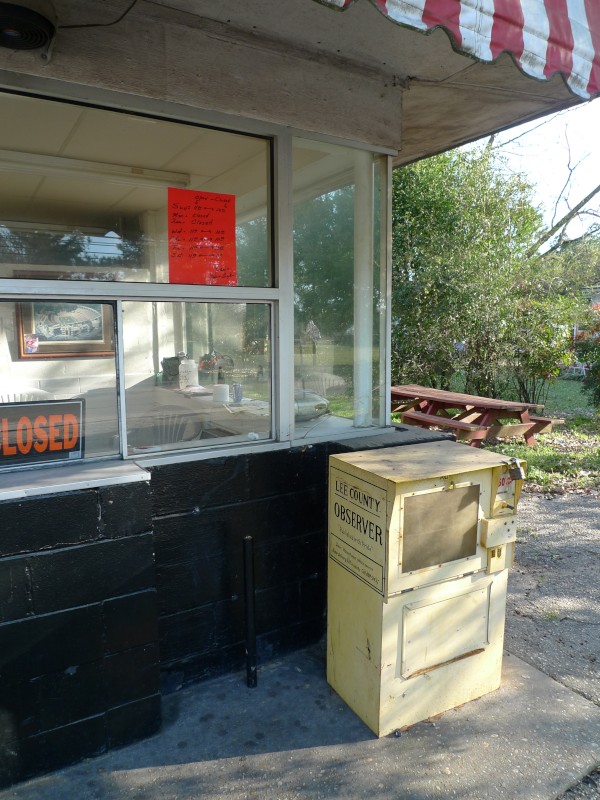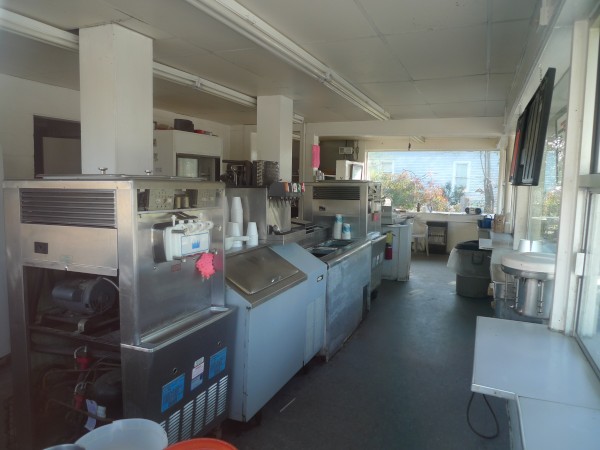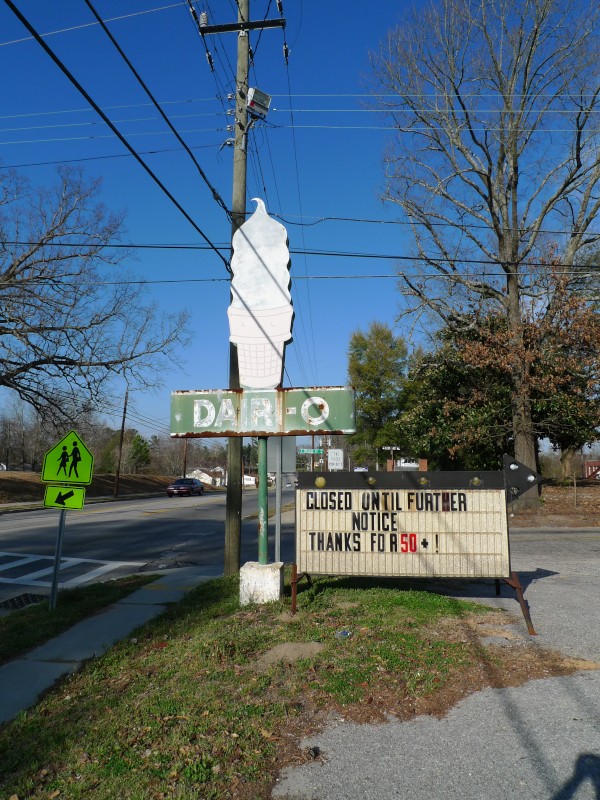 This old-style walk-up soft-serve parlor was in Bishopville, on the north side of town near the high school stadium. I would pass by it several times a year on the way to family events, and always meant to stop some time or other, but the way it always worked out is that I was not alone, running late, or both.
I first noticed that it seemed to be closed on my way to Thanksgiving 2008, and finally got around to taking some pictures in March of 2009. It was a beautiful sunny day, and I had no qualms about heading out on I-20 with a camera and some good music. According to their sign, the place had been there more than 50 years, which I have to say is a pretyt good run.
Going by this last month for Thanksgiving, I saw that now all the signage is down, and the building is just sitting there empty with no indication of what it was.
UPDATE: Looks like there's a Facebook Group..
UPDATE 23 December 2011 -- Well, as these 24 November 2011 (Thanksgiving) pix show, the building is gone now.
UPDATE 24 December 2011 -- Oops! Building is still there, but boarded up. The pix were of a lot with a gas station destroyed by Hugo, so I've taken them out. I'll try to get the real thing next time I'm over there. (Didn't have my camera ready today..)