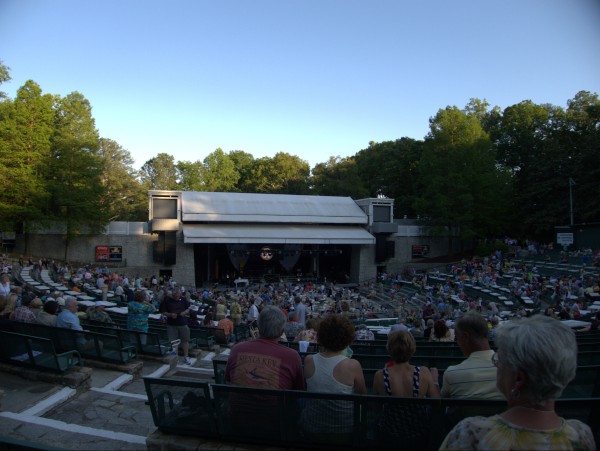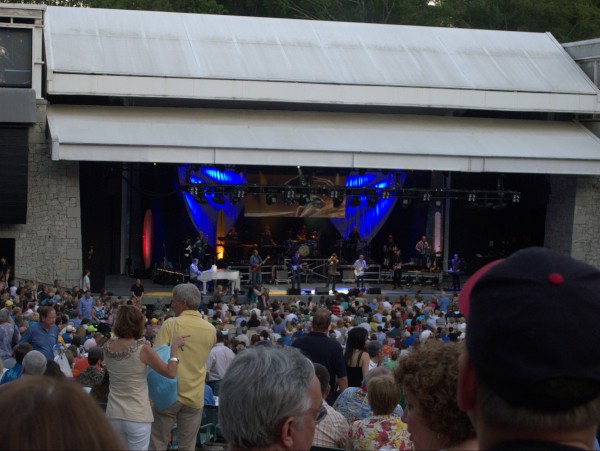 [Front Row Bottom left-to-right: Brian Wilson-Piano/Vocals, Jeff Foskett-Guitar/Vocals, David Marks-Guitar, Mike Love-Vocals, Al Jardine-Guitar/Vocals, Unknown, Bruce Johnston-Keyboards/Vocals]
(Wanted to get this out last night, but my uploads didn't finish..)
On 3 October 1961, three brothers, their cousin and a high school friend showed up at Hite Morgan's recording studio in Los Angeles. Legend has it that the brothers' parents had taken some house guests on a trip to Mexico City, leaving the boys money for food and emergencies -- money the boys promptly used to rent instruments.
Those boys, of course, were Brian, Dennis & Carl Wilson, cousin Mike Love, and Al Jardine. Dennis was the surfer in the family, and encouraged Brian to write a song about the sport. The result, which they took into the studio that day, was a song you've probably never heard, called Surfin'. The sound, recorded live in the studio, was primitive, and the feel with Mike's bomp-bompp-dipa-dipa-dip bass line harked back to doo-wop, but Morgan heard something there that he liked, and put the record out on a local LA label, the group, which had been calling themselves The Pendletones learning their new name, The Beach Boys when the song was announced on the radio. Surfin' was a major regional hit, and got up to #75 nationally -- not great, but good enough to spark the interest of an LA based national label, Capitol Records. Capitol signed the new group, assigning them to producer Nick Venet. The group went back into the studio in 1962, for their first album Surfin' Safari, which yielded two hit singles, the title track and car song 409, and the rest is history.
At the time of Surfin' Safari, founding memeber Al Jardine dropped out for a time to persue dental school, and neighborhood guitarist David Marks was recruited to take up rhythm and 2nd lead guitar alongside Carl Wilson. Groupies were in the process of being invented at the time, and legend has it that when Marks came off of tour needing penicillin, his parents forced him to quit the group with Jardine rejoining (dental school apparently not comparing well to stardom). Now, 40+ years and and a so-so solo career
later, Marks is back on lead guitar.
Around 1964, group leader Brian Wilson decided to stop touring and concentrate on writing songs and recording backing tracks with studio musicians (a common west coast rock tradition) while the band was on the road. Initially studio ace Glen Campbell was recruited to play Brian's bass and sing the falsetto parts on tour, but he was never an official Beach Boy and the band found a permanent replacement in producer and song writer Bruce Johnston (half of Columbia records Bruce & Terry
). Brian also used Bruce in the studio, with him first appearing on record as a Beach Boy in the classic single California Girls.
After 1965's Pet Sounds album, Brian was increasingly in the grips of his legendary problems, and was less and less actively involved with the band as the string of hits dwindled to a trickle. Although brothers Dennis and Carl Wilson were both capable writers and producers (for instance in Carl's classic production (lip synched here) of I Can Hear Music, and Dennis's tender ballad Forever) the group never completely adjusted to the new dynamic. Adding two members from the defunct South African group Flame didn't help matters, and led to tracks on the group's Holland
and Carl & The Passions
albums that didn't really "sound" like The Beach Boys at all.
In the mid 1970s, with the involvement of Svengali/psychiatrist Eugene Landy, Brian was coaxed back into the studio for a brief run of albums culminating with the synth-laced and quirky Love You
but ultimately succumbed once more to his ongoing mental troubles, leading to his famous extended stay in bed.
In the meantime, Dennis slept with Mike's daughter, leading to the start of years of bad blood between the two, and over the years the group became notorious for suing each other and barely being in contact off of tour. Dennis drowned in an alchohol fueled diving incident in 1983. In 1998, Carl lost a long battle with cancer, leaving (very improbably) Brian as the last surving Wilson brother. After Carl's passing, the glue binding the others was gone, and Mike seems to have kicked Al out of the touring band while Bruce just tried to stay out of all the politics and despaired at the group's future, saying at a Capitol Records 50th anniversary photoshoot that he doubted that they would ever be in one place at the same time after that.
And yet..
The story wasn't over. After a slight, 40 year delay, Brian Wilson finished Smile
and both his version and the Beach Boys' pieces/parts version
are out. And not only was Wilson out of bed and in the studio, but somehow he went out on the road with solo tours, ravaged voice, deer-in-the-headlight audience patter and all. And then this year, we somehow had Mike Love and Brian Wilson in the same room again, writing songs and recording them, and now the 50th anniversary of that 1962 first national tour -- Well, as Love once said Strange Things Happen..
So why am I even writing this? Well, I didn't listen to rock music as a kid -- until 1976, when a scout friend of mine brought a Beach Boys tape to the beach. It was a revelation to me. I had never heard anything like that, and I had to hear more. I started listening to rock radio instead of WIS (not understanding that by that time, I was more likely to hear the The Beach Boys on WIS than WNOK!), and I bought my first record album, Capitol's quickie double compilation (with the wrong versions of several songs) Endless Summer
. I paid $5.25 for it at the Two Notch K-Mart, and for me at that time, that was big money.
The first time I saw the Beach Boys was in 1976 at the Carowinds Ampitheater. This was during the "Brian is Back" hoopla, and was, I believe, the only time I saw the group with all five original members (Bruce was on hiatus at the time). The sun was bright and hot and we were all frying in it while the opening act (really just the backing band) took way too long, but the show itself made up for it. I think this was before I-77 was finished, because I distinctly remember my father driving us home on back roads while everybody was singing.
The next time was probably around 1979 at The Coliseum. I had won tickets from Mike Collins at WIS (see what I mean?) in a Beach Boy trivia contest. As was standard for The Coliseum, the sound was terrible, Brian was absent, and Dennis was so wasted that they only produced him for a contractually mandated appearance doing "You Are So Beautiful To Me" as a solo -- and still it was a great show.
After that, well, let's see.. at (for some reason) Myrtle Beach High School, The State Fair, Carowinds again (the legendary "unplugged" tour which was supposed to yield an album which never materialized), The House Of Blues in Mytle Beach (where Carl was obviously not long for the world, played mostly seated, and still sounded like an angel), Chastain Park (just after Mike kicked out Al) and the Family Circle arena in Charleston.
When the 50th anniversary tour was announced, I knew I would be there if possible. Unfortunately (though predictably) there were no South Carolina dates, so my choices were Atlanta or Raleigh. Being more familiar with Atlanta, I opted that way.
Chastain Park is an old WPA project inside the beltway. It dates from the Depression, and has that distinctive WPA look (even the bathroom fixtures still date from then!). It's a great venue, though a little hard to get to, not being really convenient to any main roads.
The show started, appropriately enough with Do It Again:
Of all the originals, Al has kept the strongest voice, and he was in great shape on his leads for songs like Help Me Rhonda and And Then I kissed Her and Cotton Fields. Brian was in very strong and clear voice, though he doesn't do falsetto anymore, and the years have obviously taken their toll. His best showcase was, surprisingly, Sail On Sailor where he was the only vocalist for long stretches. Mike was in very weak voice, as though he were fighting a cold, but generally came over with the goods on the important notes.
The groups new single (come on, it's $0.99 -- what have you got to lose?)
"That's Why God Made The Radio" from the fortcoming album of the same name
was gorgeous sounding and harmony drenched (with another strong Brian lead) and was very well received by the crowd (who seemed to be deeper into the catalog than crowds of earlier years).
Of course, any Beach Boys' concert is, at a certain point, going to get the crowd on its feet for the rest of the duration, and in this show, that point was the faux "What'd I Say" Ray Charles call and response that led into this classic pairing:
And yes, that is Brian Wilson, stepping out from behind his piano comfort zone, strapping on a bass and fronting like it's 1963.
From there there was an island trip with "Kokomo", the sublime psychadelia of "Good Vibrations", and playing out the night with "Fun Fun Fun".
The tour continues (though not near here), and if you are near a date, why wouldn't you check it out? This may be your last chance.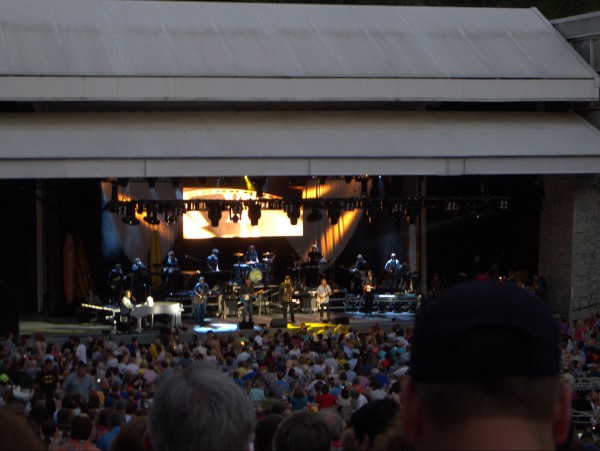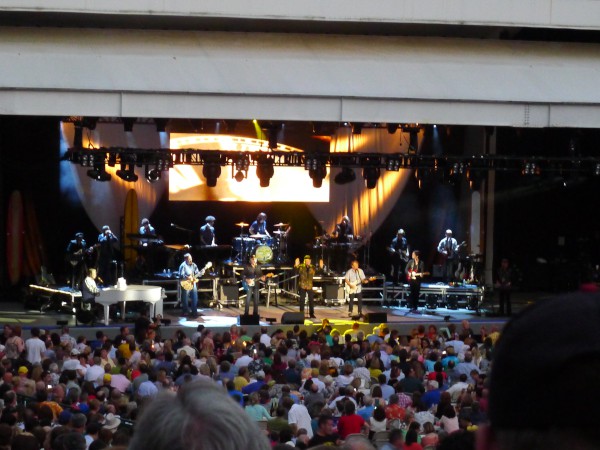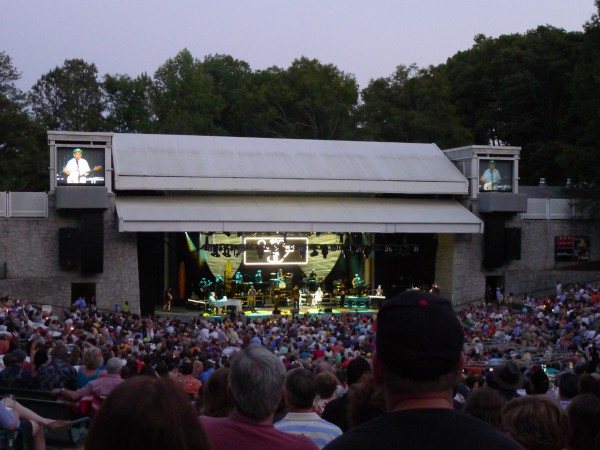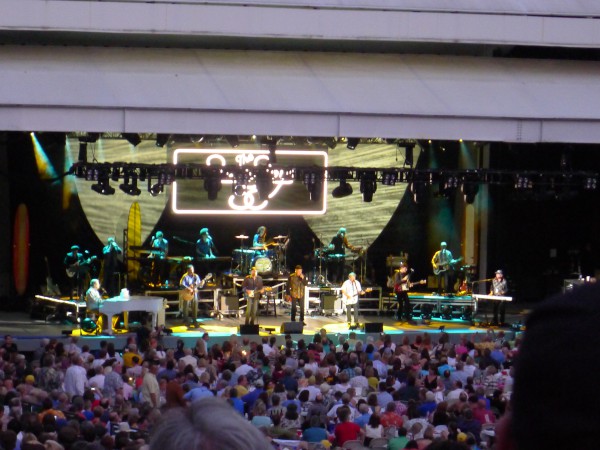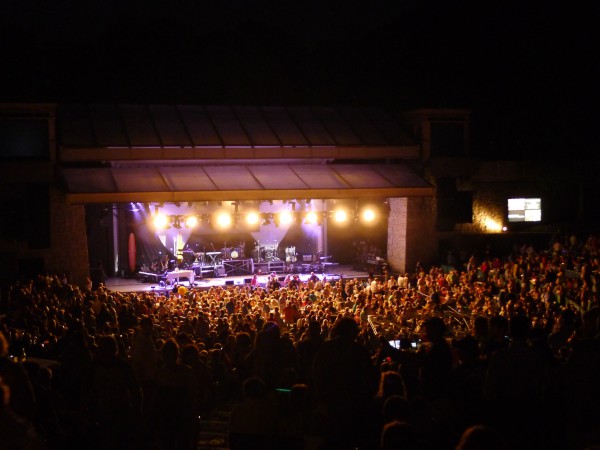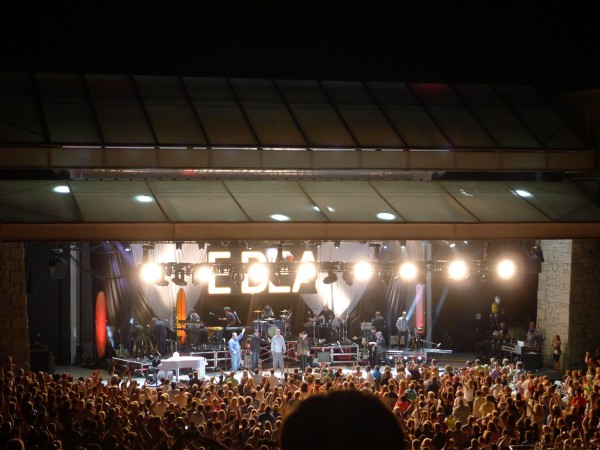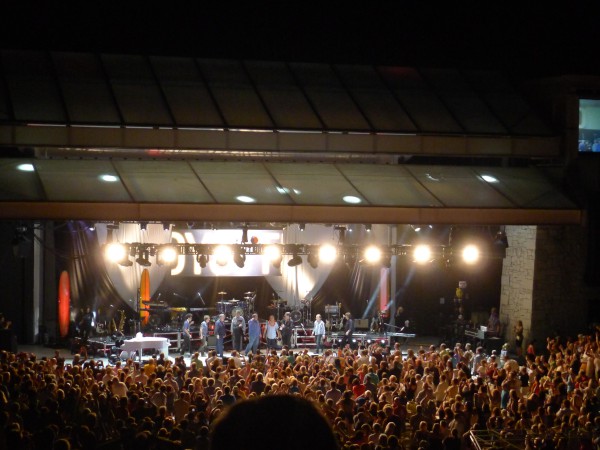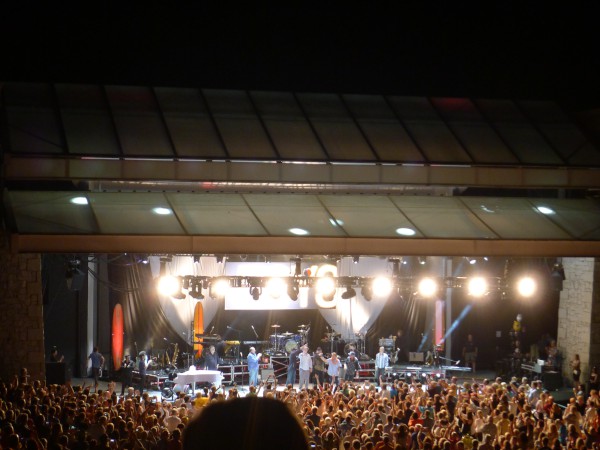 UPDATE 5 October 2021: Update tags, add map icon.
UPDATE 14 February 2022 -- I am going to try to finally get the rest of the videos I took uploaded.
Surfer Girl:
UPDATE 15 February 2022 -- Be True To Your School:
UPDATE 17 February 2022 -- Little Deuce Coupe / 409 / Shutdown / I Get Around:
UPDATE 18 February 2022 -- Sloop John B. / Wouldn't It Be Nice:
UPDATE 19 February 2022 -- Do You Wanna' Dance?: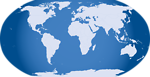 7 Responses to 'The Beach Boys' 50th Anniversary Tour, Chastain Park Atlanta, 28 April 2012'
Subscribe to comments with RSS or TrackBack to 'The Beach Boys' 50th Anniversary Tour, Chastain Park Atlanta, 28 April 2012'.
Leave a Reply