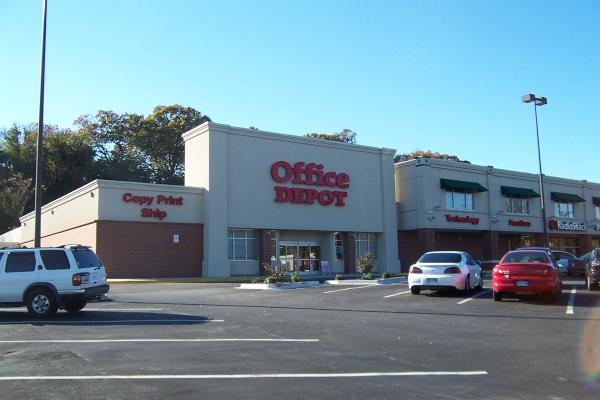 As the Christmas season rolls round once more, I am put in the mind of Peaches Records & Tapes. Peaches was a record store chain whose "gimmick" was their easy-to-assemble kits of LP storage boxes. These were of wood and made to mimick retro peach shipment boxes complete with vintage appearing art. (Brian Wilson & Van Dyke Parks had an excellent album Orange Crate Art inspired by the same conceit).
Peaches had only one location in the Columbia area, a large space on the College Street side of the old Sears complex on Harden Street. The store had the not entirely positive distinction of having turnstiles, bag checks, and other theft prevention measures that were quite unusual at the time, but once you got in, it was quite nice. Although they did have a tape section (that's where the whole And Tapes thing came in), their main focus was vinyl, and they had quite an interesting selection. Possibly it was due to their Columbia location being close to USC, or simply that they had more floor space than The Record Bar or School Kids, but there seemed to be a higher possibility of finding something really interesting there than at those other shops.
They also had a large collection of "cut-outs" (new, but discontinued records) through which I loved to browse when I had the time and money (money was definitely in shorter supply than time..). I remember in particular finding an album by the German group Trio which had the killer songs "Da Da Da (I Don't Love You, You Don't Love Me)" and "Boom Boom" which as far as I could tell was available nowhere else in Columbia other than the studios of WUSC.
I mentioned up front that the Christmas season made me think of Peaches. That is almost entirely due to the fact that they were the only store in town which stocked Christmas 45s in depth. Then as now, Christmas albums started popping up everywhere, record store or no as the days turned to fall (though I think they usually waited at least until Halloween was over in those bygone days...). Christmas 45s were a bit more rare however. Of course you could find this year's Christmas songs at The Record Bar, but classic Christmas singles hardly ever. Starting in the late 1970s on cassette, I had been building a Christmas song program, adding and rearranging things a little every year as I found more of the music I wanted. Today we would call it a "mix tape". Anyway, I remember finding a number of tracks in their Christmas single collection that were impossible for me to find otherwise. The Temptations "The Night Before Christmas" for one, Elton John's "Step Into Christmas" / "Ho Ho Ho" for another and Bruce Springsteen's "Santa Claus Is Coming To Town" for a third.
As far as I can gather, Peaches made a very bad business decision in the 1980s: They believed that the CD format would not catch on. As it turned out, this was very much not the case, and by the time they saw the writing on the wall, it was too late to retool and the chain went bankrupt. (Of course, even chains that bet on the CD have been killed by downloads, so Peaches would probably be gone now in any event).
After the chain folded, their (almost completely glass-walled) store stood empty on Harden Street for years. It stayed intact for longer than you might expect, then windows started being broken, and the thing became an eyesore. Finally when the old Sears strip was revamped for at least the second time, they knocked down the whole Peaches building, and put up the current Office Depot structure. I guess they shook the tree.
Special bonus content!
Here's the final lineup for the Christmas Mix, which took about 20 years to finally source completely from CD:
001
The Ronettes
Sleigh Ride
002
The Roches
Deck The Halls
003
Frank Sinatra
Christmas Waltz
004
The Four Seasons
Santa Claus Is Comin' to Town
005
Bing Crosby
Silver Bells
006
Jo Stafford
Baby It's Cold Outside
007
Jeff Foskett
Some Children See Him
008
Bobbie Helms
Jingle Bell Rock
009
Ertha Kitt
Santa Baby
010
Elton John
Step Into Christmas
011
Andy Williams
Happy Holidays
012
Jo Stafford
Moonlight In Vermont
013
The Whos
Welcome Christmas
014
The Waitresses
Christmas Wrapping
015
The Nutcracker Suite
Dance of Something
016
Burl Ives
Holly, Jolly Christmas
017
Elton John
Ho Ho Ho
018
The Carpenters
Merry Christmas, Darling
019
Jo Stafford
Winter Wonderland
020
Darlene Love
Marshmallow World
021
Vince Guaraldi
Christmas Time Is Here
022
Jo Stafford
Sleigh Ride
023
The Beach Boys
Santa's Beard
024
Frank Sinatra
Jingle Bells
025
Nutcracker Suite
Dance of Something Else
026
The Drifters
White Christmas
027
Burl Ives
Silver & Gold
028
Louis Armstrong
Zat You Santy Claus?
029
The Temptations
Silent Night
030
The Beach Boys
Winter Symphony
031
Instrumental
We Are Santa's Elves
032
The Beach Boys
Little Saint Nick
033
Tex Beneke
Merry Christmas Baby
034
The Temptations
Roudloph TRNRD
035
Bing Crosby
White Christmas
036
Jo Stafford
Let It Snow
037
Nat King Cole
The Christmas Song
038
Bruce Springsteen
Santa Claus Is Comin' to Town
039
Ray Stevens
Santa Claus Is Watchin' You
040
The Kinks
Father Christmas
041
The Toys
Island of Misfit Toys
042
Jo Stafford
I've Got My Love To Keep Me Warm
043
The Roches
Good King Wenceslas
044
Frank Sinatra
Time For Mistletoe & Holly
045
The Beach Boys
Holy Evening
046
The Crystals
Parade of the Wooden Soldiers
047
Brenda Lee
Rockin' Around The Christmas Tree
048
Frank Sinatra
Have Yourself A Merry Little Christmas
049
The Ronettes
Frosty The Snowman
050
Vince Guaraldi
Linus & Lucy
051
Nutcracker Suite
Dance of a Third Thing
052
Burl Ives
Rudolph TRNRD


UPDATE 11 October 2009: Changed closing date in post title from "1980s" to "1994" based on comments.
42 Responses to 'Peaches Records & Tapes, Harden Street: 1994'
Subscribe to comments with RSS or TrackBack to 'Peaches Records & Tapes, Harden Street: 1994'.
Leave a Reply