Posted at 3:15 am in Uncategorized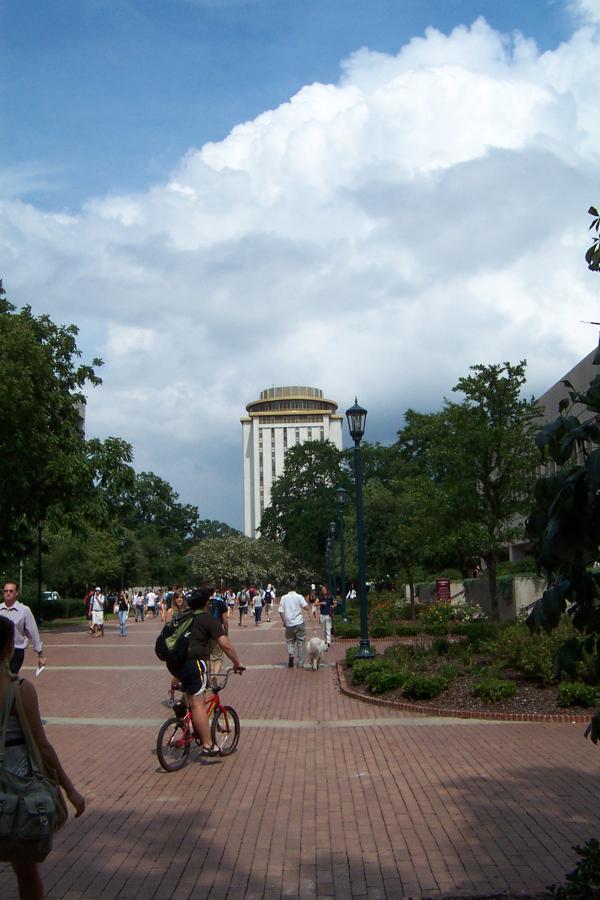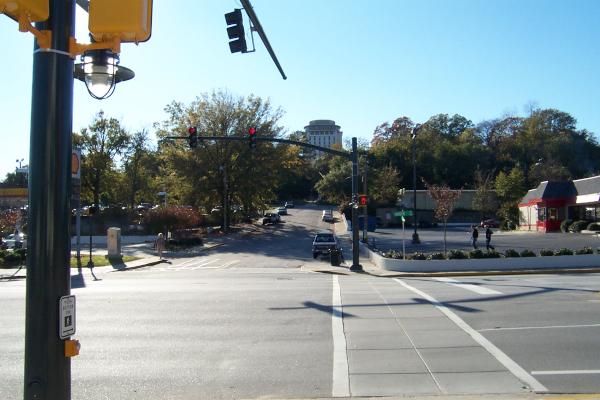 The Top of Carolina opened in 1967 and was the first (and I think still the only) revolving restaurant in the Carolinas. The revolving platform was built from equipment donated after the 1964 New York World's Fair. I don't know if the Capstone domitory on which The Top of Carolina sits was originally planned with that end in mind or not.
I remember it was quite a big deal when the restaurant opened (I would have been 6), and although our "eating out" was generally reserved for Sunday lunch in fairly prosaic spots (The Russell House, McDonalds, Ponderosa Steak Barn, Frank 'n Stein), my parents made it a point to take us kids.
We were fascinated by the whole "revolve" thing, and at seeing Columbia in a panarama below us. The food however, at least from a child's point of view, left a lot to be desired. As I recall, the only choice available was a buffet, and it didn't have sandwiches or hamburgers or spaghetti or indeed anything I liked. I believe my parents were less than impressed with it as well, though I may be projecting my feelings onto them. At any rate, we never went back after that one time while the place was in its initial mode of operation.
At some point -- it couldn't have been long after The Tricentennial, if indeed the place lasted that long -- the Top of Carolina folded as a retail operation. I'm not sure of all the reasons. I believe USC had always owned and run the place, and I'm sure the college "industrial food" mindset didn't help. Also, as far as I can recall, there was never a parking lot dedicated to the restaurant which can't have helped matters either.
After that, the University would still (and do still, I think) rent the place out for banquets, and I believe I attended one such function in the 80s. I can still recall noticing, and being pleased by how many trees downtown Columbia still had as I looked down on them.
Often we used the word Capstone to invoke The Top of Carolina, but actually Capstone is the name of the building on which TTOC sits. During my tenure at USC, Capstone was a girls' dorm (one of my cousins lived there a few years) with one of the University cafeterias as the ground floor. I often ate there, and vividly remeber a particular meal when ARA acted out a bad punchline come to life. I had gotten a burger and fries, and the food lady told me:
I burned the fries, so I gave you some extra.
As the comic said, if there's one thing I like more than bad food, it's more of it!.
The Capstone cafeteria was also the site of an incident which put me off of my habit of drinking tea and reading a book after eating and before my next class, something I enjoyed quite a bit. The tables were not exclusive, but generally if there was space, nobody would crowd. I was a bit miffed then when someone sat down by me and started a conversation, especially as looking up I saw that there were plenty of empty tables, but he leveraged the title of the book I was reading, got me to tell him a bit about it and started making general chit-chat. I was annoyed, but figured he was a new guy trying to make friends and didn't want to be rude, so I made an effort to be courteous and talked for 10 or 15 minutes, at which time of course he dropped the "would you like to come to our prayer group" bomb. I'm afraid that for the rest of my time at USC I was pretty uncommunicative verging on rude to anyone I didn't know taking a seat at "my" table, and didn't take up lunch reading again until I started working.
I think Capstone is still a dorm, but I believe the cafeteria is now gone. I believe you can still have a banquet at The Top of Carolina though I would still expect the view to be better than the food.
UPDATE 3 Dec 08
Commenter Dennis sends the following notes and picture:
I was always very interested in this place because of my great interest in the 1964 World's Fair, but have only managed to get in and eat once. It is impossible to get information about the rare times it is open to the public. On USC websites it is referred to as the Top of Carolina Conference Center and it seems you can only rent the place for events, but they sure don't advertise or make it easy to get info.
Anyway, I found this dated April 2007. Don't know if they ever did this renovation:
In addition to receiving that report, the University's Buildings and Grounds Committee approved a plan to use about $700,000 in Sodexho dining services funds to renovate the Top of Carolina facility at Capstone in summer 2008. The revolving restaurant atop the 18-story residence hall has been an icon in Columbia since it was built in 1967. The facility was used for 32 Sunday brunches and 44 catered University events in the past fiscal year.

"We're planning to replace carpet, window treatments, and the heating/cooling system along with making the facility ADA accessible," said Rick Kelly, vice president for business and finance.

After renovations are completed, Top of Carolina will be the venue for catered events throughout the academic year, said Michael Scheffres, general manager of University dining services. Sunday brunch at the facility is open to the public during the fall and spring semesters.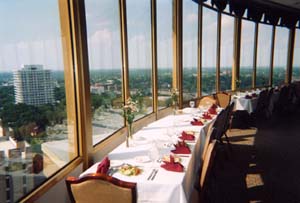 The picture conveys what I didn't really note in my initial post. The "revolve" part of the restaurant is a circular band which orbits a non-moving core. Essentially, only the guest seating rotates.
UPDATE 1 November 2009: Open again!
29 Responses to 'The Top of Carolina, Capstone: 1970s (open again)'
Subscribe to comments with RSS or TrackBack to 'The Top of Carolina, Capstone: 1970s (open again)'.
Leave a Reply