Posted at 4:45 pm in Uncategorized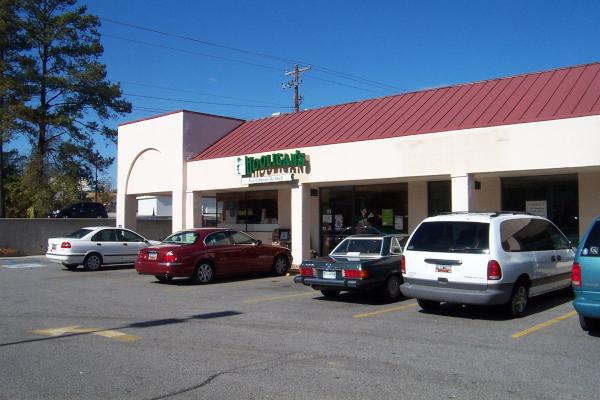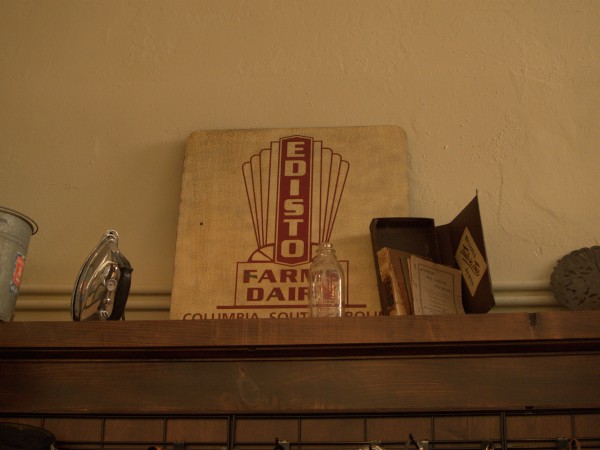 Like Martin's Coffee House, Edisto Dairies first turned up in a comment thread, and seemed to have a number of people who fondly remember it, so I'm copying those comments here, and making a full-on Edisto post...
Grocery shopping has changed a lot in just my lifetime (I'm closing fast on 48..), but in the lifetime of someone like my father, it changed immensely. First of all, when he was growing up in the 1920s in Fernandina Beach Florida, how you went to the store was different. You probably walked most of the time. Sometimes you might take a horse cart. For one particular store, my grandfather would put a handcart on the local rails and you would see-saw there. You certainly didn't drive a car. When you got there, you would probably give your list to the grocer whose help would fetch your items to you. You certainly wouldn't go back into the stock yourself and pick things out. You might not even pay cash for anything, as the grocer would have an account for your family which you would periodically settle. And just to continue this digression in a seasonal mode -- if it were near Thanksgiving, you would go to the butcher, pick out a turkey, tie a string around its neck and walk it back to your house.
All that was if you actually went to the store. For a lot of things, you didn't have to. The ice-man would drive his cart to your house and replenish your ice-box, and the milk-man would come by in his wagon and leave full bottles on your doorstep and pick up your empties to clean and re-use.
Well, by and by the iceman cometh-ed not, but the milkman was a steady presence for over half of the 20th century, featuring in innumerable risque jokes and arriving at dawn or before day-in, day-out and year round. In Columbia, or at least my part of Richland County, the milkman was Edisto Dairies.
I've forgotten the milkman's name, though I knew it well at the time, but the Edisto truck would come off of Trenholm road and make its way onto my street and I knew that if I got up early enough, and ran down to the corner, the milkman would let me steer the truck from the corner to our house. The truck was something like a UPS truck, with the "doors" always open on both sides. The floor was corrugated metal with a very spartan seat for the driver. My mother would make sure I had on shoes before sending me off, as there were apt to be glass fragments on the floor of the truck. I would hop in from the "passenger's" side and take the wheel and the milkman would ease the truck into gear and off we would go.
Edisto's milk came in standard bottles. I think some dairies had long-neck ones, but Edisto's were short neck, and were sealed with flat, waxed paper caps. I'm unsure now what actually held the caps to the bottles -- perhaps they were put on while the milk was warm with pasturization and vacuum-sealed as it cooled. The caps were actually in some demand for school projects. I remember in particular at Satchel-Ford Elementary we had a "counting man" which was a flat wooden figure of a man who had no fingers. and we would somehow attach milk-bottle caps to his hands for various counting exercises.
I don't know much about Edisto the company. From the name, I assume it was a collection of farms along the Edisto river, but I could certainly be wrong. As a commenter notes, they advertised that their milk was "Golden Guernsey" milk, and aside from their milk-routes and, according to commenter Lew, a milk plant on Superior Drive, they also had several ice-cream stores in town. The one I recall was in Trenholm Plaza in the far corner, next to Trenholm road. The place has, I think, always been some kind of ice-cream store since then, and currently houses Hooligan's, a nice place to take kids for ice-cream and a sandwich. (Though that wing of the plaza is to be torn down soon). They also had several huge advertising displays in town. The one I remember most was on Beltline Boulevard, and was a huge animated stream of pouring milk flowing from a big carton into a big mug. (I suppose the milk stream was some sort of painted revolving spiral..
The government at both state and federal levels has always intervened in the dairy market. I think it was primarily the state governments until the New Deal -- as a child, one of my father's family tasks was to take the coloring agent that came with each purchase of margarine, break the capsule, and spread it on all the sticks of margarine to make them yellow since so as to protect dairy interests it was illegal to sell yellow margarine in Florida. After that, there was a web of regional price support rules, and it was illegal to sell milk more cheaply than the agreed local price. I think that started to change in the 60s and 70s, and the milk market became more national. I don't know if that had an effect on Edisto, but I suspect it may have. At any rate sometime in that timeframe, they were bought out by Coburg dairies.
The rise of supermarkets had already been reshaping the grocery market for decades, and with their ample refrigeration cases and centralized locations, at some point it no longer made sense for dairies to deliver to indivudal homes, or for families to want them to. I may be wrong, but I don't think Edisto/Coburg home delivery lasted much if at all past the turn of the 70s (actually potato chip delivery lasted a lot longer!), and today milk is a complete commodity, like sugar. You buy "whole", "2 percent", "skim", or "nonfat" and never notice whose name is on the top of the carton and if the cows are anything beyond "cow" (ie: Jersey, Guernsey etc), they keep it to themselves. Not to mention that the whole insurance industry would descend like a horde of locusts on any company letting an 8 year old "steer" one of their trucks.
UPDATE 11 October 2011: Added a photo above of an old Edisto sign currently on display at the new Mast General Store on Main Street.
57 Responses to 'Edisto Farms Dairy, Trenholm Plaza, etc: 1960s'
Subscribe to comments with RSS or TrackBack to 'Edisto Farms Dairy, Trenholm Plaza, etc: 1960s'.
Leave a Reply