Posted at 12:29 am in Uncategorized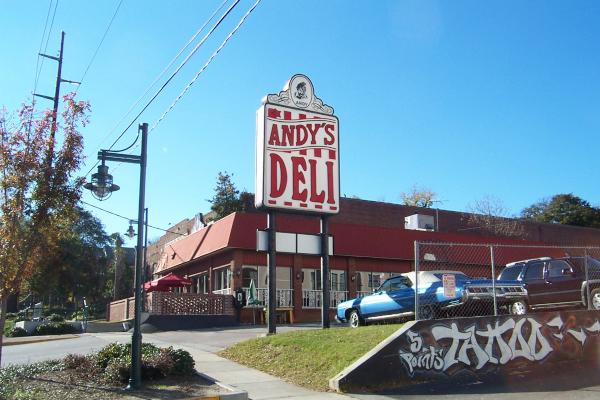 Lum's was a small chain of hot-dog restaruants. I say small, because I only knew of two stores -- I suppose it could have been huge somewhere else in the country, but as far as I know, in South Carolina there were only this store on Greene Street (now Andy's Deli) and a store in Myrtle Beach by the Family Kingdom amusement park (the home of the "Swamp Fox" coaster).
I don't know why it is, perhaps because hot-dogs just seem such a casual food, but hot-dog restaurants don't seem to make it big. I know Sandy's is locally beloved, but those are small stores with no table service, and I believe the same is true for the only other famous hot-dog outfit I can think of: Nathan's. If I recall correctly, Lum's did have menus and table service. It's been so long ago that I was there that I'm on very shaky ground here, but I believe their big claim to fame was hot-dogs cooked in beer. I'm sure we wouldn't have been allowed to have such a thing. I have an even vaguer memory that perhaps I had a "cheese-dog" there, a hotdog covered with melted cheese. I also think that perhaps the hot dogs were plumper and less firm than I now prefer -- I enjoy the consistency of an Oscar-Meyer dog myself (cooked on a fork over a stove eye is fine if a grill isn't available).
Whether because folks just don't associate hot-dogs with a real "restaurant" or for Lum's specific reasons, both the stores I was familair with closed long ago -- I don't believe either made it out of the 1970s: Guess they coudn't cut the mustard...
UPDATE 20 April 2010: Added full street address to post title, and corrected spelling of "Greene" Street.
UPDATE 9 June 2010: Changed post title from "Lum's Hotdogs" to "Lum's Restaurant" as that was how they listed in the 1970 Yellow Pages.
30 Responses to 'Lum's Restaurant, 2005 Greene Street: 1970s'
Subscribe to comments with RSS
Leave a Reply