Archive for the 'Boyden Arbor Road' tag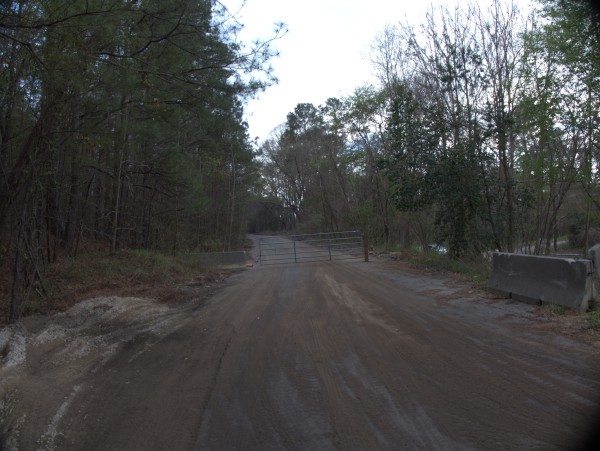 I've been meaning to get back up in here for several years and see what is still left, but recently I've seen construction trucks going in and out, so I figured I had better go ahead and do it now, before whatever is left is gone..
As you may know, one of the main Fort Jackson gates used to feed directly into Percival Road, not too far west of Decker Boulevard. All the gates were (and probably still are) numbered, and I used to know the number of this gate, but can't now recall it. At any rate, my father was an Army Reserve member and then retiree, so my mother and we minor children had post access as a consequence. We would frequently go to one of the post theater (where they always played the national anthem before the show), or to the PX or library (which actually had a pretty good selection of SF books, many of which were not in the RCPL).
My memory is that at the top of the hill leading from Percival onto Jackson Boulevard and into the Fort, just past the gate to the left was an AFFES convience store, and a bit further down the road on the right was an AFFES fast food hamburger joint.
As some of you may recall, building I-77 took a *really* long time. Some wag wrote a letter to the editor at The State speculating that a troop of Boy Scouts with spoons could do it faster -- but finally it was done, and the new road cut through this entrance, which had by that point been closed for several years in anticipation of the event.
Looking at Google Maps aerial view of the site, apparently taken some while ago, I can see what appears to be a parking lot just before the I-77 barriers. I speculate that the convenience store was there, but it's possible that it was actually in the I-77 roadbed.
Several wars have been fought since this gate was closed, and Fort security is a good bit tighter now. The new gate comes out onto Percival over a bridge across I-77 east of Decker at Boyden Arbor Road, but I believe that access is somewhat restricted, and that the Forest Drive/Strom Thurmond entrance is now the main entrance for general traffic.
Let's take a walk: