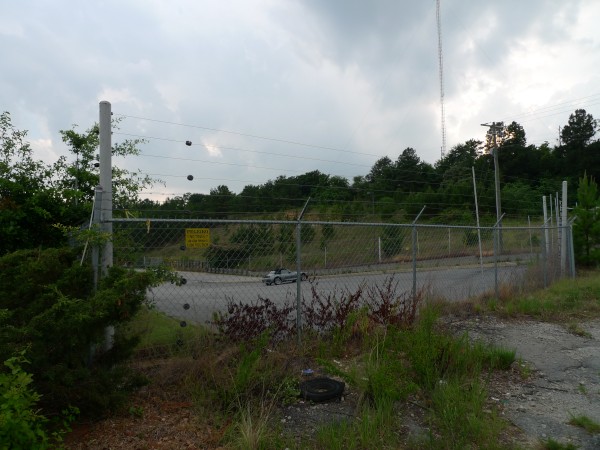 This is probably the second most searched for closing, after The Bounty. As with The Bounty, I've held off doing a post because the place is completely gone, I don't have any pictures of it, and I don't have any personal memories to relate.
I was thinking that I could do some research at the RCPL and at least come up with an old Yellow Pages ad to hang a post on, but when I finally got a chance to check it out, I found that The Zoom Flume never had a Yellow Pages entry, at least under any category that made sense to me. In fact, they were only listed in the white pages for two years.
So here's what I know about the waterslide: The Zoom Flume was located at 107 Calvin Drive (unless you believe a city directory entry which puts it at 5959 Two Notch Road), which is a small street off of Two Notch Road in between Arcadia Lakes Drive and Fontaine Road. Calvin Drive starts perpendicular to Two Notch, then turns off parallel to Two Notch and Shakespeare Road and runs behind Freedom Suziki. 107 Calvin Drive is now a vacant lot behind Dixie Trophies, Inc.. The slide would, I assume, have been situated up the hill that elevates Shakespeare Road above Two Notch. Currently, for no reason I can discern, the empty lot is surrounded with a formidable looking 7000 volt electrical fence.
People have talked about The Zoom Flume in the comments sections of other posts from time to time, with the most solid information coming from commenter Captain Dave who said:
The one on Two Notch was indeed "The Zoom Flume". I remember it well because they were a major sponsor at WZLD-FM where I worked. It's heyday was the summer of 1979. We gave away free passes all the time. Ithink we tied it in with "The Ramblin' Raft Race" on the Congaree River.
So that's pretty much it. Not a great post, but hopefully it will provide a place for people who actually went to the Flume to add comments. If anybody has pictures of themselves playing there back in the day, I'll gladly post those as well.
UPDATE 16 Dec 2010: Commenter Tonkatoy sends in this 1984 yearbook ad for Super Slide And Arcade which was apparently another incarnation of The Zoom Flume. It was slated to open in May of 1984. I don't recall that one at all. I've added Super Slide to the post title.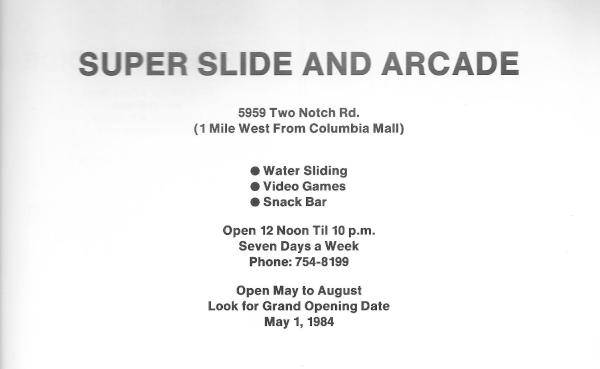 UPDATE 27 April 2017 -- I'm told that if you Facebook, there is a Zoom Flume photo here
38 Responses to 'The Zoom Flume Water Slide / Super Slide & Arcade, 107 Calvin Drive / 5959 Two Notch Road: 1980'
Subscribe to comments with RSS
Leave a Reply