Posted at 11:42 pm in Uncategorized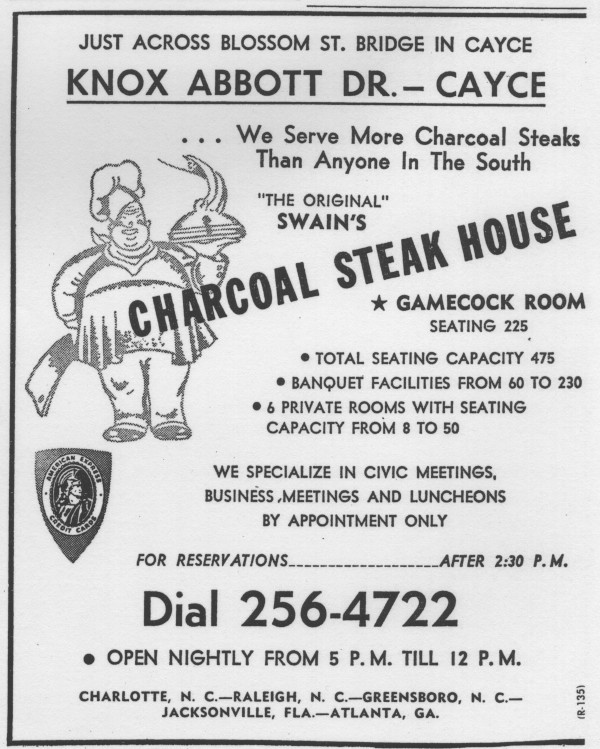 Well, people have been talking about Swain's in the comments recently, so I think I'll move this post forward in the queue, though I don't have a lot to say about it.
I haven't been able to find out much about Swain's. It was a name I heard growing up, but we never went there, and indeed I wasn't quite sure where it actually was at the time, or now. From this 1970 Yellow Pages ad, it appears to have been a Southern based chain, though I get google hits on locations elsewhere in the country now as well.
You'll notice that the ad doesn't give an actual street address and neither did the white pages listing which simply said "Knox Abbott Drive" -- it's like they thought if you didn't know, you shouldn't go. I had to search up into the 1980s before I found a listing that put them at "150 Knox Abbott Drive". Just from the 1970 ad, I had at first supposed that Swain's was the original tennant in the building now housing Monterrey Mexican, but that is "199 Knox Abbott", which is on the other side of the street entirely. From the satellite view in google-maps, it appears that "150 Knox Abbott" is now vacant (and would be in the vicinity of all the new land clearing on the Guignard Bricks property.
Swain's seems to have been an upscale place with a piano bar. I also notice that like a number of places from the 1970 phone book, they were open past what is considered "normal" (10pm) now -- I wish places still did that.
UPDATE 17 June 2009: Commenter Badger says the place lasted until 1995, so I have updated the closing date from "1980s" to that.
UPDATE 1 Oct 2010 -- Southern First bank is now approximately in the old Swain's location (though the street address for the bank is 190 Knox Abbott Drive vs 150 for the vanished Swain's building: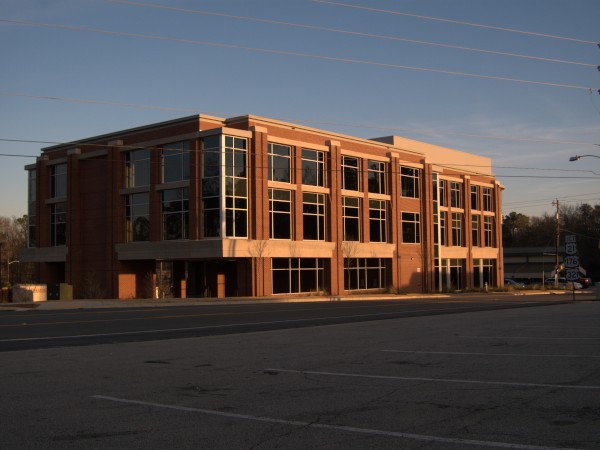 31 Responses to 'Swain's Charcoal Steakhouse: 150 Knox Abbott Drive: 1995'
Subscribe to comments with RSS
Leave a Reply