Posted at 2:30 am in Uncategorized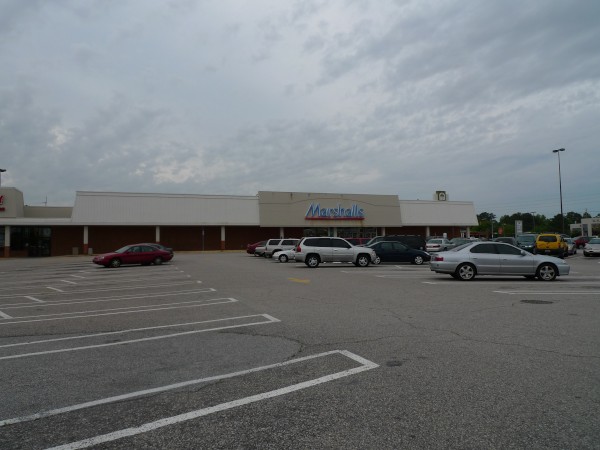 This building, now a Marshall's can't really be considered as a Columbia Mall outparcel store because it predates the mall. It was definitely a grocery, and I'm pretty sure it was Winn Dixie. We went there only very rarely, since we considered the area to be something of a boondocks and a long way from our house. Of course this was a time when a "long distance" phone call was something you saved for special occasions, and the area now seems quite close to me even though I live in the same place.
I'm not sure why the place failed to thrive after Columbia Mall went up -- on the surface that seems like it would have driven more traffic, but apparently not. I'm pretty sure that Winn Dixie moved out of here before coming back to the area with the ill fated Decker store in the 1990s. After that, a number of things went in -- I think it was a party shop at one time, but Marshall's has been there for several years now.
UPDATE: Updated the date in the post title from "1970s" to "Late 1990s" since commenters recall this store being open until the Decker store opened.
8 Responses to 'Winn Dixie, 7049 Parklane Road: Late 1990s'
Subscribe to comments with RSS or TrackBack to 'Winn Dixie, 7049 Parklane Road: Late 1990s'.
Leave a Reply