Posted at 11:53 pm in Uncategorized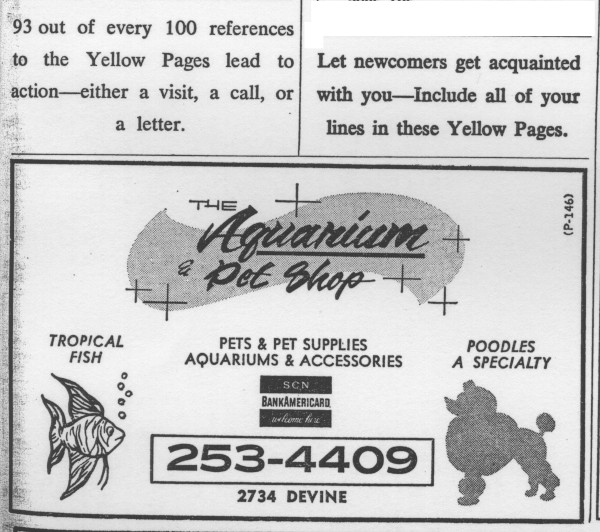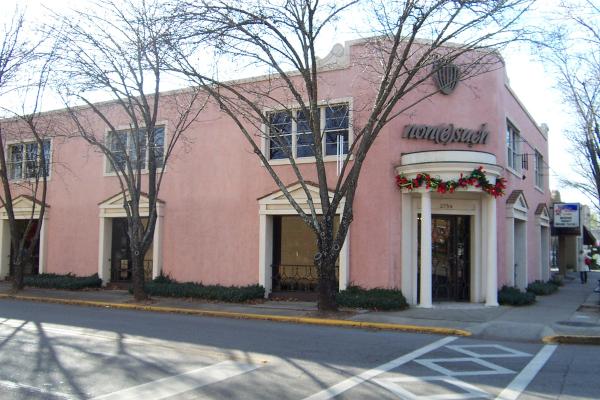 I'm not totally sure this is the storefront I want, but I think I remember that angled main entrance, and if it wasn't this building, it was somewhere nearby, but anyway when I was small, there was a pet store here.
I generally can't go in pet stores now, they make me too sad, but when I was a kid, I didn't think about the "big picture" and was just fascinated by all the animals. Pet stores were all over. There was one with puppies in Columbia Mall, one at Trenholm Plaza and even Woolworth's had fish, turtles and gerbils. If I recall correctly, the one on Devine had lots of fish, but the real reason we liked to walk down there after piano lessons at Haven's Music was because of the bird.
I'm not sure what kind of bird it was now, but it sat on a high perch just inside the front door, and could talk. Sometimes it would volunteer something as you walked into the shop, at other times you had to prompt it, which you could do by saying "Pretty boy, pretty boy" in a sing-song cadance. Generally after you had done this a few times, it would perk up and say "Awk! Pretty Boy! Pretty Boy!" back at you.
I don't believe the bird was for sale, I had the impression that he was the personal pet of the shop owner. From time to time I've wondered what happened to him. Given how long some birds live, he could still be "pretty boy"-ing up a storm somewhere in the midlands..
UPDATE: Commenter Dennis supplies the name of the place as "The Aquarium and Pet Shop II", so I'm updating the title of this post to reflect that.
UPDATE 31 March 2009: Added the 1970 Southern Bell Yellow Page ad (which does not have the "II" suffix on the name).
10 Responses to 'The Aquarium and Pet Shop II, 2734 Devine Street: 1970s'
Subscribe to comments with RSS or TrackBack to 'The Aquarium and Pet Shop II, 2734 Devine Street: 1970s'.
Leave a Reply