Archive for the 'Coliseum Drive' tag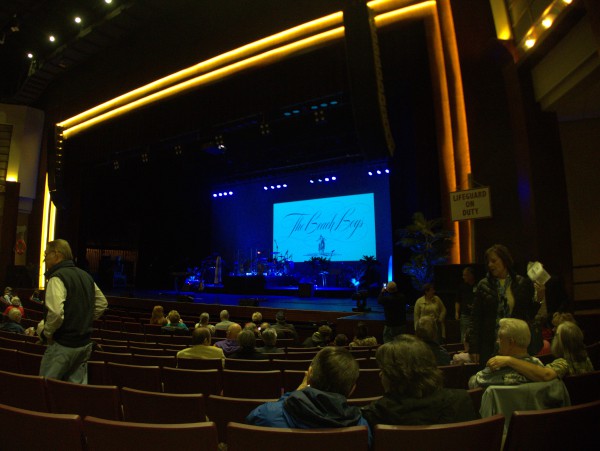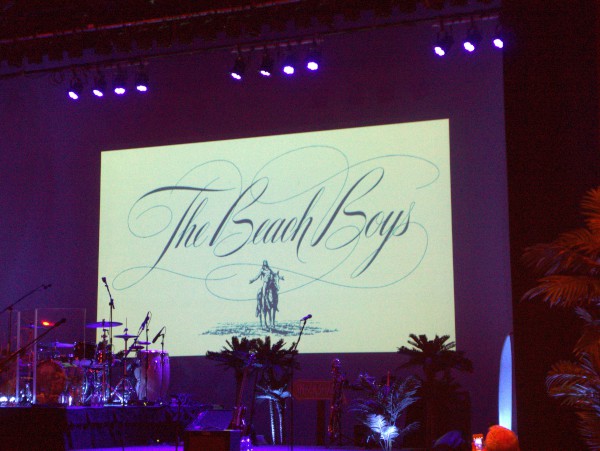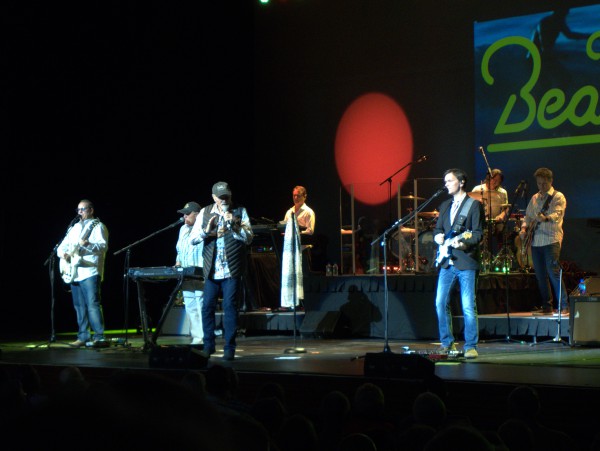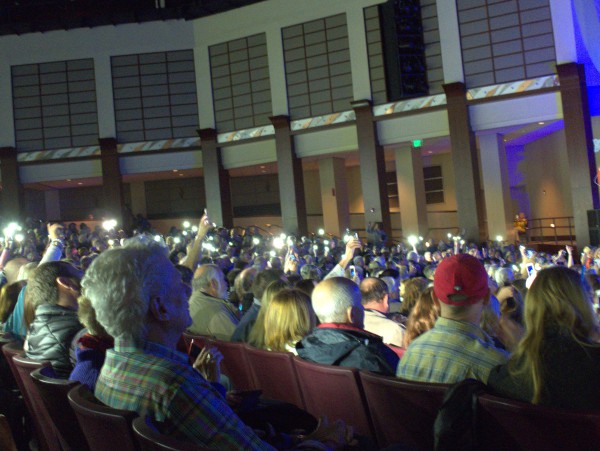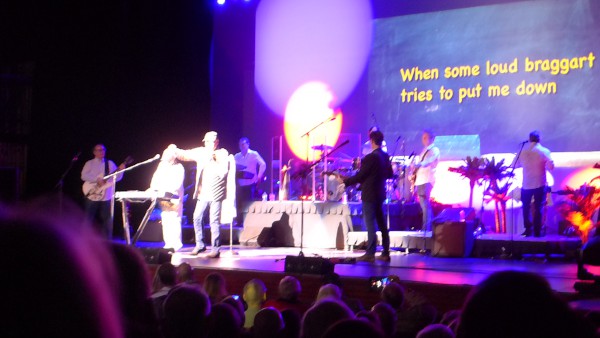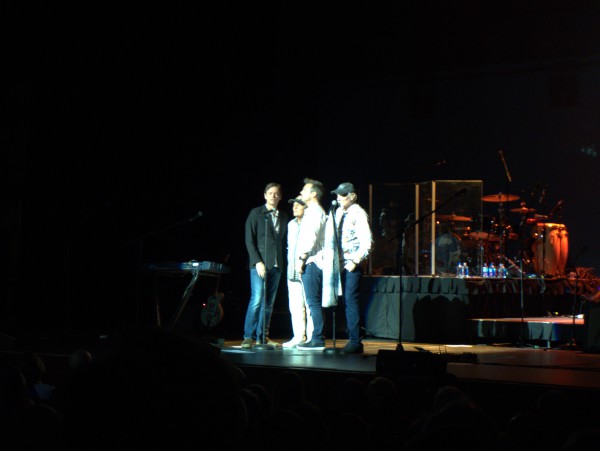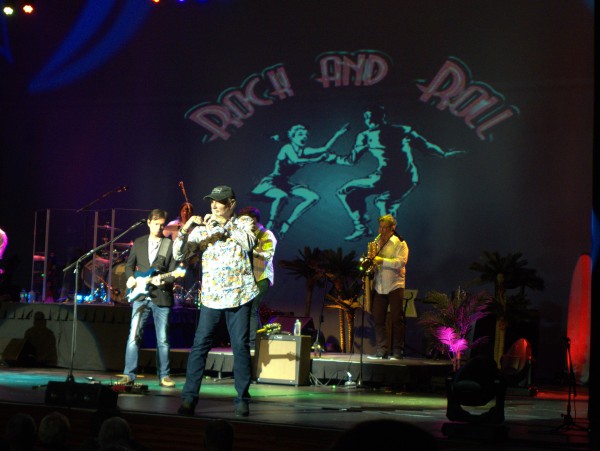 The last time I saw The Beach Boys was on the now legendary 2012 50th Anniversary Reunion Tour in Atlanta. Since then, Mike Love and Bruce Johnston have been leading the "Beach Boys" flagged tour with the permission if not the participation of the other members, and Friday they brought the show to the North Charleston Performing Arts Center, a fairly intimate venue with great sound (in marked contrast to some of the outdoor venues I've seen them in over the years).
I got there about 40 minutes early and decided to have a concession stand hot-pretzel and beer while waiting: $13.50. Talk about your captive customers!
The shows started before the band came on with a video presentation with bits of Beach Boys' history and footage of performances from the last 50 years. Then the band came out and started into a back-to-back presentation of the surfing songs including "Surfin' Safari", "Catch a Wave", "Hawaii", & "Surfin' USA". The touring band is (at least for this venue) eight people. Mike & Bruce, of course, Jeff Foskett who has been with various band permutations since the 80s on guitar and falsetto, John Cowsill (from the 60s group "The Cowsills") on drums, Scott Totten on guitar and vocals, a Brian (not Wilson, obviously) whose last name I did not catch on bass and an energetic sax player whose name I did not catch at all as well as a second keyboard player.
I thought the sound was a little thin at the beginning on "Surfin' Safari", but they either made adjustments or everyone warmed up because things were much more solid after that. Mike did the MC duties and seems to be slipping into the role of "Elder Statesman" fairly well, something you might not have expected from the younger Love. His speaking voice had a bit of quaver, and at times you could hear his age in the leads, but on the whole he came over very well, including a long segment of "Do It Again" where he was completely unsupported by any other vocals for whole verses.
One of the criticisms Mike has gotten over the years is of running a greatest hits show rather than displaying the breadth of the Beach Boys catalog. In fairness, I think he knows what a festival audience wants, but in this venue he definitely showcased some of the lesser known gems including "Farmer's Daughter", "Kiss Me Baby", "Good To My Baby", "Surf City" & "The Warmth Of The Sun".
Although surprisingly Mike did not mention his recent memoir, the weight of history was definitely part of the show. One device, used several times, was having historical footage play behind the band while they performed a song. It was somewhat eerie at times to see current Mike singing in front of young Mike, closely in sync and often making the same gestures. That had to have taken a lot of practice. The band also paid tribute to the late Carl & Dennis Wilson by singing backup to historical leads: Carl on "God Only Knows" and Dennis on "Do You Wanna Dance?". This led into a segment where Mike touched on his Eastern beliefs about what goes on and what remains and introduced a well received new song "Pisces Brothers" that was largely a tribute to his late friend George Harrison.
Bruce got two notable leads during the show. One was, of course, his often covered and much loved "Disney Girls" while the other was "You're So Good To Me" during which he altered the original phrasing quite a bit, which was unexpected but largely worked, I thought. Speaking of which, I also noticed that Mike had written a number of new lyrics to "Getcha Back".
After a brief pro-forma walk-off, the band was back for an encore to close with two of their biggest crowd-pleasers Barbara Ann & Fun, Fun Fun (I can't put the version I recorded last night here, because it was very much a sing-along -- and I can't sing). I do have a few more videos to upload, so check this space again..
I got my ticket just after the North Charleston show was announced. Shortly after that, they also announced a show for 29 January 2017 at the Koger Center in Columbia. Folks, these guys are in their 70s: I highly recommend you go to the Columbia show if at all you can, because a) It's a great show & b) You may not have another chance.
UPDATE 22 February 2022 -- I'm finally getting some of these videos uploaded. Also adding map icon.
Surfer Girl (partial) -- I missed the start of this one:
UPDATE 26 February 2022 -- Missed the start, somehow turned the camera off, then turned it back on. Enh, there's no undoing it now...
Surfer Girl (continued):
Be True To Your School:
UPDATE 27 February 2022
Summer In Paradise:
UPDATE 28 February 2022:
Little Deuce Coupe / 409 / Shutdown / I Get Around: