Posted at 2:41 am in Uncategorized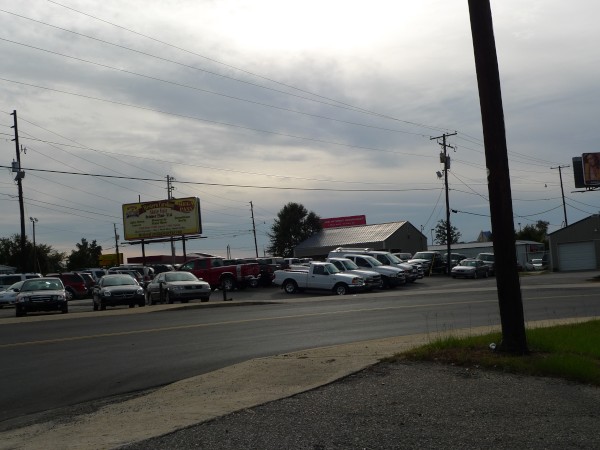 I don't remember what the name of this place was, and I don't think even the building remains now, or at least where I recall it as being is a car lot with a pre-fab looking HQ.
Anyway, there is an odd little triangular lot where Augusta Road (US-1) and SC-12 come together. The join of the two highways makes the point of the lot, and Hook Avenue makes the base. I recall that for years when I was driving out US-1 towards I-26, I would see this little building with a sign that said (more or less) "Hardware & Groceries". Finally one day I thought to myself, That's rather odd, isn't it? and decided to stop.
It was exactly what the sign promised, groceries on one side of the store, and hardware on the other. I didn't need anything, but I was the only customer in the store, and I felt like I ought to buy something rather than either letting them think I a) was an idiot, or b) had stopped in just to gawk, so I looked around and picked up a package of spaghetti noodles like I had meant to do that.
My guess is that the place started when the area was "the boonies" and had just carried on as the surroundings developed. As I said, when I went in, I was the only customer so business even then can't have been good, and with the coming of Kroger, Bi-Lo, Wal-Mart & Lowes, both the grocery side and the hardware side would have taken a fatal hit. I'm not sure when the place closed, but I don't think it made it into the new millennium.
Anyone know what this place was called?
UPDATE 18 October 2009: OK, based on the comments, I was able to identify this from the 1997 phonebook as "Sharpe's Hardware & Grocery Inc" and get the street address. I have updated the post title to reflect that and that the closing date was later than I thought.
5 Responses to 'Sharpe's Hardware & Grocery Inc, 2100 Augusta Road (at Hook Avenue): late 1990s'
Subscribe to comments with RSS
Leave a Reply