Posted at 10:58 pm in Uncategorized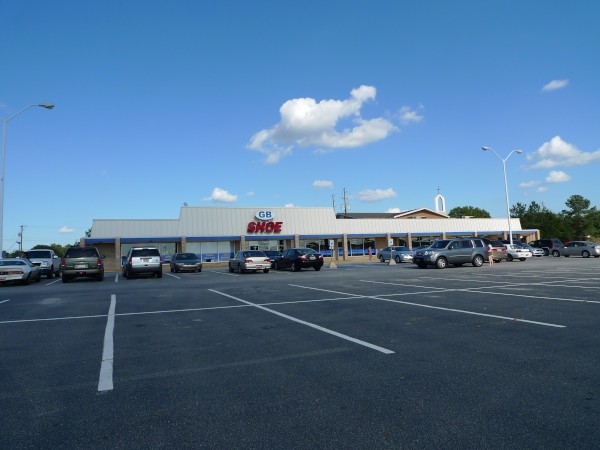 I've posted pictures before of the older style, steeple-topped A&P stores. This one, on a Dutch Square outparcel was one in the "new" style A&P adopted before leaving the South Carolina market. (I'm not counting the "supercenter" type stores such as in North Myrtle Beach).
I don't believe I ever went into this store. I certainly spent plenty of time at Dutch Square as I've mentioned in a number of posts, but during most of that period I was a tween or teen, fixated on books and music, and hardly shopping for groceries at all (not to mention that Dutch Square was on the other side of town from our usual grocery destinations). I'm guessing the 1990s as the (vague) closing date for this store, but it could as easily have been the 1980s.
I think that after this store closed, the area was actually pretty grocery-less, with no stores I can think of in the same general vicinity. (Food Lion had a Bush River Road store, but it closed too).
UPDATE 12 March 2011: Updated closing date based on commenter Andrew's research.
31 Responses to 'A & P, 421 Bush River Road, suite 3001: 4 March 1998'
Subscribe to comments with RSS
Leave a Reply