Posted at 9:07 pm in Uncategorized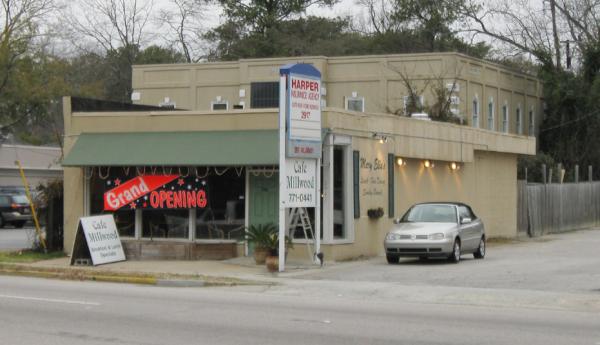 This picture comes from commenter Dennis, who says:
I was very excited when Mary Ella's opened about a year ago because I'm in this neighborhood a lot and there's nowhere to eat lunch. (2911 Millwood is across the street from Epworth Children's Home property.)

I went exactly once and the food was good, and hot, and not overly expensive, but... you know how sometimes a place just isn't for you even though you couldn't say why? Maybe it's because the place is so tiny -- about 10 tables -- and soo quiet. Great place to read I guess. They advertised a southern homemade style buffet, but the building is so small the buffet stayed on the stove in the kitchen and the one waitress brought you what you asked for from a chalkboard menu. Made me self-conscious about seconds and thirds, which to me is the point of a buffet.

So Mary Ella's is done and the banner promises the grand opening of Cafe Millwood. Could not tell if they're open yet or not. I peeked through the windows and did not see any change at all from Mary Ella's. The sign says breakfast which will be great if true.
I do know that feeling. In a small place especially, you can get too much attention.
One Response to 'Mary Ella's, 2911 Millwood Avenue, early 2010'
Subscribe to comments with RSS
Leave a Reply