Archive for the 'Time Warner Cable Arena' tag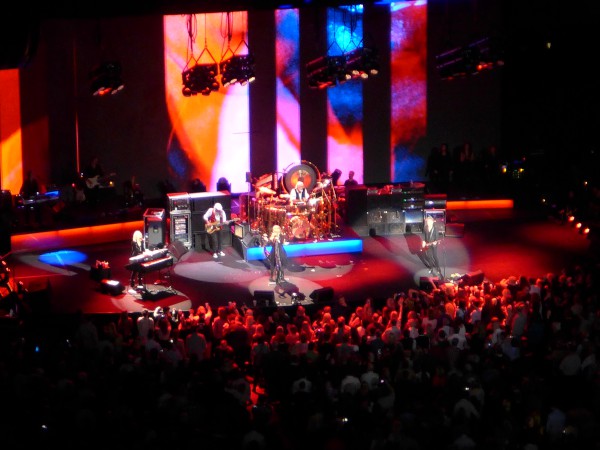 Falling, falling, falling..
It may seem strange to the under 50 crowd at this remove, but it's pretty much impossible to overstate what an incredible influence Fleetwood Mac's Rumours album had when I was in the last years of high school. Almost every track was on the radio at one time or another, and everybody had a copy. I would have had one, but I was dead broke at the time, so I somehow convinced my sister to spring for it. I taped her copy to cassette and it was in constant rotation with my Beach Boys albums in my jury rigged car player (which would reverse the tape and start playing the other "side" every time we hit a bump).
Rumours was the followup to the also very successful eponymous album Fleetwood Mac which established the band's "classic lineup". It was also the lead-in to the rather experimental Tusk which no doubt confused their legions of fans.
Over the years the band went through a lot of acrimony and romantic imbroglioes, with the fact that it was coed giving even more scope for feuding than even the Beach Boys "enjoyed".
Still, after all the dust settled, and after a sixteen year absence for Christine McVie, the classic lineup is back together and making music again.
I took the opportunity to see them in Charlotte, and everybody was in fine form, and looking and sounding pretty good for a bunch of 60 and 70 year olds. They played everything you would expect, and added a few new songs that, if not instant classics, were pretty good. As you can tell from the video and pix, I was *way* up in the nosebleed section, something I did not appreciate in the least while inching towards my seat like an action movie hero sidling along a window ledge over a twenty story drop. It was somewhat better once I actually had a seat, though as you can hear in the video, I fell in with a bunch of Chatty Cathys..
Anyway, it was a great show, and you should definitely catch them if you can.
As just a few random observations: It's amazing how bad a shape I-77 is in. It seemed like I was dodging huge ruts all the way to Charlotte. I don't remember that from my last trip in June, but it can't have gotten that bad that quick. Also, the parking garage at EpiCenter is the worst I've ever been in, like the old text based computer game "You are in a maze of twisty little passage all alike": It was amazingly hard to find the level changes rather than just driving by the same packed spaces again and again. Maybe I was "Over My Head"...