Archive for the 'AT&T' tag
Posted at 10:52 pm in Uncategorized
This Year: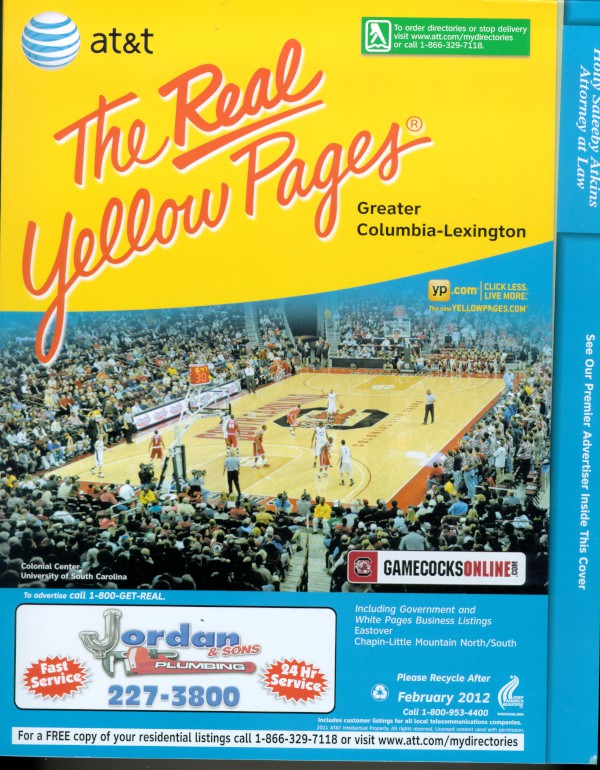 For a FREE copy of your residential listings..
Last Year::

At this remove, I can really only recall two scenes from Steve Martin's debut movie, The Jerk, but those two were very funny.
The second is when Martin's character is breaking up with his girlfriend and declares as he leaves the house that he doesn't need "anything".. "except" the large assortment of odd items (starting with a chair) he picks up on his way to the door.
The first is when Martin has left his childhood home and is out in the world by himself for the first time. He greets the arrival of the year's phonebook in a hysterically over-the-top scene: "The new phonebooks are here! The new phonebooks are here" (flips to his listing) "I am somebody!".
Well, no more, it would seem. I got my new Columbia phonebook last week, and totally failed to notice a real oddity until my sister pointed it out: There are no whitepage listings for Columbia!
It's been coming for a while. As far back as the late 1990s, I noticed that people in my office would do the most complicated (pre-Google) searches for phone numbers rather than pick up the directory sitting right on their desk, and as the number of unlisted cellphones keeps growing and the number of residential landlines keeps dropping, we have finally hit the tipping point. Now perhaps one of the "fake" phonebooks that other directory companies drop on your porch from time to time ("The Talking Phonebook", "The LOMAR Directory" etc) will make a white-page print-run, but it seems the white pages are dead.
While I wasn't expecting it, the death of the white pages does make sense. When I think about it though, I'm surprised that Yellow Pages are doing as well as they seem to be. Obviously businesses are going to keep public listings, but I wonder what the bang-for-the-buck ratio of the cost for a Yellow Pages ad is today versus investing in your web-site and search engine optimization? I admit that there are still times when it's easier to look up a locksmith or plumber or whatever in the phonebook than come up with an online search that doesn't have Columbia Maryland results or Columbia County Georgia or some other mass of inappropriate responses, but google continues to get better at using where you are located in its results, and I suspect we aren't far from a tipping point there too.
One thing that does not make sense to me at all is the fact that the new phonebook does have some white page listings: For Eastover, Chapin & Little Mountain -- go figure..
In the meantime, if you need to talk to me, I'm in the book. Oh wait -- well I never liked talking on the phone anyway.