Posted at 11:12 pm in Uncategorized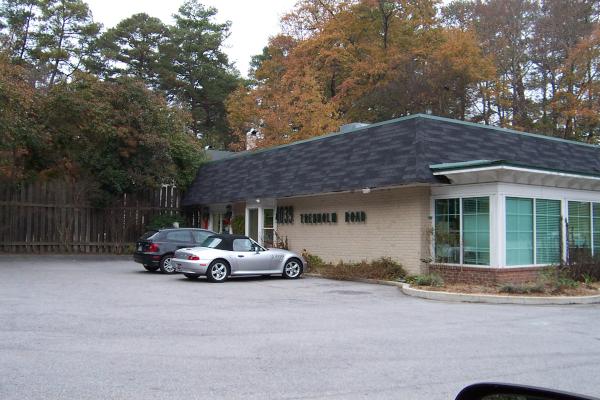 This building more or less on the corner of Trehnolm Road and Beltline Boulevard, was for years, I believe, a florist. Then the "espresso craze" hit the country.
Remember how in the awful 1991 Bruce Willis movie Hudson Hawk Willis had to keep explaining to everyone what a Cappuccino was? Well, shortly thereafter, all of America knew, and coffee houses were something of a hot market item. I believe it was about this time that Cool Beans started on College Street (under another name), as well as Ibby's in Myrtle Beach, a place on King Street in Charleston whose name I'm blanking on and several others started. Most of this first wave of independant coffee houses located in shabby buildings and affected a very casual and laid back demeanor and their attitude was very much "we are real coffee houses, and you should get used to us and continue to support us because Starbucks is coming". However, I think that was something of a put on, like having a "real" Irish pub in a South Eastern city. The whole coffee-house "culture" was really indigenous to other parts of the country, and the local places weren't anymore "real" than Starbucks, though the survivors have become so over time.
Aside from the "culture" there was simply a matter of competence. Brewing the espresso seems fairly straight-forward, but it is very easy to burn the milk for items like cappuccinos or lattes after which they become completely undrinkable. Books-a-Million still gets this wrong about two times out of ten, while I've never had it happen at Starbucks.
All of which is a lead-up for saying that sometime in the 90s, the florist shop closed and a coffee house went into the building. I'm afraid to say that I stopped once, got a completely undrinkable latte and never went back. They may have gotten better after that, but with the lot being rather hard to get in and out of, and with first Books-A-Million locating at Trenholm Plaza and then Barnes & Noble at Richland Mall, they were gone even before any Starbucks opened in Columbia.
The place is now a cat hospital. And that can keep you awake too.
Leave a Reply