Posted at 9:35 pm in Uncategorized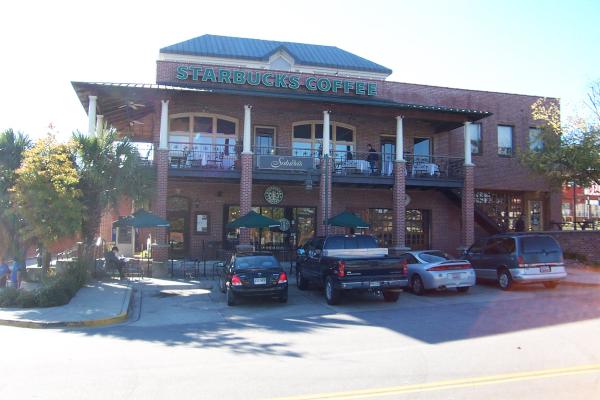 It's hard to characterize The Joyful Alternative. One commenter called it a "Head Shop", but I don't think that's quite right. "New Age" doesn't exactly capture it either. I guess "Eclectic" comes pretty close.
The Joyful Alternative started in 1970 and was located in the lower left side of what is now the Five Points Starbucks building. My mother liked to go there and browse the handcrafts from around the world, and look through the various prints, candles and statuettes. I liked the various humorous postcards and placards though in general the store didn't interest me as much as it did her.
However, there was always a rather odd assortment of books there, and I remember very well the day I found the old Ace paperback editions of Jack Vance's "Planet of Adventure" books there (City of the Chasch, Servants of the Wankh,The Dirdir and The Pnume). I get the impression from the overall series title that Vance was asked by his editor Why don't you just write a straight SF adventure for a change instead of all that weird stuff with the footnotes? Of course he wouldn't be Vance if he actually did that, but the overall meta-plot of the spaceman trying to get home provided the discipline to keep him from getting bored after he had described all the weirdities of his invented world, and the books are among his very best. (He was later persuaded to changte the title of the second book to The Wannek after being informed the meaning of wank in Commonwealth countries, and not wanting it to sound like a book about 15 year old boys :-)
Anyway, I don't know how that happened, but it was the only time I saw SF books there, and in those pre-Internet days, I never would have known of those volumes at all, not having seen them elsewhere. The store continued into the 80s, 90s and 2000s, but sales gradually declined, and the place finally closed in 2003 with Starbucks moving in fairly shortly thereafter.
So I guess in the end there was no alternative..
70 Responses to 'The Joyful Alternative, Five Points: May 2003'
Subscribe to comments with RSS or TrackBack to 'The Joyful Alternative, Five Points: May 2003'.
Leave a Reply