Archive for the 'Ontario Street' tag
Posted at 12:00 am in Uncategorized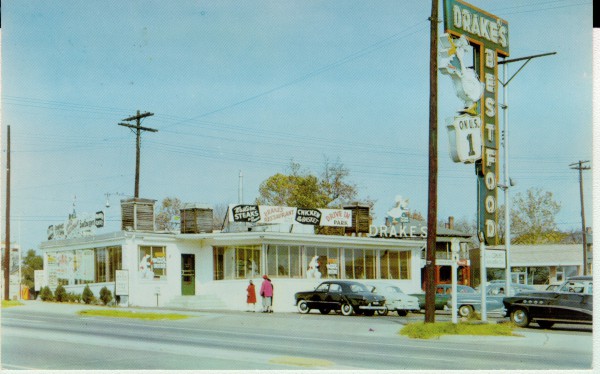 DRAKES RESTAURANT
Columbia, S. C.

Best food on Highway One, north of Columbia. A spe-
cialty Restaurant serving good clean food. So duck in at
Drakes and enjoy a delicious meal.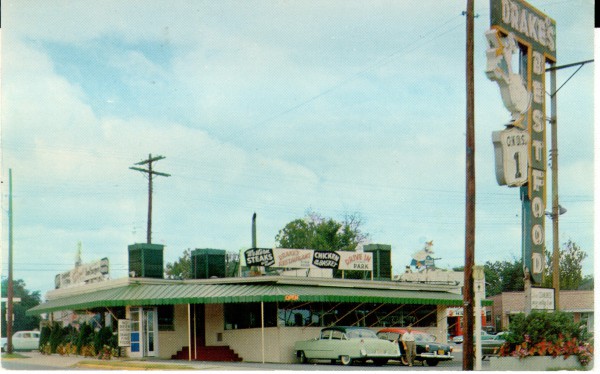 DRAKE'S RESTAURANT
Columbia, S. C.
Best food on Highway one, north of Columbia. A specialty
Restaurant serving good clean food. So duck in at Drake's
and enjoy a delicious meal.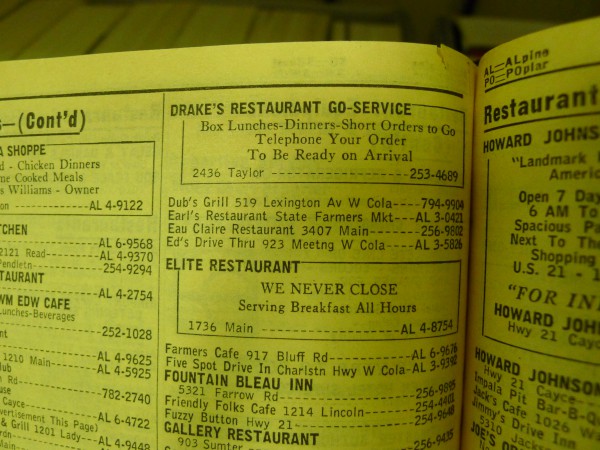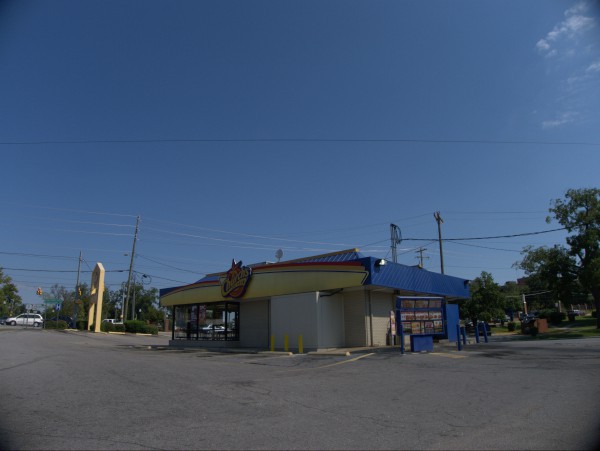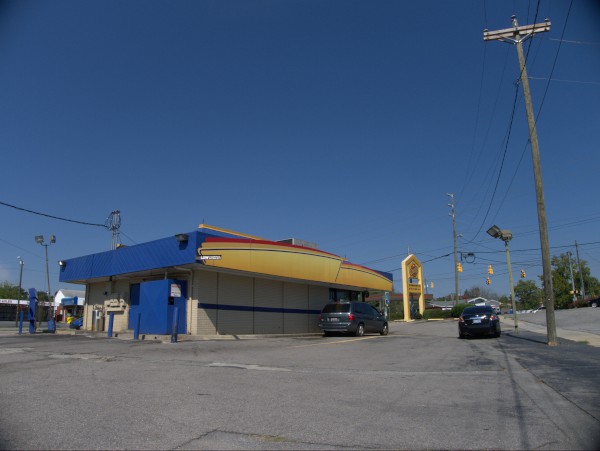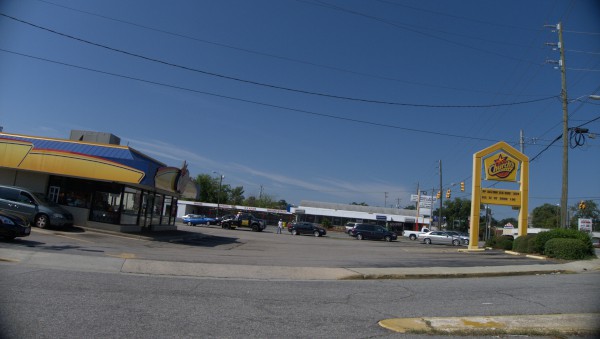 "Good Clean Food" -- I'm not sure I've ever seen that exact phrase used as a selling point before..
Over the years I've been running Columbia Closings I've gotten a number of requests for Drake's Restaurant on Taylor Street. I've never done much about it because we never ate there, and I really didn't remember the place, and because the building was gone.
Recently though, I was searching an online postcard site, and found two good postcards of Drake's. As fate would have it, commenter Dennis emailed me the same day with a copy of one of the same postcard images, saying:
This is Drake's Restaurant that stood on the southeast corner of Two
Notch/Millwood and Forest Drive. It's been long demolished and is now
a Church's Chicken. This view is from the south on Millwood. My family
ate there a lot in the early 1960s. It was a nice, quiet, "white
tablecloth" place that I truly miss. The Drakes ran a florist business
in the same building, no doubt doing a lot of business with Providence
Hospital patients across the street. And Yes, there is a connection to
Drake's Duck-In on Main Street, or at least there was originally.
I'm not sure what years these cards are from. I'm confident however, that the first card is earlier, as you can see that the roof air-conditioning units are the old wooden-slat type, while in the next card they are more modern.
I'm not sure when Drake's was started either. It *is* listed in the 1954 Southern Bell phonebook, the first one available at the RCPL. That, and subsequent phonebooks up to 1960 give the address as simply "Taylor Street". The December 1961 book is the first one to give the street number of "2436 Taylor Street". As far as I can tell, the place never bought a full yellow-pages ad. However, also starting in the December 1961 book, it did start buying a small box ad (pictured above) touting its "Go Service" wherein you could phone in your order and pick it up to go. This continued (with the same design and text) through the final listing for Drake's, which was in the January 1977 phonebook.
As Dennis mentions, the Drake's address is now a Church's Chicken fast food outlet, which is a completely new building.
One thing about the whole situation which blows my mind is that Drake's had (and Church's has) a Taylor Street address. If there was anything I thought I knew, it was that Taylor Street was West of Millwood and Forest Drive was East of Millwood. Full stop end of story. There's probably some sort of street re-routing story there...
(Hat tip to commenter Dennis, and a few others over the years)