Archive for the 'Camp Jackson' tag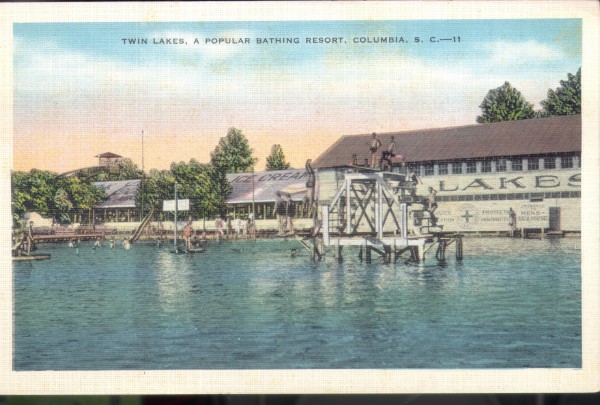 Twin Lakes, about seven miles from Columbia on the edge of Camp Jackson, is a popular bathing resort for young and old during the summer season.
Although I've never been to the area, there is still a Twin Lakes Park associated with Fort Jackson (the Google link to the left brings up some maps, this is a more official link), as well as the titular pair of lakes (though a google review notes one of them has been drained, presumably since the Great Flood of 2015). These write-ups lead me to believe that facilities like the ones on the postcard no longer exist there.
Indeed, growing up in the 1960s, I never heard anything about a Twin Lakes swimming area. Of course as a USC family, we had access to Bell Camp for lake swimming, so we never would have gone there. Still, I would have expected to hear about other people going if it were still around. One key may be the notation on the post card that the site is near Camp Jackson. As far as I can tell, Camp Jackson was renamed Fort Jackson during the build up to World War II. (This site gives 1940 as the date for the name change). That being the case, the resort could have been long closed by the 1960s.
Does anyone have any more information about this place?