Archive for the 'Grace Hill Plaza' tag
Posted at 10:34 pm in Uncategorized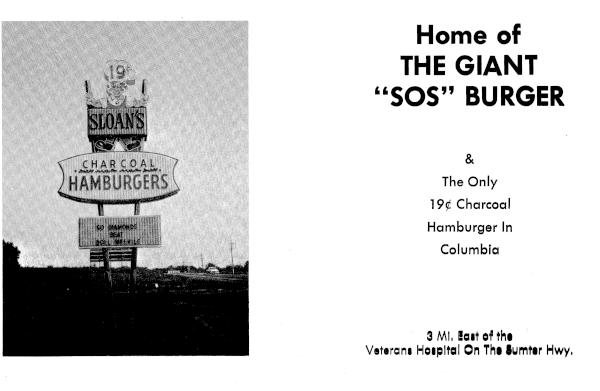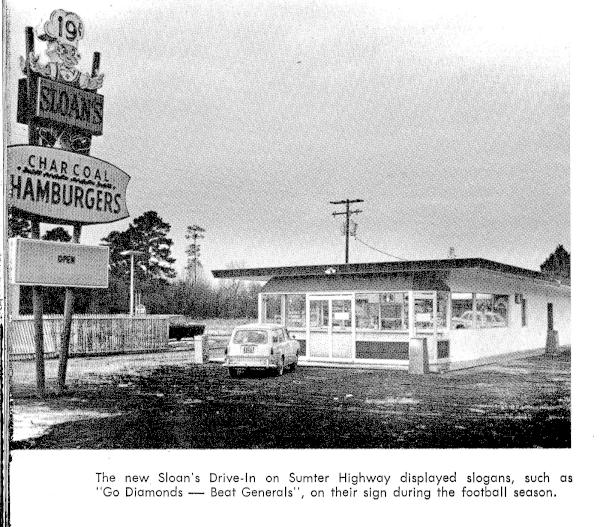 Big thanks to commenter Gary, who sent in these pictures of Sloan's Drive-In on the Sumter Highway, and says that it was located near Universal Drive. The pictures are from an old Lower Richland yearbook, and apparently the restaurant owner was a LR booster to judge from the signs.
I have to say that I absolutely no memory of ever seeing this place, and we used the Sumter Highway to go to the beach for most of the 1960s and early 70s (until I-20 made Screaming Eagle Road an attractive option). Gary puts the restaurant in the 1970s, but I'm a bit skeptical. The design aesthetic looks much earlier to me, 50s or 60s, and I can't find a yellow pages listing for the place in my 1970 restaurant pages (or any other of the '70s pages I have here at home). Anyone have any personal recollections of the place? The country could certainly use a good $0.19 hamburger!
UPDATE 23 October 2011 -- Ok, I have done a little checking at the library, and this is what I found out about Sloan's:
They first listed in the December 1967 Southern Bell phonebook, and last listed in the December 1969 directory. They ran the same Yellow Pages ad (reproduced below) in each year of their listing. Also, as mentioned in the comments, the 8010 Garners Ferry Road address where Sloan's sat has been subsumed as part of Grace Hill Plaza, which is officially 8006 Garners Ferry Road. Also, the official name was Sloan's Charcoal Hamburgers so I have changed the post title from Sloan's Hamburger Drive-In to that.